The next Black Friday is on 25 November 2022. Cyber Monday follows on 28 November 2022.
Black Friday and Cyber Monday are the perfect shopping holidays for buying watches. It is the time of the year when a tad too expensive timepieces become much more affordable, in that offering a guilt-free shopping spree.
Out of the hundreds of watch manufacturers, we've selected timepieces from twelve brands that, year after year, have had excellent Black Friday watch deals. The watches are categorized by brands, so if you're looking for a specific brand, make use of the table of contents for convenient browsing.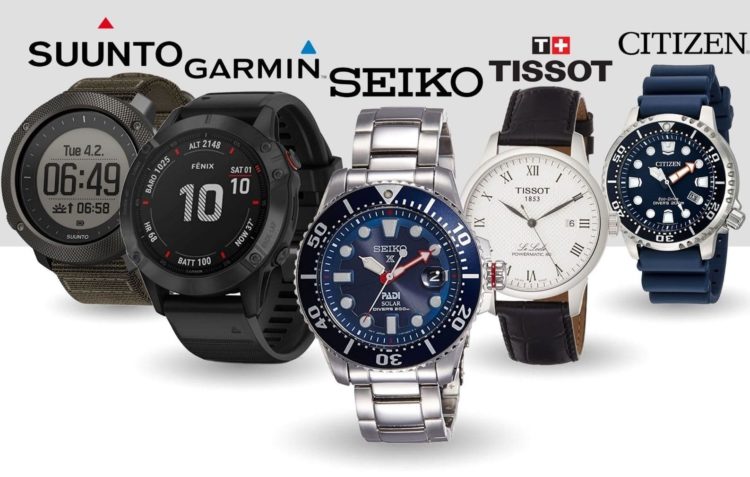 Without further ado, here are the best watch deals for this year's Black Friday and Cyber Monday.

Garmin Watch Deals
Garmin is an American watchmaker specializing in GPS watches for hiking, trekking, running, cycling, skiing, and other physically demanding outdoor activities. Garmin watches are known for their military standard quality and uncountable features.

Garmin Fenix 6 Pro
The Garmin Fenix 6 Pro is one of the bestsellers from the brand due to its superb value for money proposition.
The best part with this top-notch hiking watch is the inclusion of built-in topographic maps. Along with a navigation system consisting of GPS, GLONASS, and Galileo satellites, the watch shows your position with ultimate accuracy and in the most convenient way.
The Fenix 6 Pro is also equipped with an altimeter, barometer, and thermometer, enabling you to make the most out of the watch, no matter whether you're on flat land or in the mountains.
On top of the outdoor features, the watch comes with health-related functions, such as the wrist-based heart rate monitor, pulse oximeter, and sleep monitoring.
All the features are packed in a rugged 47mm case with carbon coating and are powered by a lithium-ion battery with a decent life in various modes.

Garmin Instinct Solar Tactical Edition
The Garmin Instinct Tactical Edition is a spot-on timepiece for military personnel, policemen, and other walks of life that could make use of the various tactical features this watch comes with. Built to US military standard 810G for thermal, shock, and water resistance, you can also be confident of this Garmin's utmost quality in tactical situations.
The solar-powered rugged 45mm GPS watch comes with a waypoint projection, Jumpmaster feature, stealth mode, and dual-position GPS formatting. These tactical-specific features are something you won't find from many timepieces, making this Garmin Instinct a through and through watch for military missions.
Regardless of the watch's profound specialization for such activities, it is more than suitable for outdoor civil use as well. For instance, the watch features numerous preloaded activity profiles for running, swimming, and biking. Further, it is equipped with an altimeter, barometer, and compass that find good use while hiking.

Garmin Forerunner 935
Besides rugged outdoor watches, Garmin has a vast selection of sports-oriented wristwear. One of the hits is the Garmin Forerunner 935, which is an appropriate wearable for various sports, including running, swimming, and cycling, among others. It features built-in activity profiles, which can be switched conveniently by a simple push. Therefore, the Forerunner 935 suits multi-sports as well, such as triathlon.
Like most sports watches, this Garmin has a training status function that helps to monitor the sessions and give feedback whether you're training productively, peaking, or overreaching.
A neat extra is a technique analyzer that considers biomechanical measurements, such as the ground contact time, cadence, and stride length. These features are spot-on for professional athletes who want to evaluate their current form.
Last but not least, this Garmin watch is smartwatch compatible, lasts for up to 14 days, and weighs only 49g.

Garmin Forerunner 45
The Garmin Forerunner 45 has been the crowd's favorite running watch for years. Despite the emergence of newer models with more enhanced features, this Garmin still strikes with its simplicity and very favorable price.
The core of the watch is the running function coupled with Garmin Training plan support. The plan can also be applied for swimming, cycling, treadmill workout, and even yoga. If you're outside, the GPS connectivity via Bluetooth helps you track your movements, which you can later check from your smartphone.
The Forerunner 45 is also smartwatch compatible, meaning it receives smart notifications. When it comes to battery lifetime, you can expect this Garmin to last about a week in smartwatch mode and around 14h when using GPS.

Garmin Instinct Solar GPS
The last Garmin on our list is a classic from this American navigation powerhouse. What makes the Garmin Instinct Solar so sought-after is its versatility when literally every outdoor activity can be applied to it. Anything from running, swimming, and hiking to fishing and hunting is covered with a plethora of features.
The base for these activities lies in the accurate navigation comprising of GPS, GLONASS, and Galileo satellites that work like a charm in combination with a barometric altimeter and compass.
You can also keep an eye on your health and performance with the wrist-based heart rate monitor, pulse oximeter, and stress tracking that offer insights into your current form and stress levels.
Excellent addition to this Instinct is the solar charging capability. What it does is that it adds 30 days in smartwatch mode to an already impressive 24 days without solar charging, resulting in battery life for up to an impressive 54 days. When using GPS, you'll have up to 38 hours of carefree use.

Suunto Watch Deals
The Finnish brand Suunto has specialized in manufacturing outdoor and sports watches. Like Garmin, most Suunto watches are equipped with precise navigation and suit various outdoor activities, from hiking and hunting to running and cycling.
Suunto offers fantastic Black Friday watch deals when many timepieces are available for up to half the price.

Suunto Core Outdoor Watch
We start with a simple yet very efficient watch – the Suunto Core. It is an ABC watch, meaning it sports an altimeter, barometer, and compass that find good use in every kind of terrain. A neat feature is the storm alarm notifying the wearer of an approaching storm.
What this timepiece lacks, though, is the navigation, aside from the compass. You will not be able to track your moves or upload maps. Therefore, go for this Suunto if you don't require location updates and activity tracking.
Regardless of this particular disadvantage, the Suunto Core watch is still an appropriate watch for survival, especially considering its build quality. Namely, it has a robust construction comprising a lightweight composite case, scratch-resistant aluminum bezel, and shatterproof mineral crystal. Further, it is water-resistant to 30m (100ft) and even has a depth meter enabling you to gauge for up to 10m (33ft).

Suunto Traverse Alpha
The Suunto Traverse Alpha is the most rugged timepiece from the brand. It has a knurly case and ultra-durable army green nylon band that gives it very militaristic apparel. However, the watch is more than just tough-looking as it offers a plethora of functions for various severe conditions.
When analyzing its suitability for a particular hobby, it has to be hunting. With the specialized features, such as places of interest markup, shot recognition technology, and breadcrumb trail, there isn't any more complete hunting watch around.
The GPS-equipped Traverse watch is also packed with classic hiking features of an altimeter, barometer, compass, and thermometer. Further, the timepiece can be paired with a smartphone, enabling one to upload routes and analyze them afterward.
Other great features you can make use of include sunrise/sunset times, moon phases, weather trends, and vibration alarms.
All in all, the Suunto Traverse offers such a tremendous amount of functions for anyone crazy about spending quality time in the nature.

Suunto 9 Baro
The Suunto 9 Baro is a premium sports watch with more than 80 sport modes. Therefore, it is a spot-on timepiece for all the primary endurance sports, including running, swimming, cycling, cross-country skiing, and hiking.
The watch has three core sets of functions – outdoor, training, and health.
Outdoor features rely on GPS and GLONASS satellite systems that, along with an altimeter and barometer, provide the wearer with the most accurate positioning available. When it comes to training, you can expect all the classic features, such as speed, distance, pace, and interval training, monitored by a heart rate monitor, activity tracker, and step counter.
Besides being a complete sports watch with uncountable functions, the Suunto 9 Baro is also one sturdy timepiece. Namely, it has been tested against US military standard 810H, ensuring its resistance against extreme temperatures, shocks, humidity, and dust.

Suunto Ambit3 Peak GPS Watch
Besides the Core, Traverse, and Suunto 9 watches, there is also the Ambit3 line of timepieces. These watches are the perfect midway between sports and adventure styles, offering something from both worlds. The Suunto Ambit3 Peak we have up next is, therefore, suitable for any activity that involves physical input.
Before going out in the wild, make sure to upload a route via the Movescount app. The GPS and barometric altimeter then calculate your speed, pace, altitude, ascend or descend, and many more useful metrics for a detailed overview of your activity.
However, if you prefer to use the Suunto Ambit3 for sports, you can make use of more than 10 sport modes the watch comes with. They are coupled with a heart rate monitor and recovery time function, ensuring you stay on the safe side while working out.
What makes the Ambit3 extra special, though, is its wonderful battery life. For instance, in a classic time mode, the watch will last for around 30 days before needing a recharge, while in GPS mode, the lifetime spans from 20h to 200h.

Tissot Watch Deals
Tissot watches are known for their ultimate reliability and elegant design. The brand has a vast selection of quartz and automatic watches in various styles, ranging from sporty chronographs to sophisticated dress watches.
Since the timepieces are all Swiss-made and feature top-notch movements, the prices tend to be higher compared to many other manufacturers. Therefore, Black Friday and Cyber Monday are the perfect holidays for hunting the best watch deals from Tissot.

Tissot Le Locle Powermatic 80
The Tissot Le Locle Powermatic 80 is a classic dress piece and an excellent watch for a suit because of its decorated silver face and black leather strap.
The overall appeal is very sophisticated as it comes with a light-toned guilloche dial and Roman numerals. And not only is the appearance sophisticated but also is the mechanism inside the 39mm case.
This Tissot employs an ETA-based Powermatic 80 movement, which holds a magnificent 80 hours of power reserve. In other words, you can leave it on a table for the whole weekend and expect it still to run when placing it on your wrist on Monday. Compared to typical automatic calibers, the power reserve is twice the amount.
Another luxurious-like feature you get with an automatic watch, including this Tissot, is the gliding motion of the second's hand. When quartz watches take one step each second, automatics usually have six of them fitted into the second.

Tissot Gentleman Automatic Watch
Compared to the Le Locle model, the Tissot Gentleman Automatic is more appropriate for casual outfits and everyday wear. It has swapped Roman numerals for simple indexes and features a sunray blue dial instead of a patterned texture.
The core of this timepiece belongs to the above-mentioned Powermatic 80 caliber that maintains a power reserve of more than twice the amount of typical automatic movements. Furthermore, some parts of the caliber are made of silicon, enhancing the resistance against magnetic fields and providing better accuracy.
One of the watch materials Tissot employs in every timepiece it produces is the sapphire crystal. This chemically produced glass is almost impossible to scratch, so no such thing as a graze is possible with this Tissot.
All in all, this premium-class Swiss-made watch is sure to serve you for decades if properly taken care of.

Tissot Seastar 1000
Although Tissot may not be the first choice for dive watches, the brand has some real eye-catchers that work like a charm deep in the water. One of such is the Tissot Seastar 1000.
The "1000" in its name stands for the feet it is water-resistant to. In other words, you can swim, snorkel, and dive with it without any concerns. For protecting the intrinsics from water damage, you'll also find the crown and caseback screwable.
When it comes to appearance, the Tissot Seastar 1000 has an impressive stature due to the above-average 45.5mm case. The three-link metal bracelet all but complements it. Aesthetically, it is a real beauty, too, when the sea blue dial and bezel ring work well with the silver-tone stainless steel.
On top of the diving capability, this Tissot sports a chronograph function on thee subdials. A small but handy addition is also the date window between the four and five o'clock position.

Tissot PRS 516 Chronograph Watch
If you're into high-quality Swiss-made chronograph watches, look no further because the Tissot PRS516 offers a unique matte-black appearance and a competent stopwatch feature for only a couple of hundred dollars. The stopwatch lies on two subdials and measures in 1/10-second increments.
It's worth noting that the primary second's hand on the main dial belongs to the chronograph feature, while the small one on the bottom circle counts the watch's seconds. Therefore, don't be surprised if you find the second's hand stopped, not ticking.
In terms of overall quality, the PRS516 offers what you typically expect from someone as grand as Tissot. For instance, the dial is covered with sapphire crystal, and the bands are made of long-lasting and comfortable rubber, while the quartz movement keeps terrific accuracy.

Tissot Chemin des Tourelles GMT
The Tissot Chemin des Tourelles we have up next is a stunning black watch with plenty to admire.
First of all, it runs on a highly coveted Powermatic 80 automatic caliber with 80 hours of energy capacity. Secondly, it has an eye-catching dial design where the background of Roman numerics has a sophisticated and densely patterned structure. And thirdly, the Chemin des Tourelles features an extra hand for dual timezone.
A GMT watch, as this particular type of watch is called, can be set to show a second timezone which can be read from the 24-hour time format. Such a feature becomes very handy when you want to be aware of the home time while traveling.
Size-wise, this Tissot has a classic 42mm case diameter and a convenient 12mm thickness. The dimensions are favorable for wearing the watch with formal attire as you can easily slip it beneath the sleeve and uncover it if required.

Seiko Watch Deals
The Japanese powerhouse Seiko has a massive selection of timepieces in any imaginable style you can come up with. Therefore, you can expect plentiful Black Friday watch deals at various price points. From the vast array of timepieces Seiko has, the best deals you should look out for include professional dive watches, solar-powered tickers, and elegant dress watches.

Seiko Prospex SNJ025
The following Seiko watch combines two highly coveted features in a timepiece – professional-grade dive suitability and solar power. With these two, the Seiko SNJ025 is not only one of the best Seiko watches but also among the top timepieces you can get for less than $500.
This ISO-certified Seiko is a professional diver and comes with a 200m (660ft) water resistance rating. You'll also find the bezel rotating in one direction with firm clicks and a stylish coin-edge design. Further, the crown is not a pull-push but screwable, guaranteeing water tightness.
Equally important to the previous features is also the electro-luminescence found on hour markers and watch hands that ensures a bright glow for several hours in the dark.
What makes the Seiko SNJ025 rise above other dive pieces is its ultimate convenience in terms of charging and upkeep. Namely, it energizes itself constantly from any light and runs for up to six months when fully charged.
Last but not least, the watch has a small digital screen, displaying calendar, stopwatch, and alarms.

Seiko Coutura SSG010
The Seiko Coutura SSG010 is another timepiece from this Japanese brand that combines two magnificent technologies. Namely, it adds atomic precision to the solar-powered mechanism. The result is an entirely carefree watch that requires neither battery change nor time correction.
Besides being accurate and carefree, the Seiko Coutura SSG010 is also an eye-catcher with golden accents on the stainless steel bracelet, case, and dial. The latter also combines valuable features, such as the stopwatch function, date window, 24-hour time, and World Time.
Quality-wise, the Coutura piece is very sturdy due to the durable stainless steel, scratch-resistant sapphire crystal, and decent water resistance. The watch is also covered with a 3-year manufacturer's warranty.

Seiko Excelsion Gunmetal SSC139
The Black Friday and Cyber Monday week is the best time of the year for buying famous watches that often stay out of the set budget. One of the watches to pursue these days is the Seiko Excelsior SSC139, which comes with a nice discount.
It's a timepiece that has received raving reviews and feedback from owners and watch connoisseurs alike for its top quality standards and unforgettable aesthetics. Hence, it's no surprise many consider the SSC139 among the top Seiko watches money can buy.
The 43mm watch has a very sleek gunmetal design with a chronograph function and alarm feature. This very masculine timepiece is also powered by any light, ensuring a carefree use for decades.

Seiko 5 Sports Automatic SRPE80
In most cases, professional diving isn't why dive watches are being worn. It's the appeal of such watches that attracts people. Therefore, besides professional-grade divers, there are also the so-called desk divers that have the looks of a dive piece but are better suited for everyday wear. One of the prime examples of that is the Seiko 5 Sports SRPE80.
The watch is guaranteed with a 100m (330ft) resistance rating, which enables it to be worn while swimming and snorkeling but excludes its use for diving. And when you look at the design of this particular Seiko, it is clear it's more of a standout everyday wearable rather than a sports watch.
The copper-tone case and densely patterned gray dial, along with a brown leather band, is a combination that accepts various types of attire, from t-shirts and jeans to blazers and smart casual outfits. The size of the watch is also favorable, at a decent 42.5mm diameter.
The heart of this watch is an automatic caliber with 40 hours of power reserve and useful extras for manual winding and hacking. Most owners are also impressed with the caliber's precision when it's off by mere seconds a day.

Seiko Presage SRPB43 Dress Watch
Seiko is known not only for its dive wristwear but also for its elegant dress watches. The Seiko Presage SRPB43 is already a legend when it comes to formal watches. What makes it stand out from the crowd and earn itself fame is the unique bluish-silver sunray dial that won't go without heightened attention.
On top of the visual pomposity, this Presage is equipped with a sought-after automatic movement with luxurious-like sweeping second's hand and a convenient date window at a three o'clock position.
The watch's size is also favorable when it measures 40.5mm in diameter and isn't too thick at 14.5mm.

Citizen Watch Deals
Similar to Seiko, Citizen manufactures watches in various styles and price ranges. However, compared to its Japanese competitor, Citizen timepieces are powered almost entirely by Eco-Drive solar quartz movements. These calibers are powered by light and hold an energy reserve for more than half a year. Therefore, if you're after top-notch solar watches that won't cost you a fortune, Citizen is your go-to brand.

Citizen Promaster Diver BN0151-09L
The Citizen Promaster BN0151-09L is equally famous as the Seiko SKX007 model and is in high regard in the dive community.
What makes it so in demand is the combination of a convenient solar caliber and the watch's suitability for professional diving. Compared to an automatic equivalent, this Citizen is more accurate and doesn't require regular wear or frequent upkeep.
The 43mm stainless steel watch features a handy one-way rotating bezel with firm clicks and a screw-down crown at a comfortable four o'clock position. This Citizen piece also has excellent luminosity with hours of bright glow.
Like most Citizen watches, the straps of this timepiece are easily replaceable, and in the case of wishing to swap them for more suitable ones, you'll have a decent selection to choose from.

Citizen Promaster Nighthawk BJ7000-52E
When it comes to pilot watches, Citizen offers a plentiful choice. Its Skyhawk and Nighthawk models, in particular, are highly appreciated for their full set of functions and sophisticated dials. The Citizen Nighthawk BJ7000-52E we have up next sums up the completeness of such types of watches.
The first thing you'll notice is the dark dial full of indexes and numbers belonging to the pilot's slide rule bezel. Anything from speed, distance, and fuel consumption to currency and temperature measurements and conversions are possible with this feature. However, it takes some practicing and digging into the system to master this complicated function.
Besides the rotating bezel, the Nighthawk has a dual-time display and a date window. Further, the hands and hour indices contain luminosity, and the watch itself is safeguarded against the water with a 200m (660ft) water resistance.
Completing the excellence of this Citizen is an accurate solar-powered quartz movement with a low-charge warning.

Citizen Brycen Titanium BL5558-58L
The Citizen Brycen BL5558-58L stands out from the crowd with its titanium coating, making the watch way more resistant to scratches and other environmental factors than a simple stainless steel watch would. Moreover, since titanium is a premium-class substance in timepieces, finding this Brycen with a price tag of around $300 is a wonderful value for money proposition.
The good thing is that this watch is not only made from appreciated materials, but it also looks very appealing. For example, the blue dial and dark-toned subdials and bezel ring on a silver case materialize in masculine aesthetics that no man can say no to.
It is also noteworthy that this Citizen Brycen watch employs a 1/20-second chronograph, along with a perpetual calendar, date window, and alarm feature. All in all, with the three core characteristics of functionality, visual appeal, and durability, this Citizen watch is a complete timepiece that'll last you for long years to come.

Citizen Drive Chronograph CA4190-54E
Another great Black Friday watch deal you should check out is the Citizen Drive Chronograph that is available for only a couple of hundred dollars. It's not a typical driving watch where the flashy design elements are everything it offers. Instead, it is a durable and classy wearable that'll last you a lifetime.
The Citizen Drive is powered by any light and won't require battery replacements. When fully charged, the watch runs for more than six months without any additional light applied to it. Further, the secondary cell accumulating the charge has a lifetime of more than twenty years. So, in terms of the whole timekeeping mechanism, there isn't any more convenient caliber available.
Appearance-wise, the watch provides an eye-catching design with red accents on push buttons and several places on the dial. Combined with a dark-toned patterned background, the result is a very fashionable timepiece with a highly functional chronograph feature.

Citizen PCAT CB5880-54L
When it comes to Black Friday and Cyber Monday, there's no better time of the year for buying watches that typically cost in the upper hundreds. The Citizen PCAT CB5880-54L has a manufacturer's suggested retail price of $650, which is not cheap at all. However, these days, the watch is available for a couple of hundred dollars less.
It is one of the most advanced watches from Citizen when several highly coveted features are packed into it. For example, you'll find an atomic time feature, a chronograph, a perpetual calendar, and an alarm function. All these features are easily accessible through push buttons and conveniently displayed on the subdials.
The watch is also very durable when the dial gets protection from a scratch-resistant sapphire crystal, and the whole construction of the watch is guaranteed with a 200m (660ft) water resistance. Further, the PCAT comes with a limited 5-year international warranty, which is quite rare with affordable brands.

Hamilton Watch Deals
Hamilton is a Swiss-owned former American watch manufacturer known for hundreds of Hollywood features, including recent blockbusters Interstellar (2014) and Tenet (2020). The watches follow a militaristic style from the earlier decades and employ highly durable calibers. They aren't the cheapest around. Therefore, no better time exists to buy Hamilton watches than it is right now.

Hamilton Khaki Field Mechanical Watch
The Hamilton Khaki Field Mechanical is a vintage military watch depicting the style from the World War era. You'll not find a modern-day quartz movement ticking inside the 38mm case. Instead, it sports a classic hand-wind mechanical caliber that you have to regularly wind to keep it running, just like in the old days.
Whether it's a treat or a hassle is up to everyone to decide. However, the fact is that it is a sophisticated timepiece with decades of life expectancy. In addition, once the watch is fully wound, it holds a power reserve of about 80 hours, meaning it requires hand winding every three days. Compared to standard mechanical timepieces that have a 40-hour capacity, this Hamilton exceeds them two-fold.
In terms of design, the Khaki Field is a straightforward analog piece with triangular-shaped hour indices and an old radium color Super-LumiNova luminescence in watch hands.
Quite a unique feature you'll get with this Hamilton is the brown leather band that is tanned but not heat-treated or pigmented. This way, it maintains a genuine natural appeal.

Hamilton Khaki Navy Scuba Automatic
The Hamilton Khaki Navy Automatic watch is a gorgeous desk diver with aesthetics suggesting a way higher price tag than it actually is. A design involving a black face with a black unidirectional bezel and contrasting white hands and hour markers is simple in its core but gives a very sophisticated impression overall.
The intrinsics of this Hamilton are also exquisite. Namely, the watch sports an automatic caliber with 80 hours of power reserve and precise timekeeping. A practical date window is also attached to the movement.
In terms of practicality and the purpose it has been built, the Khaki Navy Scuba is a 100m (330ft) dive watch for swimming, snorkeling, and shallow diving, but not for professional submersion to greater depths.
Regardless, watch connoisseurs appreciate the quality of the movement, overall build, and crystal the watch comes with. Further, it is a 40mm dive-inspired watch, a rare size for this type of watch.

Hamilton Khaki X-Wind Chronograph
Along with military field and dive watches, Hamilton is acknowledged for its top-notch aviation timepieces, too. The most sought-after is the Hamilton Khaki X-Wind, with a complete set of features for aviators. Although they rarely find use in real life, they are complicated extras on a timepiece that add exquisiteness and beauty.
The watch is also equipped with a chronograph feature and a second timezone, featuring on the subdials and being accessible through push buttons. The screw-down extra pushers on the left side of the 46mm case are for the slide rule bezel.
Quality-wise, the Hamilton X-Wind is precisely what you would expect from a prestigious watchmaker. It comes with an anti-reflective sapphire crystal, long-lasting and comfortable Hamilton-stamped rubber bands, and a 100m (330ft) water resistance rating. The heart of the watch belongs to a Swiss quartz movement, so you can expect accurate timekeeping.

Hamilton Jazzmaster Seaview Watch
This Hamilton Jazzmaster Seaview is a suitable timepiece for formal outfits. It has a sporty yet elegant dial, subtle finishing, and, most notably, a high-quality and stunning coined edge bezel, along with cool buttons design.
The watch is decently sized at 44mm, runs on a quartz chronograph movement, and receives protection against unwanted scratches and reflections from a sapphire crystal. It is also water-resistant and comes with luminosity in the hour markers and watch hands.

Orient Watch Deals
Orient watches can be categorized into two broad groups – dress and dive watches. Although other types are also represented, these two are, by far, the most sought-after from this Japanese brand. What makes Orient watches so special is the fact that most timepieces run on in-house automatic calibers. Among watch connoisseurs, the brand's timepieces are considered the best entry-level automatic watches.

Orient Bambino Open Heart
The Orient Bambino Open Heart is a fantastic example of the exquisiteness this Japanese brand offers. It is an elegant formal wearable with a splash of luxuriousness beaming from the open cut. The transparent part of the face showcases Orient's automatic movement with all the wheels and gears visible.
Another characteristic that adds subtleness is a domed mineral crystal. Along with a see-through caseback, these features make the Orient Bambino one of the most elegant timepieces you can get for a couple of hundred bucks.

Orient Automatic Dive Watch
The Orient Automatic Diver is a watch that strikes with several things.
First of all, it has an eye-catching green dial with greenish lume-filled hour markers and hands. Secondly, this Orient sports a convenient coin-edge bezel that comes with firm clicks and is therefore comfortable to operate.
And finally, this watch is 200m (660ft) water-resistant and features a crown placed at a 4 o'clock position.
The watch's dimensions are also very favorable for an automatic watch. Namely, its diameter stands at 43.4mm, while the height measures only 13mm.

Orient Star Dress Watch
The priciest watches from Orient come from the Star collection. The reason for their higher prices lies in the fact they're made entirely in Japan. Therefore, acquiring one during the shopping holidays for a way cheaper price is a wise thing to do.
One of the standout models from this premium collection is the Orient Star RE-AU0004B. The most prestigious feature you'll get with this watch is the prominent power reserve indicator at the top of the dial indicating the remaining energy levels.
On top of the cool design, this Orient Star is powered by an automatic caliber with 50 hours of power reserve. You'll also find a sapphire crystal covering the subtle face.

Fossil Watch Deals
American fashion watch conglomerate Fossil has always provided fantastic Black Friday watch deals with discounts going as high as 50%. The brand's timepieces may not be at the same level as Seiko, Citizen, Orient, or any Swiss brand in terms of quality, but the eye-catching designs and styles are why the watches are bought.

Fossil Grant Chronograph
The Fossil Grant Chronograph is the bestseller from the brand. Its success can be credited to the versatile appearance comprising elements from two very different styles – elegant and sporty. Hence, the end result is a chronograph watch with classy Roman numerals and a subtle leather band.
The stopwatch measures in 1-second increments and is displayed on the left-hand side and bottom windows. The right-hand side window belongs to the 24-hour time format.
The Fossil Grant's size is suitable for the majority of men as it comes with a 44mm case diameter. In terms of attire, the watch goes well with both casual and smart casual outfits.

Fossil Smartwatch Gen 5 Carlyle
Fossil stands out from many other fashion watch brands for its courageous undertaking of entering the smartwatch industry. What makes Fossil smartwatches unique is their fashionable appeal compared to the monotonous design of Apple and Samsung watches.
The Fossil Gen 5 Carlyle is one stylish smartwatch due to its round case shape and push buttons similar to those in classic chronograph timepieces. It is powered by Wear OS and works with both iPhone and Android phones.
Feature-wise, you can expect all the widespread functions, starting with built-in GPS and heart rate monitor and finishing with smart notifications and music.
The watch's battery life is about 24 hours but can be extended via specific battery-saving modes and regular update installs.

Fossil Machine Chronograph
The Fossil Machine Chronograph is a real eye-catcher with plenty of exciting elements. The most notable is the contrasting blue tone found from the dial. Besides serving a visual purpose, it also offers better readability on a dark background.
Another visual addition that adds to the much more expensive appeal of the watch than the price tag would suggest is the knurled bezel. As a result, this Fossil looks denser and more prominent and is not like any other timepiece with a simple top ring.
In terms of quality, the watch comes in smoke stainless steel and is covered with a hardened mineral crystal. The water resistance stands at 50m (165ft), which is enough for protection against rain and daily splashes but is not suitable for swimming or any other water-intense activities.

Fossil Nate Oversized Watch
If your wrists are large or you simply wish to pamper yourself with a big face watch, you should take a look at the Fossil Nate Chronograph. Its stunning 50mm case diameter, combined with masculine aesthetics, is sure not to go unnoticed.
As with most Fossil chronographs, the watch sports a stopwatch on two subdials, while the third belongs to the 24-hour time format. The date window is also not missing from the setup.
When it comes to design, it follows a militaristic line – it is rugged and is covered with dark gunmetal PVD coating.

Fossil Townsman Automatic
The Fossil Townsman ME3110 is an automatic watch that leaves a lasting impression with its open heart design. You'll have the chance to marvel at the sophisticated caliber doing its job right before your eyes.
However, the skeletonized cut is not the onliest feature you can admire. It's the gold-blue color combination surrounding the cut that makes this Fossil so gorgeous. The color scheme works brilliantly with brown leather bands and results in an eye-catching dress wearable for formal outfits.
All in all, for a little more than $100, the Fossil Townsman offers looks that are comparable to much pricier timepieces.

Tag Heuer Watch Deals
Tag Heuer is a premium Swiss watch brand with heaps of prestige. Compared to other luxury Swiss manufacturers, such as Rolex, Omega, and Breitling, Tag Heuer sells its timepieces for much lower prices. The reason is quite simple – Tag Heuer has quite an extensive selection for quartz watches, while others don't produce them at all.
Tag Heuer has many great watch deals for this Black Friday and Cyber Monday, so check out the following three premium sports watches we've selected to feature on this list.

Tag Heuer Formula 1
The Tag Heuer Formula 1 is the most affordable watch from the brand. Although it's quartz-driven, not an automatic one, the watch offers a lot of luxurious features. And, above all, you can expect the watch to last you for decades if properly taken care of.
The timepiece is made of stainless steel and features a scratch-resistant sapphire crystal. The whole construction is guaranteed with a 200m (660ft) water resistance, enabling it to be worn for swimming, snorkeling, and shallow diving.
The overall appeal of this 41mm Tag Heuer is very classy. Its sophisticated dial comes in a dark masculine tone and harmonizes perfectly with the unidirectional gray ceramic bezel. Providing legibility in the dark are the luminous hands and hour markers, which are pleasantly contrasting in broad daylight as well.

Tag Heuer Aquaracer Quartz
Another Tag Heuer watch that is available for around a thousand bucks is the Tag Heuer Aquaracer. It is a quartz-powered timepiece with an impressive 300m (1,000ft) rating against water pressure, enabling its use for deep diving.
What makes it stand out from the crowd are also its size and color. Namely, the Aquaracer is a dive watch with a white dial, which is not a widespread color for this type of watch. In addition, the watch's size at 40mm is also quite rare for a diver at this price point. Therefore, the Tag Heuer Aquaracer is a singular timepiece in many ways.
In terms of quality, the watch is protected with an anti-reflective sapphire glass that is almost impossible to scratch. The case and bracelet are also durable, with a brushed and polished finishing that adds exquisiteness.

Tag Heuer Aquaracer Automatic
The following Tag Heuer Aquaracer Automatic watch is a wonderful Black Friday deal to check out. Namely, after discount, it costs only a couple of hundred dollars more than the quartz version we covered above. For a premium-class Swiss watch, it's a bargain price.
The watch has a Calibre 5 movement with 38 hours of power reserve and a 28,800 vph frequency. In other words, the second's hand makes 8 steps in a second, providing a smooth sweeping motion.
Moving outside of this Tag Heuer, we have an exquisitely finished 43mm stainless steel case with a 60-click one-way rotating countdown bezel. The face of the watch is protected with a scratch-resistant sapphire crystal that has multiple layers of anti-reflective coating.
The dial itself comes with a horizontal streak effect and luminosity in the watch hands and hour indices. This Tag Heuer is also equipped with a date window, which is highly legible due to a magnifying lens on top of it.
All in all, there isn't any better premium-class dive watch for the money.

Bulova Watch Deals
The famous American watch brand of Bulova is no ordinary watchmaker – it produces quality timepieces that look out of this world with its ultra-fashionable designs, all the way from fully skeletonized watches to elegant dress pieces. In spite of the courageous and never-before-seen styling of Bulova watches, the price tags are very acceptable and won't scare anyone off.

Bulova Classic Chronograph 96B336
The Bulova Chronograph 96B336 represents the style of the brand the best. What should be a "classic" all-metal chronograph is actually a watch with unique additions. For example, the dial sports a sandpaper-style texture, while the bezel has stylish and fitting screws.
Besides the exceptional design, this Bulova is also very functional. With a chronograph feature spanning from one second to 30 minutes, the watch can be used to time events and is easy to operate through the push buttons. Further, it is equipped with a date function right below the subdials.

Bulova Precisionist 98B228
More than a decade ago, Bulova came out with an exceptional line of wristwear – the Precisionist watches. In short, these quartz watches run on a higher frequency, providing astonishing accuracy and a smooth sweeping motion of the second's hand.
The Bulova Precisionist 98B228 is probably the flashiest out of this fantastic collection. It runs on a 262kHz frequency and holds an accuracy of about +/-10 seconds a year, which is more than 15 times more accurate than standard quartz watches. Further, the second's hand takes as many as 16 steps in a second, offering more than twice as smoother movement as automatic timepieces do.
On top of these exceptional features, the watch is also water-resistant to 300m (1,000ft) and sports a super-precise chronograph that measures in 1/1000-second increments for up to 12 hours. These amazing characteristics are packed into a rugged 47mm stainless steel case and come with a 3-year manufacturer's warranty.

Bulova Classic Aerojet 96A199
The Bulova Aerojet 96A199 is a dress watch with an open aperture at the bottom of the dial. The stylish addition accompanies rose-gold tone hands and hour markers, resulting in a subtle appearance spot-on to be worn with smart shirts, blazers, and other formal outfits.
The mechanism providing the timekeeping for this Bulova is a self-winding automatic caliber with about 40 hours of energy capacity. The movement is accurate, too, deviating only 10-15 seconds per day.
Quite a unique solution with this watch is the crown's placement at an unordinary two o'clock position. Besides adding singularity, it also provides a better wearing experience as it stays away from the wrist's bend.

Bulova Maquina Automatic 98A179
The Bulova Maquina 98A179 sums up the whole essence of the brand – it is well-made, looks stunning, and is nothing like others.
The first thing you'll notice is the skeleton face, where the inner workings of an automatic movement are on full display. Not less noticeable is the gunmetal tone of the case and bracelet. Altogether, they make up stunning aesthetics that won't leave anybody cold.
When it comes to quality, this top-notch skeleton watch is equipped with premium-level sapphire crystal that not only is scratch-resistant but also comes with multiple layers of reflection-preventing coatings for better legibility from any angle you look at it.

Luminox Watch Deals
Luminox is quite a fresh brand on the watchmaking scene compared to many others when its origins date back to 1989. With little more than 30 years, the Swiss-made American brand has already achieved an irrefutable reputation for producing top-notch luminous watches worn by elite forces and civilians alike.
With the following Black Friday watch deals, Luminox watches are available for everyone at very affordable rates.

Luminox 3051 EVO Navy SEAL
The Luminox 3051 EVO Navy SEAL is the most famous Luminox watch that every respectable watch enthusiast recognizes from far away. The design plays a big part in it, with bold white numbers on a matte polyurethane case.
However, the styling of this Luminox is not precisely what has made it famous. It's the tritium luminosity in hour markers and on top of a bezel that defines Luminox's credibility.
Why it is so famous is because of the constant glow that lasts for up to 25 years. It does require neither an additional light source nor any batteries. Therefore, Luminox watches are some of the best luminous timepieces you can find.
Besides excellent glow, you can also expect this Luminox to withstand water pressure for up to 200m (660ft) and provide nice accuracy due to a Swiss quartz movement ticking inside the 44mm lightweight case.

Luminox Navy Seal Pacific Diver
Several Luminox timepieces look way more expensive than they are. One of them is the Luminox Pacific Diver.
What makes it expensive-looking is the rugged blacked-out design. The aesthetics make it a suitable watch for men not afraid to showcase their character. But, above all, the Pacific Diver is a competent diving watch with a 200m (660ft) water resistance.
The package for deep diving also includes a one-way rotating countdown bezel, tritium luminosity, and a screw-down crown.
Probably the most remarkable feature you'll get with this Luminox is its high legibility in any lighting condition – in the dark, you'll have the tritium luminosity, while under direct sunlight, the anti-reflective coating eliminates unwanted reflections.

Luminox Sea Turtle Leatherback
The Luminox Sea Turtle Leatherback is a watch with an army green dial and contrasting orange accents. The appearance makes it a suitable survival watch that blends in the outdoor environment.
Like every Luminox piece, the Sea Turtle features tritium-filled gas tubes on hour markers. Although, compared to the 3051 EVO watch, the tubes are not on all hour markers but every other.
One of the most significant pros of this Luminox watch is its weight. Namely, it weighs no more than 50g due to a carbon compound case and nylon band. Hence, the watch stays physically unnoticeable on a wrist, which is very helpful out in the wild.

Casio Watch Deals
Casio is a Japanese watch manufacturer with two very extensive lines – G-Shock and Pro Trek. They could well be separate brands of their own due to an enormous selection of watches. Their popularity lies in the various top-notch technologies they come with, ranging from an altimeter and barometer to solar power and atomic time.
With prices typically reaching several hundred, you'll have an incredible opportunity to chop a hundred or two off the valuations during these days.

Casio G-Shock Rangeman GW9400
The G-Shock Rangeman GW9400 is one of the most sought-after Casio watches due to its utmost durability and highly appreciated functions.
A bang-on survival watch as it is, the Rangeman is almost impossible to destruct. With a shallow case and knobby exterior, the watch withstands all kinds of shocks, from gravitational to magnetic. Further, it is highly water-resistant with its 200m (660ft) rating.
Function-wise, the best feature you'll have is the Triple Sensor comprising an altimeter for height, a barometer for air pressure, and a compass for directions. In addition, the Rangeman is accurate to atomic precision via radio waves and gets energy from any kind of light.
All in all, you couldn't wish for a more rugged and function-rich outdoor watch like the G-Shock Rangeman.

Casio Pro Trek PRT-B50-4CR
The Casio Pro Trek PRT-B50 takes one notch up in terms of completeness compared to the Rangeman with the inclusion of a step counter and Bluetooth connectivity.
The watch works brilliantly with several outdoor activities since it employs an altimeter, barometer, and digital compass.
When it comes to quality, the watch is as tough as other Casio outdoor watches. It won't let you down in any environment with a knurled exterior, shallow case structure, and 10 ATM water resistance.

Casio Pro Trek PRT-B50YT
If digital sports watches aren't your cup of tea, you should consider the Casio Pro Trek PRT-B50YT. The watch comes with an analog dial that features a small digital screen at the bottom. Although the screen is small, it serves a pivotal purpose by presenting the results of various functions.
The core function out of the many is the Quad Sensor that consists of a thermometer, altimeter, barometer, digital compass, and step counter. These features help the wearer to be informed about the weather, surroundings, and pace.
Other valuable features of this Pro Trek include World Time, stopwatch, alarms, sunrise/sunset times, and many more.
The watch is battery-powered and runs on a quartz movement, so you can be sure it'll not let you down in terms of accuracy and reliability.

Casio Pro Trek PRW-3510Y
Our last Black Friday watch deal we present you with is the Casio Pro Trek PRW-3510Y. For its wide array of applicable functions and very outdoorsy looks, the timepiece has long been one of the crowd's favorite outdoor watches.
The regular features in such timepieces, such as the ABC, thermometer, and World Time, are all represented in this particular Pro Trek. However, not all outdoor watches are powered by solar energy and receive time adjustments via radio signals. This Pro Trek adds them to the already feature-rich nature of the watch.
On top of the features, the timepiece wears nicely on a wrist due to its comfortable rubber band and a 47mm case diameter. The weight is also favorable, standing at a little less than 100g.
---

Final Words
We hope this list of the best Black Friday watch deals has been of help to you in finding a discounted quality timepiece. All the brands covered here produce good-looking and reliable watches, and it would be a shame to miss out on them if they're available for so appealing prices. Therefore, take the maximum out of this shopping holiday that happens only once a year.