Affiliate Disclosure: As an Amazon Associate I earn from qualifying purchases. Details
Citizen is a Japanese watchmaking powerhouse with over 100 years of experience. That expertise is vividly showcased in the fantastic selection of high-quality and extremely appealing timepieces at affordable rates. The brand's styles range from classic dress to sporty dive and pilot watches, comprising hundreds of beautiful models.
Since selecting the right one out of the vast range is hugely time-consuming, we have conveniently combined the best Citizen watches for men that possess the highest reliability at very affordable prices.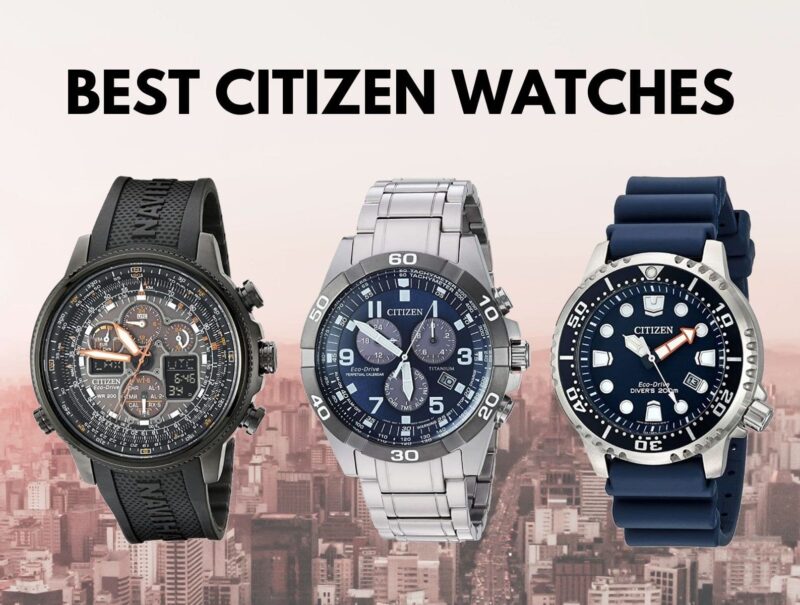 Best Citizen Watches
Almost every single watch on this list is equipped with solar Eco-Drive, a technology prevalent in the majority of models. You'll also find watches with atomic timekeeping and Super Titanium – the innovations that Citizen has pioneered.
If you're interested in the technologies, but also the quality levels and reputation of Citizen, feel free to visit our comprehensive post on Citizen brand analysis.
But without further delay, here's the list of the best Citizen watches for men.

Citizen Promaster Diver BN0151-09L
Model: BN0151-09L
Case size: 44mm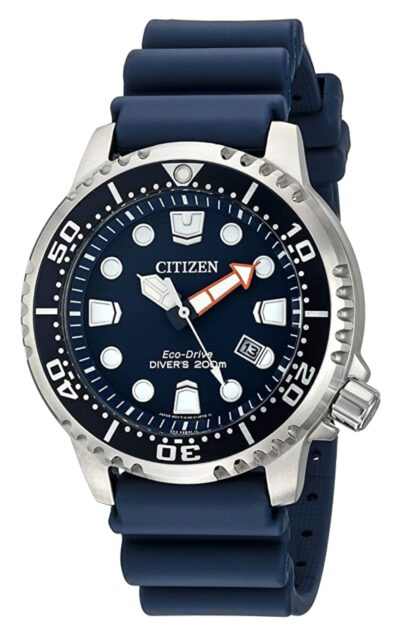 Starting the list is a real masterpiece, both quality and appearance-wise. The Citizen Promaster Diver has ISO 6425 certification which guarantees its suitability for serious water sports, including scuba diving.
The 44mm stainless steel case comes with an aluminum unidirectional bezel, and a deep blue dial with luminous hands and indices. The minute hand has been cleverly painted orange, serving the practical, as well as the aesthetic purpose.
Another pragmatic difference from typical wristwear is the crown's location at 4 o'clock in enhancing convenience and protection.
This beauty is powered solely by light, whether it be natural or artificial. And since the capacitor that accumulates the energy will hold a charge for up to six months when fully charged, you don't ever have to worry about the battery running empty.
The watch also features on our lists of the best solar-powered watches and top dive wristwear, so feel free to check how it compares to other brands' solar and dive pieces.
Why we like it:
✅ 20 ATM ISO-certified
✅ Runs on solar power
✅ Distinctive blue color
✅ Suits various clothing
Why we don't:
❌ The date window is too small
---
Citizen Promaster Nighthawk BJ7000-52E
Model: BJ7000-52E
Case size: 42mm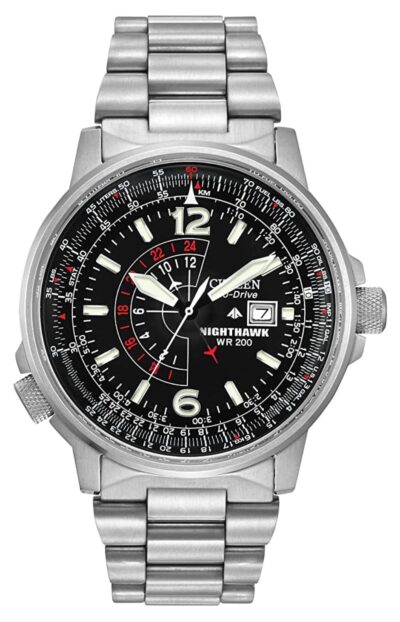 Out of all the magnificent lines of watches, the Nighthawk collection is considered by many the best that Citizen has come out with. And when looking at the craftsmanship and reliability of our next entry, the Promaster Nighthawk BJ7000-52E, it's no wonder.
The watch has a sophisticated and busy black dial that consists of a comprehensive pilot's inner rotating slide rule bezel operated by the secondary crown at 8 o'clock. The hands and markers come luminous for the sole purpose of providing visibility in dim lighting conditions. And if you happen to end up in the water, the resistance of 20ATM protects the vital parts of the timepiece.
The great news for travelers is the dual-time function in the center of the dial. Colored in distinctive red, it provides not only convenience when abroad but also a bit of elegant refinement.
Quality-wise, this Nighthawk runs on an accurate Japanese quartz movement that receives the power from light. Stainless steel, the most widespread durable material, has been employed in the 42mm case and band build-up, whereas the face features a reliable mineral crystal.
Why we like it:
✅ Sophisticated looks
✅ Never needs battery replacement
✅ Dual time function
✅ Accurate timekeeping
Why we don't:
❌ Mineral crystal tends to get scratches
❌ Dial is a tad too busy
---
Citizen Chandler BM8180-03E Watch
Model: BM8180-03E
Case size: 37mm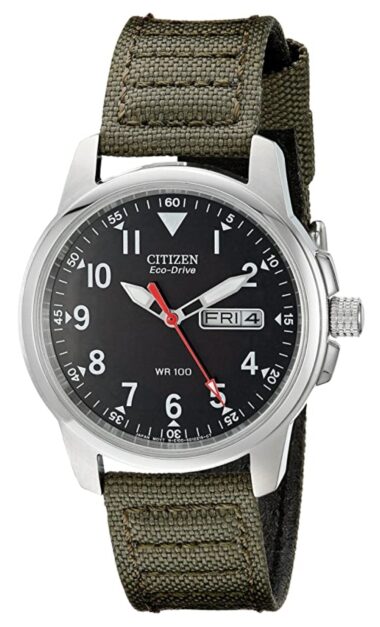 Military-inspired watches have always fascinated men around the world. The ruggedness, masculinity, and durability that a typical field watch possesses are vividly displayed in this Citizen Eco-Drive Chandler piece.
Given that a genuine military watch needs to be legible, the dial and hands come in contrasting black and white that glow in the dark, while the seconds hand features a distinct red tint. The dial also comes with a day-date window at a convenient 3 o'clock position.
The olive green nylon strap complementing the overall militaristic appearance is 18mm wide, tallying well with a 37mm size of the stainless steel case. You can easily go swimming or showering with the timepiece on the wrist as it comes 10ATM waterproof.
This watch wouldn't be nearly as good without the Eco-Drive technology that eliminates the annoying battery replacement. The secondary cell holds a charge for up to six months and can last up to 10-15 years without any concerns.
Why we like it:
✅ A genuine militaristic apparel
✅ Solar-powered
✅ Easily readable
✅ Accurate
Why we don't:
❌ The 37mm case may be too small for some
---
Citizen Promaster Navyhawk A-T Watch
Model: JY8035-04E
Case size: 48mm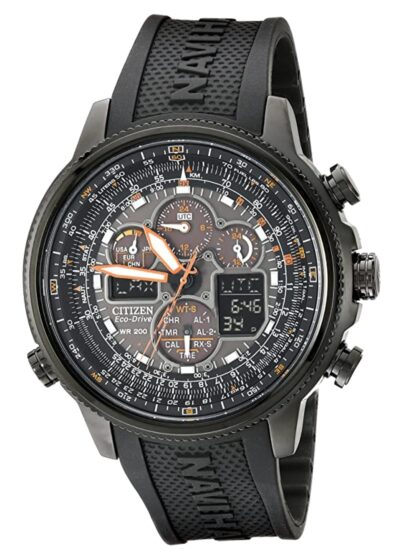 As we already mentioned earlier, Citizen's Navyhawk watches are the most appreciated by many aficionados. Therefore, it's no wonder that another pilot watch features among the best Citizen watches.
This Promaster Navyhawk JY8035-04E is special for the atomic timekeeping function that guarantees accurate time wherever you're located. The feature adjusts the time on several occasions during the night, using radio wave signals from the towers in Europe, North America, Japan, and China. You can be sure that no manual time adjustments are ever required.
The technology is coupled with an accurate solar quartz movement, resulting in a combination that is hard to beat in terms of handiness. These characteristics are the cornerstones for the popularity of solar atomic timepieces, including this same Navyhawk A-T model.
When looking at the dial, we notice a face full of numbers and indices that primarily belong to the slide rule bezel on the outer ring. The rest is occupied by a chronograph measuring from 1/100th second to 24 hours, digital time and city display, and a power reserve indicator.
The large 48mm timepiece comes with a stainless steel case with black ion plating, a deep embossed black polyurethane strap, and orange accents under the mineral crystal glass.
All in all, this oversized watch is for venturous men who are not afraid to express themselves.
Why we like it:
✅ Atomic-precision time
✅ Never needs a battery replacement
✅ World time in 43 cities
✅ Long-range stopwatch function
Why we don't:
❌ The case won't suit slender wrists
❌ Heavy on the wrist
---
Citizen Corso BU2070-04A Watch
Model: BU2070-04A
Case size: 44mm
Moving to more modest Citizen timepieces, this Citizen Corso BU2070-04A combines functional simplicity with a touch of timeless elegance. Because of the diverse look, it goes well with various styles and occasions, whether it be an important business meeting or a laidback Sunday stroll in the park.
Under the highly appreciated sapphire crystal lies a silver-tone dial that features sophisticated day and date sub-dials at 3 and 9 o'clock. The third window you'll find from the bottom shows 12/24-hour time.
The case comes in a 44mm stainless steel case, while the brown leather strap gives the wristwatch a very professional look.
The timepiece also features luminous hands and proprietary Eco-Drive solar-powered technology, only but complementing the already versatile nature.
Why we like it:
✅ Goes well with various occasions
✅ Durable sapphire crystal glass
✅ Powered by any light
✅ Looks expensive
Why we don't:
❌ The leather strap is a bit stiff
---
Citizen Brycen Chronograph CA0648-09L
Model: CA0648-09L
Case size: 44mm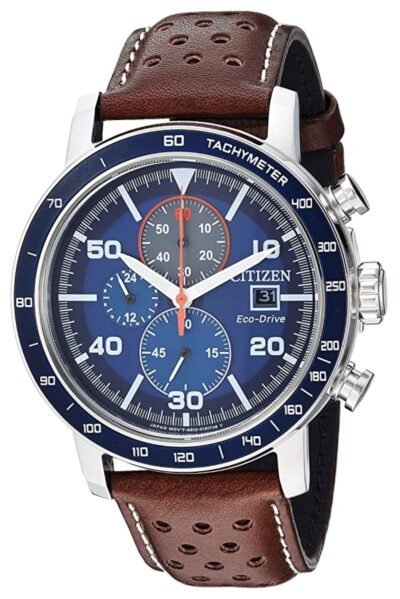 The Citizen Brycen CA0648-09L comes with distinguishing features that make it a spot-on casual watch.
The denim blue dial features a stopwatch function with an orange round window on the top that measures up to 60 minutes. The second subdial located below is for the primary timekeeping because the orange chronograph's second hand has been positioned to the main dial. Some may find it confusing but the majority of stopwatch-featuring timepieces come precisely like that.
The aluminum outer ring of the case also serves the stopwatch function with tachymeter readings, though it comes totally fixed.
The Brycen runs on ultra-reliable solar power and is cased in stainless steel and covered with mineral crystal. The brown stitched leather band harmonizes well with the blue case and dial, resulting in a truly eye-catching Citizen timepiece.
Why we like it:
✅ Awesome blue dial
✅ Decent case size at 44mm
✅ Stopwatch feature
✅ Never needs a battery
Why we don't:
❌ The band is a bit too short for thick wrists
---
Citizen Promaster SST
Model: JW0139-05L
Case size: 46mm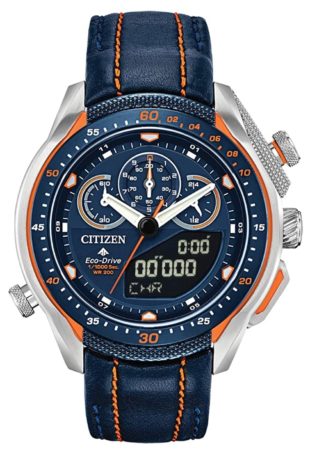 The Citizen Promaster SST is a watch for racing enthusiasts, comprising stunning functions and sleek racing car aesthetics.
The analog-digital dial, which is covered with an anti-reflective sapphire crystal, is made up of subdials presenting the 1/1000-second chronograph. With this feature, one can record up to 20 lap times – all stored in a memory and reachable through the digital display.
The watch is also a spot-on travel piece when the World Time feature allows switching between 43 cities in 31 timezones.
However, the Promaster SST is more than just a tool and travel watch. With the combination of navy blue and orange colors, the watch also makes it an eye-catching wearable for everyday occasions, whether it be work or a night out.
One doesn't have to worry about the battery life either, as it is equipped with a solar-powered quartz movement that takes no more than 35 hours of direct light to be fully charged.
Why we like it:
✅Sleek racing watch design
✅World Time feature
✅Eye-catching colors
✅Magnificent 1/1000 chronograph


Why we don't:
❌ Pushers have an unordered placement
---
Citizen Corso Classic Watch BM7100-59E
Model: BM7100-59E
Case size: 41mm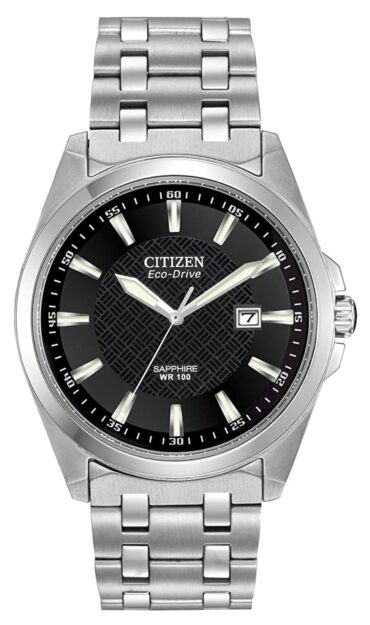 One of the genuine dress pieces on this list of the best Citizen watches is the Corso BM7100-59E. A classic metal watch with silver and black tones can't get any more "dressier."
But what makes this watch stand out is the price at which this quality piece is sold. For a little over 200 bucks, you get a sapphire crystal, the most durable glass in high-quality wristwatches, and a solar-powered movement. While the majority of sapphire-covered tickers start from 300+ dollars, only a handful of them employs such an innovative movement.
When it comes to the appearance, the textured black dial combines perfectly with the bold and bright hour markers and hands. The latter are luminous, too, enhancing visibility in the dark.
Very accurate quartz movement that has become a norm in all of the Citizen models receives the power from all sorts of light so that the cumbersome battery replacement can be totally ignored.
Why we like it:
✅ Highly durable sapphire crystal
✅ Genuine classic apparel
✅ Great luminosity
✅ Very accurate
Why we don't:
❌ Nothing particular to complain about
---
Citizen World Chronograph A-T "Blue Angels"
Model: AT8020-03L
Case size: 43mm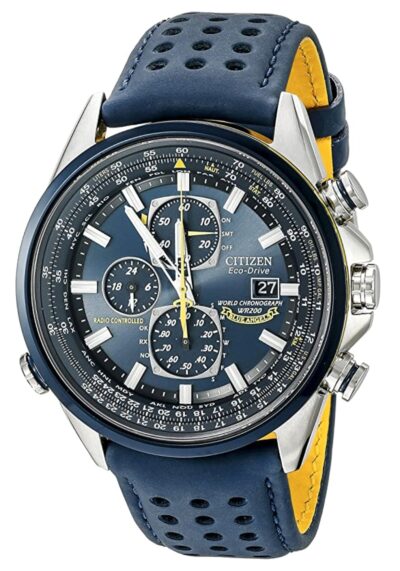 The Blue Angels models are dedicated to the Navy's elite flight demonstration squadron renowned for their precision and grace. The Citizen World Chronograph "Blue Angels" watch is a top-notch aviator's piece that precisely represents these values.
It's a top-quality watch that has a decently sized 43mm case with a protected crown and three pushers, as well as silver-toned flat lugs.
The glass comes in reliable sapphire crystal, while the strap is of blue leather. And not only is the strap blue but also the dial with distinctive yellow accents. The slide rule bezel markings you'll find from the inner ring make the watch's face very busy, so ensure not to get lost when glancing at it.
The technologies are as astonishing as the overall blue appearance it comes with. The Citizen AT8020-03L, which also features amongst the top atomic solar watches, keeps atomic precision in 26 timezones while getting energized from solar power. A stopwatch measures in 1/20-second increments up to 60 minutes, while the power reserve indicator shows the charge level.
Lastly, you won't have to take the wristwatch off when swimming or showering due to the 200m (660ft) water resistance.
Why we like it:
✅ Atomic time everywhere
✅ Never needs a battery
✅ Highly reliable sapphire crystal
✅ A unique blue and yellow coloring
Why we don't:
❌ The slide rule bezel is difficult to read
---
Citizen Calendrier BU2020-02A
Model: BU2020-02A
Case size: 44mm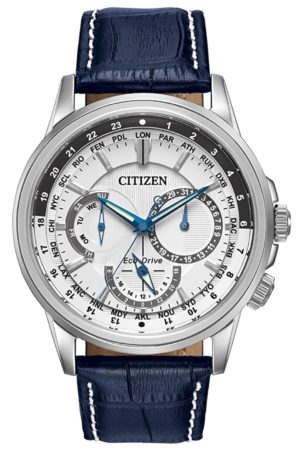 The Citizen Calendrier BU2020-02A is a top Citizen watch due to its luxurious design that sees a sophisticated layered dial combine wonderfully with blue and silver colors.
Perfect to be worn with a suit and tie, this subtle watch features classy day and date windows. They are not like the typical day-date windows when all the days and weekdays are fully present in two circles. The third round window you'll find from the dial belongs to 24-hour time.
Another impressive feature of this Calendrier watch is the World Time. Set on the outer ring, the wearer can conveniently switch between 24 major cities in the world.
The 100m (330ft) water-resistant 44mm timepiece receives energy from any sort of light and notifies if the storage is low through a power reserve indicator.
All in all, the Citizen Calendrier with a price tag of around $300 is an excellent bang for the buck, considering the luxurious looks.
Why we like it:
✅ Luxurious aesthetics
✅ Nice day-date feature
✅ Easily readable
✅ Highly water-resistant for a dress watch

Why we don't:
❌ Luminosity is below par
---
Citizen Promaster Professional Diver Watch
Model: BJ8050-08E
Case size: 48mm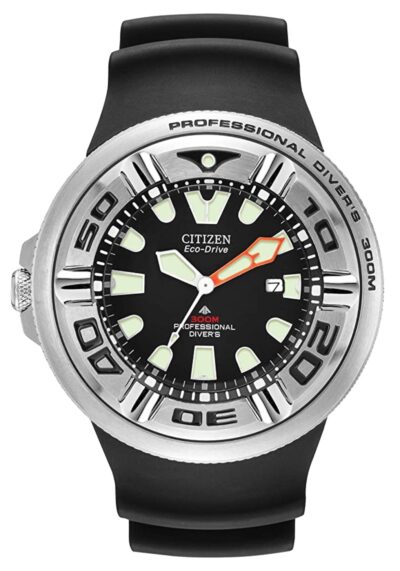 The next model is one of the best Citizen watches for a good reason. The Promaster Professional Diver BJ8050-08E is guaranteed a 300m (990ft) water resistance, which is so advanced that is even adequate for mixed gas diving.
The looks are also more of a tool watch rather than a casual timepiece for everyday wear, although that doesn't mean it can not be used on everyday occasions. Hence don't get distracted by the term "professional" or the looks either.
The watch has a large 48mm case. However, visually, it won't look as large due to the relatively small dial.
Another interesting difference compared to the typical watches is the location of the screw-down crown at the left-hand side. If you're the person who prefers to wear wristwear on the right wrist or you're just left-handed, that is your go-to watch.
As the rest of the watches in this article, this Citizen Professional Diver is solar-powered from all sorts of light, natural or artificial.
Why we like it:
✅ ISO-certified to 30 ATM
✅ Great lume
✅ Appropriate tool watch looks
✅ Perfectly accurate
Why we don't:
❌ Looks too heavy-duty
❌ Relatively heavy
---
Citizen Promaster Navyhawk A-T
Model: JY8030-83E
Case size: 48mm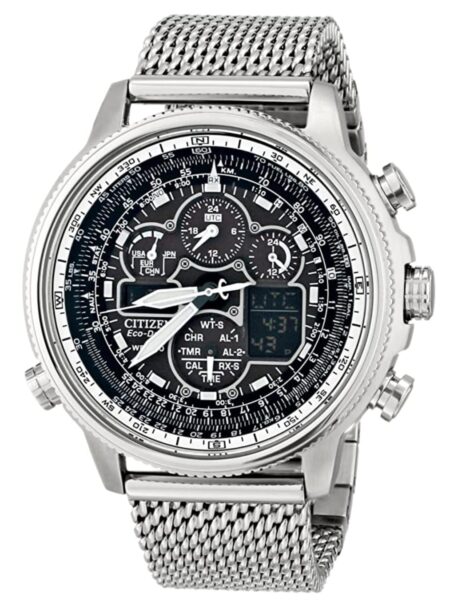 Another "Hawk" on this list is the Citizen Navyhawk JY8030-83E with a very busy dial yet again. This model is, unlike others, gray-scaled.
Featuring Eco-Drive technology and atomic clock synchronization for superior accuracy, you're assured that it won't need any regular servicing as other types would. The power reserve of the secondary cell stretches up to six months when fully charged, whereas the time adjustments are made several times during the night.
This model comes with a large 48mm stainless steel case that is combined with a metal mesh bracelet. The dial consists of small windows for 1/100 stopwatch function, perpetual calendar, and second timezone, while the digital displays show the countdown timer and the timezone the watch is connected to.
The slide rule bezel on the dial's outer ring has all the markings for various measurements a pilot might need.
Although this Navyhawk costs more than many other excellent Citizen timepieces, it still offers relentless quality and high-tech features for the bucks spent.
Why we like it:
✅ Atomic time in 43 world cities
✅ Solar-powered for utmost convenience
✅ Incredible 1/100-precision stopwatch
✅ Overpowering dial
Why we don't:
❌ Digital displays are hard to read
❌ The case at 48mm won't suit slender wrists
---
Citizen Diver Automatic NY0040-17LE
Model: NY0040-17LE
Case size: 42mm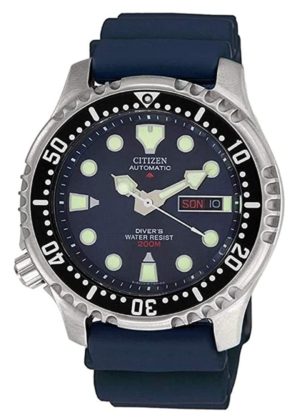 Compared to other acknowledged manufacturers, Citizen does not produce many self-winding automatic watches. However, when they become available, they are definitely worth checking out.
The Citizen Diver NY0040-17LE has already been around for some time but is still highly sought-after due to its excellent reliability. Comparable to the Seiko SKX series appearance and purpose-wise, it is as practical and beautiful.
Equipped with a 200m (660ft) water resistance and wonderful luminescence, the NY0040-17LE is a professional diver for heavy-duty submersion. You'll also find the bezel rotating in one direction and the caseback and crown screwable. The latter, by the way, has been placed at an unusual 8 o'clock position, adding to the watch's uniqueness.
The watch stays on the smaller end of dive watches, measuring 42mm in diameter. Furthermore, because of the modest bezel and lug-to-lug distance, it feels pretty much as a 40mm dive watch.
Why we like it:
✅ Automatic caliber
✅ Feels like a classic 40mm dive watch
✅ A special crown's placement at 8 o'clock
✅ Excellent luminosity
Why we don't:
❌ Nothing to complain about
---
Citizen Chandler Military Watch AT0200-05E
Model: AT0200-05E
Case size: 39mm
Besides the ultra-durable BM8180-93E already on display earlier in this post, we've also added its close relative, the Citizen Chandler AT0200-05E. The reliability that the Citizen Chandler collection offers is just so overwhelming that leaving this watch out would be unfair.
Like the other Chandler, this one also comes with a green canvas strap but is also available in blue. Either black or blue dial features a 1-second chronograph on two subdials, whereas the third circle is reserved for the 12/24-hour time.
A solar-powered accurate quartz mechanism is cased in 39mm stainless steel, the hands and markers glow in the dark, and on top of that, the watch comes 10 ATM water-resistant.
Why we like it:
✅ Rugged and reliable
✅ 10 ATM water-resistant
✅ Chronograph function
Why we don't.
❌ The strap is too short for a large wrist
---
Citizen Brycen Super Titanium Watch
Model: BL5558-58L
Case size: 43mm
Being one of the pioneers of titanium watches, even producing the first-ever fully titanium timepiece in 1970, it's no wonder they've continued the legacy by developing a unique Super Titanium. It's a material that has gone through a surface hardening process, becoming "five times more scratch-resistant than stainless steel and 40% lighter."
The Citizen Super Titanium BL5558-58L comes in titanium case and, as noted, is highly resistant to scratches as well as is lightweight. In fact, the weight is at 110g (3.7 ounces), which is very unusual for a metal case and band watch.
The deep blue dial comes with a 1/20 stopwatch function, 12/24-hour time, and a date window at 4 o'clock. And since there's a next-level chronograph, you can also expect to have a tachymeter on the dial's outer ring.
Considering the high properties of this Citizen timepiece, one would expect the price to be in the upper hundreds. Luckily, it's available for way less. In fact, this watch is one of the cheapest titanium watches in the whole market, costing only about a couple of hundred dollars.
Why we like it:
✅ Super Titanium is extremely scratch-resistant
✅ Lightweight for a metal watch
✅ 10 ATM water-resistant
✅ Bang for the buck
Why we don't:
❌ Bezel is fixed
---
Citizen Promaster Sailhawk
Model: JR4061-00F
Case size: 44mm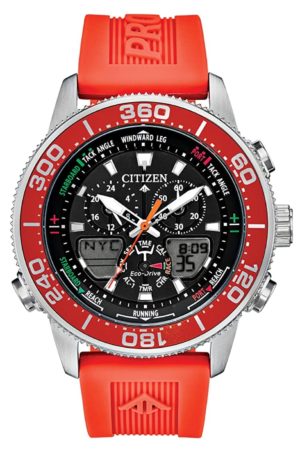 One timepiece that is singular among Citizen watches, both appearance and function-wise, is the Promaster Sailhawk JR4061-00F.
The uniquely designed watch strikes with a reddish-orange tone that covers the bidirectional bezel and polyurethane strap. Among the metal-tone and black timepieces so prevalent these days, the Sailhawk is, therefore, a genuine eye-catcher.
In terms of functions, you get a lot to discover and orientate between. However, besides the World Time, GMT time, and alarm features, the primary focus is set on yacht racing with dedicated timers, split lap times, and inner bezel markings.
Many have found operating the watch quite difficult due to the abundance of functions and four separate buttons. Thus, in order to avoid it, make sure to check Youtube videos that explain the watch in detail.
Why we like it:
✅ Eye-catching reddish-orange tone
✅ Digital displays offer extra features
✅ The size goes well with most wrists
Why we don't:
❌ Difficult to operate between the various functions
---
Citizen Tsuno Chronograph Watch
Model: AV0071-03A
Case size: 45mm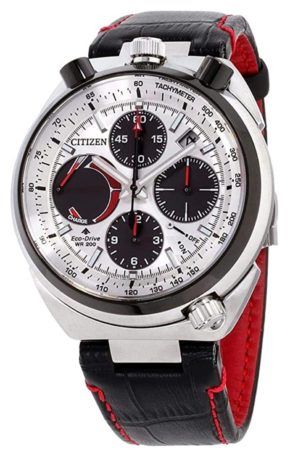 Celebrating the 30th birthday of Promaster watches, Citizen has launched quite extraordinarily redesigned timepieces. One that especially catches the eye is the Citizen Tsuno Chronograph. And it's not difficult to guess what makes it so unique.
With the pushers lying on the top of the case, the Tsuno Chronograph looks almost as a hybrid of a watch and a stopwatch. It functions as one as well with a handy 1/5-second flyback chronograph set on three subdials.
The so-called Panda design watch also has a prominent power reserve indicator on the left-hand-sided window, enabling the wearer to keep a close eye on the level of charge.
The unusual placement of features takes one step further with the date window's location between one and two o'clock instead of the standard three or four position.
Last but not least, the Tsuno watch is water-resistant to 200m (660ft) and comes with a sporty leather strap.
Why we like it:
✅ Cool pushers' location
✅ Iconic Panda design
✅ Convenient power reserve window
Why we don't:
❌ The hands are sometimes difficult to capture
---
Citizen Avion Watch AW1361-10H
Model: AW1361-10H
Case size: 45mm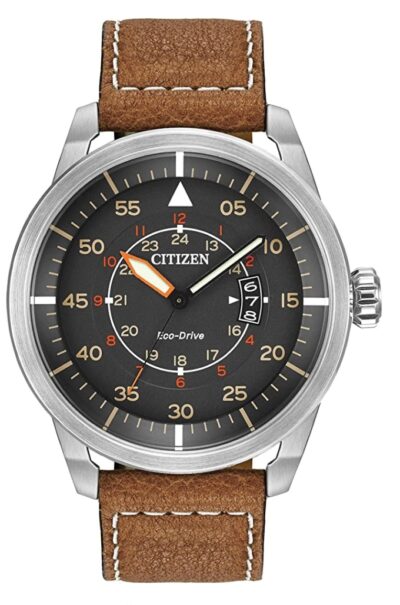 One of the most affordable yet one of the best Citizen watches is the Avion AW1361-10H. The piece has a vintage traveler's watch design that comes with all the necessary features a frequent journeyman required back in the days.
The face is colorful, with black being the most dominant, while red, orange, and yellow are also present.
Differentiating the timepiece from many others is the unusual hour and minute placing when the minutes are displayed on the outer ring and hours on the inner. A 24-hour time adds the third ring to this palette of numbers.
The Avion has a 10 ATM resistance to water pressure, features luminous hands, and is cased in 45mm stainless steel. Due to its versatile appearance, you can wear it on various occasions without worrying about the unsuitability.
Last but not least, powerful Eco-Drive technology keeps the timepiece charged at all times with a power reserve for up to six months.
Why we like it:
✅ Versatile looks
✅ Attractive dial style
✅ Fashion-oriented case size
Why we don't:
❌ Hour markers don't have lume
❌ The leather band is a bit too thick
---
Citizen Axiom AU1060-51E
Model: AU1060-51E
Case size: 40mm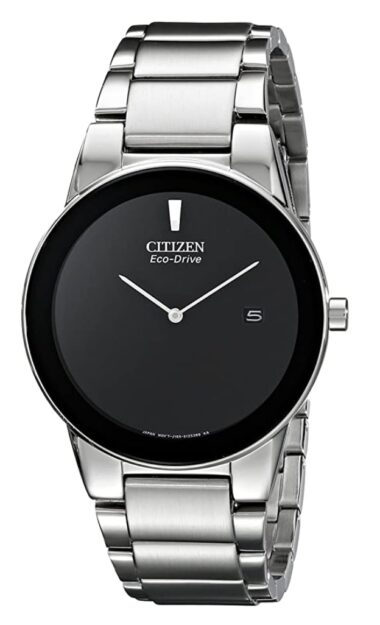 Well, this is the kind of watch nobody expected from Citizen. The extreme minimalism is so striking that it almost makes the ticker not minimalistic at all.
The Citizen Axiom AU1060-51E is nevertheless extremely popular, possessing a unique appeal and suiting perfectly as a dress watch.
The moderately sized 40mm steel case is coupled with a metal band and mineral crystal. The dial, which is edge to edge, comes with only four features – the two hands, date window, 12-hour marking, and the Citizen Eco-Drive logo.
But beware, since this piece comes only splashproof, not waterproof, it won't stand much water. However, light rain won't cause any problems. Also, the Axiom needs good care because the dial is relatively prone to scratches.
Why we like it:
✅ Extreme discreetness
✅ Smartwatch-like dial
✅ Very accurate
✅ Powers by any light
Why we don't:
❌ Not waterproof
❌ Dial tends to scratch easily
---
Citizen Promaster Diver BN0191-55L
Model: BN0191-55L
Case size: 45mm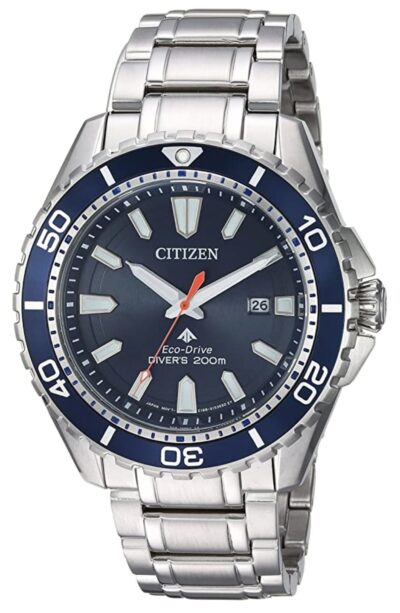 This Promaster Diver BN0191-55L showcases a classic diver's watch image with an azure blue dial and metallic band.
ISO-certified to 200m (660ft) it makes a perfect scuba diving tool watch. A unidirectional bezel, luminous hands and indices, as well as screw-down crown and caseback, are also available like you would expect from a genuine diver's piece.
The case size at 45mm fits perfectly to most wrists, being neither overly large nor awkwardly small. Powered by any kind of light, the watch is available for a very reasonable price.
Why we like it:
✅ ISO-certified genuine dive watch
✅ Powered by any light
✅ Decent case size
✅ Classic apparel
Why we don't:
❌ Some complain over the quality of the metal band
---

FAQ About Citizen Watches
Now that we've combined the best Citizen watches for men, it's about time to answer some of the main questions that typically arise regarding the Citizen Eco-Drive watches.

Q: How Long Do Eco-Drive Watches Last?
A: Citizen's Eco-Drive watches last well over a decade when adequately taken care of. The rechargeable cell that stores the energy lasts at least 10 years in the older models, whereas the newer cells in most recent watches are estimated to last 40 years and more.

Q: How Do I Charge an Eco-Drive Watch?
A: Since it's powered by any light, whether natural or artificial, an Eco-Drive watch charges naturally on the wearer's wrist. A typical solar cell has a charge up to 6 months when fully charged. If the hands have stopped, expose the timepiece to the light for a few hours, which should solve the issue.

Q: Is Solar Watch Better Than Automatic?
A: In the means of accuracy and hassle-free nature, then yes, a solar watch is much better than an automatic one – you don't have to worry about the rechargeable battery running empty, nor the watch losing/gaining minutes in a month.
However, automatic movement aficionados will disagree on the preference because the craftsmanship and sophistication of a self-winding mechanism is on another level compared to a mass-produced solar quartz movement.

Q: Is Citizen Eco-Drive Waterproof?
A: The watch movement does not determine the waterproofness of the watch. The build of the timepiece does, meaning that a solar watch is as waterproof as any other type of watch. Almost all the Citizen Eco-Drive watches come water-resistant, even boasting professional diver's wristwear up to 100 ATM.

Q: Is Citizen Better Than Seiko?
A: When it comes to solar power, then yes, Citizen is widely regarded as better than Seiko. That is due to the wide range of solar watches the brand offers. The expertise and know-how of technology are more extended and more diverse.
However, Seiko excels in automatic watches where Citizen is almost inexistent, in that exceeding Citizen by a mile (or even two, if you will). Thus, the Seiko and Citizen comparison is down to preference in the movement.

Conclusion: Best Citizen Watches
The best Citizen watches are not the best only among the brand's lineup but conquer the lists in the whole market. What makes Citizen watches so reliable is the expertise and know-how that has been put into making these masterpieces for more than a hundred years. Whether it be a classic Citizen Corso or a Skyhawk piece, a buyer can rest assured that any of the Citizen watches he chooses will live up to the expectations.

You may also like:
Affiliate Disclosure: As an Amazon Associate I earn from qualifying purchases. Details