Affiliate Disclosure: As an Amazon Associate I earn from qualifying purchases. Details
Getting the very first watch is an exciting procedure, all the way from choosing it to slapping it on a wrist.
However, like it is with outfits, it is essential to know how to wear a watch properly so that the experience would be as comfortable as possible.
Following, we'll take a look at 10 decisions you should make in regards to wearing a watch.



1. How To Wear a Watch – On the Left or Right Hand?
Before slapping the watch on your wrist, the first decision is to decide on which hand you would like to wear it.
Although there is no irrefutable standard for that, the watch is mostly worn on the non-dominant hand, which, in most cases, is the left hand.
Wearing a watch on the left hand for right-handed people has several advantages.
The most important of them is that the watch is less likely to get bumped, scratched, and hit because it is worn on the non-dominant hand. Also, it is more convenient to operate the watch since most watches have a right-handed crown and pushers setup.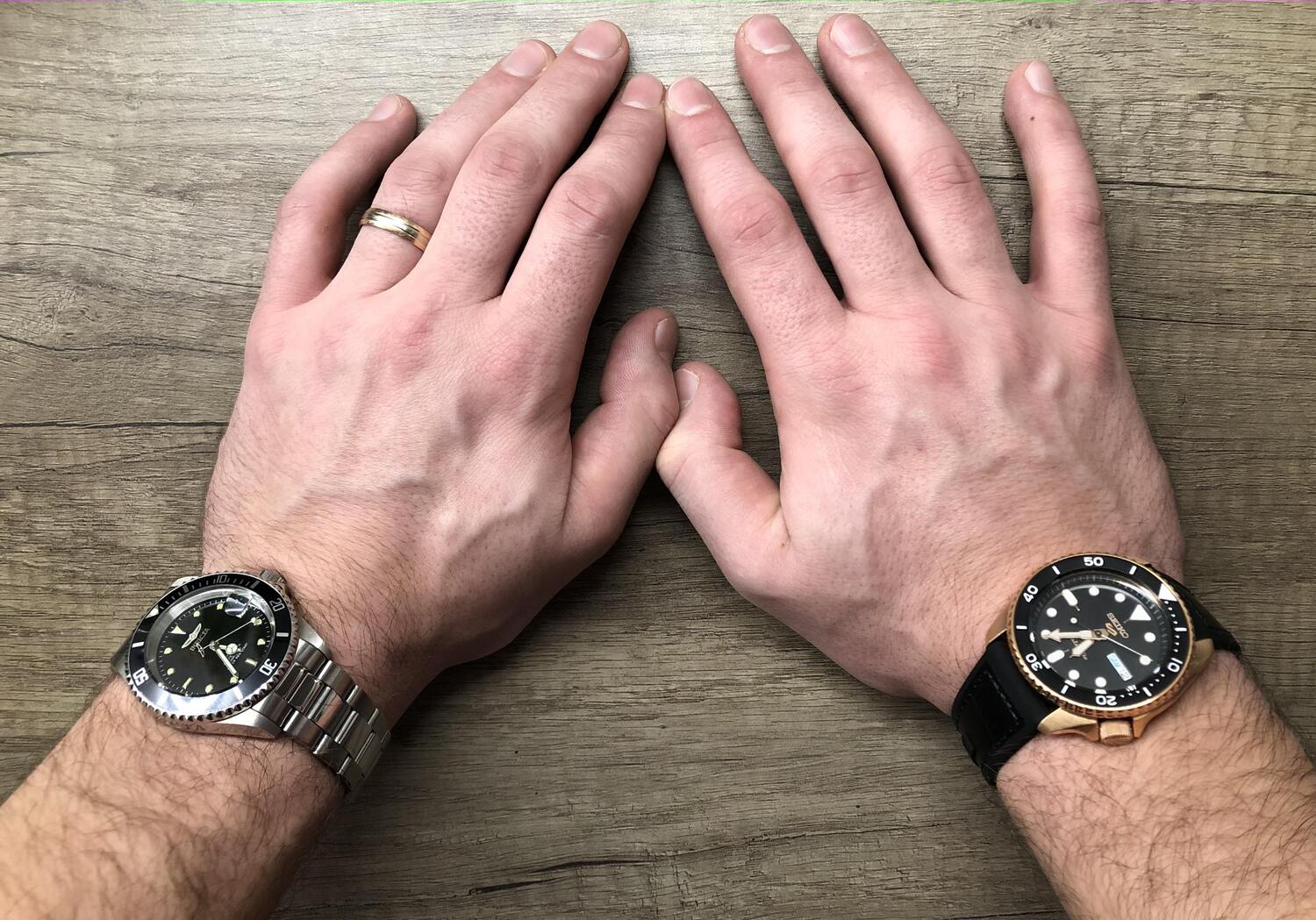 However, if you're left-handed, the best would be to wear the watch on your right hand, which is your non-dominant hand. There may be a slight discomfort regarding the operation of the watch crown and pushers, but an essential purpose – the better protection of the watch – is fulfilled.
Fortunately, several watch manufacturers offer destro watches where the pushers lay on the left side of the case, ensuring better handling of watches for left-handed people.
Learn more about the pros & cons of wearing watches on the left and right hand.

2. Can I Wear a Watch Inside Wrist?
Although a watch is meant to be worn on the outside of a wrist, it can be worn on the inside as much. However, note that it won't catch as much attention as it would in the traditional way.
But why to even consider wearing a watch upside down?
You'll be amazed how many reasons there are that make people wear a watch in such an unconventional way.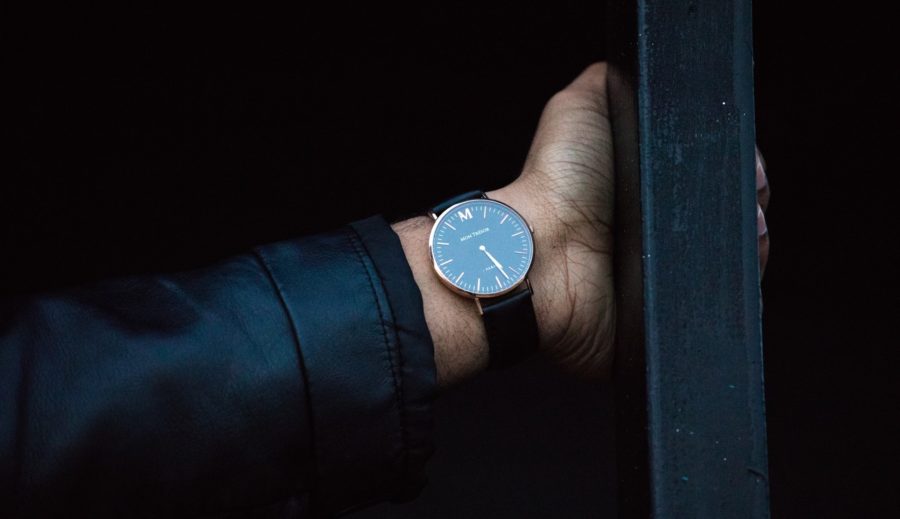 First and foremost, it provides discreetness when checking the time because doing it publicly isn't always the politest thing to do. Secondly, the watch crystal is better protected from hits and knocks when the timepiece is inside the wrist. Also, it can be a style statement because very few do that.
If you wish to know more reasons why people decide to wear their watches like this, read our article about the different benefits of wearing a watch inside the wrist.
However, regardless of the many beneficial reasons, we still suggest you wear your watch the proper way. This way, it looks more natural and brings out the aesthetic features of your watch face.

3. How Far Up To Wear a Watch?
When it comes to the exact location of a watch on the wrist, there are several places where people wear it.
Some prefer to have the watch below the wrist bone (called "ulna") right in the wrist bend, while others wear it far above the wrist bone.
However, the best location for a timepiece is right above the wrist bone so that the watch touches it. This way, the watch lays on a flat surface while at the same time anchoring itself behind the bone.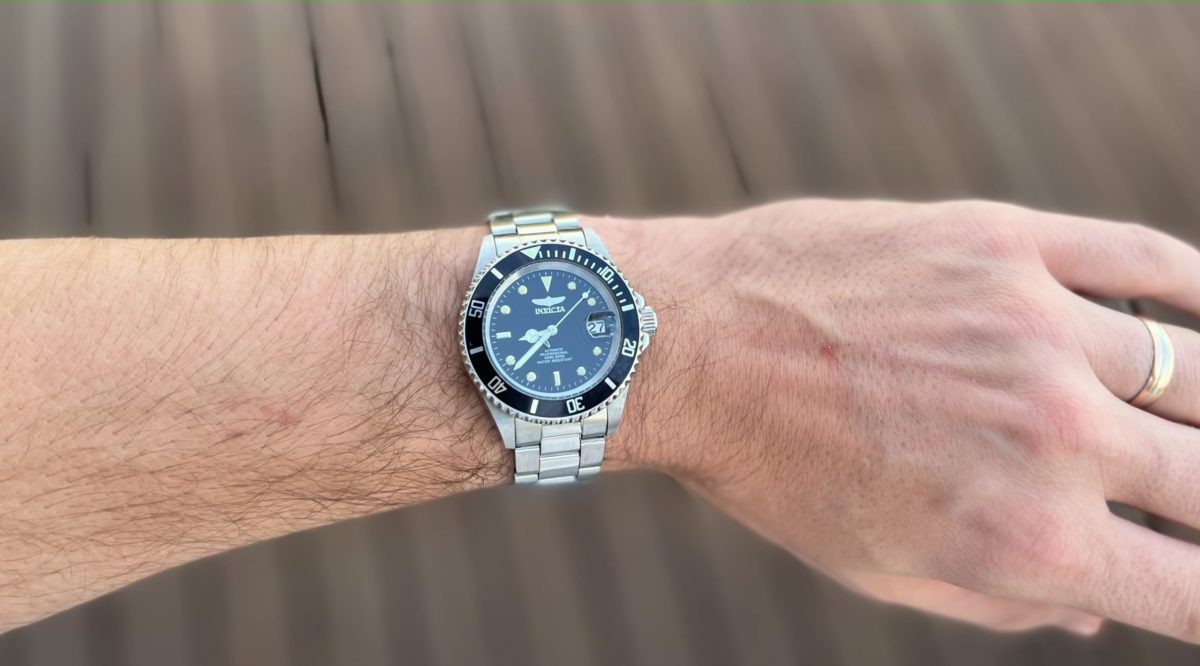 When you decide to wear your watch in the wrist bend instead, you will most likely feel the pressure when bending the wrist. Also, the crown will press against your hand. Therefore, it's not the most comfortable position to wear a watch.
Then again, it is up to everyone how to wear a watch. If you wish to place it in the wrist bend, go ahead, as long as it feels comfortable and aesthetically pleasing to you. But naturally, the best location is right above the ulna.

4. How Tight Should a Watch Be?
The next thing to consider is the tightness.
There are several ways people wear watches. For example, some wearers fasten their watches tightly around the wrist, leaving imprints on the skin when removing the watch. Also, some prefer to wear a watch loose, allowing it to move freely up and down the wrist.
Although there's no right or wrong in how tight a watch should be, the best practice sees the wristwatch secured tightly around the wrist while still allowing it to move an inch here and there.
The primary reason a watch should sit like that is to do with comfort. Also, it doesn't cause as much pressure on the strap and pins as do tight and loose watches, which eventually extends the lifetime of straps.
The best way to check the most appropriate tightness is to slip a finger between your wrist and the strap/bracelet. If you're able to slip it there, the watch is tight enough yet comfortably loose around your wrist.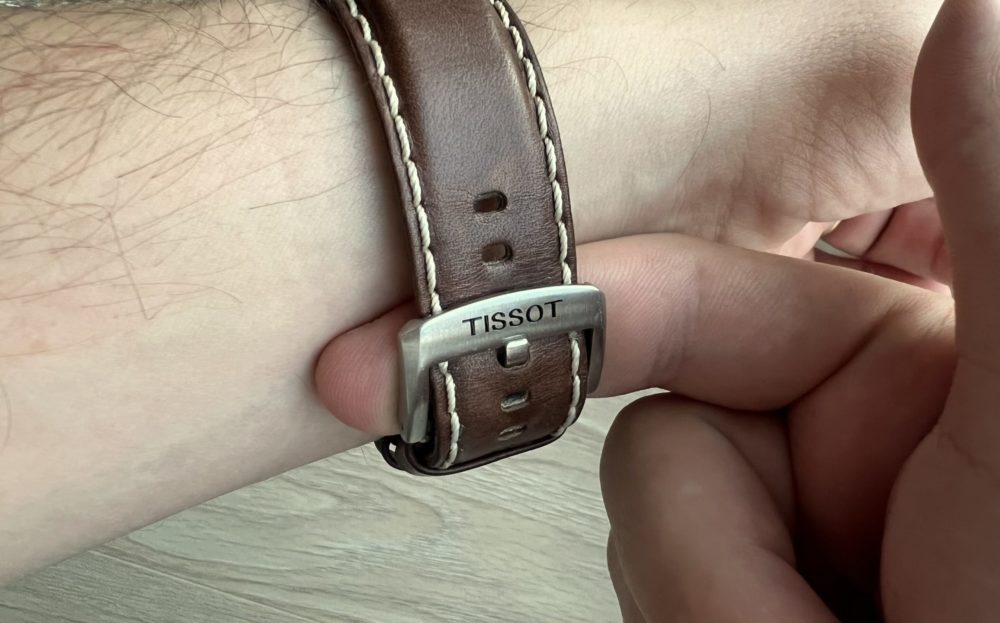 However, if you can't press your finger underneath the strap/bracelet or it goes in far too easily, you should consider either loosening or tightening the watch.
In terms of different watch bands, the rubber, leather, and canvas straps with a pin buckle closure are the easiest to adjust. A metal bracelet, on the other hand, requires removing watch links to make it suitable.

5. What Size Watch To Wear?
Now, this is probably the most asked question when it comes to wearing a watch because the array of different watch sizes ranges from a modest 36mm all the way up to 50mm.
So, what size is the most appropriate?
It all comes down to the size of your wrists.
If you have slender wrists, you should go for smaller watches, and if your wrists are large, choose larger watches.
A general rule is that the case size should make up approximately 70% of your wrist's cross-section, while the lug-to-lug distance shouldn't exceed 90%.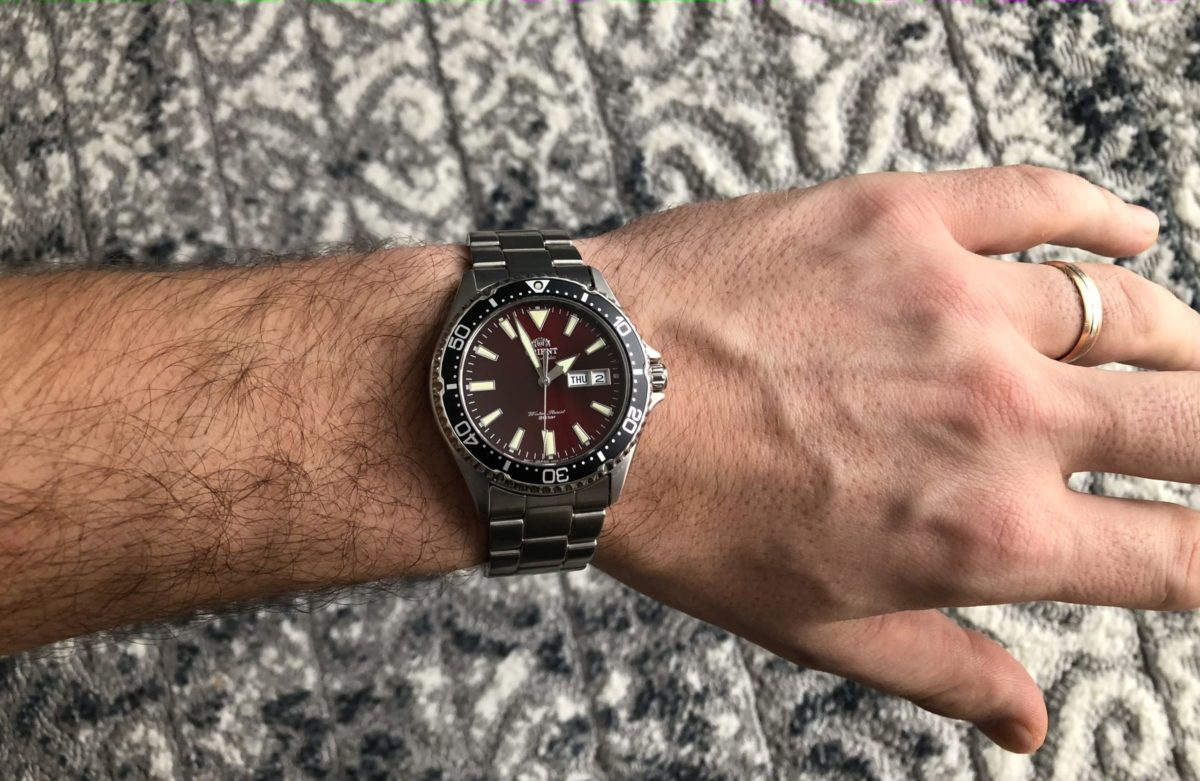 These percentages ensure that a wristwatch is big enough to cover the majority of a wrist area but is not overly large to overreach the limits.
Another way to find the correct size is to measure your wrist's circumference. If it stays between 5.5 and 7 inches, choose smaller watches (36-40mm). However, if your wrists measure more than 7 inches, opt for larger timepieces (41-46mm).
Watch Researcher has a comprehensive guide to choosing the best watch sizes. So feel free to refer to our watch size guide to find aesthetically appropriate sizes.

6. What Type of Watch To Wear?
Deciding about which type of watch to wear comes down to your lifestyle, profession, and hobbies.
Although there are tens of different types of watches, we can distinguish five that are the most popular: 
Dress watch – an analog dial with an elegant appearance
Dive watch – an analog dial with a dive bezel, thick hands, and luminous hour markers
Chronograph watch – a timepiece with subdials and pushers
Field watch – a dial with easy-to-read Arabic numbers and green/black/brown color
Digital watch – a timepiece with a digital display and sporty appearance
Now, if your lifestyle or work includes wearing smart outfits, such as tuxedos, suits, and long sleeve shirts, the most appropriate type is a dress watch. If the outfit isn't too smart, a classic dive watch with a metal bracelet is also suitable.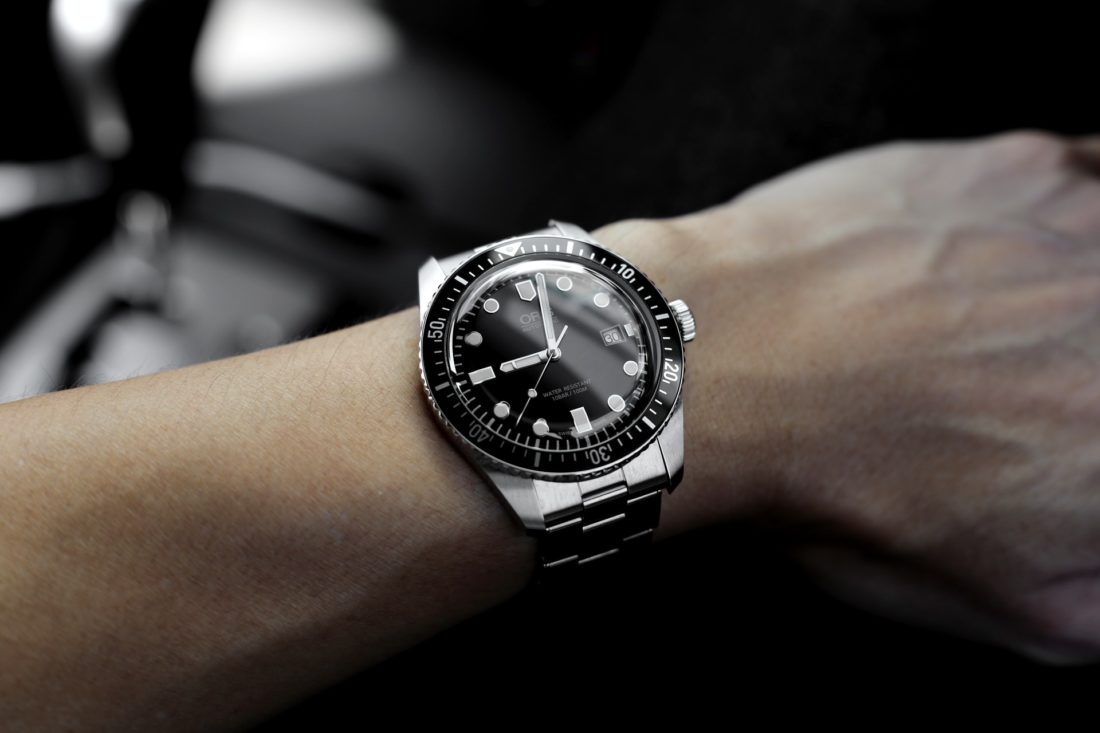 When you wear mostly sharp casual clothes – jeans, khakis, blazers, and button-down shirts – wear dive watches or chronograph watches. Typically, they are larger than dress watches and look more casual.
However, if you dress mostly casually (t-shirts, jeans, polos) or are active in your life, you can add a field watch and a digital watch to your outfit. Dive and chronograph watches are also appropriate for this dress code.
Although no one exactly dictates what watch you should wear with certain clothes, the combinations described above are considered the best in terms of aesthetics and appropriateness.

7. How To Wear a Watch with Long Sleeves?
One of the questions that sometimes pops up is how to wear a watch with long sleeves – underneath or above the sleeves? This question is especially relevant to smart outfits.
Unlike several other topics in this post, this one has a straightforward answer – a watch should always be worn underneath the sleeve. For that, it must have enough space under the sleeve for convenient uncovering for time checking.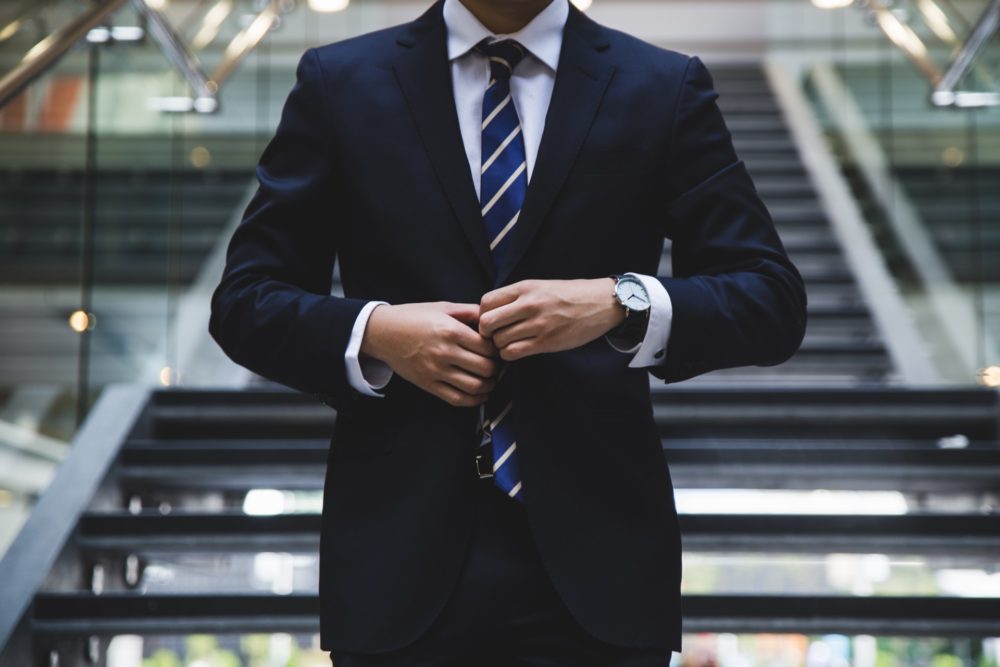 In order for the watch to fit conveniently, it should have a thin case and shouldn't be oversized. Fortunately, there are plenty of slim watches that are perfect with long sleeves.
For casual long sleeve shirts, however, you can apply another method – roll up the sleeves. This way, you can wear larger and thicker watches that you don't have to necessarily hide underneath the sleeves. That is how I used to do back in my office days when I wanted to wear my oversized Bulova Maquina and Citizen Navyhawk watches.

8. Can I Wear a Watch To Sleep?
When talking about smartwatches, then sleeping with a watch on your wrist is totally fine and even encouraged because you get essential sleep quality information during the night. Also, the alarms will wake you up much better, especially if they're vibrational alarms.
However, traditional watches are mostly suggested to be taken off the wrist before going to bed.
The thing is that they usually weigh more and are much bulkier than smartwatches, which can be annoying and can eventually ruin your good night's sleep.
In addition, since traditional watches usually have metal bracelets and leather straps, along with more complex mechanisms (especially automatic watches), they wear out quicker.
Therefore, it is best to leave your watch on a nightstand or a bedside table. You will sleep much better, and your watch will last you longer.

9. Should I Match the Watch With My Outfit?
Matching a certain type of watch with appropriate clothing is natural. However, should you also match them in terms of colors?
If possible, then yes.
Imagine a brown leather watch strap combined with a brown belt and shoes. Do they harmonize with each other? Definitely! The same goes with black leather straps, which you can pair with black shoes and a belt.
You can also match metal watches with particular colors. For example, silver watches go best with blue, grey, and black shoes, whereas gold-toned watches match brilliantly with earth tones, such as beige, brown, and tan.
However, it's not always possible to match the tone of the strap with clothes. For instance, orange and red rubber straps don't seem to match with anything, unless you own orange or red shoes.
Therefore, regardless of these suggestions, you have free will to pair your watch with anything you think is the best.

10. Can I Wear Two Watches Simultaneously?
With the incredibly fast inflow of smartwatches in recent years, many people who didn't wear watches before do that now. Even seasoned watch wearers often can't resist the opportunities that smartwatches offer.
Therefore, the question of wearing two watches instead of one has come into the spotlight.
But is it okay to wear more than one watch simultaneously, for example, a traditional analog watch on one hand and a smartwatch on the other?
Yes, of course, you can! Especially if you're in a casual setting. It can be a style statement as much as a practical consideration.
Some people even wear two traditional watches simultaneously, including Drake, Chris Pratt, and Billie Eilish. Although it may look odd, it's eventually up to everyone to decide how they want to wear watches.
But try not to wear both of them for business meetings or fancy galas. I am sure you can resist that!

Final Words
I hope this article has helped you find out how to wear a watch properly and make it a complementary addition to your wardrobe.
Although there are quite a lot of generally accepted unwritten rules, such as wearing a watch on a non-dominant hand and wearing the right watch for certain occasions, it's up to you how and when you want to wear a wristwatch.
After all, these are only suggestions that help make the wearing experience better. You can follow them all, but if you don't want to, you don't have to.

You may also like:
Affiliate Disclosure: As an Amazon Associate I earn from qualifying purchases. Details
Latest posts by Carl Pender
(see all)