Affiliate Disclosure: As an Amazon Associate I earn from qualifying purchases. Details
A dive watch with a 40mm case diameter is often considered a golden standard size in the dive community. Several iconic Rolex Submariner and Omega Seamaster models come precisely with this diameter. And, as we know, they are the cream of the crop when it comes to watches. Hence, it's no wonder the size is so sought-after.
Another reason for the popularity of the 40mm size is to do with suitability. A decently sized diver's watch looks like peas and carrots on an average-sized wrist and complements any imaginable outfit for various occasions.
However, the problem with 40mm dive watches is that they're not abundantly available. Once a classic size has now become a rarity amongst the ever-growing trend for larger timepieces.
Despite the scarcity, we've found a bunch of 40mm diver's pieces that ooze class, are well-built to stand the test of time, and won't cost an arm and a leg.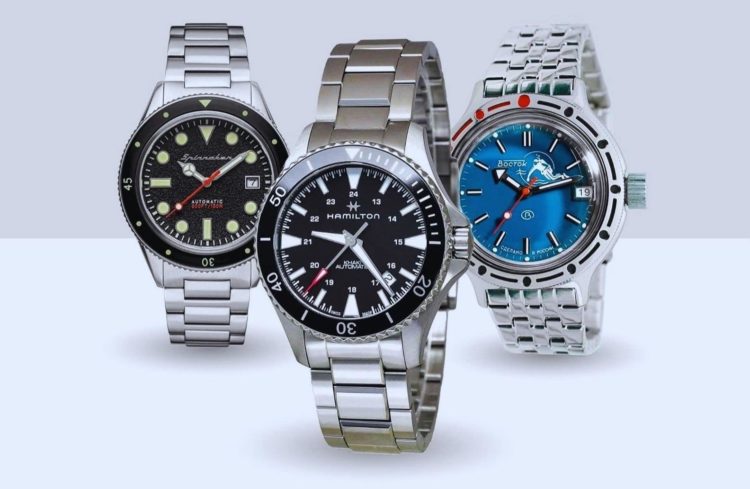 Best 40mm Dive Watches
The following five dive watches cost no more than $1,000 (with some of them only a mere $100-$200) and come from manufacturers known for their reliability and dedication to providing durable timepieces.
Without further ado, here are the best 40mm dive watches currently available.

Hamilton Khaki Navy Scuba Automatic
Lug-to-lug distance: 50mm
Water resistance: 100m (330ft)
Movement: Automatic H-10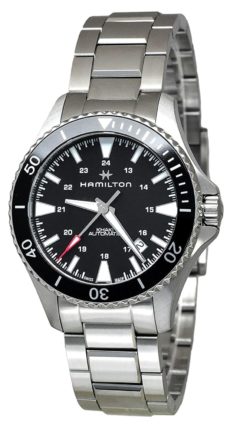 Our first 40mm dive watch is an all-metal Hamilton Khaki Navy Scuba. It is a Swiss-made piece with impeccable build quality and astonishing accuracy.
Powered by ETA-origin H-10 automatic caliber, the watch outclasses several of its much pricier competitors with the precision you get from it. Numerous wearers have claimed to lose or gain only mere seconds a day, which is very unusual for a non-chronometer timepiece.
On top of that, the caliber boasts an 80-hour power reserve that is long enough for the watch to still run after staying off-wrist for the whole weekend.
Appearance and size-wise, the Hamilton watch has a black dial with luminous hour markers and hands that sit perfectly on a 40mm case. The coin-edge one-way rotating bezel is of decent size as well for being not too bulky or too slim.
However, one element, namely the lug-to-lug distance, adds a little to the overall perception of the size. Standing at 50mm, it is more than usual with 40mm watches.
All things considered, the Hamilton Khaki Navy Scuba offers an excellent value-for-money proposition for the $500 price tag.

Seiko 5 Sea Urchin SNZF15J1
Lug-to-lug distance: 49mm
Water resistance: 100m (330ft)
Movement: Automatic 7S36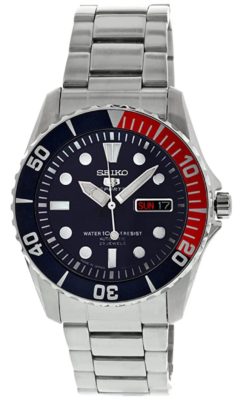 The Seiko 5 SNZF15J1, also known as the Sea Urchin watch, is a dive-inspired desk diver with a 100m (330ft) water resistance rating, making it a versatile wearable for different occasions and events.
The SNZF15 is one of the Seiko Pepsi watches with the iconic blue-and-red bezel design that is both dressy and sporty at the same time. Besides being eye-catching, the bezel is also fully functional when it turns in one way and comes with a handy coined edge.
The heart of the Seiko belongs to an automatic mechanism known for its reliability and precision. The 7S36 caliber powers the three-hand movement, as well as the neat day-date function at the three o'clock position.
When it comes to the comfort of wearing the Sea Urchin, there's absolutely nothing to complain about. The watch occupies a modest amount of real estate with a decently sized 40mm case and a three-link metal bracelet while providing a pleasant heft with its all-metal construction.
Though, if you're not a big fan of metal bracelets, you'll always have an option to swap for more preferable ones as the selection of bands is wide.

Deep Blue Diver 1000
Lug-to-lug distance: 49mm
Water resistance: 300m (1,000ft)
Movement: Automatic NH35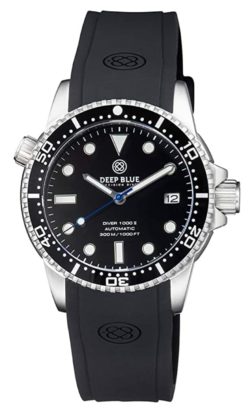 The American company Deep Blue is dedicated to providing professional divers and military personnel with professional-grade dive watches. Amongst the vast array of quality timepieces they offer, we've chosen the Deep Blue Diver 1000 to feature on this list.
The reason for that is quite simple – besides featuring a 40mm case, the watch comes with magnificent features for only a couple of hundred bucks.
First off, the Deep Blue diver is equipped with a 300m (1,000ft) water resistance that enables it to be worn for professional marine activities, including scuba diving. In addition, you'll get to enjoy a bright lume when not only the hands and hour markers glow in the dark but also the markers on the ceramic bezel.
A true indication of a top-notch purpose-built dive watch is the existence of a helium escape valve. Operated by the extra crown at the top left position, a diver can release the helium molecules that build up during the decompression, thus maintaining sea-level conditions in the watch.
Another value-adding factor of this Deep Blue is the Seiko NH35 automatic caliber. Known for its precision and reliability, you can be sure of its durability and handiness.
Last but not least, the classic black face is protected with anti-reflective and scratch-resistant sapphire glass – the best you can have on a contemporary timepiece.
In fact, Deep Blue has a vast selection of 40mm divers available. For a more extended overview, visit their homepage.

Spinnaker Cahill 40mm Dive Watch
Lug-to-lug distance: 50mm
Water resistance: 150m (500ft)
Movement: Automatic Miyota 8215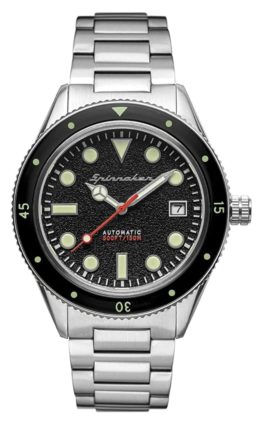 The next 40mm dive watch comes from a Hong Kong-based watchmaker, Spinnaker.
The micro-brand manufactures cost-effective wristwatches with an emphasis on nautical and yachting inspiration. Hence, it doesn't come much of a surprise that dive watches make up the vast majority of the Spinnaker line-up.
However, a positive surprise is finding a Spinnaker Cahill Mid-Size watch with a 40mm case as they didn't have any smaller-end divers available until 2019.
The Spinnaker is a desk diver, meaning it is not suitable for professional diving but rather for lighter water sports. Its main priority is to have the appealing looks of a diver's timepiece with decent water resistance. However, since most wearers are not professional divers, it shouldn't be much of a problem anyway.
Equipped with oversized luminous hour markers and Mercedes's hands, as well as a unidirectional bezel, the Spinnaker Cahill is nevertheless a decent watch to be worn in the water. The resistance stands at 150m (500ft), so swimming and shallow diving cause no problems whatsoever.
On top of that, the timepiece runs on a Miyota 8215 automatic movement, is equipped with sapphire crystal, and features a fancy see-through caseback.

Invicta Pro Diver 8926OB
Lug-to-lug distance: 48mm
Water resistance: 200m (330ft)
Movement: Automatic NH35A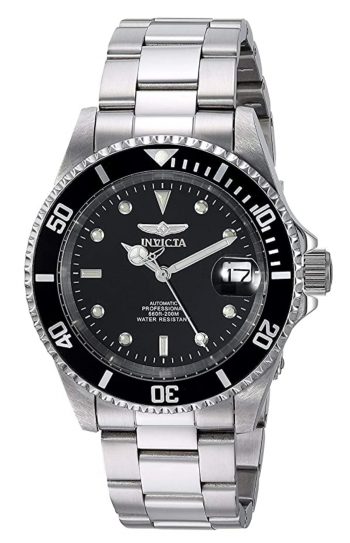 The Invicta Pro Diver 8926OB has caused quite a stir among watch enthusiasts. On the one hand, it is a cheap Rolex Submariner knockoff with little to no quality compared to its luxury counterpart. However, on the other hand, the timepiece offers plenty of features and reliability for the sub-$100 price tag.
Be that as it may, the Invicta 8926OB is a beautiful automatic diver that deserves to be discovered. Also, it makes it a wonderful entry-level self-winding timepiece for the money.
For an automatic diver, the watch has preferable dimensions when, besides the 40mm case diameter, the thickness measures to a convenient 14mm. The lug-to-lug distance is also of decent length at 48mm.
Like a proper dive watch, the Invicta Pro Diver comes with a 200m (660ft) water resistance, a coin-edge unidirectional bezel, lume-filled hands and round hour markers, and a screw-down crown. Thus, in terms of essential components, the timepiece has everything you could wish for.
What makes it even more appealing is the Seiko NH35A movement – a 24-jewel caliber with 40 hours of power reserve and 21,600 vph frequency (6 ticks a second).
All in all, the Pro Diver excels in terms of appearance and features. And considering the price it is sold, it's almost difficult to turn away from this watch without even the tiniest of interest to it.

Vostok Amphibia Scuba Dude 40mm
Lug-to-lug distance: 46mm
Water resistance: 200m (660ft)
Movement: Automatic Vostok 2416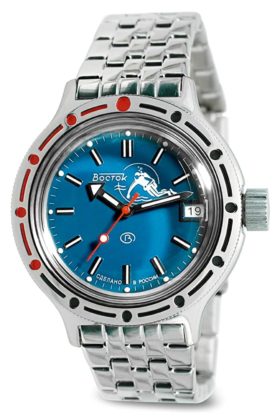 A very unusual 40mm dive watch is the Vostok Amphibia Scuba Dude. The Russian-made timepiece has a scuba diver printed on the dial, hence the peculiar name.
However, this is not the onliest element contributing to the unusual appearance of the Amphibia model.
It's the whole dial and bezel design drawing the attention. The blue face with simplistic hands and hour markers, along with a dotted bidirectional bezel, give out an impression of a vintage diver's watch from decades ago.
When leaving aside the appearance, the Vostok Amphibia features a 200m (660ft) water resistance, an automatic caliber with a 31-hour power reserve, and luminosity. All these are pretty much the standard you get from affordable dive watches.
However, one thing to look out for with this watch is the crystal.
When the majority of dive watches come with appreciated mineral and sapphire crystals, this Vostok features acrylic glass. As a result, it is, by far, the least prominent of the three. And although it is more resistant to shatters and shocks than the other two, it receives scratches far too easily, making it an unequivocal underdog in the comparison.
Other than that, the Vostok Amphibia is a very accessible 40mm diver with unique looks and interesting origins.

Other Small Dive Watches to Consider
When you're after a 40mm dive watch, you should definitely stretch the scope of your search. Why?
Well, first off, the number of 40mm dive-purpose wristwear is simply too limited.
Also, sticking too rigidly to a certain size won't allow you to discover other watches that might look like and sit on your wrist as perfectly as the 40mm timepieces.
For example, in many cases, a 38-39mm watch with a narrow bezel and metal band looks much bulkier than a rubber band 40mm timepiece. The opposite logic applies to a 41-42mm diver when a watch with a small face and NATO strap seems much smaller than a classic 40mm wristwatch.
The lug-to-lug distance plays a role as well – the below 40mm watches with longer lug distance seem bigger, while the above 40mm pieces with shorter lug span appear smaller.
Hence, we've decided to bring you a couple of watches that don't have a 40mm case size but, with certain characteristics, look and feel like one.

Seiko SKX013K1
Case diameter: 38mm
Lug-to-lug distance: 44mm
Water resistance: 200m (660ft)
Movement: Automatic 7S26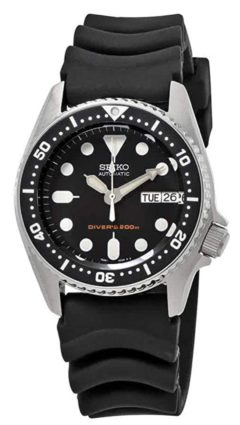 One of the watches that looks and feels like a 40mm diver is the Seiko SKX013K1. The actual size of about 38mm is perceivably bigger due to the stretched lug shape and thick rubber band.
When it comes to the quality of the Seiko SKX013K1, you'll get a highly reliable diver's piece, which, unsurprisingly, is pretty much the standard level the brand operates at.
In addition, all the essential characteristics of a professional dive piece, including ISO-certified water resistance, fantastic luminosity, and one-way click bezel, are present.
One of the primary selling points of Seiko dive watches is definitely the in-house automatic caliber. This particular watch runs on a 7S26 movement. Despite being without the hacking and hand-winding capabilities, it is still highly acknowledged for its precision and reliability.
Note: If you wish to keep the watch's perceptible size bigger, keep the rubber band or go for a metal bracelet. Nylon straps work in the other direction in reducing both the feel and visual dimension, so avoid them if your aim is to "enlarge" the watch.

Longines HydroConquest Automatic
Case diameter: 39mm
Lug-to-lug distance: 48mm
Water resistance: 300m (1,000ft)
Movement: Automatic L619/888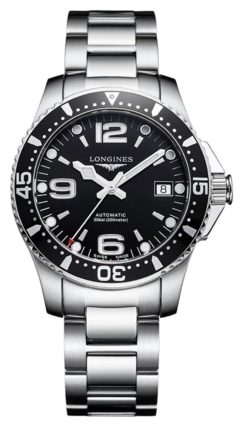 The Longines HydroConquest is another timepiece that sits as a 40mm watch on a wrist.
The case measures 39mm but with all-metal construction and a large dial (at the expense of a bezel), make the HydroConquest a classically sized professional dive piece.
The watch is very famous in the dive community, mainly for the combination of unparalleled build quality and luxurious aesthetics. It is water-resistant to 300m (1,000ft) and has a scratch-resistant sapphire crystal with several layers of anti-reflective coating.
And let's not forget the automatic caliber that has a nice sweeping motion (7 steps in a second) and a power reserve of 72 hours.
When speaking of letdowns, the Longines doesn't have luminosity on the second's hand and comes with a 2-year warranty when purchased through Amazon (as opposed to a 5-year warranty when purchased directly).
However, these are minor letdowns, especially considering the overall prestige and acknowledged reliability of the brand.

Marathon Tsar 41mm Dive Watch
Case diameter: 41mm
Lug-to-lug distance: 48mm
Water resistance: 300m (1,000ft)
Movement: Quartz ETA F06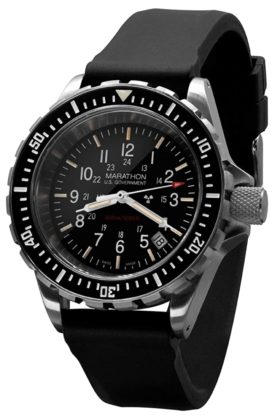 The Marathon Tsar watch comes at 41mm in case diameter. However, its perceptible size is a bit smaller due to the smaller face, tall bezel design, and short lugs. A lug-to-lug size stands at 48mm, while the height of the watch is 14mm.
In terms of dive suitability, the Marathon Tsar is one capable piece to have for professional submersion. It is built to U.S. Government specifications for use by military personnel, so you can be sure of its utmost durability.
The high level of endurance is clearly visible from the 300m (1,000ft) water resistance, high torque Swiss quartz movement, and sapphire crystal covering the dial.
Unlike the rest of the divers on this list, the Tsar is special for the tritium-filled hands and hour indices, which don't require any light source and glow for decades. These characteristics make tritium watches, including this Marathon, the best luminous watches you could wish for.
Thus, if you're ready to spend a little less than a thousand dollars, a perfectly fitting and almost unbreakable Marathon watch will serve you for decades.

Citizen Automatic Diver's NY0040-17LE
Case diameter: 42mm
Lug-to-lug distance: 48mm
Water resistance: 200m (660ft)
Movement: Automatic Miyota 8204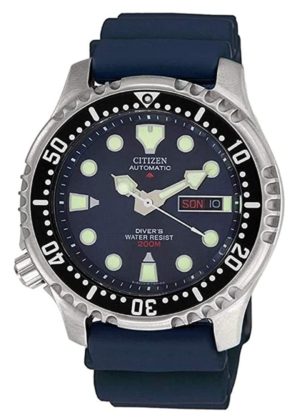 Since the Citizen brand is best known for solar-powered watches, finding an automatic timepiece from their line-up is quite unusual. But regardless of the rarity, you can still expect top-notch quality and design.
Besides being an automatic watch, the Citizen Promaster Diver NY0040-17LE is also the smallest dive piece you'll find from the brand. Its case size stands at 42mm, but a lug-to-lug distance of 48mm and a bold bezel design make it even smaller and similar to a classic 40mm dive watch.
The Promaster is equipped with a Miyota 8204 caliber, which is hackable and hand-windable. The movement is an upgrade from the non-hackable 8203 calibers found in older NY0040 models.
Feature-wise, the watch has everything you need for serious water sports, starting with a 200m (660ft) ISO-certified water resistance and luminosity and finishing with a screw-down crown and unidirectional bezel.
An interesting addition compared to other divers on this list is the crown's position at 8'clock. While many find it peculiar and even unsuitable, it has a merit over the typical placement – it will be well out of the bend of a wrist.

Orient Mako II Diver
Case diameter: 41.5mm
Lug-to-lug distance: 47mm
Water resistance: 200m (660ft)
Movement: Automatic F6922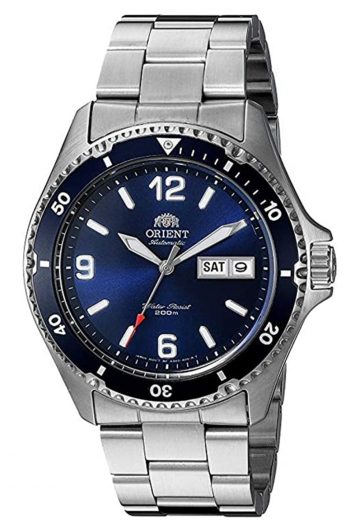 Our last dive watch that is similar to a 40mm size is the Orient Mako II. It is sized at 41.5mm with a lugs span of 47mm and a case depth of 13mm.
The timepiece has been the crowd's favorite for many years, not only due to its favorable size but also for its universal aesthetics. The deep blue dial, along with straightforward hour numbers and indices design, steers away from the tool watch-like looks but, at the same time, maintains the primary characteristics.
The Mako II is a midway between a professional diver and a desk diver. It is water-resistant to 200m (660ft) but without the ISO certification. You can swim and shower with it and take it with you for recreational diving, but it's not suitable for scuba and mixed-gas diving.
Probably the best feature contributing to the Mako's popularity is the in-house F6922 caliber that has shown stability in accuracy and durability in build. The watch can be hacked and hand-wound, which makes it even more appealing.

Closing Words
We hope this article has helped you to find your next 40mm dive watch. Unfortunately, they are hard to find, and if found, can cost thousands of dollars.
Out of the affordable options we've brought you, the best overall smaller-end diver is definitely the Hamilton Navy Scuba watch. But if you expect to spend a bit less, the Invicta Pro Diver and Vostok Amphibia models are decent options as well.
Also, bear in mind that not all 40mm divers look and feel the same.
The different lengths and shapes of lugs, the height and width of bezels, and the type of band play a significant role in the perceptible size of watches. Therefore, don't limit your search to only one size but widen it up to 2mm in both directions. You'll be amazed to find how a 42mm timepiece can sometimes feel much smaller than a 38mm watch does.

You may also like:
Affiliate Disclosure: As an Amazon Associate I earn from qualifying purchases. Details