Affiliate Disclosure: As an Amazon Associate I earn from qualifying purchases. Details
A suit and a tie have always looked complete with a watch sitting on a wrist. However, not all watches are appropriate for the attire.
For example, wearing a flashy sports watch or an oversized chronograph could ruin all the effort to look sophisticated. Even smartwatches are big no-no's, despite their humble blacked-out screens.
What a suit really requires is a watch that is elegant while at the same time staying discreet. It shouldn't draw too much attention, but when noticed, everyone should understand it's a classy timepiece with real refinement to it.
This post is about introducing you to the best watches for suits that combine these contradicting yet complementing characteristics. With these timepieces, you'll add the final piece of a jigsaw to the completeness of your attire.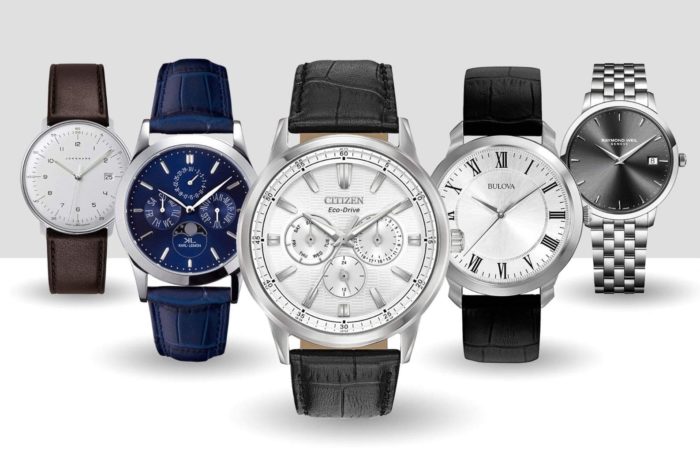 Watches for Suits
When you have already started to think about the sums you have to fork out to get such watches, there's no need to worry.
Numerous manufacturers produce elegant dress watches that look like they're worth thousands but in reality cost only mere hundreds without giving away in terms of durability.
Our list consists of timepieces that fall under the affordable category, which means they are available for anywhere between $100 and $800.
Moreover, these watches are no throwaway pieces as the quality standards they come with ensure their use for long years to come.
Therefore, stay with us in finding out the best watches for suits and other formal attire for men.

Citizen Corso Eco-Drive
Case Diameter: 44mm
Case height: 12mm
Movement: Solar Quartz
Crystal: Sapphire

Best For: Black & dark grey & navy suits
Suitable Outfit: Business casual
Citizen is best known for its professional-grade dive watches and feature-packed pilot wristwear. And although subtle watches for tuxedos and suits are not the most sought-after from this Japanese manufacturer, you can still find some real gems, such as the Citizen Corso BU2070-04A.
This silver-tone Citizen piece is no ordinary quartz watch – it is powered by light. The Eco-Drive technology that has made the Citizen brand world-famous ensures a battery-free mechanism that can keep an energy reserve for more than six months.
On top of this marvelous innovation, the Corso is as elegant as a watch can go. Featuring silver accents and day-date circles on a textured dial make it not only beautiful but handy as well.
When many admire the looks of a chronograph watch but don't find the stopwatch feature practical enough, then the day-date function will satisfy the majority of wearers.
Though one thing you should bear in mind is that the Citizen Corso is larger than most watches on this list with its 44mm size. Therefore, make sure your wrists accept it. The good thing is that this sapphire glass timepiece has a decent height, enabling it to be worn neatly under the sleeve.
All in all, for a little more than a couple of hundred dollars, this Citizen watch is a wonderful value for your money. 

Tissot Le Locle Powermatic 80
Case Diameter: 39mm
Case height: 10mm
Movement: Automatic
Crystal: Sapphire

Best For: Black & dark grey suits
Suitable Outfit: White tie & Business formal
When it comes to classic dress watches, there's no better option than the Tissot Le Locle. Often considered the best affordable automatic piece from the Swiss manufacture, you can rest assured it will last you a lifetime. 
Undoubtedly, the best part with this Tissot is the Powermatic 80 automatic caliber. The ETA-based self-winding movement comes with a sweeping second hand and holds an astonishing 80 hours of power reserve.
With such a reserve, you can leave it on a drawer table for the whole weekend without worrying it runs out of energy.
The Le Locle piece also stuns with its subtle appearance. Fitted with a silver guilloche dial, Roman numerals, and classic dark-toned leather bands, the watch complements every type of suit you feel like wearing.
In addition, this Tissot comes with very favorable dimensions when the diameter measures 39mm, and the height is just a little under 10mm. The latter, by the way, is quite rare with automatic watches due to the complex build of the movement that typically requires more space to fit in the case.

Seiko Solar Dress SNE361
Case Diameter: 43mm
Case height: 11mm
Movement: Solar Quartz
Crystal: Hardlex

Best For: Black & dark grey suits
Suitable Outfit: Business formal & Business casual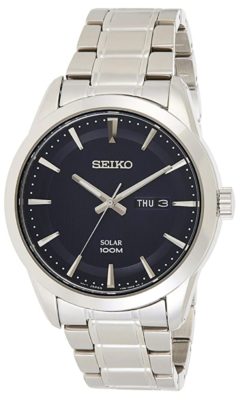 The next watch that is bang-on for wearing with suits is the Seiko Solar Dress SNE361. The all-metal Seiko is an elegant analog watch with a prominent black dial and easily readable silver hands and hour markers.
But what makes it worthy of featuring on this list is not only the appropriate appearance but also the watch's powering method. Namely, it energizes itself through light and, when fully charged, can last for up to 12 months without any light exposure.
The neat technology inside the watch is protected with a durable 43mm stainless steel case and a shatterproof Hardlex crystal. 
This Seiko is also surprisingly water-resistant for a dress piece when a 100m (330ft) resistance guarantees its functioning in wet conditions.

Orient Sun & Moon "Version 3"
Case Diameter: 42.5mm
Case height: 14mm
Movement: Automatic
Crystal: Sapphire

Best For: Black & dark grey suits
Suitable Outfit: Business formal & Business casual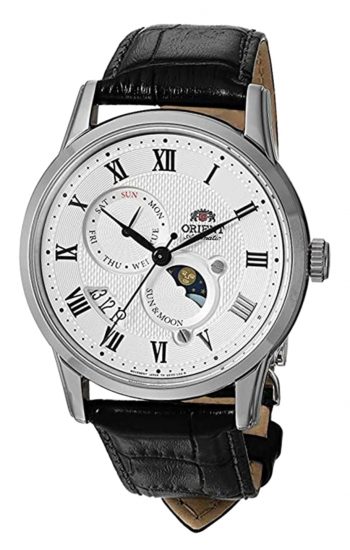 The Orient Sun & Moon "Version 3" is similar to the Tissot Le Locle we covered earlier with its guilloche dial and Roman numerals but adds an interesting and luxurious-like feature, the Sun and Moon indicator.
It's visually a similar feature to that of a moon phase indicator but much simpler when instead of depicting the current phase, it alternates the sun and moon (AM/PM).
You'll also find two other complications from the dial – one shows the date between the seven and eight o'clock position, while the other weekdays on the left-hand side subdial.
What makes this Orient highly appreciated is that all these functions, as well as the timekeeping, are powered by a self-winding automatic movement. Hence, for the price this watch is sold, you get plenty of admirable functions.
Furthermore, Orient manufactures automatic calibers in-house, which adds to the credibility of the brand and explains its popularity. 

Bulova Classic 96A133
Case Diameter: 41mm
Case height: 6mm
Movement: Quartz
Crystal: Mineral

Best For: Black & dark grey & navy suits
Suitable Outfit: White tie & Business formal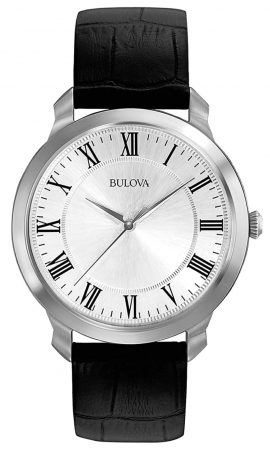 Another great watch for men wearing suits in their daily activities is the Bulova Classic 96A133.
It is an ultra-thin watch with a 6mm thickness. With such thin dimensions, it will be absolutely no problem slipping it beneath the sleeve. The case diameter of 41mm is another pro supporting convenience and discreetness that comes with this ticker.
In terms of appearance, the Bulova Classic is precisely what the name suggests, namely utterly classic. As such, the hour numbers come in Roman numerics, and the dial is without any features besides the three-hand movement.
When it comes to quality, the watch sports decent materials for the sub-$200 price it is sold. For example, the crystal is of widely popular mineral, the quartz caliber comes from Japanese production, and the leather band is both durable and comfortable to wear.

Fossil Grant Skeleton Automatic
Case Diameter: 45mm
Case height: 13mm
Movement: Automatic
Crystal: Mineral

Best For: Light grey & brown & tan suits
Suitable Outfit: Business casual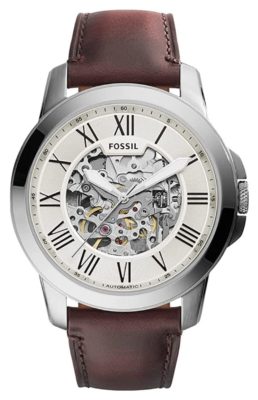 Although Fossil may seem off-topic for many when someone's looking for a decent watch that goes well with formal attire, it's not actually the case.
The world-famous fashion brand not only produces eye-catching chronographs but is also well-established in offering subtle timepieces that look way more expensive than they really are.
One of the timepieces receiving all but raving reviews for its expensive and unique appearance is the Fossil Grant Skeleton Watch.
The element making it unique and sought-after is the dial that exposes the gear and wheelwork of an intricate automatic movement. So if you look at the watch, you will be able to see the wheels and gears in motion doing their vital job of precise timekeeping.
Fossil is also famous for its top-notch leather straps. Hence, you can expect decent quality from the 22mm brown leather bands.
The 45mm Fossil piece has another quality part that safeguards the watch – the crown protectors. With the addition, the crown is protected against hits and knocks that could harm the wellbeing of a watch.

Junghans Max Bill
Case Diameter: 38mm
Case height: 8mm
Movement: Quartz
Crystal: Plexiglass

Best For: Black & dark grey & brown suits
Suitable Outfit: White tie & Business formal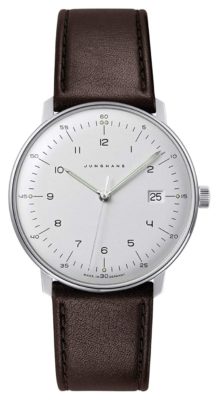 The Junghans Max Bill, with its Bauhaus design, is a watch that complements any type of suit there is. The style comprising clean fonts, thin hands, and lack of extraneous detail is in high regard among men wishing to wear an elegant yet discreet timepiece.
The minimalism is perceptible physically as well when the watch measures only 38mm in diameter and 8mm in height, going perfectly with small and medium-sized wrists.
However, the conservative approach doesn't apply to the quality of this Junghans watch. As such, it features an ETA-based quartz movement that keeps an accurate time and rarely lets you down. Also, the case is made of durable stainless steel, resistant to scratches and corrosion.
One part of the Max Bill watch that raises some eyebrows is the plexiglass covering the face instead of a sapphire or mineral crystal. However, this less-appreciated watch glass is enhanced with an added layer that protects it against easy scratches during normal wear and tear.
All in all, the Junghans Max Bill is one of a kind timepiece that is accurate, looks sophisticated, and is sealed with a Made in Germany tag.

Frederique Constant Classics Chrono Watch
Case Diameter: 40mm
Case height: 10mm
Movement: Quartz
Crystal: Sapphire

Best For: Black & dark grey suits
Suitable Outfit: Business formal & Business casual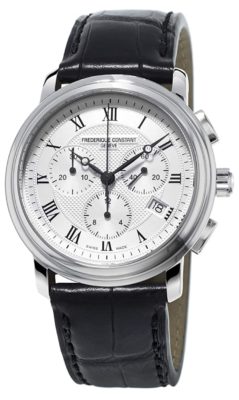 Among the affordable Swiss brands, Frederique Constant stands out with the most classy and sophisticated watches, where even the chronographs that typically represent casualty and sportiness are exquisite in design.
The Frederique Constant Classics Chrono is one such timepiece that comes with a chronograph but maintains its refined aesthetics, making it a proper watch to be worn with suits.
The combination where Roman numerals, guilloche dial, and Breguet-style hands meet straightforward subdial circles make the face of this Frederique Constant pleasantly crowded and offer much to be discovered in terms of details.
The quality you get with this timepiece is another thing to be marveled at when it is on top of the game at this price point.
A great example is the highly acknowledged sapphire crystal that features layers of anti-reflective material, eliminating unwanted reflections and enhancing visibility from any angle you look at the watch.
Also, the case comes in high-grade stainless steel with luxurious-like finishing, harmonizing splendidly with the comfortable black leather strap.
All things considered, this Frederique Constant is the most luxurious on this list and is one of the watches that cannot be missed if an elegant Swiss-made timepiece is under consideration.

Hamilton Ventura Triangular Watch
Case Diameter: 31mm
Case height: 11mm
Movement: Quartz
Crystal: Sapphire

Best For: Black & dark grey suits
Suitable Outfit: Business formal & Business casual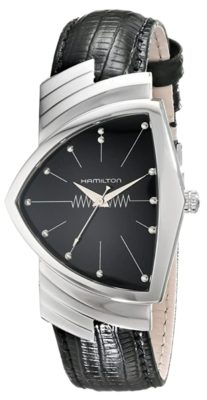 Hamilton is another Swiss-made brand that is luxurious at the price point the watches are sold. However, what's unique about Hamilton is that it dares to experiment with unseen designs.
Hamilton watches are also true Hollywood stars with features in more than 500 movies. The Hamilton Ventura Watch we have up next is no exception.
This same model of the famous triangular line is the official timepiece of the new Men in Black (2019) movie, pampering the wrists of Chris Hemsworth and Tessa Thompson. And since it has the seal of approval as the best timepiece for men in black, you can be sure this Hamilton is a bang-on watch for black suits.
The aesthetics of the Ventura is one of a kind. Starting with the dramatic triangular case and finishing with never-before-seen lugs shape and hour markers, the watch is a true standout among classically designed timepieces.
In terms of build quality, the Ventura piece has not let down either. Equipped with an anti-reflective sapphire and Swiss quartz caliber, you can expect both resilience and accuracy.

Skagen Holst 40mm Watch
Case Diameter: 40mm
Case height: 9mm
Movement: Quartz
Crystal: Mineral

Best For: Dark grey & brown & tan suits
Suitable Outfit: Business casual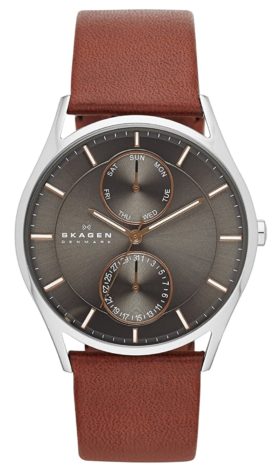 The Skagen brand is representative of the modern minimalist Scandivanian style, which often finds it paired with formal attires.
The Skagen Holst 40mm Watch is a versatile option that goes well with both formal suits and smart casual blazers that are combined with brown belts and shoes.
The watch is not too large with its 40mm case size and fits the bill for the majority of wrist sizes. The looks of it support its versatility as well when the dark-toned face and brown leather strap are preferable characteristics for various tastes.
A neat function you get with this Skagen is the day-date feature found on two separate circle-shaped subdials. Along with the three-hand quartz movement, it is pretty much everything you need from a classic dress piece.

Movado Museum Gold
Case Diameter: 40mm
Case height: 5mm
Movement: Quartz
Crystal: Sapphire

Best For: Black & dark grey suits
Suitable Outfit: Business formal & Business casual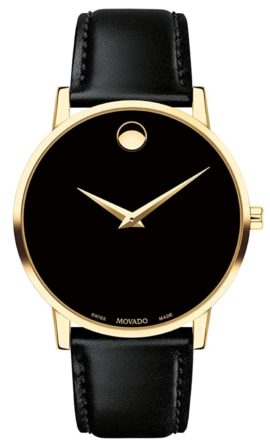 If you think of minimalist style in wristwatches, you think of a clean dial with a pair of hands and maybe a date window, too. However, the style can be even more drastic than that.
The Movado Museum Gold Watch is probably the most conservative timepiece you will ever find.
The Swiss-made watch that has been selected for several modern art exhibitions worldwide has a single concave dot at the top of the dial and a set of hands completing the wholeness of the face design.
The dial is blacked out without any textures or markings, surrounded with a striking golden tone that harmonizes brilliantly with the overall dark appeal.
The Museum watch is also very thin, barely reaching the 5mm margin. Along with a 40mm diameter, it stays true to its minimalist nature and is on the nail for white tie suits.

Raymond Weil Toccata Silver
Case Diameter: 42mm
Case height: 8mm
Movement: Quartz
Crystal: Sapphire

Best For: Black & grey & navy suits
Suitable Outfit: Business formal & Business casual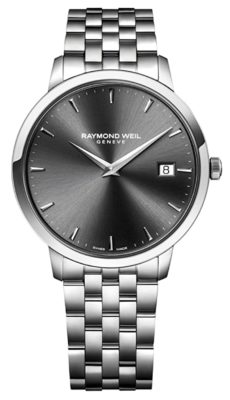 Raymond Weil is one of many Swiss brands on our list. It is similar to Frederique Constant for concentrating on elegant timepieces with sophisticated designs to be worn by real gentlemen of modern times.
The Raymond Weil Toccata is one of the watches from the brand that complements every modern gentleman that often wears suits for his daily job.
It has a classic all-metal appearance with a five-link metal bracelet and a sleek stainless steel case. The metal appeal combines harmoniously with a black sunray dial free of congesting additions.
Besides the minute and hour hands and a date window, you'll not find any other features, not even the second's hand.
The Toccata watch is utterly reliable when it runs on a proven Swiss quartz caliber, has sapphire glass with an anti-reflective coating, and is water-resistant to 50m (165ft).
For only a couple of hundred dollars, this Raymond Weil piece is a bang for your buck that gives away neither appearance nor quality-wise.

Karl-Leimon Pioneer Moonphase
Case Diameter: 38mm
Case height: 10mm
Movement: Quartz
Crystal: Sapphire

Best For: Navy suits
Suitable Outfit: Business formal & Business casual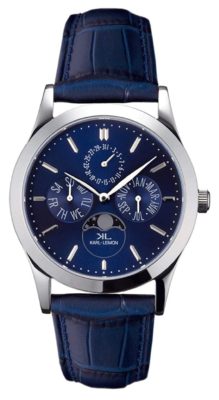 I'm pretty sure the majority of you have never heard of a brand called Karl-Leimon. It's fully understandable because the crowdfunded Japanese micro brand came into existence only a couple of years ago.
However, in such a short time, it has already achieved a reputable status for producing top-notch moon phase watches, such as the Karl-Leimon Pioneer we have up next.
Read more: Guide to moon phase watches
It is one distinctive timepiece due to the dominating blue color beaming from the dial and the leather band, providing the wearers a chance to really stand out from the crowd.
Unlike several watches we've covered so far, the Karl-Leimon piece also sticks out with four subdials that offer the possibility to be updated about the date, day of the week, month, and even the current lunar phase.
A moon phase complication is a complex addition to any watch, and the prices of such timepieces can reach well into thousands.
The nice thing is that this particular Karl-Leimon watch is available for around three hundred dollars (mainly because it's a quartz watch), which is a real bargain, especially considering that it also employs a sapphire crystal and a high-grade stainless steel case.

Shinola Detroit Canfield Watch
Case Diameter: 43mm
Case height: 13mm
Movement: Quartz
Crystal: Sapphire

Best For: Black & grey suits
Suitable Outfit: Business casual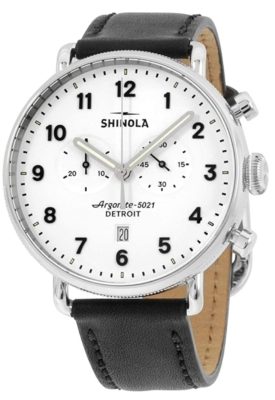 Among the widespread Japanese and Swiss watches that typically take the limelight, the Shinola Detroit Canfield is a breeze of fresh air with its American design and soul.
All Shinola watches are assembled in Detroit with imported parts and follow the design of railroad and military watches from the early days. The watches, including the Canfield model, may not suit white tie attires but are bang on for less formal outfits, such as blazers, casual suits, and smart shirts.
The 43mm white dial Shinola watch is equipped with an Argonite quartz caliber that has been assembled in Detroit using Swiss parts. The caliber powers the three-hand movement, as well as the stopwatch function, found on two circles on the dial.
Besides the high-quality sapphire crystal you'll find from this Canfield, the watch is paired with a genuine American leather band made in-house. The reliability and comfort of it are high, receiving all but positive reviews from the wearers.

Nordgreen Philosopher Minimalist
Case Diameter: 40mm
Case height: 8mm
Movement: Quartz
Crystal: Mineral

Best For: Grey & brown & tan suits
Suitable Outfit: White tie & Business formal and casual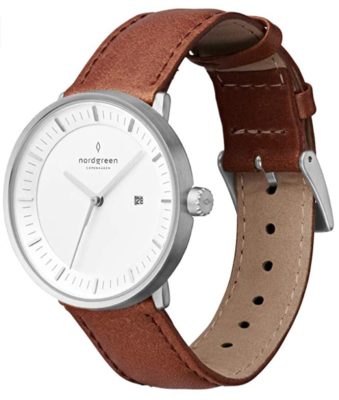 We finish our list with a minimalist Scandinavian designer watch from Nordgreen. The Danish brand is renowned for its symmetrical and straightforward timepieces that reflect the Nordic calmness.
The Nordgreen Philosopher Minimalist from the Danes cannot go any calmer with its serene white face and icy hour indices and watch hands. It is a timepiece that stays discreet when needed but offers a lot to admire when noticed.
The Philosopher is available in two case sizes, 36mm and 40mm. Also, there's no gender appropriateness with this watch as it suits both men and women.
When it comes to quality, this Nordgreen is decently built. It is equipped with Japanese quartz, features a standard mineral crystal, and has a genuine Italian brown leather strap complementing the appearance.
The watch can be worn with white tie attires as much as with smart casual outfits. However, make sure to pair this Nordgreen with a brown belt and shoes for a classy look.
---

4 Prerequisites for Perfect Picks
As we already stated at the beginning of this post, not all watches won't pair well with suits.
There are certain prerequisites that a watch should follow in order to be an appropriate accessory for formal attire. The most important of them are listed below.

1. Elegant & Modest Face
First and foremost, watches for suits have to be elegant and modest in their designs.
Therefore, perfect watches typically have analog dials with as few elements as possible and in classic white, black, or silver colors.
In some cases, subtle chronograph windows and non-classically colored dials, such as the Karl-Leimon watch has, work well with various suits. However, most chronographs and colors are too sporty and casual for this attire.
Some of the features that make a watch elegant and suit formal attires are moon phase indicators, modest day-date circles, and skeleton dials. They are prestigious and own historical significance in horology.

2. Thin Case
The reason why a watch has to be thin is quite self-explanatory – so that you could easily slip it under the sleeve as well as uncover it if needed.
As we know, formal shirts have long sleeves that have to be quite tightly buttoned to look well. Therefore, if a watch has a thick case, you would have problems fitting the watch under the sleeve or leaving it uncovered due to the limited wrist space.
Hence, the slimmer the watch, the more convenient it is to combine it with your attire.
Typical case heights range between 8-12mm, but you can find some ultra-thin watches with a 5-6mm thickness. When it comes to different types of watches, then quartz pieces are thinner than automatics due to their simpler build.

3. Modest Case Diameter
Another physical dimension requiring your attention when choosing a watch for your suit is the case diameter.
A dress watch is not there to impress or draw everyone's attention – it has to be reliable, show accurate time, and stay discreet. Therefore, the watch should be modestly sized.
But what is a modest size?
Since wrists come in different shapes and sizes, there's no ubiquitous measure.
However, considering the average wrist sizes of men, it should stay somewhere between 38-42mm. You can consider smaller watches if you have slender wrists, whereas men with bigger wrists should check out larger timepieces.

4. Leather or Metal Band
The bands own significant importance in the overall appearance of a wristwatch. Therefore, only certain types of bands suit formal wear due to their appeal – leather and metal.
These two leave a modest yet elegant impression and can easily be coordinated with other accessories.
Rubber and nylon bands are also popular choices for wristwatches. However, they are appropriate for casual and sports watches only.

Final Words
We hope our overview of the best watches for suits has been of help in finding your next elegant timepiece.
Whether you go for the famous Swiss brands of Tissot and Hamilton or opt for the Japanese manufacturers in Seiko and Orient, you can be sure that these watchmakers won't let you down.
Formal attires require a specific type of watch that is elegant yet stays discreet. Therefore, follow the simple rules we've brought you if you wish to discover the watches on your own.

You may also like:
Affiliate Disclosure: As an Amazon Associate I earn from qualifying purchases. Details
Latest posts by Carl Pender
(see all)