Affiliate Disclosure: As an Amazon Associate I earn from qualifying purchases. Details
Going out into the wild is a refreshing activity, especially in the 21st century when digital screens have nailed the population indoors to their cozy sofas. Will it be a simple Sunday trek in the mountains, a week-long survival course in a deep forest, or a hunting trip to undiscovered fields – any activity involving even the tiniest bit of staying alive aids us in our day-to-day battles.
But, of course, you first need to have some basic skills managing out there in unfamiliar sceneries. And let's not forget activity-specific gear that is of equal importance.
Besides the clothing, footwear, knives, and other equipment that is typically associated with such activities, there are also survival watches that are often overlooked by many.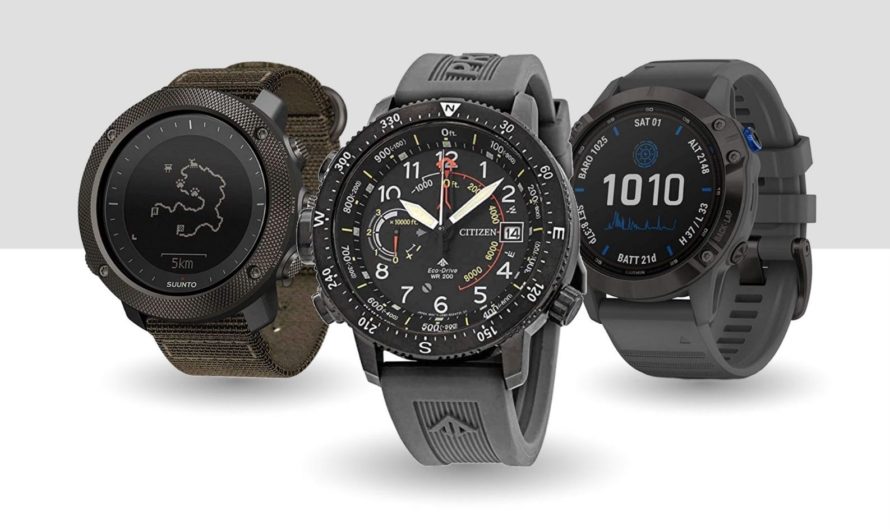 This post is precisely about such types of watches that withstand rugged conditions, offer top-notch functions and aid in extreme conditions. By the end of this article, you'll be sure to find yourself the most suitable timepiece out of the best survival watches we've brought you.
But before heading to the list, we need to clarify the prerequisites of a good survival watch.

What Makes a Good Survival Watch?
A spot-on survival watch is something you can rely on, no matter the weather, scenery, or activity.
It has to be resilient to drops, knocks, scratches, dents, humidity, mud, and water. A genuine survival watch should also provide functions/technologies that can become helpful in various conditions.
Thus, components of a complete survival watch include:
durable case, crystal, and band
accurate timekeeping
decent water resistance for swimming
luminosity
GPS/compass

Best Survival Watches
Our list of top survival watches consists of timepieces that come with most of the previously mentioned components. Although some don't come with a GPS or compass function, they're equally durable and helpful outdoors and are much more accessible for people limited on budget.
Without further ado, here are the best timepieces for survival.

Suunto Traverse Alpha
Water resistance: 100m (330ft)
Crystal: sapphire
Navigation: GPS
Altimeter/barometer: Yes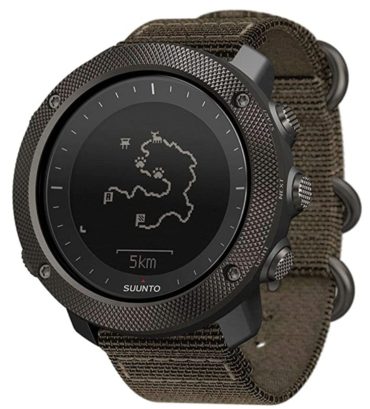 The Finnish brand of Suunto has been the go-to manufacturer of sports and outdoor watches for decades. So it should come as no surprise that Suunto offers some of the best survival watches currently available. Among the various tough<<<<<< and feature-rich timepieces provided by the brand, the Suunto Traverse Alpha is probably the best for every survivalist out there.
The feature receiving the highest praise is undoubtedly the GPS and Glonass system, providing the wearer with the most accurate positioning available. The technology also generates a breadcrumb trail, which comes especially handy in unfamiliar terrains.
The Suunto Traverse Alpha is also one of the best watches for hunters due to the hunting-specific shot recognition technology. Combined with the possibility to mark down points of interest, a hunter can take the maximum out of the activity. And not only can you set a point, but you can also name it with a relevant keyword, such as "shot" or "trail."
In addition to the world-class technologies, this Suunto offers a remarkable build quality as well. Equipped with a scratch-resistant sapphire crystal and coming 100m (330ft) water-resistant, the watch withstands various rigid conditions, whether on the land or in the water.
The looks are very outdoorsy as well – a knurled bezel is combined with an army-green nylon strap, making it a very rugged-looking watch.
With a price of around $500, the Suunto Traverse Alpha is a wonderful value-for-money proposition, filled with top-notch technologies and coming almost bulletproof.

Garmin Instinct Tactical Edition
Water resistance: 100m (330ft)
Crystal: chemically strengthened glass
Navigation: GPS
Altimeter/barometer: Yes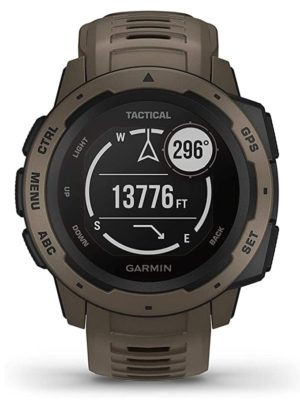 Garmin is an American brand that produces equally durable and technology-rich survival timepieces to those of Suunto. However, one particular watch, the Garmin Instinct Tactical Edition, sticks out from the crowd for its increased specialization for tough survival activities.
This Instinct watch, constructed to U.S. military standard 810G for thermal, water, and shock resistance, is equipped with tactical-specific functions, such as the preloaded tactical activities, stealth mode, night vision compatibility mode, waypoint projection, and dual-position GPS formatting.
The 3-axis compass and barometric altimeter, combined with GPS, Glonass, and Galileo systems, ensure the most accurate positioning one can have from a wristwatch. So be it Mount McKinley or Mount Everest, the Garmin Instinct has you covered with precise data about heights, air pressure, and weather forecasts.
The watch is quite large, standing at 45mm in case diameter and with a screen size of 30mm. The screen is monochrome and clearly visible in broad sunlight. However, when applying the night vision mode, the screen reduces backlight intensity and thus becomes compatible with night vision goggles.
This through and through survival watch can also be used for lighter activities, such as hiking, biking, swimming, and many more, as it comes with preloaded profiles for these activities as well.

Marathon Navigator Survival Watch
Water resistance: 60m (200ft)
Crystal: sapphire
Navigation: no
Altimeter/barometer: no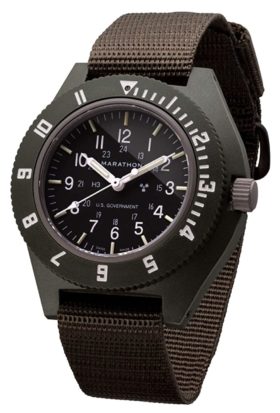 The Marathon Navigator Watch is built to U.S. Government specifications for use by military personnel, making it also a spot-on survival watch. However, compared to previous entries, the Marathon watch does not come with GPS or any other digital technology – its strengths lie in the construction and extreme durability.
The watch is made from a fiber shell that provides a rugged appeal with its rough surface. Built specifically for aviators and parachutists, the Navigator withstands extreme changes in pressure and altitude but is also water-resistant to 6ATM. In addition, a sapphire crystal covering the analog face is the most durable substance in wristwear for being extremely scratch-resistant and long-lasting.
The 41mm Swiss-made timepiece runs on an ETA F06 quartz caliber that features a very handy end-of-life indicator. So you'll know the time when the battery is about to reach its end when the seconds hand starts to move in 4-second intervals.
Another convenient characteristic of this Marathon piece is the constantly glowing luminosity. The tritium-filled gas tubes on watch hands and hour markers don't require any light source and won't fade away even after years of use.

Casio G-Shock Rangeman Tactical Watch
Water resistance: 200m (660ft)
Crystal: mineral
Navigation: digital compass
Altimeter/barometer: yes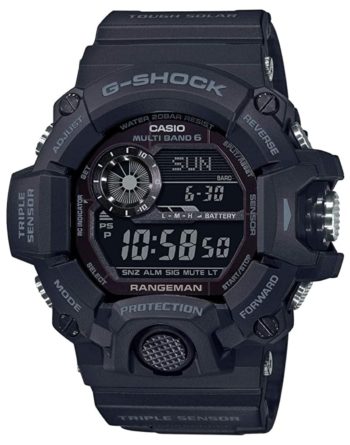 The famous G-Shock line out of Casio's production is the epitome of outdoor wearables. The watches are known for their heavy-duty build and abundance of technologies. Therefore, it's hardly surprising to find a G-Shock watch featuring among the best survival pieces.
One particular model that is bang on for the toughest of conditions is the G-Shock Rangeman GW-9400-1B.
This fully digital watch comprises a Triple Sensor technology that reads heights, gives accurate directions, and measures temperature. Accompanied with solar power and atomic timekeeping, the Rangeman is not only a handy information hub out in the wild but also dead-accurate and always fully charged.
The shallow case with cushions inside, as well as the extra gaskets in the pipes that guide buttons and shafts, ensure protection against various shocks, water damage, and mud entering the vital parts of the watch. A knobby and knurled exterior is another characteristic prevalent for G-Shock timepieces for ensuring maximum durability.
With a price tag of around $300, this Rangeman watch is an affordable yet extremely practical and durable companion for tough outdoor activities.

G-Shock Master of G Mudmaster Watch
Water resistance: 200m (660ft)
Crystal: mineral
Navigation: digital compass
Altimeter/barometer: no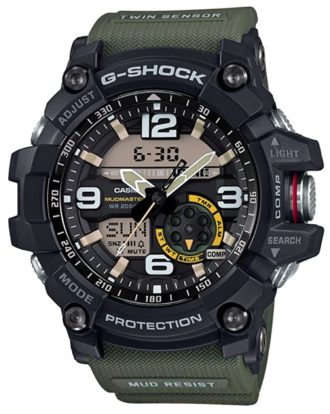 Entirely digital watches may not be everyone's cup of tea. Luckily, G-Shock has another wonderful line of survival watches that feature a classic analog time display, along with small digital screens – the Mudmaster line.
The G-Shock Master of G Mudmaster, one of the most affordable options from the collection, has prettier aesthetics than most Rangeman timepieces. With an added design elements, such as the colored hour markers and numbers, the Mudmaster is suitable for more casual wear as well.
In terms of functionality, though, the Mudmaster watch is as applicable for outdoor activities as any other G-Shock.
With the Twin Sensor function, for example, the wearer can make the most out of hiking, camping, and trekking since it measures temperature and features a compass. But, of course, all the other typical functions, such as the countdown timer, stopwatch, and alarm, are also included.
Despite the absence of an altimeter/barometer feature, which many find redundant anyways, the Mudmaster GG-1000 works like a charm on any terrain and landscape. You can even use it for recreational diving as it comes 200m (660ft) water-resistant and has luminous hands for a convenient time capture.

Luminox Bear Grylls Survival Watch
Water resistance: 200m (660ft)
Crystal: hardened mineral
Navigation: no
Altimeter/barometer: no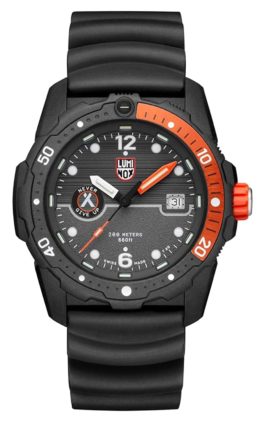 When Luminox, a highly respected tactical watch manufacturer, and Bear Grylls, the face of survival and outdoor adventure, unite forces to launch a timepiece, you can be certain that the outcome is a genuine survival watch that can go through all kinds of severe conditions.
The Luminox Bear Grylls Survival Watch is indeed one sturdy piece to be worn by an adventurist.
The first thing that instantly draws attention is the simple yet very original design of the dial. Instead of featuring a classic color setting, the Bear Grylls timepiece comes with an eye-catching orange tint on the one-way rotating bezel and the watch hands. Also, Bear's motto of Never Give Up doesn't look out of place on the dial but only adds to the uniqueness.
When it comes to the materials this Luminox watch employs, they're on par with the expectations you typically anticipate from a Swiss-made piece. As such, you'll find a Swiss quartz movement, a lightweight carbon compound case, and continuously glowing tritium luminosity. The latter, by the way, makes Luminox one of the best brands producing luminous watches.
Though, what many would've hoped to find from a genuine Swiss-made survival watch is the sapphire crystal instead of hardened mineral glass. The latter is better in withstanding shatters but is more prone to scratches than sapphire.
All things considered, the outcome is still a fantastic wearable for extreme conditions, whether it be on the land or deep in the sea.

Victorinox Swiss Army Night Vision Watch
Water resistance: 50m (165ft)
Crystal: sapphire
Navigation: no
Altimeter/barometer: no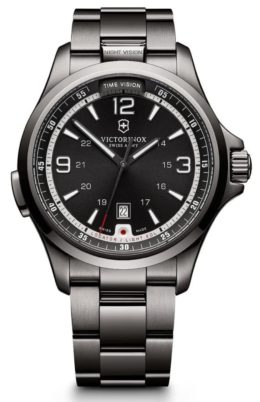 The Victorinox Night Vision Watch is similar to our previous entry in terms of coming with an analog face. But one particular feature makes it stand out from the crowd – the night vision function.
When you're out in the wild trying to survive, illumination is a vital feature to have. This Victorinox offers a full set of lights for various purposes. And, most importantly, they are easy to operate.
For instance, a single push on the button activates a dial illumination mode for six seconds, two pushes provide an extended light mode for two minutes, and three pushes start a signal mode with the light pulsating at a rapid speed.
The light function requires an extra battery, meaning the watch comes with two separate power sources. However, it shouldn't cause much of a problem as both of them should last about the same and can be replaced simultaneously.
Besides the very handy illumination, this Victorinox offers a wonderful build quality as well. It is equipped with a triple-coated anti-reflective sapphire crystal, accurate Swiss quartz movement, and a PVD-treated 316L stainless steel case.

Citizen Promaster Altichron BN5057-00E
Water resistance: 200m (660ft)
Crystal: mineral
Navigation: analog compass
Altimeter: yes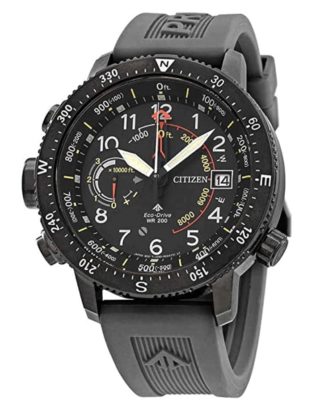 Our next entry among the best survival watches is one of a kind. Why? Because the Citizen Promaster Altichron is an analog watch with an altimeter and compass functions.
Typically, these kind of watches are entirely digital, but this one offers the functionality of a digital piece and the aesthetics of a classic analog watch. The features are neatly placed when the altimeter lies on three gauges, and the compass has a dedicated orange-colored hand and a rotating compass bezel.
This Altichron watch runs on an Eco-Drive solar quartz movement that is accurate and always sufficiently charged when in daylight. Just to be on the safe side, you can make use of the power reserve indicator that notifies when the charge starts to run out.
The watch is also water-resistant to 200m (660ft) and easily readable even in the brightest of conditions due to an anti-reflective mineral crystal.

Casio Pro Trek PRG-600YB-3CR
Water resistance: 100m (330ft)
Crystal: mineral
Navigation: digital compass
Altimeter/barometer: yes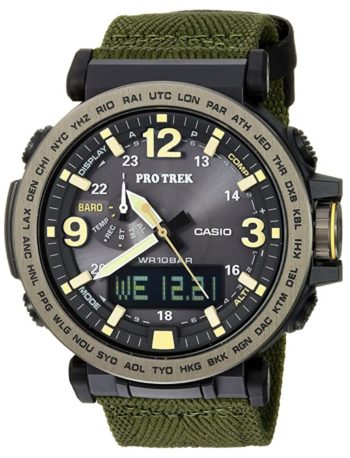 The Japanese powerhouse Casio has several sub-brands dedicated to outdoor activities. Besides the famous G-Shock watches we already covered earlier in our post, there are also Pro Trek watches. These timepieces are more suited for universal wear than the G-Shocks for their lighter feel, smaller size, and easier accessibility.
One of the standout models for survival activities is the Casio Pro Trek PRG-600YB-3CR. The watch with a price tag slightly above the $200 line offers plenty of features for the money.
An ABC function is probably the best argument the watch has. The analog-digital Pro Trek displays the results conveniently on a small digital screen at the bottom of the dial. Switching between the various functions is also convenient – the watch has four pushers on both sides of the case.
Besides the feature-rich nature of this Pro Trek, the watch sticks out with its solar-powered movement as well. When fully charged, the battery lasts up to 7 months without any light applied to it. Combined with quartz timekeeping that keeps an accuracy of about +/-15 seconds a month, the Pro Trek watch will be a precise and relatively carefree wearable for decades.

Suunto Core Outdoor Watch
Water resistance: 30m (100ft)
Crystal: mineral
Navigation: digital compass
Altimeter/barometer: yes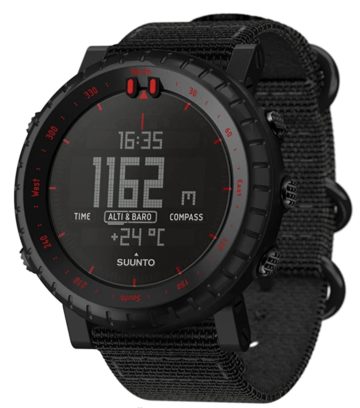 The Suunto Core Watch has quickly become a legend among survival watches. You don't have to break the bank either to acquire it. For only a couple of hundred dollars, the Suunto Core offers excellent quality and plenty of useful applications.
On top of the altimeter, barometer, and compass functions, the watch will predict and alarm a coming storm. The feature is especially handy for the hikers who stay overnight or are far off from their starting points.
A neat extra you'll get with this watch is the preloaded sunset and sunrise times, helping to take the maximum out of daylight hours.
Quality-wise, the 49mm Suunto Core has a durable composite case, aluminum bezel, and comfortable elastomer strap. The watch can also be used for swimming, snorkeling, and recreational diving. By the way, this Suunto is also equipped with a depth meter that measures up to 30 feet (10 meters) underwater.

Garmin Fenix 6 Pro Solar
Water resistance: 100m (330ft)
Crystal: power glass
Navigation: GPS
Altimeter/barometer: yes
The Garmin Fenix 6 Pro Solar may be the priciest on our list of the best survival watches, but it is for a good reason, too – it offers a whole lot more options and metrics to come out of the woods unscathed.
The core of the watch is, without a doubt, the full-color map system that shows the precise location thanks to the GPS, Glonass, and Galileo technologies all contributing to it. Not only do they provide information about distances and location on a horizontal line but vertically as well by means of an altimeter. And add a barometer, and you'll receive accurate weather forecasts on top of that.
Solar charging is another essential addition for a convenient outing. A complete sports smartwatch as the Garmin Fenix 6 is, you wouldn't want it to run out of charge in the middle of nowhere. Therefore, solar power is a lifesaver for keeping the watch running as long as there is enough light. The battery will last up to 24 days in smartwatch mode and 16 hours in GPS mode when fully charged.
This Garmin has other great additions as well. For example, the PulseOx feature tracks the hemoglobin in the blood and assesses acclimatization on high-altitude conditions, while the PacePro app provides pace guidance and training status estimates throughout the activity.

Seiko Arnie Prospex Survival Watch
Water resistance: 200m (660ft)
Crystal: Hardlex
Navigation: no
Altimeter/barometer: no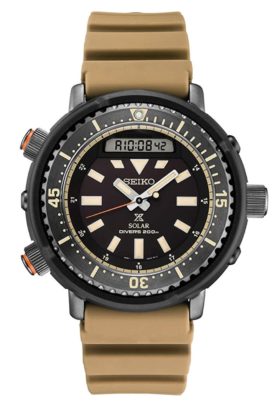 The next watch is very different from the above-covered Garmin piece for being a straightforward analog watch with classic features. However, albeit its simplicity, it suits perfectly for tough outdoor activities.
The Seiko Arnie Prospex SNJ029 is a revitalized legendary timepiece worn by Arnold Schwarzenegger in the 1980s blockbuster action films Commando and Predator. It's a professional diver's piece that takes the beating and requires little upkeep.
The ISO-certified dive piece is 200m (660ft) water-resistant and runs on a solar-powered quartz movement that keeps a 6-month power reserve when fully charged. An addition that is a classic throwback to the 1980s is the small digital screen at twelve o'clock displaying alarms and a calendar.
Since it's a genuine dive piece, the bezel is one-way rotating, the crown is screw-down, and the caseback comes screw-in. Also, expect to have nice luminosity, which has become standard in every Seiko watch.

Timex Tide Temp Compass Watch
Water resistance: 100m (330ft)
Crystal: mineral
Navigation: analog compass
Altimeter/barometer: no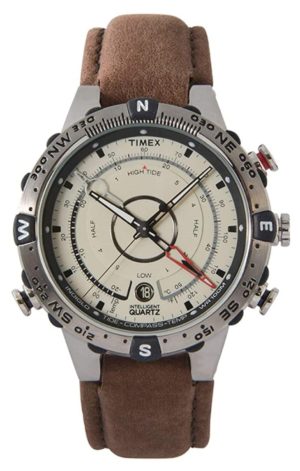 Timex is among the best watch brands that offer affordable yet durable timepieces for every walk of life. While the majority of models are simple in terms of build and aesthetics and won't suit severe conditions, there is one particular watch that will definitely do – the Timex Tide Temp Compass.
The wristwatch has an analog dial but with three awesome features rare in non-digital tickers – a tide tracker, thermometer, and compass. A tide tracker indicates high, low, and half-tides, a thermometer provides the wearer with quite an accurate temperature both in and out of the water, and a compass with a dedicated hand guides you to the desired direction.
The Timex watch is widely worn by fishermen and water sports enthusiasts, but especially by surfers who wish to catch the perfect waves. However, if you're a die-hard survivalist, all three functions will provide useful information both on the land and in the water.
Last but not least, like in every Timex watch, you can't get past the famous Indiglo backlight that is backed up with luminous hands and indices for a convenient time capture in every lighting condition.

Casio Pathfinder Triple Sensor Watch
Water resistance: 100m (330ft)
Crystal: mineral
Navigation: digital compass
Altimeter/barometer: yes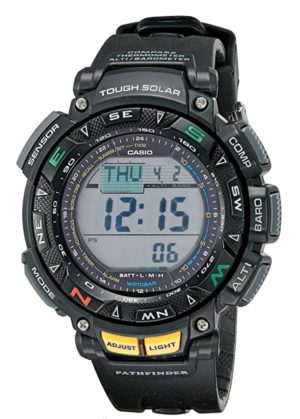 The Triple Sensor function is one of the handiest features for hikers, trekkers, and all kinds of outdoors people. That's why we've included yet another survival watch with this feature. And yet again, it comes from Casio.
However, the Casio Pathfinder is a much more affordable alternative to the G-Shocks and Pro Treks we've covered earlier in this post, costing well below the $200 mark.
The fully digital outdoor watch comprises an altimeter, barometer, and compass that are easily accessible through dedicated push buttons on the right side of the case. As if that wasn't enough, the Pathfinder offers a plethora of other neat functions, such as the 1/100-second stopwatch, timer, world time in 31 timezones, battery power indicator, and power-saving function.
The watch is 100m (330ft) water-resistant, has a durable stainless steel case, and gets powered by any light. Thus, paying around $200 for such a feat of functions that are well protected against various shocks is a bargain hard to say no to.
But beware, the Casio Pathfinder measures 51mm in case diameter, which makes it relatively out of place for men with slender wrists. Feel free to check the suitability using our watch size chart.

Luminox Leatherback Sea Turtle
Water resistance: 100m (330ft)
Crystal: mineral
Navigation: no
Altimeter/barometer: no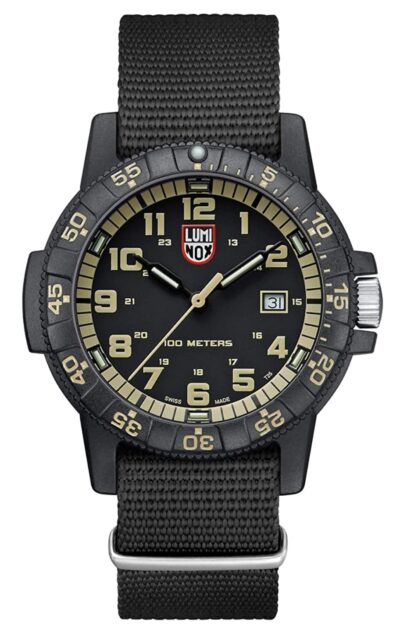 We finish the list of the top survival timepieces with a famous model from the American-Swiss manufacturer of Luminox.
The Leatherback Sea Turtle is as much a dive watch as a rugged field watch – it is both highly water-resistant and difficult to break. Therefore, this Luminox is a spot-on outdoor watch for any occasion, albeit with its shortage of high-tech innovations.
Like many Luminox pieces, the Leatherback is covered with a carbon compound, ensuring a comfortable feel on the wrist. The crystal is of tempered mineral glass, while the straps are of water-resistant nylon. The Swiss-made ticker runs on a reliable Swiss quartz movement and holds an accuracy of about +/-15 seconds a month.
Considering the characteristics and components of the watch, it is a nice value-for-money proposition for a Swiss-made timepiece.

Buying Guide for Survival Watches
Now that we've brought you our selection of the best survival watches, you still might be wondering which one of them would be the most appropriate to your needs. The following concise buying guide is there to aid you further.
Watches with GPS & ABC
The GPS and ABC functions are the tip of the mountain in the outdoor watch industry. That also means they cost way more than regular digital or analog watches. Therefore, you should make sure whether you're going to use them enough so that you wouldn't regret spending the money.
In short, survival watches with the GPS and ABC are appropriate for those hiking and trekking in unfamiliar/mountainous areas where the scenery is laborious, and the elevation changes are notable. You wouldn't want to go missing or end up in a furious storm.
In addition, since these watches are mostly sports-oriented, they also suit perfectly for those who could use the various training modes, whether it be running, cycling, or surfing.
Watches with Compass
You should go for a compass-featuring survival watch if you feel comfortable and at home with using it.
It's not a secret that most people don't even know how to read the compass, which is why they choose a GPS option instead. Besides, a compass watch is much more accessible money-wise than a GPS timepiece.
Durable Survival Watches
Finally, there are survival watches without any technologies measuring altitude, reading directions, or guiding you via GPS. Instead, they have been built to stand severe conditions, whether it be on the land or deep in the sea.
These kinds of survival watches are best suited for you if elevations, temperatures, and accurate positioning is not required. Their primary purpose is to stand cold, mud, humid, physical shocks and show you an accurate time.

Conclusion
We hope the shortlist of the best survival watches has helped you closer to your next durable and accurate wristwatch for decades. The quality, features, and overall background of the manufacturers these watches come from is an excellent foundation for a long-lasting wearing experience.
Depending on your lifestyle and the depths of survivalism you're willing to take, just make sure to take care of your watch because nothing will last as long as you want if proper upkeep is missing. Even if it's a super durable watch with bulletproof construction.

You may also like:
Affiliate Disclosure: As an Amazon Associate I earn from qualifying purchases. Details