Affiliate Disclosure: As an Amazon Associate I earn from qualifying purchases. Details
Pepsi bezel watches have already circled on the market for nearly 70 years, but there's never been a period with so many options available at such various price points.
And, let's be honest, who wouldn't want to have at least one Pepsi watch in their collection if the buying conditions are so favorable.
One of the brands that have attractive options for Pepsi bezel watches is Seiko. The Japanese powerhouse has applied the famous red-and-blue color scheme almost entirely on its most profitable line, namely dive watches. 
The very purpose of this post is to bring you the best Seiko Pepsi diver watches that feature this sought-after design.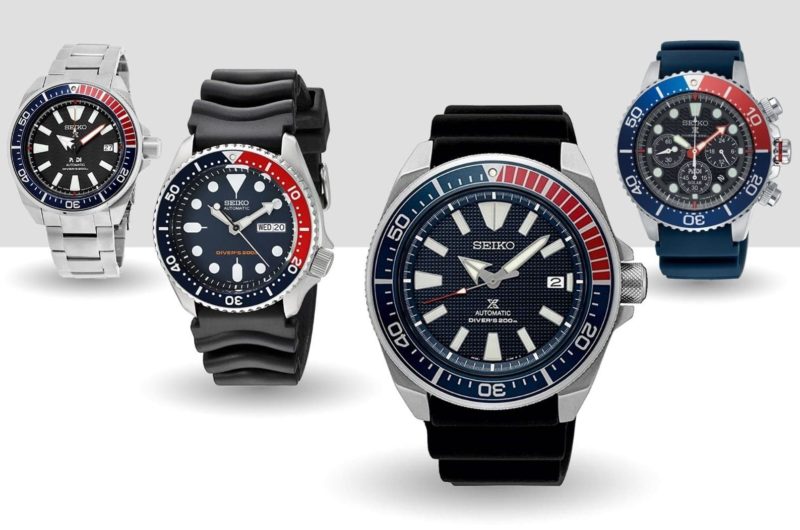 Luckily, there are several of them, and, moreover, they come in variegated designs and with price tags rarely exceeding the $500 line.
But before heading to the shortlist, let's discover the background of the Pepsi bezel first.

What Is a Pepsi Bezel?
If you thought the origin of a Pepsi bezel is something to do with commercial agreements with the world-famous soda manufacturer to have their logo or brand name on wristwatches, we have to disappoint you.
The truth, in fact, is quite an obvious one. A bezel is called a Pepsi bezel when it has a red-and-blue color scheme. The combination of these colors on a bezel resembles the colors that Pepsi has, thus receiving an affectionate nickname for that particular type of bezel.
The first watch that featured a Pepsi bezel was the Rolex GMT Master. It was produced in 1954 when international jet pilots needed a watch that could tell the time in two timezones at once. The design was so captivating that it was later applied by other manufacturers and to other types of watches, including dive wristwear. 
In fact, the first Seiko Pepsi watch was produced in the late 1970s, and it was a quartz diver 7548-700B model.

Types of Pepsi Bezel Watches
Like we already know, a bezel is a part of a watch that not only secures the crystal to the case but offers extra functionality and readability for the wearer. 
Amongst the various bezel styles, one can distinguish two types of Pepsi bezels – dive and GMT.
When a GMT Pepsi bezel is two-way rotating, features an additional GMT hand, and has blue and red colors equally distributed (for PM and AM indications), then a Pepsi dive bezel rotates unidirectionally and features a red tone for up to 15-20 minutes, leaving blue to the rest of the bezel.
There have been some debate among watch enthusiasts of why a Pepsi dive bezel has red for the first quarter of the bezel and blue for the rest, and not the other way around, but an unequivocal answer has not been provided by any manufacturer.
Be that as it may, the fantastic color scheme is something that still thrills people, and one can be sure it'll not sink into oblivion anytime soon.

Seiko Pepsi Watches
Now that the term and background are clear let's find out the best Seiko Pepsi watches currently available.

Seiko "Samurai" SRPB53
Case size: 44mm
Caliber: Automatic 4R35 hacking & hand-winding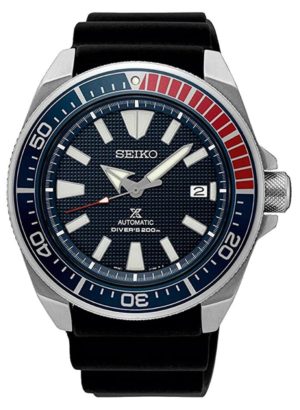 The Seiko Prospex SRPB53, also known as the "Samurai" watch, is not only a professional grade dive watch but also one good-looking piece of wearable that complements various outfits besides dive suits.
It is sized at 44mm in case diameter with a 13.4mm height, which are fitting dimensions for the majority of wrist sizes and shapes.
But what makes this Samurai so sought-after besides the looks and size is its automatic movement.
Equipped with a 4R35 caliber, the watch is hackable and hand-windable while keeping decent accuracy. A tried and tested movement as the 4R35 is, you get a real workhorse with appreciated extras.
The Pepsi bezel of the watch is unidirectional and features red color between 0 and 15 minutes. While operating the bezel, the clicks are neither firm nor soft, offering a convenient user experience.
Last but not least, many wearers have expressed high praise regarding the rubber bands – they are comfortable to wear, perfectly proportioned, and last longer than many other rubber straps.

Seiko "Samurai" SRPB99
Case size: 44mm
Caliber: Automatic 4R35 hacking & hand-winding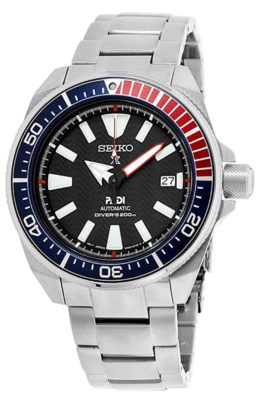 We continue with another "Samurai" watch. In broad terms, the Seiko SRPB99 is very similar to the previous watch we covered – it runs on a 4R35 caliber, measures 44mm in size, and is a professional dive watch.
But what's different is the all-metal appearance and the design of the dial.
The stainless steel band with deployant clasp and safety lock feature makes the SRPB99 a spot-on universal wearable for different occasions as it is more suitable for festive events than rubber is. 
You'll find the face black-toned with wavy stripes that run horizontally across the dial. A feature many dive watch enthusiasts highly appreciate is the PADI (Professional Association of Diving Instructors) signature on the face, which is the icing on the cake for anyone wishing to pamper their wrists with PADI-approved diving watches.
All in all, the SRPB99 offers both utmost effectiveness and visual beauty.

Seiko "Turtle" Prospex PADI SRPA21
Case size: 44mm
Caliber: Automatic 4R36 hacking & hand-winding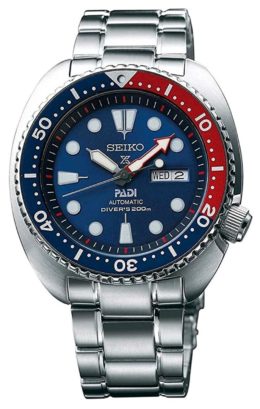 Seiko's so-called Turtle watches are highly recognized and loved by dive watch connoisseurs. And so is the Seiko SRPA21.
What makes it a Turtle is the cushion-shaped case that reminds the ancient amphibious animal. And not only the appearance suggests a water-related timepiece but also the fact the SRPA21 is a 200m (660ft) ISO-certified and PADI-approved professional diver.
This Seiko Pepsi watch sports a 4R36 automatic caliber, which is very similar to a 4R35 movement for featuring hand-winding and hacking capabilities but adds a day-date function instead of just the date. You can also expect decent accuracy and a power reserve for up to 41h.
Compared to the Samurais we covered earlier, the Seiko Turtle has a coin-edge Pepsi bezel.
Although the difference between a smooth and coin-edge bezel is not significant, the latter is still considered somewhat handier in terms of operating it. It also adds to the tool watch appearance, making it look more professional.

Seiko SKX Pepsi SKX009
Case size: 42mm
Caliber: Automatic 7S26 non-hacking & non-windable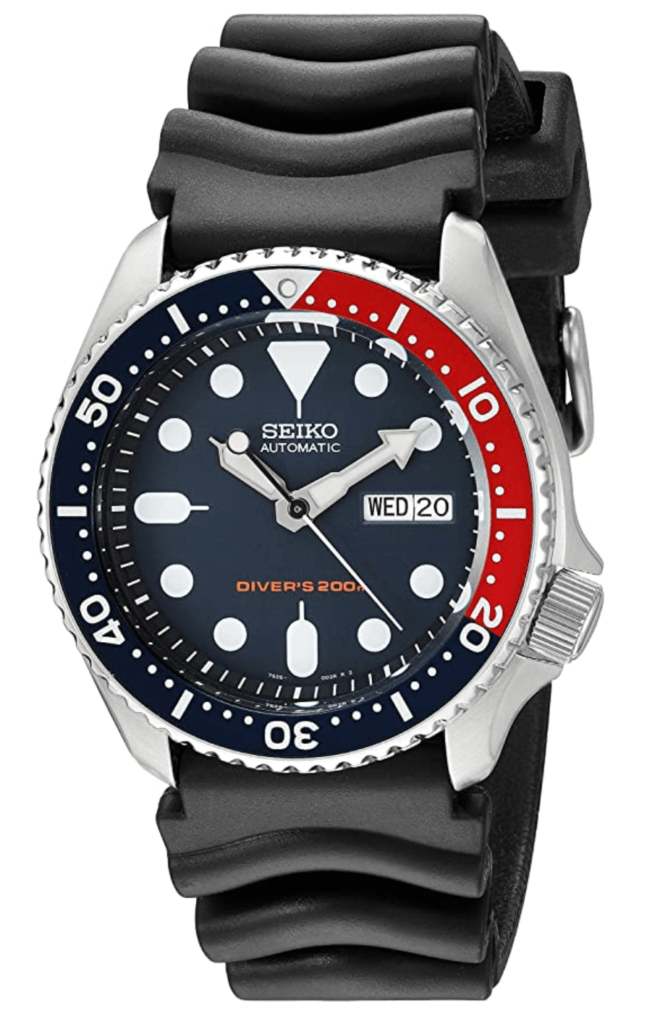 The Seiko SKX009 Pepsi bezel diver is one of the most famous Seiko watches around and an iconic modern-day Pepsi bezel watch. 
There is no dive watch community or website that doesn't talk about this marvelous timepiece that first saw daylight in 1996.
Unfortunately, both the SKX009 and its black version SKX007 are discontinued as of 2019. Regardless, the stocks of online outlets are still filled with these watches, and those interested have the possibility to acquire one for themselves.
The primary factor contributing to the success of the SKX009 is its true beater watch nature.
Equipped with a tried-and-tested 7S26 automatic movement that is often regarded as the best value-for-money caliber, the Seiko SKX009 is a must-have self-winding watch. It features a day-date feature and is a non-hacking and non-winding mechanism.
Appearance-wise, you'll have a 42mm timepiece with bold luminous hour dots, a dark blue dial, and a crown positioned at a 4 o'clock position. Similar to the Turtle watch, the SKX009 has a coin-edge bezel that turns in one direction.
Complementing the iconic apparel is the black rubber strap that is tough and stiff but in a good way – it feels very comfortable on a wrist.

Seiko SRP779
Case size: 45mm
Caliber: Automatic 4R36 hacking & hand-winding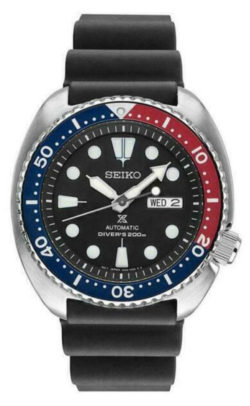 If your wrists tend to be on the larger end of the scale, then this Seiko SRP779 could be the best fit out of the dive watches available from the brand.
The Turtle-shaped watch measures 45mm in diameter and takes up quite a lot of real estate not only for its size but also due to its unusual shape.
The SRP779 may not be the most famous Seiko Turtle, but it offers equally wonderful quality and aesthetics.
As such, you'll find a 4R36 automatic caliber with hacking and hand-winding, 200m (600ft) water resistance, and strong luminosity in hour markers and hands. The looks suggest a classic tool watch with a unidirectional red-and-blue bezel, black dial, and a well-finished stainless steel case.
Almost all the affordable Seiko pieces, including the SRP779, come with a proprietary Hardlex crystal, a favorable glass for diving due to its high resistance to impacts. Hardlex may not be as acknowledged as sapphire but is considered somewhat better than a typical mineral crystal.

Seiko Prospex PADI "Tuna" SNE499
Case size: 47mm
Caliber: Solar quartz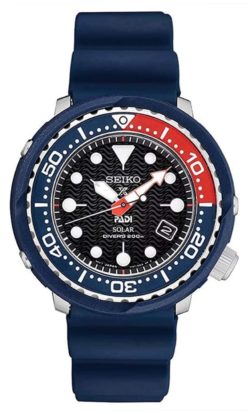 The Seiko PADI Tuna is a totally different watch from others we've covered so far. Yes, it is a professional diver with a very tool-watch-like appearance, but the looks and features are nice alternatives to the widespread Samurais and Turtles.
First off, the Seiko SNE499 is a solar-powered dive watch, meaning it receives energy from any light. It can hold a charge for up to 10 months when fully charged, eliminating the need for cumbersome battery replacements.
In terms of looks, this Seiko reminds a tuna can, which has earned it the famous nickname. When observed above, a large 47mm round case with almost non-existent lugs makes it a bulky piece of wearable.
Despite its large case diameter, the dial is actually quite small when put into perspective. Also, the existence of a Pepsi bezel around the dial adds to the face's small perceptible size.
All things considered, the Seiko Tuna SNE499 is a proper tool watch that acts and looks like one.

Seiko "Arnie" Dive Watch SNJ027
Case size: 48mm
Caliber: Solar quartz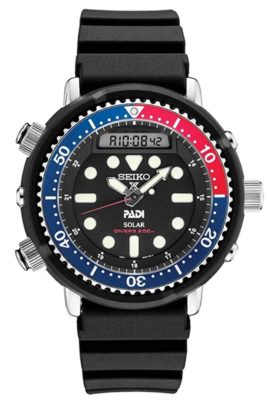 When the previous Seiko diver was already a totally different timepiece from many Seikos around, this Seiko Arnie Tuna SNJ027 adds a little more on top of that. It is another famous Tuna watch with a Pepsi bezel for professional diving but sticks out with a small digital screen at the top of the dial.
The screen is reachable through the two push buttons on the left side of the case and displays digital time, date, stopwatch, and alarms. These neat extras on a dive piece are something you typically won't find from such types of watches.
But why does it have the nickname "Arnie"? Well, because an original Seiko was worn by Arnold Schwarzenegger in blockbuster action movies Commando and Predator back in the 1980s. And since it's already called Arnie, you can also expect it to be big, namely this large face watch measures 48mm in diameter.
The vintage re-issue version SNJ027 also has a distinctive red and blue Pepsi bezel that harmonizes perfectly with the overall black appearance. Rugged and sturdy as this timepiece is, it makes it a spot-on survival watch with attractive features for tough conditions.

Seiko 5 "Sea Urchin" SNZF15J1
Case size: 40.5mm
Caliber: Automatic 7S36 non-hacking & non-windable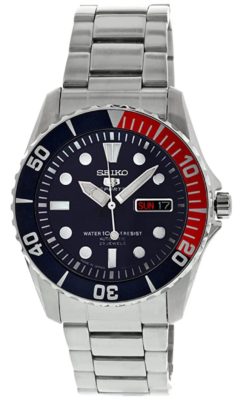 The Seiko 5 Sea Urchin SNZF15J1 is a desk diver, which means it is not constructed for scuba diving. Instead, it's a water-resistant sports watch with the looks of a diver's piece.
The inspiration for the Sea Urchin originates from the Rolex Submariner that also has the same 40mm case size and similar design. The nickname, however, has been given for the long minute markers that resemble the spines of the animal. 
Like the majority of Seiko dive watches, this one, too, runs on an automatic caliber. The 7S36 movement doesn't hand-wind nor hack but compensates with a day-date feature at a prominent three o'clock placement.
The watch is water-resistant to 100m (330ft), employs a Hardlex crystal, and has bright luminosity in hands and hour markers.
Although this Seiko watch is not a professional diver, it is a worthwhile addition for anyone who appreciates the looks and feels of a dive piece. Moreover, it is available for way less than many others on this list.

Seiko 5 Pepsi SRPD53
Case size: 43mm
Caliber: Automatic 4R36 hacking & hand-winding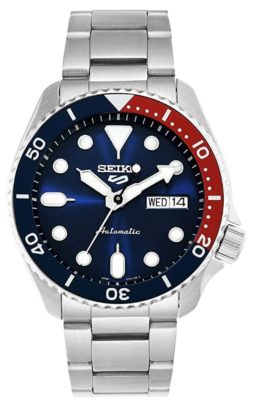 Another Seiko 5 Pepsi on our list is the Seiko SRPD53, which is the representative of the re-vamped Seiko 5 line that saw daylight in 2019. The watch is, in broad terms, very similar to the iconic Seiko SKX009 when both share the same case and dial design. 
However, instead of the 7S26 caliber, the SRPD line, including this particular watch, is equipped with the 4R36 movement. The caliber offers the possibility to hand-wind it and halt the seconds hand while providing a classic 41h power reserve. You'll also get a handy day-date function.
The dial is probably the best bit of this Seiko. With a shaded dark blue dial and a prominent red-and-blue Pepsi bezel, the watch is a spot-on wearable for various events, whether it be work or a night out.
An extra that is usually missing from Seiko's dive watches is the exhibition caseback that opens the world of a sophisticated and complex automatic mechanism for all to see.
If you're not going to use your watch for serious water sports but instead for casual everyday events, then the SRPD53 Pepsi bezel piece is a bang on timepiece both appearance and function-wise.

Seiko Solar SSC785P1
Case size: 43.5mm
Caliber: Solar quartz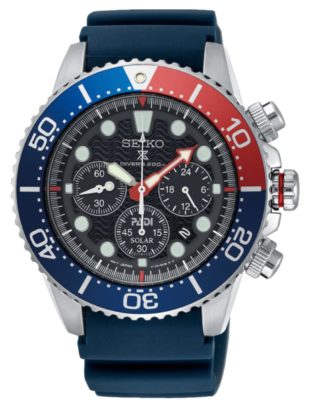 When typical divers have a simple analog face, then this Seiko SSC785P1 has it filled with subdials that belong to the chronograph and 24-hour format. It's quite unusual, indeed, but the looks offer a breeze of fresh air for wearers who want something different.
The timekeeping, as well as the functions, are powered by light, with a maximum energy capacity of six months. Thus, you can expect the accuracy of quartz while not having to worry about battery replacements.
The dial is rather busy with all the subdials and a wavy texture, but reading the time and stopwatch results are problem-free as the light-toned hands on a dark dial are contrasting and easy to capture.
The ISO-certified Seiko watch plays well with the red and blue colors when, besides the Pepsi bezel, you'll also find them on the crown, hands, and silicone band.

Final Take
The variety of Seiko Pepsi watches is bigger than with many other affordable watch manufacturers. And, luckily, the timepieces come with various designs, from turtle and tuna-shaped cases to wavy and shadowy dials, offering a wide choice to choose from.
All these watches are known for their sturdiness and reliability. If you want a real workhorse down in the water, go for a Samurai or SKX009 model. On the other hand, if you prefer a good-looking desk diver, turn to the appreciated Seiko 5 line of wristwear.
Whatever your choice, a Seiko watch offers not only the utmost functionality but also the famous appearance that has pampered the wrists of men for more than half a century. Therefore, it's a no-brainer to turn to one of the Pepsi divers.

You may also like:
Affiliate Disclosure: As an Amazon Associate I earn from qualifying purchases. Details
Latest posts by Carl Pender
(see all)