Affiliate Disclosure: As an Amazon Associate I earn from qualifying purchases. Details
There are many reasons why you might want to consider engraving your watch. Maybe you want to commemorate a special event or show your love for someone special.
Whatever the reason, there are a number of great ways to do it!
In this blog post, we will take a look at some of the best watch engraving ideas.
Keep reading to learn more!

Things to Bear in Mind Before Engraving a Watch
Before we go to the various watch engraving ideas, it is good to go over a couple of things you should bear in mind.
First off, you will not have much space on the caseback since a typical watch measures around 40-45mm. Therefore, choose your words carefully and go for short phrases instead of long.
Secondly, make sure the watch you wish to engrave has a solid caseback with enough open space. Some watches have a transparent caseback or come with an ornamented design, which eliminates their appropriateness for engravings.
Finally, bear in mind that a watch loses its aftermarket value the second it receives an engraving. Hence, make sure the person you wish to gift the watch doesn't want to sell it at one point of his/her life.
Another solution is to gift a watch from one of the affordable watch brands that don't have much aftermarket value, like Citizen, Bulova, Tissot, Orient, or Timex. Fossil watches that are also available for affordable prices, for instance, are guaranteed free of charge engravings in one of Fossil's stores.
Now that the 101 is done let's head to the ideas you can use for watch engravings.

Couple's Engraving Ideas
If you are looking for a way to show your love for someone, consider engraving your watch with a special message or phrase that connects you or has an inside story about your relationship. This is a romantic gesture that they will always cherish!
You could also choose to have both of your names engraved on the watch.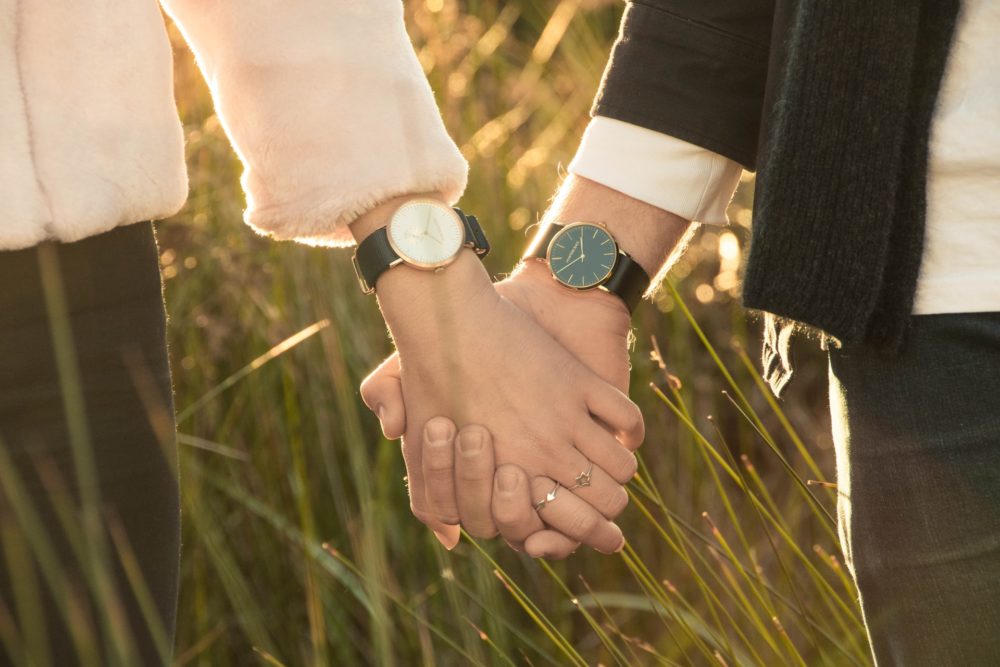 What is also pretty popular is to commemorate the first time you saw each other or the time of the first date you went to. This is a great way to display your unity and commitment to each other!
Here are also some general love quotes for couples that will make fantastic watch engraving ideas:

"I need you like a heart needs a beat." Unknown
"All you need is love." The Beatles
"Some people are worth melting for." The Frozen
"You can't blame gravity for falling in love." Albert Einstein
"I wish I could turn back the clock. I'd find you sooner and love you longer." Unknown
"I'm much more me when I'm with you." Unknown
"I love you like a fat kid loves cake." Scott Adams
"When love is not madness, it is not love." Pedro Calderon de la Barca
"The day my life changed forever was the day I first saw you." Unknown
"If I know what love is, it is because of you." Hermann Hesse
"A hundred hearts would be too few to carry all my love for you." Henry Wadsworth
"Loved you yesterday, love you still, always have, always will." Elaine Davis
"Life without love is like a tree without blossoms or fruit." Khalil Gibran
"Love is a friendship set to music." Joseph Campbell
"The art of love is largely the art of persistence." Albert Ellis
"Sometimes the heart sees what is invisible to the eye." H. Jackson Brown, Jr.
"We are most alive when we're in love." John Updike
"To love and be loved is to feel the sun from both sides." David Viscott
"I wish you know that you have been the last dream of my soul." Charles Dickens
"My night has become a sunny dawn because of you." Ibn Abbad
"It's always better when we're together." Jack Johnson
"My soul and your soul are forever tangled." N.R. Hart
"I love you, and that's the beginning and end of everything." F. Scott Fitzgerald

Time-Related Ideas
Engraving a watch with a time-related quote is an original idea. It suits best someone that has never worn a watch before to raise the awareness of the importance of time. Eventually, it could spark a lifelong love for watches.

Here are some of the best time-related watch engraving quotes:

"Better three hours too soon than a minute too late." William Shakespeare
"Punctuality is the thief of time." Oscar Wilde
"All you have to decide is what to do with the time that is given to you." Unknown
"The most precious resource we all have is time." Steve Jobs
"The two most powerful warriors are patience and time." Lev Tolstoy
"Time is the most valuable thing a man can spend." Teophrastus
"Time is money." Benjamin Franklin
"The key is in not spending time but in investing it." Stephen R. Covey
"Either you run the day, or the day runs you." Jim Rohn
"Time is an illusion." Albert Einstein

Graduation Ideas
Another great occasion to surprise your loved ones is graduation, whether it be from high school, college, or university.
For many of us, graduation means starting a new chapter in our lives, leaving childhood and studies behind us, and finally taking everything into our own hands.
Therefore, the graduation date owns a great significance, which is also the most popular watch engraving idea. This is a great way to always have that special day close by!
You could also choose to engrave a phrase or quote that is meaningful. This will be a reminder of all the hard work and dedication that has been put into the studies.
Here are some short and concise quotes you can use:

"Graduation is not the end; it's the beginning." Unknown
"The road to success is always under construction." Lily Tomlin
"Follow your fear." Tina Fey
"Dream big and dare to fail." Norman Vaughan
"Follow your arrow, wherever it points." Kacey Musgraves
"Creativity is intelligence having fun." Albert Einstein
"What we learn with pleasure we never forget." Alfred Mercier
"An investment in knowledge always pays the best interest." Benjamin Franklin
"Your education is a dress rehearsal for a life that is yours to lead." Nora Ephron
"There are no regrets in life. Just lessons." Jennifer Aniston
"Kid, you'll move mountains." Dr. Seuss
"Men are what their mothers made them." Emerson
"Be bold, be courageous, be your best." Gabrielle Giffords
"Wherever you go, go with all your heart." Confucius
"And though she be but little, she is fierce." Shakespeare
"She believed she could, so she did." R.S. Grey

Watch Engraving Ideas for Dads
Watches have always been great gifts for Dads. However, with a special engraving, it gets even better.
You could choose to have his initials engraved on the watch. Or the date of his birth. However, if you don't have anything particular in mind, see some excellent quotes and expressions about dads below.
"Dad, you rock!"
"The best Dad ever!"
"Don't tell Mom, but you're my favorite."
"Whose a good Dad? You are!"
"You are the hero I hope to be."
"I am grateful that I have you as my Dad."
"You're the Dad that every child dreams of having."
"Having you as my Dad makes me one proud kid."
"You've always been such an awesome Dad!"
"Thank you for playing a vital role in my life."
"Your dedication as a father truly astounds me."
"I look up to you for inspiration."

Watch Engraving Ideas for Sons
If you wish to gift a wristwatch to your son, there are several watch engraving ideas you can use.
For instance, you can engrave his name or use a short and simple phrase, such as "With love, from Mom/Dad." Also, you can engrave the watch with his astrological sign.
However, if you wish to put some more personal touch into it, you can use one of the following phrases:

"I will always believe in you."
"You are my beautiful life's work."
"In good or bad times, I will always be there."
"You are my sonshine."
"There is nothing you can do to make me any prouder."
"The greatest blessing I have ever received was you."
"You are capable of achieving everything."
"Son, you may outgrow my lap, but never my heart."
"Yesterday my little boy, today my friend, and forever my son."

Final Words
As you can see, there are a number of great watch engraving ideas. Whether you want to commemorate a special event or show your love for someone, there is a way to do it!
We hope this blog post has inspired you with some ideas of your own.

You may also like:
Affiliate Disclosure: As an Amazon Associate I earn from qualifying purchases. Details
Latest posts by Carl Pender
(see all)