Affiliate Disclosure: As an Amazon Associate I earn from qualifying purchases. Details
A sweeping second hand watch gleams extravagance and adds excitement in providing a smooth motion instead of dull once-a-second ticks.
Such watches are not rare because any timepiece that runs on a mechanical movement comes with a smooth sweep. Even some quartz watches have it, providing extended options for the buyers to choose from. Naturally, whatever type of wristwatch you wish to have, you'll probably find a plentiful selection.
However, sweeping second hand watches differ from each other in having different frequencies, accuracies, prices, and working mechanisms – every timepiece is not the same.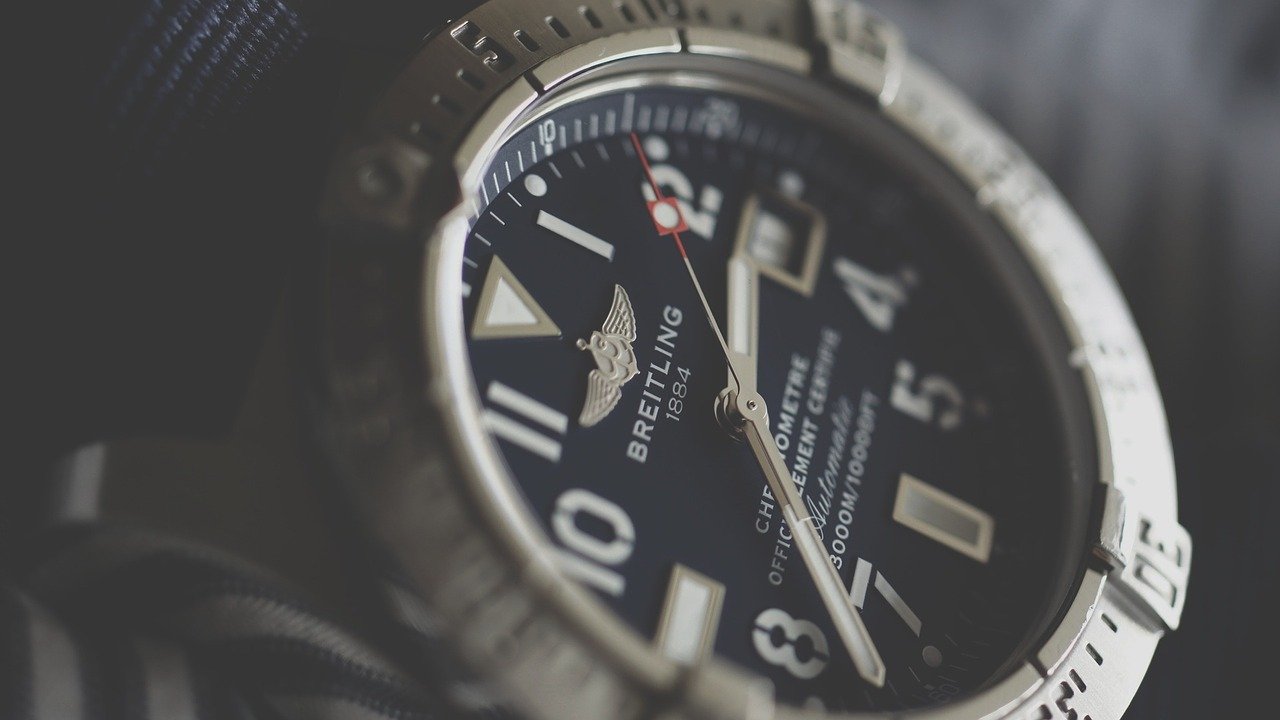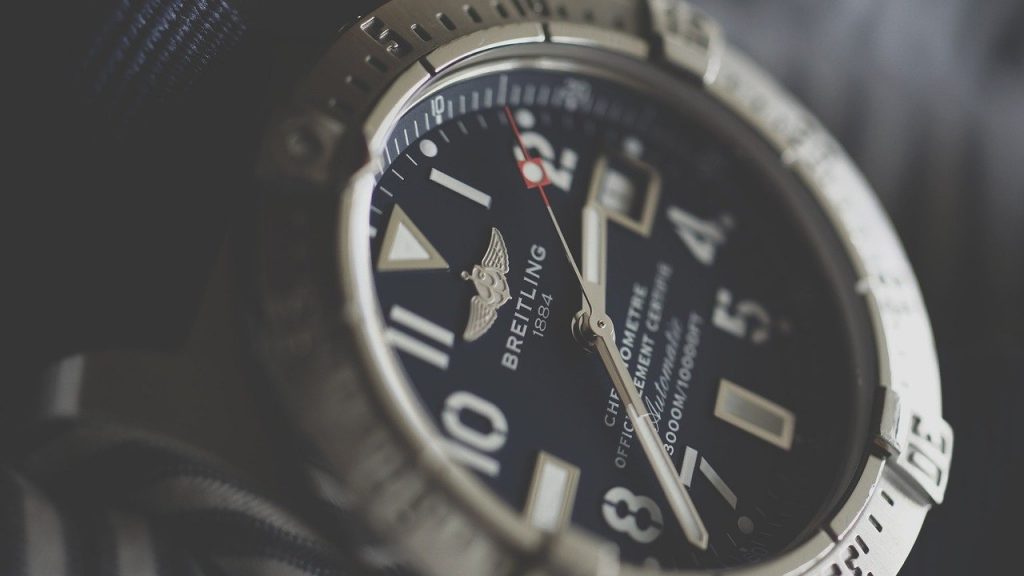 That's why we've decided to explain the world of sweeping watches, but also for the reason for you to end up with the most suitable option considering your budget, perception of smoothness, and expectations in precision.
But first off, let's find out what a sweeping second hand watch is.

What Is a Sweeping Second Hand Watch?
Simply put, it's a watch where the second's hand gives a smooth sweeping impression instead of moving once in a second as it does in typical quartz pieces. The visually spectacular motion is something that many regard as a higher level compared to a regular once-a-second movement.
However, this higher level doesn't reflect in the prices when a plethora of affordable sweeping watches is available for as little as $100-$500.
In broad distinction, the watches can be differentiated by the movements that power them. They are as simple as it goes – mechanical and quartz.

Mechanical Watch with Sweeping Second Hand
Mechanical watches run on a complex mechanism that already, in its core, provides the hand's gliding movement.
A typical caliber's balance wheel makes six swings in a second (3 oscillations back and forth, or 3Hz frequency), which means it moves six steps in the period of one second. That's where the sweeping motion comes.
Such calibers are also known by another measurement – vibrations/beats per hour. If a watch ticks six times in a second, it makes up 21,600 vibrations/beats per hour (vph or bph).
However, the 21,600 vph frequency is not the onliest option available when 28,800 vph mechanical timepieces are also quite prevalent. The second hand sweeps even smoother in such watches than it does in lower frequency watches, providing eight ticks in a second, which is very pleasing for an eye to glance.
The following video showcases the difference between 3 Hz and 4 Hz watches, where the one on the left is the latter.
Moving up on the frequency line, we face timepieces with an impressive 36,000 vph, and even some with 43,200 vph, but they cost thousands of dollars, too. Yet besides the bragging rights the brands achieve by making such timepieces, there's nothing more to it – they will provide neither perceivably smoother sweep nor better accuracy.
That's why we stick to the most prevalent 21,600 and 28,800 vph watches in the remainder of the post.

Quartz Watch with Sweeping Second Hand
When each and every mechanical piece is by default a sweeping hand watch, only a handful of options are available among the quartz watches. The two widely recognized quartz-based sweepers we have today are the Bulova Precisionist and Seiko Spring Drive.

Bulova Precisionist
The Precisionist watches have a 262kHz frequency, which is eight times greater than in typical quartz watches with 32.8kHz frequency, in that providing ultimate precision and the possibility to slice up the seconds into smaller increments without losing out on accuracy.
The Precisionist Ultra High Frequency line timepieces have an extraordinarily smooth sweep when one second accommodates 16 ticks. It's so amazing that even a $10,000 Rolex or Omega luxury mechanical piece couldn't offer such smoothness.
Besides the Precisionist, some older Bulova Accutron II models beat eight times a second. However, these watches went out of production and are only available as used in the aftermarket.

Seiko Spring Drive
Seiko Spring Drive watches, on the other hand, are not as straightforward quartz pieces as the Precisionist ones are.
Spring Drive is actually a movement of its own, which bases on a mechanical movement but gets the precision from a quartz crystal through a unique speed control regulator. For employing quartz, Spring Drive is often referred to as a battery-free quartz-driven movement.

Whether it is a quartz-based movement or not will remain an everlasting debate among watch enthusiasts. But what's essential, though, in regards to this particular post, is that the sweeping motion is the smoothest as it can get.
For employing a rotor that operates in a single rotational direction rather than in a back-and-forth motion, the second hand moves in an utmost smooth fashion.
So, if you're after the smoothest motion, then Seiko's Spring Drive timepieces are the best sweeping watches on the market, provided mainly by the Grand Seiko brand. However, the prices of such watches are far from affordable. But we'll get to that later.

Why So Few Quartz Sweepers?
The idea to equip quartz tickers with this fantastic feature might seem a no-brainer for a typical lad not acquainted with the world of watches. But why are there so few of them, then?
Since quartz timepieces are powered by batteries, they require an extended amount of energy for the extra steps the hand has to take.
Given that regular watch batteries would drain out of energy in a matter of months at such a high work rate, a larger capacity cell would be required. That, in turn, is relatively costly to produce and somewhat difficult to fit into a miniature wristwatch. Thus, the production causes obstacles, often not worth the exertion.
The trend is also explained with simple reasoning – why would quartz watches have to sweep at all? Moreover, if it takes extra resources to produce such movements, then why bother? Especially when there are mechanical calibers that already provide the trait by default.
Regardless of this matter, there are plenty of options for the sweeping watches to choose from, including the quartz ones. But how do they fare against each other in various comparisons? Probably the most important factor considering the topic of this post is the sweep's smoothness.

Smoothest Second Hand Sweep
If you wish to acquire a watch with the smoothest second hand sweep, then Seiko's Spring Drive will be your go-to option.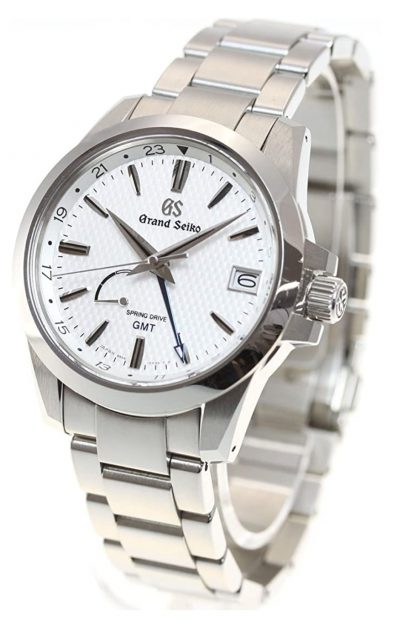 It is followed by Bulova Precisionist watches that provide nearly perfect glide with a 16-tick a second movement. These two are the best ones if you consider smoothness as your primary factor.
A 28,800-frequency mechanical and automatic watches are also good options when the beats are almost invisible for the eyes to catch.
The least smooth yet still qualifying as adequately sweeping are the 21,600 vph models with six ticks in a second.

Most Accurate Sweeping Watches
The most accurate one out of the four basic types of sweeping watches is, by far, the Bulova Precisionist line.
The piezoelectric attributes that quartz possesses enable the system to measure the exact frequency for the watch to be accurate. And if the frequency is eight times higher and produced by a unique three-prong crystal able to reduce the effects of temperature variation, like it is in the Precisionist, the deviation is exceptionally low.
The Bulova Precisionist 16-beat watches are guaranteed an accuracy of +/- 10 seconds a year, which is roughly the same amount a typical quartz watch varies in a month.
Seiko Spring Drive movement classifies as a classical quartz watch with a deviation of +/-15 seconds per month. It is also considered very accurate in horology; however, not as good as with high-accuracy quartzes.
No matter the vibrations per hour, the mechanical watches are the least accurate when losing or gaining approximately 10 to 20 seconds a day. There are many reasons for them to deviate, but if you wish to know more, read our post on the automatic watch accuracy for a comprehensive explanation.

Most Affordable Options
However, when it comes to the most affordable sweeping watch, then the clear winner is an automatic mechanical piece with a frequency of 21,600.
The array of such wristwatches is vast, ranging from a sub-$100 watch up to a multi-thousand dollar model, while the majority of them are available for a couple of hundred bucks.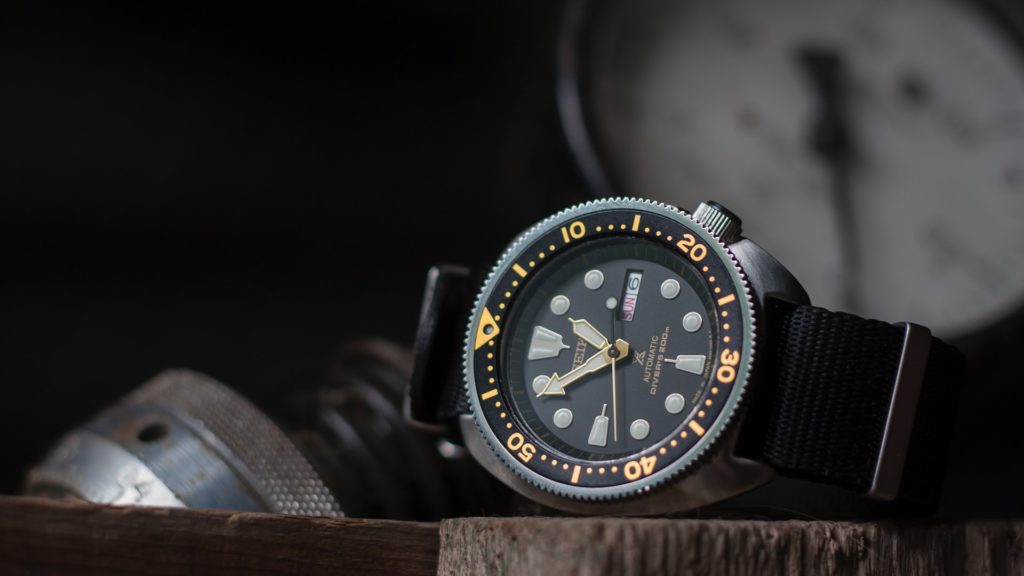 The higher-beat 28,800 watches are much pricier when only a handful of brands sell them below $500, with the most notable of them being the Tissot Visodate collection and Victorinox's automatic line of wristwear.
The Bulova Precisionist is also an affordable option when the watches cost anywhere between $250 to $700.
Due to the uniqueness and sophistication that beams from the Spring Drive movement, the watches with that mechanism have price tags starting from $4,000, going as high as $60,000.

Best Sweeping Watches
Now that the essential information regarding the accuracy, smoothness, prices, and frequencies are covered, it's about time to look at some of the best sweeping second hand watches.
We've taken the approach to bring you affordable examples instead of stuffing the list with luxurious ones because the vast majority of us simply haven't got the budget in thousands to spend.
Regardless of the affordable prices, the ones we cover here represent an outstanding price-quality ratio that everyone can pursue.

Bulova Precisionist 98B228
Frequency: 16 beats/sec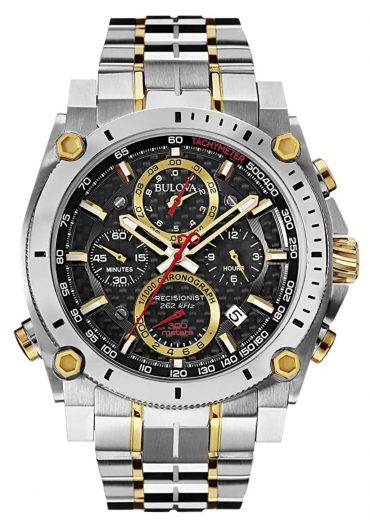 Considering the attributes that come with the Bulova Precisionist watches, especially the smooth sweep of the second hand at 16-beat/sec, it's inevitable to start the list with one of the line's models.
The Bulova Precisionist 98B228 has the best sweeping motion you can get at an affordable price category. The red second's hand is easily trackable on a rather busy dial that accommodates this watch's primary feature, the chronograph function.
The watch, which is one of the best Bulova watches in terms of features and quality, does not only provide an ultimately smooth sweep and 1/1000-increment stopwatch but also comes 300m (1,000ft) water-resistant. Despite not being a genuine dive watch, you can nevertheless wear it in deep waters without worrying about damaging it.
This Precisionist is huge at 47mm in case diameter, has an astonishing accuracy of +/-10 seconds per year, and comes with an impeccable reputation, which places it to the very top among the sweeping second hand watches available.
---

Bulova Precisionist 96B158
Frequency: 16 beats/sec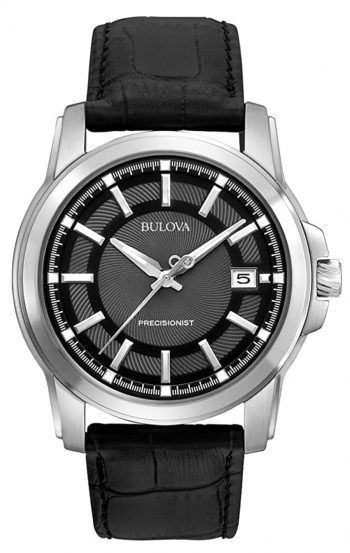 The Bulova Precisionist 96B158 represents a family of smaller case sizes and more universal aesthetics, making it an excellent everyday watch.
We chose this one out of so many for the perfectly clean view on the sweeping second hand. The watch hands come with a contrasting silver-toned color that is easy to catch on a dark textured dial.
The smaller case sizes of these versatile watches are not actually that small because the 42mm stainless steel case that comes with this piece is considered slightly over the market average. But it's relatively thin, at 9.3mm in thickness, which goes well with attires that often require slipping the watch under the sleeve.
Quality-wise, the face is covered with a standard mineral crystal you'll find in most of the affordable watches these days, and the band is of black leather, providing dressy appeal and comfort.
Feel free to check out other Bulova Precisionist models on Amazon – there's plenty of them with utterly positive customer reviews.
---

Tissot Visodate T0194301603101
Frequency: 8 beats/sec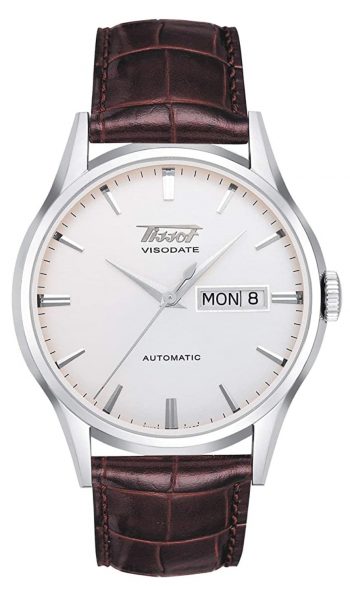 This Tissot Visodate Automatic watch is one of the few 28,800 vph representatives with a relatively budget price tag. By the way, this particular model features on our list of the top affordable Swiss watches as well, which indicates high quality and the automatic movement's reliability.
The acknowledged ETA 2836-2 caliber ensures that the second's hand sweeps in a pleasingly smooth manner. Also, the 25 jewel bearings for friction reduction guarantee that the precision is up to the standards the Swiss industry is known for.
Other than that, this elegant dress piece is with a neat light-colored dial and features a high-quality domed sapphire crystal and 40mm stainless steel case.
---

Orient Bambino Version IV
Frequency: 6 beats/sec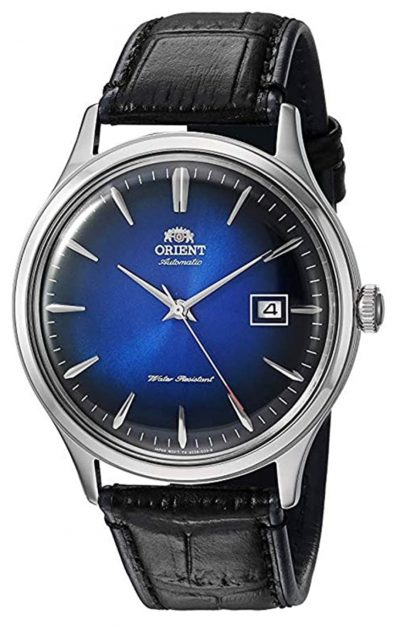 Orient watches belong to the top of the game when it comes to affordable automatic timepieces. Its in-house F6922 movement that powers this particular Bambino Version IV has 40+ hours of power reserve and runs on a frequency of 21,600 vph.
The second hand's sweeping motion has been made easy to admire with a contrasting red tip. It's also very noticeable because of the deep blue background with a very simplistic design.
Often viewed as one of the best dress watches for a $100 price tag, you'll get plenty of quality and aesthetic beauty for the bucks spent. And if something's to give in, then the in-house caliber with a sweeping second hand motion will be the last one to let you down.
---

Grand Seiko White Snowflake
Frequency: Perfectly smooth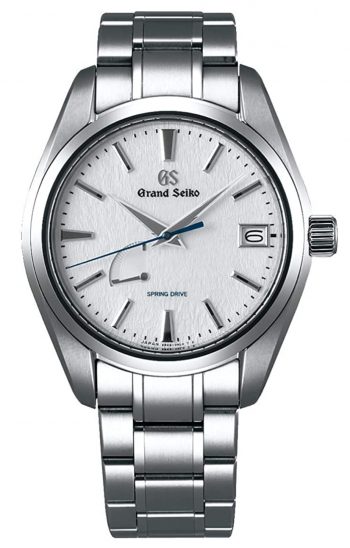 Although we promised to list affordable sweepers, we just can't look away from the smoothest sweep of them all, which comes from a Spring Drive powered Grand Seiko White Snowflake.
This entirely hand-made timepiece costs in thousands but has plenty to offer. First off, it's the second hand's perfect glide, which is simply mesmerizing. Then it's the luxurious and elegant sapphire-covered dial with a power reserve indicator.
But what truly makes you feel that it's a genuine luxury piece is the balanced weight that comes from the high-intensity and lightweight titanium case – the 100 grams is neither heavy nor too light, but completely perfect for every wrist.
---

Hamilton Khaki Field Auto H64455533
Frequency: 6 beats/sec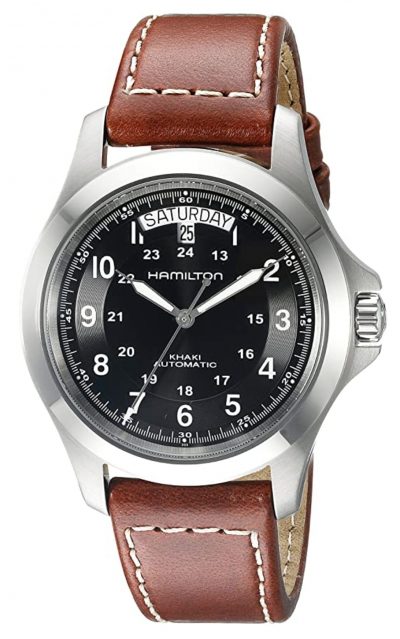 The Hamilton brand used to employ the famous ETA 2824-2 caliber that had a hi-beat 28,800 frequency with a nice sweeping motion. However, the company decided to swap it for a Powermatic 80, which runs on a lower frequency of 21,600 beats per hour but has an extended power reserve of up to 80 hours to compensate for it.
The Hamilton Khaki Field Auto is also one of the models that received the innovative caliber. Despite the lower frequency, which is barely visible to most of us anyway, the movement provides the ultimate quality that will last for decades when properly taken care of.
The watch is one of the top automatic watches you can buy for less than $500, primarily owing to that same Powermatic 80. It's also very sturdy, featuring anti-reflective and scratch-resistant sapphire crystal and a quality 40mm stainless steel case.
---

Seiko 5 Automatic SNK809K
Frequency: 6 beats/sec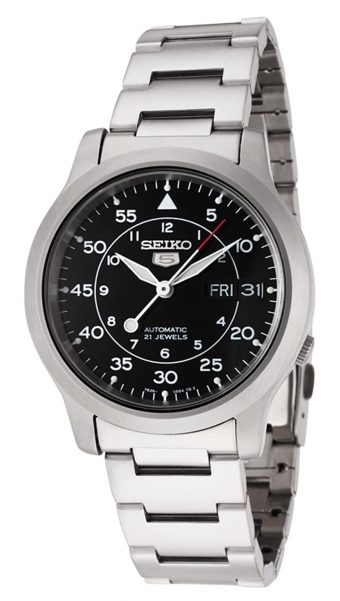 Seiko 5 SNK809K is one of the most affordable automatic pieces with a decent sweeping second hand. Like in many gliding-hand timepieces, this one too comes with a distinctive red second hand, which helps to better capture the sweet movement.
For costing just around a $100 mark, it offers fantastic value for money with its reliable 7S26A automatic self-winding caliber and durable stainless steel case and bracelet.
The watch is perfect for those who wish to decorate their wrists with smaller-sized pieces as the case diameter stays well below the average, at 37mm. It also beams versatility, which makes it suitable for various occasions.
---

Invicta Pro Diver 8926OB
Frequency: 6 beats/sec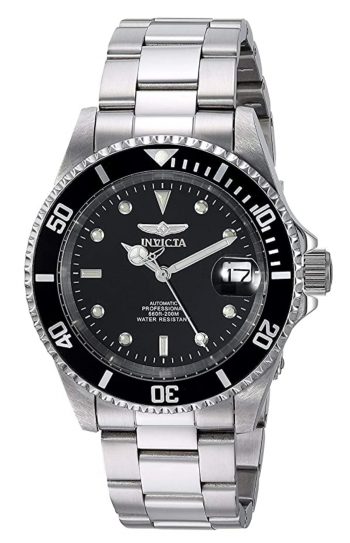 Finishing the list is the Invicta Pro Diver 8926OB.
It's the best-selling model from the famous Pro Diver collection, which is often considered the cheapest diving line on the market. Although it might not be as reliable as Seiko, it nevertheless provides decent quality for the sub-$100 price.
The watch owes much of its design to a famous Rolex Submariner with a 40mm case, black face, and a coin-edge unidirectional bezel. If you're into Submariners but can't afford to buy one, then this Pro Diver is your best choice considering its extraordinarily cheap price.
On top of the timeless design and favorable price tag, this top Invicta piece runs on Seiko's non-branded NH35A caliber with a 21,600-frequency, providing a nice sweeping glide.
Feel free to read more about this watch in our in-depth Invicta Pro Diver review.
---

Final Words
We hope this article has been of great help in getting better to know the world of sweeping second hand watches.
As you can see, the mechanism is not only available in spring-powered mechanical or Spring Drive pieces but can also be adapted to quartz watches.
The frequencies differ quite substantially as well when a Grand Seiko offers a perfect gliding motion, whereas the most affordable, the 21,600 vph automatic watches have a step count relatively easy to spot.
Whichever is your deciding factor, one thing is for sure – the sweeping motion you get out of the watches is so fascinating that you won't be looking elsewhere anymore.

You may also like:
Affiliate Disclosure: As an Amazon Associate I earn from qualifying purchases. Details
Latest posts by Carl Pender
(see all)