Affiliate Disclosure: As an Amazon Associate I earn from qualifying purchases. Details
CIGA Design is not an unfamiliar watch brand to those who are after extravagance, out-of-the-box design solutions, or simply a watch that looks different from the others around.
There have been several models from this producer that have caught the eye, but there's one particular line – the U-Series – that is the most prestigious and awarded.
I had a chance to try out the recent iteration from that series – the CIGA Design Blue Planet Gilding Age watch – a watch that leaves no room for mediocrity, dullness, and humbleness.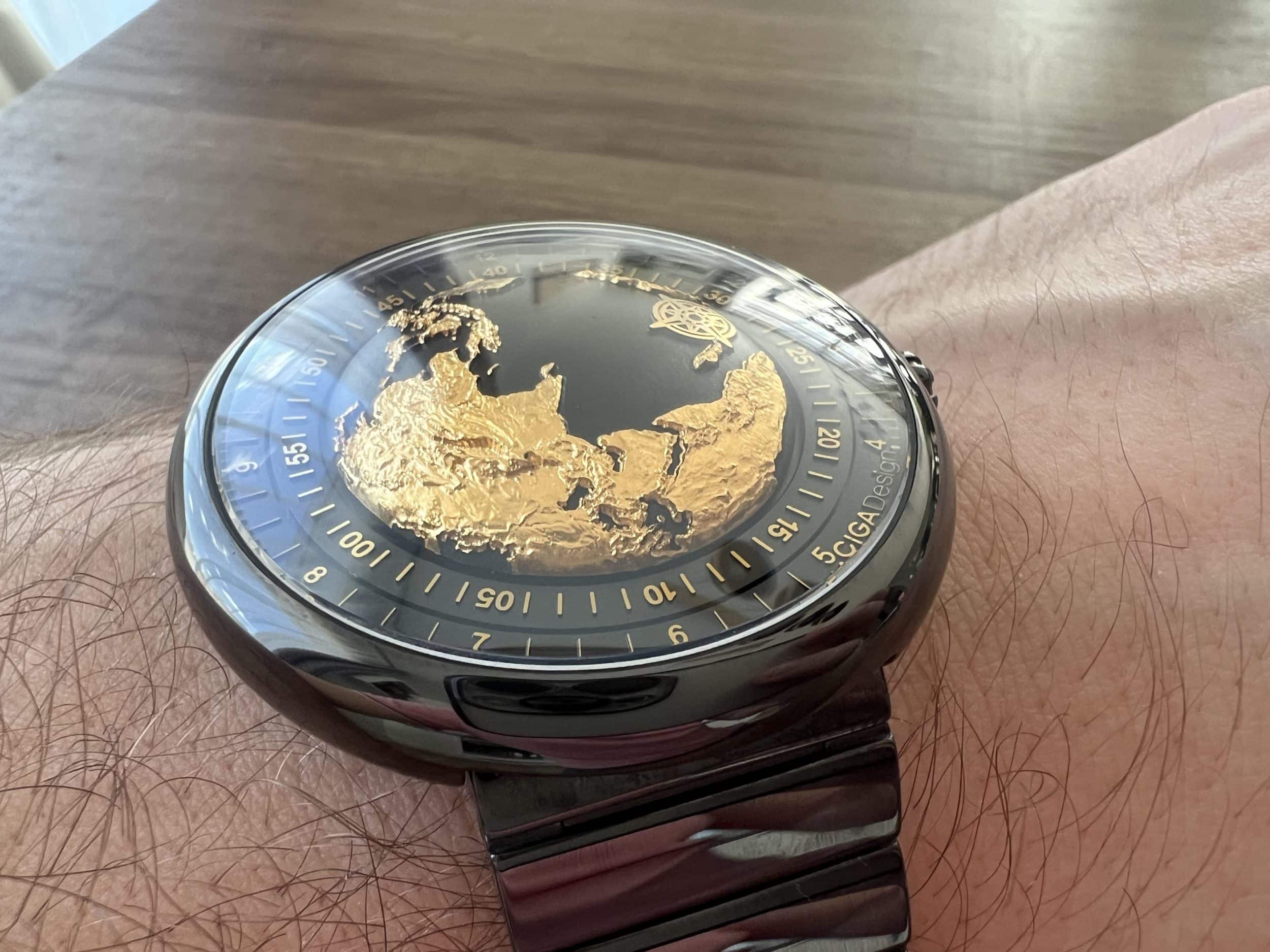 Let's find out!
Story of CIGA Design
Before heading to the review, let's have a quick look at the brand itself.
CIGA Design is a Chinese-origin watch manufacturer that has been around for a little more than 10 years. They work with a broad array of top international professionals, from engineers to designers.
But what makes this brand different from other Chinese manufacturers is that it's the most awarded and appreciated brand in the country. For example, they've earned several Red Dot Design Awards, iF Design Awards, and German Design Awards.
CIGA Design's latest achievement has been winning the Challenge Watch Prize of the 2021 Grand Prix d'Horlogerie de Geneve (GPHG) for their Blue Planet watch – a timepiece never-before-seen, with its intricate dial with crisp oceans, sprawling mountains, and pristine land.
The watch I am about to review – the Blue Planet Gilded Age – is even more intricate than the awarded Blue version.
So let us not waste time and check it out!

CIGA Design "Blue Planet" Gilding Version: Specs & Overview
Case size: 46mm
Thickness: 15.6mm
Case Material: Ceramic
Crystal: Sapphire
Water resistance: 3 ATM
Caliber: Automatic CD self-design movement
Power reserve: 40 hours
Frequency: 28,800
Jewels: 30
Accuracy: -15/+30 sec per day
Strap: Ceramic + Fluorine rubber
Strap width: 22mm
NB! When buying from their website HERE, use coupon code CIGA2023 to get an extra $100 off until the 15th of April!
As typical for CIGA Design, the watch arrived in a unique (and awarded) book-like packaging that consisted of the case and two pairs of straps being separately placed. When talking about the packaging a little more, it's not just a box that you throw away once the watch is already in use.
No – it actually is super informative with facts about the Earth and thorough user instructions for the watch. Hence, keep it for valuable reference.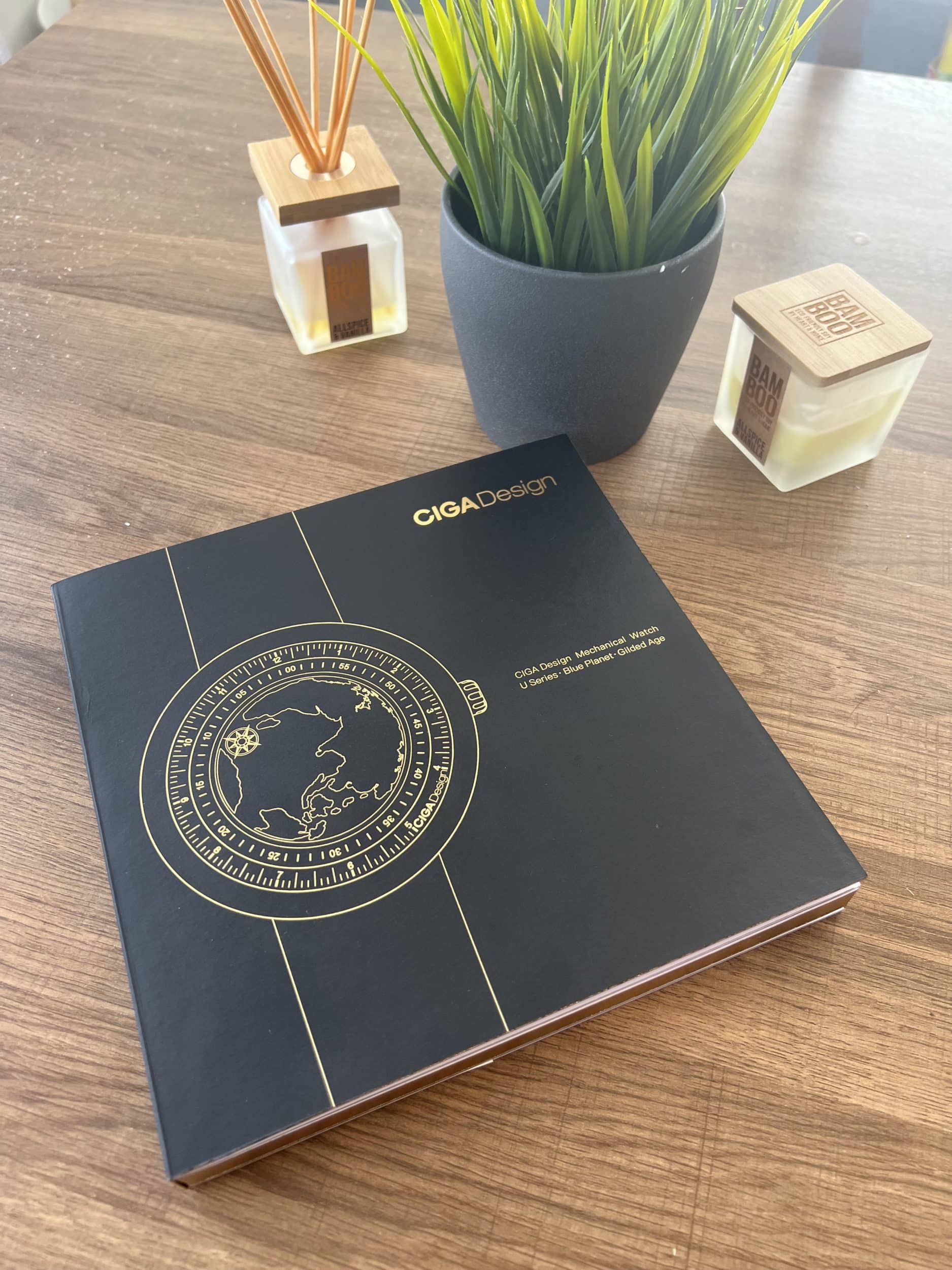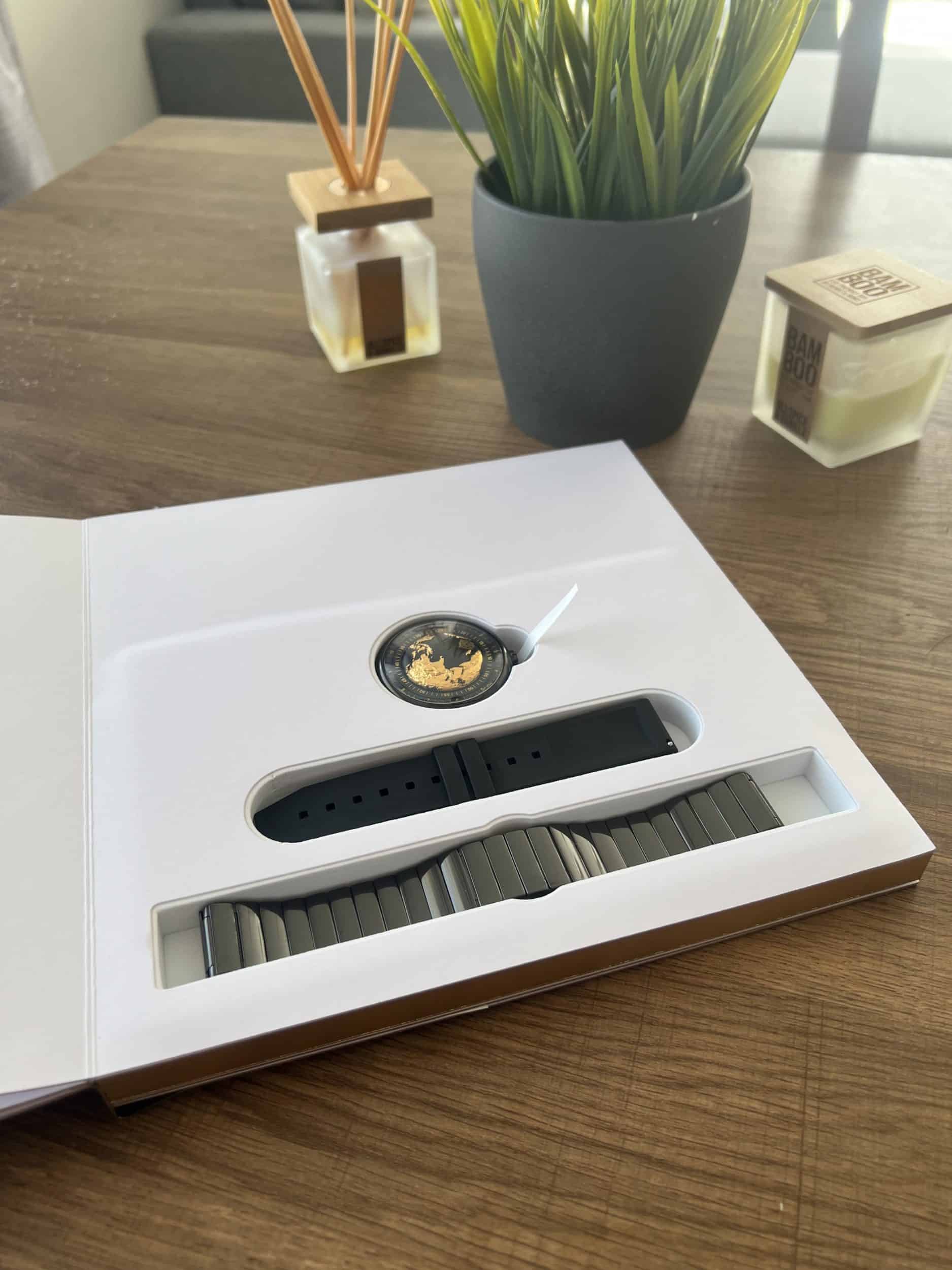 Now, coming to the watch itself, the first impressions are simply awe-inspiring. The combination of gold and black is just so luxurious and expensive that it is hard to believe it didn't cost me a 5-figure sum.
On top of that, the design is mesmerising and gives a feeling that it's not a wristwatch you're actually looking at but a magnum opus, an art masterpiece which you only find in exclusive luxury brands' collections.
Fortunately for us, the watch doesn't have the price tag of a luxury watch – it can be acquired for as little as $1,899.

Dial & Crystal
The domed dial is the centre of attention of this Blue Planet Gilding Version watch. It is made up of two tones – black and gold. However, the gold isn't simply a thin layer of gold plating but a 24k gilding taking up almost half the dial.
What's even more mesmerising is that this expensive gold, which represents the land, is structural and depicts the mountains and high spots as they appear on the Earth. The black tone, on the other hand, is the water surrounding the land.
You'll also find a compass rose, which is not only a design feature, but also a "watch hand" that helps read the time. But how on earth do you read the time, you may ask?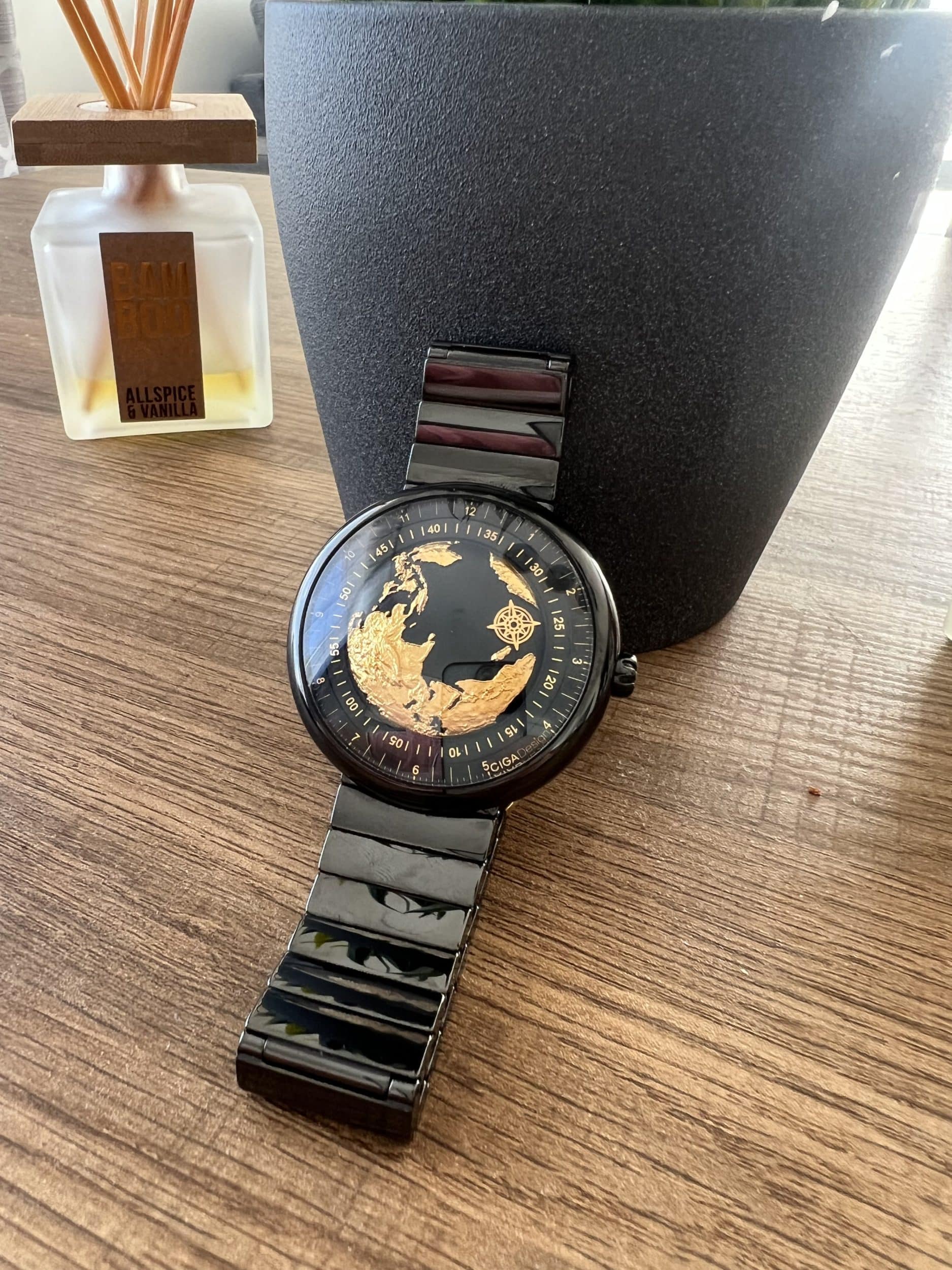 It's actually quite easy – you have to find the compass rose and read the corresponding numbers from the two outer rings. While the inner one reads minutes, the outer ring reads hours.
What you don't have on this watch, though, is the date feature. But it doesn't take much guessing why it has been left out in the midst of extravagance and artistic attention to detail.
When it comes to the crystal, it is also domed, just like the dial itself. The material of the crystal is synthetic sapphire – the best you can wish for in a contemporary timepiece. Combined with the domed shape, they make up a luxurious setting for a watch crystal.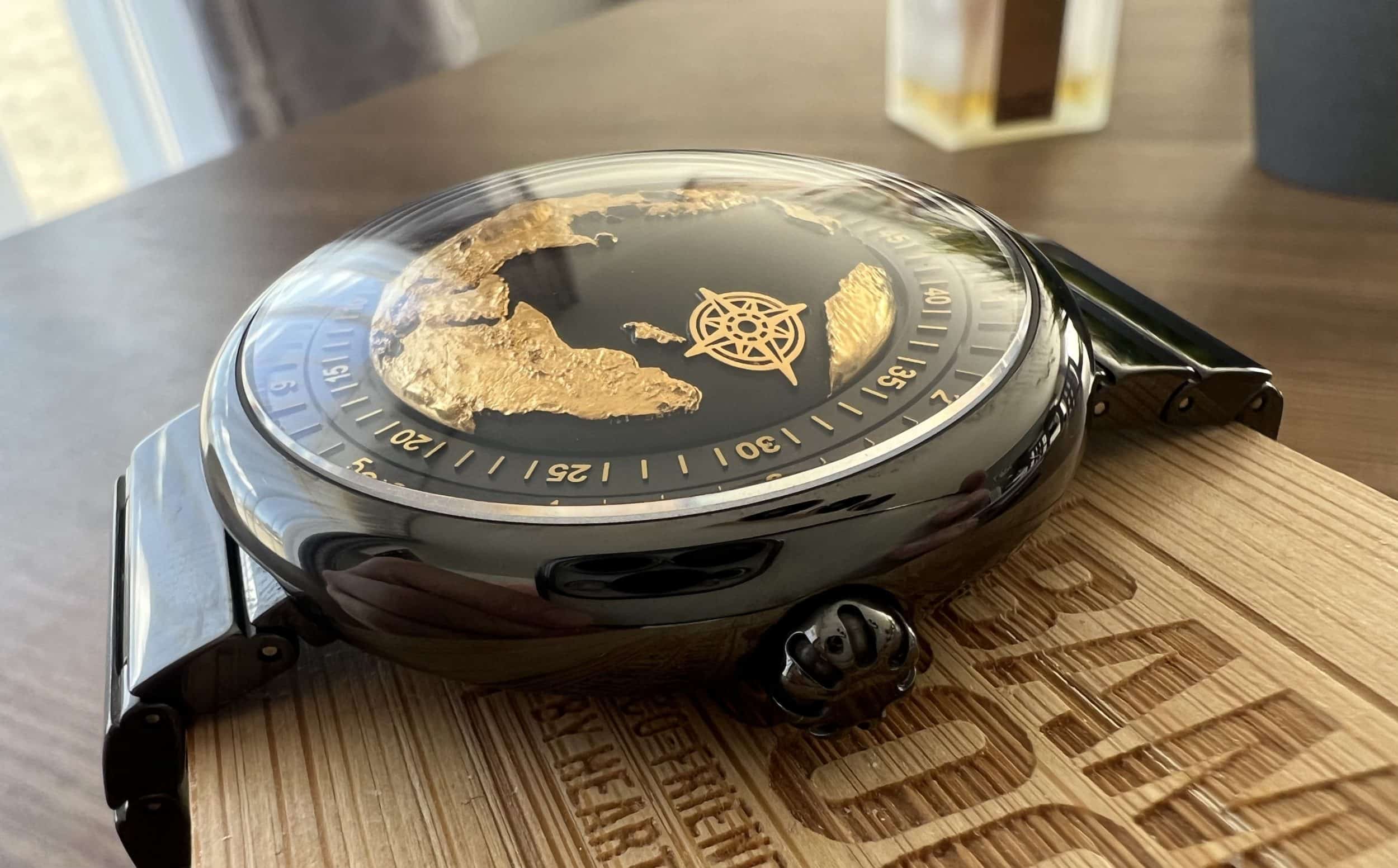 What's great with domed sapphire is that, despite its unfavourable shape in terms of receiving more wear and tear compared to a flat one, it actually doesn't scratch at all because sapphire is basically impossible to scratch. That is why it's the most coveted type of watch crystal around.

Movement
When moving on to the inside of this CIGA Design watch, we find a self-developed Sea-Gull-origin automatic mechanical caliber.
It is an advanced 28,800-frequency movement with 30 jewel bearings in total. Although the number of jewels doesn't determine the quality of the movement, it still shows the intricacy of the construction to fit such a high number of jewels.
The movement holds a classic 40-hour power reserve, meaning you don't have to wind the watch when being worn daily. In terms of accuracy, it runs up to 15 seconds behind and up to 30 seconds forward per day. Again, it's a classic result for an automatic caliber and exactly what you would expect from it.
From my personal experience with this watch, the accuracy stayed right between the stated time brackets when it lagged behind between 12-14 seconds per day in a two-week period. Not a bad result in itself.
Another thing to note about the movement is that you can actually get a closer glimpse of it when looking at the back of a watch. The case back is skeletonized, revealing a complex wheel and gear system, which is another marvel of this watch.

Case & Bracelet
We've so far talked quite extensively about the exquisite dial design and the intricate movement but the case and bracelet should actually deserve equal attention. Why?
Because they're made of ceramic – a high-class watch material that is extremely hard to engineer. The material is tough and doesn't receive scratches as easily as standard stainless steel does.
In terms of the tone of ceramic in this watch, it's a mix of graphite and gunmetal, which provides a nice manly impression. If it had been toned with softer color, it would've been maybe too feminine, considering the amount of the gold tone on the dial. Fortunately, the blend of gold and gunmetal is just perfect.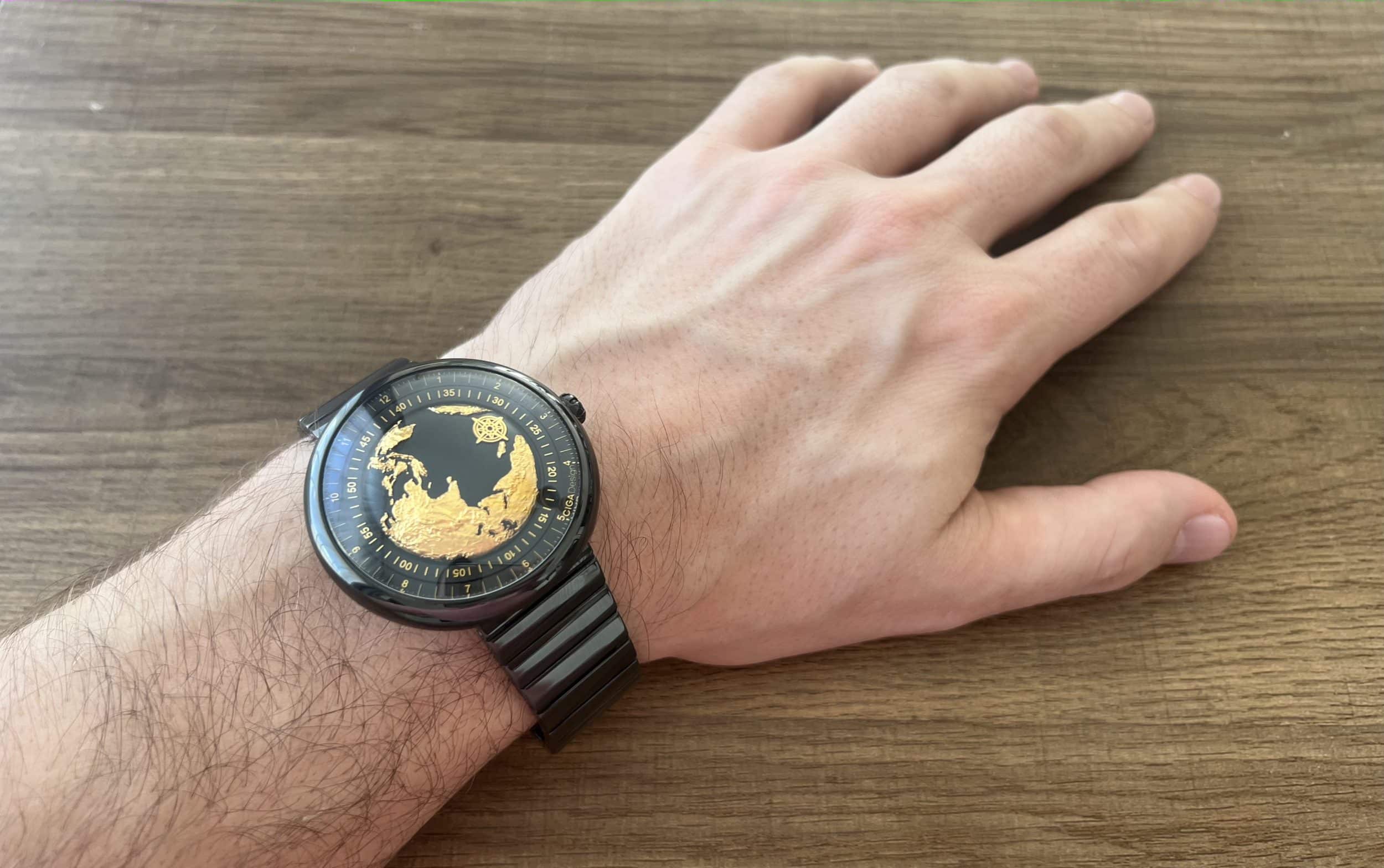 The bracelet has a gold-tone double-ear butterfly clasp made out of stainless steel, which is my favorite clasp type around because it not only is comfortable to open and close but it also stays hidden for a cleaner appeal.
Besides the ceramic bracelet, you'll also get a more universal rubber band that goes best with not-so-smart outfits. Hence, the Blue Moon Gold Watch can be worn for various occasions, and not only for special occasions.
Though one thing I find a bit uncomfortable with this watch is the handling of the crown. True, it looks good and is proportionate but the grooves should've been deeper and longer for a better grip. It takes quite an effort to turn it, and when you happen to have sweaty fingers, it is almost impossible to do it.
However, it's only a slight letdown compared to other features and characteristics you get with this CIGA Design watch.

Overall Impressions
So, what can I say about this watch?
It is definitely an eye-catcher, as well as a conversation starter. A man wearing golden earth on a wrist, which also tells you the time and consists of intricate mechanisms – isn't that unique and special?!
What makes the Gilding Version timepiece even more attractive is that you get plenty for the money spent. 24k gold gilding, ceramic case and bracelet, high-frequency automatic mechanical caliber, luxurious design… the list is ongoing and can be continued with several other features that weren't mentioned.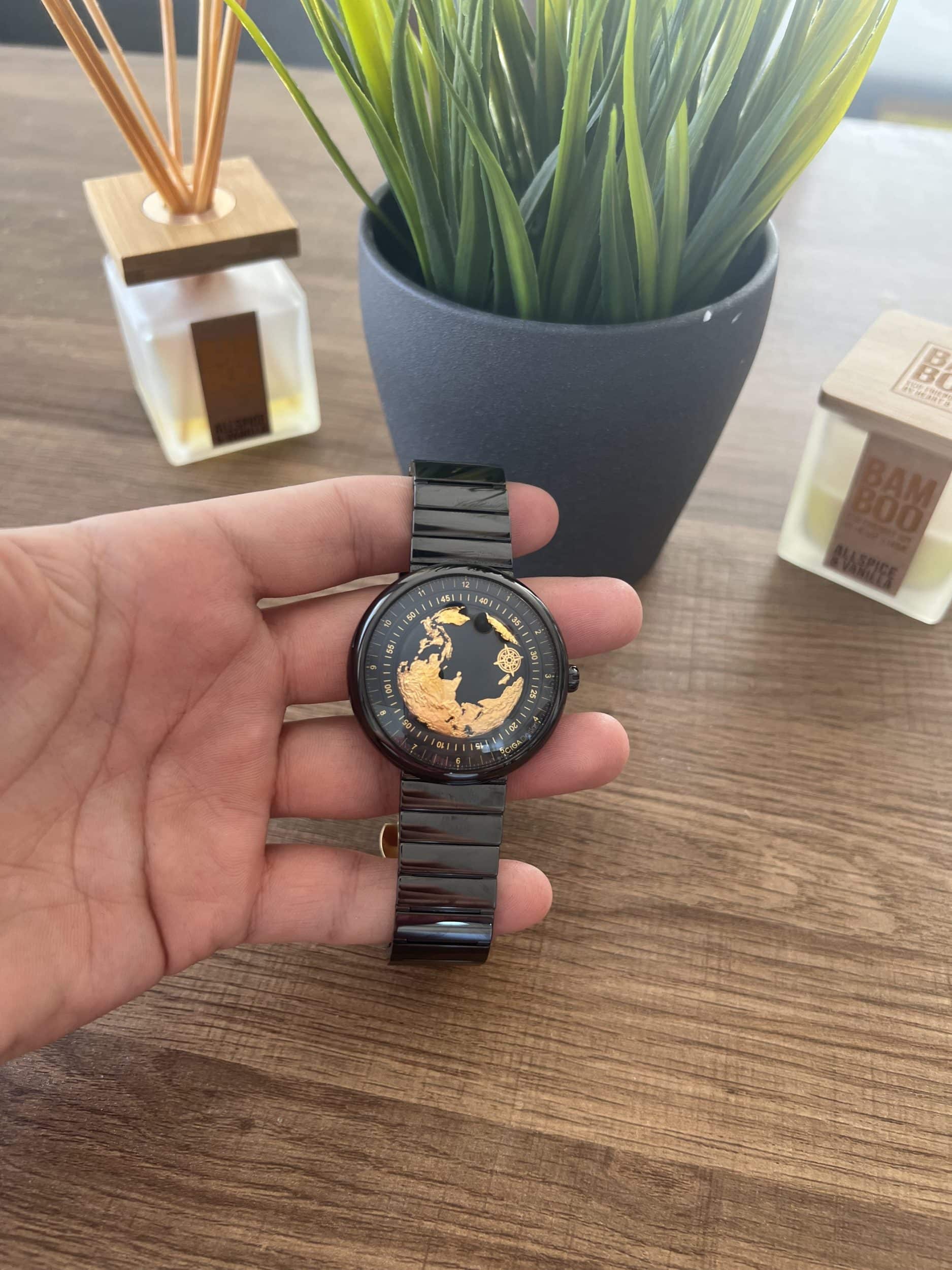 Therefore, if you're not afraid to wear a gold watch (I know some men are for some reason) with the most unique design around, the CIGA Design Blue Planet Gilding Version should be your next watch to try out.

Final Words
I hope this CIGA Design watch review was helpful in determining whether it's going to be your next wrist companion or not.
I also hope it has helped out those guys with typically milder design preferences in convincing them that a pompous gold gilded watch can be worn by anyone whose not afraid to express their style.
And if this expression is backed with awesome quality like the CIGA Design Blue Planet offers, you'll have the perfect wristwatch in your hands that not only looks good and tells you the time but is also a guaranteed conversation starter and icebreaker.
Affiliate Disclosure: As an Amazon Associate I earn from qualifying purchases. Details
Latest posts by Carl Pender
(see all)