Affiliate Disclosure: As an Amazon Associate I earn from qualifying purchases. Details
Hiking has never been so popular as it is right now. More and more people hit the trails all around the world to escape the monotony of everyday life. 
However, going out into the wild barefoot without any equipment can have serious consequences. Therefore, a true hiker should be accompanied with essentials that are of help in coming back safe. One of such essentials is a fully functional and feature-packed hiking watch.
I've compiled an overview of the best hiking watches currently available that are sure to provide you with a comprehensive set of functions helping to cope with various weather conditions and landscapes.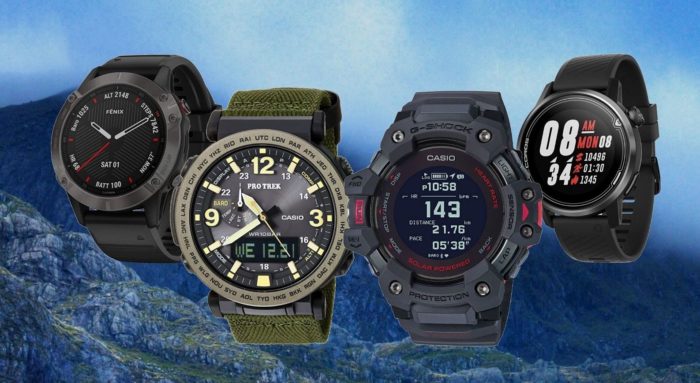 The second part of this post concentrates on different attributes you should consider before buying your next hiking watch.
Therefore, stay tuned to find the perfect companion for your outdoor adventures.

What Is a Hiking Watch?
But, first of all, what is a hiking watch?
It is a watch that offers information about your location, direction, weather phenomena, and several other helpful metrics. The core of the watch is to guide you, warn you, and inform you.
Further, a true hiking piece takes the beating while maintaining its perfect condition. As such, most watches have high water resistance levels and are much less prone to various shocks than regular wristwatches.
Hiking watches come mostly with a digital screen and hence resemble fitness and smartwatches. However, the appearance is much more tough and rugged. Some outdoor watches, on the other hand, have a classic analog face where the functions can be accessed through push buttons.

Top Hiking Watches 
Now that all is loud and clear regarding the essence of these watches let's find out the best of them.
Image

Watch Model

Navigation

Price

Buy

Top

Top

Garmin fenix 6 Sapphire

GPS

Top

Top

Garmin Instinct

GPS

Top

Top

Garmin Forerunner 935

GPS

Top

Top

SUUNTO Core All Black

Compass

Top

Top

Suunto Traverse Graphite

GPS

Top

Top

SUUNTO 9 Baro GPS

GPS

Top

Top

Amazfit T-Rex Pro

GPS

Top

Top

COROS APEX

GPS

Top

Top

POLAR Grit X

GPS

Top

Top

G-Shock Move GBD-H1000-8CR

GPS

Top

Top

G-Shock Mudmaster GG-B100-1AJF

Compass

Top

Top

G-Shock Rangeman GW9400-1B

Compass

Top

Top

PRO TREK PRW-3510Y-8CR

Compass

Top

Top

PRO TREK PRG-600YB-3CR

Compass

Top

Top

Citizen Promaster Altichron

Compass
Product prices and availability are accurate as of the date/time indicated and are subject to change. Any price and availability information displayed on [relevant Amazon Site(s), as applicable] at the time of purchase will apply to the purchase of this product.
Prices pulled from the Amazon Product Advertising API on:

Garmin Fenix 6 Sapphire 47mm
Case Size: 47mm
Weight: 83g
Battery Life: Smartwatch 14 days, GPS 36h
Notable Features: Built-in TOPO maps, ABC, Heart rate monitor, Pulse oximeter, Accelerometer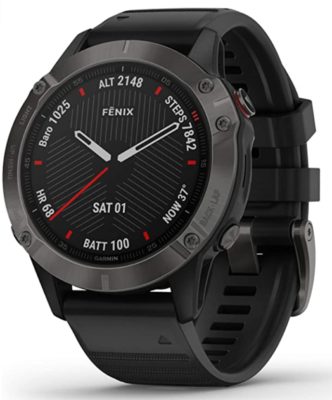 The first watch on our list is the Garmin Fenix 6 Sapphire. And that is for a good reason, too – it is the best hiking watch currently available.
The focal features of the Fenix 6 are the topographic maps, along with the GPS, Glonass, and Galileo navigation systems. With topographically displayed maps, the wearer is aware of ascents, descents, rivers, and lakes and can plan a course just the way it is most desirable.
A unique addition is also the PacePro, which is pace guidance helping to stay on track during activities. For example, if you're on a terrain involving elevations, the app analyzes the course and suggests a suitable pace strategy according to your capabilities.
PacePro is not the onliest health-related application the Fenix 6 offers. As such, you'll also find a wrist-based heart rate monitor and Pulse Ox. The latter measures how much oxygen is in the blood through a red and infrared light sensor on the back of the device.
The watch is also equipped with an altimeter, barometer, and digital compass that are dead on and of the highest quality.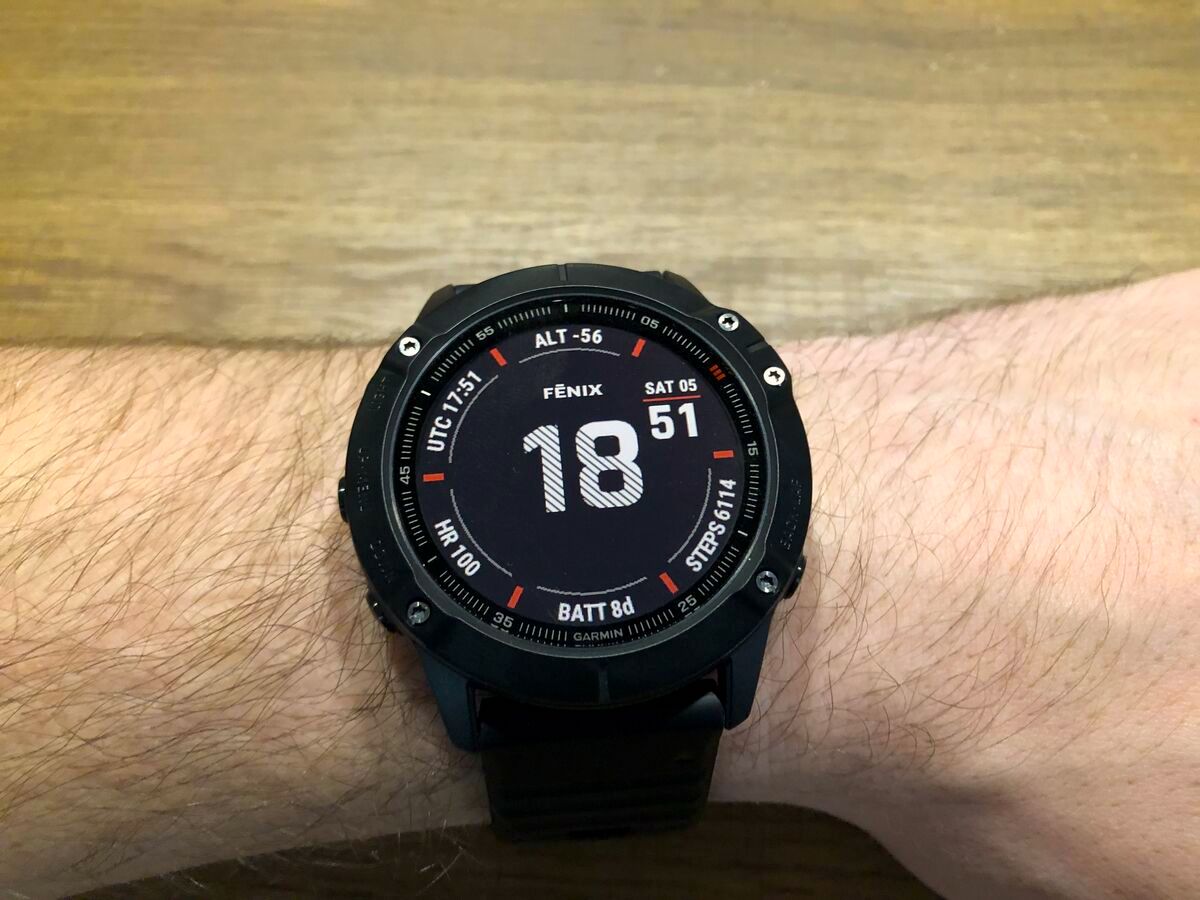 In terms of build, the Fenix 6 Sapphire is one of the sturdiest Garmin watches available.
Instead of a chemically strengthened glass found on many Garmin pieces, the Fenix 6 employs a sapphire crystal, the most acknowledged glass in contemporary watches. Also, the timepiece is 100m (330ft) water-resistant and has a stainless steel bezel, along with a long-lasting rubber band.

Garmin Instinct GPS Outdoor Watch
Case Size: 45mm
Weight: 52g
Battery Life: Smartwatch 14 days, GPS 16h
Notable Features: GPS, Uploadable maps, ABC, Heart rate monitor, Accelerometer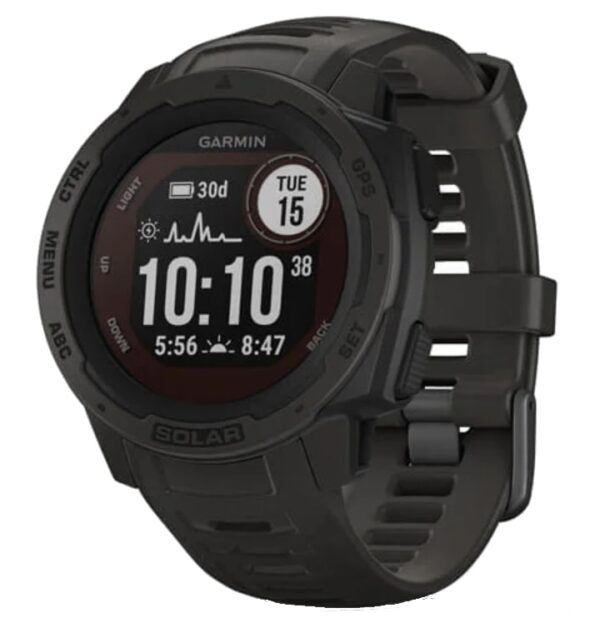 The Garmin Instinct has been the crowd's favorite for many years. Besides being utterly capable in various conditions and coming with numerous features, the watch costs only a couple of hundred bucks, making it the best value hiking watch for the money. 
The rugged-looking watch comes in an all-black graphite appeal and is constructed to US Military standards for thermal, shock, and water resistance. The Garmin Instinct is, therefore, a timepiece that you can take anywhere with you without worrying about its reliability.
But the watch does not only look and act tough but offers a plethora of features that a true outdoorsman cannot live without.
The core of this Instinct is the positioning technology consisting of three satellite systems – GPS, Glonass, and Galileo. When the wished course is uploaded to the Instinct, the navigation displays your position on a breadcrumb trail.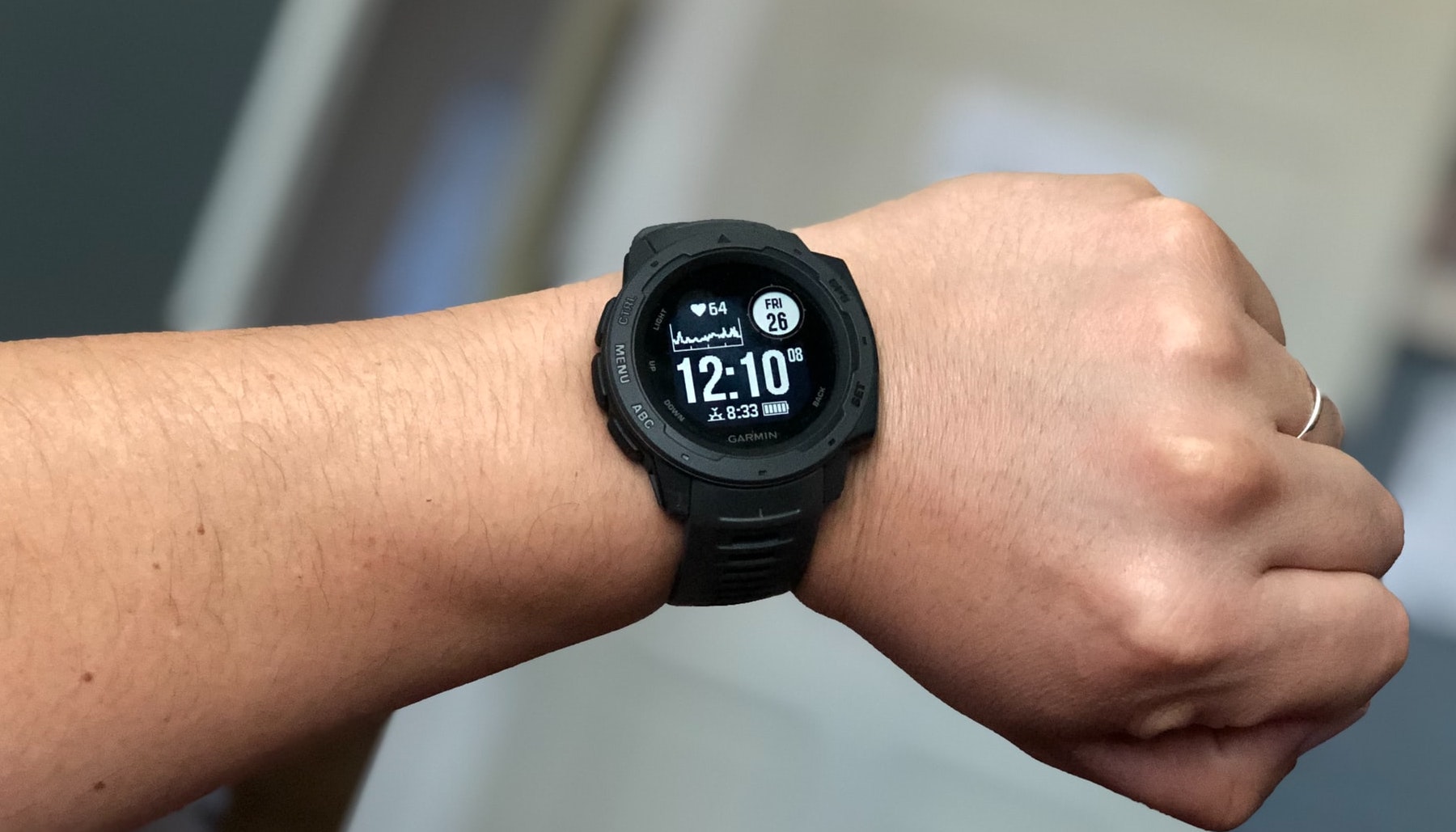 Another top-notch addition in this Garmin is the altimeter, barometer, and compass function that measures heights you're located, offers weather conditions and provides a digital compass. 
Other great features that you can make use of include a heart rate monitor, trackback function, smart notifications, and preloaded training programs.
The Instinct has a battery life of 14 days when in smartwatch mode. If in GPS mode, the watch lasts for up to 16 hours.

Garmin Forerunner 935
Case Size: 47mm
Weight: 49g
Battery Life: Smartwatch 14 days, GPS 24h
Notable Features: GPS, Uploadable maps, ABC, Heart rate monitor, Accelerometer
Although the Garmin Forerunner 935 suggests a running piece rather than a complete outdoor watch, it's not actually the case. Besides running, the timepiece is also a spot-on wearable for long treks out in the wild, whether you're on foot or on a bicycle.
Similar to the Instinct, the Forerunner is equipped with GPS, Glonass, and Galileo systems, as well as the altimeter and barometer features.
However, the watch adds advanced running, cycling, and swimming features, taking the Forerunner one notch up with its versatility and applicability.
The watch has a tough build as well when the case comes in fiber-reinforced polymer, and the lens is made of chemically strengthened glass. The good thing is that the Forerunner weighs only 49g, primarily due to the polymer, thus staying extremely light and barely noticeable on a wrist.
When it comes to battery life, this Garmin has similar figures to that of an Instinct model in smartwatch mode but adds another 8h in GPS mode (24h altogether).

Suunto Core
Case Size: 49mm
Weight: 64g
Battery Life: 12-18 months
Notable Features: ABC, Storm Alert, Depthmeter
Similar to the Garmin Instinct we covered earlier, the Suunto Core is also a classic outdoor watch available for a very accessible price.
The focal features of the Suunto Core are an altimeter, barometer, and compass. These three components work brilliantly in any condition and offer the possibility to gauge heights, as well as predict weather phenomena through changes in barometric pressure.
A neat extra is the Storm Alert, which, as you have probably already guessed, alerts of a coming storm.
The watch is 30m (100ft) water-resistant and, unlike most watches, can actually be submerged to this depth. In addition, the Suunto Core has a depth meter accurate for up to 10m (30ft).
In terms of build, the case is made of durable composite, and the crystal is of shatterproof mineral. Along with an elastomer band and stainless steel bezel, this Suunto is one sturdy piece to take with you for any outdoor activity.

Suunto Traverse
Case Size: 50mm
Weight: 80g
Battery Life: Time mode 14 days, GPS 10-15h
Notable Features: GPS, Uploadable maps, ABC, Storm Alert, Accelerometer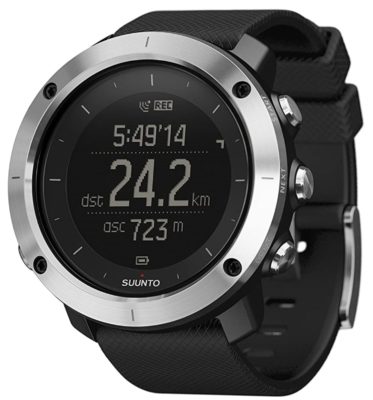 The Suunto Traverse watch comes with all the features that the Core model employs but adds a couple of coveted applications for a serious hike.
The most significant of them are the GPS and Glonass positioning systems.
The positioning is easy to use, with the possibility to add Points of Interest and a breadcrumb trail.
The topographically presented maps can be viewed from the Suunto app and have to be uploaded before the hike and, when back from the trip, you can transfer the data back to the app for a detailed overview. On a watch, the courses are displayed as breadcrumb trails.
The Traverse is also iOS and Android smartphone compatible via Bluetooth, enabling you to receive notifications of incoming calls and texts swiftly to your wrist.
The battery life of the watch is pretty much standard when in time mode it lasts for up to 14 days and in a GPS mode for around 10-15h in normal use.

Suunto 9 Baro
Case Size: 50mm
Weight: 81g
Battery Life: Time mode 14 days, Smartwatch 7 days, GPS 25-120h
Notable Features: GPS, Uploadable maps, ABC, Heart rate monitor, Accelerometer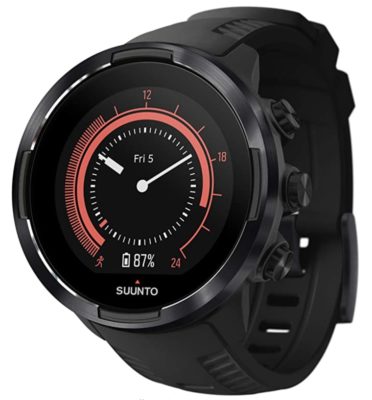 The Suunto 9 Baro is an upgrade to the previous two Suunto watches in terms of both application abundance and build quality.
The watch has an excellent altimeter/barometer/compass feature with very precise results.
A notable technology you'll find from the Suunto 9 Baro is the FusedAlti, which provides an altitude reading in combination with GPS and barometric altitude, minimizing the threat of temporary and offset errors.
The positioning is another feature to look out for since the watch employs all the important navigation systems, from GPS, Glonass, and Galileo to Beidou and QZSS, covering all the major regions in the world.
The navigation has some neat extras, such as the target path (a point of interest you see on a map and wish to get there), finding your way back to the starting point, and staying on track of the course (alerts when you're off the course more than 100m).
You will also find the popular functions typically present in outdoor watches, such as the wrist-based heart rate, weather prediction, and tens of workout programs.
Besides being filled to the brim with various features, this perfect watch for hiking has been built to last, no matter the conditions and activities. The watches are tested against US military standard 810H and feature premium-class sapphire and a 100m (330ft) water resistance.

Amazfit T-Rex Pro GPS
Case Size: 50mm
Weight: 60g
Battery Life: Smartwatch 18 days, GPS 40h
Notable Features: GPS, ABC, Heart rate monitor, Pulse oximeter, Accelerometer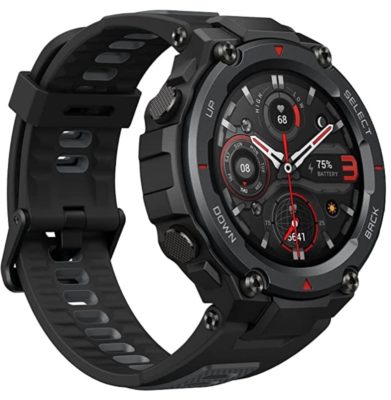 If Suunto and Garmin don't fit your budget, the Amazfit T-Rex Pro is a much cheaper alternative for your outdoor adventures.
The T-Rex Pro is equipped with a fully functional positioning system consisting of GPS and Glonass satellites. However, it doesn't have any maps. It means that the watch records your runs, hikes, and treks, but it won't help you navigate while wearing it. Compared to most Suunto and Garmin watches, this is a significant con. 
Regardless, the watch is still a very capable outdoor watch. The existence of an ABC function (altimeter, barometer, compass) is proof of that.
In addition, the T-Rex has a heart rate monitor, a blood oxygen saturation measurement, and a sleep monitor, offering a nice insight into the health and well-being when working out and resting. All the usual data, such as the distance traveled, calories burnt, and the speed, is also available.
The most notable enhancements of this Amazfit at this price point are a 100m (330ft) water resistance and an 18-day battery life with typical usage. When the GPS mode is turned on, the watch lasts for up to 40h.
All in all, the Amazfit T-Rex Pro offers a nice alternative to much pricier GPS pieces and is an outdoor watch with durable construction (it has passed 15 military-grade endurance tests).

Coros Apex
Case Size: 42mm
Weight: 43g
Battery Life: Smartwatch 25 days, GPS 25h
Notable Features: GPS, Uploadable maps, ABC, Heart rate monitor, Accelerometer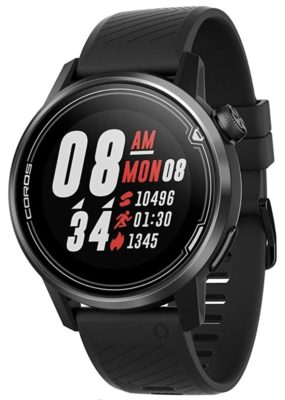 The Coros Apex Adventure is an outdoor watch with a simple design, a full set of features, and great battery life.
The watch comes in 42mm and 46mm sizes and in dark, white, or gold tones. Unlike its competitors, the Coros Apex is not rugged-looking but instead has a sleek case design, suiting for casual outfits as well.
When it comes to features, the Coros Apex is as good as any at a given price range.
Besides the standard altimeter, barometer, and compass functions, which are pretty accurate, the timepiece also has most of the popular features found on other hiking watches. The heart rate monitor, activity profiles, pedometer, and smart notifications are all packed into the device and can easily be accessed.
The navigational side may not be as complete as with Garmin watches for not featuring preloaded layered maps but will do perfectly well in various terrains.
It has a simple breadcrumb trail map for each course, which requires the previous uploading via the Coros app. The good thing is that the app offers the possibility to easily build courses and workouts for various activities. A notable bonus is a trackback function guiding you back to point A.
Last but not least, the Coros Apex has excellent battery life. When in classic smartwatch mode, the timepiece can hold a charge for up to 25 days. In GPS mode, the length spans around 25h.

Polar Grit X Multisport Watch
Case Size: 47mm
Weight: 64g
Battery Life: Smartwatch 7 days, GPS 40h
Notable Features: GPS, Uploadable maps, ABC, Heart rate monitor, Accelerometer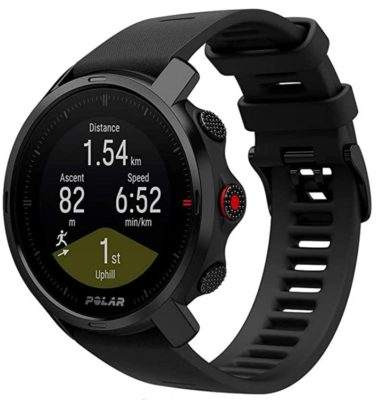 Our next watch is the Polar Grit X Multisport. It is a timepiece with a tough build and valuable features. 
The watch measures 47mm in case diameter and is made from highly durable stainless steel. Despite the metal, the Polar Grit X weighs only 64g, making it one of the lightest GPS outdoor watches around.
The navigation system is not as advanced as in Garmin or Suunto watches, with fewer opportunities. However, when the desired maps are downloaded from the Polar Flow app, the watch won't leave you out in the cold.
The most significant con, though, is that maps won't work offline (without smartphone connectivity) and you won't have detailed terrain information.
However, when you plan to take your watch to the mountainous regions, the Polar Grit X has an altimeter and barometer features available for detailed information regarding heights and weather phenomena.
An interesting and useful function the watch offers for varying terrains is the Hill Splitter.
In essence, it detects descents and ascents, providing data for each segment. Along with the FuelWise feature, which reminds you to stay hydrated based on the difficulty of the workout, the Polar Grit X has some decent options for serious activities.
Battery-wise, the smartwatch mode isn't as impressive as with several other outdoor watches with its 7-day endurance. On the other hand, GPS mode offers decent longevity for around 40h, eclipsing several of its competitors at a similar price range.

G-Shock Move GPS Watch
Case Size: 55mm
Weight: 103g
Battery Life: Time mode 12 months, Smartwatch 2-3days, GPS 12h
Notable Features: GPS, ABC, Heart rate monitor, Accelerometer, Solar power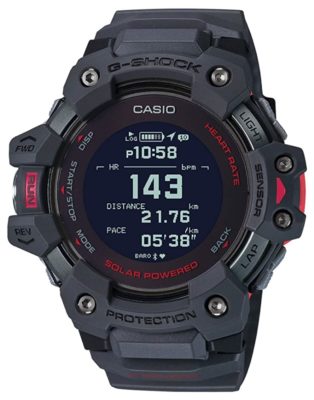 G-Shock watches are the cream of the crop when it comes to ultra-durable and shock-resistant outdoor watches. Moreover, they are more than often equipped with a plethora of functions, making them one-of-a-kind information hubs.
The G-Shock Move GBD-H1000-8CR we have up next sticks out precisely for the rich nature of data you can get out of it. Everything that is to do with workouts and health has been brought to you in a very detailed manner.
The G-Shock Move is best suited for runners. However, it can be applied to other physical activities, such as cycling, swimming, and hiking.
The watch doesn't have built-in maps but has GPS tracking and accelerometer, which can be later thoroughly analyzed through the G-Shock Move app. Since the watch also has a very precise altimeter sensor, you can check elevation changes that occurred during the hike.
Besides GPS and ABC, this G-Shock also excels in health-related features. It comes with a wrist heart rate monitor that indicates heart rate, heart rate graph, minimum and maximum rates, target heart rate settings and many more. Further, it calculates calories burnt, average speed, pace, etc.
What makes this G-Shock Move even better is that besides USB charging, it can also be powered by solar energy.
The manufacturer guarantees a 12-month battery life when not using energy-draining features (GPS, heart rate monitor, smartwatch mode). In smartwatch mode, the lifetime is about 2-3 days, and when GPS and heart rate are applied, you'll get 12 hours.

G-Shock Mudmaster GG-B100-1AJF
Case Size: 53mm
Weight: 92g
Battery Life: 2 years
Notable Features: ABC, Temperature, Accelerometer, Bluetooth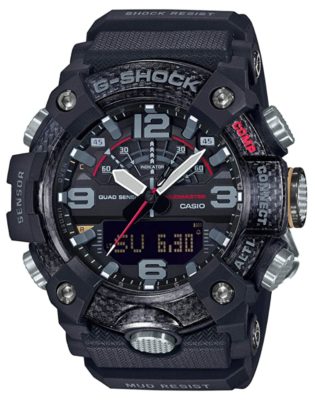 The G-Shock Mudmaster GG-B100-1AJF is one of the top-performing outdoor watches when it comes to the build quality and the essential features required for the activity. It's not a training watch with GPS, but, instead, a rugged timepiece that withstands the extremes the wild nature brings you. 
The watch case is made from lightweight carbon, a welcoming factor considering the oversized bulky appeal. Another welcoming factor is the analog-digital dial that really sticks out among the dominating digital watches.
In terms of features, the Mudmaster employs an altimeter, barometer, and compass, along with a precise temperature reader. These functions are the core of any outdoor watch, providing invaluable information when in unknown territories.
A neat extra G-Shock has lately configured to its timepieces is the accelerometer sensor, offering insights into steps taken and other valuable data via Bluetooth connection.
The watch is 200m (660ft) water-resistant, is powered by quartz movement with Bluetooth time adjustments, and is protected against mud and dirt. Hence, the Mudmaster is an accurate wearable that stays unharmed even in extreme conditions.

G-Shock Rangeman
Case Size: 55mm
Weight: 93g
Battery Life: Solar-powered with a 7-month reserve
Notable Features: ABC, Temperature, Solar power, Atomic timekeeping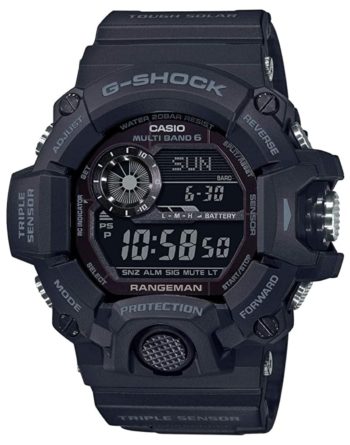 The G-Shock Rangeman GW9400-1B has been among the best-selling G-Shocks and is in high regard in the outdoor watch community. Similar to our previous entry, this G-Shock has been made to last you a lifetime and offer essential functions for tough conditions.
The watch employs a shock-resistant altimeter, barometer, compass, and temperature features, easily accessible through the push buttons on either side of the case. A true hiker can also make use of a wide range of other features, such as timers, stopwatches, and alarms.
What makes the Rangeman watch unique is the fact it is entirely powered by solar energy. Unlike Garmin and Suunto watches requiring frequent charging, this G-Shock never needs charging when frequently exposed to light. When fully charged, you can expect it to last for up to 7 months without any additional light.
Although atomic timekeeping through radio waves is not as coveted as it used to be some time ago, it nevertheless offers something that typical timepieces don't – an atomic precision throughout the watch's lifetime.
Together with solar power and ultra-reliable construction, they make the Rangeman a carefree timepiece to own.

Casio Pro Trek PRW-3510Y-8CR
Case Size: 55mm
Weight: 96g
Battery Life: Solar-powered with a 7-month reserve
Notable Features: ABC, Temperature, Solar power, World Time, Atomic timekeeping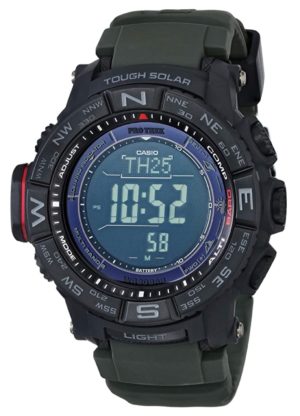 Besides the famous G-Shock line, Casio is also known for its Pro Trek watches. They are not as rugged as the G-Shocks but offer comparable functionality for somewhat lower prices.
The Casio Pro Trek PRW-3510Y-8CR is a top-notch solar watch capable of holding an energy reserve for up to half a year. The quartz-driven mechanism powers the ABC feature, World Time, and many other functions found on this timepiece.
Like the Rangeman watch, the Pro Trek PRW-3510Y receives time adjustments through radio waves, in that keeping atomic precision, no matter your location.
As with most Casio outdoor watches, this Pro Trek comes with a 200m (660ft) water resistance and low-temperature resistance, enabling a carefree wearing experience in severe conditions.
The build quality is also on par with the heavyweights in the industry with its shallow case, knobby exterior, and durable materials.

Casio Pro Trek PRG-600YB-3CR
Case Size: 52mm
Weight: 67g
Battery Life: Solar-powered with a 7-month reserve
Notable Features: ABC, Temperature, Solar power, World Time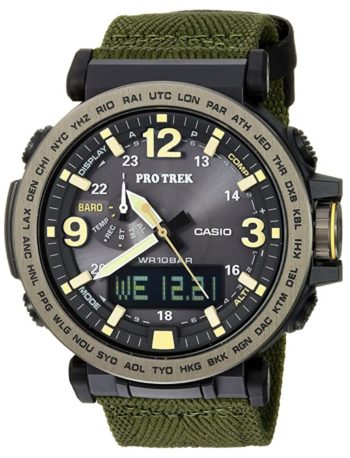 The Pro Trek PRG-600YB-3CR is another high-quality solar-powered watch from Casio. It is durable, accurate, and features an analog-digital dial. 
This Pro Trek has a perfectly functioning altimeter, barometer, and compass features you can swiftly switch through the buttons. A dedicated slot on the dial indicates which feature you're currently using, and the results are displayed on a small digital screen at the bottom.
The watch also employs a thermometer that measures the temperature between 14F and 140F (-10 C to 60 C).
The highly capable thermometer watch withstands water pressure for up to 100m (330ft) and comes with a long-lasting army green nylon band. You'll also find the size of the watch smaller than classic G-Shock timepieces with its 52mm case diameter (including buttons).

Citizen Promaster Altichron
Case Size: 47mm
Weight: 127g
Battery Life: Solar-powered with a 6-month reserve
Notable Features: Altimeter, Compass, Solar power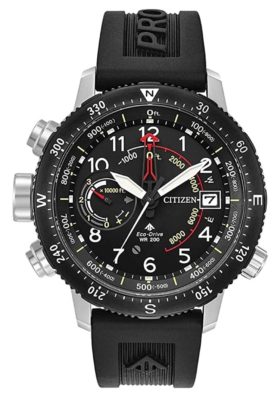 Our last watch on this list is very special in the industry. Namely, the Citizen Promaster Altichron is an altimeter watch that displays the results non-digitally. It means that you can read the heights, as well as the directions, via the dedicated red watch hands.
The unusual watch also catches the eye with its left-hand-sided pusher design, eliminating the uncomfortable feeling when the buttons press on your wrist when bending it. Regardless of the design, you can wear it on both left and right hand. 
On top of the magnificently displayed features, the Citizen Altichron runs on Eco-Drive solar technology. The innovation is Citizen's proprietary light technology that is battery-less and can hold a charge for months when fully charged. 
Due to its durable construction comprising 200m (660ft) water resistance, stainless steel case, and rubber band, the watch is not only a hiking wearable but also a competent survival watch that withstands various shocks and conditions.
Therefore, if you want something different from the widespread digital timepieces, the Altichron is a breeze of fresh air among the feature-rich outdoor watches.
---

What To Consider When Buying a Watch for Hiking?
Hiking watches don't come with the same features and build. Some of them have a plethora of functions, while others are simpler. Some watches are large-sized and heavy, while others are lightweight and comfortable on a wrist.
Therefore, make sure you consider the following factors before buying your next companion for the wild outdoors.

Weather Resistance
Weather resistance is a factor that consists of several resistances. Probably the most significant is the level of resilience the watch has against water.
Some watches have 100m and 200m ratings, while others possess only 30m or 50m water resistance.
Every manufacturer calculates the rating differently, which often results in a lower resistance watch being more protected than a higher resistance timepiece. Therefore, be sure to check each manufacturer's guidelines for a detailed overview of what you can do with it and what not.
There are also outdoor watches that are resistant to mud and dirt, such as G-Shock Mudmaster watches. If you see yourself crawling in mud or hiking in bogs, then precisely the Mudmaster timepieces will suit you best. If not, go for other watches.  

Battery Life
The longevity of the battery is often the first factor many consider before buying a watch. The lifetimes differ significantly when GPS watches last about a couple of weeks without energy-draining features and quartz-driven timepieces for up to a couple of years.
Watches powered solely by light, for instance, can even last 10-40 years until the rechargeable cell needs a replacement.
Hence, consider the features and how frequently you are going to use them.
If you want your heart rate constantly monitored and be backed up by maps while out in the wild, you can't escape from constant charging. However, if altimeter, barometer, and digital compass are all that you need, you better go for solar or quartz watches that'll last you for years.

Weight of a Watch
A perfect outdoor watch is something you don't feel on your wrist. It shouldn't weigh you down and must stay discreet until you actually need it.
Luckily, the vast majority of watches are quite lightweight, staying well below 100g. However, you'll also find heavier timepieces that go beyond this figure. Since tastes are different and the perceptible weights likewise, there's no standard a hiking watch should have.
Just make sure to opt for a watch you think you can quickly get used to in terms of weight. In this sense, lightweight watches are better options than heavy watches.

Size of a Watch
Another physical dimension requiring your attention is the size of a watch.
Unfortunately, one-size-fits-all does apply here neither aesthetically nor comfort-wise. If it is too large on a slender wrist, it will look out of place and, most probably, be uncomfortable to wear as well. On the other hand, a smaller-end timepiece works the other way around for being awkwardly small and difficult to read.
Since outdoor watches typically measure 45mm and more, there's not a lot of options for smaller pieces. 
However, it's worth noting that case diameter is only one side to it and doesn't reflect the actual perceptible size. For example, if a timepiece is knobby and has protrusions, the perceptible size grows, whereas a sleek watch with leveled buttons makes the dimensions smaller.
Therefore, consider your wrist size and opt for the most suitable case size and design for it.

Digital/Ana-Digi/Analog Face
Do you want a fully digital watch with a touchscreen or an analog digital timepiece with buttons? Luckily, you will have a selection since various options are available.
Many find touchscreens too uncomfortable to handle, especially when being outside and wearing gloves. On the other hand, some prefer the simplicity and better accessibility of touchscreens than browsing through the functions via buttons.
Whichever is your choice, make sure it fits the nature of your hikes.

Straps
Straps are important parts of a watch and play a significant role in the overall convenience. When it comes to outdoor watches, you typically have two types of straps – rubber and nylon.
Rubber can be easily washed and it won't stay wet, but it makes the wrists sweat. Whereas nylon straps won't produce that much sweat but when they do absorb the smell and are cumbersome to clean.
Another factor to consider is the ease of replacing the straps. Are they easily replaceable, and is there a decent selection for them?

Features
Finally, but often most importantly, pay very close attention to the features the watch comes with. Do you need GPS functionality, or can you get by without it? Are you going to use the accelerometer? Is the barometric altimeter essential?
The fact is that the more feature-packed the watch is, the more it eventually costs. You wouldn't want to pay $700-800 for an outdoor watch if it is only for mere timekeeping purposes and a Sunday walk in a park.
On the other hand, going for a straightforward outdoorsy watch without any of the features and later discovering how essential the built-in maps or an ABC function could be is also not the best situation.
Hence, consider the usability and necessity of the features in the long run.

Final Words
As you can see, the selection for hiking watches ranges from simple altimeter timepieces costing a couple of hundred dollars to feature-packed GPS watches with price tags in the upper hundreds. When choosing your next outdoor companion, the most important thing is to consider the features, battery life, straps, and physical dimensions it has.
For a frequent hiker that likes to discover new terrains, there are Garmin and Suunto watches with their built-in/uploadable maps. However, the best options for a laidback cross-country trekker would be Pro Trek watches with solar power and a simpler build.
No matter your choice, these timepieces represented on this list of the best hiking watches are sure to serve you well and provide essential information about your hikes, weather conditions, and surroundings.

You may also like:
Affiliate Disclosure: As an Amazon Associate I earn from qualifying purchases. Details
Latest posts by Carl Pender
(see all)