Affiliate Disclosure: As an Amazon Associate I earn from qualifying purchases. Details
The CIGA Design brand may not yet ring the bell for many seasoned watch enthusiasts, but this extravagant and bold Chinese manufacturer has all the makings to become a serious household name on the watch scene in the forthcoming decades.
Why?
Because CIGA Design manufactures some of the most eye-catching skeleton watches currently available.
I had a chance to try out the CIGA Design X-Series watch. And I'm not going to lie – it has put my Tissot, Seiko, and Orient watches to patiently wait for their turn to earn my wrist time.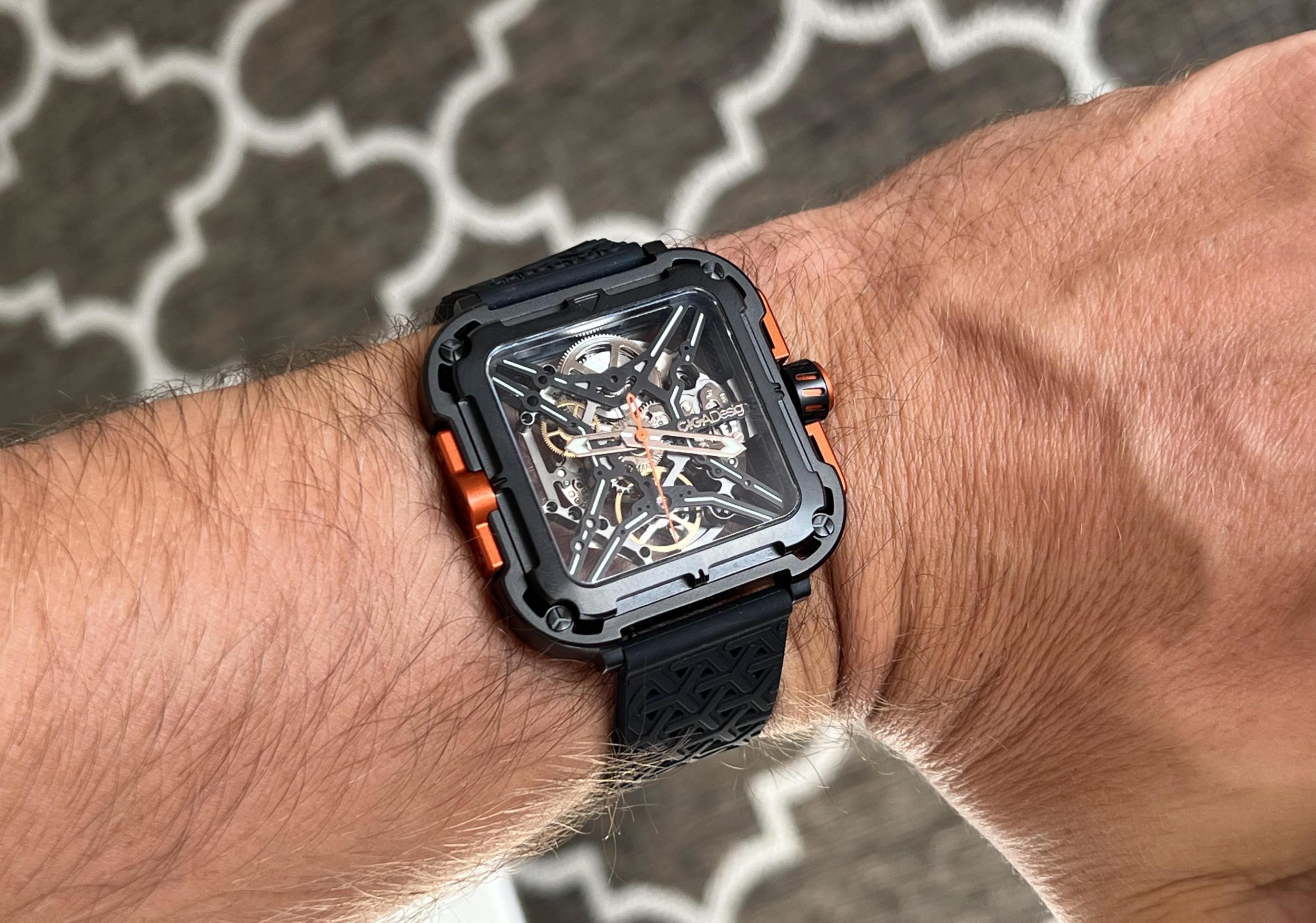 What Is CIGA Design?
Before heading to the hands-on review, let's have a quick look at the brand and its story.
It all started for CIGA Design in 2012 when the designer Mr. Zhang Jianmin came out with an idea to design an original-looking mechanical watch that was unlike any other classic timepiece.
It didn't take long for the brand to earn its first grand prize for hard work – the Red Dot Design Award for the best watch design. And it didn't stop there because CIGA Design earned several other prestigious recognitions, including the iF Design Award and several German Design Awards in the following years.
Did you know? CIGA is an English abbreviation of the parent company XIJIA XIJIA, which means "amazing" in Chinese.
Probably the most notable recognition came in 2017 when CIGA Design was nominated for GPHG, the "Oscars of watches," for its innovative design approach. In 2021, the brand won the prize in the Challenge category, adding yet another trophy to their collection.
In the past couple of years, the Chinese brand has successfully cooperated with Xiaomi and JD.com, taking the products to more than 100 countries worldwide and expanding its loyal fanbase to more than half a million.

CIGA Design X-Series: Specs & Overview
One of the latest collections out of CIGA Design's cutting-edge production line is the X-Series. And it's not difficult to guess where this line got its name.
The X-shaped construction not only attaches the mechanical movement firmly to the case but also offers some of the most unique watch designs I've encountered so far.
Moreover, the watch isn't simply good-looking – it's also well-made and comes with quality materials.


You will find the complete spec sheet below.
Case size: 44mm
Case size with crown: 48mm
Thickness: 11.8mm
Case material: stainless steel
Crystal: sapphire
Caseback: mineral crystal
Water resistance: 3 ATM
Weight: 74g
Caliber: automatic CD-01 with hack & hand-wind
Power reserve: 40 hours
Frequency: 21,600
Jewels: 25
Accuracy: -15/+30 seconds per day
Lume: Super-LumiNova
Strap: silicone + NATO
Strap width: 22mm

The CIGA Design X-Series Black/Orange arrived in packaging like no other. It was lying in a book-looking box with the case and two pairs of straps in separate slots. What a way to impress straight from the start, right?
In fact, the packaging earned the brand yet another design award in 2020.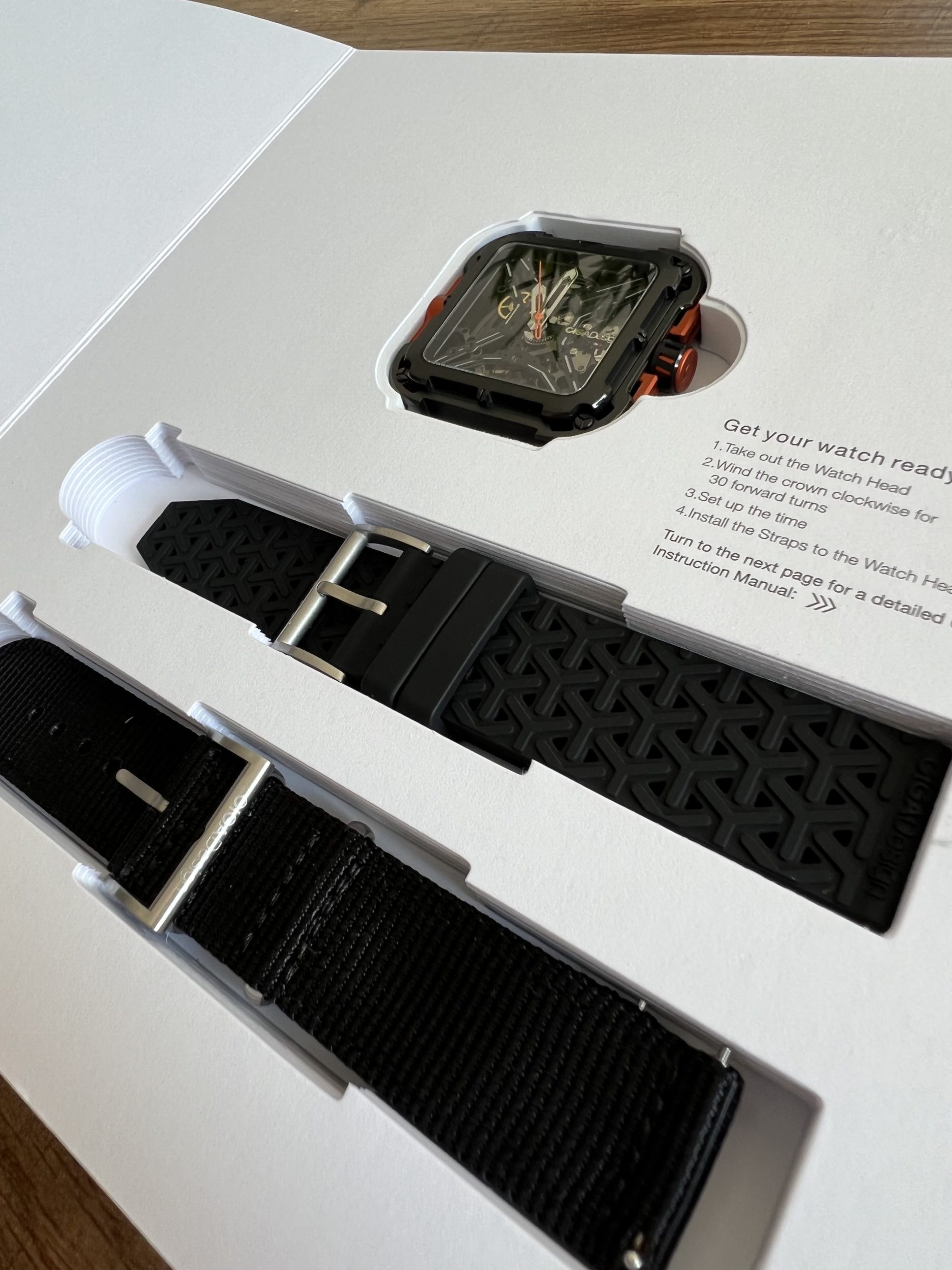 The first impressions were simply mesmerizing. The constant back-and-forth beating of a balance wheel at the bottom of a dial is the first thing that catches the attention, followed by the smooth motion of the orange second's hand.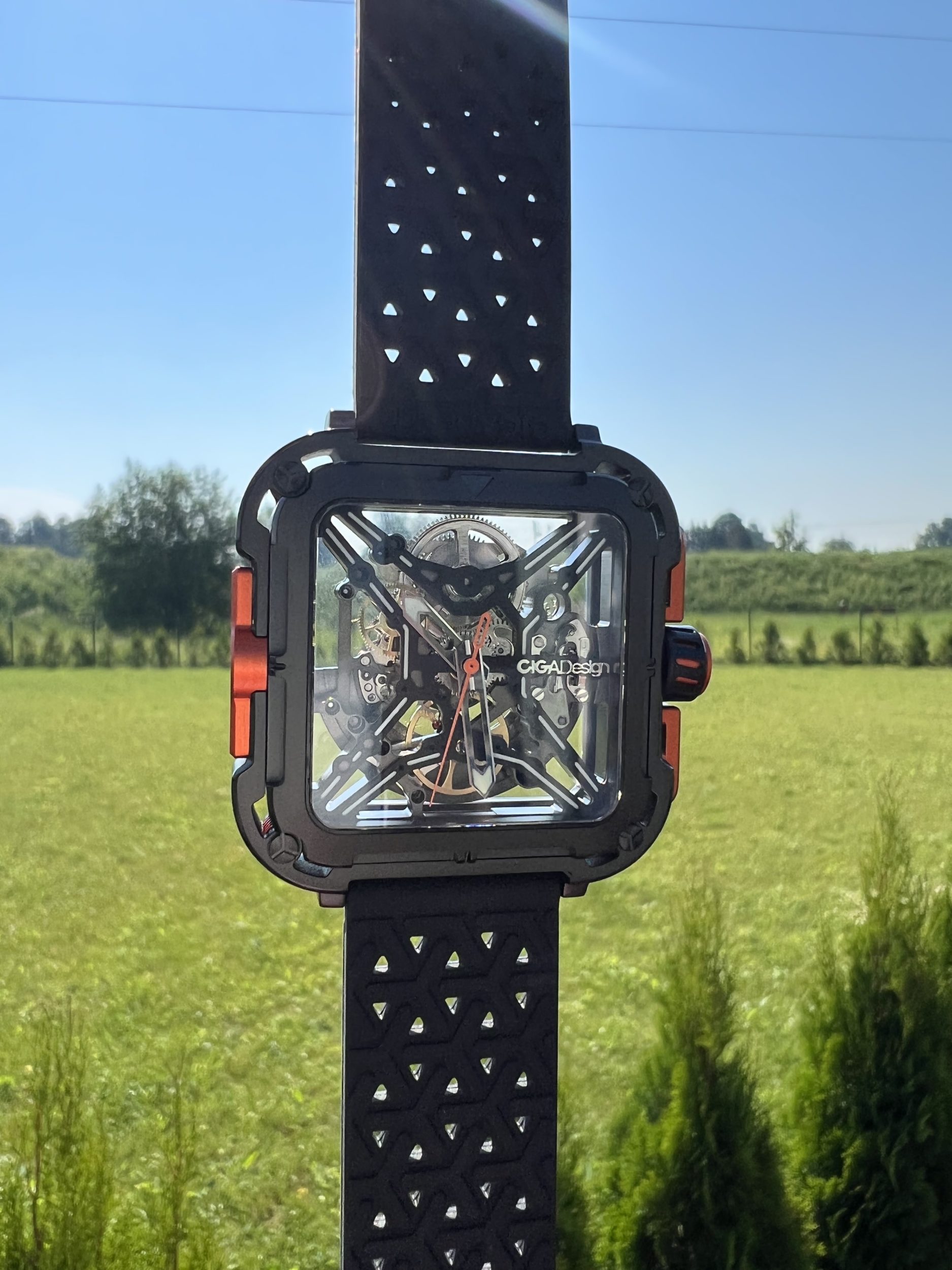 It took me a good couple of minutes after I was able to get my eyes off the dial, which perfectly summarizes the first impressions I had with this watch.

Automatic CD-01 Movement
The center of attention of any CIGA Design watch belongs to the automatic mechanical caliber, which in most cases is visible in its entirety. It's no different with this timepiece.
This particular caliber in the X-Series watch is a specifically developed movement, called CD-01. It's a 21,600-frequency self-winding caliber that can be hacked and hand-wound. It holds around 40 hours of power reserve and comes with a standard +15/-30-second accuracy.
After a week of wearing my CIGA Design watch, it had gained a little more than a minute, comfortably falling into the promised deviation frames.
Though, one of the peculiarities of this caliber is that it has quite a loud ticking sound. So when holding the wrist close to the ear, you will definitely hear the mechanism doing its job. While some may find it a bit annoying, it's not much of a problem for me.
Another part of the caliber that is noisier than usual is the rotor at the back of a watch – when moving the wrist, it makes a distinctive swirling sound. Again, for me, it's not much of a dealbreaker.


When talking about the origins of the movement, it was developed in cooperation with the most recognized Chinese caliber manufacturer, Seagull. Naturally, you can be sure it's not some kind of an experiment caliber with no backing from experienced watchmakers.

Dual-Shell Stainless Steel Case
What makes the watch especially stand out from other skeleton watches is its quadrangle case and X-shaped deck.
It is hollow, doesn't weigh much, and features gorgeous orange accents that add a lot to the extravagance of this timepiece.
The crown is decently sized with the letter "C" engraved on it, while the left side of the case features an imprint of a gorilla head.
The construction is noteworthy for another innovative addition – the world's first dual-shell structure that works like a car's suspension system.
It means when pressing the inner shell, it springs. As a result, the watch absorbs the impacts of external forces and offers better protection for the vital mechanism ticking inside.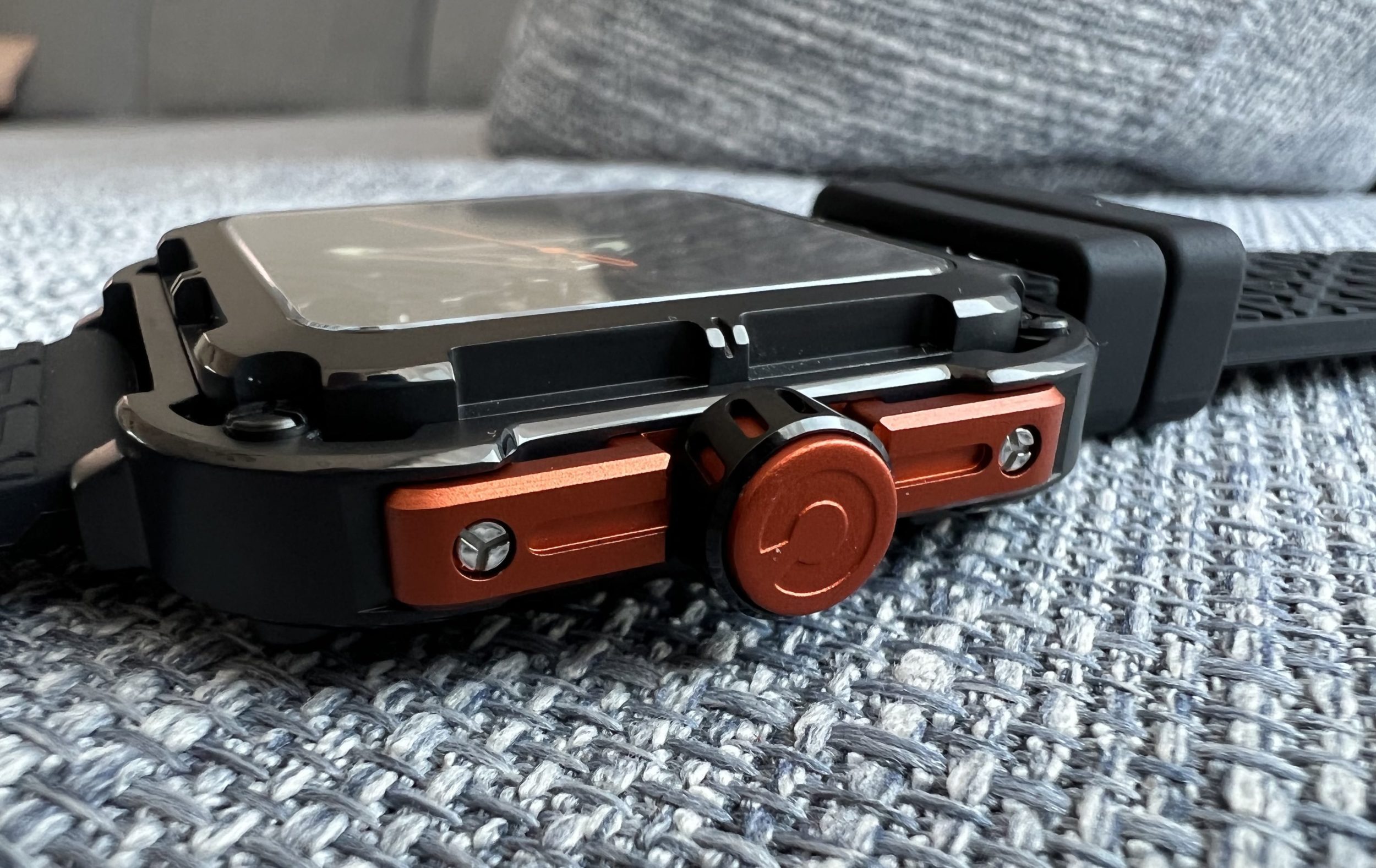 When it comes to size, it's pretty similar to the 44mm Apple Watch, with the only difference being that the CIGA Design piece has even sides. The size is just perfect for my average-sized wrist (7.3in) – it's neither small nor large but right in the sweet spot.
All in all, the case offers a lot to discover and admire.

Skeleton Dial
Now, let's talk a little bit more about the skeleton dial.
It has three distinctive elements – the X-shaped deck, the movement, and the handset.
The deck is equipped with Super-LumiNova stripes that provide a stunning and unique glow in the dark. Although the lume doesn't last long, it's still one of the most eye-catching features of this timepiece.


Beneath the deck, you'll find the complex gear and wheel work with around 100 miniature parts. Those who've never seen a mechanical movement doing its job have a wonderful opportunity to get a close look at it with this CIGA Design watch because almost every step of the movement is visible.
You can even visually check whether the mainspring is fully wound or not! How great is that?!
When it comes to the handset, it is surprisingly legible in front of the busy background. I've never had any problems catching the time at a glance, which is quite remarkable for a fully skeletonized watch.


The minute and hour hands are thick and contain luminosity, while the second's hand has a distinctive orange tone with a sweet sweeping motion (6 steps in a second).
What makes the front of the watch even better is that it's protected with a sapphire crystal. It is the best crystal you can have in wristwatches due to its near-impossible scratch occurrence.

Silicone & NATO Straps
Another part (or parts) of the X-Series watch with strong resistance to scratches and other physical impacts is the pair of silicone and NATO straps.
Yes, CIGA Design offers you two pairs of straps with every watch that you can easily swap whenever you have the feeling to do it.
They come with quick-release pins, so it takes only a couple of seconds to change the straps.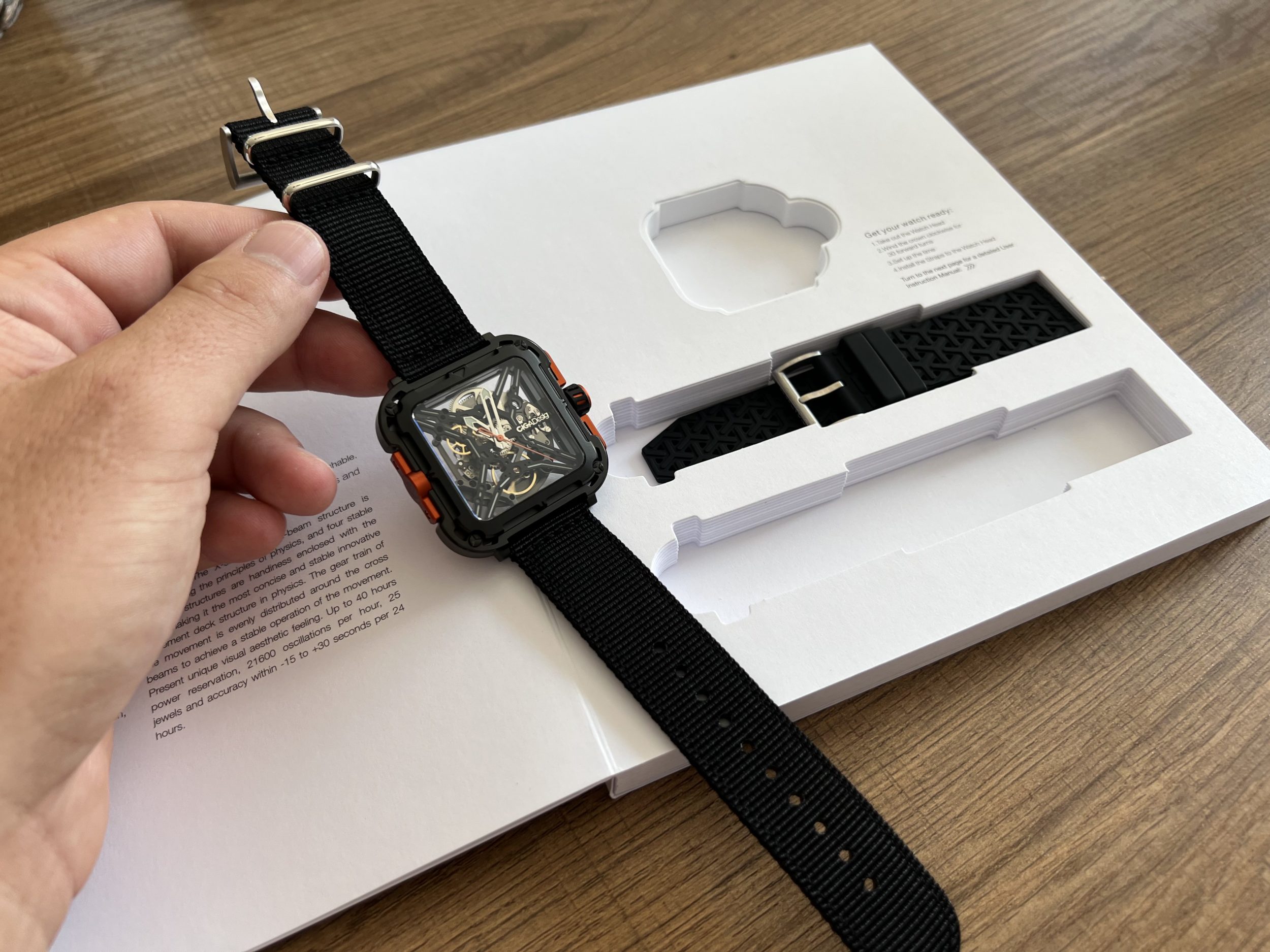 Since I'm not the biggest fan of NATO straps, I decided to pair the case with the silicone option. It has got not only pinholes but also several other holes scattered throughout the strap, which help minimize the accumulation of heat and sweat.
Furthermore, the silicone is soft, bends well, and sits perfectly on the wrist. In fact, it's one of the best silicone straps I've worn to date.
Although I wore the NATO version only for a couple of hours, it also feels of decent quality and sits comfortably.

Overall Impressions
So, what can I say about the CIGA Design X-Series watch?
There's one word – stunning.
I didn't expect much from the watch initially and thought it was yet another cheap Chinese mechanical timepiece with an extravagant appearance. And how I was wrong…
The X-Series is by far the most eye-catching skeleton watch I've been able to get my hands on. It features a never-before-seen design with features difficult to find elsewhere. Simply look at the luminous X-shaped deck or the suspension system.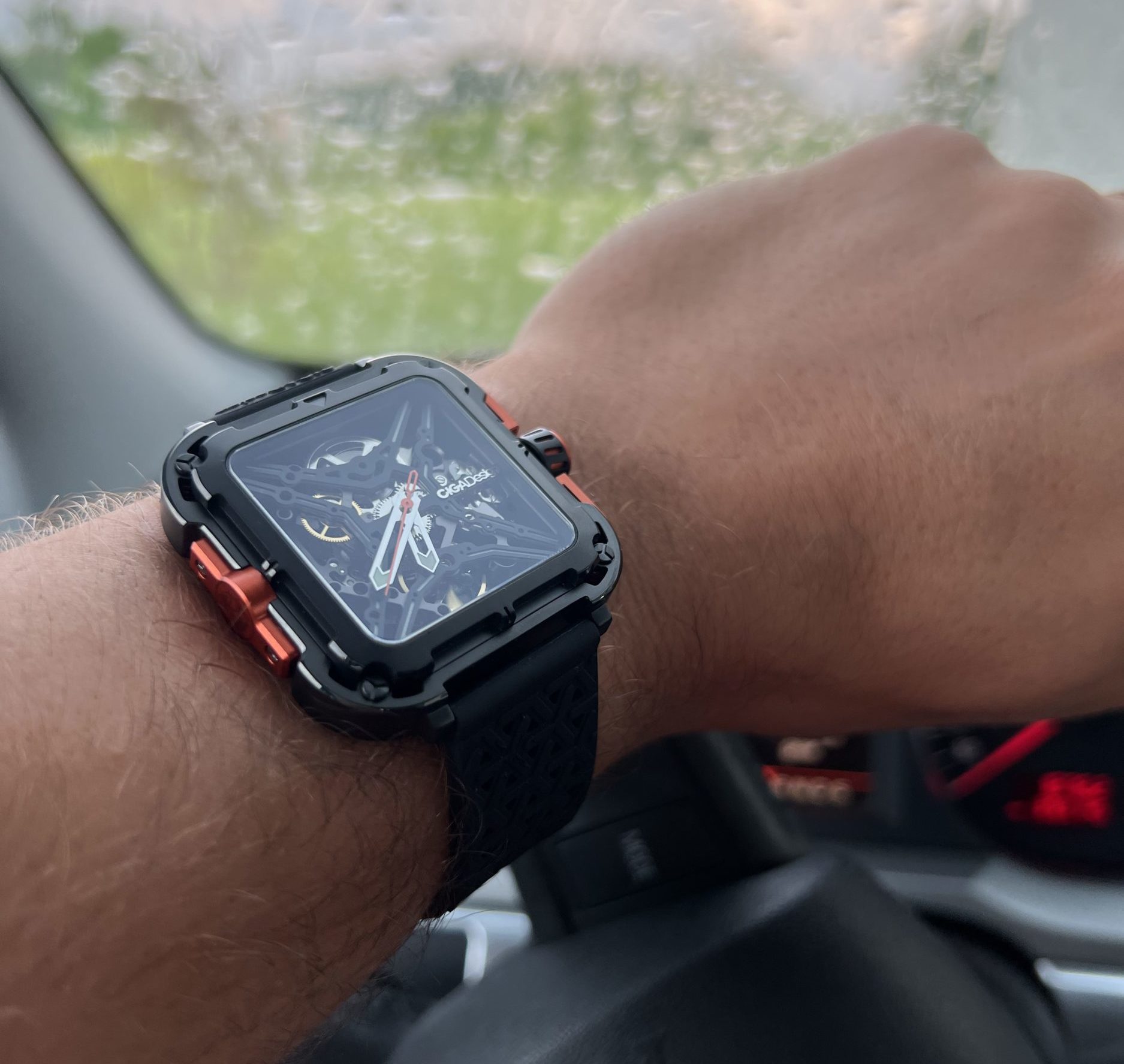 Furthermore, it offers plenty of quality for the $300-$350 price tag with its hack and hand-wind automatic caliber, sapphire crystal, and comfortable straps. The finishing is also of high quality with no distinguishable flaws.
When talking about some of the negatives, it's the loud ticking sound and the swirling noise of the rotor. Also, the watch is water-resistant only to 3 atmospheres, which means it should be kept from water at all costs.
Other than that, the CIGA Design X-Series is almost spotless.

Alternative Options
Besides the orange version of the X-Series, there are also a couple of other options available.
For example, the stainless steel X-Series also comes in silver and cyber purple tones, while the titanium X-Series have blue and gold color options.

The titanium models cost a bit more than stainless steel watches, but they're more resistant to scratches and weigh nearly 20g less as well.
I also suggest you take a look at the Z-Series watches. They have a high resemblance to the famous Richard Mille watches with tonneau-shaped cases and skeleton dials but cost a fraction of the price. Quality-wise, they are similar to the X-Series models with sapphire crystals and hacking Seagull automatic calibers.

Final Words
I hope this review has given you enough confidence to try out new watch designs and manufacturers. There can be real gems circling around without even knowing they exist, and it would be a real shame to miss out on them.
With the CIGA Design X-Series watch, I found one such gem. It not only has been a durable and dependable timepiece with gorgeous aesthetics, but it has also attracted loads of attention from my friends and co-workers.
Therefore, if you're after a watch that takes not one but two, or even three steps forward from the usual you wear, consider this timepiece.

You may also like:
Affiliate Disclosure: As an Amazon Associate I earn from qualifying purchases. Details
Latest posts by Carl Pender
(see all)