Affiliate Disclosure: As an Amazon Associate I earn from qualifying purchases. Details
Hamilton is a former American brand now owned by the Swiss watch conglomerate Swatch Group.
The brand offers appealing watches for all kinds of tastes, from field watches to chronograph watches. Furthermore, the prices are pretty affordable for a Swiss manufacturer.
In this Hamilton watches review, we shed light on the timepieces and uncover if they're worth your effort. Also, we'll analyze the brand as a whole through its rich history, quality levels, and reputation.
By the end of this post, you'll have a clear understanding of what Hamilton and its watches are.
So, let's go!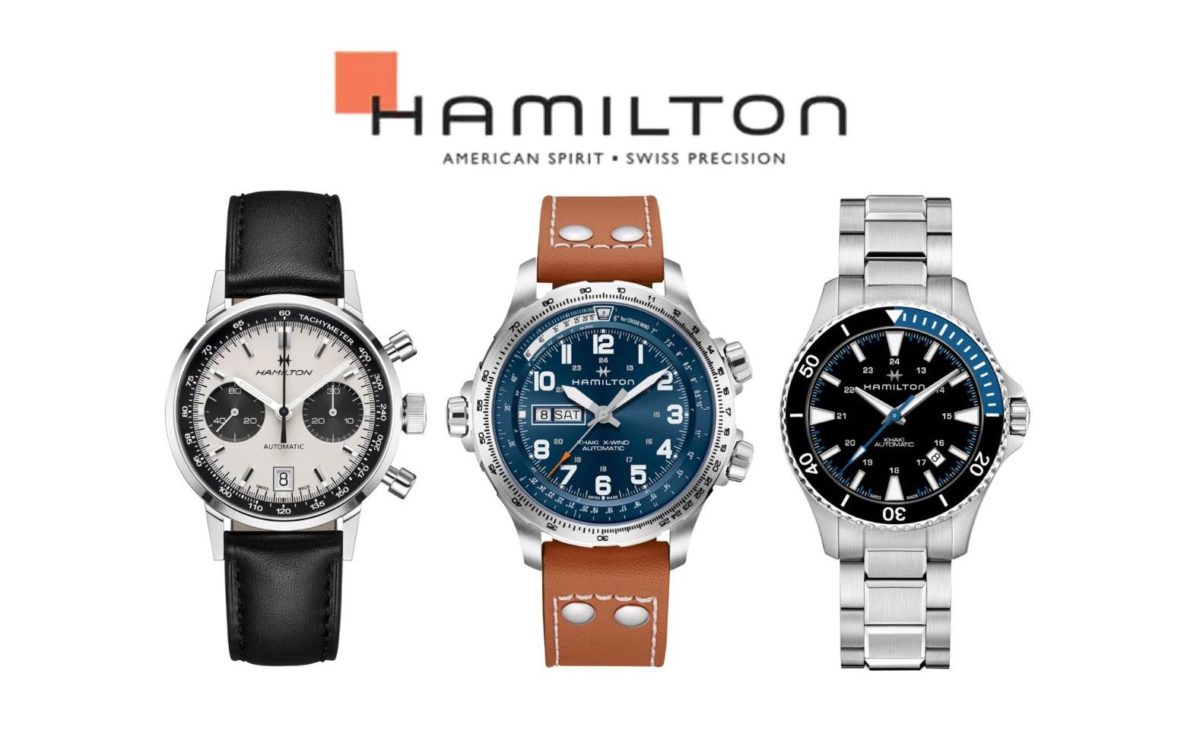 Hamilton Brand History
As already said, Hamilton hasn't been in the hands of the Swiss the whole time when initially it was established in 1892 in Lancaster, Pennsylvania.
The success was quick to follow at the turn of the century when Hamilton watches became known for their durability and accuracy.
As a result, the brand was contracted to provide railwaymen with precise pocket watches. Not long after, a Hamilton watch became synonymous with railroad scheduling and eventually received the title: The Watch of Railroad Accuracy.
During World War I, the influx of wristwatches took off when soldiers needed handy timekeeping options. Hamilton didn't lag behind when it provided the Armed Forces with reliable watches. In fact, it was during the war in 1917 when the brand's first wristwatch was introduced.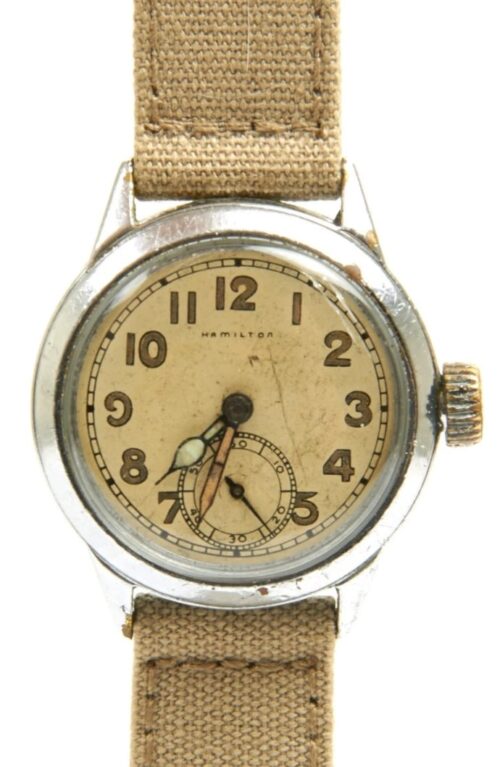 When WWI brought Hamilton to the wristwatch era, then WWII determined its position as the powerhouse of US watchmaking. Over one million watches were produced, with the most recognized being the chronometers for marines.
The post-war era added another facet to this brand when several Hamilton watches featured in major Hollywood movies. The Frogmen in 1951 and Blue Hawaii in 1961 were the cornerstone movies that ensured Hamilton was high up in the pecking order whenever a wristwatch was required for the screen. 
Up until today, Hamilton has featured in more than 500 Hollywood films, with the latest blockbusters being Interstellar, The Martian, and Tenet.
Although Hamilton made a name for itself with Hollywood features and even introduced the world's first digital watch in 1970, the financial conditions weren't so rosy. Eventually, Hamilton was acquired by SSIH in 1974, which was the predecessor of Swatch Group.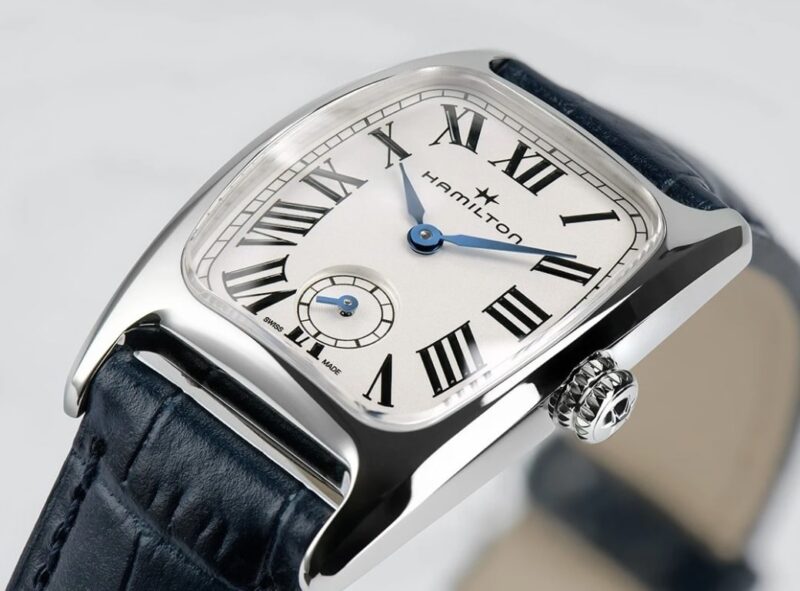 Despite Hamilton was owned by the Swiss, it didn't start equipping its watches with Swiss ETA calibers not until the 1980s. And it took another two decades when Hamilton moved everything, including the headquarters, to Switzerland.
From 2003 up until today, Hamilton has been a "full-time" member of Swatch Group.

Where Are Hamilton Watches Made?
Due to the fact that the brand is a subsidiary of Swatch Group, Hamilton watches are made in Switzerland and, as a result, carry Swiss-made tags. In other words, the movements have been assembled and inspected in Switzerland, and at least 60% of manufacturing costs are domestic.
Since a Swiss watch must be produced at least 60% domestically, it leaves the rest of 40% free of regulations.
Simply put, you can expect up to 40% of watch parts to be of foreign origins, such as China and various South-East Asian countries that offer lower production costs.
These regulations are set by the Swiss government and apply to every manufacturer, including Rolex, Omega, and other luxury brands.

Quality Standards
So, Hamilton watches carry the famous Swiss-made tag for being manufactured in Switzerland. But what can you expect in terms of movements and overall quality?
When it comes to calibers, the story is pretty straightforward – since Swatch Group also owns ETA movement manufacturing, Hamilton watches employ ETA quartz and mechanical calibers.
In collaboration with ETA, Hamilton has developed its own personalized automatic calibers. For instance, H-21 and H-31 are chronograph movements honoring the company's achievement in this field, while H-10, H-30, and H-40 calibers feature extended power reserves of 80 hours.
All the calibers are durable and accurate and belong to the top of the game at their respective price points.
Since the quality of automatic calibers in Hamilton watches is high, it's no wonder the brand's timepieces are considered some of the best for the price point.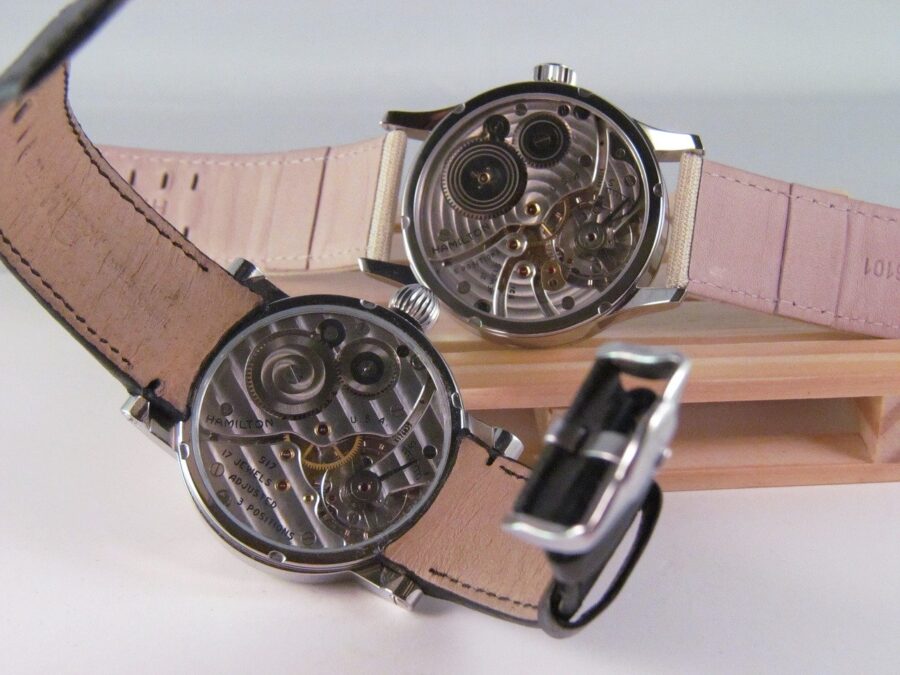 In terms of the overall build quality, Hamilton is a classic representation of Swiss watchmaking – the watches are built to last. For instance, almost every Hamilton watch comes with a higher-grade stainless steel case and a scratch-resistant sapphire crystal. 
Some higher-priced watches also come in lightweight titanium cases and have ceramic bezels instead of aluminum ones.

Reputation
As you may have already guessed, the reputation of Hamilton watches is high.
With appearances in more than 500 major Hollywood movies, as well as the uncompromising strive to produce quality timepieces, Hamilton has guaranteed an unflappable status worldwide.
Besides the film industry, Hamilton is well present in the aviation industry. For instance, it is the Official Timekeeper of the Red Bull Air Race World Championship. It also began working with top air squadrons from all over the world, securing its status as the favorite watch of pilots.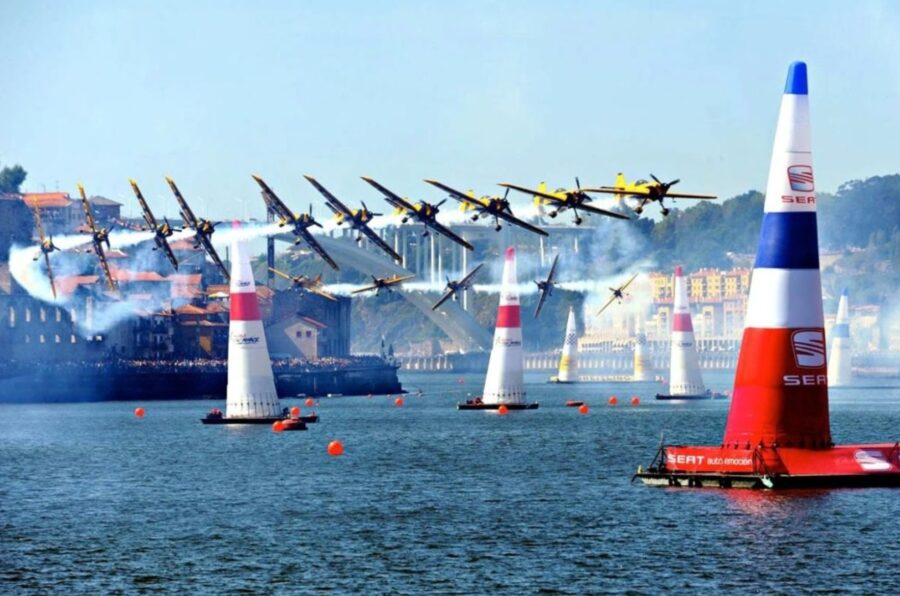 When talking about its position compared to other Swiss manufacturers, Hamilton is considered a mid-priced Swiss brand – it's not the cheapest, but it's not too expensive either.
The likes of Omega, Longines, and Tag Heuer fall out of Hamilton's reach, but the brand is considered better than Swatch, Wenger, Certina, and Victorinox.
A comparable brand to Hamilton is Tissot, another famous watch manufacturer under the wing of Swatch Group. They have similar quality standards, and both enjoy a high reputation.
If you're interested in the head-to-head comparison of these two powerhouses, feel free to visit our dedicated post on the comparison of Hamilton and Tissot.

Hamilton Watches
Now that the background of Hamilton watches is clear, let's delve into the most interesting timepieces this Swiss brand has to offer. 
I have picked watches from different collections so that the overview would be as complete as possible.
As follows, you'll find Hamilton watches from all the seven collections it currently offers – Khaki Field, Khaki Aviation, Khaki Navy, Ventura, Jazzmaster, American Classic, and Broadway.

Hamilton Khaki Field Auto
The Khaki Field collection includes classic army style watches that have been tried and tested over time. Vintage, as well as contemporary appearance timepieces, come with quartz, automatic, and manual mechanical movements.
The Khaki Field collection is made up of vintage field watches. They are the most conspicuous timepieces from Hamilton, honoring the war-era design with contemporary touches.
One of the most popular models from this collection is the Hamilton Khaki Field H70555533, a 42mm watch that featured in The Avengers (2012) on the wrist of Captain America (Chris Evans).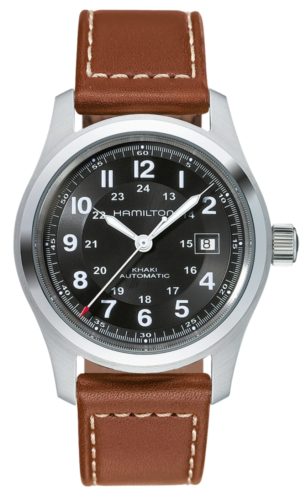 See on Amazon I See on Hamilton
| | |
| --- | --- |
| Case Size: | 42mm |
| Movement: | Automatic H-10 |
| Crystal: | Sapphire |
| Water Resistance: | 100m (330ft) |
Besides its Hollywood fame, the Khaki Field is also noteworthy for its highly-coveted H-10 automatic caliber.
The watch has swapped the iconic ETA2824 caliber found in the earlier models for a newer version H-10 movement that holds twice the power reserve (a whopping 80 hours) and is more accurate. You can expect the watch to lose or gain about 10-15 seconds a day, which is a great result for an automatic watch.
In terms of appearance, it's a modernized field watch with a multi-angle black dial and Arabic numbers. The hands are conveniently thick, and the numbers come in a classic font, which makes reading the time simple. 
Furthermore, since there's a pleasant contrast between the hands and background, as well as due to good luminosity, the watch is highly legible at any time of the day.
The watch is coupled with a brown leather strap, which you can swap for a NATO or nylon version if you intend to use this Hamilton outdoors. And you can do it in any outdoor environment since it comes 100m water-resistant and has a rock-solid build quality.
The only negative about this watch is that the leather strap is a bit too short for larger wrists measuring close to 8 inches. Therefore, the strap replacement is a wise thing to consider if you really like the watch.

Hamilton Khaki Navy Scuba
The Khaki Navy collection has a variety of styles catering to different tastes. Aimed mainly for water sports, you will find professional tool watches, such as the Hamilton Frogman and Hamilton Belowzero models.
However, there's also a more fitting line of watches for everyday occasions. One of the bestsellers is the Khaki Navy Scuba Auto, which stands out for being the perfect midway between a professional and a classic watch.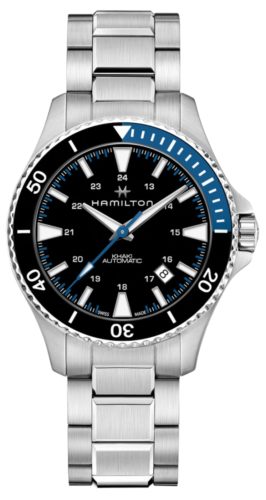 See on Amazon I See on Hamilton
| | |
| --- | --- |
| Case Size: | 42mm |
| Movement: | Automatic H-10 |
| Crystal: | Sapphire |
| Water Resistance: | 100m (330ft) |
Though not meant for professional diving, the watch features water resistance for up to 100m, which is still applicable for surface water sports, such as snorkeling, swimming, and surfing. And, to be honest, it's more than enough for a regular watch wearer.
All the other features of a dive watch are also represented, including a screw-down crown, one-way rotating bezel, and luminosity.
This Hamilton watch runs on the same H-10 caliber as the Khaki Field does. It means you'll get 80 hours of power reserve and fantastic accuracy. On top of that, the watch has a convenient date window right between four and five o'clock.
When it comes to the comfort of wearing, it's a spot-on timepiece for most wrist sizes. It measures 40mm in diameter and 13mm in height and features a quality 3-link metal bracelet with a fold-over clasp. The watch also has a pleasant heft, which gives it a feel of a quality product.
The Navy Scuba is also available with a black bezel and rubber band. In addition, you'll find an eye-catching orange bezel Navy Scuba with additional orange accents on the dial.

Hamilton Khaki Aviation X-Wind
Hamilton's history in aviation goes back more than a century when in 1918, it started to produce watches for US Mail Aviators. The brand also equipped aviation watches for the British Royal Air Force in the 1960s and 1970s.
Naturally, Hamilton pilot watches are in high regard.
Among the rugged aviation watches with army green and desert tan tones, there's also the X-Wind line – a more contemporary style of watches with large cases and multiple crowns/pushers.
The Hamilton X-Wind H77765541 is one of the most affordable automatic pilot watches you can get from the brand.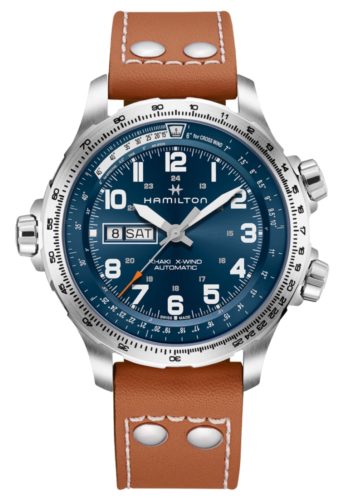 See on Amazon I See on Hamilton
| | |
| --- | --- |
| Case Size: | 45mm |
| Movement: | Automatic H-30 |
| Crystal: | Sapphire |
| Water Resistance: | 100m (330ft) |
It is equipped with another H-series caliber, but it's the H-30 movement this time. The difference between H-10 and H-30 is that the latter has replaced the date feature with a day-date feature. All the other specifications, including the 80-hour reserve and excellent accuracy, are the same as in the H-10 caliber.
When it comes to appearance, I have to admit it's one of my favorite Hamilton watches, alongside the Navy Scuba Auto. It has a perfectly balanced blue dial with white numbers, a comprehensive set of inner and outer slide rule bezels, and a buttoned leather strap. The outcome – a stunner.
The crowns you find from the right side of the case operate the inner bezels, while the crown on the left side is for time and day-date corrections, as well as for hand-winding the mechanism.
All in all, the Hamilton X-Wind is a masculine watch (measures 45mm) that is a certain conversation starter. Moreover, it has a durable construction (screwable crowns, sapphire crystal, and stainless steel case), ensuring a long lifetime.
However, if you have around $500 more to spend, I suggest you check out the automatic chronograph version of the X-Wind, which is very similar in design to the analog automatic X-Wind. It's also one of the cheapest auto-chronos you can get and a genuine eye-catcher with its contrasting subdials.
In addition, if you prefer quartz watches instead of automatic, have a look at the Hamilton H77922341 watch. It is priced the same as the X-Wind discussed here but adds a chronograph and a rubber band.

Hamilton Jazzmaster
Hamilton Jazzmaster watches are primarily for dressier occasions due to their clean analog dials. Some models have partially skeletonized dials, which add unique appeal and character.
One of the Hamilton watches that is somewhat uncharacteristic of the brand is the Jazzmaster Thinline Auto. It steers away from the classic looks of a Hamilton watch by not having any excessive details. Therefore, this Thinline watch is the most appropriate watch for smart outfits out of Hamilton's line-up.
See on Amazon I See on Hamilton
| | |
| --- | --- |
| Case Size: | 40mm |
| Movement: | ETA 2892-A2 |
| Crystal: | Sapphire |
| Water Resistance: | 50m (165ft) |
It is a spot-on timepiece for dressier occasions also because it measures only 8.5mm in height. It means you can easily cover and uncover the watch without it becoming stuck behind the sleeve.
The slimness is especially noteworthy because this Hamilton is an automatic watch. Since this kind of movement requires quite a lot of space, the average height of automatic watches is typically more than 10mm.
When talking about the caliber itself, it's the ETA 2892-A2 – a movement with 42 hours of power reserve and a 28,800 vph frequency. The accuracy is similar to that of the H-series, ranging from 5 to 20 seconds a day, which is an excellent result for the price point.
The only downside of this Hamilton is the absence of a seconds hand, especially considering the watch runs on a higher frequency, which would've guaranteed an appealing 8 ticks a second gliding motion.
Other than that, it's a simple yet elegant dress watch with a durable caliber that will last decades if properly cared for.
The Jazzmaster Thinline is available in various colors and band types, including beige, grey, and red dials with leather/stainless steel bands.
You can check the full line-up of different Jazzmaster watches, including the Thinline, here.

Hamilton Ventura Quartz
Probably the most iconic and, without a doubt, the most unique collection from Hamilton is the Ventura line.
The watch gained popularity for being unorthodox in its looks, as it's designed as a shield in the shape of a triangle. In fact, the Ventura watch was one of Elvis Presley's favorites.
Various models are available, including oversized and automatic Venturas, but one of the most accessible ones is the Hamilton Ventura Quartz.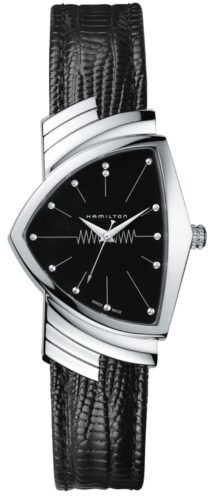 See on Amazon I See on Hamilton
| | |
| --- | --- |
| Case Size: | 32mm |
| Movement: | ETA Quartz |
| Crystal: | Mineral |
| Water Resistance: | 50m (165ft) |
It was the watch worn by Will Smith, Tommy Lee Jones, and Tessa Thompson in Men in Black (1997), Men in Black III (2012), and Men in Black IV (2019).  
The Ventura Quartz is not a large watch as it measures a decent 32mm horizontally. However, what makes the perceivable size much bigger is the 50mm length from the top of the watch to the bottom. Also, the triangular shape of the case stretches the size, which makes it look more like a 38-39mm watch.
In terms of design, the Hamilton Ventura is a masterpiece. It has a line that runs horizontally on the dial, honoring the original design of the very first Ventura in 1957. At the time, it was the world's first electric-powered watch, which explains the motif of electrical current.
When most Hamilton watches are equipped with high-quality sapphire crystals, this Ventura Quartz has mineral glass. It's not as scratch-resistant as sapphire but will do the job in most cases.
I also suggest you have a look at the Ventura XXL Automatic. Although it costs almost twice the amount of a quartz version, it has a more suiting case size for most men's wrists (46mm), a sapphire crystal instead of mineral, and an H-10 self-winding caliber.

Hamilton American Classic Intra-Matic
The American Classic collection depicts the true classic line of Hamilton. It is versatile, represents the American heritage, and guarantees a model that suits everyone's signature style.
The famous RailRoad watch, vintage Boulton timepiece, and other historic models find themselves revived.
Besides elegant automatic dress watches, the American Classic offers automatic chronographs, which are the cream of the crop from Hamilton.
The Hamilton Intra-Matic H38416711 is one of the most sought-after auto-chronos. It has a vintage design with old-school branding, paired with a black tachymeter ring and subdials. The chronograph's seconds run centrally, while the watch's seconds can be found from the left subdial.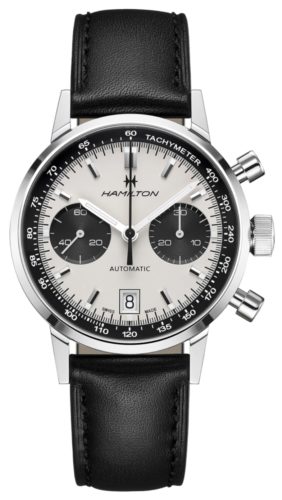 See on Amazon I See on Hamilton
| | |
| --- | --- |
| Case Size: | 40mm |
| Movement: | H-31 Auto Chrono |
| Crystal: | Sapphire |
| Water Resistance: | 100m (330ft) |
The pushers that operate the stopwatch stretch far out of the case and give the watch an eye-catching appeal. However, it also means you have to be careful not to hit them accidentally as they're prone to shocks.
In terms of caliber, the Intra-Matic watch runs on an H-31 self-winding movement with 60 hours of power reserve. It is based on the famous Valjoux 7753 mechanism with a higher frequency at 28,800.
There's absolutely nothing to complain about the accuracy either, as it usually deviates no more than 10-15 seconds a day.
All things considered, this Hamilton is comparable to entry-level luxury watches from Tag Heuer and Breitling, which says it all about the quality levels.

Hamilton Broadway
The most contemporary line of watches is the Broadway collection, which is meant for style-conscious men strolling the streets of the cities.
The watches come with automatic and quartz movements and feature color and texture-rich apparel. A cross-cutting motif of Broadway watches is a bold vertical stripe that depicts the famous Broadway street in New York.
The Hamilton Broadway GMT represents the style of the collection the best. It has a modern design with an all-black appearance, coupled with a neat GMT feature. The extra hand for the secondary timezone comes in contrasting red and is easy to capture.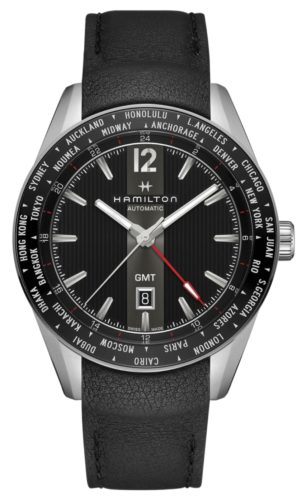 See on Amazon I See on Hamilton
| | |
| --- | --- |
| Case Size: | 46mm |
| Movement: | Automatic H-14 |
| Crystal: | Sapphire |
| Water Resistance: | 50m (165ft) |
The Broadway GMT watch is equipped with an H-14 automatic caliber, which is similar to the H-10 movement but with an additional complication by means of GMT. It has 80 hours of power reserve, 25 jewel bearings, and a standard 21,600 vph frequency.
A nice visual element is a bezel with two rows of world cities. It combines swiftly with the vertically striped dial and black leather strap. Moreover, it's made of ceramic and not aluminum, which is a nice addition to a sub-$1,000 timepiece.
Compared to many other Hamilton watches that mostly stay on the smaller end of the size specter, the Broadway GMT is an oversized watch that measures 46mm. Therefore, it goes best with above-average wrists (more than 7.3in) rather than slim hands.

Warranty Policy
Hamilton watches come with a 2-year limited warranty, effective from the date of purchase. The international warranty covers the material and manufacturing defects existing at the time of delivery.
If there's a defect, your Hamilton watch will be repaired free of charge or replaced with another watch of identical or similar features.
What's essential, though, is that the warranty certificate must be dated, fully and correctly completed and stamped by an official Hamilton dealer. Otherwise, it is void.
You can have a look at the full warranty conditions here.

Are Hamilton Watches Good?
Now that we've covered almost everything you should know about Hamilton watches, there's still a question that needs a definitive answer – are Hamilton watches good?
Absolutely.
Hamilton watches are exemplary timepieces from reputable Swiss production. Considering the quality, especially the quality of automatic calibers, you will get a value deal that only a few in the industry offer.
Reliable automatic calibers, durable and high-quality materials, and unflappable reputation in numerous walks of life are the evidence of Hamilton's dedication to producing the best possible.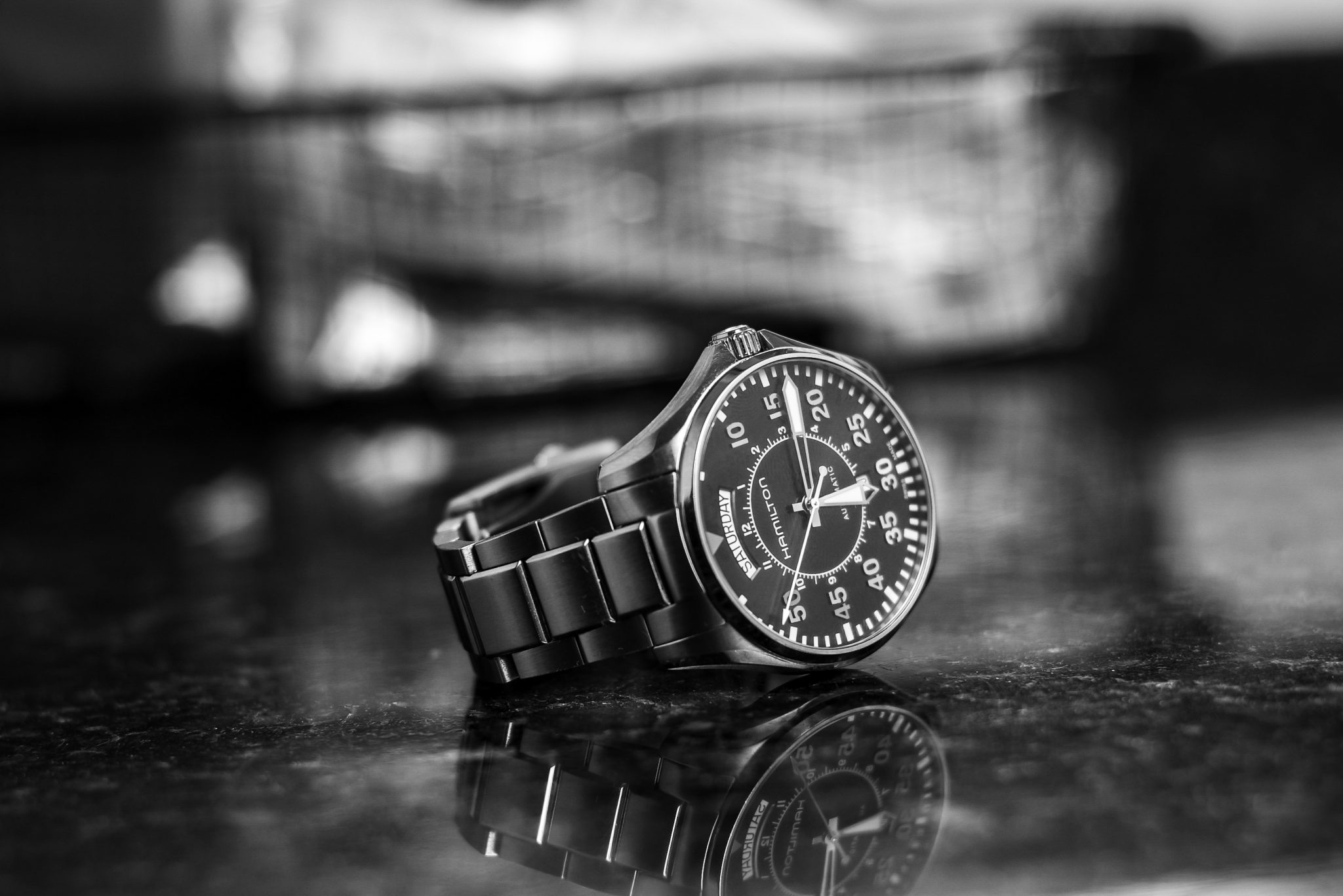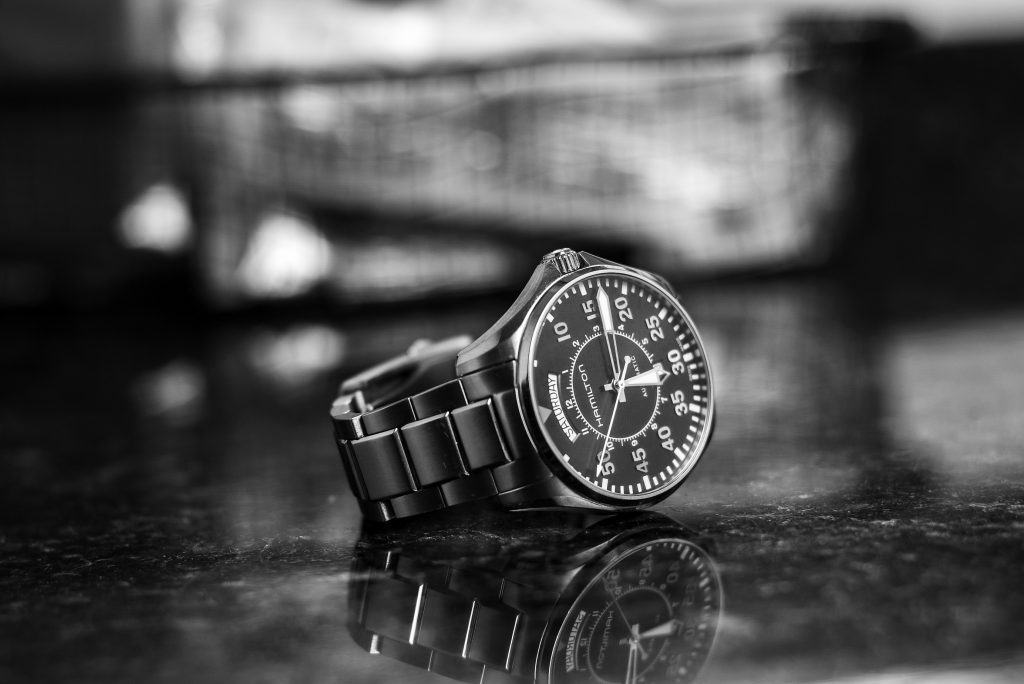 But are Hamilton watches good enough even for the most demanding segment of customers?
It depends.
When a possible buyer is looking for something luxurious, then an Omega or Breitling would do better for an extra thousand or two. Higher grade materials and movements, as well as even more rigid quality controls compared to Hamilton, determine their standards for being classified as luxury brands.
However, those who can not afford to pay several thousand for a wristwatch must settle with the highest possible price-quality ratio that is available. In this matter, Hamilton is one of the go-to brands to turn to.
If there's anything to complain about Hamilton watches, it's the somewhat limited option for affordable chronograph watches. For example, Tissot sells several of its chronographs for less than $500, while Hamilton doesn't.
Other than that, Hamilton has basically every style covered, and the watches are available for pretty affordable prices.

Final Take
So, what to make of Hamilton watches?
They are of great quality, have a militaristic touch, and possess a prestigious reputation.
What's even more important is that although the brand has been Swiss for the past decades, it hasn't forgotten its American roots and militaristic history, which makes the appearance of Hamilton watches just like it is right now.
As a result, it's not difficult to point out a Hamilton watch from the crowd due to its unique, recognizable design.
We hope this Hamilton watches review has given you a thorough insight into this magnificent Swiss-American brand and its sophisticated timepieces. Whatever the watch you choose, you can be sure it'll last you for years to come.
You may also like:
Affiliate Disclosure: As an Amazon Associate I earn from qualifying purchases. Details
Latest posts by Carl Pender
(see all)