Affiliate Disclosure: As an Amazon Associate I earn from qualifying purchases. Details
Ever since dive watches became widely available, they have featured various styles to be more than purpose-built tool watches with rigid design. Hence, it's quite common to find diver's pieces with emerald green or orange faces and with differently styled straps.
But a dive watch is first and foremost meant for the occasion. Besides the need to be extremely water-resistant, it also has to be legible in broad daylight as much as deep down in the water. Therefore, luminous hour markers and hands on a dark-toned dial are almost a must.
However, not all watches follow the same pattern. For example, a white dial dive watch is a breeze of fresh air for its unique aesthetics compared to typical divers. It may not be as legible as dark ones in daylight but will offer plenty of lume in dim conditions.
As much as we would like to have a vast selection of white face divers, the reality is that they are not abundantly available. Hence, the purpose of this post.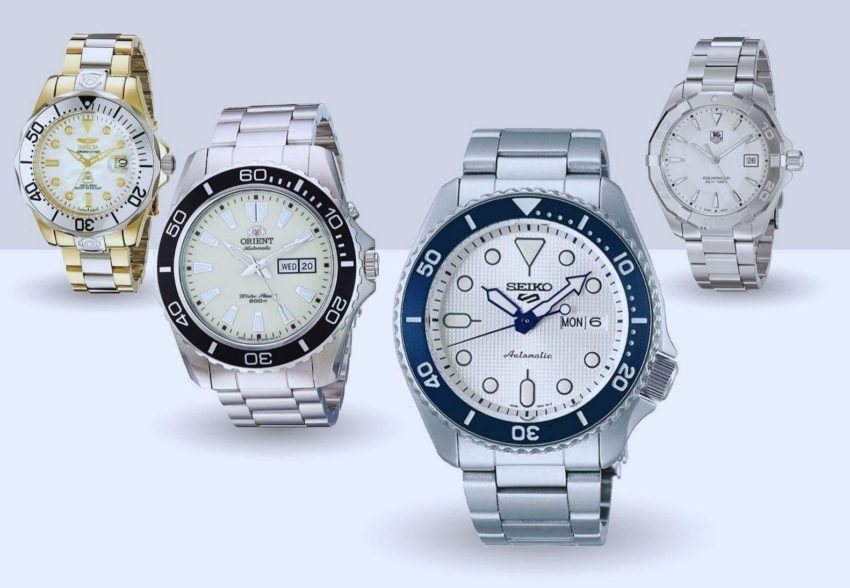 Affordable White Dial Dive Watches
We were able to compile a list of thirteen white face divers watches from manufacturers with very different backgrounds. On one end of the specter, there are well-known Swiss and Japanese producers, while on the other, fashion-oriented watchmakers that strike with wonderful aesthetics.
A dive watch is nowadays as much a casual everyday timepiece as it is a proper tool watch for professional diving. Therefore, we've decided to add a couple of dive-inspired watches as well.

Orient Mako XL
Case size: 44.5mm
Water resistance: 200m (660ft)
Movement: Automatic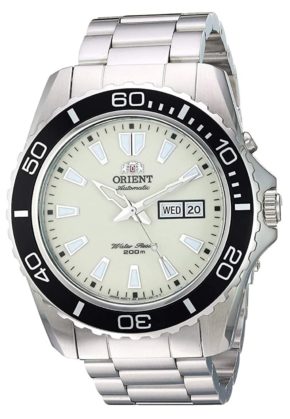 Our first white face diver, the Orient Mako XL, is the best watch one can have for professional marine activities. It has all the necessary features, including a 200m (660ft) water resistance, unidirectional bezel, screw-down crown and caseback, and great luminosity.
Like the name already suggests, this Mako XL is a larger version of the classic Mako with a case diameter of 45mm. However, despite the somewhat bigger face, it won't feel too bulky on a wrist due to the three-link metal bracelet that takes off some of the burdens from the case. Further, the lug-to-lug distance stays at a modest 51mm, while the height measures a convenient 14mm.
In terms of other aspects of the appearance, the dial is unique for not only the light-toned creamy color but also for the fully luminous dial, along with lume-filled hands. The hour markers are bold and rectangularly shaped but don't come luminescent (for obvious reasons, of course).
On top of the awesome features, this Orient piece already comes with is the fact that it runs on a reliable 46943 automatic caliber, which keeps decent accuracy. And when you combine all of the characteristics, the price tag of around $300 becomes a real bargain for such a complete timepiece.

Seiko SRPG47K1
Case size: 42.5mm
Water resistance: 100m (330ft)
Movement: Automatic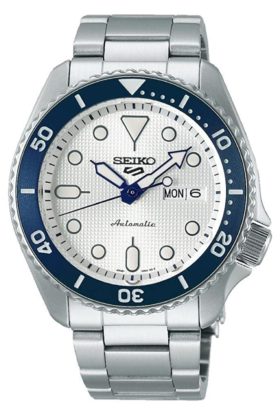 When it comes to proper dive watches, Seiko is probably the first name on everybody's lips. Throughout their long years in business, they've managed to establish a trustworthy reputation that is hard to beat. In fact, some of the best affordable dive watches come precisely from Seiko.  
Celebrating their glorious 140 years of existence, they've come out with a limited edition Seiko SRPG47K1 that has an unusual white dial and luxurious feel to it.
Although the SRPG47K1 is not a professional diver's watch (it has a non-ISO 10 ATM water resistance) but rather a desk-diver, it comes with top-notch quality.
The core of the watch is the 4R35 automatic caliber that is a known workhorse with little to complain about. It is a hand-windable and hackable movement with a power reserve of 40 hours, which tick the boxes for most aficionados.
Like many automatics, this one, too, has a transparent caseback that lets you peek into the workings of the complicated mechanism.
The overall appearance suggests a much pricer watch than this Seiko actually is. With the textured white dial and mild blue bezel, the timepiece is sure to catch envious glimpses of others.

Seiko Prospex SRPE37
Case size: 44mm
Water resistance: 200m (660ft)
Movement: Automatic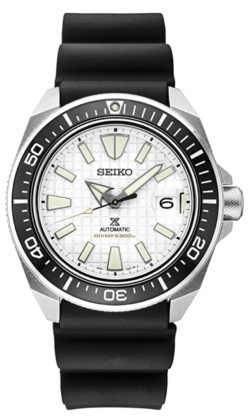 Unlike the previous Seiko model, the Seiko Prospex SRPE37 is a heavy-duty diver's piece with a 200m (660ft) water resistance rating appropriate for professional submersion.
A good thing about this watch is that it is not only applicable for professional marine activities but also for casual everyday events and occasions. With a pleasant square-patterned white dial and a contrasting black bezel surrounding it, the SRPE37 model is a bang-on all-rounder.
While most Seiko divers sport the brand's proprietary Hardlex crystal and aluminum bezel ring, the SRPE37 adds a bit of uniqueness with sapphire crystal and ceramic bezel. These additions are not only unique among the line-up but also of higher quality, offering much better scratch resistance and durability.
All in all, the automatic Seiko SRPE37 is a distinctive watch that excels in being both hard-wearing and good-looking.

Seiko 5 Sports SRP481K1
Case size: 44mm
Water resistance: 100m (330ft)
Movement: Automatic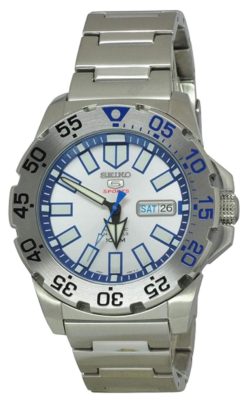 Another watch from the Japanese manufacturer is the Seiko 5 Sports SRP481K1. Also referred to as "Baby Monster" or "Ice Monster," the watch is similar to the famous Seiko Monster but doesn't come with a build of a professional diver as the original one does. 
Nevertheless, the SRP481K1 is a genuine water sports piece for submersion due to a water resistance rating of 100m (330ft). So, anything lighter than shallow diving won't do any harm to it.
But what catches the eye with this Seiko is the icy blue tone on a white dial. The combination of the colors makes it really stand out from the crowd by providing a unique appeal. The hour markers that remind the monster's teeth are other eye-catching elements. Along with watch hands, they come with fantastic luminosity, too.
The heart of this Seiko belongs to a 4R36 automatic caliber with hand-winding and hacking features. The movement makes six steps in a second, so the luxurious gliding motion of the second's hand is guaranteed.

Tag Heuer Aquaracer
Case size: 40.5mm
Water resistance: 300m (1,000ft)
Movement: Quartz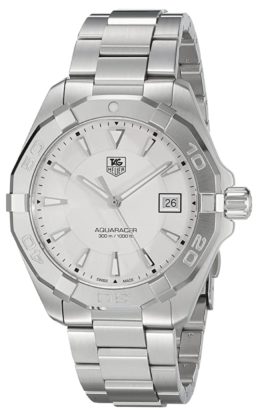 The Tag Heuer Aquaracer is a watch that oozes class and quality. Originating from the famous Swiss industry, it's no wonder the timepiece is in high regard among watch enthusiasts.
This premium-level watch is a purpose-built diver with its 300m (1,000ft) water resistance. Combined with bright luminescence and a stylishly designed one-way rotating bezel, it is as practical as dive watches go these days.
In contrast to most of the watches on this list, the Tag Heuer timepiece is powered by a quartz movement. As a result, it's not as glamorous as an automatic equivalent but, on the other hand, offers better accuracy and is much cheaper.
In terms of legibility, the white face with silver-tone hands and indices may not be the best combination. However, due to an anti-reflective sapphire crystal, the readability is enhanced drastically.
All in all, if you're willing to spend some extra bucks, the Tag Heuer Aquaracer will be an excellent timepiece with an eye-catching design and unparalleled quality.

Victorinox I.N.O.X. Professional Diver
Case size: 45mm
Water resistance: 200m (660ft)
Movement: Quartz
If the previous entry falls out of your price range, we have a much more affordable Swiss-made white face diver's watch coming up – the Victorinox I.N.O.X. Pro Diver.
The I.N.O.X. collection offers highly durable timepieces that go through rigid tests before going on sale. They are also beautifully designed, enabling their use for casual everyday wear. Hence, the white Victorinox Pro Diver is a spot-on companion for various occasions.
But, first and foremost, it is a through and through dive watch. Equipped with a 20 ATM water resistance that is compliant with rigorous NIHS 92-11 standards (equivalent to ISO 6425), the timepiece can be submerged to great depths without any concerns.
The other characteristics of proper dive wristwear are also present, such as the unidirectional bezel and screw-down crown. Luminosity, in particular, has received the best feedback from owners for its very bright glow, which is often unusual for an affordable Swiss watch.
However, one element of this Victorinox might not suit many, namely the white rubber band. The good news is that the brand has quite an extensive selection of straps available. For example, the same-sized rubber straps also come in blue and black colors.

Invicta Grand Diver 300M
Case size: 47mm
Water resistance: 300m (1,000ft)
Movement: Automatic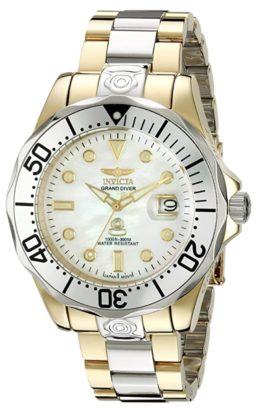 The following diver's piece from Invicta may seem more of a fashion watch rather than a genuine tool watch, especially considering its price tag just above the $100 mark. However, first impressions shouldn't always be trusted.
The Invicta Grand Diver 300M has fetching aesthetics when the 18K gold ion-plated case and bracelet give an impression of a multi-thousand dollar timepiece. It's also on the larger end of the watch, measuring 47mm in diameter.
The dial beneath the mineral crystal is of white mother of pearl that houses gold-tone hands and hour markers and a magnified date window.
But the Grand Diver offers a whole lot more than just the visual flair. As such, you'll find a 300m (1,000ft) water resistance rating that enables it to be worn for serious water activities, including scuba diving. Further, it comes with decent luminosity and a one-way rotating click bezel, adding to the practicality a serious dive watch should have.
Last but not least, the Invicta Grand Diver runs on a Japanese automatic movement, complementing the awe-inspiring features for the money.

Invicta Pro Diver 40mm
Case size: 40mm
Water resistance: 200m (660ft)
Movement: Automatic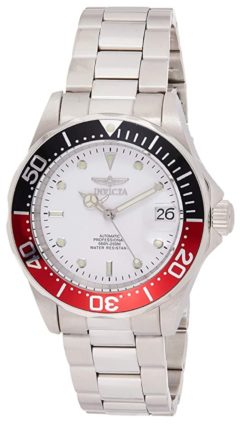 Invicta has several other white face dive watches besides the Grand Diver model, such as the Invicta Pro Diver watch. It is one of the few 40mm dive watches currently available, making it quite special not only because of the dial color but also for its size.
The Pro Diver watch is dirt cheap compared to other 200m water-resistant dive pieces, staying well below the $100 line. Although it may not be on par with a Seiko or Orient watch quality-wise, it is nevertheless worth trying.
One of the pros of this timepiece is Seiko's non-branded NH35A automatic caliber. The movement has a standard 40-hour power reserve and a frequency of 21,600 vph (6 ticks a second). Accuracy-wise, it keeps decent precision for an automatic watch.
In terms of appearance, the white dial comes with luminous hour markers and hands and is surrounded by a black and red bezel. For not having an edged design, however, the bezel is somewhat difficult to handle. But, other than that, all the other features of this watch are well-functioning.
A flair-adding element in most Invicta watches is a transparent caseback that showcases part of the intrinsics of a complicated automatic caliber. A noteworthy difference in comparison to other self-winding pieces with a similar design is Invicta's unique yellow spinning rotor. 

Luminox White Face Dive Watch
Case size: 44mm
Water resistance: 100m (330ft)
Movement: Quartz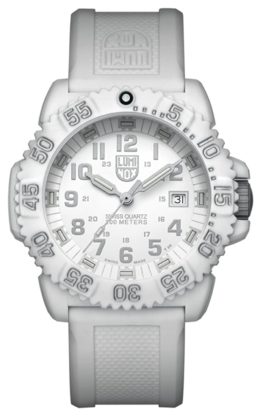 Our next entry is also unique in the industry but not in terms of appearance but efficiency-wise. Luminox, a US brand that produces Swiss-made military watches, has put great emphasis on the legibility of timepieces. 
As such, the vast majority of the brand's watches come with a proprietary Luminox Light Technology that comprises tritium tubes placed on hands and hour markers with a 25-year lifetime. Luminox watches are thus one of the best luminous timepieces one can have.
The Luminox White Dial watch is also equipped with tritium tubes that glow indefinitely and without the need for a light source to power them. The technology is a spot-on feature for diving as well. And the watch overall is a wonderful companion for the occasion, especially considering the 200m (660ft) water resistance it features.
The all-white Luminox is often marketed as a women's timepiece due to its feminine appeal. However, men can equally wear the watch without any ambiguities.
An element that may cause it is the white rubber band the timepiece comes with. Those not in favor of the band can opt for other colors as Luminox offers a variety of different straps.

Spinnaker Vintage Fleuss Automatic
Case size: 43mm
Water resistance: 150m (500ft)
Movement: Automatic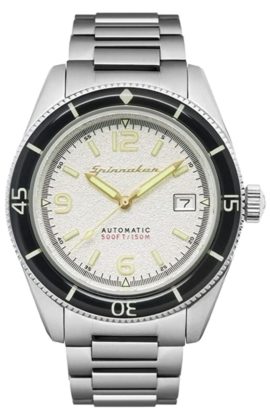 The Spinnaker Fleuss Automatic is a vintage diver's watch with a rough white dial and golden hands and hour markers. The aesthetics of this piece suit a wide variety of occasions and go perfectly well with different attires.
The Hong Kong-based micro brand has equipped the Fleuss watch with an NH35A automatic caliber, the same as in the majority of Invicta timepieces.
And since it's a dive-inspired watch, you can also expect a decent water pressure resistance, which stands at 150m (500ft). However, being a desk-diver, anything greater than purely swimming and snorkeling shouldn't be considered.
What's noteworthy with this Spinnaker is the existence of a high-class sapphire crystal that comes with an anti-reflective coating. Along with a solid stainless steel case and bracelet and favorable design, the watch proves to be a durable and subtle desk-diver worth discovering.

Casio G-Shock Core Guard
Case size: 49mm
Water resistance: 200m (660ft)
Movement: Quartz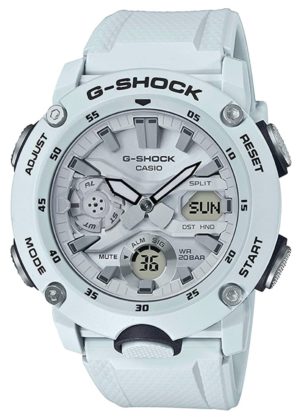 A white dial dive watch different from others on this list is the Casio G-Shock Core Guard. Although it's not a purpose-built diver, but instead a universal outdoors watch, it fits the bill for anyone interested in a highly water-resistant timepiece.
The Core Guard has a 200m (660ft) water resistance rating as it is in every G-Shock watch. The lighting has been resolved with a full dial LED light that illuminates the analog face and digital displays separately. In addition, the watch hands come with luminous paint.
Since the G-Shock line is famous for the uncountable features present in watches, you can also expect the Core Guard to have several of them. The likes of a 1/100-second stopwatch, countdown timer, daily alarms, and World Time are functions a true outdoorsman appreciates.
For a sub-$200 price this timepiece comes with, it is hard to find any more complete dive-enabled watch.

Nixon 51-30
Case size: 51mm
Water resistance: 300m (1,000ft)
Movement: Quartz chronograph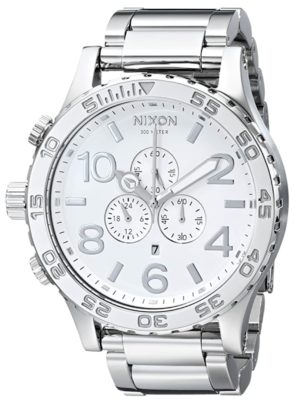 The Nixon 51-30 Watch is a dive-inspired white face ticker that will definitely turn the heads of by-passers.
It is one chunky piece with a 51mm case diameter and 15mm height, which is quite a lot for a quartz watch. But since this oversized timepiece caters to the fashion-minded public rather than watch connoisseurs, it is all loud and clear. 
Inspired by the looks of a professional dive watch, the Nixon features a left-handed pusher design and a rotating bezel. However, a function genuine divers typically don't come with is the chronograph function, depicting the fashion-oriented purpose of this watch.
Although it comes with a seemingly astonishing 300m (1,000ft) water resistance, the watch is not meant for deep diving and not even for shallow diving. The resistance level has been tested in still water conditions for a couple of minutes, which doesn't take into account real conditions underwater. Therefore, use it for swimming and snorkeling only.
The Nixon might be a tad too expensive for an average Joe. But, let's be honest, for a fashionable man, it will fit the bill without any doubt. And we must admit the watch looks impressive, indeed.

Momentum M-Ocean Diver
Case size: 37mm
Water resistance: 200m (660ft)
Movement: Quartz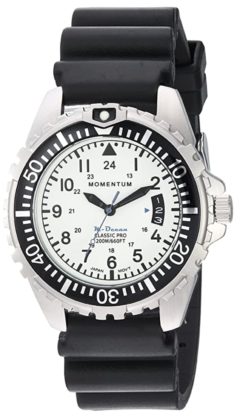 Our last entry among the top white face dive watches is the Momentum M-Ocean Diver.
The relatively unknown brand to the wider public from Canada specializes in producing waterproof and durable watches and assembles them in Vancouver, using quality parts from all around the world.
And when looking at the M-Ocean Diver, there's plenty to admire considering its sub-$200 valuation. For example, it is suitable for shallow diving, has a solid unidirectional bezel, and features a full-dial lume.
The quartz-driven ticker represents the smaller end of timepieces, measuring only 37mm in diameter. Moreover, with the existence of a bezel, the perceptible size is even smaller. Thus, men with slender wrists should definitely consider this watch.

Closing Words
A white dial dive watch is a rarity that can complement every man's outfit and collection. Unfortunately, the fact they are not abundantly available doesn't offer a rich choice to choose from. However, the divers we were able to compile to this shortlist have enough differences, designs, and features for some variegated selection.
Whether you prefer classics from Orient and Seiko or more fashion-minded Nixon and Invicta watches, one thing is certain – white face dive watches are unique and worth every penny.
True, some of them may not be for professional diving, but hey, how many of you are going to use them for the occasion, anyway? What truly matters is an excellent water resistance and the looks of a classic dive watch design.

You may also like:
Affiliate Disclosure: As an Amazon Associate I earn from qualifying purchases. Details
Latest posts by Carl Pender
(see all)