Affiliate Disclosure: As an Amazon Associate I earn from qualifying purchases. Details
Watch decorations have always drawn people into buying watches, especially those who typically are not that much into timepieces. One of the decorations that instantly catches the eye and turns people into buying a watch is the Sun and Moon aperture.
In this blog post, we will introduce you to this type of watch and explain what a Sun and Moon watch is. The second part concentrates on the most outstanding watches that feature this particular function.
Therefore, bear with us in discovering the world of Sun and Moon watches.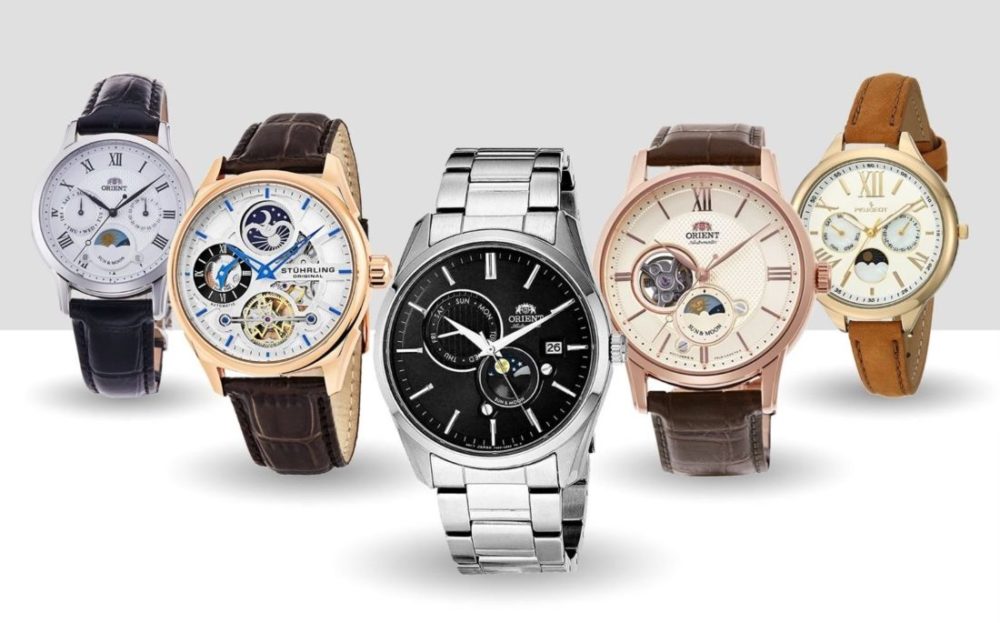 What Is a Sun and Moon Watch?
A Sun and Moon watch is a timepiece with a crescent-shaped aperture that depicts the alternations of the sun and moon.
The sun moves from the left of the aperture to the right from the morning until the evening, while the moon makes the same journey from the evening until the morning.
Typically, a Sun and Moon watch has the sun on display from 6 AM to 6 PM and the moon from 6 PM to 6 AM. Therefore, you can also call such a watch an AM/PM watch, with the only difference being that the switch happens at six o'clock and not twelve.
The working mechanism isn't anything super complicated.
It has a wheel with oppositely-placed sun and moon that is synced with the 24-hour time. So whenever the hours of the watch run, the Sun and Moon wheel moves along.

Sun and Moon Watch vs. Moonphase Watch
It often happens that Sun and Moon watches get mixed with moonphase watches due to their similar appearance. However, they are totally different from each other.
When a Sun and Moon watch simply alternates the sun and moon, a moonphase watch graphically depicts the different phases of the moon, all the way from the waxing to the waning phase. Also, moonphase watches cost significantly more due to their more complex build and design.
Therefore, Sun and Moon watches are cheaper alternatives to more prestigious moonphase watches with similar appearances.

Best Sun and Moon Watches
Despite the fact that Sun and Moon Watches aren't anything super complicated in terms of build and are much more affordable than moonphase watches, there are still a handful of models carrying that beautiful complication.
As a result, the array of styles and designs is quite limited, and those interested have the opportunity to pick the watch from only a couple of manufacturers.
Fortunately, these manufacturers provide decent quality standards, meaning you can rely on their production.
We have compiled the best Sun and Moon watches in the following shortlist.

Orient Sun & Moon Open-Heart Watch
Case Size: 42mm
Movement: Automatic F6L24
Crystal: Sapphire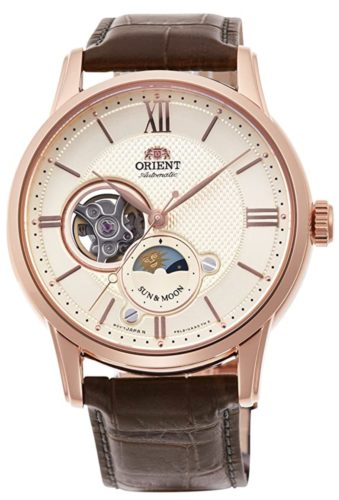 The broadest selection of these types of watches comes from the appreciated Japanese manufacturer Orient. The brand has excelled in terms of the quality of its watches ever since its reappearance in 1950, and you can expect excellent quality from this particular watch as well. 
This Orient is an automatic mechanical timepiece with an in-house caliber and a magnificent open-heart cut.
The opening lets you peek into the complex mechanism of an automatic movement and provides a mesmerizing back-and-forth beating of the balance wheel.
The watch holds a 40-hour power reserve and offers manual winding and hack features. In terms of accuracy, the caliber deviates around 15-20 seconds per day, which is pretty much the average result you get from affordable automatic watches.
The beautiful open-heart design is coupled with a crescent-shaped Sun and Moon aperture with a classic yellow-blue color combination. Both of the apertures lie on a sophisticated patterned dial, resulting in luxurious looks that can easily fool people into thinking it's an expensive watch.
The overall design of this Orient is very dressy with its standard 42mm case diameter, thin Roman numerals, and classy brown leather strap. It means the watch is a spot-on timepiece for an office job and festive occasions.
All things considered, this Orient is the best of its kind. And although it costs more than others, it is for a good reason – when properly taken care of, the watch will last you for decades. 

Orient Sun and Moon "Version 5"
Case Size: 41.5mm
Movement: Automatic F6B24
Crystal: Sapphire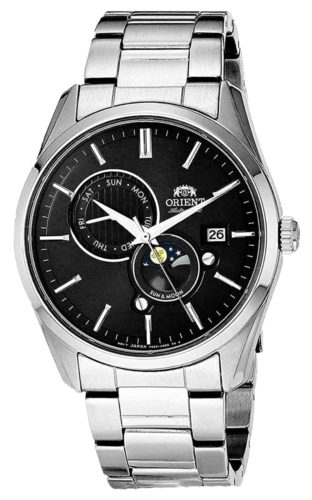 Besides the semi-skeleton options, Orient has several other designs of this decorative type of watch. 
The brand started with the Version 1 model with hour indices, continued with dressier Roman and Arabic numbers in the following iterations, and has come back to the original indices design with this Version 5 model. Compared to the previous models, Version 5 is sportier, offering a new perspective to this legendary line.
The watch comes with two distinctive windows – one is for the weekdays and the other for the Sun and Moon. What makes the latter especially eye-catching in this Orient is that the yellow tone really sticks out with its contrast on a dark background.
Also, the design of the sun and moon is much more appealing than we've seen in other watches.
Version 5 also surprises with a much better crystal. It has swapped mineral glass for a scratch-resistant sapphire that is almost impossible to scratch.
When it comes to movement, this Orient is equipped with the self-winding and hacking F6B24 caliber. It is durable, keeps accurate time, and is rare to malfunction.
However, what you should look out for is the metal bracelet. Although it looks good and fits perfectly with the case, it has hollow end links that cause an unpleasant rattling noise. While many wearers don't mind it, the noise can become annoying for some wearers.
Fortunately for those, Orient offers a similarly designed rose-gold tone and leather strap Version 5.

Stuhrling Anatol 371
Case Size: 46mm
Movement: Automatic ST-91011
Crystal: Krysterna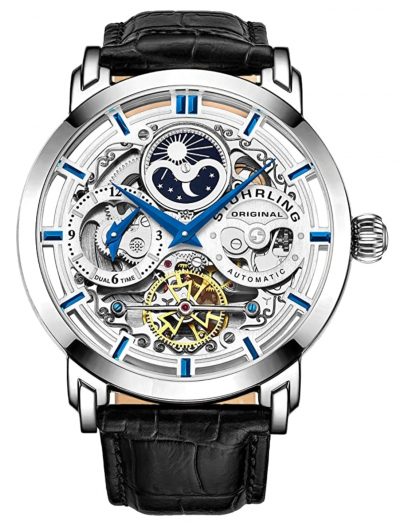 The Stuhrling Anatol 371 is a unique Sun and Moon watch – it is fully skeletonized and comes with an extravagant appearance you won't find elsewhere.
The watch has four subdial-like elements, with two of them being purely for aesthetic purposes. The other two are occupied by dual time and Sun and Moon aperture.
The aperture is different from others for its design where both the sun and moon are visible, no matter the time of the day. It is also styled more contemporarily and won't draw as much attention as the classic version. It's a good thing as it blends much better with the overall design.
When it comes to quality, the Stuhrling Anatol isn't as reliable as Orient watches due to its Chinese automatic caliber. But don't get me wrong, the caliber isn't bad or low-quality. It keeps decent time and has nearly 40 hours of power reserve, but it just isn't as proven as Orient's in-house movements.
You can read more closely about the quality levels, as well as the history and other watch styles of the brand from our Stuhrling review.
All in all, the Stuhrling Anatol is an extravagant timepiece that is sure to catch attention. Its size at 46mm won't help make it less eye-catching either. Therefore, go for this watch if your wrist measures above the average and your style is more courageous than normally men have.      

Stuhrling Skeleton 657Z
Case Size: 42mm
Movement: Automatic ST-91011
Crystal: Krysterna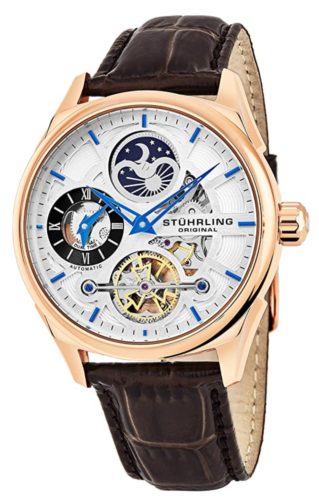 Another Stuhrling watch with a pompous appearance, though not as much as our previous entry, is the Stuhrling 657Z. The watch leans more towards dressier appeal but maintains its extravagance.
It measures a comfortable 42mm in diameter, comes with a brown leather strap, and has a pleasing rose-gold tone.
The dial isn't too crowded with a dual time window, Sun and Moon aperture, and open-heart cuts. The Sun and Moon is the same as in the Stuhrling Anatol – with a two-tone design with both the sun and moon visible.
When moving inside the case, there is a Chinese-origin automatic caliber with about 38 hours of power reserve. The accuracy is okay, and you can also manually wind the watch. The caliber isn't anything spectacular, but it will do the job.
When leaving aside the somewhat stiff leather strap, the Stuhrling 657Z is a good-looking and comfortable watch. It fits the bill with most wrist sizes and goes well with smart and smart casual outfits.
However, if you're not quite into rose-gold tones, check out the silver-toned and black versions of the same model. They offer a more casual appearance and also cost a hundred or so dollars less.

Peugeot Sun & Moon Calendar Watch
Case Size: 40mm
Movement: Japanese quartz
Crystal: Mineral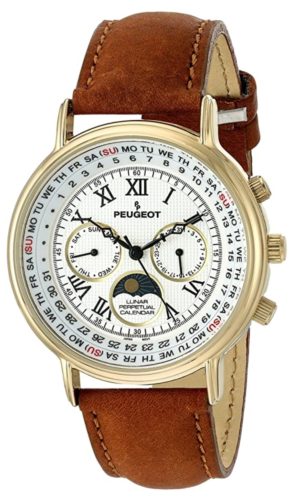 The Peugeot Sun & Moon watch is the most affordable on this list, costing a little less than $100. What makes it affordable is that it runs on quartz movement, which isn't as intricate as automatic calibers.
However, when it comes to appearance, the watch is as good as any other Sun and Moon watch.
The central feature of this Peugeot watch is a calendar, comprising the day and date subdials. Also, there are two inner rotating discs that can be set to show the date with a corresponding weekday for up to a month.
I'm not quite sure why they've named it a perpetual calendar because it is not. A genuine perpetual calendar shows the correct day and date for up to decades, considering leap years and the number of days in each month. This watch doesn't do that.
Be that as it may, the appeal of the whole outcome is beautiful, especially if you add the Sun and Moon aperture with its yellow-blue design on top of it.
However, one of the shortages this Peugeot has is its low water resistance, or in other words, its non-existence. Therefore, make sure you don't wash your hands while wearing it or engage in any other water-related activity.

Fossil Women's Jacqueline
Case Size: 36mm
Movement: Japanese quartz
Crystal: Mineral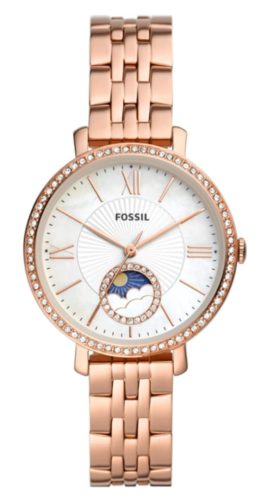 The Fossil Jacqueline we have up next is the most gorgeous and luxurious-looking women's Sun and Moon timepiece.
It comes in rose gold-tone stainless steel with a decorated case ring and a mother of pearl outer dial. Combined with a textured inner dial and a Sun and Moon aperture, the Fossil Jacqueline is one stunning watch to decorate the wrist.
In terms of durability, there's nothing to complain about either.
The watch is equipped with a quartz movement that is accurate to +/-15 seconds per month, a hardened mineral crystal with decent scratch resistance, and a 30m (100ft) water resistance to withstand occasional water exposure.
The good news is that the same design is also available in silver, gold, and a combination of these two. So if for some reason the rose gold isn't your cup of tea, you can opt for other colors.

Orient Classical Sun & Moon
Case Size: 35mm
Movement: Japanese quartz
Crystal: Mineral
When the Fossil Jacqueline is the most gorgeous option, the Orient Sun & Moon is, by far, the most long-lasting. The watch comes from a brand that is a recognized manufacturer with a storied history and exemplary record.
However, unlike most Orient watches that are automatics, this particular model is a battery-powered quartz watch.
It's not as appreciated and sophisticated as an automatic watch but, on the other hand, is much more accurate and doesn't run out of energy until the battery runs empty.
Appearance-wise, this Orient is a classic dress watch with Roman numerals, archaic hands, and an elegant face. It is also highly practical as, besides the timekeeping, it also features a calendar. The day and date are displayed on the two subdials at 3 and 9 o'clock.
On top of all that, you can admire the beautiful Sun and Moon window.

Peugeot Women's 14K Gold-Plated Watch
Case Size: 37mm
Movement: Japanese quartz
Crystal: Mineral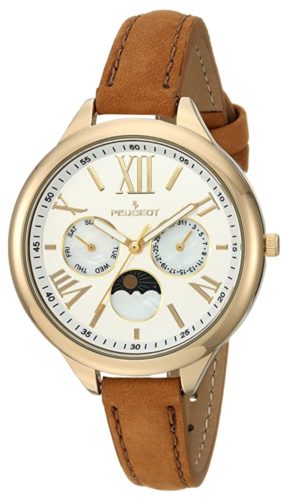 The Peugeot Women's Sun & Moon is the most affordable option out of the three. It is not as elegant and decorated, which makes it suitable for casual everyday wear.
For daily wear, it has a neat and practical calendar function with the date and the day of the week windows. Adding a little bit of flair is the Sun and Moon aperture at the bottom of the dial with a classic yellow-blue design.
When it comes to the strap, it's leather with a fuzzy finish (also known as suede). Unlike many leather straps, this one isn't stiff but pleasantly soft, grabbing the wrist comfortably.
All in all, it's a decent watch for less than $100 that will serve you for years to come.

Final Words
A Sun and Moon watch is a timepiece that will surely catch attention. True, its colorful aperture depicting the alternations of the sun and moon may not own much practicality, but it's not the purpose of it anyway. What really matters is how it looks on a dial and how it combines with other elements.
We hope this article has been of help to you in understanding what a Sun and Moon watch is and finding yourself that perfect one to be proud of.

You may also like:
Affiliate Disclosure: As an Amazon Associate I earn from qualifying purchases. Details
Latest posts by Carl Pender
(see all)