Affiliate Disclosure: As an Amazon Associate I earn from qualifying purchases. Details
It's not difficult to find a watch with luminosity these days due to the relatively low cost of the various lighting technologies. However, not all the watches glow the same when one lights up the night while the other offers only a faint lume barely visible for an eye.
If you're after a timepiece that offers top-notch self-illumination, then follow our shortlist of the best luminous watches, where we've compiled the brightest and the most long-lasting men's luminous wristwatches currently available.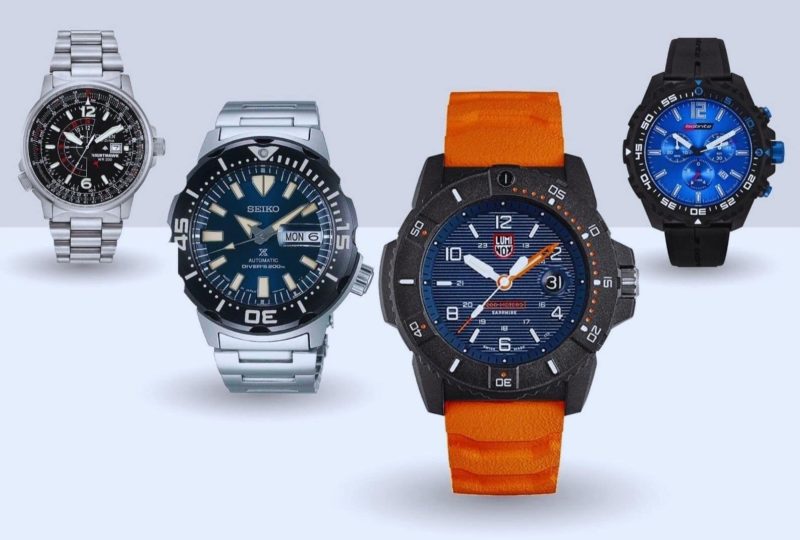 Luminescence Technologies
But before heading to the list, let's have a brief insight into the most prevalent self-illuminating technologies. 
All of them have their pros and cons, so make sure to evaluate them in order to end up with the most appropriate luminous watch right according to your needs.

Tritium Luminosity
Luminous watches with tritium luminosity are probably the most sought-after because of the endless glow that could reach up to several decades. The technology doesn't require any batteries nor frequent light exposure, making it an utterly convenient type of luminosity.
One of the downsides, however, is the brightness of the lume when it tends to be fainter compared to other technologies. The lume's strength can not be enhanced either due to the specifics of the technology. 
The working principle of tritium luminosity is down to a glass tube that is internally coated with phosphorus powder and filled with tritium gas. Phosphorus is a luminescent material, so placing it together with tritium that is radioactive ensures a long-lasting luminous effect.     

Luminova & Super-LumiNova
When tritium luminosity doesn't require any light to glow, the photoluminescent technologies are heavily dependant on that. 
Luminova and Super-LumiNova, the most famous and widely employed photoluminescent lumes, are basically the same things. The only difference is that the abbreviation of Super indicates a Swiss-made quality, whereas simply Luminova is an international product. 
The luminosity is achieved through a non-radioactive and nontoxic photoluminescent material painted on watch hands and hour markers. The more layers of the paint, the better is the glow, eventually. But, unfortunately, more of them also means a higher price. So, many brands have opted for only one layer of paint.
The most significant advantage of the technology is the possibility for a very bright glow when more than one layer of paint is applied. However, the biggest con is that it requires frequent light exposure for it to glow brightly. On average, the lume lasts between 2-8 hours.       

LumiBrite
LumiBrite is also an photoluminescent material, sharing the same characteristics as Luminova and Super-LumiNova. However, you'll only find LumiBrite from the Seiko corporation brands of Seiko, Orient, Pulsar, and Lorus since it was developed by Seiko in 1995.   
Luminous watches with that technology have a long output duration and strong glow intensity, comparable to multi-layered Luminova and Super-Luminova timepieces.

NeoBrite
NeoBrite is a luminescence technology found in most Casio watches. It is comparable to LumiBrite for being bright and long-lasting, providing glow for 5-8 hours and requiring only 10-15 minutes of light exposure for getting fully charged. 

Best Luminous Watches
Now that the various luminous technologies are covered, it is about time to check out the best luminous watches with the brightest and longest glow in the dark.
We've chosen ten watches from ten different affordable watch manufacturers to give you a broad overview of the top brands that are worth pursuing if the best lume is what you're after. 
Here they are!

Luminox Navy Seal Blue Watch
Case Size: 45mm
Movement: Quartz
Type of Luminosity: Tritium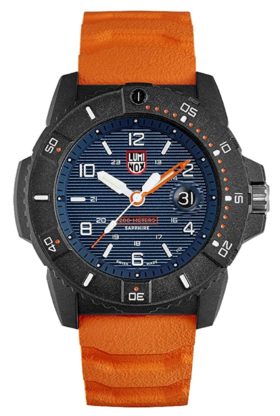 The Luminox brand, which means "bright night" in Latin, was established precisely to provide watches with unparalleled luminosity. It's far from an exaggeration to state they've achieved in doing that when every Luminox timepiece is equipped with T25 tritium tubes that will glow for up to 25 years.
The Luminox Navy Seal Blue Watch, which we chose out of the extensive line-up the brand offers, is one of the best luminous watches not only because of the fantastic tritium lume but also because of its superb build quality. 
As such, you'll find a premium-class sapphire crystal with an anti-reflective coating, ensuring a carefree time capture in broad daylight, as well as astounding scratch resistance. 
The watch sticks out with its lightweight matte carbon compound case as well. Carbonox, as Luminox calls it, is also resistant to temperature changes, meaning it does not get hot or cold. These characteristics make this Luminox watch an ideal companion for severe conditions outside. 
This through and through rugged outdoors watch is more than capable in the water as well when a 200m (660ft) water resistance offers the possibility to dive with it. The Navy Seal watch even has a unidirectional bezel, screw-down crown, and caseback for this purpose.

Seiko Prospex Monster SRPD25
Case Size: 42mm
Movement: Automatic
Type of Luminosity: LumiBrite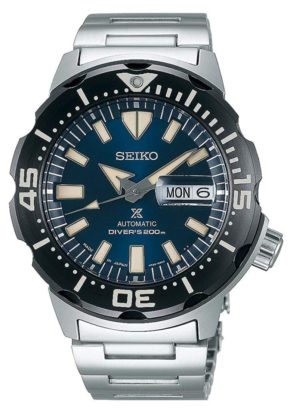 When it comes to photoluminescent lighting technologies, then Seiko, with its LumiBrite innovation, is the best value-for-money option for top-notch self-illuminating watches. 
The vast majority of Seiko watches, especially the dive ones, come with a very bright lume. However, one watch is considered the best by many in terms of brightness – the Seiko Prospex Monster. 
The luminescent hour markers are dimensionally larger and thicker than in other Seiko pieces, which enables them to offer plenty of glow, too. The luminescent layers on watch hands are equally thick, so there won't be any mismatch between the luminance of hands and hour indices. 
The Seiko Monster is a professional dive watch, possessing an ISO 6425 standard, a one-way rotating bezel, and a screw-down crown at a convenient 4 o'clock position. You'll also find a shatterproof domed Hardlex crystal covering the dial.
The heart of the watch belongs to a 4R36 automatic movement – it keeps good accuracy and works like a charm when adequately taken care of. 
For less than $400, the Seiko Prospex Monster offers qualities you typically find from a watch that costs twice the money. Also, due to its versatile appearance, you can wear it for several other events, whether it be a job or a night out with friends.
If this watch is not your cup of tea, you can also check out the Seiko SKX007 and the Seiko Tuna SNE543. These two are similarly priced and famous for their luminosity.    

Marathon Tsar Luminous Watch
Case Size: 41mm
Movement: Quartz
Type of Luminosity: Tritium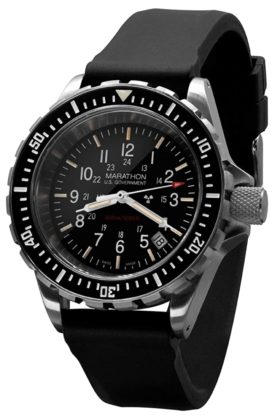 Marathon is a Swiss-made brand dedicated to producing rugged army and survival watches. The brand's timepieces follow the specifications of the U.S. Government for use by military personnel. So, you can expect excellent built quality but also magnificent luminosity. 
The Marathon Tsar Watch, one of the most affordable dive-specific wristwear from the manufacturer, is equipped with tritium tubes that constantly glow for up to decades. The distinctive green color of the lume can be found on the hands, hour markers, and bezel, while the twelve o'clock marker comes in orange.
The Tsar watch is designed for Search and Rescue operations at sea, which means it is resistant to water pressure. In fact, the resistance is guaranteed to 300m (1,000ft). With such resistance, the Tsar is also a top-notch professional dive piece for mixed gas diving.
Last but not least, the timepiece runs on a 3-jewel high-torque Swiss quartz caliber with an end-of-life indicator, ensuring perfect accuracy and the convenience of knowing when the battery starts to run out.
Although the price tag of around $1,000 is the heftiest on this list, the Marathon Tsar is one sturdy piece that will light up the night and offer unparalleled quality.    

Citizen Promaster Nighthawk BJ7000-52E
Case Size: 42mm
Movement: Solar quartz
Type of Luminosity: Lume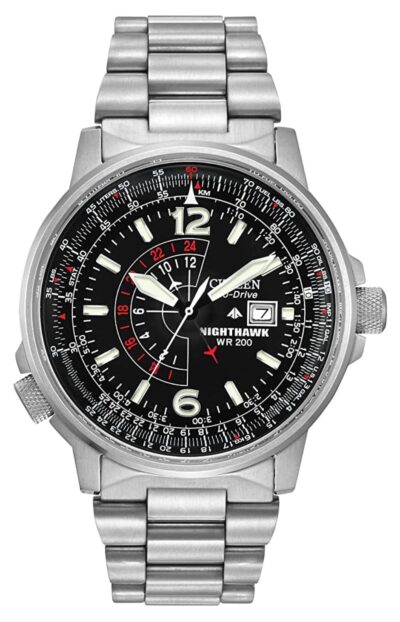 The Citizen Promaster Nighthawk represents the highly appreciated pilot watch collection the Japanese manufacturer has produced for decades. Since luminosity is one of the prerequisites for a proper pilot wearable, you can expect a decent quality from someone like Citizen. 
Unlike the majority of manufacturers, the Citizen brand uses its own proprietary compound for illumination. The bluish tint of it makes it a blow of fresh air among the luminescent timepieces that typically come in green color. And, above all, the strength of the lume, especially with this model, is excellent.    
The 42mm Nighthawk features a neat sliding pilot's rule bezel on a stylish black dial. The inner bezel ring is operated by the extra crown at the 8 o'clock position. 
Complementing the valuable features and masculine aesthetics is the powerful Eco-Drive solar movement that has become almost a standard in Citizen watches these days. The watch charges from any light, natural or artificial, while the rechargeable cell can hold energy for up to six months. 
Other great luminous watches from Citizen come from dive-purpose Promaster watches, such as the Citizen BN0150-28E and BJ8050-08E models. 

Isobrite Valor Chronograph Luminous Watch
Case Size: 47mm
Movement: Quartz chronograph
Type of Luminosity: Tritium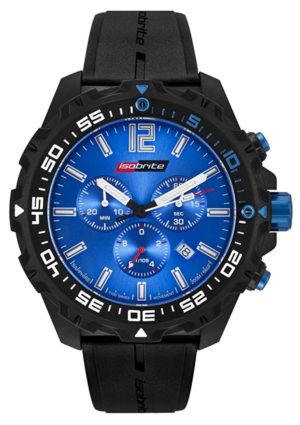 One of the most awe-inspiring self-illumination technologies comes from a brand called Isobrite. The manufacturer has kept a relatively low profile by not going overly commercial, catering to a specific segment of buyers that want the best luminosity out of their timepieces. 
The Isobrite Valor Chronograph is one of the watches from the brand equipped with astonishing T100 tritium tubes you don't find from many producers. Such tubes exceed the typical T25s by nearly four times in terms of lume strength and will last twice the time, approximately 50 years.     
The watch is very sporty-looking with a carbon fiber reinforced case, 1/10-second chronograph feature, and nylon strap. The dial has a striking blue tint, and when combined with the light blue tritium hour markers and orange color of hands and 12-hour marker, the outcome is an authentic tool watch perfect in pitch black lighting conditions.
Quality-wise, you can expect durable materials – the dial is protected with an anti-reflective sapphire crystal, timekeeping runs on a Swiss quartz caliber, and water resistance is guaranteed with a 200m (660ft) rating.

Traser P59 Tritium Lume Watch
Case Size: 37mm
Movement: Quartz
Type of Luminosity: Tritium & Super-LumiNova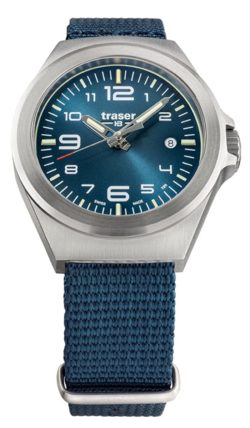 The Traser P59 Tritium Lume Watch is a Swiss-made tactical timepiece with a straightforward build. It doesn't have any redundant design elements or features with no use. But what it does have is a highly durable construction with ever-glowing tritium luminosity, making it one of the best luminous watches around.
This Traser piece has two lighting technologies – the T25 tubes are present in watch hands and 3, 6, 9, and 12 o'clock hour markers, while the rest of the hour numbers and indices consist of Super-LumiNova.
The watch has been built for rugged outdoor activities. As such, the crystal is of anti-reflective sapphire, the case comes in stainless steel, and the straps are classic NATO-style. You can also expect its suitability for long hours in the water due to the 100m (330ft) water resistance. 
All in all, with a price tag of around $250, the Traser P59 is an excellent value-for-money proposition for anyone appreciating classic military style and ultimate convenience. 

Orient Automatic Pepsi Dive Watch
Case Size: 43mm
Movement: Automatic
Type of Luminosity: LumiBrite
The Orient Automatic Pepsi Watch is a classic dive piece with a famous red and blue bezel design, drawing similarities to the Pepsi logo. Hence, the origin of the name. However, appealing aesthetics is only one facet of this marvelous timepiece.
Being a through and through tool watch for diving, the construction, as well as the features, make this Orient a wearable hard to say no. 
First of all, it features Seiko's LumiBrite luminescence. The large hour markers and watch hands have several layers of lume applied, so after light exposure, the brightness is intense and lasts up to 8 hours. 
Secondly, the Orient Pepsi Watch runs on an automatic caliber. For a little more than $200, the existence of a self-winding mechanism is a bargain. So not only do you not have to change batteries every 2-3 years, but you'll also get to enjoy the sweeping motion of the second's hand. 
And thirdly, the construction can hold a 200m (660ft) water resistance, meaning you can use it for recreational diving. All the other typical features of a genuine dive piece are also present, such as the screw-down crown, one-way rotating bezel, and screwable caseback. 
Not only is this Orient watch with great luminosity, but several other models from the brand as well, such as the Orient Kamasu, Orient Kanno, and Orient Mako.

Casio Pro Trek PRG600-YB-3CR
Case Size: 52mm
Movement: Solar quartz
Type of Luminosity: Lume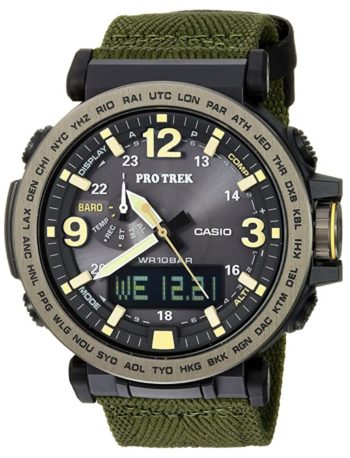 Casio is best known for digital watches with LED lighting. However, there are still a plethora of timepieces that are either entirely or partly equipped with electroluminescent paints. One of such watches is the Pro Trek PRG600-YB-3CR.
This analog-digital sports watch has a greenish lume, which is not quite as strong as in LumiBrite watches but will do the job just perfectly. Coupling the luminescence is a LED light at the bottom of the dial. 
The prime feature of this Pro Trek is definitely the ABC function, which allows the wearer to gauge heights, air pressure, temperature, and direction. All the functions are easily accessible through dedicated push buttons on both sides of the case. The results are visible either on the small digital screen or via the second's hand. 
On top of the fantastic features is a Tough Solar system that charges the battery whenever presented with light. When fully charged, you can expect the watch to last for months.

Victorinox Swiss Army Night Vision 
Case Size: 42mm
Movement: Quartz
Type of Luminosity: Super-LumiNova & LED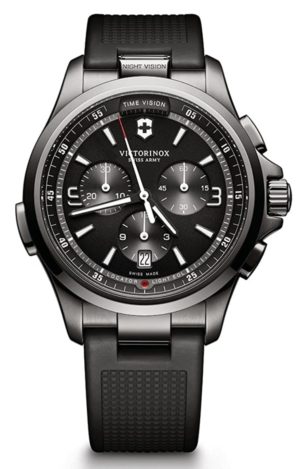 The Victorinox Night Vision Watch, like the name already hints, is equipped with powerful luminosity for enhancing readability in the dark. 
The watch features three lighting modes that can easily be switched between through a special button on the left side of the case. A single push activates a soft blue LED light on the dial for six seconds, two pushes work out as a flashlight, and three pushes is a Signal/SOS mode. 
In addition, the watch hands and hour markers come with luminescent paint. However, with the night vision feature so dominant, one can almost forget the existence of electroluminescence. Still, it is a nice addition to an already fully illuminated watch.
The appearance of this Victorinox is versatile – it can be worn outdoors as much as indoors. Therefore, it's no wonder men have so successfully complimented their suits with a Victorinox Swiss Army timepiece. After all, a leather/metal band on a decently sized 42mm analog watch is a classic combination for smart casual wear.        

Timex Expedition Rugged Luminous Watch
Case Size: 45mm
Movement: Quartz
Type of Luminosity: Lume + Indiglo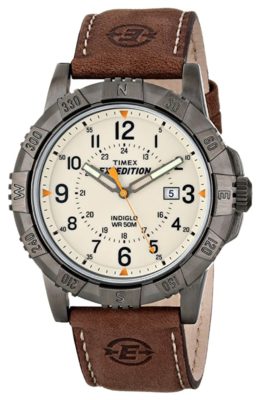 We finish the list of the best luminous watches with a recognized timepiece among outdoor enthusiasts. It is also a very affordable one with a price well below the $100 mark.
Although the Timex Expedition is fitted with luminescence in watch hands, it's the world-famous greenish-blue Indiglo backlight that takes center stage here. 
By simply pushing the crown, the electroluminescent panel behind the dial casts an even luminosity and makes time readings convenient even in the dimmest of conditions.   
Quality-wise, Timex watches have consistently exceeded expectations. Therefore, the employment of a mineral glass and brass case are not that much of a problem actually. Further, the timepiece has a rugged design with a fixed bezel that withstands daily wear and tear.

Closing Words
As you can see, several watch manufacturers equip their timepieces with bright and long-lasting luminescence. The crowd's favorites have long been Luminox and Seiko that offer outstanding longevity and brightness, respectively. But if you're not a fan of either, no need to worry because any timepiece out of the best luminous watches we've covered in this post will serve you well in the dark.

You may also like:
Affiliate Disclosure: As an Amazon Associate I earn from qualifying purchases. Details