Affiliate Disclosure: As an Amazon Associate I earn from qualifying purchases. Details
Tissot is a watch brand that we've all heard of. Considering the position it has and the prestige Tissot has achieved with nearly 160 years in the business, it's no wonder the brand is considered some of the best around.
But what are the watches actually like? What types of watches can you expect? And what is the story of Tissot as a whole?
Subsequently, we dig deep into the analysis to discover the real nature of the Swiss brand in this Tissot watch review.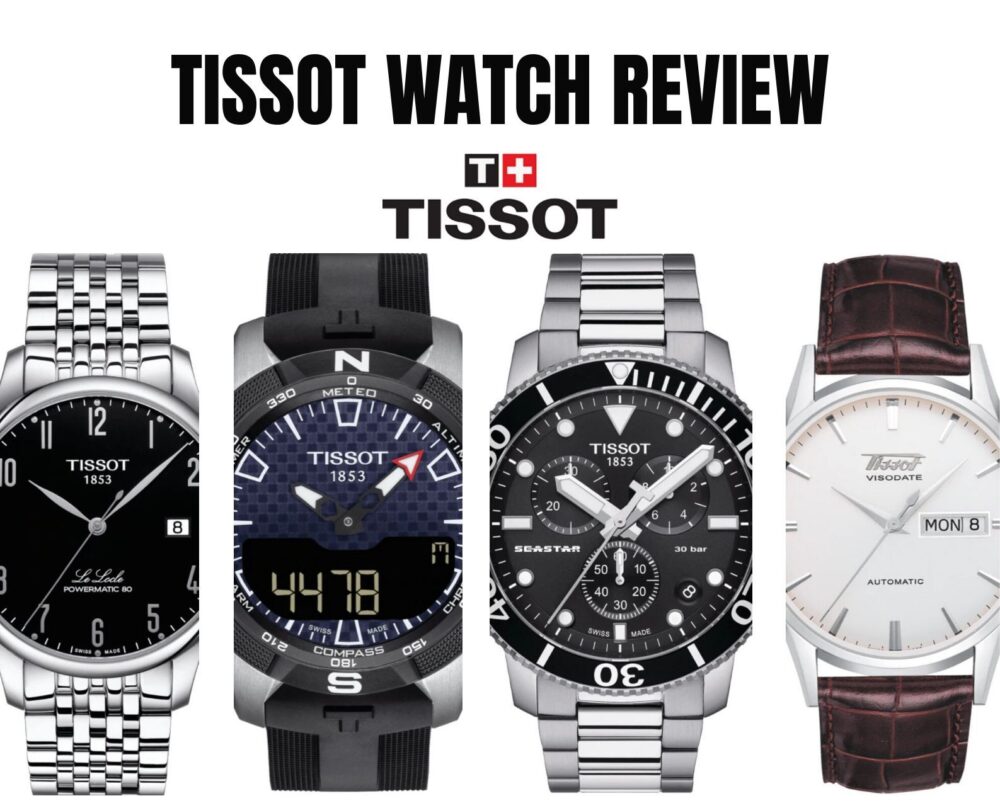 History of Tissot
Charles-Felicien Tissot and his son Charles-Emile Tissot founded the Tissot company in 1853 in the Jura region of Switzerland. The success was quick to follow when over 1,000 savonette pocket watches were successfully marketed within the first year.
An unorthodox twist for the business saw them selling watches for the Russian Empire in the second half of the 19th century. Thus, besides the award-rich success in the home country, Tissot was able to expand to foreign markets as well.
In 1918, Tissot became a manufacturing watch company, producing its own movements and parts. It was a true indication of the company's grand objectives of becoming one of the top watch producers in the world.
In order to make it happen, as well as to better cope with the financial crisis caused by the Great Depression, Tissot partnered with another famous Swiss watch company, Omega, and formed SSIH (Societe Suisse pour l'Industrie Horlogere) in 1930. The same partnership became the cornerstone for the birth of Swatch Group more than 50 years later.
The post-war period from the 1940s until the Quartz Crisis was monumental for Tissot. The period shaped the reputation the brand possesses these days when intelligent marketing and specialization techniques brought worldwide attention. An affordable Swiss watch was something that only a few, if any, were offering. And Tissot had the upper hand in this.
After surviving the Quartz Crisis, it was recommended that Tissot and other independent companies form a group to cope better in the future crisis. Subsequently, in 1983 Swatch Group was established.
Now, being under the wing of a financial powerhouse, Tissot had all the reasons to experiment and widen its collections. The world's first stone watch, called RockWatch, was released in 1985, and a year later, the first-ever watch to feature both analog and digital time displays.
The two innovations were followed up by the first tactile wristwatch in 1999 – the T-Touch. Later on, the model was developed into a solar-powered piece, becoming, again, the first-ever of its kind.
These days, Tissot exports more than 4 million watches all over the world and is present in nearly 160 countries. The brand's slogan "Innovators by Tradition" will surely give justified hope for other groundbreaking innovations.

Where Are Tissot Watches Made?
As you might've expected, Tissot watches carry the Swiss Made tag. In other words, the movements have been assembled and inspected in Switzerland, and at least 60% of manufacturing costs are domestic.
It's no secret that the Swiss industry, especially the lower-priced brands rely more and more on China's cheaper production costs. Therefore, It wouldn't come as a surprise if the watch case of a Tissot piece is sourced from the low-priced part of the world. The truth is that no one really knows to what extent the Swiss watch manufacturers exploit the law.
What truly matters though is the quality that the Swiss put into the manufacture through technologies, innovations, and continuous quality inspections.
As long as the set rules for watches to carry the label are followed, we should not worry much about the origins of tiny components that go into the watch.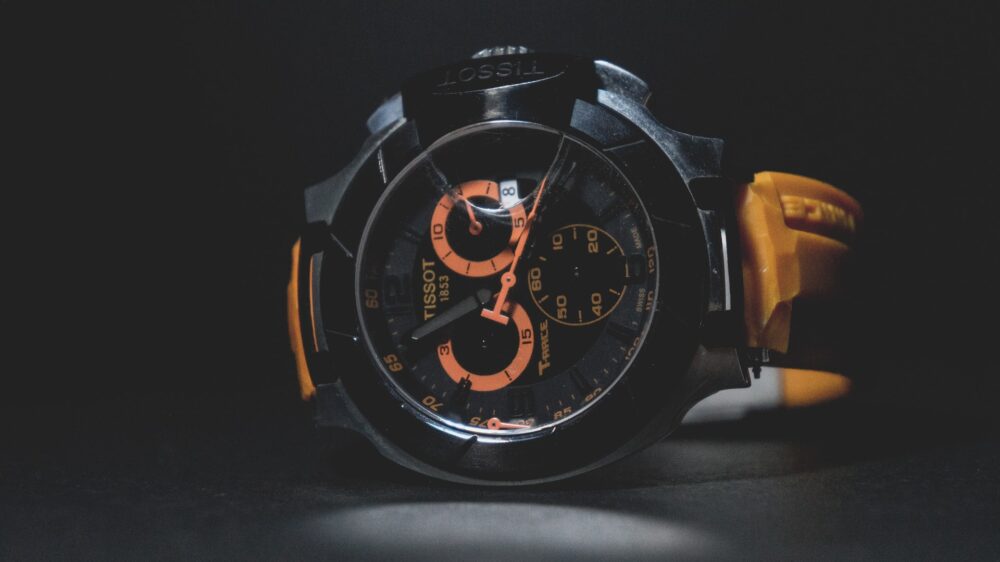 In regards to the location of the company, the brand's headquarters is situated in the very spot where everything got a start nearly 160 years ago – in Le Locle, Switzerland.

Quality Standards
Tissot watches are known for their sophistication and quality components.
The most common substance you'll find from the majority of watches is stainless steel.
It is the most significant and widespread material employed in the industry, and for a good reason – stainless steel never rusts, while providing heat-resistant and scratch-resistant properties. It requires low maintenance and is easy to form into different shapes.  
High-end Tissot models are often gold-plated for a delicate finish, whereas sports pieces are sometimes coated with PVD (Physical Vapour Deposition) for added durability.
Some watches, such as the T-Touch Expert Solar, are made of antimagnetic titanium, making it lightweight compared to a typical steel wristwatch.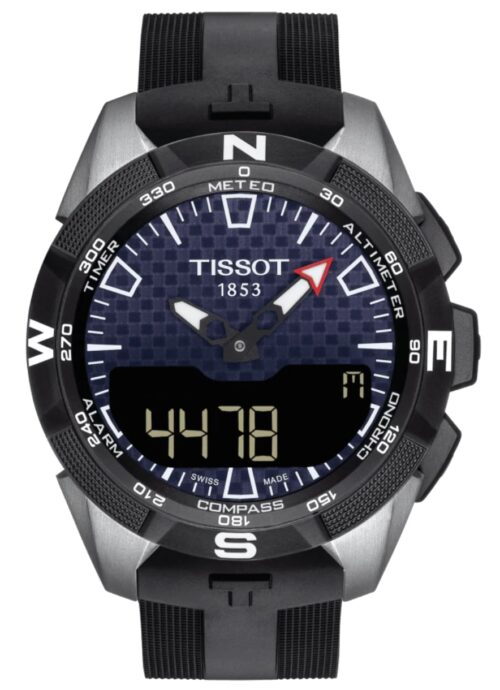 Ceramic is often used for covering the external ring of a watch that is exposed to daily scratches and impacts. Due to aluminum oxide and zirconium ingredients, the ceramic parts will never lose their shine, staying new and fresh basically forever. 
When several affordable Swiss brands try to cut costs by equipping a large portion of their watches with mineral crystal, then Tissot sticks out with an entire line-up consisting of sapphire crystal watches. It is the strongest material after a diamond, thus perfect for high-quality watches. Sapphire crystals can take many forms and give the watch a variety of looks – flat, domed, concave, or ground. 
The most significant part of a watch determining the quality level of a brand is the caliber employed in a timepiece.
And it will be good news to those who've already fancied themselves wearing one of the timepieces, since there are just a few in the world who could match the quality of Tissot at a given price point.
All Tissot watches are equipped with Swiss ETA calibers. The most illustrious of them is the Powermatic 80, which boasts 80 hours of power reserve. For an automatic watch to last for more than three days without winding it is astonishing, especially when comparing it to 1.5 days of power reserve for typical automatic timepieces.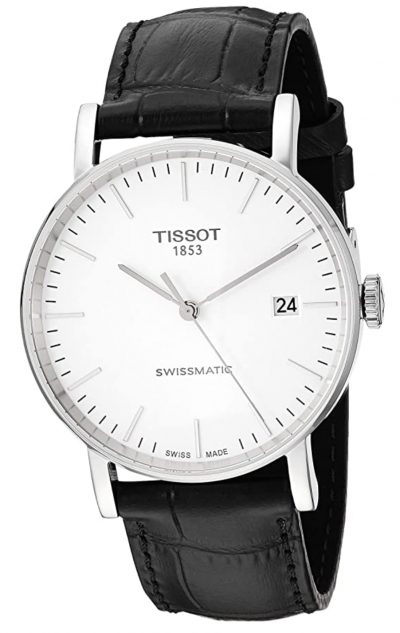 Powermatic 80 is a further development of the Swissmatic movement that has a 72-hour power reserve. You'll find both movements in Tissot's present collections.
Some higher-than-average frequency automatic calibers, such as the ETA 2836-2 that beats 28,800 times an hour, are available in Tissot Visodate models.
The ETA Valjoux caliber, one of the priciest calibers of all, is a self-winding chronograph complication. Its reliability and performance have made it a classic across decades, and it is one of the most iconic movements in the watchmaking world.
And obviously, manual mechanical and quartz movements are also present in Tissot watches.

Technologies
For an affordable/mid-priced Swiss watch brand, Tissot certainly catches the eye with its technological innovations.
Many luxury brands rarely invest that much time and money into providing something exceptional, because the prestige is already an attribute enough for decent sales figures. Thus, nothing but admiration towards Tissot in that regard.
Powermatic 80 & Swissmatic Movements
The previously discussed watch movements – Powermatic 80 and Swissmatic – are produced by ETA specifically to limited number of brands. A technological advancement that guarantees twice the power reserve than for a typical automatic watch is definitely worth the acknowledgement.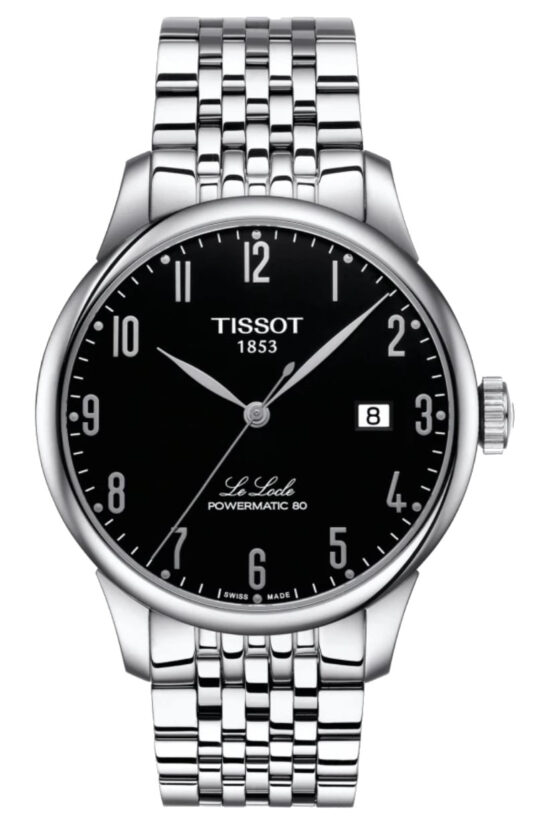 The calibers are available in various Tissot watches.
Nivachron & Silicium
Nivachron and Silicium, titanium-based and silicon parts in Tissot's mechanical calibers provide far greater resistance to the magnetic fields produced by everyday objects, such as mobile phones, TVs, computers, etc.
With these two advancements, Tissot can offer even more accurate timekeeping than many other brands.
Tactile Technology
The tactile technology is another in-house development. In 1999, Tissot T-Touch became the world's first tactile watch.
The wristwear is equipped with a touchscreen crystal where it's possible to switch between various functions of a watch.
The technology is available in the T-Touch series.
Solar Technology
Only a handful of watch producers provide solar-powered movements, and Tissot is one of them.
A few years ago, many owners of Tissot solar watches found the handiness of the timepieces rather low. That was due to the need to change batteries, while at the same time the Japanese competitors possessed a rechargeable cell in their watches. In 2014, Tissot finally introduced a solar watch with a rechargeable battery – the Tissot T-Touch Expert Solar.
Just like tactile technology, the T-Touch series is the onliest that features solar technology.

Reputation of Tissot
Tissot is well-known for producing high-quality watches at appealing prices, thus being one of the best affordable Swiss watchmakers providing the reliability one would expect from the Swiss.
The nearly 160 years of watchmaking history has taught the brand to cope with various situations and market trends. And together with the technological advancements that they've achieved in keeping up with evolving customer demands have brought forward Tissot's credibility.
The proof of the high reputation Tissot possesses manifests in the countless partnerships with world-famous sports events and organizations.
The brand became the first-ever Official Timekeeper of the NBA back in 2015, obtaining the most significant partnership in the company's long and illustrious history.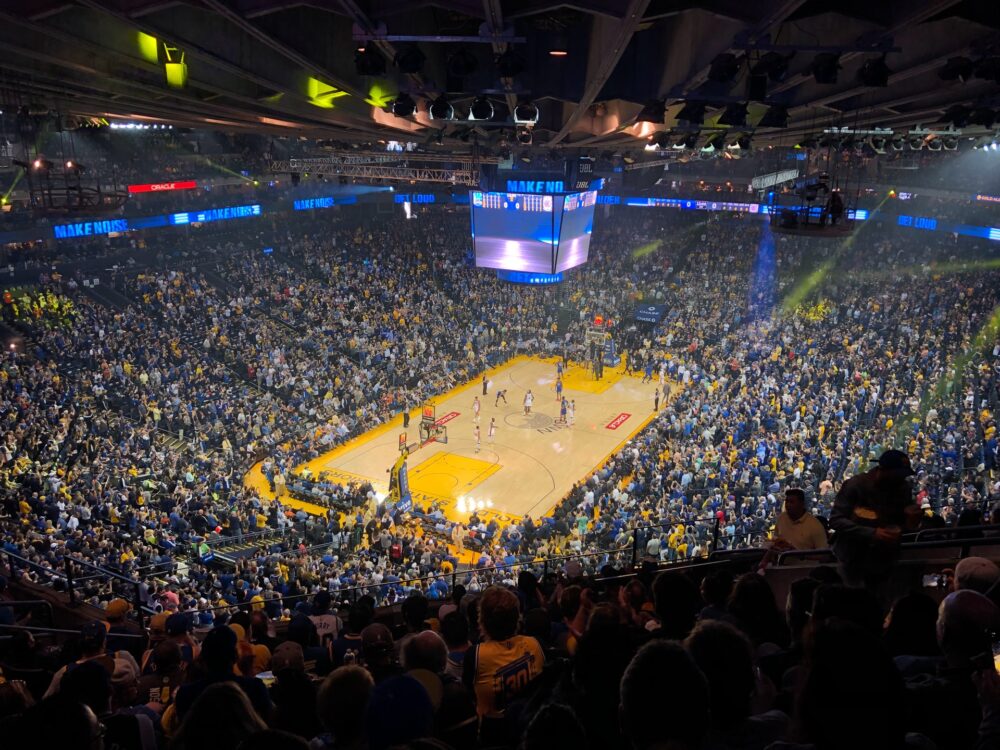 Besides basketball, you'll find Tissot's logo in Moto GP, FIBA, Tour de France, and RBS 6 Nations Rugby events, as well as from the World Championships of fencing, cycling, and ice hockey.
Tissot is considered a lower-premium watch brand with a splash of luxuriousness. It doesn't have the prestige of Rolex or Omega, but to be frank, it's not what Tissot's after. What sets the two previously mentioned and Tissot apart is the valuation of watches.
When luxury brands strive for magnificence and are limited to wealthy buyers, then premium-level companies target much broader customer segment by offering affordable yet highly reliable timepieces.
Watch enthusiasts often compare Tissot and another well-known Swiss brand, Hamilton. Although the two are quite different in terms of apparel, they share similar values quality and caliber-wise. It shouldn't come as a surprise due to both being the subsidiaries of Swatch Group.
Nevertheless, those interested in finding out the differences should read our analysis on the Tissot vs Hamilton comparison.

How Much Are the Watches?
So, what does affordable yet highly reliable mean in terms of numbers?


Tissot's classic analog quartz watches start from $200. Modern-looking wristwear with chronograph function adds another $150-$200.
Swissmatic automatic watches, on the other hand, start from $400, while Powermatic 80 pieces have a starting price of $500.
Tactile solar-powered timepieces are available at $1,000-$1,200, while tech-full timepieces with extra complications can cost you in multiple thousands.

Are Tissot Watches Good Quality?
Tissot watches are definitely good-quality timepieces – they employ reliable and highly-coveted calibers, look luxurious, and offer various features that are scarce in other brands' line-ups.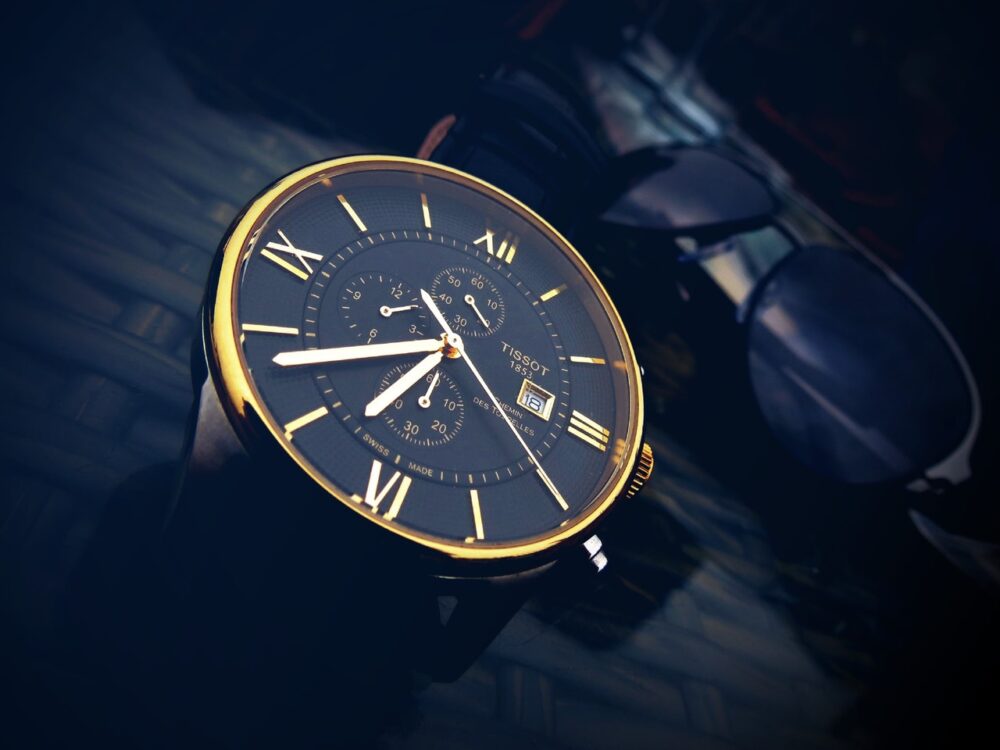 But is Tissot a luxury brand? No, not in its straightest meaning. However, splashes of luxury gleam from the watches they produce. It's also gleaming indirectly from the numerous partnerships that have placed the brand in front of the eyes of millions all around the world.
Tissot is not dedicated to providing luxury watches, that's not what they're pursuing. But what they're good at is manufacturing highly durable and good-looking Swiss watches at fitting rates for every customer segment.
In that sense, we can call Tissot watches luxurious because you'll get astonishingly lot from the bucks spent.

Tissot Watches
As follows, we'll cover the five most significant categories of wristwear – Touch, Classic, Sport, Heritage, and Gold.

Tissot T-Touch Watches
Tissot is the pioneer of tactile watches, and the T-Touch series is the embodiment of the type. And if you add solar power technology, you'll end up with a watch like no other.
A touchscreen watch powered solely by light is spot-on for those spending most of their time outdoors.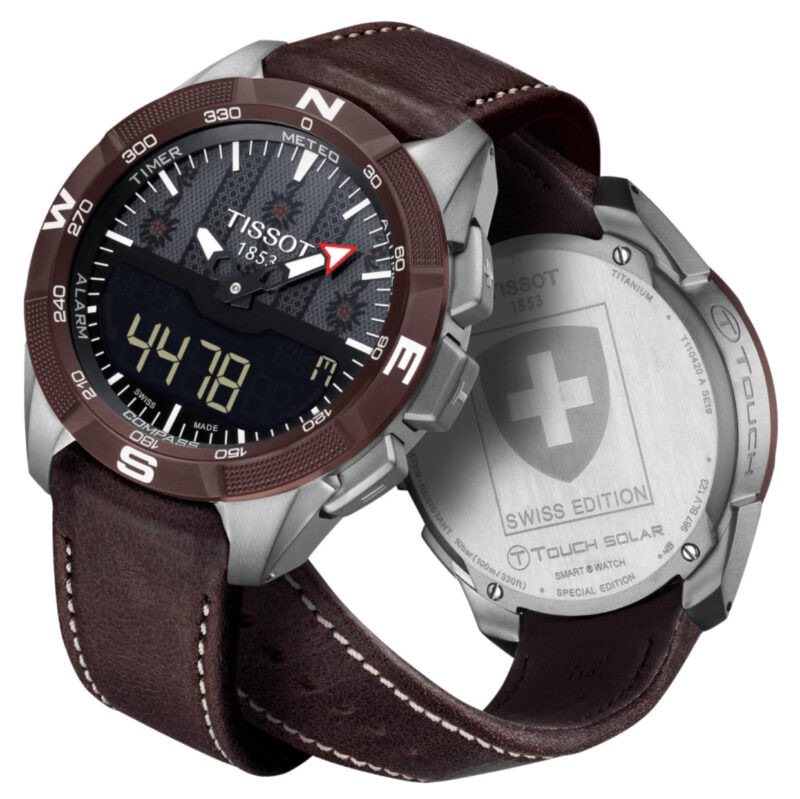 T-Touch watches come with numerous features, including weather forecasting, altimeter, backlight, second timezone, and a compass.
Tactile scratch-resistant and anti-reflective sapphire crystals cover the faces of these watches, while antimagnetic stainless steel/titanium cases provide the durability. Water resistance is guaranteed to 10 ATM (100 meters/330 feet). 
T-Touch watches cost around $1,000-$1,200.

Tissot Classic Watches
Tissot's Classic category represents smart dress watches with both quartz and mechanical movements.
Tissot Le Locle collection is probably the most renowned, employing Valjoux chronograph complication, Powermatic 80, and COSC-certified precise mechanical movements.
The models display exquisite elegance with details, such as Roman numerals and a traditional Le Locle signature on the dial.

Tissot Carson, Tissot Gentleman, and Tissot Chemin des Tourelles series also represent the classic style. The watches are very classy, suiting perfectly to a gentleman's wrist.
The affordable options start from $200, while, for instance, a skeletonized mechanical Chemin des Tourelles has a price tag at around $2,000.

Tissot Sport Watches
Tissot's sports line consists of wristwatches for all sorts of activities, most notably water sports and racing.
Tissot Seastar 1000 is a reputable diver's watch with water resistance of up to 300m (1,000 ft). Screw-down crown and caseback, as well as unidirectional ceramic bezel, provide the convenience and reliability you would expect from a true water sports timepiece.

The T-Race series is dedicated to motorcycles, having push-pieces engraved with the words Start and Reset, reminding of the commands setting of a racing bike, while quartz and automatic movements will provide the timekeeping of these watches.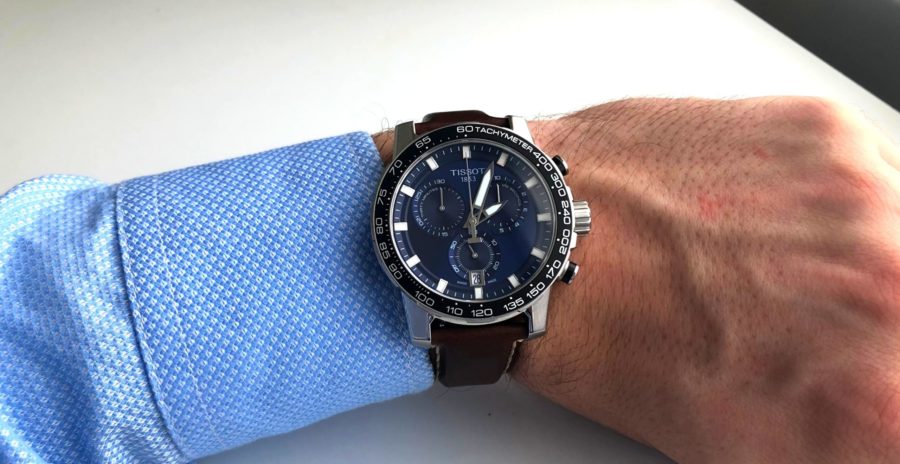 You'll also find chronograph watches from the Tissot Chrono XL and Supersport Chrono lines. These watches are for masculine men not afraid to showcase larger timepieces on their wrists.
We've made a hands-on review on the Tissot Supersport Chrono Blue (pictured above). Feel free to check out in detail how the brand's sports watch is like. 
The sports watches are priced at $300-$500 with a quartz movement and $600-$800 with an automatic caliber.

Tissot Heritage Watches
Back in the 1950s, Tissot integrated a date function to an automatic mechanism in a watch called Visodate. Today, Tissot Heritage Visodate is one of the flagships among legacy watches. 
These chic watches come with quartz and automatic movements, are cased in stainless steel, and mostly feature domed sapphire crystal. The automatic versions have a see-through caseback as well for a glimpse of a sophisticated working mechanism.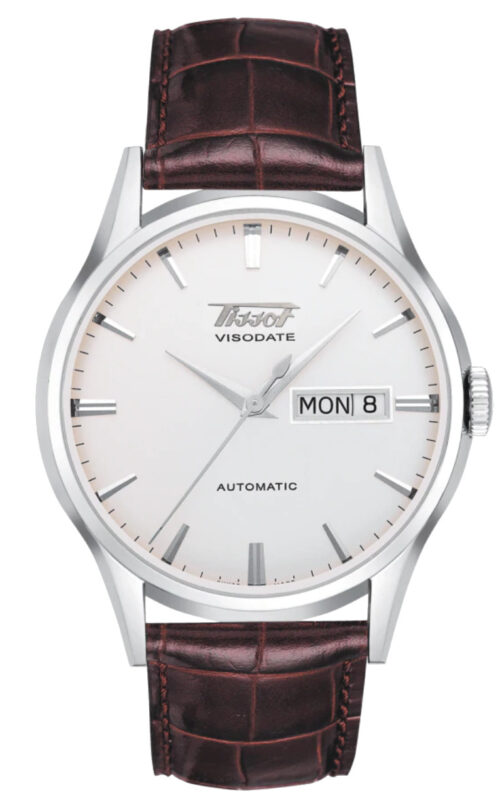 The Heritage collection has remakes of popular models from 1948 and 1973. You'll also find a unique, so-called Banana watch, inspired by an iconic 1916 model. 
The Heritage collection costs between $300-$2,000.

Tissot Gold Watches
As you would already expect, this category of watches is one of the priciest, featuring wristwear with 18K gold platings.
Overall, the watches are with classic apparel, with some models featuring a chronograph as well. The selection comes with all the imaginable movements there are, from quartz to manual mechanical.
Tissot Gold watches are priced at $1,300-$3,500. 

How To Spot a Fake Tissot Watch?
There's a possibility of wrongdoers taking advantage of the reputation when there's a high valuation of some products. The market is full of fake watches selling at prices that are well below the real value.
So how to spot fake Tissot watches?
First of all, a deal that's too good to be true is the first indication of a possible fake watch. Tissot doesn't sell anything below $200 (except for some of the older models available from Amazon).
Watch out for the serial number on the caseback as well – it needs to be 9 or 11 digits long with no spaces between them. Misspelling and poor grammar is another cause of concern.
A real Tissot watch has a letter "T" engraved on the winding knob. If the "T" is glued on it, then it's fake. Any fingerprints or dirt on the dial is another sign of a replica watch. Last but not least, when holding the ticker, you should feel the weight. 
The best advice for avoiding coming across fake watches is to cast aside any untrustworthy dealers. It is strongly advisable to purchase from authorized dealers, verified Amazon dealers, and other reputable e-commerce stores.

Warranty Policy
Tissot watches are warranted for a period of 2 years from the date of purchase.
The international warranty covers material and manufacturing defects existing at the time of delivery. Make sure to have the warranty certificate dated, fully and correctly completed and stamped by an official Tissot dealer.
The manufacturer's warranty doesn't cover normal wear and tear, any damage caused by abnormal use, battery, and handling by non-authorized persons.

Final Words
The number of watchmakers that have been able to make an empire out of small workshops is minimal. Tissot is one of such brands that has continuously provided the market with high-quality watches. The materials, movements, and technologies are world-class, ensuring the owners the reliability that is expected from a Swiss watch manufacturer.
We hope this Tissot watch review has assured you that Tissot is not only a good but exceptional wristwatch brand, offering luxurious timepieces at affordable rates.

You may also like:
Affiliate Disclosure: As an Amazon Associate I earn from qualifying purchases. Details
Latest posts by Carl Pender
(see all)