Affiliate Disclosure: As an Amazon Associate I earn from qualifying purchases. Details
Men wear watches not only for time-telling purposes but also for boosting their self-esteem and presenting fashion statements. Since a wristwatch is the only accessory that a man can proudly showcase, it is more than logical that it has to look presentable and noticeable. And how else to achieve it if not with a big face watch?!
However, being fashionable is only one reason why men go for oversized watches.
Another one is as straightforward as it gets, namely because of their large wrists. Since a 40mm watch on a big wrist would look awkward and wouldn't help boost self-esteem in any way, it's inevitable for those men to go for big face watches instead.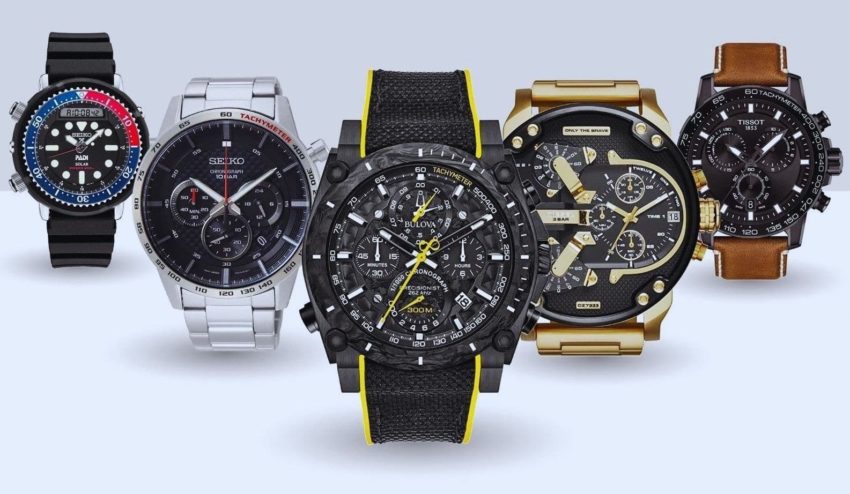 Hence, we've decided to help in this matter by presenting you with the top oversized men's watches.
But before heading to the watches, we need to clarify the term and everything that is to do with oversized timepieces.

What Is Considered a Big Face Watch?
In broad terms, watches are divided into three size categories – small, contemporary, and oversized. Numerically, it is as follows:
Small watches – 40mm and under
Contemporary watches – 41mm to 44mm
Oversized watches – 45mm and above
Therefore, a big face watch is a timepiece with a case diameter of at least 45mm. Note: this measure doesn't include the crown. So, make sure to check the dimensions without the crown, not including it, as some retailers tend to add it to the overall dimensions.

Who Should Wear Oversized Watches?
Oversized watches became a real hit ten or so years ago when fashion brands flooded the market with impressive timepieces that had all the whistles and bells one could imagine. However, in recent years, the trend has gradually slowed down.
Albeit the decline, there are still hundreds of watches that measure well above 45mm.
But who should wear them?
First of all, men that have a wrist circumference greater than 7.5 inches measured below the wrist bone should, at all times, go for watches that stretch at least 45mm in case diameter. Anything smaller, and it will look out of place.
A big face watch is also a fashion statement when a noticeably large timepiece with appealing looks draws more attention than a typical mid-sized watch would. However, make sure not to overemphasize it as an abnormally large ticker on a slender wrist will definitely look out of place.
Feel free to refer to our watch size chart for more information regarding suitable case sizes.

Best Big Face Watches
Our post consists of 15 big face watches that will fit like a glove on large-sized wrists. These timepieces will also be worthy additions to men wishing to occupy a little more of their wrist area than a standard norm suggests.
All the watches we'll be presenting you cost no more than $500 and have received all but positive feedback from the owners.
Without much delay, here they are in no particular order.

Bulova Precisionist 98B312
Case diameter: 46.5mm
Case height: 17.5mm
Lug-to-lug: 55mm
Movement: UHF Quartz
Water Resistance: 300m (660ft)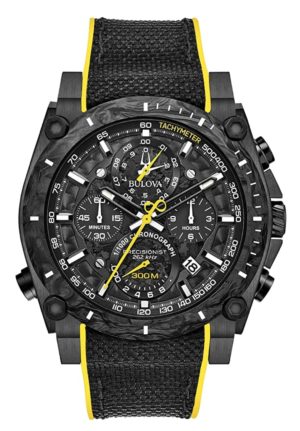 Our first entry comes from the former American powerhouse Bulova. Now under the wing of Citizen Watch Co., the brand has placed great emphasis on high-frequency quartz movements that excel in terms of accuracy and flamboyance.
Furthermore, the majority of these exquisite timepieces are large in size. As is the Bulova Precisionist 98B312. With a case diameter of 46.5mm and a lug-to-lug distance of 55mm, it makes it quite a beast on a man's wrist.
The Precisionist holds an excellent accuracy of about 10 seconds a year, which is an astonishing result compared to the typical deviance of 15 seconds a month of quartz watches.
It is down to the higher frequency of quartz crystal vibrations that enable the second to be sliced up into smaller increments. Consequently, the second hand of a Precisionist has some of the smoothest sweeping motions when 16 steps are fitted into one second.
As if that wasn't enough, the watch comes with a chronograph feature with a 1/1000-second accuracy and a 300m (1,000ft) water resistance rating. Hence, it's not a surprise this piece is regarded as one of the top watches from the brand.
Altogether, the Bulova Precisionist offers heaps of astounding functions for the money and looks very impressive both visually and dimensionally.

Tissot Supersport Chrono
Case diameter: 45.5mm
Case height: 12mm
Lug-to-lug: 50mm
Movement: Swiss Quartz
Water Resistance: 100m (330ft)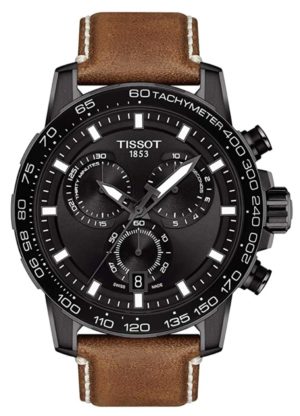 While Bulova has quite an extensive selection of big face watches available, the same cannot be said about Tissot. The world-famous Swiss manufacturer is best known for its subtle dress watches that hardly stretch above 45mm.
However, some of the sportier chronograph watches do, including the Tissot Supersport Chrono. Standing at 45.5mm in case diameter, it narrowly fits the brackets of oversized timepieces.
This fairly large Tissot watch is a complete chronograph with dedicated subdials and a tachymeter ring where the stopwatch's second hand lies on the main dial and counts in 1/10-second accuracy on the right-hand-sided subdial. You'll also have a date window at a 6 o'clock location.
In terms of quality, Tissot never disappoints. As such, the watch runs on a reliable Swiss ETA caliber, is covered with a scratch-resistant sapphire crystal, and comes 100m (330ft) water-resistant.
Complementing the masculine black face is the embossed cow leather strap. In case you wish to replace it to a more favorable one, though, you'll have the chance because the straps are interchangeable and with a quick-release function.

Citizen Promaster Navihawk Pilot Watch
Case diameter: 48mm
Case height: 15mm
Lug-to-lug: 54mm
Movement: Solar Quartz
Water Resistance: 200m (660ft)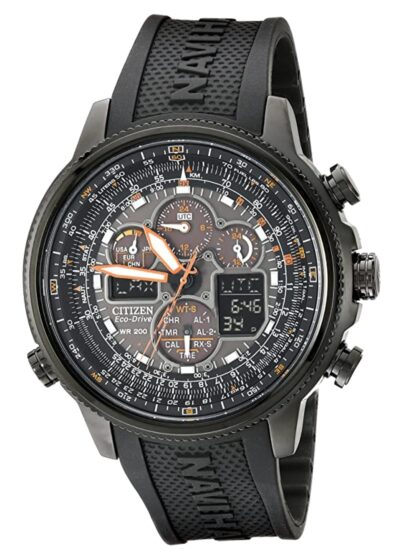 The trend for large-sized watches originates from the early days of pilot wristwear that had to house several essential functions and be legible at the same time. These days, pilot watches have maintained their dimensional domination over the other types and are the best source for anyone wishing to engage in oversized watches.
Our next big face watch is precisely a pilot watch that is visually impressive and has a comprehensive set of functions that an aviator might find helpful up in the air.
The Citizen Promaster Navihawk may seem too busy at first with all the numbers, markings, and subdials, but it will offer plenty to appreciate when mastered. Alongside the slide rule ring that takes up most of the space, there are also GMT, 1/100-second stopwatch, and two small digital displays.
However, the most impressive features this timepiece employs are atomic timekeeping and Eco-Drive solar-powered technology. These two innovations guarantee atomic precision in 43 cities around the world and infinite power without the need to replace batteries after every two years.
On top of the already feature-rich nature, the 48mm Citizen Navihawk is also water-resistant to 200m (660ft), features luminous hands and markers, and comes with a power reserve indicator.

Diesel Mr. Daddy 2.0 Big Face Gold Watch
Case diameter: 57mm
Case height: 14mm
Lug-to-lug: 63mm
Movement: Quartz
Water Resistance: 30m (100ft)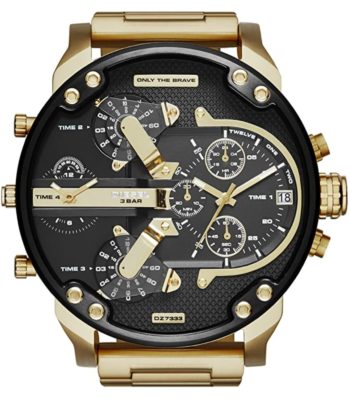 When the previous watch strikes with its functionality, then our next one impresses with its size.
The Diesel Mr. Daddy 2.0 is the largest widely available timepiece with a case diameter of astonishing 57mm. It is the kind of watch that won't suit even medium-sized wrists, not to mention slender ones. Hence, consider the Diesel Mr. Daddy 2.0 if your wrist circumference exceeds 8 inches.
Luckily, the lugs are curved, which won't add too much to the overall dimensions.
When it comes to appearance, you'll find four separate time counters that all have unique designs. When the primary dial on the right is pretty much a standard, the others count hours and minutes in the so-called disc style.
While the practicality of four different times is questionable, it cannot be denied that the setup looks stunning.
Another impressive characteristic is the golden tone of the case and band that makes it even more eye-catching.
If you find Diesel watches attractive, we have an extended list of Diesel big face watches you can check out. Besides this particular model, there are also more modestly sized timepieces that go well with average wrists as well.

Invicta Aviator Oversized Watch
Case diameter: 49mm
Case height: 15mm
Lug-to-lug: 56mm
Movement: Quartz
Water Resistance: 100m (330ft)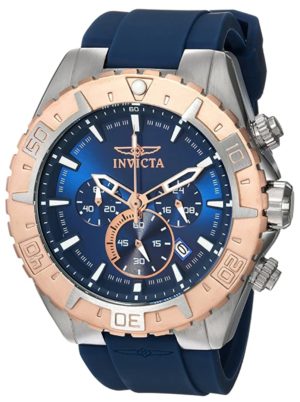 The Invicta Aviator Watch we have up next is a hybrid of a pilot and dive watch when characteristics of both types are represented. However, in spite of its inspiration for aviation, it is more suited to water sports than flying.
The watch can accompany the wrist while swimming and snorkeling as it comes with a 100m (330ft) water resistance, unidirectional bezel, and luminous hands. However, this Invicta is not meant for diving as the crown is not screwable, hence could cause damage to the intrinsics when submerged.
All things considered, this shouldn't be much of a problem anyway because the overall aesthetics suggest its use for everyday wear, whether it be work or some dressier occasions. With a rose-gold tone bezel and deep blue dial, the Invicta Aviator is, therefore, a spot-on wearable for fashionable men.
Its size at 49mm also follows the fashion trend for larger timepieces. Though, it won't look too chunky on a wrist due to its 15mm height, which is well in proportions. Thus, for a little less than $100, this oversized Invicta is an eye-catching option for men wishing to showcase their sense of style.

G-Shock G-Steel GSTB100G-2A
Case diameter: 50mm
Case height: 14mm
Lug-to-lug: 58mm
Movement: Solar Quartz
Water Resistance: 200m (660ft)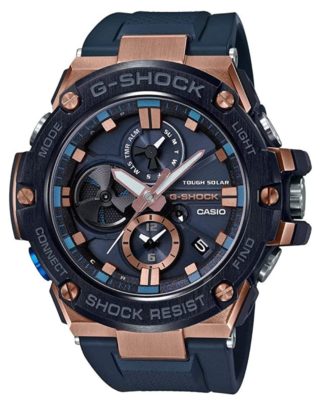 Speaking of big face watches, G-Shock has probably the largest selection available. Built to withstand various shocks, the timepieces come knobby and knurly in construction, which makes them visual and physical beasts.
Among the entirely or partially digital watches G-Shock typically produces, there are also fully analog models, such as the G-Shock GSTB100G-2A. And you can expect this watch to occupy a decent amount of real estate as any other G-Shock with its approximately 50mm case size.
However, it's worth noting that G-Shock provides case dimensions including the crown. As such, this particular model has a marketed case diameter of 54mm, not 50mm.
When it comes to the aesthetics of this G-Steel watch, it is more than just a rugged outdoor piece. Covered with a rose-gold tone and blue accents, the timepiece can freely decorate the wrist while wearing smart outfits or even a suit and tie.
The solar-powered watch offers plenty of functions as well, for example, LED light, stopwatch, and alarm. In addition, this G-Shock is Bluetooth compatible, enabling it to connect to an internet time server for accurate timekeeping.

Seiko Prospex Solar Tuna PADI Diver
Case diameter: 48mm
Case height: 15mm
Lug-to-lug: 51mm
Movement: Solar Quartz
Water Resistance: 200m (660ft)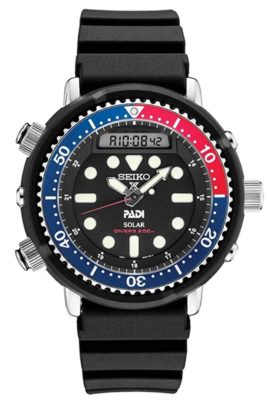 When G-Shock has the largest selection of oversized timepieces, the same cannot be said about Seiko. Like Tissot, the Japanese manufacturer is known to produce moderately sized timepieces and not so many large ones.
One that measures above the 45mm size is the Seiko Solar Tuna PADI Diver, when the biggest contributor to the 48mm diameter is the oversized Pepsi bezel that takes up a large portion of the face.
The watch is a purpose-built tool watch for professional diving with approval from PADI (Professional Association of Diving Instructors). ISO-certified to 200m (660ft) and with a screw-down crown and caseback, the Solar Tuna is as water-tight as a watch can go these days.
One feature of this watch deserving extra credit is the solar-powered quartz movement. When fully charged from any light, the secondary cell can freely last for up to six months without any light source applied to it. Moreover, you won't have to replace batteries or wind it to keep it running, making it an utterly convenient timepiece compared to mechanical and quartz watches.
Also, a neat extra typically missing from dive pieces is the existence of a digital screen displaying alarms, calendar, and digital time, adding to the versatility of this Seiko.

Fossil Nate Big Face Watch
Case diameter: 50mm
Case height: 13mm
Lug-to-lug: 55mm
Movement: Quartz
Water Resistance: 50m (165ft)
Fossil is the uncrowned king of fashion watch brands. The company's line-up consists of hundreds of models catering to younger audiences who appreciate glamorous looks and fashionability rather than horological masterclass and the complexity of calibers.
The Fossil Nate Big Face Watch is one such timepiece that is nothing spectacular in terms of build but offers an attractive visual appeal. And if it's sized at 50mm in case diameter, there's a lot of ground to make it appealing with various design elements.
The underlying feature of the Fossil Nate is its all-black design covering the brushed steel bands and matte-finished dial. The hands and markers are painted grey, making time readings somewhat complicated but works brilliantly in terms of style.
The watch is also equipped with a chronograph spanning 24 hours and a date window.
Fossil watches work as perfect gifts for loved ones as well because the possibility for free-of-charge engravings in one of the Fossil stores opens up a nice opportunity to personalize them and make them special.

Citizen Promaster Diver 300M
Case diameter: 48mm
Case height: 19mm
Lug-to-lug: 54mm
Movement: Solar Quartz
Water Resistance: 300m (1,000ft)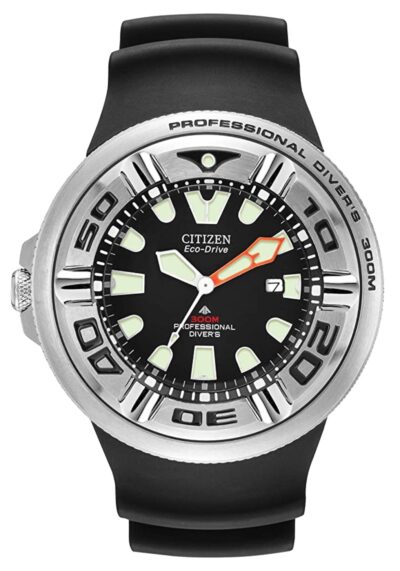 Besides pilot watches, Citizen is also famous for its top-notch dive pieces. And similarly to aviation watches, the highly water-resistant timepieces are often oversized.
The Citizen Promaster BJ8050-08E is one of the chunkiest models from the brand, stretching 48mm in case diameter and a whopping 19mm in height. However, unlike fashion watches that have no practical reason to be oversized, this particular model does.
Equipped with a ratcheted elapsed-time bezel and oversized luminous hands and hour markers, the Promaster offers great legibility both on the land and deep in the sea. In fact, the watch is guaranteed with a 300m (1,000ft) water resistance, making it an ultimate dive piece for professional submersions.
Supporting its very tool-watch-like nature is the crown's placement at an unusual left side of the case, ensuring that it won't become uncomfortable when bending the wrist. The left-sided crowns are also spot-on for men preferring to wear watches on their right hands as operating the crown is much simpler.
All things considered, the Citizen BJ8050-08E with a price tag below the $500 mark is not only one of the best affordable dive watches but also a highly functional big face watch to own.

Casio Pro Trek Bluetooth Connected Sports Watch
Case diameter: 50mm
Case height: 16mm
Lug-to-lug: 57mm
Movement: Quartz
Water Resistance: 100m (330ft)
The Casio Pro Trek Sports Watch represents another fabulous line of wristwear from the Japanese powerhouse. The watches are primarily meant for hikers, campers, trekkers, and climbers, which means they have to be of large size to house all the essential functions for these activities.
Therefore, it's no wonder this Pro Trek has a 50mm case size and an imposing build.
The watch features a Quad Sensor technology comprising an altimeter, barometer, thermometer, compass, and step counter. The technology gets even better when connecting to the app via Bluetooth, enabling detailed and improved information regarding locations, weather conditions, and workouts.
The Bluetooth connectivity also makes sure the Pro Trek is always accurate when the watch is reset regularly four times a day by the smartphone. And if you're a frequent traveler, the timepiece can easily be adjusted to the correct timezone within seconds.
In visual terms, the Pro Trek is a sweet spot between a sport and casual everyday watch, going well with different outfits and suiting for various occasions.

Shinola The Runwell 47mm
Case diameter: 47mm
Case height: 13mm
Lug-to-lug: 51mm
Movement: Quartz
Water Resistance: 100m (330ft)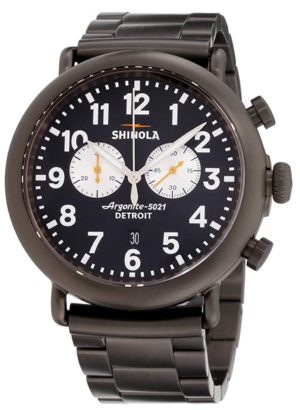 The Shinola Runwell is quite a straightforward big face watch for casual everyday wear. It does not come with any bells and whistles but stays true to its simple yet practical nature.
The 47mm watch is equipped with a unique Argonite 5021 quartz caliber – a hand-assembled movement made in Detroit with Swiss and other imported parts. The caliber also fuels a stopwatch feature, as well as a date function.
Quality-wise, you can expect the Shinola to be protected against daily wear and tear due to a high-quality sapphire crystal and a 100m (330ft) resistance to water pressure.
The watch might be a tad too expensive, but it will be different from widespread Seiko, Citizen, and Casio watches. Furthermore, the American background of Shinola adds particularity and prestige.

Seiko Neo Sports Chronograph
Case diameter: 45mm
Case height: 14mm
Lug-to-lug: 51mm
Movement: Quartz
Water Resistance: 100m (330ft)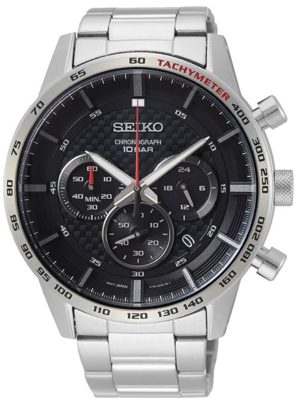 The Seiko Neo Sports SSB355 is the smallest watch on our list, but its all-metal construction provides a much larger impression.
The core of this Seiko piece is the 1/5-second chronograph function that counts the stopwatch's seconds on the primary dial for up to 60 minutes. Alongside the chronograph's minutes and the watch's main seconds counter, there's also the third subdial that belongs to the 24-hour time format.
The watch is powered by quartz movement, has a 100m (330ft) water resistance, and is covered with curved Hardlex crystal.
Many owners are especially satisfied with the upscale looks and feel of the watch that doesn't reflect the actual price tag. Hence, the Seiko SSB355 is a great value-for-money proposition with excellent functionality and expensive looks.

Invicta Grand Diver Automatic
Case diameter: 47mm
Case height: 14.5mm
Lug-to-lug: 51mm
Movement: Automatic
Water Resistance: 300m (1,000ft)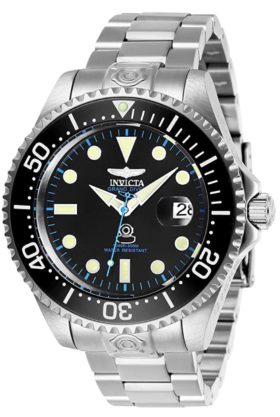 Invicta watches have always been on the larger end of the size spectrum. Thus, finding more than a couple of big face watches from the line-up is not much of a surprise.
One source for oversized Invicta watches is the Grand Diver family, which is meant for professional marine activities, including scuba diving. The Invicta Grand Diver 27610, representing the larger-end timepieces, measures 47mm in diameter and 14.5mm in height, thus is suitable for most wrist sizes and shapes.
The automatic movement powering the watch should also go well with the public, especially considering its very attractive price. On top of that, the Invicta Grand Diver is water-resistant to 300m (1,000ft) and features a classy coin-edge unidirectional bezel.
Drawing similarities to the famous Rolex Submariner, the Invicta watch is as stunning visually as it is in terms of specifications. The black bezel ring and dial harmonize perfectly with the silver-toned case and bracelet, while the large hour markers and bold hands provide both legibility and sought-after dive-watch-like aesthetics.

Nixon 51-30 White Dial Watch
Case diameter: 51mm
Case height: 15mm
Lug-to-lug: 55mm
Movement: Quartz
Water Resistance: 300m (1,000ft)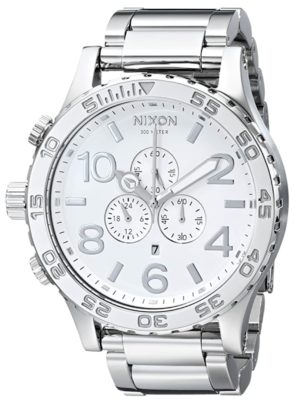 The Nixon 51-30 is a white-dial dive-inspired watch with very fashionable looks to it. While hardcore dive and watch enthusiasts overlook such timepieces, the regular Joes often find the aesthetics of such watches more appealing than what they get from typical tool watches.
And we have to admit the Nixon timepiece has enough presence to appeal to wider audiences.
First off, it comes in a 51mm case size, which is hard not to miss in the crowd. Secondly, the white tone of the watch is something you don't often find when the prevalent tone is typically much darker. And finally, this Nixon has a left-sided pushers location, adding both uniqueness and practicality for left-handed people.
And, surprisingly for a fashion watch, it offers plenty to admire in terms of quality as well.
For instance, it has a 300m (1,000ft) water resistance rating, ensuring its use for serious water activities. Further, the watch is equipped with a 6-hand Swiss quartz chronograph movement, which is already self-explanatory in itself.
All in all, leaving aside the tad too high price, the Nixon 51-30 is a decent option for a big face watch.

Swatch Big Bold Quartz Watch
Case diameter: 47mm
Case height: 12mm
Lug-to-lug: 50mm
Movement: Quartz
Water Resistance: 30m (100ft)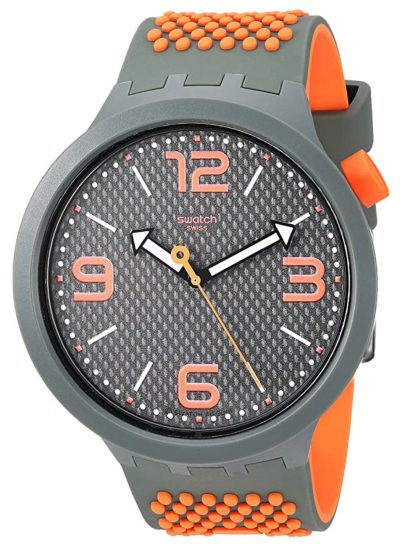 Our last oversized men's watch comes from the most affordable Swiss brand there is, namely Swatch.
The Big Bold Quartz is a simple time-telling wearable with a youthful design. It stays minimalistic, yet it offers a little flair with a grey textured dial and large hour numbers.
The case may be of inferior plastic and the crystal of acrylic glass, but, on the other hand, the movement comes from the famous Swiss manufacture that rarely lets down.
In terms of size, the Swatch Big Bold is not too large at 47mm, but the bold numbers make the perceptible size much bigger. However, the height at 12mm stays on the thin side, enabling it to be worn conveniently under the sleeve.

Closing Words
The list of big face watches we presented is not limited to these watches only. There are hundreds of different timepieces that measure well above the 45mm diameter and come in various styles.
However, make sure to evaluate the quality first and foremost, as ending up with a good-looking lemon is not a situation to end up. Therefore, we suggest going for acknowledged brands, such as Bulova, G-Shock, and Citizen. Also, some fashion watch companies, such as Fossil and Diesel, offer decent value for your money.

You may also like:
Affiliate Disclosure: As an Amazon Associate I earn from qualifying purchases. Details