Affiliate Disclosure: As an Amazon Associate I earn from qualifying purchases. Details
Bulova is an American watch brand that has gone down in the history books with several landmarks in the history of horology. The first-ever official TV advert in 1941, the most accurate wristwatch back in the 1960s, and the watch worn by an astronaut on the Moon all belong among Bulova's achievements.
But what makes this brand even more admirable is its continuing concentration on providing something spectacular from time to time.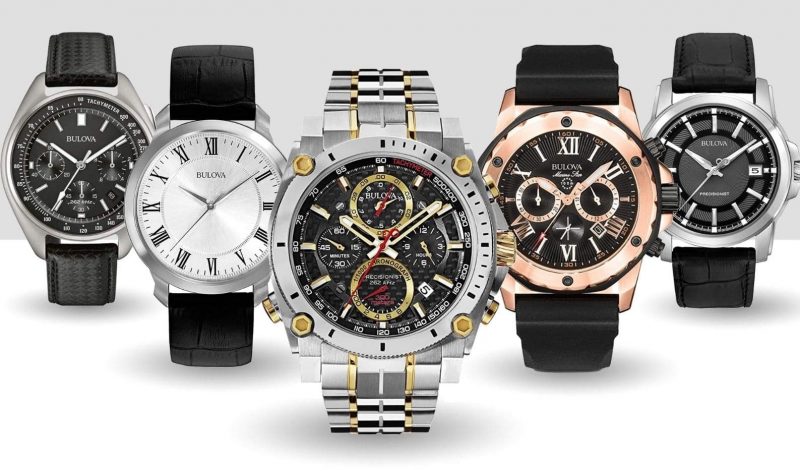 That's why we've decided to bring you the best Bulova watches for men so that you wouldn't miss out on such visually enchanting and innovational masterpieces.

Best Bulova Watches
The article consists of top watches from several of Bulova's collections. We've included elegant dress pieces and historical models, as well as flamboyant skeleton watches, to suit the vast array of preferences and tastes.
All the timepieces covered in this post possess an Amazon rating of at least 4.6 out of 5 from hundreds of verified buyers, which hints at the high quality and attention to detail these time-trackers come with. What's even cooler is the fact that all of them are reasonably priced between $100 to $600.
Without further ado, here are the best Bulova models currently available.

Bulova Precisionist 96B158 Watch
Movement: UHF quartz
Case size: 42mm
Water-resistance: 30m (100ft)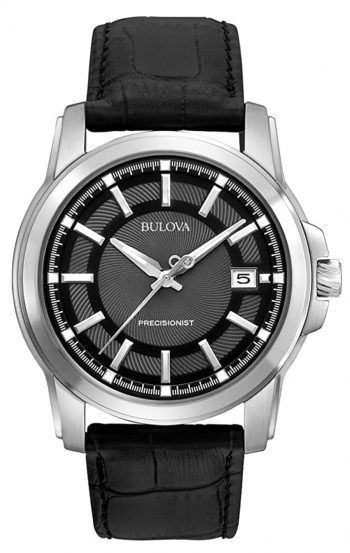 We start the list with a great everyday watch that not only looks stunning but also provides a fantastic extra for the sub-$300 price tag.
The Bulova Precisionist 96B158 is unique for the ultra-high frequency (UHF) quartz caliber that vibrates at a rate of 262kHz, which is about eight times faster than typical quartzes. So, what does this enhancement offer?
First of all, the higher frequency guarantees better accuracy – a Precisionist watch deviates only around +/-10 seconds per year, as opposed to the same result in a month of a typical quartz watch. Also, the second's hand glides instead of ticking, providing a smooth sweeping hand motion with its 16 ticks a second movement.
The appearance of this Bulova piece is also noteworthy. With the textured dial and silver-toned indices and hands, the watch gives an elegant yet casual impression, thus suiting various outfits and occasions.
If we were to pick out some minor disadvantages, they would be the mineral crystal instead of sapphire glass and relatively low water resistance of 30m (100ft). Regardless of these cons, the Bulova Precisionist is still one of the best Bulova watches currently available, coming with a 4.8 rating from nearly 400 reviewers.

Bulova Precisionist 98B228 Watch
Movement: UHF quartz
Case size: 47mm
Water-resistance: 300m (1,000ft)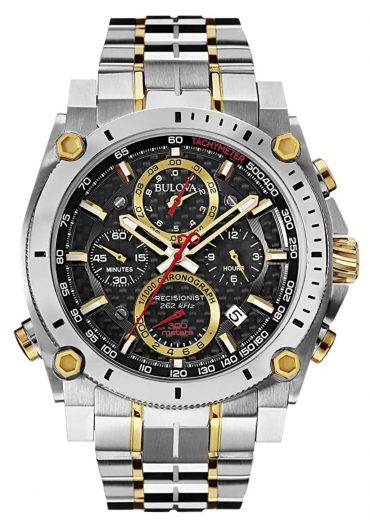 If the advantages of UHF quartz have started to fascinate you but the casual appeal of the previous Precisionist is not what you're after, we've got a bulkier and more flamboyant option coming up next – the Bulova Precisionist 98B228.
The watch features the same characteristics as does the 96B158 model – an astonishing accuracy and a perfect second hand's gliding movement. However, on top of that, it employs a 1/1000-precision chronograph function, along with a tachymeter bezel. Bulova's Precisionist chronographs are on top of the game in terms of stopwatch precision. Therefore, it's no wonder they're considered as some of the best chronographs around.
Also, the water resistance reaches an excellent 300m (1,000ft), though the watch is not ISO-certified, nor does it employ a unidirectional bezel (a fixed one instead). Therefore, you can say that it is overly flashy in terms of specifications, which are to amaze rather than provide maximum exploitation.
On the other hand, when it comes to the appearance of this Bulova piece, the glitz is spot on. The dominating colors of silver, gold, and black harmonize perfectly, while the red tints on a busy dial add uniqueness.
Moreover, the case measures 47mm in diameter, making it a spot-on big face watch for large wrists that is sure to catch attention.

Bulova Moonwatch 96B251
Movement: UHF quartz
Case size: 45mm
Water-resistance: 50m (165ft)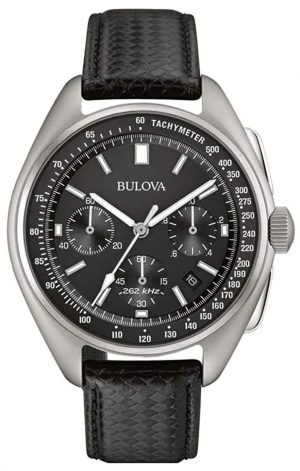 Not many watches have had the opportunity to go the Moon, but one Bulova timepiece made it there. It was in 1971 when an American astronaut David Scott had his personal Bulova Chronograph on his wrist during one of the excursions of Apollo 15.
The next top Bulova timepiece, the Moonwatch 96B251, is a remake of this historic time-tracker.
Just like the previous two watches, this one, too, features a UHF quartz with unparalleled precision. The sweeping motion, though, is present only in the chronograph feature, while the second hand on one of the sub-dials has a twice-a-second step count.
The Moonwatch comes in a 45mm stainless steel case and employs a high-quality sapphire crystal that protects from scratches and reflections better than any other crystal. You can also expect the timepiece to withstand minor water impact, although swimming might not be the best fit with this ticker.

Bulova Marine Star 98B104
Movement: Quartz
Case size: 44mm
Water-resistance: 100m (330ft)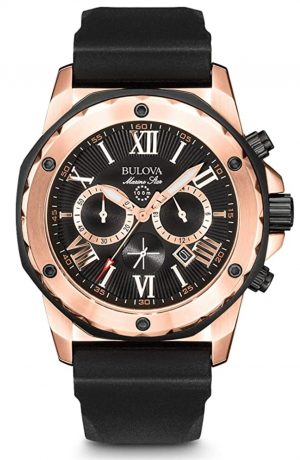 While wearing a Moonwatch for swimming may not be the best of ideas, it can't be said about the Bulova Marine Star 98B104. The watch out of the dive-inspired collection comes 100m (330ft) water-resistant, suiting conveniently for swimming, showering, and snorkeling.
Though, it is worth noting that this Marine Star watch doesn't possess a one-way rotating bezel for measuring elapsed time underwater. Neither does it possess ISO certification. Thus, it isn't an ideal timepiece to be worn for professional diving. If you wish to have a genuine dive watch, check out the Bulova Sea King 96B228 – a discontinued model that is still available on Amazon.
However, the shortages don't mean the watch is useless for other causes and occasions. Quite the contrary, especially if you consider the aesthetics of this 98B104 model.
A rose-gold toned 44mm stainless steel case is the primary character that makes it so sought-after. Elegance also reflects from the guilloche dial, where Roman numerals and three sub-dials give out an impression of a much pricier timepiece than it actually is.

Bulova Classic Watch 96A133
Movement: Quartz
Case size: 41mm
Water-resistance: 30m (100ft)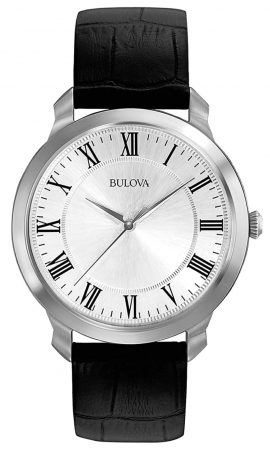 The Bulova Classic 96A133 may not be as extravagant as our previous entry but belongs among the best Bulova watches for the reason of possessing an excellent price-quality ratio and being a spot-on watch for suits.
The timepiece that costs well below $200 features a reliable and accurate Miyota quartz movement. The case of this Bulova is of polished stainless steel and is decently sized at 41mm, making it suitable for various wrist shapes and sizes.
Another noteworthy characteristic you get with this watch is the ultra-thin 6mm case profile, making it one of the best men's slim watches for the money.
Roman numerals and slim profiles have always combined well with smarter outfits. Therefore, go for this Bulova quartz watch if your work or hobbies include wearing smart shirts, suits, or tuxedos.

Bulova Maquina 98A179 Watch
Movement: Automatic
Case size: 46mm
Water-resistance: 100m (330ft)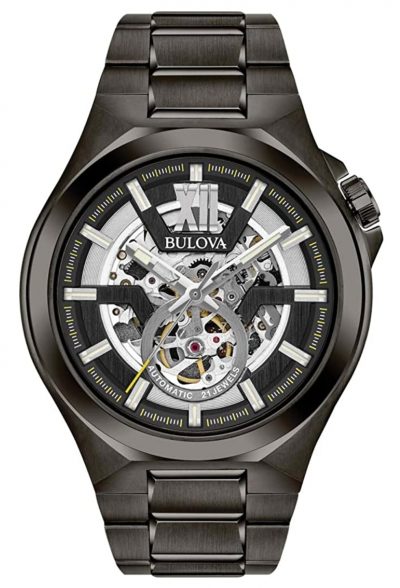 Besides quartz-driven timepieces, Bulova also has a wide selection of automatic self-winding watches available. They may not be as cheap when compared to Seiko, for instance. However, like you may have already noticed from the previously covered wristwatches, the American brand is not like any other manufacturer – it catches an eye with bold designs. The same applies to the Automatic collection.
The Bulova Maquina 98A179 automatic watch lets you see the timepiece's inner workings through a skeletonized dial and case back. The sight of a spinning rotor and moving gears doing the job right in front of your eyes is a real spectacle to watch. However, the variegated face makes the reading of the time somewhat complicated at first glance.
Quality-wise, the Maquina piece is of stainless steel with gunmetal IP treatment, providing unique coloring and extended protection. The watch face is covered with a mineral crystal that withstands scratches, knocks, and shatters. You can also take the watch for swimming as it is guaranteed with 100m (330ft) water resistance.
We've included the Maquina 98A179 on our list of the top automatic pieces for $500 as well, so feel free to check how it compares to other similar self-winders.

Bulova CURV Chronograph 96A205
Movement: UHF quartz
Case size: 44mm
Water-resistance: 30m (100ft)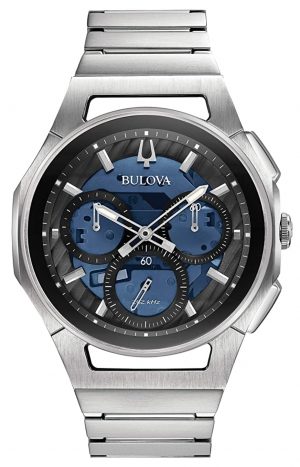 Probably the most outstanding watches from the brand come from the CURV collection, which features Bulova's most recent innovation – the curved chronograph. Like the name already suggests, the chronograph movement is engineered in the shape of a curve, fitting neatly to a wrist's contours.
We chose the Bulova CURV Chronograph 96A205 among the best Bulova watches for the exact reason described above – its sleek ergonomic design and slimness take the wearing experience to a whole new level. It is also equipped with the much-praised UHF quartz caliber that offers one of the best accuracies you can currently get.
The CURV watches come in two distinct types – dress and sports. This particular model represents the latter with a sleek design and sepia blue coloring on the dial. The core of this timepiece, the chronograph function, is set on the three sub-dials with a relatively minimalistic style.
In terms of exterior quality, the CURV 96A205 is as reliable as it can get. The dial is covered with anti-reflective curved sapphire crystal, the case comes with brushed stainless steel, and the metal bracelet has a convenient double-press deployment closure.
A neat extra is visible when turning the watch around – a see-through case back, presenting you with the innovational movement.

Bulova Marine Star 98B301
Movement: Quartz
Case size: 45mm
Water-resistance: 200m (660ft)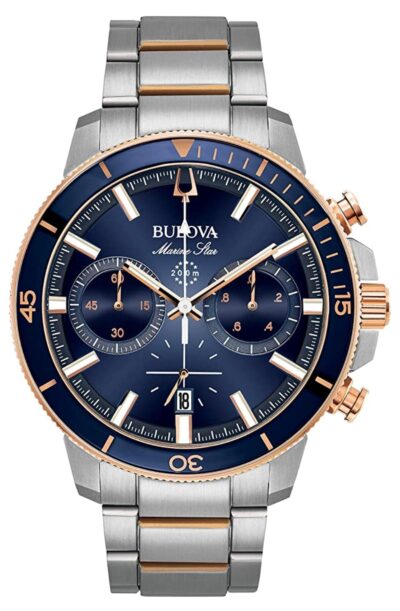 The next timepiece is another representative from Bulova's dive-inspired Marine Star collection. However, compared to our previously covered dive watch, the Marine Star 98B301 can actually be used for deepwater activities, though, for recreational diving only.
The watch is water-resistant for up to 200m (660ft), features a ratcheted rotating bezel and lume-filled markers and hands, and also a screw-back case.
Since a stopwatch function is one of the main features that Bulova equips its quartz watches, you can't escape from it in this model either. And why should you if it offers a 1/20-second precision with it?! The feature also serves to give the timepiece some flashiness and uniqueness, which has materialized nicely.
The above-average case size of 45mm suits the best for larger wrists rather than slimmer. Thus, make use of one of the watch size charts to check whether the diameter is your best fit.

Bulova Classic Watch 96B149
Movement: Quartz
Case size: 38mm
Water-resistance: 30m (100ft)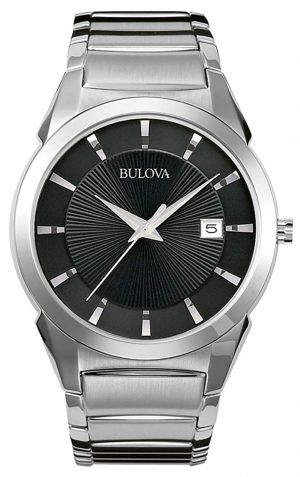 The Bulova Classic 96B149 is one of the smallest timepieces the brand has available, reaching 38mm in diameter. However, this doesn't limit its likelihood to be extravagant, even for the modest style it represents.
What makes it so desirable is the unique textured dial with an all-black appeal – it's simple when you look at it, but, at the same time, exquisite enough to be misled by the sub-$200 price the watch comes with. The hands and markers come in contrasting silver color, adding to the extravagance and making the time reading as easy as it can get.
The watch is powered by a reliable Japanese quartz movement and has a date window at three o'clock, the onliest function this Bulova has. Therefore, it's a spot-on dress piece, and one of the best Bulova watches for smart casual wear.

Bulova 96A135 BVA-Series Watch
Movement: Automatic
Case size: 42mm
Water-resistance: 30m (100ft)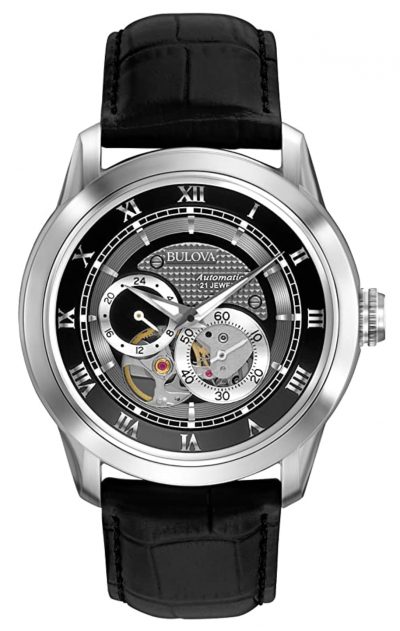 Another style where the Bulova brand excels is skeletonized watches. The Bulova 96A135, which also features on our list of the top skeleton timepieces, has an open heartbeat dial and a see-through case back. The partially revealed face is not as striking as many other Bulova watches have but is still an eye-catcher with various designing elements.
A textured dial, seconds' display, dual time, and golden balance wheel are all crammed into the inner circle, while the outer ring consists of easily readable Roman numerals, giving the watch a dressier appeal. The black leather strap also adds to the more formal side of this Bulova watch.
Since most skeletonized timepieces run on an automatic movement, this particular model isn't an exception. It is powered by a Miyota-produced self-winding movement with hacking possibility, and when fully wound, can keep a power reserve for up to 42 hours.
With a price tag of around $400, the Bulova 96A135 offers plenty of features and outstanding aesthetics for the money.

Bulova Sport Chronograph 96A213
Movement: Quartz
Case size: 43mm
Water-resistance: 100m (330ft)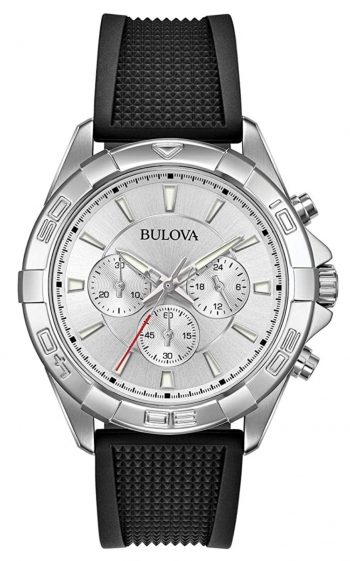 The Bulova Chronograph 96A213 stuns with an appearance and functionality of a multi-hundred dollar piece but with a price staying in the region of $100. This wonderful value-for-money time-tracker is, in our opinion, one of the best watches you can have for around a hundred bucks.
The reasons for this are hidden in the numerous features it provides with a stopwatch function and a swim-proof design.
The quartz-driven sports-oriented watch comes 100 meters (330 feet) water-resistant and is equipped with a unidirectional bezel and luminosity. The strap is made of silicone, which is spot on for serious water activities, including swimming, snorkeling, and shallow diving.
A chronograph function measures up to 30 minutes in 1-second intervals and is available on two small windows on the dial. The third sub-dial is reserved for a 24-hour time format.
You can expect decent quality from this Bulova due to its flat mineral crystal and polished stainless steel case that protect against shatters and scratches.

Bulova Marine Star 98B203
Movement: Quartz
Case size: 43mm
Water-resistance: 100m (330ft)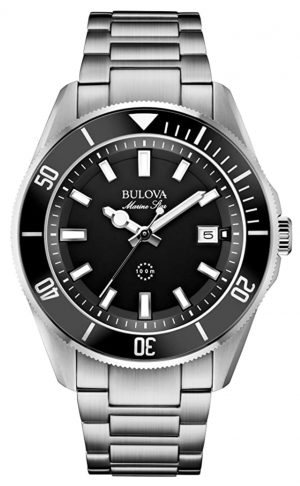 We finish our list of the top Bulova pieces with a classic-looking dive watch. The Bulova Marine Star 98B203 is a look-a-like to Rolex Submariner and Omega Speedmaster models with its black face and silver stainless steel case and bracelet, making it a cheap option for a luxurious-like timepiece.
The typical characteristics you usually find from a genuine dive piece are all represented, including a ratcheted unidirectional bezel and luminous hands and indices.
However, the watch is water-resistant to only 100m (330ft) and doesn't come with an ISO standard for professional diving. Nevertheless, you can freely use it for lighter water-related activities, such as swimming and snorkeling.

Conclusion: Best Bulova Watches
Bulova sure knows how to impress the buyers. Extravagant design, mesmerizing sweeping second's hand, incredible accuracy, and never-before-seen curved movement are what make this brand so desirable year after year.
If you didn't find the right timepiece from this article, no need to worry because the array of outstanding Bulova watches is much broader than the twelve represented here. With a history stretching back over a hundred years, you can be sure that any timepiece from this American brand will live up to the expectations, both appearance and quality-wise.

You may also like:
Affiliate Disclosure: As an Amazon Associate I earn from qualifying purchases. Details