Affiliate Disclosure: As an Amazon Associate I earn from qualifying purchases. Details
Hunting is far from a hobby you simply take on when you find yourself bored on a bright Sunday morning. It takes years of practicing shooting, understanding animal behavior, and studying the characteristics of various terrains.
The latter is often overlooked by many until they find themselves lost in the wilderness, unaware of their location and passage of time. That's where a particular piece of accessory, called a hunting watch, comes into play.
Visually, it doesn't differ from other types of wristwear. However, in terms of functionality, it offers plenty of features that could become real lifesavers and information hubs during outings.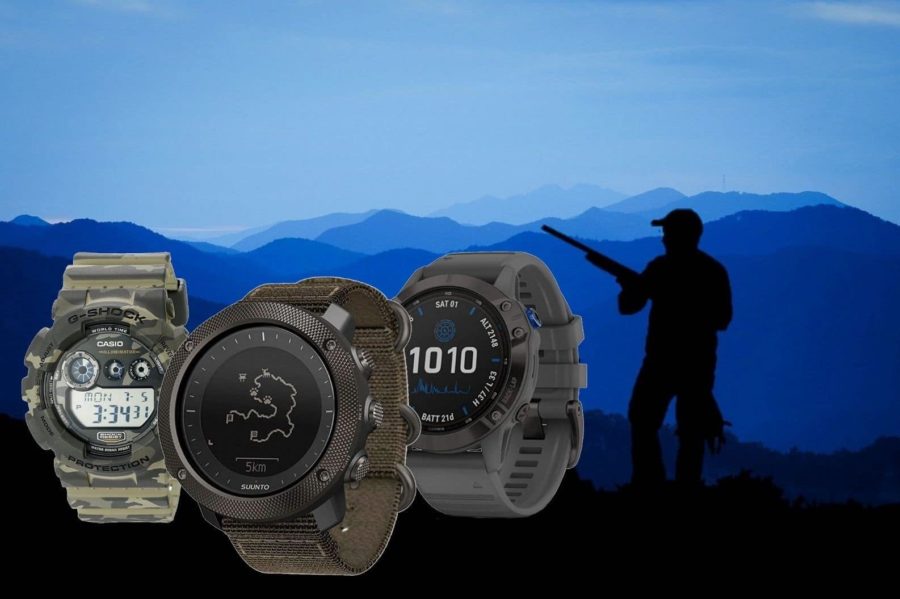 The following post covers the best hunting watches that are perfectly suited for the hobby.
You'll find GPS timepieces filled to the brim with uncountable extras, but also simpler digital and analog watches for more familiar landscapes that don't require GPS tracking.

Best Hunting Watches
The timepieces are conveniently priced between $100 to $800, so rest assured, you won't have to pay a fortune to receive a quality outdoor watch. Moreover, they are from reputable brands that have shown excellent quality levels throughout their existence.
Without further ado, here are the top 10 watches that you can use for hunting.
| | Type of navigation | Alti/Baro Thermometer | Water Resistance |
| --- | --- | --- | --- |
| | GPS + compass | Yes | 100m |
| | GPS + compass | Yes | 100m |
| | Compass | Yes | 200m |
| | No navigation | No | 200m |
| | No navigation | No | 200m |
| | GPS + compass | Yes | 100m |
| | Compass | Yes | 30m |
| | Compass | Yes | 200m |
| | Compass | Altimeter & Thermometer | 100m |
| | Compass | Yes | 100m |

Garmin Fenix 6 Pro Solar Hunting Watch
GPS: Yes
Altimeter, barometer, compass: Yes
Water resistance: 100m (330ft)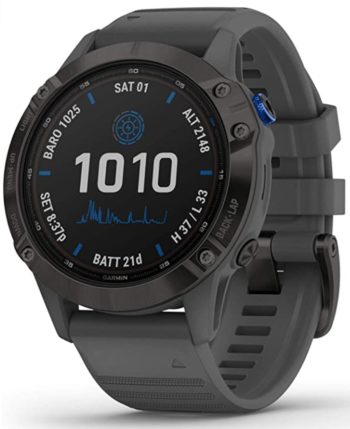 When it comes to the complete outdoor and survival watches, there's no better choice than one from the American GPS giant Garmin.
Along with the invaluable location tracking that every timepiece comes with, it offers a plethora of other features for numerous sports and activities. Most of them can also be applied to hunting.
The Garmin Fenix 6 Pro Solar watch has earned the privilege of featuring first on our list due to the widest selection of applications available in an outdoor piece.
The watch employs three navigation systems – GPS, GLONASS, and GALILEO – that all contribute to the most accurate positioning currently available in wearables. With the inclusion of an altimeter, barometer, and compass, the timepiece also allows you to keep track of heights and predict weather phenomena.
Probably the most valuable feature for a hunter with this watch is the topographic maps that provide you with a detailed overview of the surroundings. If you find yourself in an unfamiliar place, you can use the navigation option that leads you back to the starting point, avoiding the possibility of getting lost in the unknown.
On top of the uncountable features, the Garmin hunting watch is supported by solar power, enabling you to wear it for an extra couple of days in a smartwatch mode (extends from 14 days to 16 days with solar energy) and additional four hours in a GPS mode (from 36 hours to 40 hours) compared to a non-solar model.
The Garmin watch is also a wonderful piece of wearable for those wearers that deal with various other activities besides hunting.
As such, you'll find applications that aid surfers to catch the perfect waves, backcountry skiers to be up-to-date with more than 2,000 ski maps, and mountain bikers to receive dynamic biking metrics.
When talking about the negatives, it's the size of the Fenix 6. The diameter measures 51mm, which is huge for someone with slender wrists. And even men with medium-sized wrists find it too big.
Also, if you find yourself off the grid where the cellular reception is poor, you won't be able to communicate with your watch through your phone. It means you can't check your workouts, blood oxygen level, and other information that is typically available. In fact, that is the problem with all the phone connectible smartwatches, not only the Garmin Fenix 6.

Suunto Traverse Alpha Hunting Watch
GPS: Yes
Altimeter, barometer, compass: Yes
Water resistance: 100m (330ft)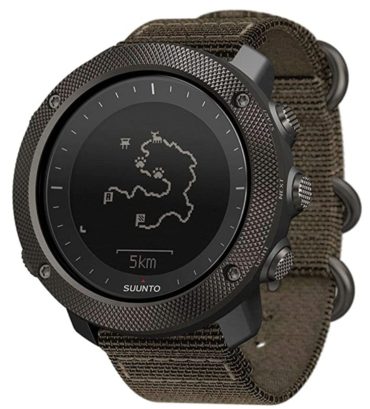 While the Garmin Fenix 6 timepiece is the most feature-rich outdoor watch and a fantastic hunting piece, the Suunto Traverse Alpha we have up next is probably the most oriented for hunting, void of unnecessary features unrelated to the hobby.
A jaw-dropping function you'll receive with this Suunto watch is the shot recognition technology. The function is intended for rifles and shotguns and works better when worn on the trigger hand. The algorithm identifying it is complex, comprising of motion patterns from wrist and gun recoil movement measured by the accelerometer.
Unlike many other timepieces that allow you to mark down places of interest (POI) with configured naming, this Suunto enables you to use a more specific keyword, such as a "shot" or "trail." That way, it helps to keep track of the specifics without any ambiguity.
A convenient application for hunters covering unfamiliar terrains is also the breadcrumb trail that leads you back to the point you started. The GPS and GLONASS systems may be sometimes slow but are very accurate in determining the exact positioning.

In terms of build quality, the Suunto Traverse Alpha is a very rugged timepiece to own. It's water-resistant to 100m (330ft), employs a premium-level sapphire crystal, and is covered with knurled stainless steel bezel.
Probably the onliest drawback with the Suunto Traverse Alpha is that it's a through and through hunting watch. What I mean by that is that it is not the most comfortable wearable for simple everyday use due to its size and construction.
Therefore, go for this watch if you actually hunt. Otherwise, choose other options that are more versatile.

Casio Pro Trek PRW-3510Y-8CR Watch
GPS: No
Altimeter, barometer, compass: Yes
Water resistance: 200m (660ft)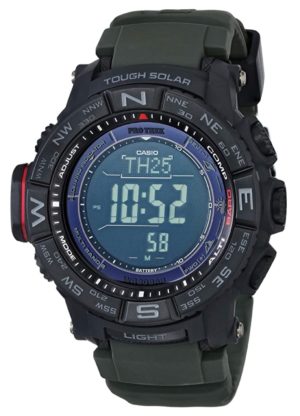 If you're hunting in familiar scenery and don't necessarily require a GPS to track your moves, there's a much simpler timepiece for the cause.
The Casio Pro Trek PRW-3510Y-8CR is a digital timepiece with an ABC function. The abbreviation stands for altimeter, barometer, and compass and helps determine direction and elevation.
An additional feature of this type of watch is the possibility to gauge temperature. Just make sure to take it off your wrist to receive precise results.
What separates the Pro Trek from the above-covered Garmin and Suunto watches is the extended battery life.
Since a solar quartz movement powers it, you can expect the cell to last for years to come without worrying about changing the cell or charging it. A fully charged battery lasts up to six months without any light being exposed to it.
Also, the Pro Trek piece is dead-accurate due to Multiband 6 technology that ensures atomic time basically everywhere you're located.
Other extras that a hunter might need for a successful venture include a LED backlight, ultimate water-resistance levels, and a stopwatch.
An area where this Pro Trek outclasses its earlier versions is the super-twisted nematic (STN) display. It means that compared to the LCD screens, the STN display requires less power and comes with better legibility in the extremes (highly bright and pitch-black conditions) without LED lighting. However, it is still a negative display watch, which is not as legible as a positive display version.
So, if you're after a super legible hunting watch, consider the positive display watches.

G-Shock Camouflage GD-120CM
GPS: No
Altimeter, barometer, compass: No
Water resistance: 200m (660ft)
Another durable watch for hunting is the G-Shock Camouflage GD-120CM. It has a ruggedness and militaristic appearance perfectly suited for adventures in the wild. Also, the watch provides valuable features for a very affordable price tag.
The first thing that instantly catches the eye is the camouflage appeal, which helps to stay unnoticed in the greenery.
The knobby and knurly construction under the camouflage protects the G-Shock from unexpected hits and knocks you may encounter outdoors, while the hollow case structure safeguards the vital intrinsics from gravitational shocks. So, it doesn't go without saying that a G-Shock is the most durable watch in the world.
Besides the magnificent reliability, the hunting watch employs a convenient LED backlight, five daily alarms, a stopwatch, and a countdown timer.
Like the Pro Trek hunting watch, this G-Shock is meant for terrains familiar to you since it doesn't have a GPS function. Regardless of that, it's nevertheless one hell of a wearable for a hundred bucks that won't let you down in the extremest of conditions.
If to pick about something, it would be the display. Since it occupies just under half of the dial, the time is crammed at the bottom. The result is a not-so-comfortable time reading. Fortunately, though, the display is positive (dark numbers on a light background), which helps capture the time better than with a negative display.

Luminox 3051 Evo Navy SEAL Watch
GPS: No
Altimeter, barometer, compass: No
Water resistance: 200m (660ft)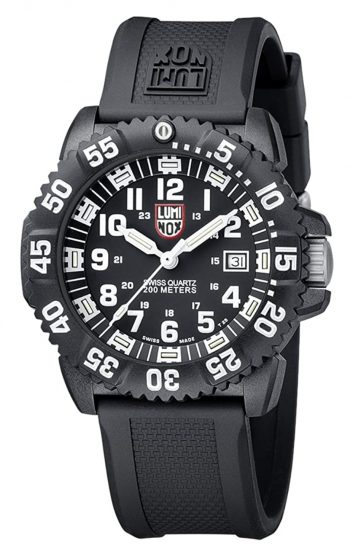 The next hunting watch is the most straightforward of them all. The Luminox Evo Navy Seal does not possess GPS tracking nor ABC function but is yet a preferred companion out in the wild. 
One of the primary reasons so many go for a Luminox piece is the outstanding luminosity that constantly glows for up to 25 years. The self-powered illumination in the hour markers and watch hands uses no battery power nor requires any light for the glow to initiate.
A nice characteristic of this technology is the convenient glow – it's neither too bright to catch unwanted attention nor too weak to stay unreadable for the wearer. Therefore, the Luminox watch is more discreet out in the wild than G-Shock and Pro Trek watches that come with intense and bright LED light when checking the time in the dark.

The Luminox watch brand is also famous for the durability of its wristwear. Thus, as a purpose-built outdoor watch as the Evo Navy SEAL timepiece is, it will stand harsh conditions both on the land and in the water. The watch comes in a durable carbon-compound case that makes it lightweight on a wrist. Also, the construction is protected with a 200m water resistance.
A great thing about this Swiss-made watch is that you can wear it for other occasions too, besides hunting – it's decently sized at 44mm case diameter, has a classic analog face, and a universal black appeal.
However, be prepared to buy extra straps because the polyurethane band is not the most durable. Probably the best type of watch strap for outdoor activities is the canvas strap. Fortunately, there's enough selection for 23mm sizes.

Garmin Tactix Delta Hunting Watch
GPS: Yes
Altimeter, barometer, compass: Yes
Water resistance: 100m (330ft)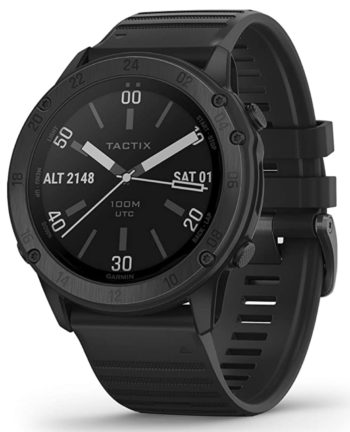 The Garmin Tactix Delta watch is very similar to the Fenix 6 model we covered earlier but comes without solar-enhanced powering. Regardless of that, the Garmin piece will hold an excellent charge up to 21 days in a smartwatch and 60 hours in GPS mode.
However, what's truly essential for hunting enthusiasts is the combination of a GPS and preloaded TOPO mapping you'll not find from more straightforward timepieces. With routable map navigation, you can track your movement and be assured to find your way back to point A.
If the terrain is mountainous, the Garmin Tactix offers the possibility to gauge ascending and descending metrics, along with an electronic compass. Also, since the watch serves tactical purposes, you'll find dual-format GPS coordinates, which help pinpoint specific locations.
Given that hunting is an exhausting activity both physically and mentally, the wrist-based heart rate monitor is a neat extra you could make use of. The technology counts steps and burnt calories and calculates a stress score to give you an insight into the intensity you go through.
In visual terms, the Tactix Delta is very rugged and comes with a dark coating. However, the coating isn't bulletproof as it tends to receive scratches when accidentally hitting it against hard surfaces. Also, its size is quite large, which won't go well with smaller wrists.
Overall, the watch is still top of the class with its uncountable features and durable construction (par the coating).

Suunto Core All Black
GPS: No
Altimeter, barometer, compass: Yes
Water resistance: 30m (100ft)
The Suunto Core All Black is one of the most popular sports and outdoor watches around. Due to its favorable characteristics, it's also a spot-on wearable for chasing animals in the wild.
Arguably, the best feature of the Suunto watch is the ABC – altimeter, barometer, and compass. The sensors will provide you with data on heights, predicted weather phenomena, and direction. You can also measure the current temperature at the location you're situated.
The Suunto Core piece is also an efficient planning assistant – it is equipped with preset sunset/sunrise times in 400 locations and warns you beforehand when a storm is approaching.
Compared to other watches for hunting purposes, this Suunto timepiece is very affordable, staying conveniently around the $100 mark. In addition, it's beautifully designed to suit various tastes.
However, the affordable price also means the Suunto Core may not be as capable and durable as the more expensive ones. For instance, it doesn't have GPS or any health-related applications, such as the heart-rate monitor and step counter. Also, several owners have found the buttons to be low quality – they tend to get stuck in the case.
Therefore, the Suunto Core is a budget-friendly option with fewer possibilities compared to the Suunto Traverse Alpha and Garmin models.

G-Shock Master of G Rangeman GW9400-1B
GPS: No
Altimeter, barometer, compass: Yes
Water resistance: 200m (660ft)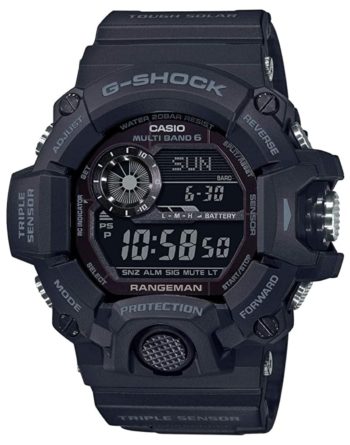 The next timepiece is one of the top hunting watches due to its utmost resilience against various shocks. The G-Shock Rangeman GW9400-1B is an iconic model from Casio that withstands 200m (660ft) of water pressure, vibrational shocks, gravitational shocks, and temperature shocks.
The Rangeman is also mud-resistant, meaning that laying on the ground and waiting for the right moment to shoot even in the muddiest of conditions won't do much harm.
Like with the majority of watches for hunting, this timepiece, too, is equipped with an altimeter, barometer, and compass for enhanced information about the movements in the field.
When it comes to other features, the Rangeman is accurate to atomic precision and charges itself through all sorts of light. In combination with outdoor functions, these two characteristics make this G-Shock one of the best solar atomic watches around.
The only downside of this G-Shock is the negative display, which is oftentimes challenging to read at a quick glance. Therefore, choose this watch if the overall appeal and functions outweigh the fact that you have to take a second or two to catch the time.

Timex Intelligent Tide Temp Compass Watch
GPS: No
Compass & Thermometer: Yes
Water resistance: 100m (330ft)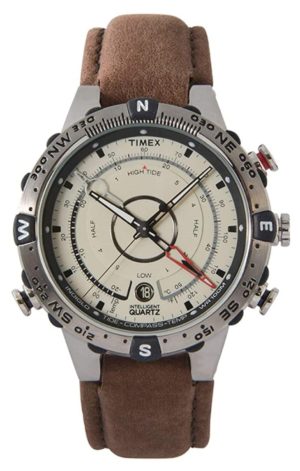 Quite a singular watch that suits hunting is the Timex Intelligent Tide Temp Compass watch.
What makes it unique is the analog face instead of a digital one that displays a compass feature, temperature, and current tide situation. The classic appearance is suitable for those who do not like digital watches but prefer a sleeker visual appeal.
Despite the fact the watch is not digital, the accuracy of the results, both temperature and direction-wise, is surprisingly good. You can read the temperature in Fahrenheit and Celsius simultaneously and receive directions in 10-degree precision.
However, since the watch is so unique for featuring all the functions while being an analog piece, it takes some time to get around with the features it offers and how they work. Fortunately, Timex provides a handy how-to guide with all the explanations.
A proprietary feature you'll find from every Timex watch is the famous greenish-blue Indiglo backlight that activates through the push of a button. In addition, the watch hands are luminous, providing visibility in low-light conditions. However, don't expect the lume to be on par with dive watches.
Considering the fact that the timepiece costs around a hundred bucks and comes with essential features for outdoor activities, it is a bargain for your money.

Casio Pro Trek Ana-Digi Watch for Hunting
GPS: No
Altimeter, barometer, compass: Yes
Water resistance: 100m (330ft)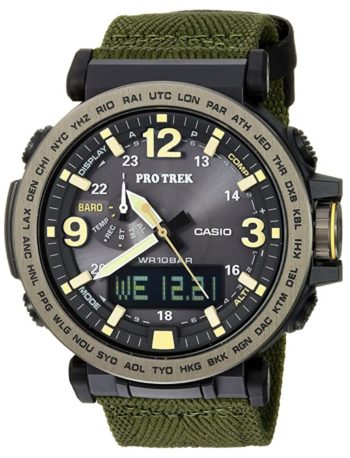 We finish the list of the top watches for hunting with another Casio piece. The Pro Trek Ana-Digi watch is similar to the PRW-3510Y model in terms of functions but surprises with a nice-looking analog-digital face.
The digital screen is small in size and is located conveniently at the six o'clock position, leaving most of the space for the classic analog face.
Feature-wise, the Pro Trek piece is equipped with an altimeter and barometer for height measurement, a digital compass for determining the direction, and a thermometer with a range of 14F to 140F (-10C to 60C).
The watch has a green fabric strap that stays unnoticed in the wild and withstands wet conditions. In fact, the Pro Trek overall is an excellent timepiece in terms of water resistance – with a rating of 100m (330ft), you can not only wear it during the rain but also go for a swim without damaging it.
Besides hunting, the Pro Trek is a suitable wearable for hiking as well due to its favorable looks, construction, and features.
---

Characteristics of Hunting Watches
Although the prerequisites for a timepiece to be called a hunting watch are not set by any instances, there are still some characteristics that shouldn't be overlooked when wishing to acquire a dependable wristwatch.

1) GPS Tracking
The most complete and advanced hunter's watch employs GPS technology. Covering unknown fields and forests without a capable navigation system could easily end up sadly. Therefore, a timepiece that is equipped with a GPS could be a real lifesaver.
If hunting takes place in familiar places, a GPS hunting watch is not necessarily essential. However, the technology offers several other extras you could make use of, such as marking down places of interest for shots and trails for future references or even a dedicated shot detection technology.
GPS tracking is available in Garmin and Suunto models. While Garmin watches hardly ever sell below the $500 mark, Suunto has a wide selection of pieces available for a couple of hundred bucks. They may not be as feature-rich but will do the job perfectly.

2) Compass, Altimeter, Barometer, Thermometer
Another characteristic describing competent hunting watches is the existence of a compass. It's a way simpler technology than GPS, but it could be as useful as the navigation system when appropriately handled.
The majority of hunting watches employ digital compasses, but you'll also find some analog pieces where the direction could be determined by one of the watch's hands.
Timepieces employing a compass are often paired with an altimeter and barometer. This neat function lets you know of the heights you're situated in and is best to be used in mountainous areas where the elevation changes rapidly.
And when there are an altimeter and barometer, you'll not get around with a thermometer. This one's also a valuable feature in determining weather conditions.

3) LED Light & Luminosity
Hunting trips can often end or even take place in pitch-black conditions. Therefore, a watch with a LED light or luminosity is of great help in identifying the exact time, location, or any other valuable information.
Both or either of these lighting technologies are available in most hunting timepieces.

4) Durability & Longevity
Since hunting takes place outdoors where the weather conditions vary drastically, and the terrain could involve mud, water, and rocks, a genuine watch for hunting must be reliable enough to stand these extremes.
The timepiece should have decent water resistance, durable case construction, and long-lasting straps. If the watch comes with a sapphire crystal instead of a mineral glass, the better it is.

5) Suitable Appearance
What's the use of a watch in the wild if it distracts animals with its reflections and flashy colors? Therefore, a competent hunter's timepiece should come with a darker appeal or camouflaged colors in order to stay hidden from unwanted attention.

Final Take
We hope this overview of the best hunting watches has taken you closer to choosing the right timepiece for the hobby. Like you've seen from the watches covered above, a competent wearable for such an intense activity doesn't cost a fortune. What's important, though, is to pick a timepiece you'll feel covers your needs the most.
If you're exploring fields unknown to you and you wish to receive as much information as possible, go for a Garmin or Suunto watch. On the other hand, if it's just a little fun every other Sunday, choose a simpler piece, such as a Luminox or Timex watch.

You may also like:
Affiliate Disclosure: As an Amazon Associate I earn from qualifying purchases. Details
Latest posts by Carl Pender
(see all)