Affiliate Disclosure: As an Amazon Associate I earn from qualifying purchases. Details
Why would a person go for a solar watch? Well, first off it's the convenience of not dealing with annoying battery replacements every other year. Then there's the ecological issue of preserving nature by not raising the demand for battery production.
And finally, who wouldn't want to own a timepiece with such a positive image in society, especially considering the bargain prices.
Since the pool of solar-powered wristwear is remarkably large, we've come to aid you in presenting the top models currently available.
Following, we've listed the best solar watches for men from renowned brands with excellent feedback from buyers that all possess the previously mentioned merits.


Also, be sure not to miss the Q & A section below where we answer some of the most common questions that typically arise with solar-powered watches.
Best Solar Watches

Citizen Eco-Drive Chandler Field Watch
Model: BM8180-03E
Case size: 37mm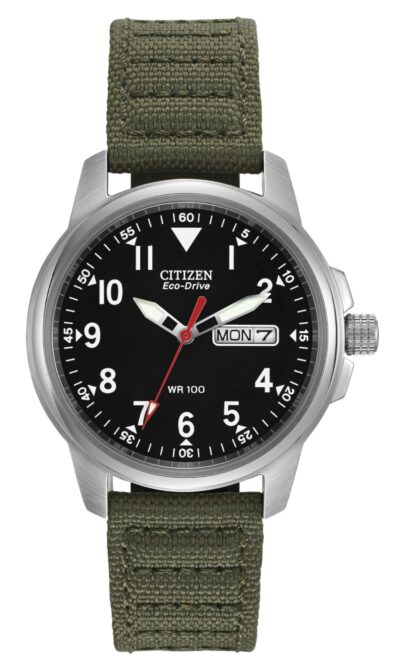 Citizen's Eco-Drive is the king of solar technologies in watches. Therefore, starting the list with a Citizen timepiece is almost a must.
The Chandler Field Watch BM8180-03E, as the name suggests, is inspired by the military and fits perfectly for those with an active lifestyle. The silver-toned 37mm stainless steel case along with an army green nylon strap defines its ruggedness.
Another characteristic adding to the looks of a classic field watch is the black dial with Arabic numerals and a day-date feature at 3 o'clock.
The watch is powered by a 3-hand E101 Eco-Drive solar quartz movement which receives energy from all sorts of light; even the dimmest of lights will give the rechargeable battery the required energy it needs to function. When fully charged, the cell can last up to six months without any light.
When you've found yourself in the dark and in need of a time update, the luminous hands and markers will help you in that. You can also swim, snorkel, and shower with the watch on your wrist as it is water-resistant up to 100m (330ft).
PROS
✅ Rugged and durable
✅ Keeps an accurate time
✅ Doesn't require battery replacements
✅ Is powered by any light
CONS
❌ Luminescence could be better
❌ Case size may be a bit small for some
---
Seiko Prospex PADI Solar Watch
Model: SNE435P1
Case size: 44mm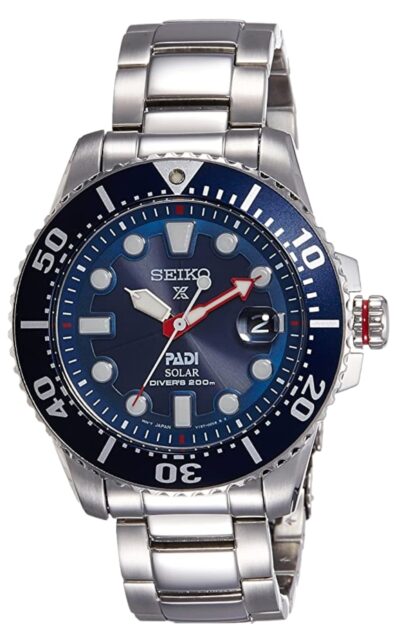 Another highly renowned brand in the field of solar technology is Seiko. Although the brand's main competitor Citizen boasts a higher number of solar-powered timepieces, Seiko has nevertheless provided a stiff rivalry in the Seiko and Citizen comparison.
Seiko Prospex collection comprises timepieces for Air, Land, and Sea but the most sought-after are their dive watches.
The Seiko Prospex PADI Solar, which also features on our list of the top Seiko watches, has very sophisticated apparel, and though aimed for professional diving, it fits well to other occasions too. The prime element contributing to the versatile look is the above-average 44mm steel case and band.
The blue dial is covered with Seiko's proprietary Hardlex mineral crystal and features a distinctive red minute hand and a date display with a magnifier. The unidirectional bezel on the outer ring, as well as luminous hands and markers, give the timepiece the look of a genuine dive watch.
However, the practicality of a diver's wristwatch is guaranteed through a 200m (660ft) ISO-certified water resistance and screw-down crown and case back.
Seiko's solar cells can maintain the charge for up to 10 months while keeping excellent accuracy.
PROS
✅ Professional looks
✅ ISO-certified to 20 ATM
✅ Requires minimal light for charging
CONS
❌ Too large case for old-school wearers
---
Casio G-Shock GW2310 Atomic Solar
Model: GW2310-FB1
Case size: 41mm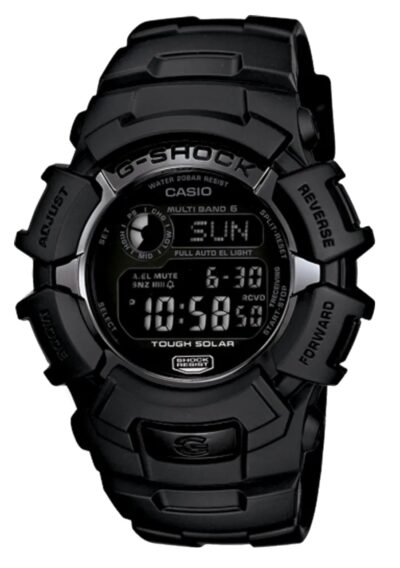 Tallying the list of Japanese watch companies providing solar charge is Casio's G-Shock line. It has become a synonym of ruggedness while offering top-notch technologies at the same time.
The GW2310 Atomic Solar watch comes with two high-tech features – besides solar power, it also features atomic time. The solar atomic watch comes with Multiband 6 technology, which guarantees atomic precision through radio waves in six locations – Northern America, the UK, Germany, China, and Japan (2 locations).
The fully digital GW2310 comes in a durable resin case with a 41mm diameter. You can expect this timepiece to look big on your wrist as the width at 15mm is well above the market average. The knurly knobs, which also add to the dimensions, serve the purpose of protecting the watch from unwanted knocks and hits, making it utterly shock-proof for rigid activities.
The watch comes with an EL backlight and stands water pressure up to 20 ATM. Last but not least, the stopwatch measures a fantastic 1/100th of a second, in that outperforming many of its main competitors.
PROS
✅ Solar charge lasts up to 10 months
✅ Always accurate to atomic precision
✅ Stands harsh conditions
CONS
❌ The display is sometimes difficult to read
❌ Won't suit for formal occasions
❌ Atomic time is not available everywhere
---
Timex Expedition Scout Solar
Model: TW4B184009J
Case size: 40mm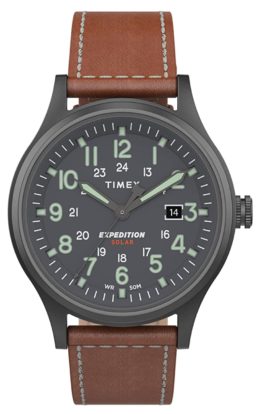 Timex is known for very affordable yet reliable timepieces. Although the number of solar watches is limited, the brand has made sure the ones that have the technology, are up to the expectations.
The Expedition Scout Solar at 40mm size is appropriate for numerous occasions, from fancy events to hiking in the woods. Especially supporting the latter are the brass case and leather strap that provide the kind of durability one would expect from a timepiece carrying the name "Expedition Scout."
Although Timex's solar charge lasts less than the majority of competitors' equivalents – about two months – it is still more than adequate for a convenient user experience.
The grey dial with distinctive greenish hour markers is the prime characteristic of the watch. You can be sure to receive positive feedback when wearing it.
PROS
✅ Suits for various occasions and events
✅ Never needs a battery replacement
✅ Durable and eye-catching
✅ Very affordable
CONS
❌ Not suitable for swimming or showering
❌ Solar technology is inferior to other brands
---
Tissot T-Touch Connect Solar Watch
Model: T1214204705101
Case size: 47.5mm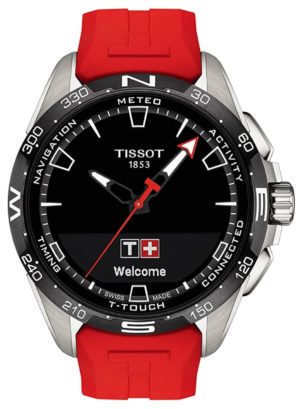 Not many Swiss watch brands boast solar technology, but Tissot is a rare exception. Being one of the most recognized Swiss manufacturers, you can be sure that any watch carrying the Tissot name is up to the standard.
The Tissot T-Touch Connect Solar timepiece is a very capable solar sports watch with various functions to get by outdoors. For example, it is equipped with an ABC feature providing information about heights and barometric pressure and offering a digital compass for determining directions.
Further, this Tissot is pairable with a smartphone, enabling notifications for incoming calls and texts. You can also count steps and check calories burnt, adding even more to the versatile nature of this timepiece.
Materials inherent to top-quality watches are available in all of the parts when the case is of lightweight titanium, the dial comes with a tactile sapphire crystal, and the outer ring is made of ceramic.
On top of that, a quality Swiss quartz movement along with convenient solar charging only but complements the perfection of Tissot.
PROS
✅ Lightweight titanium case
✅ Scratch-resistant sapphire glass
✅ Smartphone compatible
✅ ABC function
CONS
❌Somewhat pricier than others on this list
---
Garmin Instinct Graphite Solar Watch
Model: Instinct Solar Graphite
Case size: 45mm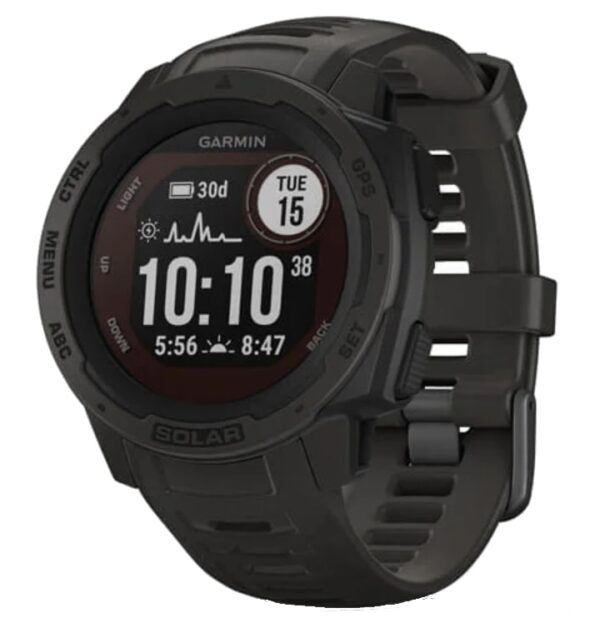 Garmin is best known for its GPS systems but has made a name in wearables, too. Their satellite-enabled watches now carry the solar innovation as well, making their timepieces challenging to say no to.
This Garmin Instinct Solar comes in cool-looking graphite apparel. It is actually made of fiber-reinforced polymer with a finishing that gives the impression of graphite. Hence, it is a rugged-looking watch made for tough conditions.
However, the best part of this watch is definitely the solar-powered feature. When typical smartwatches last a couple of days before needing a charge, this Instinct Solar will last up to 54 days in smartwatch mode. The dial has an indicator on the dial showing the remaining energy, so you'll know precisely when it needs a charge.
When it comes to the applications, you'll have a wide variety of them available. GPS, heart rate monitor, stress tracking, and altimeter are just a few to mention.
The watch also makes it a perfect solar military timepiece due to being constructed to U.S Military Standard for thermal, shock, and water resistance to 100m (330ft).
PROS
✅ The solar cell keeps a fantastic reserve
✅ Rugged and extremely durable
✅ Goes well with many styles
✅ Various useful functions
CONS
❌ Not a touchscreen watch
❌ Dial requires extra protection
---
Citizen Promaster Diver Watch
Model: BN0151-09L
Case size: 43mm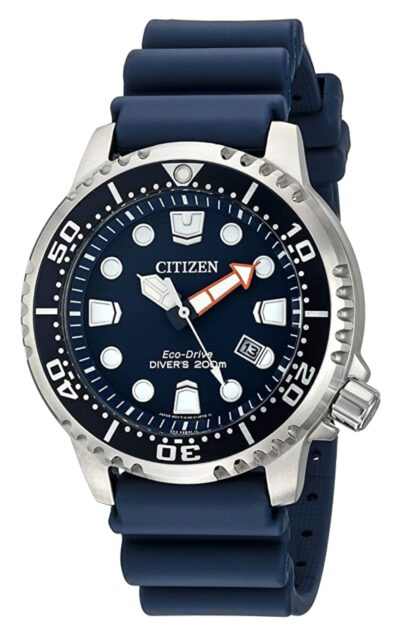 Citizen has a high reputation for producing fine dive wristwear. The Promaster Diver BN0151-09L is one of the best solar watches you'll find for underwater activities.
This solar quartz Eco-Drive movement watch is ISO-certified to 200m (660ft), meaning that you can use it as a professional diver's watch. Its unidirectional bezel and luminous hands and indices provide the features you'll need deep down.
Quality-wise, the case is made of stainless steel, the bezel is of aluminum, and the strap comes in blue-colorod polyurethane – absolutely nothing to complain about here.
Many customers who own the timepiece are delighted with the aesthetics and quality as well as it goes perfectly with different styles, is up to the expectations, and keeps accurate time. However, some find the strap to be a bit stiff during the first weeks but eventually get used to it.
All in all, for the price this Promaster Diver is sold, you get more than you would've expected.
PROS
✅ ISO-certified for underwater activities
✅ Quality Eco-Drive solar technology
✅ Goes well with various clothing styles
CONS
❌ Polyurethane strap is a bit too stiff
---
Casio G-Shock GAS100G-1A
Model: GAS100G-1A
Case size: 53mm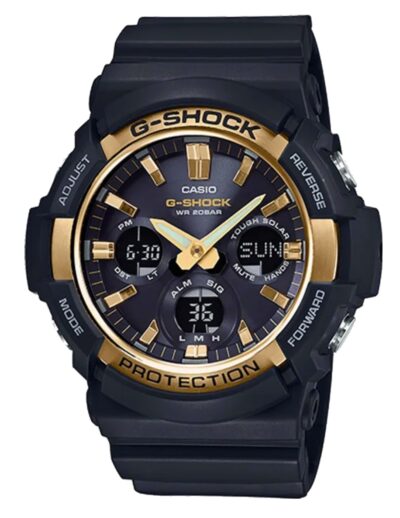 Another quality Casio with Tough Solar is the G-Shock GAS100G-1A. The watch has caught positive feedback for its unique appeal where the golden accent on the bezel and hour markers catches everyone's attention. The same characteristic makes it versatile for various clothing styles.
Foremost, the G-Shock GAS100G-1A is for active people who spend most of their time outdoors rather than indoors. Rugged design, shock resistance, anti-magnetism, and water resistance to 20 ATM are proof that this watch is no kid's play.
The piece also features a multifunctional 1/1000-second chronograph and full auto LED light, covered in a stainless steel case and aluminum bezel.
But beware, the case size exceeds 50mm and will not go well with slender wrists. Be sure to check the watch sizing chart before buying it.
PROS
✅ Golden accent adds luxury
✅ Stands tough conditions
✅ Costs less than many on the list
✅ Never requires battery replacement
CONS
❌ Too large for many
❌ Digital sub-dials are sometimes hard to read
---
Seiko Solar Watch SNE039
Model: SNE039
Case size: 37mm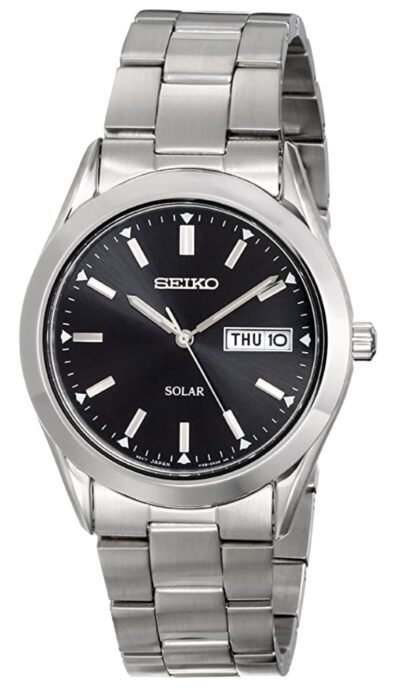 The Seiko Solar SNE039 has been one of the best solar watches in the dress category for many years. Despite being on the market for nearly ten years already, this wristwatch is still timeless and sought-after to this day.
The SNE039 model has a classy 37mm stainless steel case and link bracelet. At first glance, the dial looks simple with plain black color but in fact features a sunray design that adds a unique spark to the aesthetics. Silver sword-shaped hands together with markers that replace numbers all but complement the classic yet unique looks.
This Seiko is guaranteed to only 3 ATM, but you wouldn't need more from a typical dress watch.
Last but not least, since the timepiece has been in production for several years, the price is more than just affordable, staying well below the $200 mark.
PROS
✅ Quality stainless steel case and bracelet
✅ Cool sunray design
✅ Gets charged from any light
✅ Has a pleasant price tag
CONS
❌ Stainless steel makes it heavy on the wrist
❌ Some owners complain about the insufficient glow
---
Citizen Brycen Eco-Drive Watch
Model: CA0649-06X
Case size: 44mm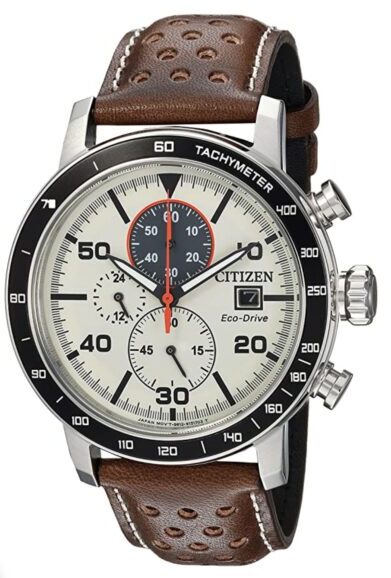 Moving on to a flashier piece, the Citizen Brycen CA0649-06X is a dessert for chronograph admirers. The stopwatch's orange second's hand measures 1/5th of a second, while the tachymeter on the aluminum bezel becomes handy when specific time and distance intervals need evaluating.
Stainless steel case and brown leather strap go well with the beige dial, adding to the flashiness this vintage-like sports-oriented watch possesses. Since there's a trend for above-average sizes these days, the 44mm case diameter perfectly fits the bill for fashion followers.
The movement runs on a proprietary solar Eco-Drive technology that keeps accurate time, never needs a battery, and gets charged from any sort of light.
PROS
✅ Handy chronograph feature
✅ Trend-following 44mm case
✅ Fashionable brown leather strap
✅ Accurate
CONS
❌ The date window is often difficult to read
---
Casio Pro Trek Tough Solar Watch
Model: PRW-3510Y-8CR
Case size: 48mm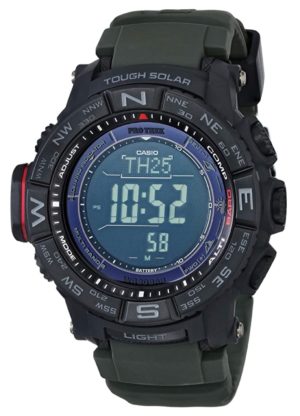 Casio has more than one ultra-durable solar line – besides the G-Shock, there's also the Pro Trek series. Aimed for people with an active lifestyle, you can expect similar features and looks as they're in the G-Shocks.
The Pro Trek PRW-3510Y-8CR comes in navy green and black tones with a bezel that is rich of information. Since the fully digital timepiece combines various functions that could take weeks to come by, you should make sure to discover everything it has to offer right from the beginning.
An essential function for hikers and campers is, without a doubt, the ABC – the altimeter, barometer, and compass functions. The model also features a thermometer feature and atomic timekeeping. And when tallying it with an accurate solar quartz movement, we end up with an impeccable outdoor watch.
Despite the broad case size, this Pro Trek weighs only 100g (3.4 ounces).
PROS
✅ Perfect for serious hiking and the military
✅ Atomic precision
✅ Charges from any light
✅ Feels light on the wrist
CONS
❌ Watch face may be too crowded for some
---
Seiko Excelsior Gunmetal Solar
Model: SSC139
Case size: 43mm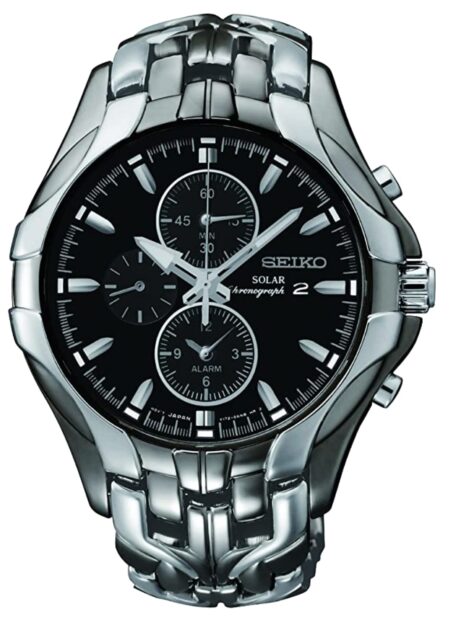 The Seiko Excelsior Gunmetal Solar provides one of the most exciting designs from the brand. When a typical Seiko is somewhat modest regarding the style, then this one surely makes a bold statement.
The sleek gunmetal and silver-tone case and bracelet combine well with black dial, forming the design of a race car among the regular sedans if we were to talk about cars. Although it's not overly large (43 mm case diameter), it leaves an impression of a much larger one.
The dial comes with three sub-dials for stopwatch functions, while the hands and markers shine bright in the dark.
The rechargeable cell powers itself from any kind of light, while the quartz movement guarantees accurate time, losing or gaining only around 15 seconds a month.
This Seiko SSC139 suits perfectly for casual wear, as well as special occasions and all kinds of sports.
PROS
✅ Unique and sporty design
✅ Charges from any light
✅ Perfect in size
✅ Handy chronograph feature
CONS
❌ The design may be too much for some
❌ Somewhat heavy on the wrist
---
Citizen Eco-Drive Avion
Model: BX1010-11L
Case size: 44mm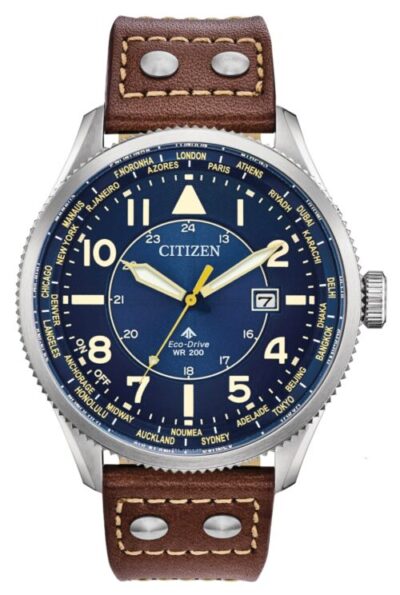 A genuine vintage watch, the Citizen Avion BX1010-11L has been modernized to nowadays standards. It's quite a recent release from the brand but deserves to be on this list of best solar watches with pride and honor.
The watch comes in a 44mm stainless steel case and has a mineral crystal, both durable and long-lasting materials. The dial is the core of this timepiece, featuring a royal blue background and yellow indices and writings. Complementing the color scheme of the watch is the sumptuous coffee brown leather strap with metal rivets.
The Eco-Drive Avion features the World Time function in 26 different time zones and a perpetual calendar, making international travel much more convenient. The watch is water-resistant to 20 ATM, which is suitable for swimming, showering, and snorkeling but not for professional diving.
PROS
✅ Unique apparel
✅ Quality leather strap
✅ Perfect for international travel
✅ Made of quality materials
CONS
❌ Doesn't show a dual timezone
---
Seiko Chronograph Solar Watch
Model: SSC779P1
Case size: 43.5mm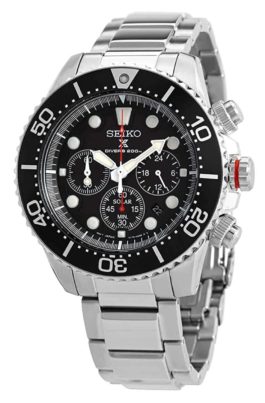 Another of Seiko's classics, the Chronograph Solar SSC779P1, is also one of those watches that is sought-after even after years of existence.
What makes this watch so unique then?
Well, the first and foremost reason lies in the combination of solar-powered movement and diving capability. The second reason could be credited to sophisticated looks with a shiny stainless steel bracelet and a decent black dial and three subdials. The watch is a perfect tool watch, but can also be a dress watch for special occasions.
Last but not least is the high quality the watch possesses – stainless steel case and bracelet and Seiko's proprietary Hardlex glass are all solid materials.
A nice small detail complementing the aesthetic beauty of this Seiko Chronograph Solar is the contrasting red on the crown and seconds hand.
PROS
✅ ISO-certified to 20 ATM
✅ Never needs a battery replacement
✅ Made from high-quality materials
✅ Suitable for various occasions
CONS
❌ Chronograph buttons need to be unscrewed before use
---
Casio Pro Trek PRW-6600Y
Model: PRW-6600Y-2CR
Case size: 45mm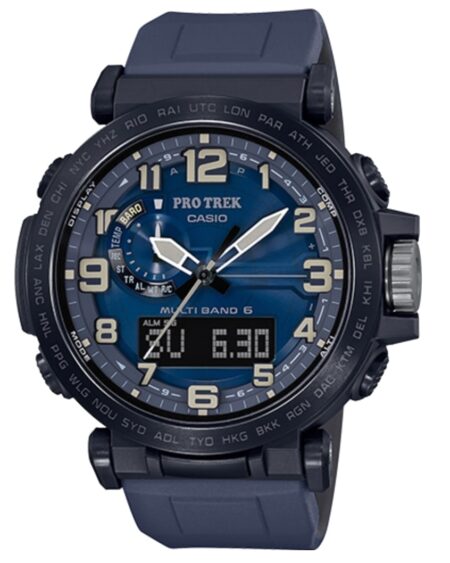 This Pro Trek PRW-6600Y model is as feature-rich as the majority of Casio's products.
You can exploit the Triple Sensor technology that measures the altitude, barometric pressure, temperature, and directions for safe and informed hiking. You don't need to worry about time adjustments either as the Multiband 6 guarantees atomic precision basically everywhere in the world.
Enjoying water sports with this Pro Trek is also carefree as it comes 100m (330ft) water-resistant. And if you live in the cold parts of the world, the timepiece keeps functioning correctly even in sub-zero conditions as it comes -10C/14F low temperature resistant.
When talking about the looks, then the blue band and dial make the timepiece unique among other watches. Material-wise, the 45mm stainless steel case and silicone strap are of high quality and fit conveniently to the wrist.
PROS
✅ Many useful features for outdoor activities
✅ Keeps an atomic accuracy
✅ Runs even in sub-zero conditions
✅ Made of quality materials
CONS
❌ Mineral crystal tends to reflect too much
❌ The lume tends to fade quickly
---
Timex Expedition Solar Gallatin 44m
Model: TW4B14600
Case size: 44mm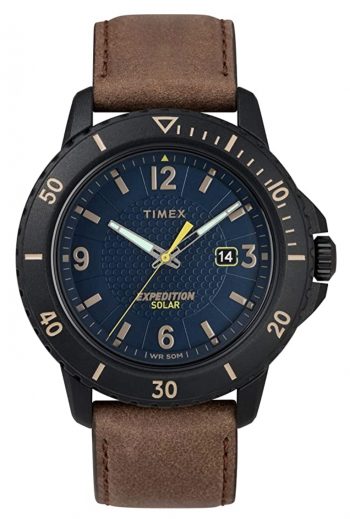 Another Timex watch has made its way to this list of best solar watches. It is the Timex Expedition Solar Gallatin with a 44mm resin case that boasts reliability in line with an affordable price tag.
The materials are, indeed, inferior to the ones you'll find from typical high-quality timepieces. Still, Timex has been able to pull the maximum out of them by combining everything into a reliable and robust unit.
Inspired by the northern edge of the U.S Rockies, this solar-powered Expedition Gallatin consists of a brown leather strap, black resin case, and dark blue dial. The seconds hand has a contrasting yellow color, as does the date window at 3 o'clock.
As it is with all the Timex's solar watches, the rechargeable cell runs on any light and keeps the charge up to two months.
PROS
✅ Very affordable
✅ Military-inspired apparel
✅ Gets charged from all sorts of light
✅ Lightweight
CONS
❌ Luminescence is weak
❌ Bezel is fixed
---
Citizen Promaster Navyhawk A-T
Model: JY8035-04E
Case size: 48mm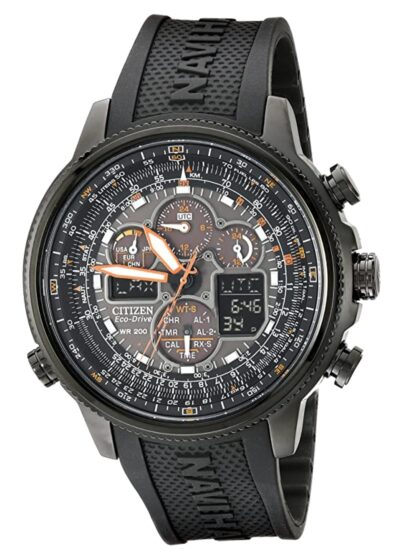 If you're after a super complicated watch, then look no further, because the Promaster Navyhawk A-T from Citizen ticks the box.
The first thing that literally gives the mesmerizing first impression is the 48mm dial full of small numbers and markers. They're nothing but parts of a slide rule ring for various measurements that pilots might need during the flight. The watch comes with an instruction manual, so learning the new tricks has been made easy for you.
The most significant function in this timepiece is the atomic time that is available in 43 cities around the world. The time adjustments are made several times during the nighttime. You can also make use of the dual timezone to keep an eye on the home time when being in another country or timezone.
Other features include a chronograph measuring from 1/100-second to 24 hours, a 99-minute countdown timer, a digital backlight display, and a power reserve indicator.
The watch is made of durable black stainless steel, durable mineral crystal, and the strap is of fitting black polyurethane.
PROS
✅ Keeps atomic precision
✅ Fancy and detail-rich dial
✅ Long-range chronograph
✅ Charges from any light
CONS
❌ No illumination for second hand
❌ Might be too large for some
---
Bering Slim Solar Watch
Model: 14440-227
Case size: 40mm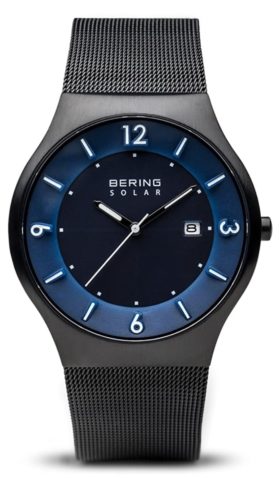 The Bering Slim Solar is a sophisticated dress watch that goes perfectly well with everyday attire as well.
The core of the timepiece is the precise solar quartz movement that possesses a 6 to 12-month power reserve once fully charged. For a dress watch, the Bering model comes with features that typically associate with that kind of wristwear, such as a straightforward analog dial, three-hand movement, and a date window.
A great feature you get with this solar watch is its ultra-thin case size with a 9mm thickness. The timepiece is hence a bang-on wristwatch to be worn with smart shirts and suits as it slips conveniently beneath the sleeve.
Last but not least, the watch is covered with a premium-level sapphire crystal and is protected with a 50m (165ft) water resistance.
PROS
✅ Up to 12 months of power reserve
✅ Ultra-thin case
✅ Made of durable materials
✅ Unique looks
CONS
❌ The case shape is too futuristic for many
---
Seiko Dress Solar SNE325
Model: SNE325
Case size: 41mm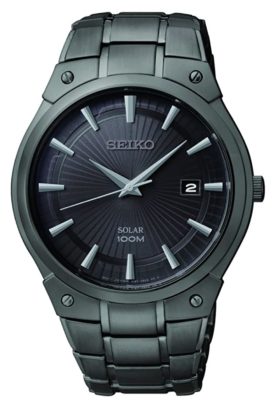 The Seiko Dress Solar SNE325 is a timepiece for casual everyday wear due to its modest yet sophisticated look of having a logoed analog dial and a dark-toned metal band.
The black dial features a cool sunray-like design that is covered by a Hardlex glass window.
The SNE325 is also suitable for swimming and snorkeling as it comes 100m (330ft) water-resistant and has a suitable band for wet conditions.
The solar-powered quartz movement shifts the three hands and a date function and lasts more than half a year when fully charged. And like it is with Seiko watches, you can expect very reliable and accurate timekeeping as well.
PROS
✅ Easily readable dial
✅ Goes well with various activities
✅ Is powered by eco-friendly solar energy
CONS
❌ Nothing to complain about
---
Casio G-Shock Unisex Solar Watch
Model: AWG-M100B-1A
Case size: 46mm
The last piece on the list is the G-Shock AWG-M100B-1A that features a masculine design but suits ladies as well.
The solar movement powers the Multiband 6 technology that keeps atomic precision in all of the major regions in the world. The digital calendar and stopwatch are displayed on the black dial that also features easily visible silver hands, while the push buttons are hidden beneath the knurly design for an advanced resistance to shocks.
What makes the timepiece so appealing is the IP-treated black stainless steel along with black resin composite band – the watch is rugged and beautiful at the same time.
As it is with the majority of G-Shock tactical watches these days, you'll get a full auto LED light with afterglow and ultimate water resistance as well.
PROS
✅ Atomic precision
✅ Never needs a battery replacement
✅ Cool design
✅ Versatile analog-digital display
CONS
❌ Black display is sometimes difficult to read
❌ Case-dial-ratio gives an impression of a smaller size
---

FAQ About Solar-Powered Watches
As promised, we'll answer some pervasive questions that many people face in searching for a solar-powered timepiece.

Q: What Does Solar Mean on a Watch?
A: A solar watch is a timepiece that converts all sorts of light into electric energy. The light is absorbed through a solar panel under the crystal and then converted to electrical energy, which eventually powers the watch.
The surplus power is stored in a rechargeable cell and is used when the light's not present.

Q: What Is The Best Solar-Powered Watch?
A: Determining the best solar-powered watch is difficult due to the different expectations and points of evaluation. But what is certain is that it is from either Citizen, Seiko, or Casio.
Citizen's Eco-Drive technology is the most widespread, while Seiko Solar has the best selection of solar dress watches. Casio's Tough Solar, on the other hand, is the best choice for extreme conditions.

Q: Are Solar Watches Better Than Battery?
A: Yes, solar watches are way better than typical battery-powered wristwatches.
When a regular timepiece requires battery replacement every 1-3 years, then a solar watch recharges its cell constantly when the light is present, eliminating the need for a new battery. Hence, the convenience is on a whole new level.

Q: Do Solar Watches Last Forever?
A: Apparently not. Although rechargeable batteries last a very long time compared to typical disposable batteries, their charging capacity will degrade due to long-term use. It is said that a typical solar cell needs a replacement after every 10-15 years.

Q: Can You Overcharge a Solar Watch?
A: No, you can't. A solar watch has an overcharging prevention function that automatically activates to prevent the battery from being charged further.

Conclusion: Best Solar Watches
Solar power is one of the handiest functions in a watch. Not only it provides ultimate convenience, but is also eco-friendly, with a good reputation, and is available for a very affordable price. The best solar watches come primarily from renowned brands – Citizen, Seiko, and Casio.
Recent times have seen some other watch manufacturers join the list. For instance, the likes of Tissot, Timex, and Garmin have earned great feedback for their solar watches. Therefore, a watch from the said brands is definitely a good fit.

You may also like:
Affiliate Disclosure: As an Amazon Associate I earn from qualifying purchases. Details