Affiliate Disclosure: As an Amazon Associate I earn from qualifying purchases. Details
Solar watches have some overwhelming advantages over the other types of watches.
First off, it's the convenience of not dealing with annoying battery replacements every other year. Then there's the ecological issue of preserving nature by not raising the demand for battery production.
And finally, who wouldn't want to own a timepiece that requires so little attention from the wearer?!
Since the pool of solar-powered wristwatches is remarkably large, we've come to aid you in presenting the top models currently available.
Following, we've listed the best solar watches for men from renowned brands with excellent feedback from buyers.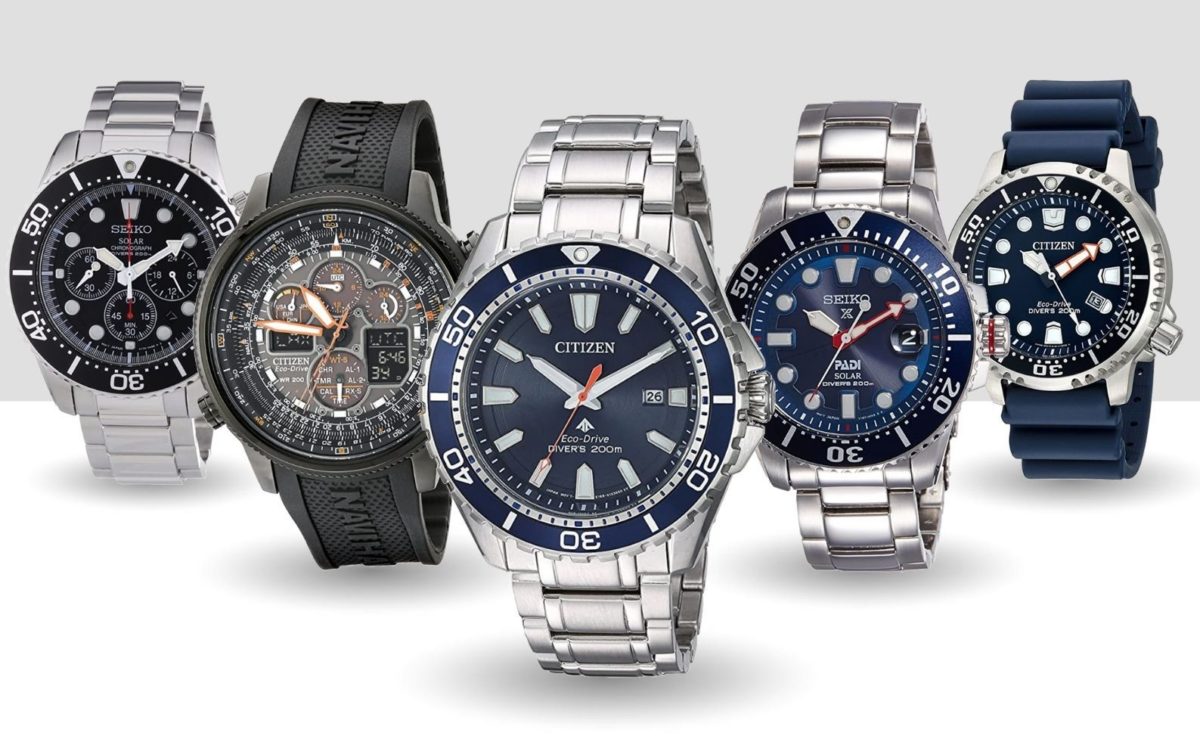 If you wish to learn more about this type of watch, feel free to visit our solar watch guide.
Also, be sure not to miss the FAQ section at the end of this post, where we answer some of the most common questions that typically arise before buying your first-ever solar-powered watch.

Top Solar-Powered Watches
We chose the top watches by taking into account the following prerequisites:
1) The watches possess a solar quartz technology that has proven reliability and accuracy
2) The watches have a durable construction to withstand the wear and tear of everyday use
3) They have an excellent price-quality ratio
4) They have received highly positive feedback from owners
5) The watches represent a broad array of types and come in various styles
Without further ado, here are the timepieces.
Citizen Eco-Drive Promaster BN0191-55L
OUR TOP PICK!
Case Size: 45mm
Water Resistance: 200m
Crystal: Mineral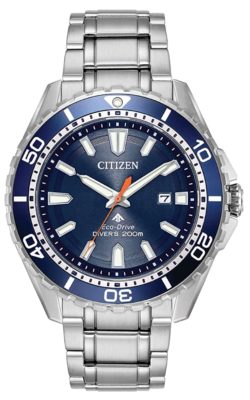 Citizen's Eco-Drive is the king of solar technologies in watches. So naturally, therefore, starting the list with a Citizen timepiece is almost a must.
The Citizen Promaster BN0191-55L is a highly-rated solar watch. It is also our top pick because the watch is as much as a top-performing casual everyday watch as it is a professional tool watch for marine activities.
The stainless steel construction is protected with a 200m (660ft) water resistance that is further sealed with ISO 6425. It means the watch is a professional diver that can actually be submerged to depths reaching 200m underwater.
And since this Citizen is a real deal diver, you can most certainly expect it to feature a screw-down crown and a one-way rotating bezel. The crown is easy to turn due to its conical shape and decent size. The bezel comes with a ridged edge, making it also comfortable to handle.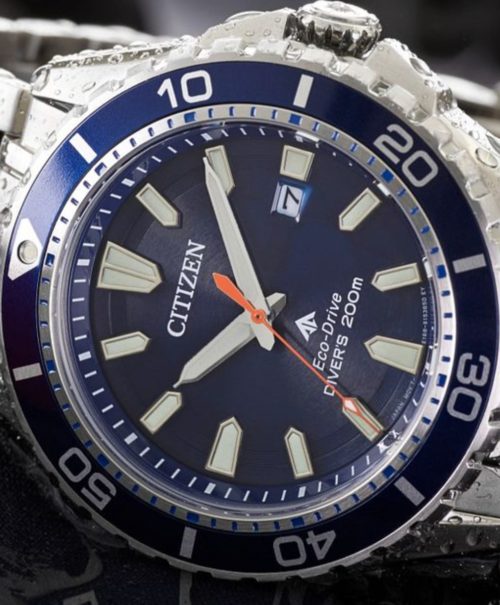 In terms of appearance, the Citizen BN0191-55L is far from being a tool watch. It is rather a casual everyday piece that doesn't look out of place even with a suit and tie. That's probably the best characteristic of this watch.
The blue dial features concentric grooves that add so much to the watch's appeal. The hands and hour markers are quite thick and go well with the overall design. Moreover, they are filled with a top-notch luminosity that glows brightly for several hours.
The Eco-Drive solar technology powering the watch provides a six-month power reserve when fully charged. It takes 11 hours in sunlight or 40 hours on a cloudy day for the rechargeable cell to be entirely energized. So if you're not keeping the watch in total darkness, it will never run out of charge.
If there's one thing to nitpick about, it would be the mineral glass. The watch would've been a certain 10 out of 10 if it featured a sapphire crystal, which performs much better in terms of scratch and impact resistance.
---
Seiko Prospex PADI SNE435P1
BEST SOLAR DIVER
Case Size: 44mm
Water Resistance: 200m
Crystal: Hardlex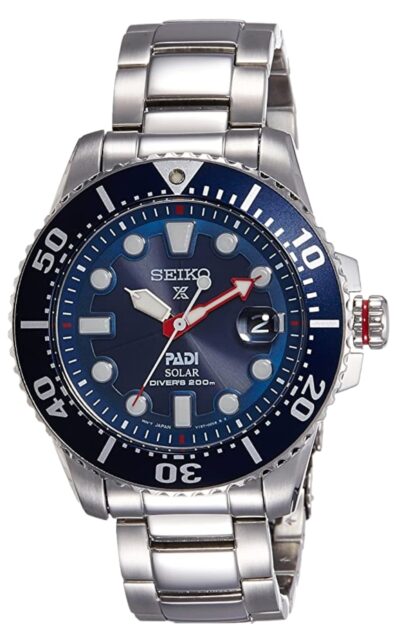 Another highly renowned manufacturer in the field of solar technology is Seiko. Although the brand's main competitor, Citizen, boasts a higher number of solar-powered timepieces, Seiko has nevertheless provided a stiff rivalry.
The Seiko Prospex PADI Solar is a versatile professional diver. Similar to the Citizen BN0191-55L, it acts as a tool watch but has the appeal that suits various outfits. You can wear the watch for professional marine sports, as well as for an office job.
The watch measures 43.5mm in case diameter, which may be on the larger end of the spectrum for typical Seiko wearers, but feels a little smaller on a wrist due to the wide bezel. Its thickness at 12mm stays more on the thin side rather than thick, which helps to keep the perceptible size a bit smaller.
When it comes to dive-specifics, you will find all the necessary features. For example, the 200m ISO-certified SNE435P1 has a 120-click unidirectional bezel, a screw-in crown, a screw-down caseback, and luminosity. The lume can be found from the watch hands and hour markers, as well as from the top of the bezel as a small pip.
The face of the watch is covered with Seiko's proprietary Hardlex glass and features a distinctive red minute hand and a date display with a magnifier. 
The magnifier is maybe a tad too magnifying, making the date abnormally large. Unfortunately, it won't be easier to read it due to that because the contrast between the date and background is insufficient. Fortunately, this is the onliest letdown of this magnificent solar dive watch.
In terms of solar charge, this Seiko has a 10-month power reserve when fully charged. It is greater than in Eco-Drive watches, but under normal use (read: don't keep it in a drawer for most of the time), there's no significant difference.
Not quite into blue-dialed watches? The good news is that there's a limited-edition black-dialed Seiko SNE437 that comes with the same specifications as the SNE435.
---
G-Shock Rangeman GW9400-1B
BEST OUTDOOR OPTION
Case Size: 55mm
Water Resistance: 200m
Crystal: Mineral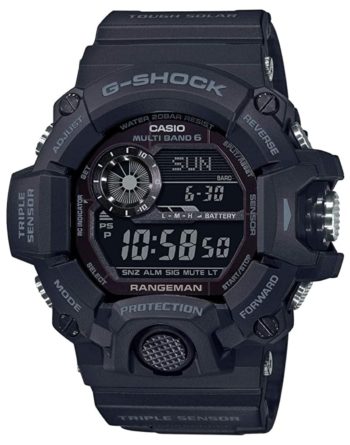 Tallying the list of Japanese watch brands with solar technology is Casio G-Shock. The line has become a synonym of ruggedness while offering top-notch technologies at the same time.
The G-Shock Rangeman GW9400-1B watch comes with two high-tech features – besides solar power, it also features atomic time.
The watch employs Multiband 6 technology, guaranteeing atomic precision through radio waves in six locations – Northern America, the UK, Germany, China, and Japan (2 locations). So in simple terms, the Rangeman is dead accurate basically everywhere in the world.
When it comes to solar power, the watch has a half-a-year energy reserve under normal use. However, it stretches to a whopping 23 months in a power-saving mode. Therefore, if you own several watches, you can leave the Rangeman to wait its wrist time without worrying about its charge.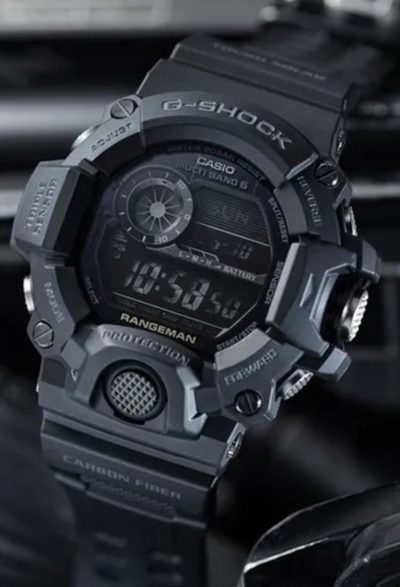 The digital GW9400-1B comes in a durable resin case with a 55mm diameter (including the crown). You can expect this timepiece to look massive on your wrist as not only the diameter adds to the bulkiness but also the height that stands at 18mm. Therefore, make sure your wrists take on such a beast before buying it.
The watch comes with a handy Triple Sensor function (altimeter, barometer, digital compass) that is an essential feature for hikers, trekkers, and other outdoorsmen.
The most significant challenge with this watch is getting to know and use all its features. Fortunately, Casio provides handy operation guides for every watch. You can check the operation guide of the Rangeman here.
---
Timex Expedition Scout Solar
BEST BUDGET OPTION
Case Size: 40mm
Water Resistance: 50m
Crystal: Mineral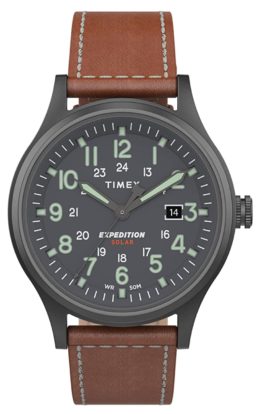 Compared to the Japanese heavyweights covered above, Timex is a certain underdog. It doesn't produce any professional tool watches or utterly shock-resistant timepieces. However, Timex stands out from the crowd because the brand can manufacture dirt-cheap watches that can last a lifetime.
That is the primary reason why Timex is so appreciated in the watch community. And if you find a couple of Timex pieces that employ the highly-coveted solar power, even better it gets. One of the watches with a solar quartz caliber is the Timex Expedition Scout.
Although Timex's solar charge lasts less than most competitors' equivalents – about four months – it is still more than adequate for a convenient user experience. And if it runs out of charge, it only requires a couple of hours in sunlight to get it going again.
In terms of appearance, the Expedition Scout watch features a grey dial and a similarly toned 40mm brass case. The hands and hour numbers come in a distinctive green and complement the watch's unique appeal.
What's nice is that the lume in the hands and hour markers is surprisingly good for a sub-$100 timepiece.
Unfortunately, the Timex doesn't employ the famous Indiglo backlight that almost every timepiece does. In fact, Timex doesn't offer the feature in any of the solar-powered watches it has available.
Regardless, the Expedition Scout is the best option on the budget. It is durable, accurate, and comfortable to wear.
---
Tissot T-Touch Connect Solar
BEST SWISS SOLAR WATCH
Case Size: 47.5mm
Water Resistance: 100m
Crystal: Sapphire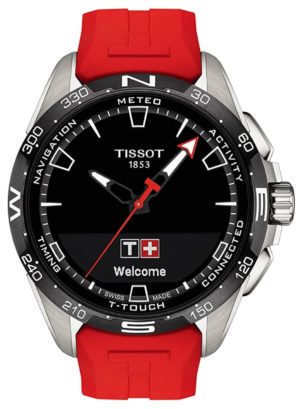 Not many Swiss watch brands boast solar technology, but Tissot is a rare exception. Being one of the most recognized Swiss manufacturers, you can be confident that any watch carrying the Tissot name is up to the standard.
The Tissot T-Touch Connect Solar is a very capable solar sports watch with various functions to get by outdoors. For example, it is equipped with an ABC feature providing information about heights and barometric pressure and offering a digital compass for determining directions.
Further, this Tissot is pairable with a smartphone, enabling notifications for incoming calls and texts. You can also count steps and check calories burnt, adding even more to the versatile nature of this timepiece.
In terms of build quality, the watch is excellent. It comes in a lightweight titanium case and features a touchscreen sapphire crystal. In addition, the bezel is made of premium-class ceramic. No words are needed.

On top of that, it runs on a quality Swiss quartz movement with solar charging. The power reserve stands at 6 months, which is a significant upgrade from the earlier Expert Solar models that offered only a couple of weeks.
The only drawback is the size of the watch. Measuring 47.5mm in diameter, it won't go well with slender wrists.
All in all, the Tissot T-Touch Connect is a stunning solar-powered sports watch. Moreover, it's Swiss-made, ensuring impeccable build quality.
---
Garmin Instinct Graphite Solar
TOP SPORTS WATCH
Case Size: 45mm
Water Resistance: 100m
Crystal: Corning Gorilla glass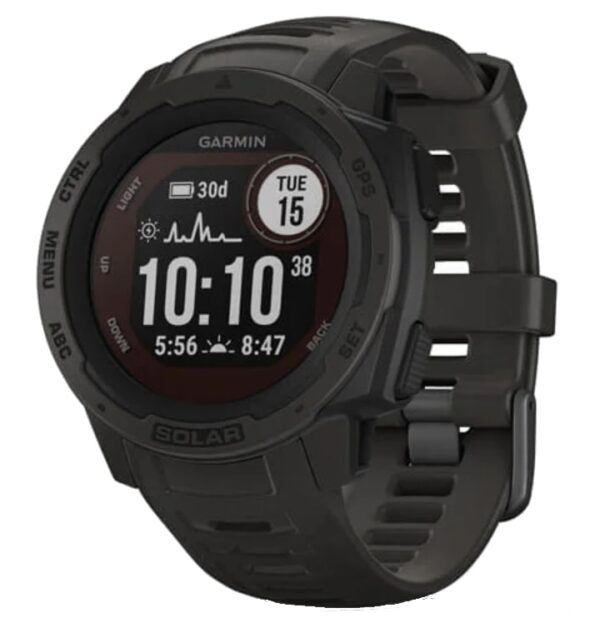 Garmin is one of the first brands to turn to if a GPS outdoor watch is under consideration. Some of its GPS watches now carry the solar innovation as well, making their timepieces even more challenging to say no to.
This Garmin Instinct Solar comes in cool-looking graphite apparel. It is actually made of fiber-reinforced polymer with a finishing that gives the impression of graphite. Hence, it is a rugged-looking watch made for tough conditions.
However, the best part of this watch is the solar-powered feature. When typical smartwatches last a couple of days before needing a charge, this Instinct Solar will last up to 54 days in smartwatch mode. In addition, the dial has an indicator on the dial showing the remaining energy, so you'll know precisely when it needs a charge.
However, the nearly two-month power reserve isn't that great compared to the Tissot T-Touch, which is also smartwatch-enabled. On the other hand, the Instinct is equipped with GPS – something that Tissot doesn't have.
When it comes to the applications, you'll have a wide variety of them available – GPS, wrist-based heart rate monitor, stress tracking, altimeter, and barometer are just a few to mention. The functions are applicable for swimming, cycling, running, hiking, and many other outdoor activities.
The watch also makes it a perfect solar military timepiece due to being constructed to U.S Military Standard for thermal, shock, and water resistance. Therefore, you can be sure of its durability.
---
Citizen Promaster BN0151-09L
Case Size: 43mm
Water Resistance: 200m
Crystal: Mineral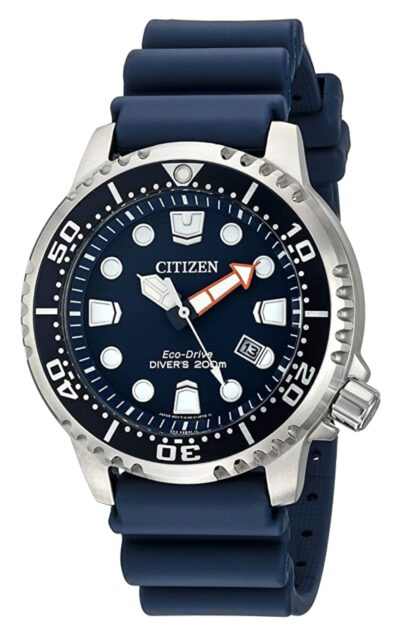 The Citizen Promaster BN0151-09L is probably the most popular Citizen watch of the recent decade because it's not only some of the top solar pieces but also one of the best divers you can get for the money.
It is a professional-grade dive watch with 200m ISO-certified water resistance and wonderful luminosity.
What also adds to its popularity is the thought-out appearance of every element. So in terms of looks, this Promaster is near perfection in my sincerest opinion.
Quality-wise, the watch comes in a stainless steel case, the bezel is made of aluminum, and the strap is made from polyurethane. So there's not much to complain about, maybe except for the strap that is relatively stiff in the beginning. However, it will become softer over time.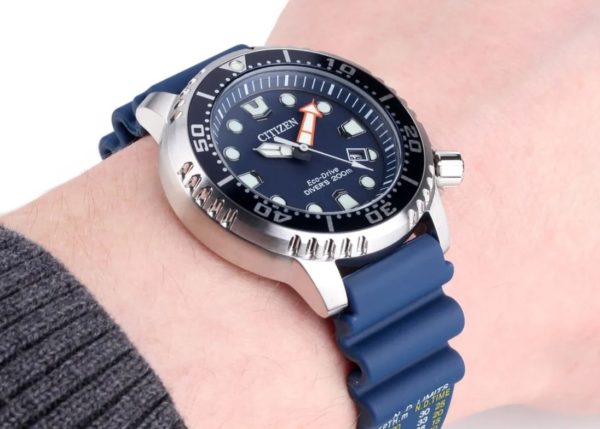 The BN0151-09L runs on Eco-Drive solar quartz caliber with six months of energy reserve and +/-15 seconds per month accuracy. It is the standard you get from every Eco-Drive watch.
All in all, for the price this Promaster Diver is sold, you get more than you can expect. It combines convenient solar power with eye-catching tool watch aesthetics and ISO-certified water resistance. Not many watches offer all the three for a couple of hundred bucks.
The BN0151-09L has a black version of the same watch available – the Citizen BN0150-28E. So if blue is not your cup of tea, you can consider going for the black model instead.
---
Casio G-Shock GAS100G-1A
Case Size: 53mm
Water Resistance: 200m
Crystal: Mineral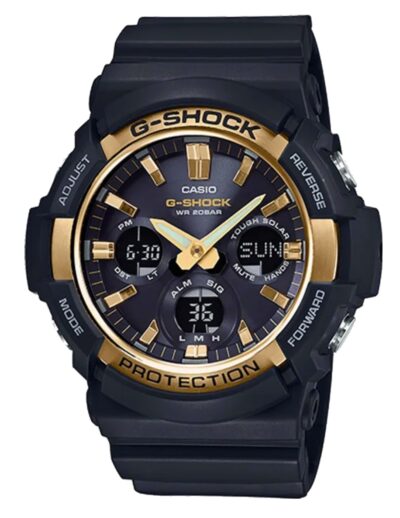 The G-Shock GAS100G watch has received positive feedback for its unique appeal, where the gold accent on the bezel and hour markers dominates the appearance. Compared to ultra-rugged G-Shocks, this particular watch is a breeze of fresh air for providing more universal looks.
However, first and foremost, the G-Shock GAS100G-1A is still an outdoor watch for active people.
Like other G-Shock watches, it comes with several resistances, including shock, water, and magnetic resistance. The watch may not be as feature-rich as the Rangeman we covered earlier but is still packed with the essentials.
For example, you'll find a multifunctional 1/100-second chronograph, LED light, alarm, and World Time features.
The GAS100G offers approximately 8 months of power reserve under normal use, while in power save mode, it runs for up to 19 months. Since it doesn't have that many power-hungry features, the energy reserve is higher than in many other solar G-Shocks.
The only significant negative the watch has is the legibility of digital displays. Since the light-toned digits lay on a dark background, it is almost impossible to read the displays in the sunlight. Fortunately, the LED backlight helps to minimize the drawback.
---
Seiko Coutura SSC376
Case Size: 44mm
Water Resistance: 100m
Crystal: Sapphire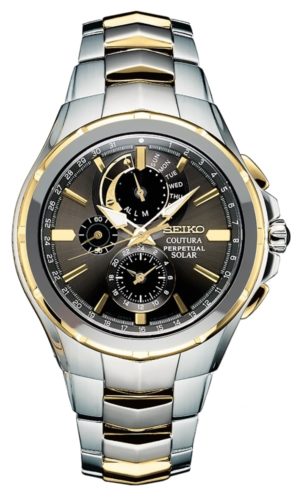 The Seiko Coutura SSC376 is a singular timepiece that is not the standard watch Seiko typically manufactures. With its two-tone design comprising gold and silver, the Coutura makes it a fashionable timepiece that lures many into buying the watch based on its looks.
Fortunately for everyone, the Seiko Coutura has plenty to offer in terms of features as well.
The primary function is the perpetual calendar. It means that the calendar has been set to consider leap years and the exact days in every month – something that standard calendar features don't. The result is an accurate calendar that doesn't need any correction.
The day of the week is displayed on the upper subdial, while the date is indicated via the central second hand. The watch's seconds run on the left subdial.
It takes some time to get used to the unusual day-date reading, but when mastered, there's not a significant difference compared to the classic version.
In addition, the Coutura is equipped with a neat alarm function and a 1/5-sec chronograph.
The watch energizes itself from light and holds a 6-month power reserve when fully charged. The Coutura is also accurate to +/- 15 seconds a month.
Due to its size and construction, however, the watch has some serious weight to it (more than 1o oz). If you're used to lighter watches, it can become annoying as the weight puts quite a lot of pressure on your wrist.
---
Citizen Brycen CA0649-06X
Case Size: 44mm
Water Resistance: 100m
Crystal: Mineral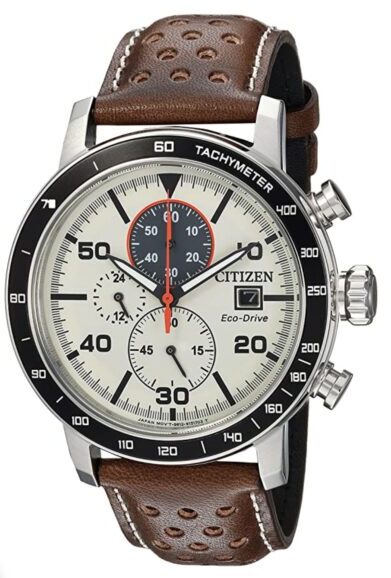 The Citizen Brycen CA0649-06X is a casual solar chronograph watch for everyday occasions. The stopwatch's orange hand measures in 1/5-second increments, while the tachymeter bezel becomes handy when specific time and distance intervals need evaluating.
In terms of appearance, the watch is a spot-on wearable for casual outfits. It comes with a beige dial that combines perfectly with the brown leather strap. The addition of an orange tint is a nice touch that adds appeal to the overall appearance.
The movement runs on solar Eco-Drive technology that keeps accurate time, never needs a battery, and gets charged from any light.

When overall, the Brycen watch looks fantastic and seems to possess reliable materials, there is one flaw that needs addressing. Namely, the leather strap comes with an awkwardly-shaped tang buckle closure that presses against the skin with its sharp edges.
If that becomes to annoy you, it is best to replace it with another 22mm strap. Fortunately, the selection for 22mm Citizen straps is wide.
---
Casio Pro Trek Tough Solar
Case Size: 48mm
Water Resistance: 200m
Crystal: Mineral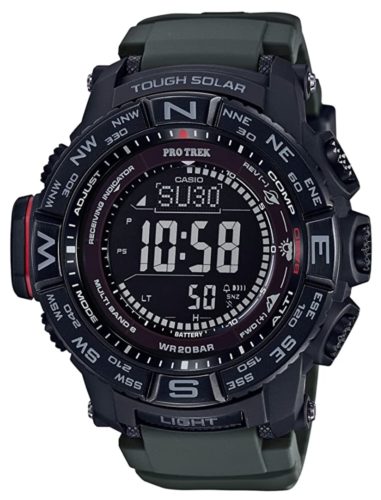 Casio has more than one ultra-durable solar line – besides the G-Shock, there's also the Pro Trek series. Aimed for people with an active lifestyle, you can expect similar features and looks as they're in the G-Shocks.
The Pro Trek PRW-3510Y-8CR comes in navy green and black tones with a bezel rich in information. Since the fully digital timepiece combines various functions that could take weeks to come by, you should make sure to discover everything it has to offer right from the beginning.
The core function of this watch is the ABC – altimeter, barometer, and compass. The model also features a temperature reader and atomic timekeeping. And when tallying it with an accurate solar quartz movement, we end up with an impeccable watch for hiking.
The construction is durable – it is 200m water-resistant, features mineral glass, and comes in a lightweight resin case. In addition, the watch weighs only 3.4 ounces (100 g), which is almost unnoticeable, considering its 48mm size.
What makes this Pro Trek a significant upgrade to the previous ABC-equipped Pro Treks is that it has swapped a poorly legible negative display with a much better STN screen. The result is a significantly improved readability in broad daylight. Though indoors in dim lighting, there is still some room to develop.
All things considered, the Pro Trek PRW-3510Y is a top solar watch with highly-coveted outdoor functions. Moreover, it won't cost you an arm and a leg either, staying conveniently around a couple of hundred dollars.
---
Seiko Excelsior Gunmetal
Case Size: 43mm
Water Resistance: 100m
Crystal: Hardlex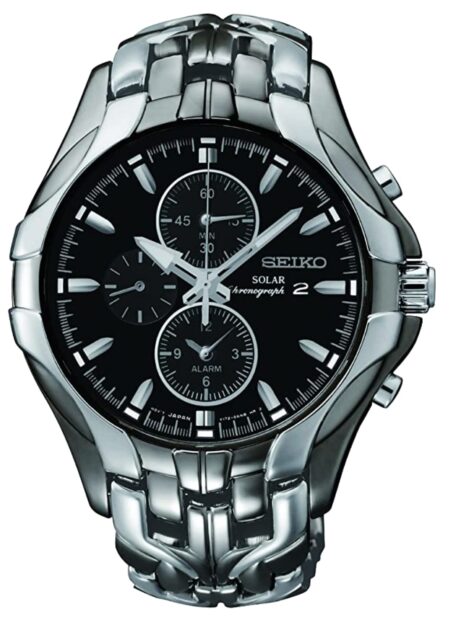 The Seiko Excelsior SSC139 provides one of the most exciting designs from the brand. When a typical Seiko is somewhat modest regarding the style, then this one surely makes a bold statement.
The sleek gunmetal and silver-toned case and bracelet combine well with black dial, forming the design of a race car among the regular sedans if we were talking about cars. Although it's not overly large (43mm case diameter), it gives a much larger impression due to the sculpted bracelet.
The dial comes with three subdials for stopwatch functions, while the hands and markers shine bright in the dark due to featuring LumiBrite lume. A neat extra is the alarm function. However, the sound of it is quite low. Therefore, don't rely on it on important reminders.
Overall, the Seiko SSC139 is a magnificent watch. It is sure to stand out from the crowd and receive heightened attention.
However, the watch would've been almost perfect if it had featured a sapphire crystal instead of Seiko's Hardlex. Seeing Hardlex is a bit of a letdown from Seiko for the price it is sold.
---
Citizen Eco-Drive Chandler BM8180-03E
Case Size: 37mm
Water Resistance: 100m
Crystal: Mineral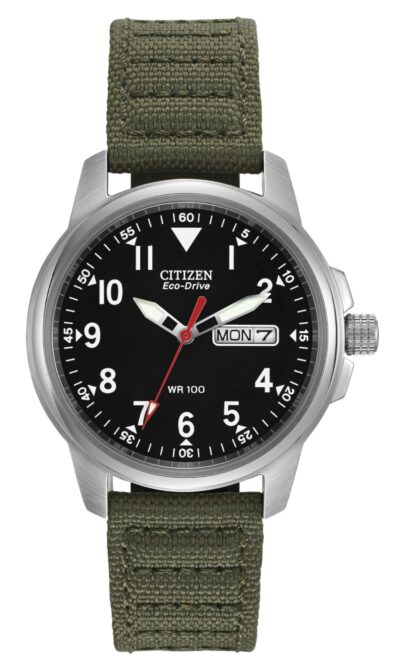 The Chandler Field Watch BM8180-03E is inspired by the military and fits perfectly for those with an active lifestyle. The silver-toned small 37mm stainless steel case, along with an army green nylon strap, defines its ruggedness.
Another characteristic adding to the looks of a classic field watch is the black dial with Arabic numerals and a day-date feature at 3 o'clock.
The watch is powered by a 3-hand E101 Eco-Drive movement, which receives energy from all sorts of light. Even the dimmest of lights will give the rechargeable battery the required energy it needs to function. When fully charged, the cell can last up to six months without any light.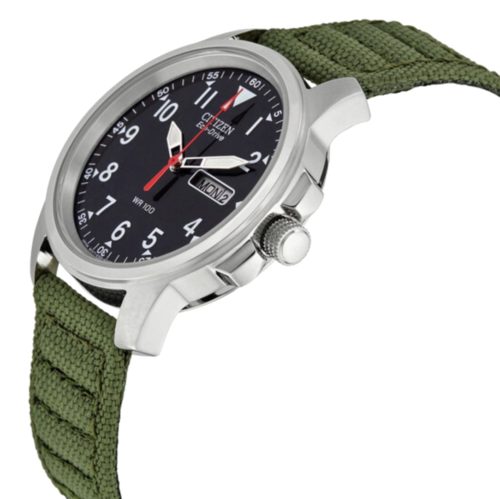 The Chandler piece is also equipped with luminosity, which may not be as bright and long-lasting as in several other Citizen watches, but will offer enough glow to tell the time in the dark. You can also swim, snorkel, and shower with the watch on your wrist as it is water-resistant up to 100m (330ft).
The only complaint about this watch is that it's missing the 24-hour time format. In a militaristic field watch, it is almost a must.
Leaving this slight letdown aside, the Citizen Chandler is a highly competent timepiece that withstands hits and knocks. It works out as a perfect beater watch that requires little to no upkeep due to solar power and accurate quartz timekeeping.
---
Seiko Solar Chronograph SSC779P1
Case Size: 43.5mm
Water Resistance: 200m
Crystal: Hardlex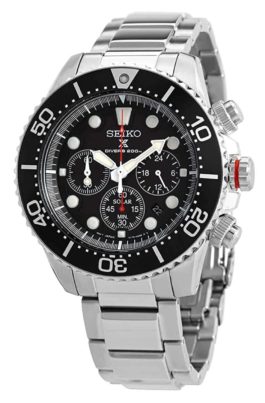 The Seiko Prospex SSC779P1 is a special solar watch for being a professional diver while offering a handy chronograph function. It means the watch can be used as much as in the water as for casual occasions.
Like any other Seiko Prospex diver, the watch is sealed with ISO 6425 for up to 200m. You'll also find the crown and caseback screwable. In addition, the chronograph pushers on either side of the crown are also screw-down.
Therefore, for using the stopwatch feature, you have to first unscrew them. But always be sure to screw them back in as leaving them open while in the water ruins the watch for good.
Appearance-wise, the Seiko SSC779P1 has a black dial with a black unidirectional bezel that is combined with a silver-toned case and bracelet. The latter has nice finishing when the center links are polished and the end links brushed.
As appropriate for a Seiko diver, the luminosity is some of the best at a given price point. The LumiBrite paint glows strongly and lasts several hours. There's not a significant difference in strength either between the hands and hour markers.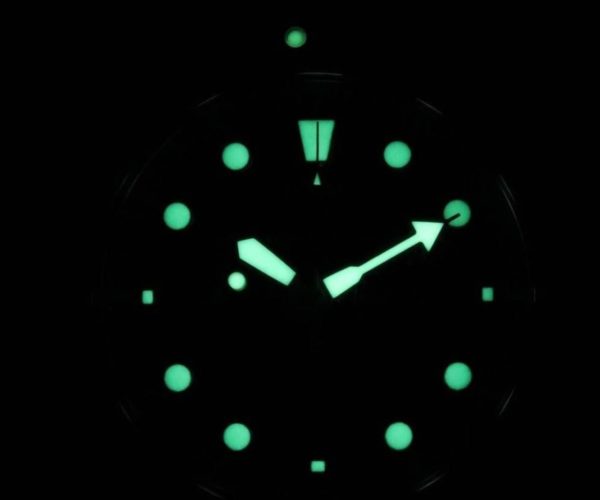 A repetitive problem in so many watches, including this Seiko, is the unreadable date window. It is hardly visible in broad daylight, not to mention in dim lighting conditions. So if this feature is important to you, consider other options.
Other than that, the Seiko SSC779 is one of the best solar watches for the money. Moreover, it offers other great features typically missing from dive watches, such as the chronograph and pleasantly busy dial.
---
Casio Pro Trek PRW-6600Y
Case Size: 45mm
Water Resistance: 100m
Crystal: Mineral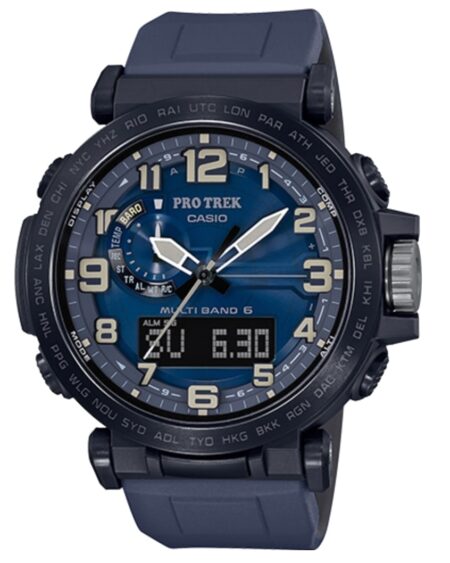 This Pro Trek PRW-6600Y model is as feature-rich as most Casio watches.
You can exploit the Triple Sensor technology that measures the altitude, barometric pressure, temperature, and directions for safe and informed hiking. You don't need to worry about time adjustments either, as the Multiband 6 guarantees atomic precision basically everywhere in the world. 
Enjoying water sports with this Pro Trek is also carefree as it comes 100m (330ft) water-resistant. And if you live in the cold parts of the world, the timepiece keeps functioning correctly even in sub-zero conditions as it comes -10C/14F low temperature resistant.
When talking about the looks, the blue band and dial make the timepiece unique among other watches. Material-wise, the 45mm stainless steel case and silicone strap are of high quality and fit conveniently to the wrist's contours.
What makes it stand out from other Casio products is the fact that it measures a decent 45mm in case diameter. So those who find the majority of G-Shocks and Pro Trek watches oversized should try out this Pro Trek.
If leaving aside the digital display with poor legibility in daylight and the somewhat disappointing luminosity, the Pro Trek PRW-6600Y is a great timepiece with versatile aesthetics. Moreover, it is a relatively carefree watch that doesn't require battery replacements and time corrections.
---
Timex Expedition Solar Gallatin
Case Size: 44mm
Water Resistance: 50m
Crystal: Acrylic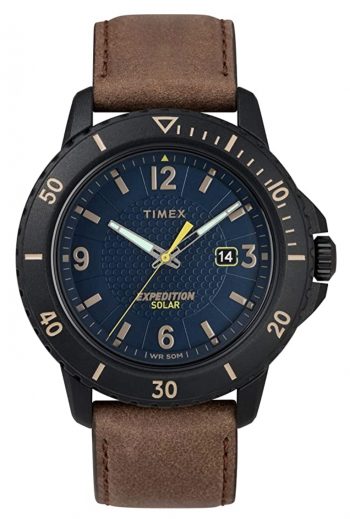 The Timex Expedition Solar Gallatin is the other model from Timex that features solar power. However, compared to the Expedition Scout, the energy storage capacity is two months instead of four.
Regardless, two months is long enough to ensure that the watch won't stop suddenly. Moreover, it takes only 5 hours of direct sunlight for the watch to fully charge.
Inspired by the northern edge of the U.S. Rockies, the Expedition Gallatin employs a brown leather strap, black resin case, and dark blue dial. The second hand has a contrasting yellow color, as does the date window at 3 o'clock.
However, compared to other solar watches on this list, the Gallatin comes with an acrylic crystal. The substance is the least appreciated watch glass out of the three (mineral and sapphire) for being prone to scratches. On the other hand, if the scratches appear, they are quite easy to remove by polishing.
Undeniably the best thing about this watch is the price. For a little over fifty bucks, you get a solar-powered field watch with pleasant aesthetics. And although the watch has sacrificed the crystal for the affordable price, it is still a timepiece worth the wrist time.
---
Citizen Navyhawk JY8035-04E
Case Size: 47mm
Water Resistance: 200m
Crystal: Mineral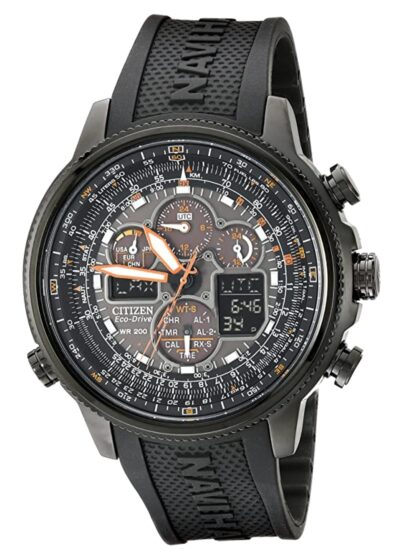 If you're after a super complicated watch, then look no further because the Promaster Navyhawk A-T from Citizen ticks the box.
The first thing that gives the mesmerizing first impression is the dial full of small numbers and markers. They're nothing but elements of a slide rule bezel for various measurements pilots might need during the flight.
The watch comes with an instruction manual, so learning the new tricks has been made easy.
The Navyhawk is also fitted with atomic time. The time adjustments are made several times during the night. You can also make use of the dual timezone to keep an eye on the home time when being in another country or time zone.
Other features include a chronograph measuring from 1/100-second to 24 hours, a 99-minute countdown timer, a digital backlight display, and a power reserve indicator.
The watch is made of durable black stainless steel, features a mineral crystal, and sports a fitting black polyurethane band.
What could've made the watch much better would have been the sapphire crystal instead of mineral glass. A timepiece with a price tag north of $500 should be equipped with it.
---
Bering Slim Watch
Case Size: 40mm
Water Resistance: 50m
Crystal: Sapphire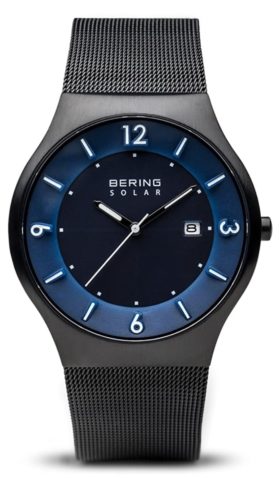 The Bering Slim Solar is a sophisticated dress watch that goes perfectly well with everyday attire as well.
The core of the timepiece is the precise solar quartz movement that possesses a 6 to 12-month power reserve once fully charged.
For a dress watch, the Bering model comes with features typically associated with that kind of wristwear, such as a straightforward analog dial, three-hand movement, and a date window.
A nice characteristic you get with this solar watch is its ultra-thin case size with a 9mm thickness. Hence, the timepiece is a bang-on wristwatch to be worn with smart shirts and suits as it slips conveniently underneath the sleeve.

A great surprise was to find the sapphire crystal covering the subtle face. Not many $200 watches have it, so it is a considerable advantage over the other solar dress watches at a similar price range.
When talking about letdowns, the most conspicuous is the unnoticeable minute hand. Since it is less visible than the second hand, mixing these two is not rare. The story isn't different in the dark either because the second hand has more luminous paint than the minute hand.
Regardless, if you can forgive the drawback, the Bering Slim Solar has a lot to offer for the money.
---
Seiko Dress Solar SNE323
Case Size: 41mm
Water Resistance: 100m
Crystal: Hardlex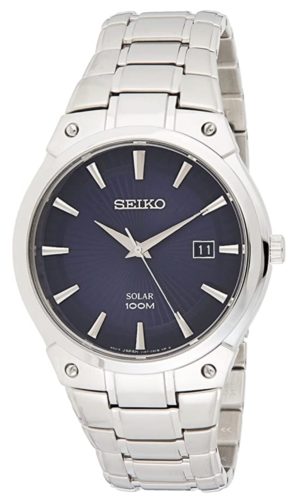 The Seiko Solar SNE323 is a timepiece for dressier occasions as well as for casual everyday wear due to its modest yet sophisticated look. The watch is free of unnecessary elements and possesses clean aesthetics.
The only design feature is the sunray texture that casts an eye-catching hue in various lightings.
As surprising as it might seem, the SNE323 is also suitable for swimming and snorkeling as it comes 100m (330ft) water-resistant. Dress watches typically don't have that improved resistance, making the SNE323 quite special.
When it comes to movement, it is a solar-powered quartz caliber that shifts the three hands and a date function and lasts for up to 10 months when fully charged. And like it is with Seiko watches, you can expect accurate timekeeping as well.
---
Casio G-Shock Unisex Solar Watch
Case Size: 46mm
Water Resistance: 200m
Crystal: Mineral
The last piece on the list is the G-Shock AWG-M100B-1A. It is a blacked-out watch with cool aesthetics. What's also different from other G-Shocks we've covered so far is that this timepiece is not as rugged, which is a breeze of fresh air.
This G-Shock is a solar atomic watch – it receives energy from light and keeps atomic precision. The power reserve stands at a standard 6 months. 
The watch is also equipped with a digital calendar running up to 2099, a stopwatch, LED light, and alarms.
What makes the G-Shock AWG-M100B even more attractive is the price. Considering the vast array of features you get for the money, the watch is an excellent value deal.
However, the striking appearance of the watch has a serious drawback for people with bad eyesight – legibility. The problem lies in the reverse displays (light digits on a dark background) that are poorly visible in the daylight. So if you don't consider yourself eagle-eyed, go for other options.
---

FAQ of Solar Watches
As promised, we'll answer some pervasive questions that many people face in searching for a solar-powered timepiece.
Q: What Does Solar Mean on a Watch?
A solar watch is a timepiece that converts all sorts of light into electric energy, eliminating the use of regular watch batteries.
The light is absorbed through a solar panel under the crystal and then converted to electrical energy, which eventually powers the watch. The surplus power is stored in a rechargeable cell and is used when the light's not present.
Q: Are Solar Watches Better Than Battery?
Yes, solar watches are better than typical battery-powered wristwatches because of their working mechanism and convenience.
When a regular timepiece requires battery replacement every 2-3 years, then a solar watch recharges its cell constantly when the light is present, eliminating the need for any battery replacements. Hence, the convenience is on a whole new level.
Q: Do Solar Watches Last Forever?
Apparently not. Although rechargeable batteries last a very long time compared to typical disposable batteries, their charging capacity will degrade due to long-term use. It is said that a typical solar cell needs a replacement after every 10-20 years, depending on the manufacturer.
Q: Can You Overcharge a Solar Watch?
No, you can't. A solar watch has an overcharging prevention function that automatically activates to prevent the battery from further charging.

Final Words
Solar power is one of the handiest functions in a watch. Not only does it provide ultimate convenience, but it is also eco-friendly, with a good reputation, and is available for an affordable price. The best watches come primarily from the three renowned brands – Citizen, Seiko, and Casio.
However, recent times have seen some other watch manufacturers join the list. For instance, the likes of Tissot, Timex, and Garmin have earned great feedback for their solar watches.
Therefore, a watch from the said brands is definitely a good fit.

You may also like:
Affiliate Disclosure: As an Amazon Associate I earn from qualifying purchases. Details
Latest posts by Carl Pender
(see all)