Affiliate Disclosure: As an Amazon Associate I earn from qualifying purchases. Details
The two wristwatch greats of Japan – Seiko and Citizen – have competed with each other not only on the domestic market but also on the world stage. Both brands boast high-class watches with renowned durability and innovations, which has made them sought-after among watch wearers.
But when it comes to choosing between the two, many find themselves at crossroads – which one is better and more suited to specific needs?
This Seiko vs Citizen comparison aims to direct those individuals who cannot make up their mind.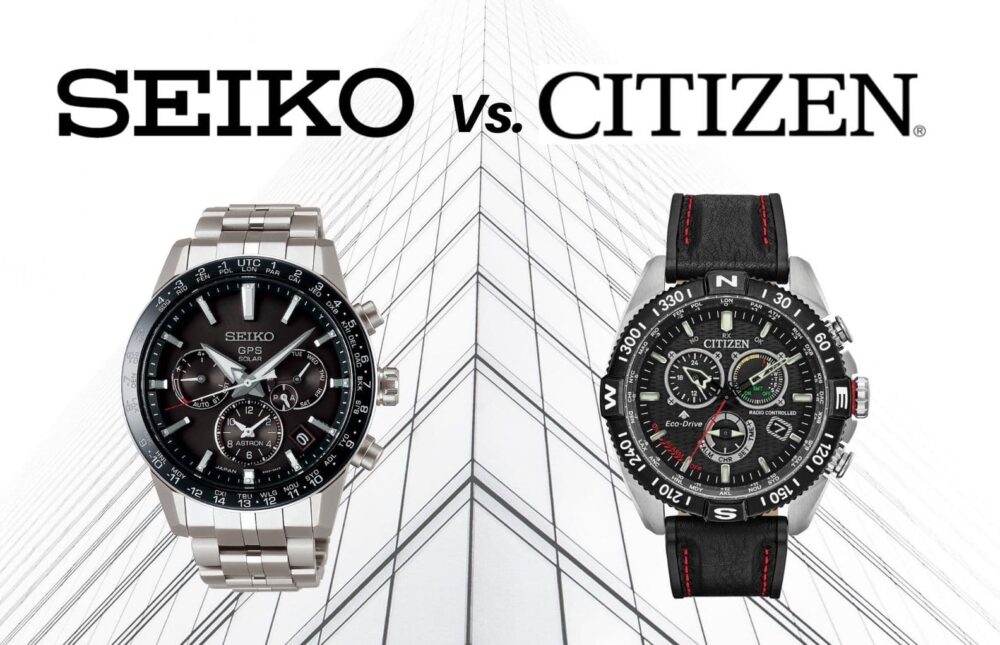 We'll cover various aspects, from technologies and materials to prices and styles in order to help you in the decision-making process. You'll also find a head-to-head comparison of some of the best models from Seiko and Citizen in their immediate categories.
So, stay tuned to find out the right fit precisely to your requirements.


History Comparison
We start the comparison literally from the beginning – from the historic achievements that have made these manufacturers so acknowledged and appreciated.

Seiko's Achievements
Seiko is the oldest Japanese watch company, dating back to 1881. The brand produced its first pocket watch in 1895 and Japan's first-ever wristwatch – the Laurel – in 1913.
Seiko's thrive towards quality and reliability that we are accustomed to these days got an ignition from their introduction of Diashock in 1956 – a shock-proof device that protected the movement from mechanical shocks.
In the 1960s, Seiko introduced the first chronograph and diver's watch in Japan – the latter becoming the flagship type of wristwear for the company.
Probably the most remarkable achievement came in 1969 when Seiko became the pioneer of quartz watches with the introduction of the Seiko Quartz Astron watch. With the technology in their hands, the brand was now able to develop many other innovations that were based on quartz, with the most notable being Kinetic movement and Spring Drive – combinations of mechanical movement and quartz timekeeping.
The most recent accomplishment from Seiko involves the adaptation of GPS technology into a wristwatch for time adjustments. The famous Seiko Astron watch is now not only the first quartz timepiece in history but also the first-ever GPS solar watch, first introduced in 2012.
Citizen's Achievements
Citizen, on the other hand, started to produce watches much later. The company was established in 1918, and it took them a couple of years to come out with their first wrist-worn watch.
The same year Seiko presented its shock-proof device, Citizen introduced their own innovation – Parashock (1956). By showcasing in numerous ways of how reliable the technology was – one of them was dropping a watch from a helicopter in front of the eyes of thousands of spectators – the brand gradually raised the public's awareness and started to close the reputational gap with Seiko.
In 1966, Citizen produced Japan's first electronic watch. Four years later, another innovation – the world's first titanium watch – brought even more attention to the brand. In the 1970s, the first-ever solar-powered analog quartz timepiece was introduced, later becoming the brand's trademark. 
Citizen produced the world's first atomic watch in 1993 and has remained the pioneer of this field ever since. In the same decade, Eco-Drive solar technology was introduced. These days, nearly 80% of watches carry the technology.

Technologies 
As the watch features play one of the most significant roles in persuading customers into buying a watch, let's look at the different innovations that Seiko and Citizen provide.
An innovation unique to Seiko is Spring Drive. What makes it special is that the traditional escapement and balance wheel you find in mechanical watches is replaced by a regulator that delivers power based on quartz signal. Naturally, Spring Drive is basically a mechanical movement with the accuracy of a quartz.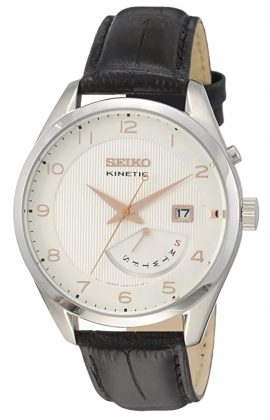 Another unique technology that only Seiko provides is Kinetic movement. A watch with that movement uses natural motion for powering the mechanism and possesses a quartz timekeeping mechanism. Only a handful of models possess this technology, which makes it singular. 
Citizen also has a significant development in their ranks – Super Titanium. By treating the metal with surface-hardening technology, called Duratect, it adds strength, hardness and beauty, making it way more superior to stainless steel.
Due to the fact that Citizen was the first brand to introduce a watch with solid titanium, it's no surprise they've taken the path in enhancing the technology to even greater depths.
The two unique technologies that both brands share, however, are atomic timekeeping and solar power.

Citizen Satellite Wave vs Seiko Astron
Atomic timekeeping is available in both brands' collections. However, the pioneer of the technology is Citizen.
The further development of the technology (time adjustment signals from satellites) is also present in Seiko and Citizen watches. They are called Seiko Astron and Citizen Satellite Wave.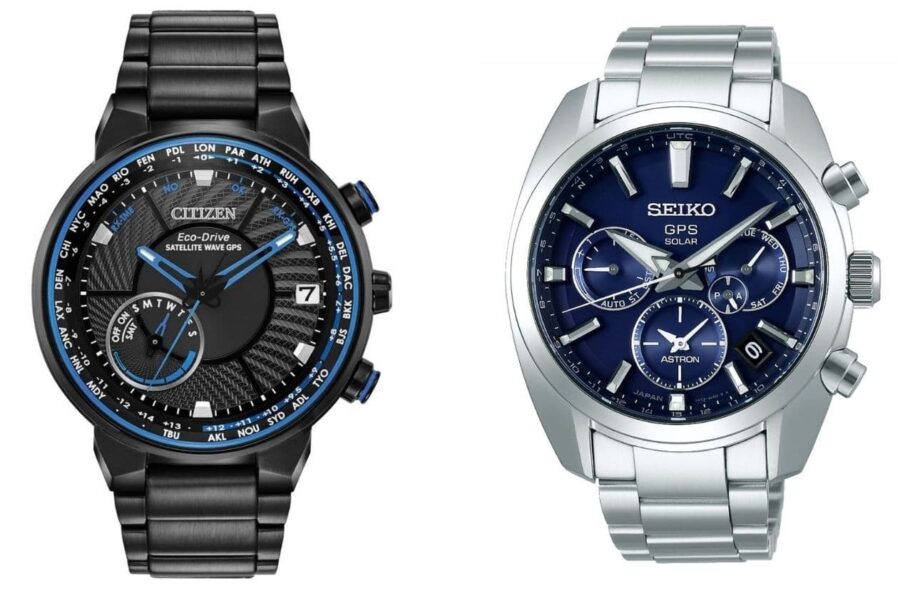 Both Citizen and Seiko use the same technology to figure out the local time. Around 40 timezones are available, and a high-quality Japanese quartz movement powers the signal.
The satellite acquisition speed, however, has slight differences when Citizen watches tend to adjust the time much quicker than the majority of Seiko equivalents – in three seconds.
Lately, though, Seiko introduced 5X caliber that matches Citizen's time adjustment speed, thus making them on par in this matter.
When in overall Satellite Wave and Astron are very similar, they still have distinctive differences.
For example, Astron watches come with a ceramic bezel, while Citizen timepieces feature an aluminum bezel. The anti-reflective coating of sapphire in the Seiko Astron watch is also considered much better than it is in the Satellite Wave watch.
It is also notable that the Astron makes updates to the time at least once a day when the Satellite Wave adjusts once in 72 hours.
As you may have already suspected, the mentioned advantages make the Astron more expensive than the Satellite Wave. While the cheapest Citizen GPS watch is available for as little as $500, then an Astron costs almost three times more.
Considering the virtues and leaving aside the price factor, we give an edge to Seiko Astron in this comparison. 

Seiko Solar vs Citizen Eco-Drive
Both Seiko and Citizen offer solar-powered watches that are some of the best available. While Citizen's solar technology is called Eco-Drive, Seiko has a much simpler name for it – Seiko Solar.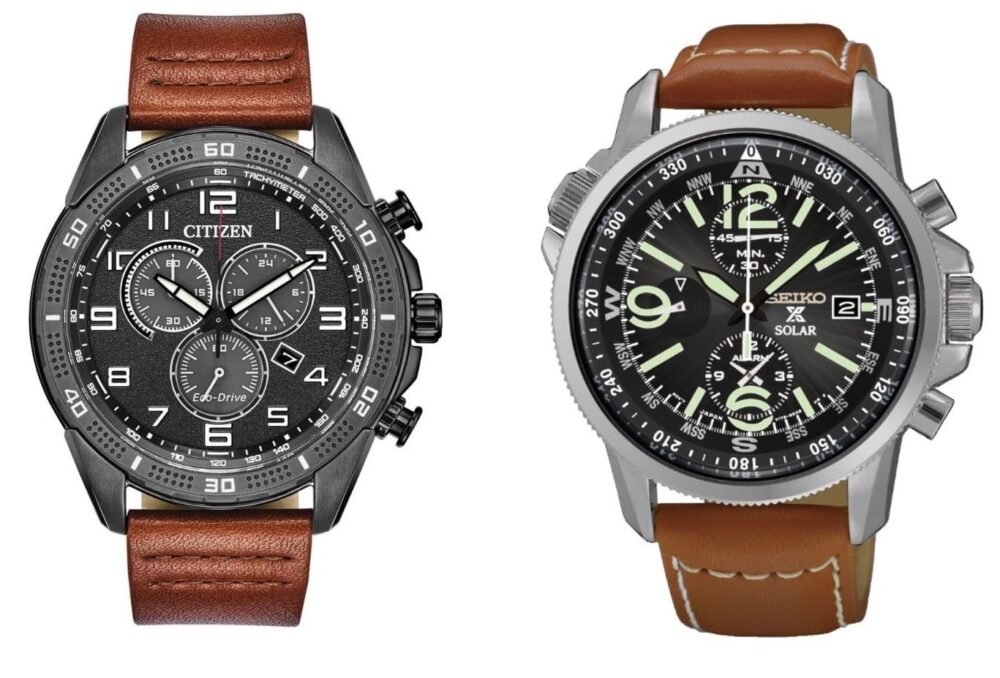 The main discrepancy between Seiko Solar and Citizen Eco-Drive technologies lies in the longevity of a secondary battery. When Eco-Drive's cells last up to 20-40 years, then Seiko's battery has a typical lifetime at 10-15 years.
Although Seiko has put quite a lot of effort into the technology, the longer expertise and broader commitment to producing solar-powered timepieces give an advantage to Eco-Drive.

Watch Movements
Since we already touched on the topic of movements, we should have a closer look into the various clockworks that make Seiko and Citizen watches tick.
And here comes probably the most noteworthy difference between the brands.
Despite being the pioneer of the quartz mechanism, Seiko has placed greater emphasis on producing automatic movements, whereas Citizen relies heavily on solar-powered quartz timekeeping.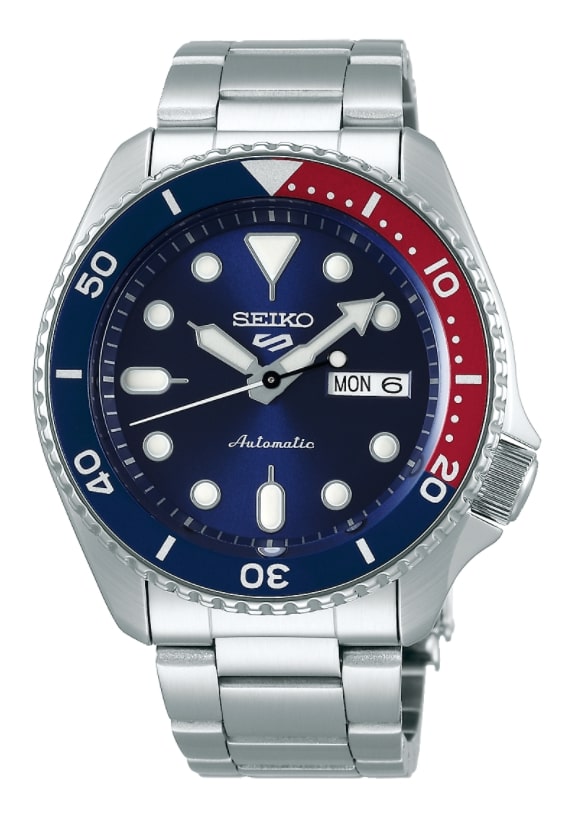 Seiko's automatic watches are regarded as top-class among watch enthusiasts. The self-winding calibers are available in several collections and they're known to be some of the most durable for the price point.
What makes Seiko automatics so irresistible is the attractive price compared to the Swiss equivalents. The most affordable ones are available for as little as $150, making them perfect entry-level mechanical pieces for first-timers.
Citizen, on the other hand, focuses on manufacturing quartz and solar-powered quartz watches. And the brand is excelling in doing that. For instance, the brand has caught attention with its High-Accuracy Quartz (HAQ) watches that have a staggering accuracy of +/-5 seconds per year.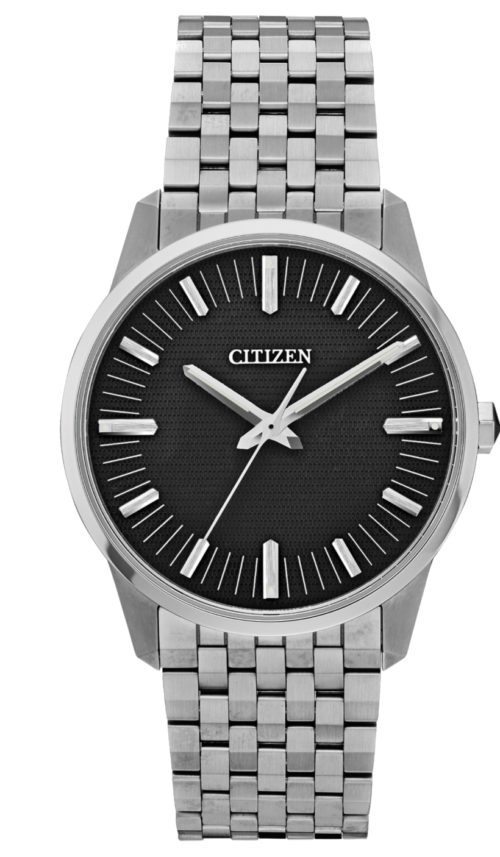 Citizen even introduced Caliber 0100 that possesses an accuracy of one second a year, making it the most accurate quartz movement in the world.

Overall Quality
Comparing the two in regards to reliability is almost impossible due to uncountable factors and preferences that need to be considered. However, what we CAN say is that both Seiko and Citizen are known for their high-quality timepieces with recognized durability. 
Japanese movements, both quartz and mechanical, are utterly reliable, decently accurate, and live up to the expectations. Stainless steel and titanium cases ensure resistance against knocks and scratches that the daily use often sees. Sapphire crystal, another high-end material, is also present in both brands' timepieces. 
However, the only difference in terms of materials is in the mineral glass – when Citizen employs standard mineral crystal in most of its diver's wristwear, then Seiko has its proprietary Hardlex crystal in use. Seiko claims the enhanced mineral to be more scratch-resistant than the ordinary crystal. The vast majority of watch aficionados seem to agree with it. 

Style & Design
Both brands offer a variety of styles, from sports and active lifestyles to formal dress wristwear.
Appearance-wise, Seiko has collections that attract more classic style admirers, while Citizen watches dare to show a bit more flashiness. Of course, some examples contradict the rule, but the overall pattern suggests the trend.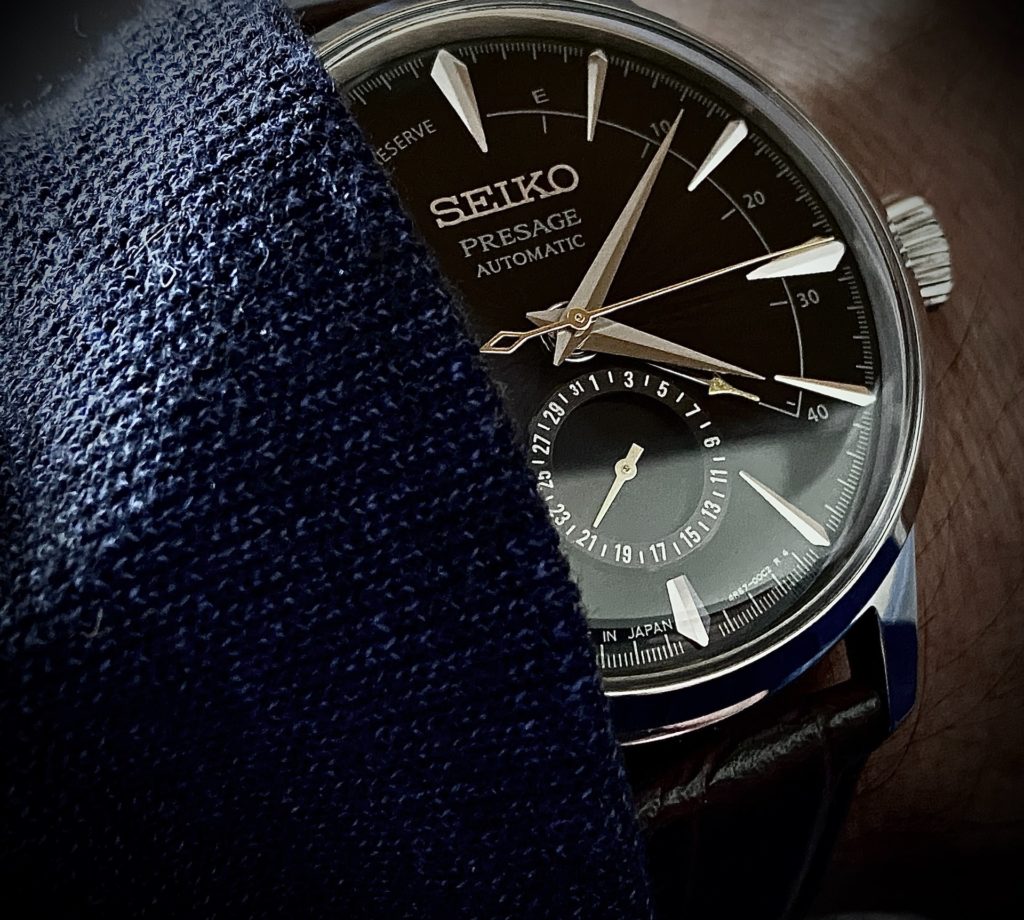 For being more oriented towards classic appearance, Seiko has wider options for dress watches with their Presage and Premier lines. The sports styles you'll find from Seiko 5 and Prospex collections have equivalents available in Citizen's Promaster and Brycen lines.
One distinguishing fact between Citizen and Seiko in terms of styles is that the latter has a luxury line in their collection – the Grand Seiko. Though recently the line became entirely independent and is now considered a different brand of its own.
Citizen, on the contrary, doesn't possess that kind of collection and concentrates entirely on providing affordable timepieces.

Prices
When it comes to comparing the prices, both manufacturers offer affordable timepieces that typically cost anywhere between $200 and $500. However, a slight price advantage goes to Citizen because of the extensive use of quartz timekeeping, which is much more affordable to produce than a mechanical caliber.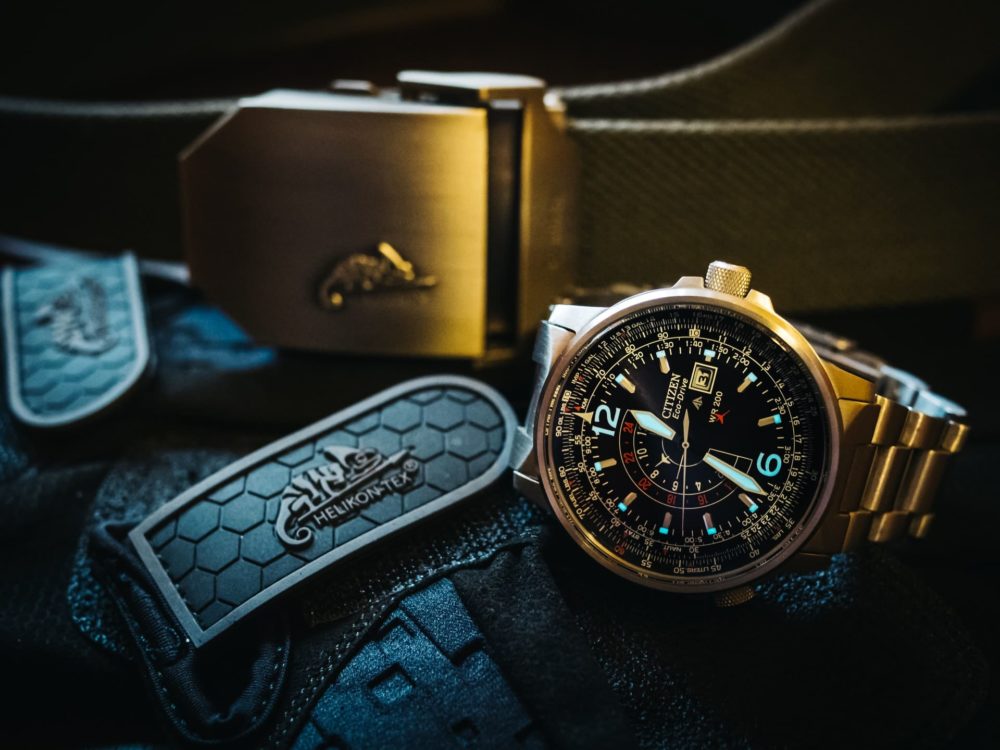 Therefore, you'll find Citizen watches usually start from $150. When adding a feature or two, the price typically reaches $300-$500.  
Despite the extensive use of automatic movements, Seiko has still been able to sell their affordable self-winding watches for as little as $200, which is a very attractive price for that type of movement. More advanced watches cost anywhere between $500-$700.

Watch Comparisons
Now that the core of Seiko and Citizen is covered, it's time to compare the brands' watches in their immediate categories. We've chosen three different types the readers most often find themselves at crossroads – dive, solar, and dress watches.
Dive Watches
Citizen Promaster BN0150-28E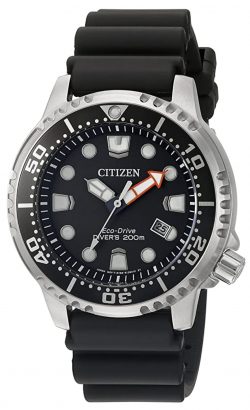 Movement: Solar quartz
Case size: 44mm
Accuracy: +/-15 sec per month
WR: 200m (660ft) ISO-certified
Crystal: mineral
Seiko Automatic SKX007J1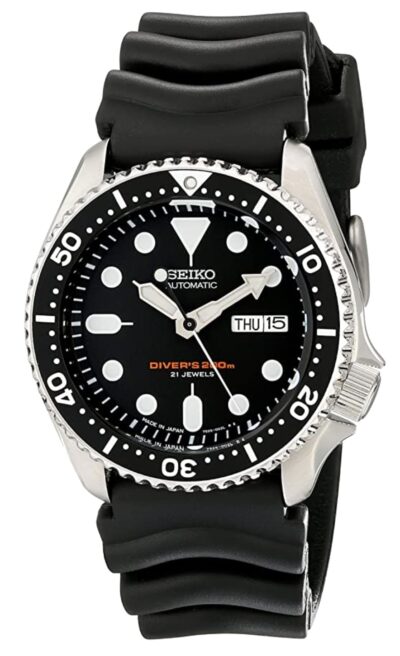 Movement: Automatic
Case size: 43mm
Accuracy: +/-15 sec per day
WR: 200m (660ft) ISO-certified
Crystal: Hardlex
These utterly similarly styled professional dive watches are the most popular models from the two brands. Both of them are sized about the same, feature a unidirectional bezel and great luminosity, and come 200m (660ft) water-resistant with ISO certification.
A principal discrepancy between the two is the way the watch is powered. While the Seiko piece runs on a self-winding automatic movement, the Citizen counterpart gets energized through solar power. The latter technology is more accurate, hassle-free, and easy to maintain, whereas the automatic mechanism boasts higher prestige and better visual outcome with its sweeping second's hand.
The Seiko SKX007 is slightly better than the Citizen watch in terms of employing a Hardlex crystal instead of mineral glass. Also, the bezel is entirely coin-edged, making it easier to handle. The Citizen BN0150-28E, on the other hand, is much cheaper and requires less attention from a wearer.

Solar Watches
Citizen World Chrono AT8110-53E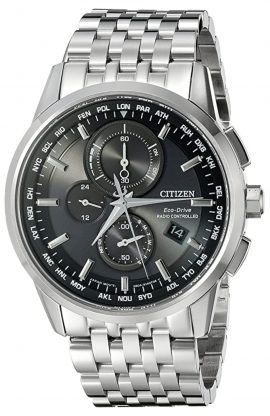 Movement: Solar quartz
Case size: 43mm
Accuracy: Atomic precision
WR: 100m (330ft)
Crystal: Sapphire
Seiko Coutura SSG009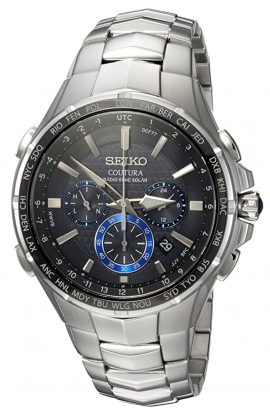 Movement: Solar quartz
Case size: 44.5mm
Accuracy: Atomic precision
WR: 100m (330ft)
Crystal: Sapphire
The Citizen AT8110-53E and Seiko Coutura SSG009 are both solar-powered watches and receive time adjustments through radio waves, providing utmost convenience and precision. Once fully charged, the watches will last up to six months without any light applied. 
They share similar attributes in terms of quality – a sapphire crystal, 100m (330ft) water resistance, and quality stainless steel.
What separates them, though, is the existence of luminosity in the watch hands of Seiko's piece. The Citizen watch doesn't have it but outperforms its counterpart with a preciser 1/20-second chronograph feature.

Dress Watches
Seiko Kinetic SRN051P1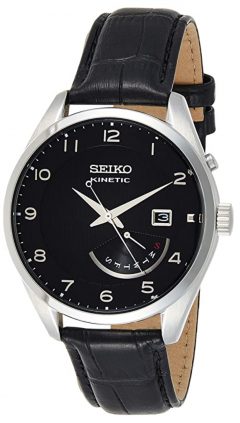 Movement: Kinetic
Case size: 42mm
Accuracy: +/-15 sec per month
WR: 100m (330ft)
Crystal: Hardlex
Citizen Eco-Drive AU1040-08E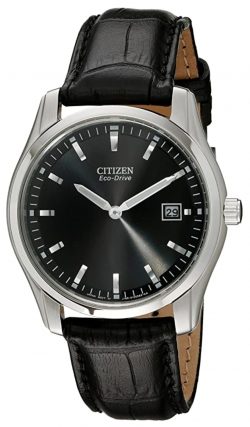 Movement: Solar quartz
Case size: 40mm
Accuracy: +/-15 sec per month
WR: 10m (33ft)
Crystal: Mineral
These two watches represent the classier side of the brands and are best suited for dressier outfits. They're unique among other dress pieces for employing calibers other than quartz or automatic.
The Seiko Kinetic watch has a timekeeping module of quartz but the powering method of an automatic timepiece, thus combining the best features of both movements. You can entirely forget cumbersome battery replacements and the inaccuracy. 
The Citizen AU1040-08E is equally accurate, but instead of powering itself through kinetic energy, the watch does it through natural and artificial light. 
In terms of power storage, the Citizen watch can maintain it for up to six months, while the Seiko counterpart from a couple of weeks up to several months.
What makes the Seiko watch a bit more attractive is the existence of a classy day complication. On the other hand, if you prefer a cleaner face for your dress watch, the Citizen timepiece is more appropriate.

Who Should Go For a Seiko Watch?
A person should choose Seiko over Citizen for the brand's more comprehensive selection for automatic watches. If you're into the movement and don't mind the relative inaccuracy in comparison to quartz, then Seiko provides one of the best affordable automatic pieces on the market. 
The more classic apparel is another factor that should persuade a person into buying a Seiko. If you're not after flashy wristwear but instead prefer elegant dress and dive watches, then Seiko is a good fit. 
Feel free to refer to the best Seiko wristwatches where we've listed all types of watches for various occasions and tastes.

Who Sould Go For a Citizen Watch?
A Citizen watch should be a choice for those who admire the accuracy of quartz and the convenience of solar power. Citizen Eco-Drive watches are, without a doubt, the best option for these purposes. And considering the affordable prices, Citizen wristwatches suit better for more price-sensitive buyers.
Also, if you prefer a bit flashier and masculine watches with detail-rich dials, then Citizen greatly outclass Seiko.
You can check the top Citizen watches to pick your favorite.  

Final Take
Seiko and Citizen offer watches for various tastes – while Citizen is best known for its solar Eco-Drive watches, then Seiko is an expert in automatic wristwear. In general, the two Japanese powerhouses are very different from each other, but, on the other hand, very similar too. Both offer similar technologies but in various designs and apparel. In addition, they both have achieved a high reputation for their innovations and remarkable quality, but excel in different types of movements.
No matter what, the ever-present Seiko vs Citizen comparison is the best fuel for both of the brands in achieving even greater results.

You may also like:
Affiliate Disclosure: As an Amazon Associate I earn from qualifying purchases. Details
Latest posts by Carl Pender
(see all)