Affiliate Disclosure: As an Amazon Associate I earn from qualifying purchases. Details
Kinetic watches are a unique type of wristwear due to their unusual structure and relatively limited availability. The latter is also the reason why the vast majority of people interested in wristwatches are unaware of them.
This post is about to reveal everything you need to know about Kinetic watches – what they are, how they work, and who make them. Also, we'll present you with the top models currently available.
Thus, bear with us in discovering one of the most singular timepieces on the market.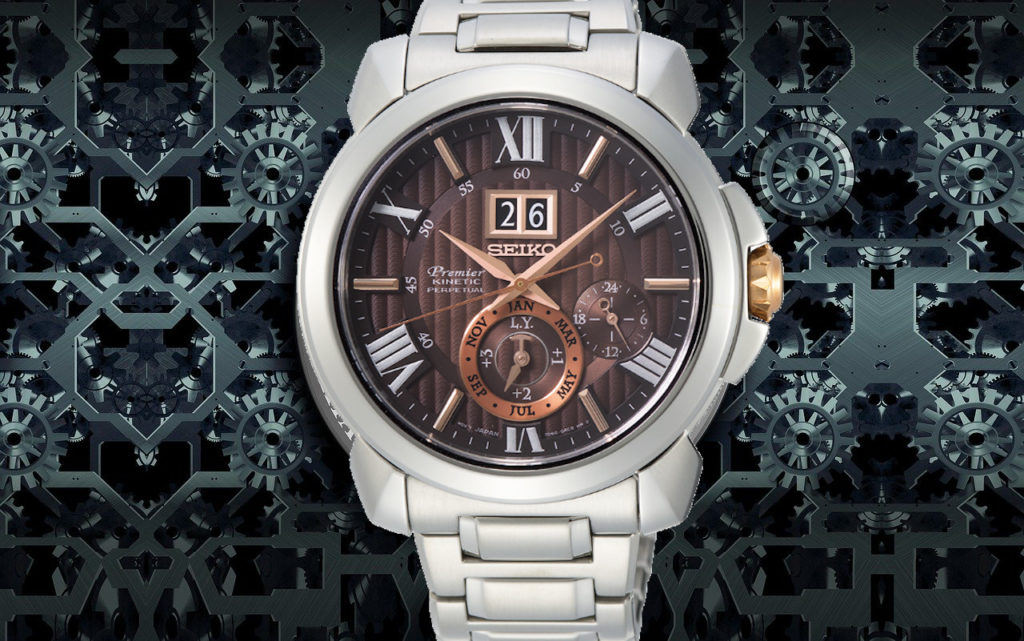 What Is a Kinetic Watch?
A Kinetic watch is a timepiece that uses a wrist's motion for powering the watch and possesses a quartz mechanism for timekeeping purposes. That's why it's often called automatic quartz, or auto-quartz movement.
Those familiar with the various watch movements know that quartz timekeeping is the most accurate physical form of time tracking. Automatic movement, on the other hand, is prestigious and sought-after because of the sophisticated moving mechanisms.
Therefore, a Kinetic watch is a perfect combination of quartz precision and automatic movement refinement. 
Seiko released the first Kinetic watch in 1988. At that time, ecological issues were in the limelight, and the technology was seen as a groundbreaker that would launch a new era of quartz timepieces. Due to various reasons, it didn't go as expected and, to this day, Seiko is the onliest manufacturer producing Kinetic watches.
ETA, the Swiss watch movement manufacturer, tried to compete in presenting their auto-quartz movement but eventually ended up finishing the product line. Some of Seiko's affiliate companies, such as Pulsar and Lorus, have used Kinetic technology in their watches but haven't continued in doing that.
But how does this intriguing movement work?

How Do Kinetic Watches Work?
The freely-moving pendulum, half a circle in shape, spins and turns the pinion (small round gear meshed with a large gear) at high speed when worn on the hand. The pinion is, in turn, connected to a tiny electrical generator that charges a piece of quartz. The energy is then stored in a rechargeable battery (or other words, capacitor).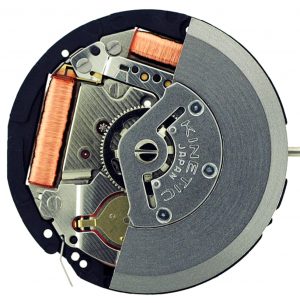 A fully-charged battery can last from two weeks up to six months and rarely needs a replacement, making the watches relatively hassle-free.

Pros of Kinetic Watches
One of the reasons that make a Kinetic watch relatively hassle-free is the needless battery replacement, which is probably the most significant advantage over the other powering mechanisms. But that's not all it offers.
Since timekeeping relies on quartz movement, the precision Kinetic watches provide is at the same level as for a typical quartz watch.
Expect the accuracy to be at about +/- 15 seconds per month. Compared to the accuracy of a mechanical watch of the same result per day, not per month assures the punctuality of the quartz timekeeping in Kinetic wristwatches.
When fully charged, Kinetic watches go on for weeks, and even months, without any motion applied to them. The rechargeable batteries have a decent storage capacity, and the hibernation function is of great help in maintaining endurance if the watch is not worn for some time.
A typical watch hibernates after 2-3 days, but a little shake ignites it and sets the correct time and date.

Cons of Kinetic Watches
Although this type of watch has many overwhelming advantages, it still comes with several cons.
The most significant one regarding Kinetic timepieces is that they stop working when not worn for a long time. If you're one of those watch enthusiasts who has a drawer full of different tickers for every occasion, this aspect should be considered.
All those watches that need self-winding to operate need to be worn frequently. If not every day, then at least a couple of days a week. An escape route would be to use a watch winder that keeps the self-winding timepieces fully powered.  
Another con, though not really a big deal for many, is the small number of Kinetic watches available. Seiko patented the movement, and although many companies made an effort to match the technology under another name and subsequently failed, you won't find many other Kinetic watches besides Seiko and its affiliates.

Kinetic vs. Automatic Watches
The biggest misconception is when Kinetic watches are mixed with automatic counterparts.
A Kinetic watch is NOT an automatic watch!
Although both movements are automatic in receiving energy from motion and don't require manual winding, the defining differences lie in the power storage and timekeeping mechanism.
While Kinetic timepieces receive energy from a spinning rotor and store it in a rechargeable battery, automatic watches conserve and retain the power in a spring; one uses quartz and the other mechanical timekeeping.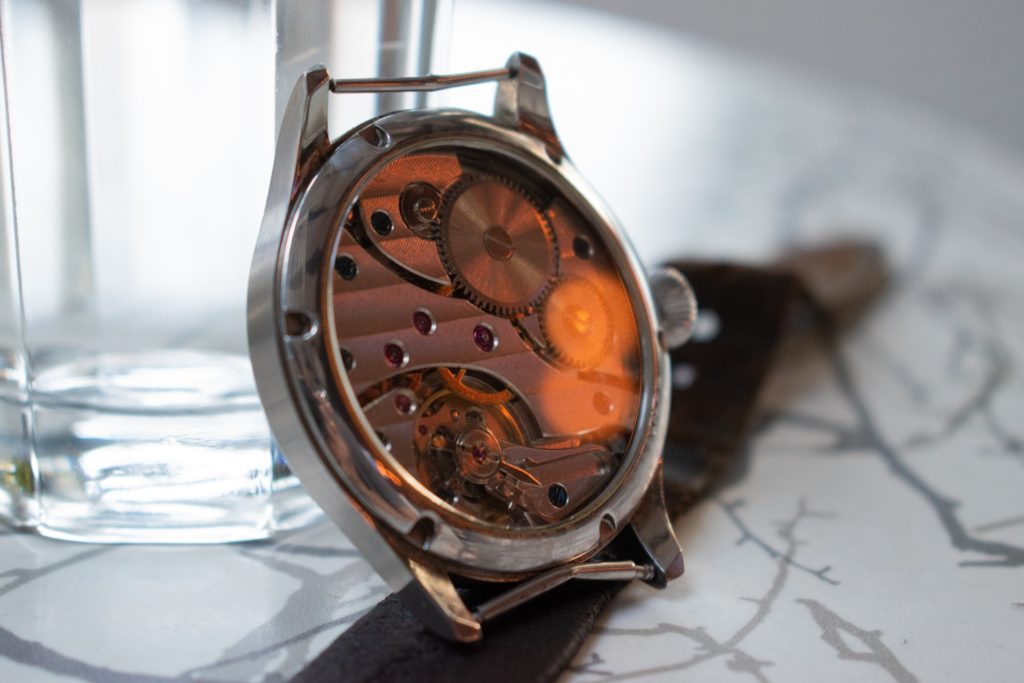 One of the causes of the misconception is the physics jargon of "kinetic." Kinetic means motion, and motion generates the assumption that a "kinetic" watch is actually an automatic movement because it also powers itself through kinetic energy.
We can't judge the logic behind it because it is true – kinetic energy IS powering the movement.
The use of the term "kinetic" takes us to another cause of misconception – ambiguity.
Several watch brands describe their automatic watches through the word "kinetic." It's not wrong or forbidden to use it. However, it causes unnecessary mix-ups when a person wants to buy a Kinetic watch with all of its excellent characteristics but instead receives a fully automatic timepiece with no quartz precision in it. 
Therefore, bear in mind that only Seiko sells the real-deal Kinetic-movement watches. 
We've also emphasized the most significant difference between the two movements – the accuracy. However, the disparities in power reserves are also notable when Kinetic wristwear lasts much longer than automatic counterparts – several weeks against a couple of days, respectively. 
A minor con on the Kinetic side is that a capacitor needs a replacement after about 8-10 years, while an automatic piece requires only regular upkeep.

Kinetic vs Quartz Watches
Since Kinetic wristwatches possess quartz timekeeping, there's no discrepancy regarding accuracy. However, energy preservation varies from each other.
While quartz watches have fully charged batteries lasting a couple of years, Kinetic counterparts possess rechargeable accumulators with a lifetime of 8-10 years. 
A pro on the quartz side is that it doesn't need any winding and keeps running until the battery's done. Another advantage in favor of quartz is a more affordable price, whereas Kinetic timepieces have uniqueness.
All in all, besides the shared timekeeping mechanism, the two movements differ quite extensively.

Kinetic vs Solar Watches
Probably the closest type of watch to Kinetic is a solar-powered timepiece due to their very similar characteristics.  
They recharge themselves without having to frequently replace the batteries. However, solar watches receive energy from all sorts of light, while Kinetic wristwatches obtain it through motion. 
They are both out-of-the-box timepieces and cost about the same. The endurance of fully-charged cells without receiving any energy is similar, measuring up to a couple of months.
The difference arises when searching for solar and Kinetic watches – you'll find loads of solar watches from several manufacturers. In this sense, a Kinetic timepiece is an underdog, compared to a solar-powered counterpart, but on the other hand, more unique.  

Best Kinetic Watches
Now that we are aware of the working principle of a Kinetic watch, the pros and cons it offers, and how it differs from other types of watches, it's about time to check out the best models currently available.

Seiko SKA785P1
Case Size: 43mm
Water Resistance: 100m (330ft)
One of the most sought-after Seiko Kinetic watches is the Seiko SKA785P1. A watch that can be a casual everyday piece for various occasions but at the same time enough gentlemanlike to be worn with suits and shirts is one of the reasons constituting to its popularity.
The Kinetic piece is decently sized at 43mm, going well with various wrist shapes and sizes. It also features an adequate water resistance of 100m (330ft), enabling it to be worn for swimming and showering, and has luminous hands and indices for enhanced time tracking in dim conditions.
An auto-quartz movement in this watch is as reliable as you would expect from someone like Seiko. Therefore, the couple of hundred bucks spent is an investment well placed.
 
Seiko SRN051P1
Case Size: 42mm
Water Resistance: 100m (330ft)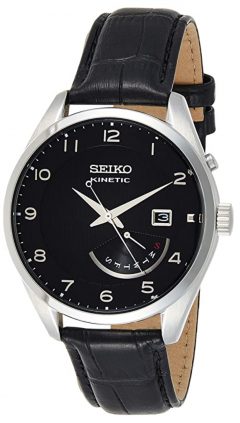 Another excellent sub-$200 investment is the Seiko SRN051P1 watch. Encased in a 42mm stainless steel case and protected with Hardlex crystal, the timepiece will stand regular wear and tear without giving away in terms of looks. 
The best feature of this reliable Kinetic watch is the day of the week window that adds elegance and provides convenience in your daily life. The piece is spot on for office workers who need to keep track of time and date for scheduling and attending meetings, following important deadlines, etc.
In terms of appearance, it has a dark appeal with its black dial and leather strap. As you would expect from a proper dress piece like this Seiko is, the face is easy to read, featuring contrasting watch hands and Arabic numbers.
An additional visual enhancement is a see-through case back where the spinning rotor's whirling is sure to catch attention.

Seiko SRN049P1
Case Size: 42mm
Water Resistance: 100m (330ft)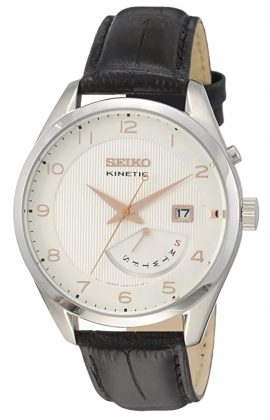 A very similar timepiece to the previous Kinetic watch is the Seiko Kinetic SRN049P1 – it goes with smart attires, has a day-date window, and comes with a see-through case back. However, the coloring is on the other end of the spectrum with a cream dial and rose-gold hands and markers.
The Kinetic movement charges from the motion of the wearer and is guaranteed to hold an accuracy of about +/-15 seconds per month. However, several owners claim their Seiko SRN049P1 to deviate only about a couple of seconds a month, constituting the fact that Seiko pieces are more than often much preciser than typical quartz watches.
The ticker is also 100m (330ft) water-resistant, meaning you don't have to worry about the watch giving in to water exposure.

Seiko Prospex SUN045
Case Size: 47.5mm
Water Resistance: 200m (660ft)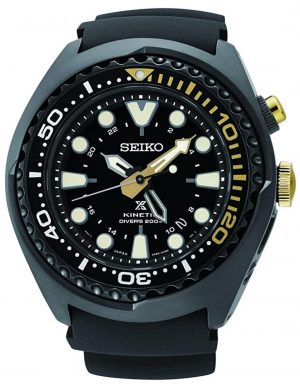 However, if you wish your Kinetic timepiece to withstand water pressure more than just for hand washing or showering, you should check out the Seiko Prospex SUN045.
The Prospex collection is well-known for its professional diver's watches. With this particular model, the ISO-certified resistance is 200m (660ft), enabling its use for all kinds of severe water activities, including scuba diving. All the essential features you typically find from such timepieces are represented, including a one-way rotating bezel, luminosity, screw-down crown, and sealed case back.
A feature that differentiates this watch from others represented on this list is a sapphire crystal – the sturdiest, most scratch-resistant and anti-reflective substance used in wristwear.
However, before going for this Prospex, make sure the above-average case diameter of 47.5mm goes with your wrist size. Slender hands might not be the most appropriate for wearing such a chunky piece.

Seiko SRN062P1
Case Size: 42mm
Water Resistance: 100m (330ft)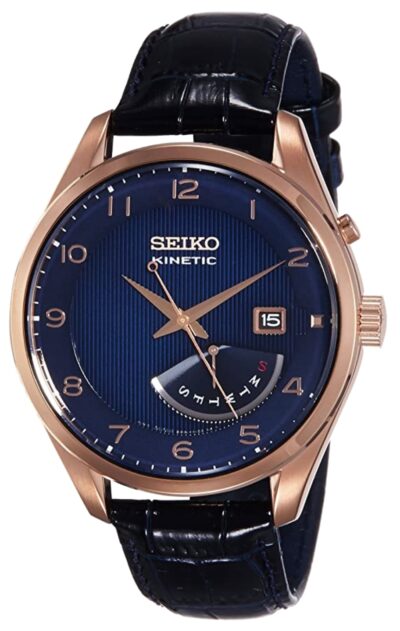 The Seiko Kinetic SRN062P1 is another dress watch that comes with a distinctive weekday window. However, with this watch, the blue color of the textured dial has been matched with a rose-gold toned case, expressing elegance and sophistication.
In terms of quality, the SRN062P1 employs a proprietary Hardlex crystal that is rated to be slightly more resistant to knocks and scratches than standard mineral glass. The strap is of comfortable and durable leather and goes well with the overall styling of the watch.
You can expect exemplary accuracy and a convenient power reserve stretching to six months when fully charged.
Feel free to check out how the model compares to others in our post on the best Seiko watches. 

Seiko SRN043P1
Case Size: 42mm
Water Resistance: 100m (330ft)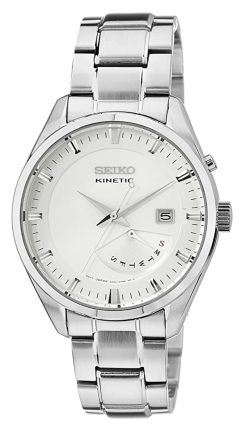 The next timepiece is for those wishing to decorate their wrists with an all-metal wearable. 
The Seiko Kinetic Watch SRN043P1 comes in polished light-toned stainless steel and a white dial, resembling a much pricier watch from a luxury range.
Like other Seiko Kinetic dress watches, this one, too, features a distinctive day window. However, the reading of the feature, as well as the main dial, is somewhat complicated due to the little contrast between the hands and background.
Regardless of that, the watch is one of the most beautiful Kinetics around and will, in no doubt, receive envious glances from friends and coworkers. 

Seiko SRN061P1
Case Size: 42mm
Water Resistance: 100m (330ft)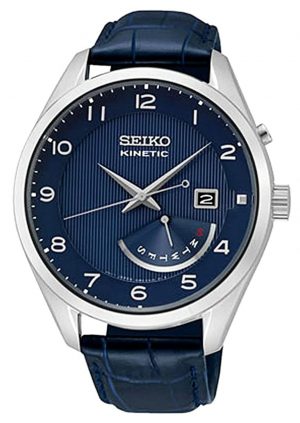 The Seiko SRN061P1 catches attention with its overwhelming blue appeal when both the dial and leather strap comes in the same color.
You can wear it for all kinds of occasions and events due to its versatile appearance. The size is also versatile in being suitable for various wrists, standing at a decent 42mm in case diameter.
The affordable price just above the $100 line is a perfect example of how good-looking and high-quality watches do not always have to cost thousands to own.

Seiko SRN045P2
Case Size: 42mm
Water Resistance: 100m (330ft)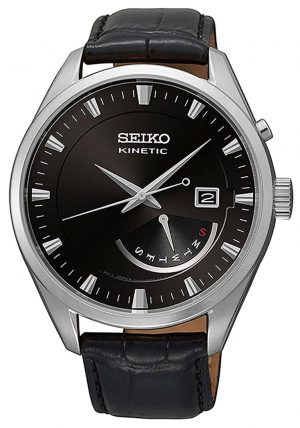 The classic analog Seiko Kinetic SRN045P2 watch is made of stainless steel and features a day-date dial. But in contrast to other Kinetic timepieces, it comes with an all-black appearance and indices instead of numbers. Thus, the styling takes it a step towards a universal appeal, enabling it to be worn for other than only work and fancy gatherings.
The glass is of Hardlex, Seiko's enhanced version of mineral crystal, while the water resistance stands at 10 bar. However, consider swapping the leather band to a metal version if you intend to use it for swimming.

Seiko SRN047P1
Case Size: 42mm
Water Resistance: 100m (330ft)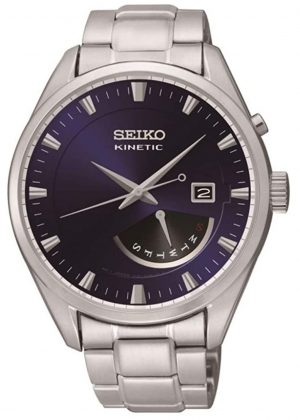 The Seiko Kinetic SRN047P1 is not different from many others on this list in terms of features and materials. But what makes the difference is the deep blue dial that variegates depending on the lighting. It has a contrasting sea-blue tint in clear daylight, but in dimmer conditions, the coloring is much darker.
The watch is also very sturdy due to its stainless steel case and bracelet, making it a perfect timepiece to be worn daily. The price is also something that supports its use for everyday wear, costing only just above a hundred bucks.

Seiko Premier Perpetual SNP022P1
Case Size: 40mm
Water Resistance: 100m (330ft)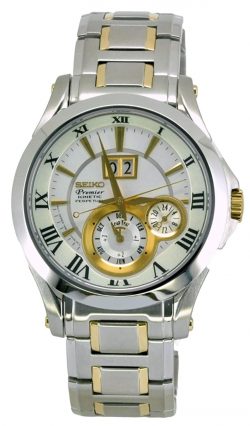 This model is out of Seiko's acknowledged Premier line and features a sleep mode to conserve energy when inactive for more than 24 hours. If in hibernation, a shake will ignite the movement and set the correct time and date automatically.
A perpetual calendar that is set until the year 2100 takes into account the leap years, as well as odd and even months, thus ensuring you don't ever have to meddle with the date ever again.
The Seiko Premier SNP022P1 Kinetic watch is premium level, both appearance and quality-wise. Not only does it reflect luxuriousness through a gold-and-silver look, but it also employs very reliable materials, such as a sapphire crystal and high-grade stainless steel.

Final Take
A Kinetic timepiece is a perfect combination of quartz accuracy and automatic movement's subtlety. The watches are relatively hassle-free, requiring neither battery replacement nor manual winding. But you should go for this type of wristwatch if you really intend to use it on a daily basis.
Also, remember to correctly research Kinetic watches because many brands use the word "kinetic" in describing automatic wristwear. An easy path in finding the correct ones is to browse through Seiko's collections – they are the onliest proper provider of these timepieces.

You may also like:
Affiliate Disclosure: As an Amazon Associate I earn from qualifying purchases. Details
Latest posts by Carl Pender
(see all)