Affiliate Disclosure: As an Amazon Associate I earn from qualifying purchases. Details
A Swiss watch has been the symbol of prestige and luxury since the very beginning of watchmaking history. The craftsmanship and quality determine the undoubted position of the Swiss watch industry, and, accordingly, the high prices as well.
However, some of the brands have positioned themselves to offer wristwear at much more affordable rates than an average Swiss company does.
Subsequently, you'll find the best affordable Swiss watch brands that sell their wristwatches well below a four-figure sum.
At the end of this post, we'll also answer some vital questions that clarify the essence of Swiss watches.
If you prefer to skip the overview of the brands and jump straight to the best affordable Swiss models, feel free to do that.

---
Tissot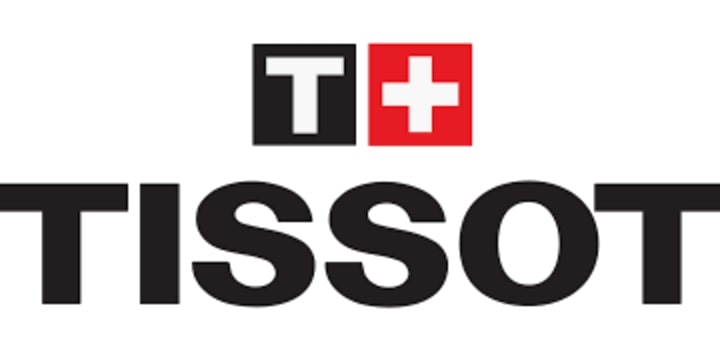 Founded: 1853
Notable collections: T-Touch, Visodate, Couturier, Chemin Des Tourelles, Seastar 1000, Supersport Chrono
Prices: quartz from $200, automatic from $400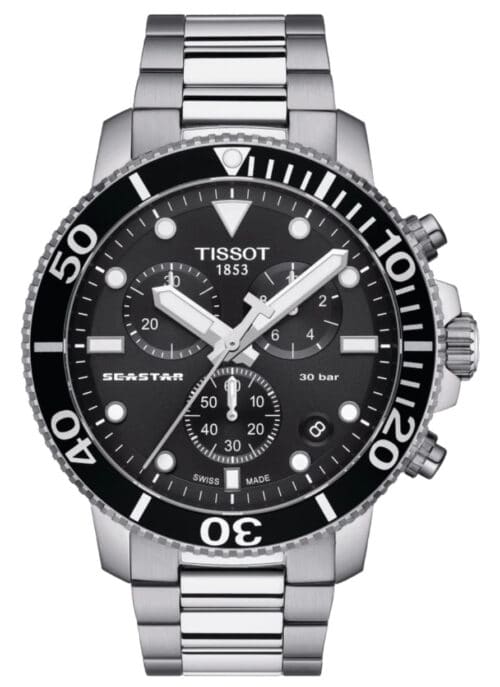 Tissot is a brand we've all heard of, mainly due to the countless partnerships with all kinds of sporting events. The company is also one of the oldest on this list, dating back to 1853 when the father-son duo, Charles-Felicien Tissot and Charles-Emile Tissot decided to manufacture pocket watches.
Throughout the nearly 160-year history, Tissot has produced high-quality watches for various tastes, ranging from dive and sports watches to elegant dress wristwear. The solid materials you'll find from Tissot watches include heat- and scratch-resistant stainless steel, ultra-light and antimagnetic titanium, and scratch-resistant sapphire crystal. 
Watch movements are Swiss-made, including the unique Powermatic 80 mechanism – an automatic movement with an 80-hour power reserve. Classic Swiss quartz timekeeping is available in several collections.
The most notable collections include tactile solar Tissot T-Touch, classic Tissot Visodate, Tissot Couturier, and Tissot Chemin Des Tourelles, and sporty Seastar 1000 and Supersport Chrono.
If you wish to know more about the brand, visit our comprehensive guide to Tissot watches.

---
Hamilton


Founded: 1892
Notable collections: Khaki Aviation, Khaki Field, Khaki Navy, Ventura, Jazzmaster
Prices: quartz from $300, automatic from $500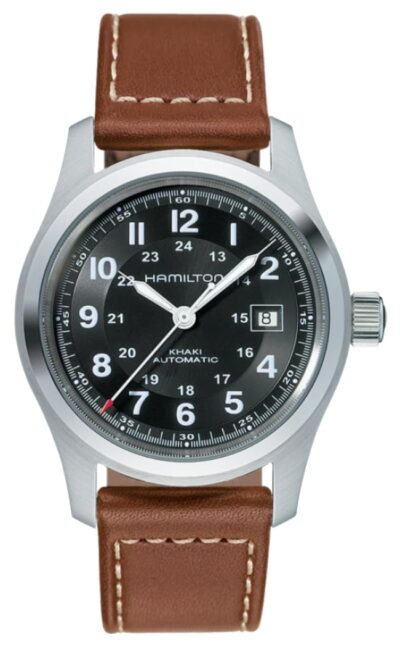 Another well-known entry on this list is Hamilton. Though the company started as an American brand, enjoying celebrity status in the USA, it was acquired by the Swiss at the beginning of the 1970s. It was eventually merged with the Swatch Group in 1984.
Hamilton is considered a mid-priced brand with a strong heritage. Many watch aficionados even claim it to be underrated given the price-quality ratio at which the watches are sold, which is definitely great news to those chasing the best value-for-money timepieces.
Another value-adding factor is the celebrity status Hamilton has acquired over time. For instance, Hamilton Ventura was a favorite of Elvis Presley, whereas specially designed Hamilton watches featured in the blockbuster movies of Interstellar (2014), The Martian (2015), and Tenet (2020).
The brand has set greater emphasis on producing reliable military-style and sports watches with both quartz and automatic ETA movements. Rugged, robust, and resilient, they are highly appreciated by outdoor enthusiasts. You'll also find classic dress watches echoing American styles from the early decades of the 20th century.
The brand is often compared to Tissot due to similar quality standards, as well as being in the same price range. Our Tissot and Hamilton comparison brings out the differences and similarities, so feel free to visit the post if these two brands have caught your attention.
Or if you feel like getting to know more about the brand itself, make use of the Hamilton brand review.

---
Victorinox Swiss Army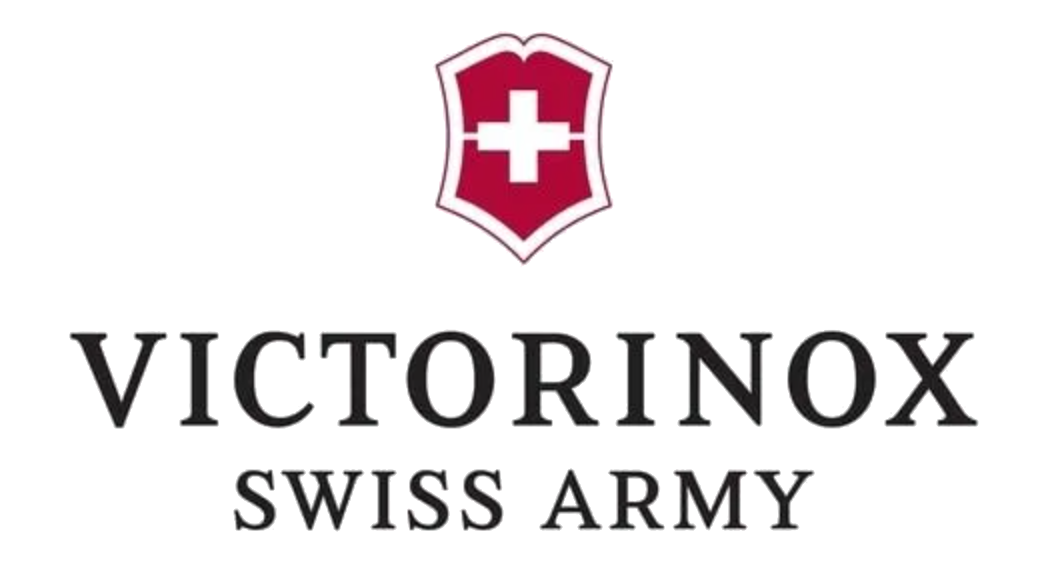 Founded: 1884
Notable collections: I.N.O.X., Fieldforce, Alliance, Maverick, Airboss
Prices: quartz from $200, automatic from $500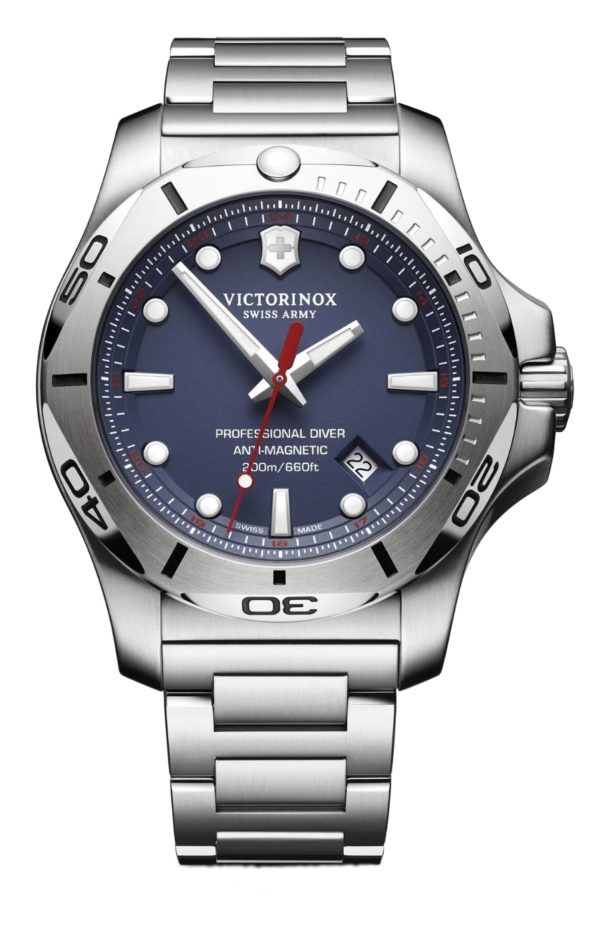 Victorinox is famous for its army knives but has quite recently entered the watchmaking industry. Despite manufacturing watches since 1989, which is a short time in terms of building a reputation, Victorinox has truly proved its worth and reliability.
Today, Victorinox is an acknowledged Swiss watch producer that provides timepieces for the military, but also the wider audiences in the means of dress, dive, and chronograph watches.
Victorinox's wristwear is manufactured to be extremely durable. For instance, the I.N.O.X collection watches go through 130 resistance tests before they're eligible for sale. Stainless steel, titanium and carbon-finished surfaces, and scratch-resistant sapphire crystal are common materials in the watches, and not only for producing I.N.O.X wristwatches but other lines as well.
Like the majority of Swiss watch brands, Victorinox employs ETA-supplied quartz and automatic movements. 
Victorinox offers five watch collections – I.N.O.X and Fieldforce timepieces are perfect for the military, diving, and sports, Airboss mechanical wristwear are for aviators, and Maverick and Alliance watches suit multiple walks of life.
If you're interested in a thorough analysis of the brand, visit our comprehensive guide on Victorinox watches.

---
Frederique Constant


Founded: 1988
Notable collections: Classic, Slimline, Notify Chrono, Yacht Timer
Prices: quartz from $500, automatic from $900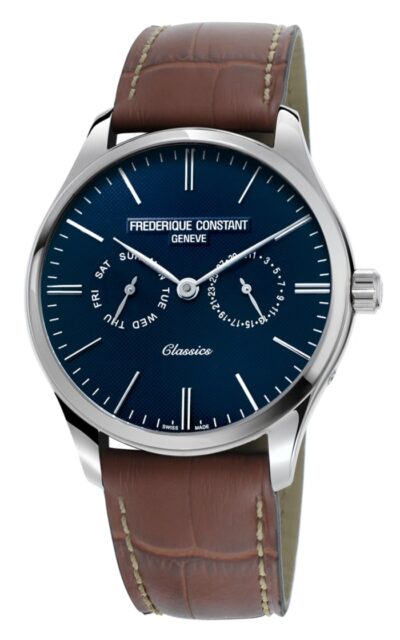 The Frederique Constant brand is also a newcomer in the watchmaking field, just like Victorinox, but more expensive. Established in 1988 by a Swiss couple, it was recently acquired by the Japanese conglomerate Citizen Holding Group in 2016.
The brand is known for providing classic and traditional yet timeless watches. Each Frederique Constant timepiece is hand-assembled, checked, and controlled over a long period of time by both watchmaking specialists and specialized equipment.
And what makes Frederique Constant distinctive among affordable Swiss watch brands is that they manufacture and assemble their own movements.
Among the very expensive tourbillon and manual mechanical gold-plated wristwear, the brand also offers quartz and automatic watches in Slimline and Classic collections with a reasonable price tag.
---
Raymond Weil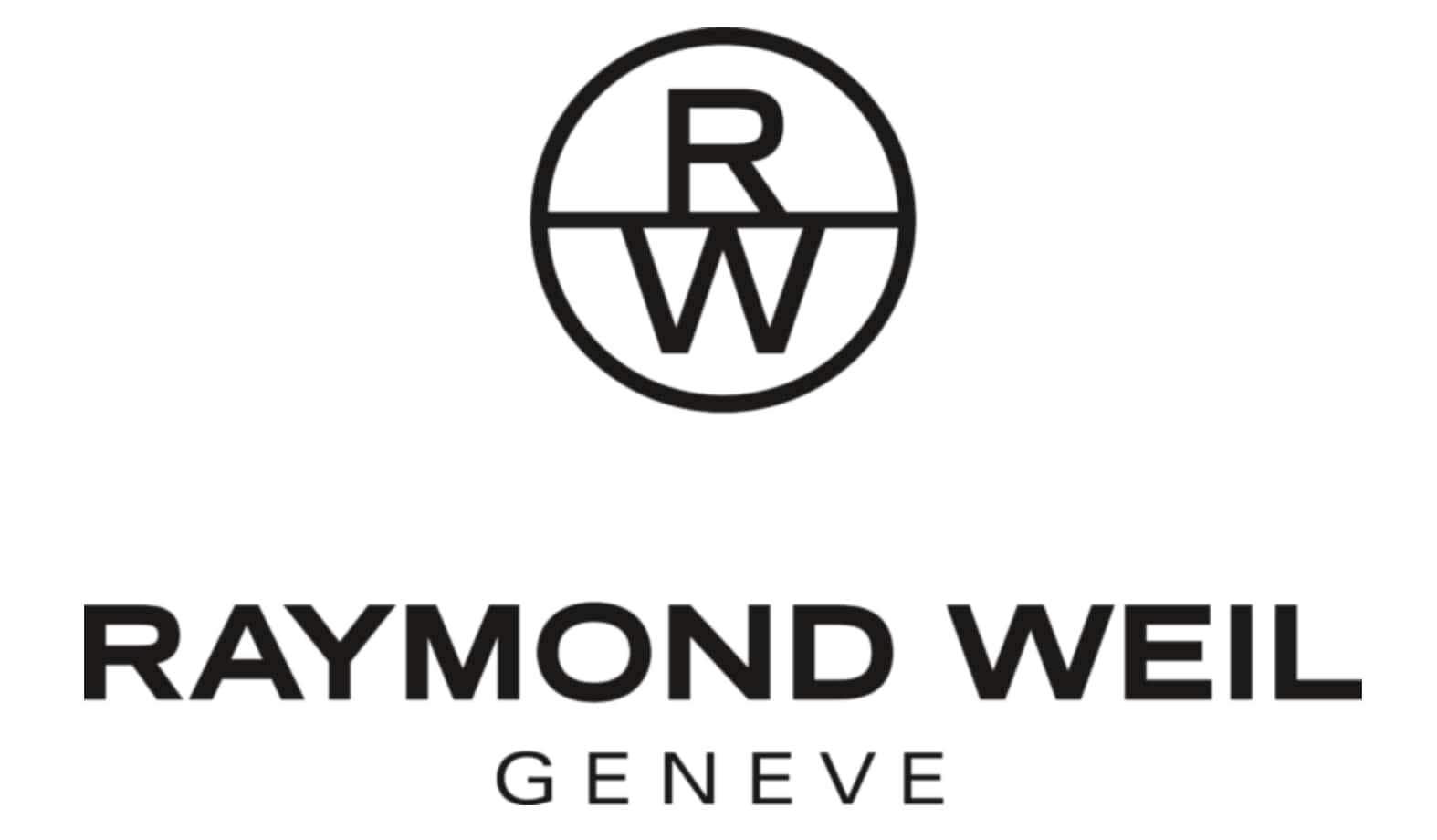 Founded: 1976
Notable collections: Freelancer, Maestro, Parsifal, Tango, Toccata
Prices: quartz from $500, automatic from $800
Raymond Weil was founded in 1976 and is similar to Frederique Constant in terms of price and quality. Their attention to detail is world-class, making their timepieces worthy of an adjective of luxurious. 
The brand finds inspiration for watch design from music when many collections have received their names from the music terms, such as Maestro, Mozart, and Toccata. They continually upgrade technical know-how and equipment, enabling the computer-aided design and production of new models.
One of the brand's trademarks is its in-house mechanical movement visible in the majority of watches at 6 o'clock on the dial.
You'll find a variety of styles in Freelancer, Maestro, Parsifal, Tango, and Toccata collections.

---
Wenger


Founded: 1893
Notable collections: Avenue, Urban, Attitude, Roadster, City, Seaforce
Prices: quartz from $100, automatic from $400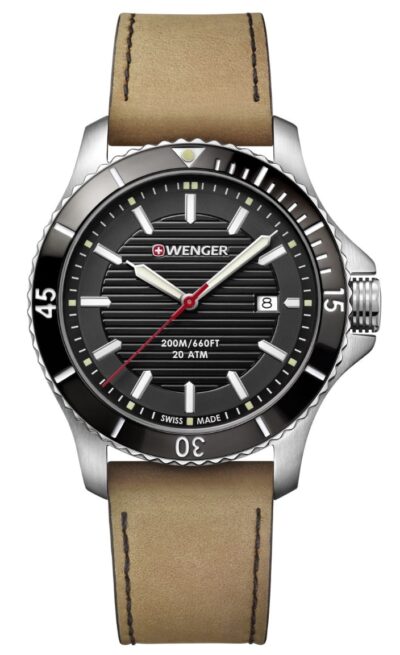 This brand started as a cutlery house in 1893 and was one of the suppliers of Swiss Army knives, along with Victorinox. Like the latter, Wenger is also the industry's new kid in the block when the first wristwear came out as late as in 1988. 
Wenger was acquired by Victorinox in 2005, which paved the way for a more concentrated watch production than before. The styles include classic dress and fashionable sports-oriented watches that tend to be larger than typical wristwear.
The brand's watches are mostly quartz-driven, with only a handful of pieces available with automatic movement. The materials are slightly more discreet compared to Victorinox, but so are the prices. Despite the fact, you can still expect a decent quality from Wenger watches.
Wenger offers three broad lines of wristwear – classic line in Avenue, Urban, and City collections, casual watches in Attitude, and sports timepieces in Roadster and Seaforce collections.

---
Rado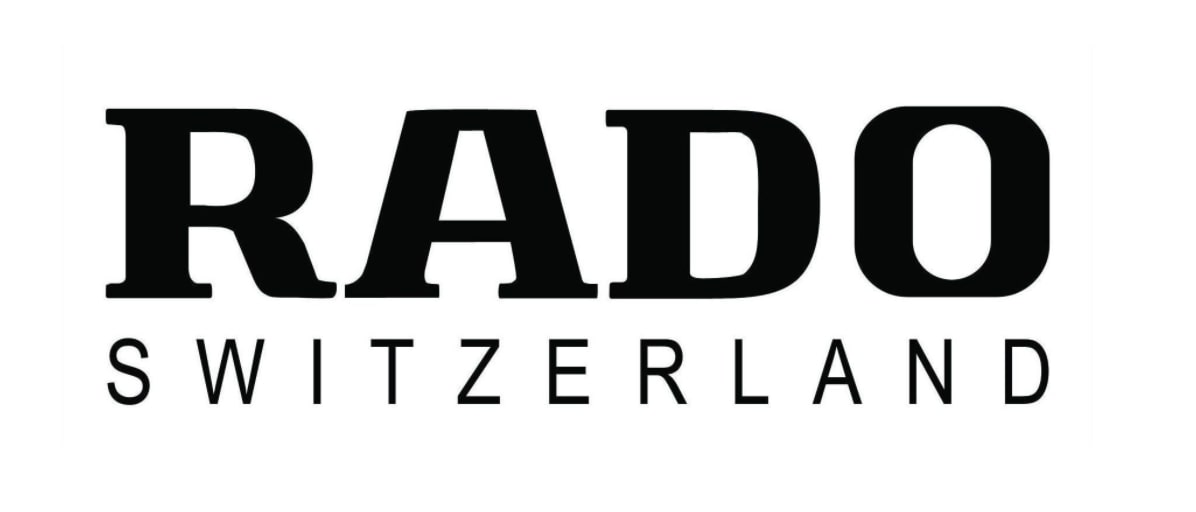 Founded: 1917
Notable collections: Diastar, Coupole, Centrix
Prices: quartz from $700, automatic from $700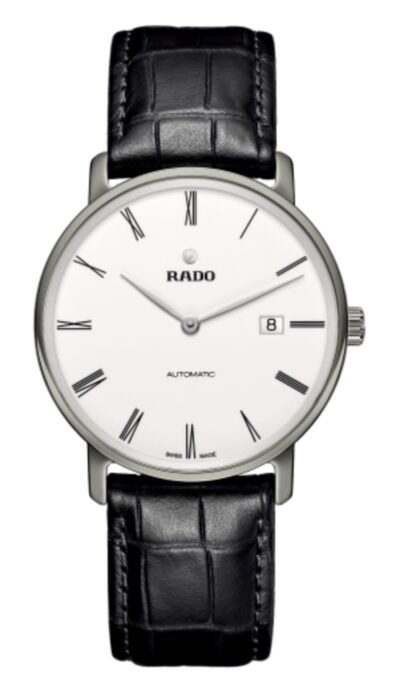 One of the big boys on this list is Rado. The brand was established in 1917, and today it produces about half a million watches a year.
Rado is known for its high quality and innovative advanced materials. The iconic DiaStar watch made of ceramic, for instance, was the world's first scratch-proof watch in 1962. Not only ceramic but also sapphire crystal and some of the hard metals that were rare at the time were introduced to the broader public.
Rado's watches are made of stainless steel, hard metals, and ceramic, while bracelets come with ceramic, fabric, leather, and steel. An automatic movement is widely employed, but you'll also find plenty of quartz and manual mechanical timepieces. Classic apparel of wristwear is prevalent for Rado, so these watches suit the best for formal wear. 
Being one of the priciest on this list, Rado still has some cheaper-end watches in Centrix, Diastar, and Coupole collections.

---
Certina


Founded: 1888
Notable collections: Aqua, Heritage, Sport, Urban
Prices: quartz from $200, automatic from $300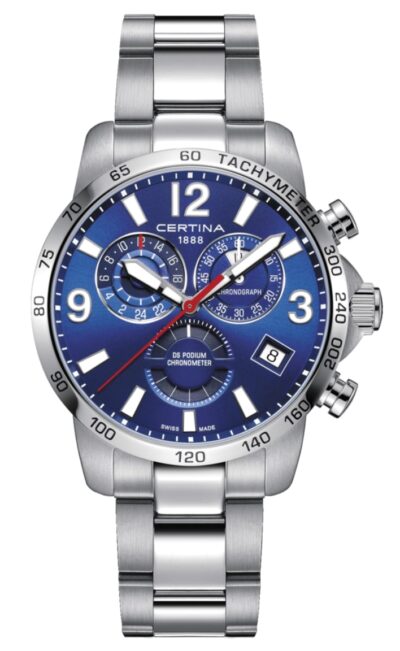 Certina was founded in 1888 and is more known in Europe than in the States. The company has been an official timekeeper of the Moto GP in the 1990s and the World Rally Championships (WRC) and has been a partner to numerous motoring companies, such as Sauber F1, Colin McRae, and Sete Gibernau.
The last decade has seen Certina change its logo and business approach to become more expensive and acknowledged. Certina has adopted higher caliber movements and more robust materials. Thus the before lower prices have started to rise steadily.
The brand focuses on selling watches that feature precision, durability, and Swiss-made label. Certina's sports watches are highly appreciated, available in Aqua and Sports collections. The Heritage and Urban collections feature a classic style, suitable for various occasions.

---
Movado


Founded: 1881
Notable collections: Museum Classic, Museum Sport, BOLD, Heritage
Prices: quartz from $300, automatic from $800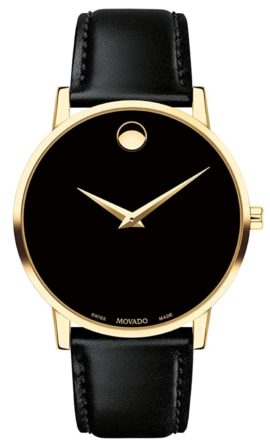 Movado is an American-owned Swiss watch brand with an artistic touch. For being minimalist in style, you'll not find complicated and detail-rich watches. Besides luxury Swiss timepieces, Movado also manufactures fashion-oriented wristwear. 
Quality-wise, the watches have standard Swiss reliability, meaning they're built to last. Stainless steel is often ion-plated or PVD-covered with a variety of colors, while quartz and automatic movements guarantee the Swiss precision you would expect.
Movado is best known for its Museum Watch that has a solitary dot at 12, symbolizing the sun at high noon. The watch was selected for the permanent design collection of the Museum of Modern Art, New York, in 1960. A similar design runs through the whole production line of Movado watches.
In addition to the minimalist style, Movado offers some sports watches with a chronograph function.

---
Mido


Founded: 1918
Notable collections: Commander, Multifort, Ocean Star, Baroncelli
Prices: automatic from $800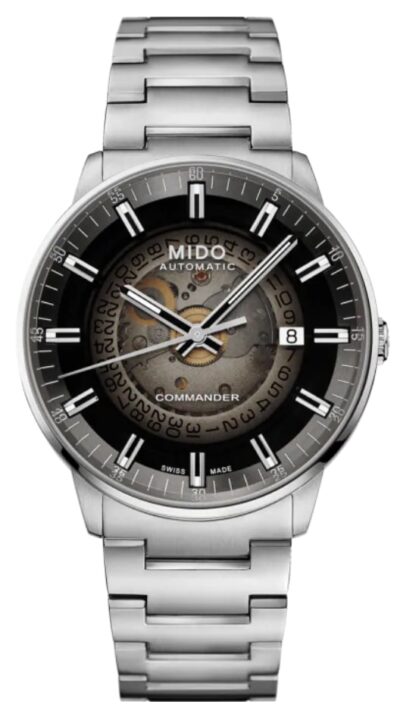 When the Movado brand finds inspiration from modern art, then Mido receives it from architecture.
Mido's philosophy combines aesthetics, authenticity, and functionality. Cutting-edge technological innovations, mechanical movements, and high-quality materials are the three pillars on which the watch brand's unique expertise rests.
Throughout its history, which started in 1918, Mido has stood out with distinctive innovations, such as a central read chronograph, a model of all-natural cork, and a multiband watch.
Mido's mechanical movements are world-class when its certified chronometers belong to the top in terms of production volumes. The majority of watches come with automatic mechanical movements.
Mido's types of watches range from professional divers to fancy skeletonized mechanical wristwear. In addition, every collection has a background story from some architectural masterpiece.
For instance, Commander collection is inspired by the Eiffel Tower, while the Multifort's values are based on the aesthetics of the Sydney Harbour Bridge. You'll also come across with Ocean Star, Baroncelli, Belluna, Rainflower, and All Dial collections.

---
Marathon


Founded: 1904
Notable collections: Dive SAR, Navigator, General Purpose
Prices: quartz from $350, mechanical from $350, automatic from $800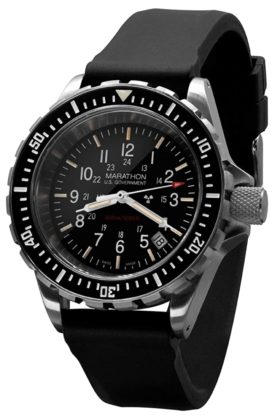 When you want a through-and-through Swiss military watch, there's no better brand to turn to than Marathon.
The watch company shares similarities with Hamilton we covered earlier in terms of being a non-Swiss brand that turned Swiss. Namely, it started as a Canadian brand in 1904, which took the current name Marathon right before World War II. Marathon made its name for supplying high-quality military watches for the Allied Forces during the war.
The family-owned brand has been manufacturing Swiss-made watches since the 1990s, and its quartz, mechanical, and automatic timepieces are divided into three collections – Dive, Navigator, and General Purpose.
The watches are easy to recognize for their tall cases and lowered dials that come in classic black, white, silver, and desert tan tones.
Marathon watches are also highly acknowledged for their tritium luminosity, making them one of the best glowing watches around.

---
Alpina


Founded: 1883
Notable collections: Alpiner, Startimer, Seastrong, Comtesse, Horological Smartwatch
Prices: quartz from $500, automatic from $800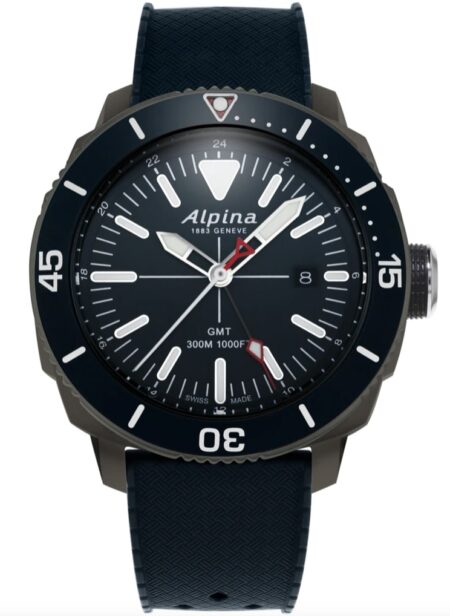 In 1883, an independent watchmaker Gottlieb Hauser founded the Alpina Swiss Watchmakers Corporation so that the region's specialists could share watch parts, materials, and ideas. The specialists became to be known as the "Alpinists." Not long after, full watch movement manufacture was established.
These days, the brand is recognized by its comprehensive coverage of sports watches, ranging from dive watches to aviator pieces.
Alpina is committed to producing extremely robust sports watches that perform to the highest precision and with the greatest reliability in the most demanding situations. The watches are built to withstand extreme environments, from high altitudes to great depths.
Alpina's in-house watch movements have been constructed and developed in the brand's hi-tech lab. Before a watch goes on sale, it goes through numerous rigorous quality control tests. So rest assured – Alpina provides the highest reliability in its wristwear.
Alpina's sports watches are available in Alpiner, Startimer, Seastrong, and Comtesse collections. The recent addition to the brand has been hybrid smartwatches.

---
Swatch


Founded: 1983
Notable collections: Big Bold, Irony, Sistem51, Sports, Skin
Prices: quartz from $50, automatic from $200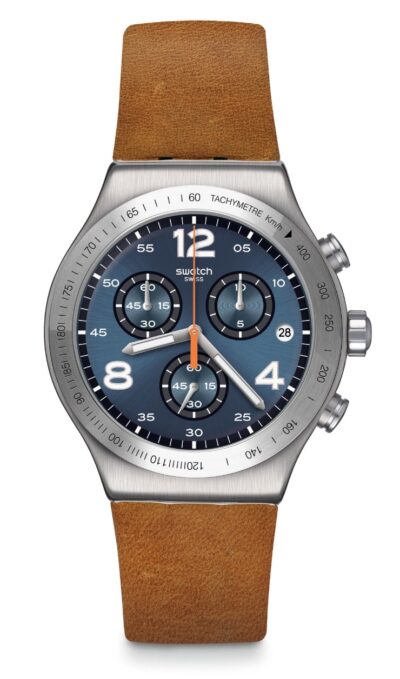 Swatch is a fairly new watch brand formed in 1983 that belongs to the watch conglomerate Swatch Group.
The brand was established in response to the aftermath of the Quartz Crisis when numerous Swiss watch manufacturers found themselves in difficulties in competing with much more affordable Japanese products. Swatch is, by far, the most affordable Swiss watch brand currently available. 
The reasoning for such low prices lies in the materials the Swatch brand uses for making its wristwear.
The majority of watches are made of plastic and silicone, which are very cheap compared to stainless steel and other metals. Nevertheless, the calibers are all Swiss-made. Thus Swatch's timepieces are regarded reliable, despite the low-value exterior.
Style-wise, the majority of wristwear is fashion-oriented, catering to the market that favors casual and creative styles. The brand's watches suit the best for the younger audience, who is not after elegant and sophisticated looks but rather joyful and simplistic appearance.
Swatch offers a variety of collections, ranging from Sport and big-sized Big Bold lines to automatic Sistem51 and stainless steel Irony collections.

---
Mondaine


Founded: 1986
Notable collections: Classic, Essence, EVO2, Helvetica, Simply Elegant, Stop2Go
Prices: quartz from $150, automatic from $350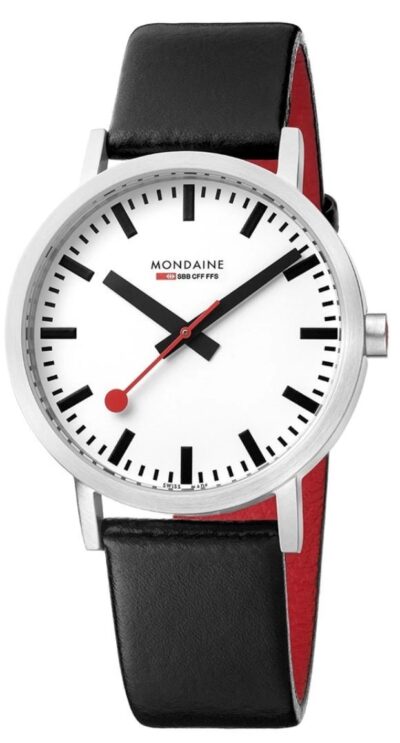 The brand of Mondaine started to manufacture watches in 1986 after finding inspiration from the Swiss railway clock's iconic design. The red second hand on a rather simple dial is the trademark of Mondaine.
The brand acquired the famous military watch company of Luminox in 2006, in that opening business opportunity in the States.
From classic to contemporary, Mondaine watches combine superior craftsmanship with minimalist style. In addition to classic analog-display timepieces, you'll also find fully-integrated smartwatches, eco-friendly watches, and even vegan watches.

---
Glycine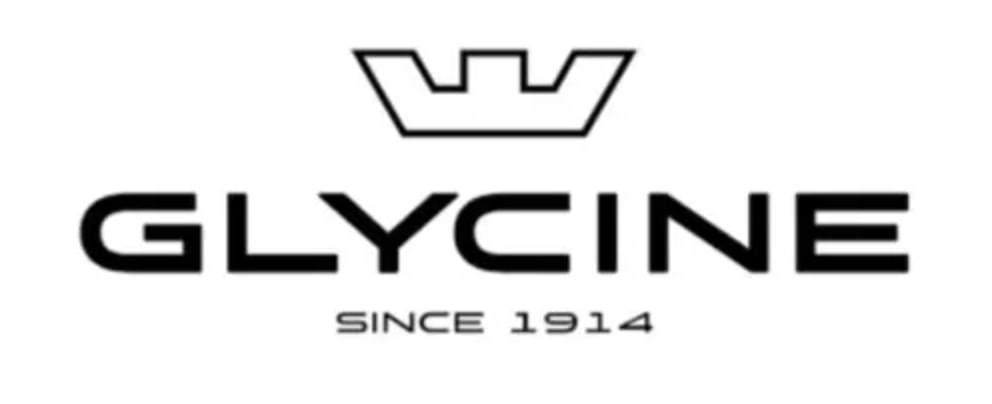 Founded: 1914
Notable collections: Airman, Combat
Prices: automatic from $400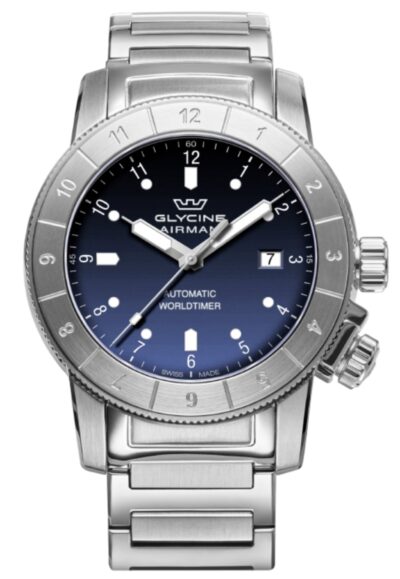 Glycine was established at the beginning of World War I in 1914, though there was no connection to the war itself. At first, the watches were produced for women, especially for the wealthy in the UK and the USA. After some time, Glycine started to experiment with self-winding movements and chronometers, and finally, in the 1950s, found the passion they're known for – aviation watches.
In the era of the growing popularity of intercontinental travel, Glycine presented the Airman collection that featured 24-hour time, rotating bezel, and World Time. These days, the Airman watches are sought-after pilot timepieces known for the Swiss quality and sophisticated appeal.
Glycine's timepieces are of reliable materials and feature precise Swiss automatic movements.
The military and sports personnel have extensively used its Combat collection watches, and, as previously mentioned, the Airman collection is one of the pioneers of aviator timepieces and very popular among pilots.

---
Davosa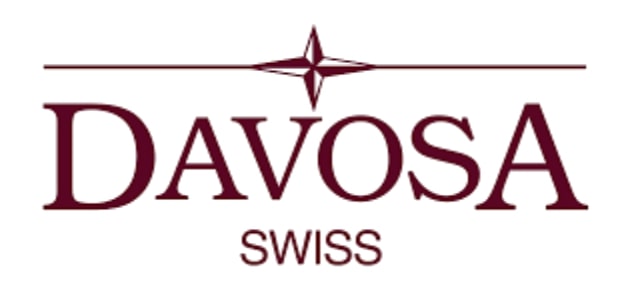 Founded: 1883
Notable collections: Argonautic, Ternos, Military, Newton Pilot, Gentleman
Prices: quartz from $250, automatic from $700
Davosa may not be as known as other Swiss watch brands, but it boasts a long history. It was in 1883 when Paul Hasler set up his own watchmaking company, assembling timepieces for well-known brands. In the 1940s, Davosa started to produce its own watches.
Davosa guarantees Swiss Made seal of approval, high-quality components, and strict quality controls to ensure the longevity of its products. The brand offers a variety of timepieces, from professional diving and military-inspired pieces to casual-looking wristwear.
Davosa watches have received many recognitions. For instance, they've featured in the readers' choice in Chronos Watch Magazine, received acknowledgment from Watchtime.net for its deep dive watches, and even famous free driver Nikolay Linder wears one of the models. 

---

FAQ About Swiss Watches
Now that we've combined plenty of affordable Swiss watch brands to choose from, we'll explain some of the common questions that arise when dealing with Swiss watches.

What Does Swiss Made Mean?
For a watch to carry the Swiss Made label, it has to meet the requirement of a minimum of 60% of Swiss value. In addition, the watch has to be cased up and inspected in Switzerland, and employ a Swiss movement that has 60% of Swiss value.
What Is The Cheapest Swiss Made Watch?
Swatch, Wenger, and Certina produce the most affordable Swiss-made watches. Their collections include models with heftier price tags as well, but the cheapest quality pieces come from these three brands.
How Can You Tell If a Watch Is Swiss Made?
Swiss-made watches have designations of Swiss Made on the dial. Not so popular terms of Suisse, produit suisse, qualité suisse, and fabriqué en Suisse are also permitted designations.
Why Are Swiss Watches So Famous?
The Swiss watchmaking traditions are the main reason why Swiss watches are so famous. The watch calibers are high-quality and long-lasting, and the materials that are used for manufacturing the timepieces are highly durable. Last but not least, centuries of know-how that has been acquired and mastered guarantees the highest quality levels.
How Much Do Swiss Watches Cost?
Affordable Swiss watches typically start from $200. Automatic watches have a starting price at $300. For a renowned brand's more complicated timepiece, expect to pay somewhere between $1,000-$2,000. Luxury wristwear typically starts from $3,000.

Final Words
Swiss watches have an irrefutable reputation, which often means a high valuation of the products. With the arrival of the Quartz Revolution, the Swiss watch manufacturers had to reconsider their business plans seriously.
In recent decades, more and more producers have started to provide wristwear at much more affordable rates than before. This list of affordable Swiss watch brands that contains well-known brands of Tissot, Hamilton, and Victorinox, as well as not so widespread producers of Certina and Davosa, is a blow of fresh air for people who wish not to or don't have the resources to buy a luxury Swiss timepiece.  
You may also like:
Affiliate Disclosure: As an Amazon Associate I earn from qualifying purchases. Details
Latest posts by Carl Pender
(see all)