Affiliate Disclosure: As an Amazon Associate I earn from qualifying purchases. Details
Seiko is probably one of the first watch brands that pop into mind when talking about wristwear. Their dedication to perfection, craftsmanship, and accuracy for over 140 years in business has resulted in the company's stellar reputation as one of the best providers of high-quality watches at accessible rates.
Since the number of fine Seiko timepieces is overwhelming, we've come to help you pick out the best Seiko watches for men you can find.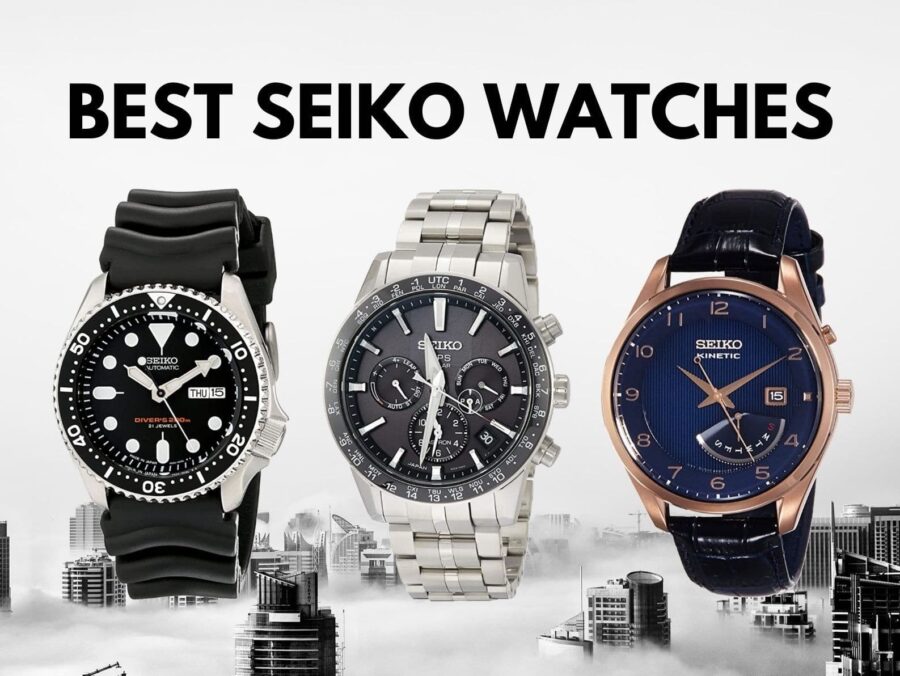 Top Seiko Watches
Seiko started in the watchmaking business as early as 1881, surviving several crises during the existence, but also causing one (for a particular industry) that dramatically changed the course of horology.
Numerous ground-breaking innovations, quality assessment, and the rich history are available in our comprehensive post on the review of the Seiko brand. So, feel free to discover the makings of the brand if that is of interest to you.
But now, without further ado, let's move on to the list of Seiko timepieces that have received only but positive reviews from wearers.

Seiko Prospex PADI Solar SNE435P1
Model: SNE435P1
Movement: Solar quartz
Case size: 43mm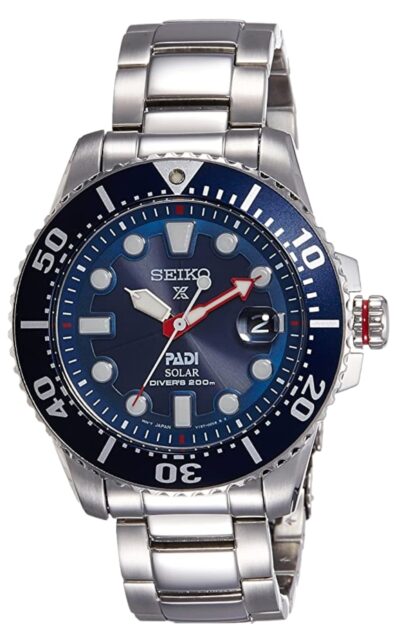 Seiko's dive wristwear collection is perhaps the most widely known. Their persuasion in setting specific rigid standards for a watch to carry the "diver's watch" title resulted in the implementation of international ISO 6425 certification for professional dive wristwatches.
Hence, one can be confident that any dive watch from the Seiko production comes with genuine quality.
And so is the Seiko Prospex PADI SNE435P1. Additional proof of quality comes from the PADI inclusion in the name, which stands for approval from PADI, the Professional Association of Dive Instructors.
The model comes fully stainless steel with a 43.5mm case and a band that has a push-button release clasp with a safety lock. The blue one-way rotating elapsed bezel and Hardlex-covered dial bring out the beauty of the timepiece.
This 200m (660ft) water-resistant Prospex watch also has luminous hands and markers for enhanced visibility underwater, as well as a screw-down crown and case back for better protection against possible water damage.
A finesse-adding feature that makes this timepiece stand out is the red color on the minute hand and crown, associating perfectly with the overwhelming blue.
The watch runs on a convenient solar quartz movement that powers itself by any light. A full charge can last up to 10 months while keeping the accuracy of +/-15 seconds a month.
We've included the SNE435P1 on our lists of the best solar timepieces and top dive wristwear as well, so find out how it compares to other solar-powered and dive pieces.
PROS:
✅ 20 ATM ISO-certified water resistance
✅ Solar-powered
✅ Fantastic luminosity
✅ Appealing looks
CONS:
❌ Classic Seiko wearers may find the case too big
---
Seiko Kinetic Watch SRN062
Model: SRN062
Movement: Kinetic
Case size: 42mm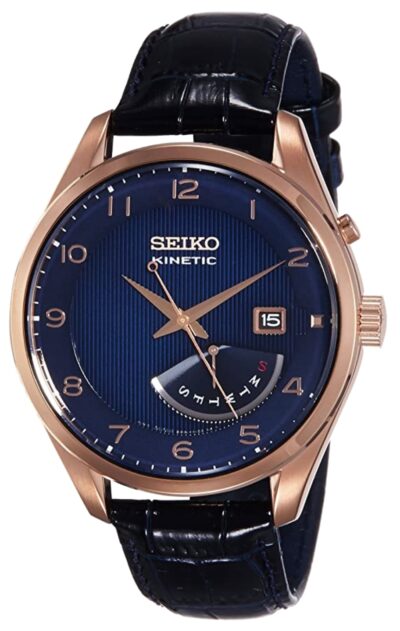 It was in 1988 when Seiko introduced the world's first Kinetic movement timepiece. A watch that runs on quartz timekeeping but receives energy from the kinetic movement is a unique combination of quartz and automatic mechanisms.
The Seiko Kinetic SRN062 is one of the best examples of this type. An excellent dress watch as it is, it comes with a blue analog dial that features a classy weekday window, taking up a decent amount of space.
The rose-gold color on the 42mm stainless steel case adds creative spirit compared to the typical silver-toned pieces on the market. That specialty is combined with a fitting black leather strap.
The Kinetic movement powering the watch receives its energy from the wearer's natural motion while providing accurate quartz timekeeping function. When the capacitor that accumulates the energy is full, the wristwatch can run up to four years in hibernation without any additional motion applied to it.
The rich details, imperishable components, and luxurious quality make it a perfect addition to any collection.
PROS:
✅ Convenient Kinetic movement
✅ Charming rose-gold color
✅ Attractive price for the uniqueness
CONS:
❌ Some find the band too narrow
---
Seiko Chronograph Watch SSB031
Model: SSB031
Movement: Quartz
Case size: 40mm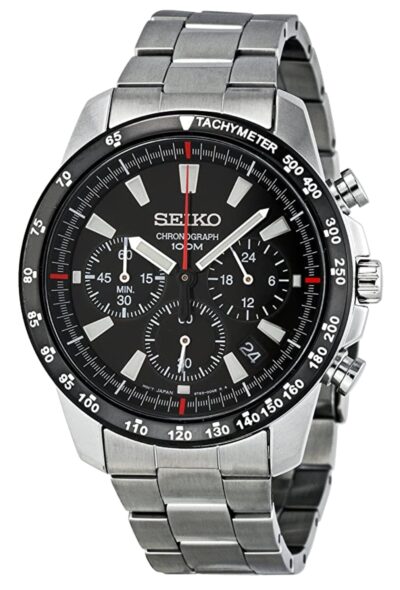 This Seiko Chronograph SSB031 is a sports chronograph with a very tool-like appearance. Not overly large, with a 40mm case and 47mm lug-to-lug measurements, it fits perfectly to the majority of wrist sizes and shapes.
This timepiece's prime function is the chronograph feature with two sub-dials and a stopwatch's second hand on the main dial. In contrast, the regular timekeeping seconds run on the bottom window. A tachymeter on the bezel becomes handy when particular time and distance intervals need evaluating.
The SSB031 is powered by an accurate Japanese quartz movement and is water-resistant to 100m (330ft). The reliability assuring features are the stainless steel case and band that stand all kinds of knocks and falls.
Although the watch carries the sports watch adjective, it suits well for various other occasions too. For example, combining professional looks or casual clothing with that timepiece would not look out of place at all.
Versatile in its nature, this Seiko Chronograph is a decent all-rounder for many tastes.
PROS:
✅ Beautiful dial design
✅ Comprehensive chronograph function
✅ Reliable stainless steel case and band
✅ Band is replaceable
CONS:
❌ Stainless steel band tends to rattle
---
Seiko 5 Automatic SNK805 Watch
Model: SNK805
Movement: Automatic
Case size: 37mm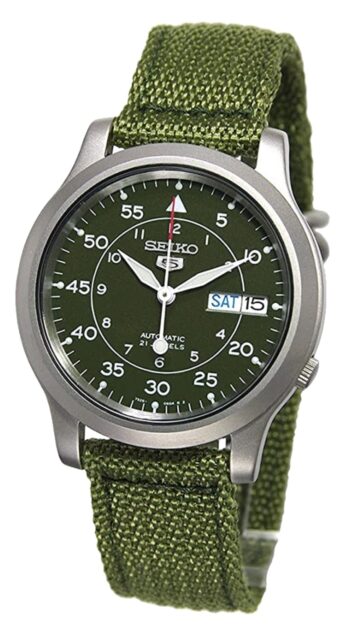 Among the best Seiko watches are, without a doubt, the ones with an automatic movement. They're even considered as the best there are for the price point they're sold.
An exemplary watch supporting the claim is the Seiko 5 SNK805, with a price tag below the $100 mark. The accuracy of automatic watches may not be on par with quartz, with the same model included, but it's not why the self-winders are bought. It's the intricate mechanism and craftsmanship that people value.
That craftwork in this particular model is cased in a 37mm stainless steel case that features a crown at 4 o'clock. Due to the military-inspired aesthetics, the watch comes with a green analog dial and a green nylon strap.
Although this Seiko 5 gives a genuine "outdoor watch" impression, it's still not suitable for regular immersion to water. Nevertheless, the rain won't cause any problems, so feel free to use it during your hikes and campings.
PROS:
✅ Bang for the buck
✅ Intricate automatic movement
✅ Military-inspired looks
CONS:
❌ Can't be used for swimming
---
Seiko Diver's Automatic Watch SKX009K2
Model: SKX009K2
Movement: Automatic
Case size: 42mm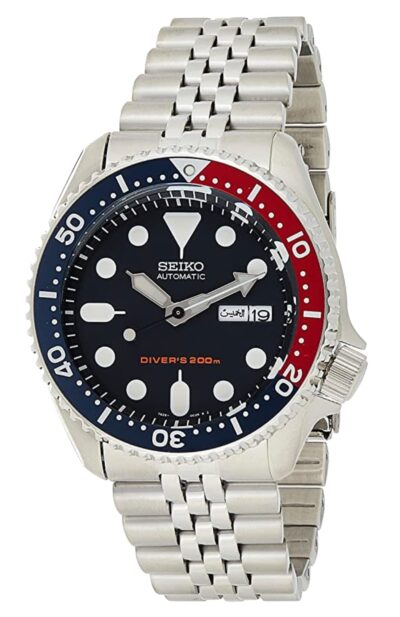 The Seiko SKX009K2 model is another great diver's watch. It has received all but positive feedback from owners for being a beautiful homage to a much pricier Rolex Submariner.
The prevalent Pepsi look of comprising blue and red stands out from the crowd, giving the piece a classy diver's watch apparel.
Hidden in the 42mm stainless steel case is the 21-jewel automatic movement that keeps precise time. However, the downside of the material and movement type is the relatively heavy weight that comes with it.
The dial has dark blue coloring and features a day-date window and luminous hands and indices. The unidirectional bezel, inherent to all the diving watches, has the red color up until 20 minutes, while the rest of the bezel is painted blue. The timepiece is ISO-certified to 200m (660ft), which suits perfectly for scuba diving.
Great news for those who don't like the five-link steel band is that you can swap it for a more suitable one, for instance, rubber, NATO, or nylon band.
PROS:
✅ Classy apparel
✅ Sophisticated automatic movement
✅ ISO-certified to 20 ATM
✅ The band is interchangeable
CONS:
❌ Feels heavy on the wrist
---
Seiko Solar Watch SSC143
Model: SSC143
Movement: Solar quartz
Case size: 42mm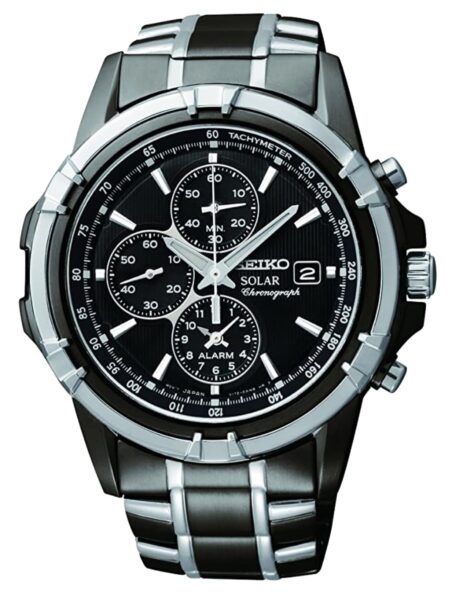 This black ion-finished stainless steel Seiko Solar SSC143 runs on solar quartz movement, providing convenience, as well as fashionable looks.
The black dial and dark-colored band make it a masculine piece, and since it is coupled with a stopwatch function, it becomes a perfect piece for an active outdoorsman. The chronograph measures up to 60 minutes and is displayed on three sub-dials. The tachymeter you'll typically find from the bezel is, in this case, placed on the outer ring of the dial.
The hands and markers of this watch are luminous, so finding yourself in the dark and in need of a time update won't be a problem. It won't be an issue to go for a swim either as the water resistance is guaranteed 10 ATM.
And as we started to talk about problem-free characteristics, the solar-powered movement ensures a battery-free life and a power reserve for up to six months.
PROS:
✅ Masculine aesthetics
✅ No batteries are needed
✅ Stopwatch feature
✅ Luminous hands & markers
CONS:
❌ The glass is too reflective
❌ Tachymeter is challenging to read in the sunlight
---
Seiko Prospex Diver's SRP777K1
Model: SRP777K1
Movement: Automatic
Case size: 45mm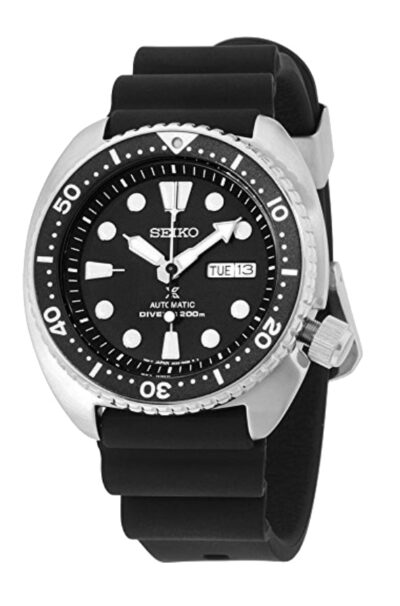 As you've already noticed, the best Seiko watches include many dive pieces. We just can't help but introduce you to yet another high-class Seiko. This time, it's the Prospex Automatic SRP777.
At less than $400, this watch offers a reliable automatic movement, an impressive build quality, and an appreciated design.
The 24-jewel movement inside the 45mm stainless steel case powers the luminous white hands. The black dial on which the hands are set brings out the distinctive white that helps to read the time in all kinds of lighting conditions.
The black silicone band fits perfectly for underwater conditions due to the flexibility and sturdiness it provides. As with all the diver's watches that Seiko produces, this model also comes ISO-certified.
The average rating of 4.6 out of 5.0 from over 200 ratings only but approves the high durability of this Prospex.
PROS:
✅ Reliable 24-jewel automatic movement
✅ Easily readable dial
✅ ISO-certified
✅ Famous design
CONS:
❌ Nothing particular to complain about
---
Seiko Dress Chronograph SNN241
Model: SNN241
Movement: Quartz
Case size: 42mm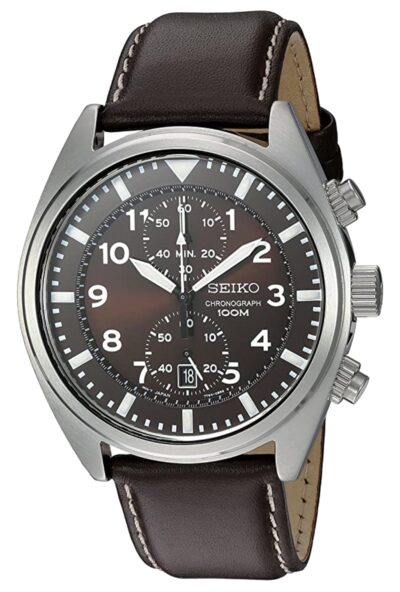 Although the Seiko SNN241 is not necessarily a classic dress watch but instead paying homage to both military and pilot watches, it nevertheless has the makings of a stylish timepiece for (semi-)professional occasions.
The prime highlight of this model is the dark-brownish look that beams from the dial and contrast-stitched leather band. The case is of high-quality stainless steel that features a three-pusher design for the chronograph function. The stopwatch measures up to 60 minutes and is displayed on two subdials at six and twelve o'clock.
The case is of modest size at 42mm, being neither small nor large. The watch is water-resistant to 10 ATM and runs on an accurate Japanese quartz movement.
Considering the low price, it's a watch that every man can proudly wear.
PROS:
✅ Accurate
✅ Suits various styles
✅ Stopwatch function
✅ Fantastic luminosity
CONS:
❌ Many still find the case size too big
---
Seiko Automatic Diver's SKX007J1
Model: SKX007J1
Movement: Automatic
Case size: 43mm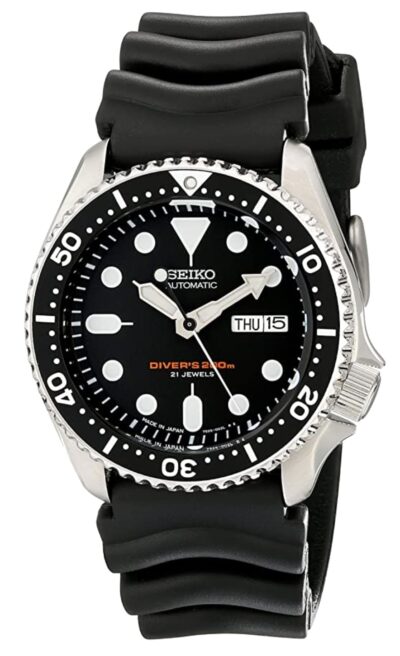 Moving on to the flagship line of Seiko, the Automatic Diver's SKX007J1 watch comes in a 43mm steel case and with a cool-looking silicone band.
The classic 21-jewel automatic movement is the core of the timepiece, providing the kind of reliability one would expect from a quality watch manufacturer. Seiko has made sure that not only the movement attracts the buyers, but the overall apparel as well.
The black dial and bright white hands and indices harmonize well, and even the typically dull marking of Diver's 200m you'll find from regular watches adds elegant contrast in this example with its orange color.
The common characteristics describing professional diver's wristwear is present in the SKX007J1 as well, featuring unidirectional bezel, ISO 6425, screw-down case back and crown, and luminosity in hands and markers.
PROS:
✅ Precise automatic movement
✅ Suitable for professional diving
✅ Great luminosity
CONS:
❌ The existence of bezel gives the overall size a smaller impression
---
Seiko Flight Chronograph Watch SNA411
Model: SNA411
Movement: Quartz
Case size: 42mm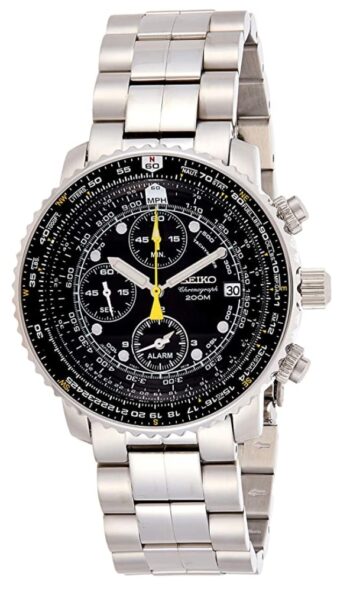 Seiko doesn't produce many aviator timepieces, but this Flight Chronograph SNA411 firmly belongs among the best Seiko watches you can buy. Also, it's one of the top chronograph pieces you can get for less than $500.
The first striking attribute that instantly sticks out is the plentiful black dial full of indices and markings. It's nothing but a comprehensive bezel slide rule for various measurements and conversions, including those applicable to flying.
The Japanese quartz movement is enclosed in a 42mm stainless steel case with a bidirectional gear-edge bezel and a three-button design. The steel link bracelet has a fold-over push-button clasp and safety closure to prevent it from unintentionally bursting open.
Seiko's proprietary Hardlex crystal covers a watch's face, while luminous hands provide visibility in dim conditions.
Many owners claim that for the money paid, this Seiko SNA411 doesn't lag in looks and quality compared to similar models from way more expensive brands they own, such as Omega and Breitling.
If you wish to know more about this timepiece, feel free to visit our Seiko SNA411 review.
PROS:
✅ Looks more expensive
✅ Reliable quartz movement
✅ Quality steel bracelet
✅ A comprehensive bezel slide rule
CONS:
❌ Irregular lug width at 21mm offers minimal band replacements
❌ Hardlex instead of more anti-reflective sapphire
---
Seiko Classic Watch SNDC31
Model: SNDC31
Movement: Quartz
Case size: 40mm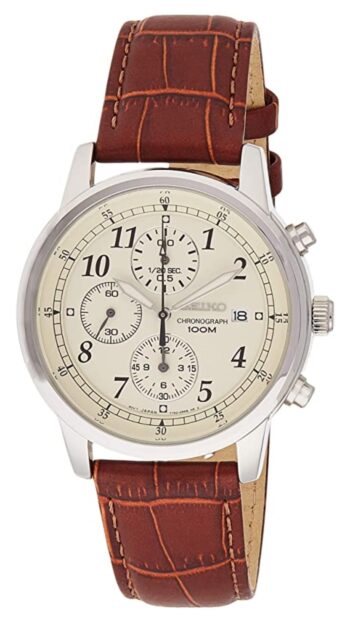 One of the few vintage-looking timepieces we've included is the quartz-driven Seiko SNDC31. With a polished stainless steel casing and authentic leather strap, this brown leather wristwatch is a timeless classic.
The case size of 40mm and thickness at 10mm makes it a perfect dress watch, slipping smoothly under the sleeve. The dial has beige coloring that suits well with the silver-toned surroundings. One of the highlights, however, is the quality crocodile-embossed strap that gives the watch a professional appeal.
A great additional feature in the ticker is the stopwatch feature that measures from 1/20th second up to 60 minutes. Last but not least, the Seiko Classic is guaranteed to be 10 ATM water-resistant, which is conveniently suitable for swimming and showering. But consider replacing the band first because leather won't stand wet conditions for too long.
One of the drawbacks of this watch is the similar tint of the dial and hands, which may pose difficulties to capture the exact time straightaway.
PROS:
✅ Timeless Seiko classic
✅ Is a perfect dress watch
✅ Quality brown leather strap
✅ 1/20-second chronograph
CONS:
❌ Time is sometimes difficult to capture due to light-toned hands
---
Seiko Astron GPS Solar Watch
Model: SBXC003
Movement: Quartz
Case size: 51mm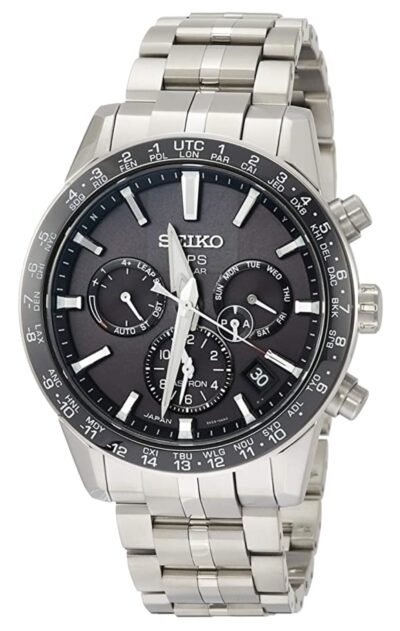 Seiko Astron is a historical model that has achieved two remarkable "firsts" throughout its existence – the first quartz watch in 1969 and the first GPS solar watch in 2012.
The Seiko Astron SBXC003 is the third generation timepiece of this kind, comprising top-notch materials that provide ultimate quality. For example, the case is made of titanium, while the bezel is of ceramic. The best glass that a watch can have, a sapphire crystal, lies on the face of this Astron.
Not only the high-quality materials define the watch but also the innovational features. The Astron is powered by light and is accurate to atomic precision through the 5X Series technology. It boasts the highest performance with "fast time zone correction" and "time transfer function" when the signal from the satellite reaches the watch in an astonishing three seconds.
As you may have already guessed, this Astron won't come cheap. Nevertheless, if you decided to go for a piece costing several thousand dollars full of technologies that are developed by no other than Seiko, you just can't go wrong.
PROS:
✅ Solar-powered movement
✅ GPS-corrected atomic precision
✅ Ultra-durable titanium case
✅ High-quality sapphire crystal
CONS:
❌ Too costly for the majority of interested
---
Seiko Prospex Automatic Diver's Watch
Model: SRPC07
Movement: Automatic
Case size: 44mm
Moving back to a more affordable Seiko watch is the Prospex Diver's SRPC07 with an automatic self-winding movement. The watch has the middle name of "Samurai" for paying homage to the original 2004 professional diver's watch with unique apparel. When looking at it, it is clear why.
The orange color that reflects from the dial is eye-catching and very different from the other similar tool watches. The unidirectional bezel has a red tint up to 15 minutes, whereas the rest of the circle is covered in black. The luminous white hands and indices are bold, making the reading of the time easy.
The 44m diver's Prospex comes 200m (660ft) water-resistant, providing decent protection from water pressure deep below. Aesthetic-wise, the stainless steel band goes well with the overall looks but is also interchangeable when other bands are preferred.
PROS:
✅ Unique orange dial
✅ Quality automatic movement
✅ Great luminosity
✅ 20 ATM water-resistant
CONS:
❌ Some claim the steel band to be cheap
---
Seiko Coutura Radio Sync Solar Watch
Model: SSG010
Movement: Solar quartz
Case size: 45mm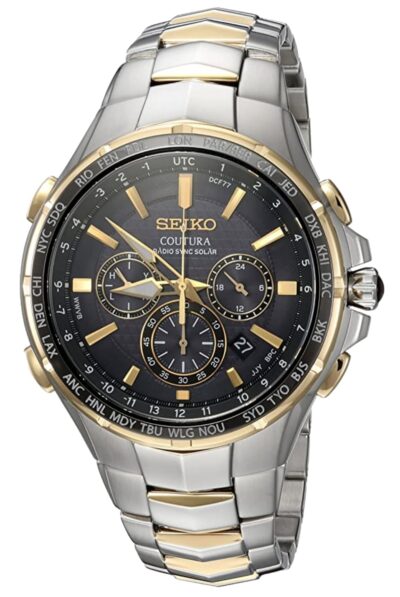 The Seiko Coutura SSG010 is a lot cheaper option for a solar-powered atomic watch than any of the Astron pieces. Besides the technologies, the watch has attractive looks with gold and silver tones on the stainless steel case and band.
This 45mm timepiece is quartz-driven and features solar power and the previously mentioned atomic timekeeping through a radio-controlled receiver. For a genuine travel watch, the bezel comes with 25 timezones that you can switch between when traveling.
Solar watches have always been the "thing" of Seiko. The panel behind the high-quality sapphire crystal absorbs all kinds of light and converts it into electrical energy. The unused power is stored in a capacitor that can hold a charge for up to six months when fully charged.
A subtle aesthetic feature adding to the overall attractive appeal is the stopwatch function with three well-placed subdials that measure up to 60 minutes in 1/5-second increments.
PROS:
✅ Solar-powered movement
✅ Atomic timekeeping
✅ Sapphire crystal
✅ Chronograph feature
CONS:
❌ The golden tone looks stronger in real life
---
Seiko Alpinist SARB017
Model: SARB017
Movement: Automatic
Case size: 40mm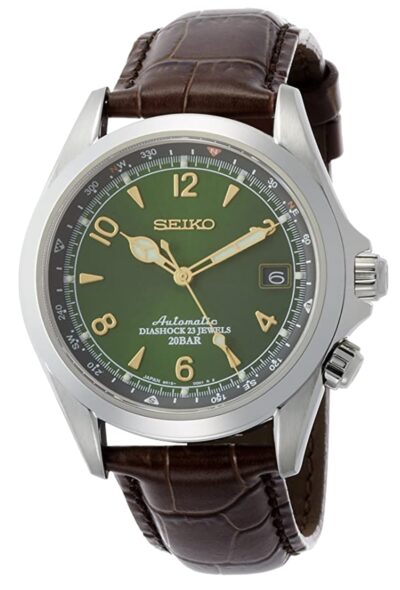 This unique watch is inspired by the Japanese "mountain men" who trekked Japan's landscapes in the 1960s. Since the "mountain men" wander in rough conditions, the watch on the wrist has to be resilient to harsh conditions, too.
That's why the dial of this Seiko SARB017 is covered with highly appreciated sapphire crystal, and water resistance is up to 20 ATM. Another superior attribute in this Alpinist timepiece is the automatic movement with a 50-hour power reserve – 10 hours more than a typical equivalent has.
Not many watches come with a bidirectional inner compass ring – this one does. This unusual feature for an analog ticker becomes handy in the wilderness when the right direction needs to be determined.
The looks won't disappoint either – the emerald green dial with crocodile-patterned brown leather band integrates just perfectly.
PROS:
✅ 50-hour power reserve
✅ Sapphire crystal
✅ Bidirectional inner compass ring
✅ Bang for the buck
CONS:
❌ Some are concerned over the quality of the band
---
Seiko Prospex SRPC93
Model: SRPC93
Movement: Automatic
Case size: 44mm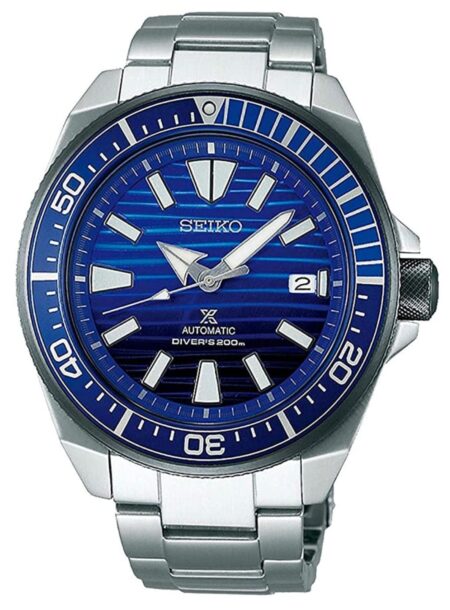 Ending this list of best Seiko watches is the special edition Seiko Prospex SRPC93. Yet another automatic diver's watch, this timepiece is unique for the outstanding blue dial with wave-like stripes.
The 44mm stainless steel band and case are durable, as is the Hardlex mineral crystal covering the dial. The 24-jewel automatic movement with manual winding option and the hackable second hand is up to the standard in offering reliability in terms of accuracy and durability.
The ISO 6425 water resistance is guaranteed up to 200m (660ft), while the screw-down crown and case back prevent water damages to inner parts.
PROS:
✅ Reliable automatic movement
✅ ISO-certified to 20 ATM
✅ Durable materials
✅ Magnificent lume
CONS:
❌ Somewhat heavy on the wrist
---

FAQ About Seiko Timepieces
Now that we've listed the best Seiko watches, it's about time to answer some frequently asked questions about the brand.

Q: Is Seiko a Good Brand?
A: Seiko is not only a good brand but an excellent manufacturer of affordable timepieces. Their higher-end models are often compared to premium Swiss watches in terms of durability, reflecting the reputation Seiko possesses in the industry and among buyers.

Q: Are Seiko Watches Expensive?
A: Considering the quality, Seiko watches are not expensive. A reliable and accurate Seiko is available for less than $500, which is about twice less than an average Swiss watch at the same quality levels. In fact, Seiko's automatic watches are considered to be the cheapest high-quality self-winding timepieces.

Q: Is Seiko Better Than Citizen?
A: The two brands are both respected Japanese watch manufacturers that emphasize different approaches. While Seiko produces top-notch affordable automatic timepieces, then Citizen provides the best solar watches. Thus, Seiko is better than Citizen in automatic wristwear, whereas Citizen excels in solar-powered wristwatches.

Q: How Long Do Seiko Watches Last?
A: Seiko watches can last up to decades when adequately taken care of. It's no secret that every timepiece needs servicing. Therefore, if you wish your Seiko piece to last for 10+ years, make sure you maintain it according to the manual.

Q: Is Seiko a Luxury Brand?
A: No, Seiko is an affordable watch brand that is far from luxurious. However, that doesn't mean they produce below-par wristwatches. Affordable watches can also be of high quality, and Seiko is the living proof of that.

Conclusion
The watches we've presented to you belong to the best Seiko watches a man can have. From classic analog to professional diver's and pilot's watches, the array of styles a watch-admiring male can choose from is vast.
Without a doubt, Seiko's dive and automatic pieces are the most appreciated, but other types should definitely not be underestimated. Whatever the selection is, the owner of a Seiko timepiece can rest assured that the reliability is of the highest standard.

You may also like:
Affiliate Disclosure: As an Amazon Associate I earn from qualifying purchases. Details