Affiliate Disclosure: As an Amazon Associate I earn from qualifying purchases. Details
Nixon watches stand out from the crowd with their flashy design and strong fashion sense. When looking at the timepieces, it's not difficult to understand their main purpose – to complement an outfit and a clothing style as well as possible. After all, isn't it why a wristwatch exists in the first place besides showing time?! 
The truth is that a buyer also expects it to last as well. Therefore, it is vital to evaluate the quality levels and reputation of watch manufacturers in order to end up with a good deal. And that's what we're about to do in the following Nixon watches review.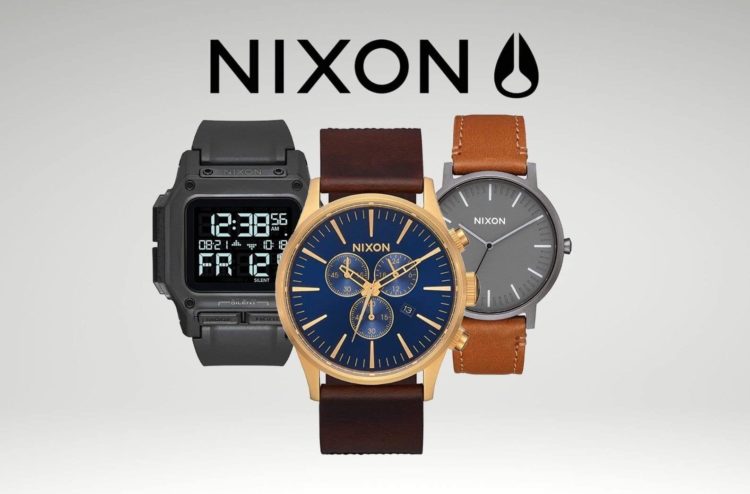 How Did It Start for Nixon?
Nixon is a premium lifestyle accessory brand co-founded by Andy Laats and Chad DiNenna back in 1997. After raising nearly $1 million from venture capitalists, Nixon debuted with the first batch of watches that instantly caught the attention with their bold and youthful designs.
In the beginning, Nixon watches were sold exclusively at board shops and fashion retailers. However, over the years, the brand has introduced a wide array of timepieces in numerous styles, resulting in a representation in more than 90 countries worldwide.
Besides timepieces, Nixon is also known for its backpacks, hats, belts, t-shirts, and wallets, making it a through and through lifestyle brand.
Over the years, Nixon has been an independent brand, a sub-brand of Billabong International, and then again an independently owned company. Today, Nixon is owned by Billabong and Trilantic Capital Partners in the amount of 97%, while the rest of the 3% of stakes belong to Nixon management, including Laats and DiNenna.

When you see the name Nixon, you can't help to instantly associate it with the infamous former president of the United States, Richard Nixon. However, this historical figure has nothing to do with the company.
The reason why Mr. Laats and Mr. DiNenna opted for this particular name was very simple – all the good names were taken. So they stuck with Nixon, a name that was recognizable but blank.

What Do Nixon Watches Look Like?
When it comes to the looks of Nixon watches, they are, indeed, recognizable. However, not blank, like the name is.
Originally, the timepieces were created for snowboarders, skateboarders, and surfers. Hence, you'll find a lot of quadrangle digital watches with cartoon-like aesthetics, which are certainly not to go under the radar. These watches look unique and, at first, don't suggest much practicality. However, when delving into the features, they offer much to make use of.
For instance, there's a tide graph, which is a handy feature for surfers. You'll also find chronograph timers, multiple alarms, calendars, and a convenient LED backlight.
Over time, the array of different styles has expanded, just like the brand itself. Therefore, the recent line-up consists of all the imaginable types of watches. For instance, you'll come across extravagant gold watches, ultra-minimalistic dress watches, oversized dive-inspired chronographs, and casual everyday timepieces.
When summarizing the style of Nixon, it has a noticeable inclination towards fashionability with bits of considerable practicality to it.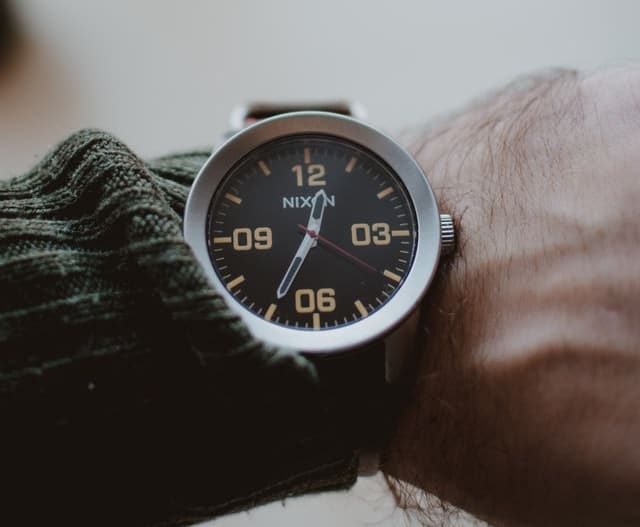 What it means is that Nixon is a fashion watch brand that has a notable amount of visually appealing wristwatches, just like Fossil, Armani, and Guess, but supplements them with a number of cool timepieces that actually can be used for certain activities, like surfing and snowboarding. 

Quality of Watches
In terms of quality, there are always concerns when it comes to fashion brands, including Nixon. And people are right to feel so as most fashion-oriented manufacturers don't invest much in quality. The overwhelming objection is to please the wearers with the aesthetics and construct the watch to last for a couple of years.
When it comes to Nixon, the story is not as straightforward as with other fashion brands. Namely, Nixon has a mixture of stunning watches worth every penny, alongside low-quality timepieces that drag down the reputation of the company.
The brand equips its wristwear mostly with Japanese Miyota quartz and automatic calibers, which are pretty much the standard movements. They won't float the boat to watch connoisseurs but won't be anything to be concerned about either.
Besides the Japanese movements, Nixon has some timepieces running on Swiss Ronda and ETA quartz calibers. These are high-quality movements and won't be a disappointment in any case.
The watch cases and bands come mainly in stainless steel for dress and casual timepieces and in resin for sports wristwear. Again, these are pretty much the industry standards and won't fail you.
However, when it comes to the various coatings on the cases and bands, mainly gold-toned, that's where the most significant problems are buried. Namely, a lot of buyers complain about the coatings wearing off way too quickly, which results in a shabby-looking watch with notable stains scattered throughout the surface.
Another pain point with Nixon watches is the varying manufacturing quality when the same eight models out of ten work like a charm, but the other two have loose hands, poor water resistance sealing, or poorly attached bracelets. It is clear there's no consistency in terms of production.

Nixon Reputation & Comparison to Other Brands
Talking of the reputation Nixon holds, it can be described with one word – mixed.
On the one hand, Nixon is acknowledged for its unique-looking timepieces and specialization in surf-specific wristwatches. But, on the other hand, it doesn't get much love from watch enthusiasts for its tendency to produce beautiful watches that quite often don't live up to the expectations in terms of durability.
Nixon is a lifestyle brand with an emphasis on younger audiences. This is a market segment that doesn't care much about the prestige of brands, historical achievements, the quality of watch calibers, or any other similar stuff that watch enthusiasts appreciate and form their opinions upon.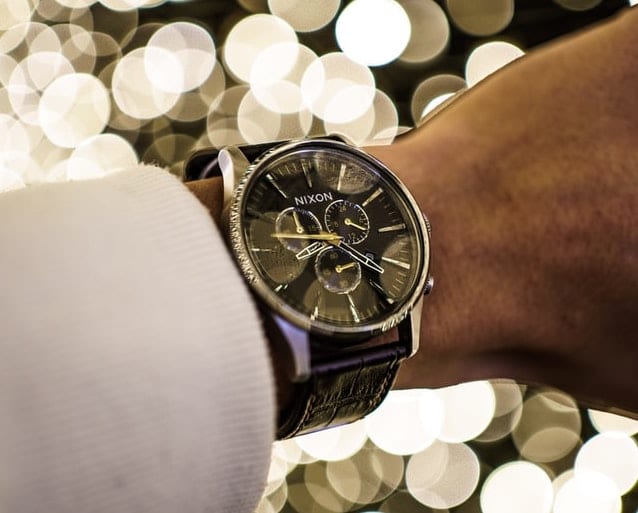 Therefore, as long as the watch has appealing aesthetics, complements one's outfit, and lasts for a certain amount of time, an average Joe couldn't care less about the prestige.
And, to be fair, Nixon doesn't hold a bad rep overall, far from that. Especially considering some of the high-profile names it collaborates with. For instance, you'll find a new-generation Olympic skateboarder Zion Wright promoting Nixon watches, or Metallica that took the timepieces on their tour.
One factor that has kept Nixon in the picture besides successful marketing is also the fact that it produces its own designs, and the watches are constructed independently from each other, meaning most watches don't share similar cases, bracelets, hands, and dials. Not many fashion watch brands do that. 
When putting Nixon in perspective to other watch manufacturers, it is pretty much on the same level with Fossil, if not a bit better. Nixon definitely outclasses brands like Emporio Armani, Daniel Wellington, Hugo Boss, and Diesel but stays behind Timex and Casio.

Are Nixon Watches Good?
We can say that Nixon is not a bad watch brand. It does offer a wonderful range of designs with decent choice for various tastes. The components going into the timepieces are also worthy of praise for the price points the watches are sold. You can get a decent watch for a couple of hundred dollars that'll last for several years without any concerns if you don't stumble on a low-quality model.
Therefore, from a typical watch wearer's point of view, Nixon is a pretty good timepiece to own, especially for its pleasant design.
However, compared to the likes of Citizen, Bulova, Seiko, or any affordable Swiss brand that excels in terms of quality consistency, Nixon is far from being at the same level.
On the other hand, a watch is an accessory and a fashion trend as any other component of appearance. If the watch looks good on you, doesn't cost much, and makes you more confident, then Nixon can precisely provide you with that.

Nixon Watches
Since not all Nixon watches are worth pursuing, we'll bring you the standout models from this American fashion brand. These timepieces are void of consistent quality concerns and have received high praise from the wearers.

Nixon Regulus A1180
The Nixon Regulus watch represents the sporty side of the brand. The timepiece is a basic tactical wearable that comes 100m (330ft) water-resistant, is cased in a 46mm rectangular polycarbonate, and features a couple of interesting functions.
For example, the Regulus sports a dual chronograph for timing multiple events simultaneously, a three-alarm function, and a LED backlight. The latter can be activated through a specified button below the digital screen.
The watch is designed in cooperation with US Special Operations personnel, so you can expect it to withstand tough conditions. On top of that, the Regulus comes with 5-year battery life.
Although there's one concern regarding this timepiece – the negative display is sometimes difficult to read in broad daylight. Regardless of this particular disadvantage, the Nixon Regulus watch is a decent alternative to the widespread G-Shocks for sitting better on a wrist and being more casual.

Nixon Time Teller
Like the name of this watch already states, it's a timepiece for time-telling purposes – you'll not find any other markings or windows from the dial beside the three-hand Miyota movement, hour indexes, and Nixon logo. 
It's considerably smaller as well compared to other timepieces from the brand, standing at 37mm in case diameter. Along with a very minimalistic design, the Time Teller is, therefore, an appropriate wearable for both men and women.
Despite its minimalistic appearance, this Nixon still strikes with an all-black design and expensive-looking 5-link metal bracelet.
Quality-wise, the Time Teller features a shatterproof mineral crystal and is protected against the water with a 100m (330ft) resistance, making it suitable for swimming as well.

Nixon 51-30 Chrono White
The next Nixon watch shows the scope of styles the brand offers. When the previous Time Teller piece is a 37mm minimalist watch, the Nixon 51-30 Chrono is an oversized dive chronograph spanning to a whopping 51mm in diameter.
This big face watch is also among the priciest from Nixon, which, to be fair, raises some eyebrows due to being quartz-driven instead of automatically wound. However, the 51-30 Chrono offers several features that justify the somewhat tad too expensive price.
The most notable of them is a 300m (1,000ft) water resistance rating, enabling it to be worn not only for swimming but also for diving. Coupled with a polished appeal and white face, the Nixon 51-30 is a rarity in the market in terms of being a white dial diver.
On top of the diving capability, this Nixon is also special for its left-sided button design, making it perfect for left-handed watch wearers. You'll also find a quality one-way rotating coin-edge bezel. The whole set is further complemented with a chronograph function, resulting in a complete casual sports watch.

Nixon Corporal SS
The Nixon Corporal SS is a very masculine watch also of considerable size, like the Nixon 51-30. The 48mm stainless steel case has a chic and durable enamel coating, along with a gunmetal stainless steel band. Together with the blacked-out dial, they form a very eye-catching design.
Although the design has a downside to it when the legibility isn't too good in every lighting condition. For compensating it a bit, you will find the watch hands luminous, enhancing the readability in the dark.
In terms of durability, the Nixon Corporal SS withstands severe conditions thanks to recessed mineral crystal and oversized bezel. The watch is also equipped with a decent 100m (330ft) water resistance, so going for a swim with it won't be a problem.   

Nixon Sentry
If you want an everyday watch that suits casual outfits as much as formal attire, the Nixon Sentry is the best one from the brand.
The watch strikes with a contrasting blue face and stretched silver-toned hour indices that look stunning and drastically enhance the legibility. The Sentry also features a handy day-date function, which is not that widespread in Nixon watches.
The watch's size stays right in the middle for being not too large or too small and is complemented with a classic 22mm brown leather strap.
Quality-wise, the Nixon Sentry provides a hardened mineral crystal for dial protection, a durable stainless steel case, and a water resistance rating of 100m (330ft).

Warranty Policy
All Nixon watches are covered with a limited 2-year warranty, which is the industry standard. All the typical conditions apply, such as the watch having to be purchased from an authorized Nixon dealer for being eligible for a repair in defects in materials and workmanship.
The warranty doesn't cover normal wear and tear, batteries, crystal, case, and straps. Also, if you open the caseback yourself, push the buttons underwater, forget to screw down or push in the crown, and expose your watch to moisture, your Nixon watch will not be repaired free of charge.
If you wish to know more about the warranty policy, click HERE.

Final Take
Nixon watches stand out from the crowd with their singular designs and affordable prices. Therefore, it's no wonder they have found their way to so many wrists.
Although the consistency of quality is often a cause of concern, which is nothing new for a fashion watch brand, Nixon has nevertheless succeeded in remedying it with a couple of outstanding watch models worthy of comparison to much more appreciated timepieces from renowned manufacturers.
We hope this Nixon watches review has made things much clearer as they were earlier regarding this American lifestyle brand.

You may also like:
Affiliate Disclosure: As an Amazon Associate I earn from qualifying purchases. Details
Latest posts by Carl Pender
(see all)