Affiliate Disclosure: As an Amazon Associate I earn from qualifying purchases. Details
Torgoen is a watch brand that hasn't been around for too long, making it a relatively unknown company for many. However, with the little more than ten years in the business, Torgoen has already received quite a lot of attention and has accumulated a loyal following from aviation watch admirers for its distinctive line-up of pilot watches.
The following Torgoen watch review sheds light on these aviation timepieces and also the small selection of dive-inspired and racing pieces the brand producesg.
By the end of this post, you'll be aware of the background, quality levels, and various models of Torgoen. Therefore, bear with us in discovering this appreciated watch manufacturer.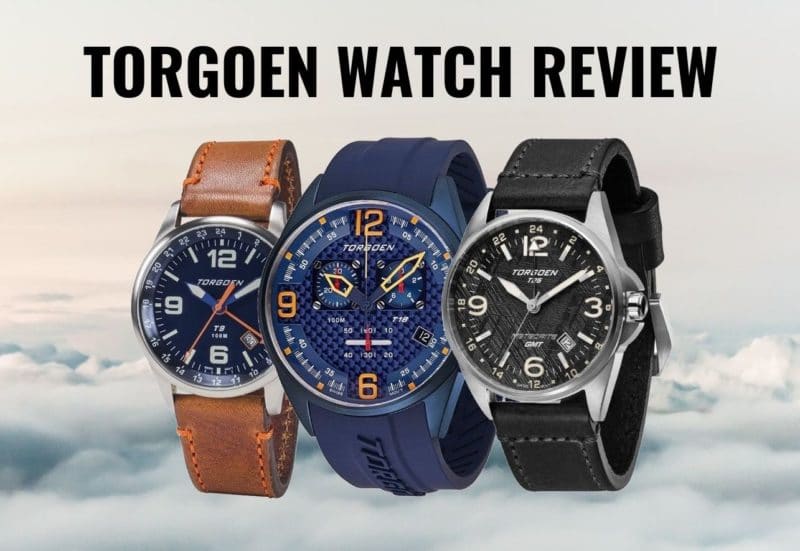 Background of Torgoen Brand
As already noted, Torgoen is a fresh company with only a little more than a decade of existence. Founded in 2009 in the USA by a group of aviation enthusiasts and watch manufacturers, Torgoen's expertise lies greatly in producing visually appealing and durable vintage-like pilot watches.
Benzi Rosenski, one of the founders of Torgoen and also a fully qualified Single Engine pilot, explains the background of the brand's birth with a "goal of supplying professional pilot watches with quality Swiss movements that wouldn't cost fortunes to acquire." True to their word, all Torgoen watches are priced conveniently below the $500 mark.
The company's unusual name is derived from two words: Thor, which is the god of thunder in Nordic mythology, and goen, a derivative of "go." Thus, Torgoen represents functionality, boldness, and simplicity of design in wristwatches.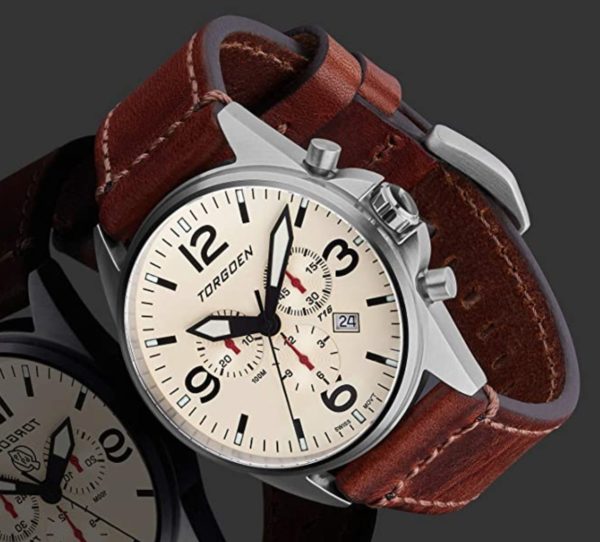 In 2019, E. Gluck Corporation closed a deal to buy the US-based Torgoen brand. The E. Gluck watch manufacturer is behind the production of another well-known watch company, Armitron. Also, they produce timepieces for fashion brands, such as Anne Klein, Juicy Couture, and Nine West.
The acquisition was agreed to enhance E. Gluck's direct-to-consumer business and offer Torgoen global growth potential.

What Are The Watches Like?
Although the acquisition might hint at a change of course for Torgoen watches for becoming more fashion-oriented rather than staying true to its roots, it's not the case.
The signature of Torgoen is its simplicity and straightforward design – the timepieces are easy to read and void of fashion-like additions. That is what set a solid base for the brand in the first place, and it is unlikely to see the direction changing for them.
The design revolves around airplane cockpit instruments. As such, you'll find strategically placed subdials, watch hands resembling the hands of various gauges, and hour numbers in a font similar to that you typically see in mid-20th century airplanes.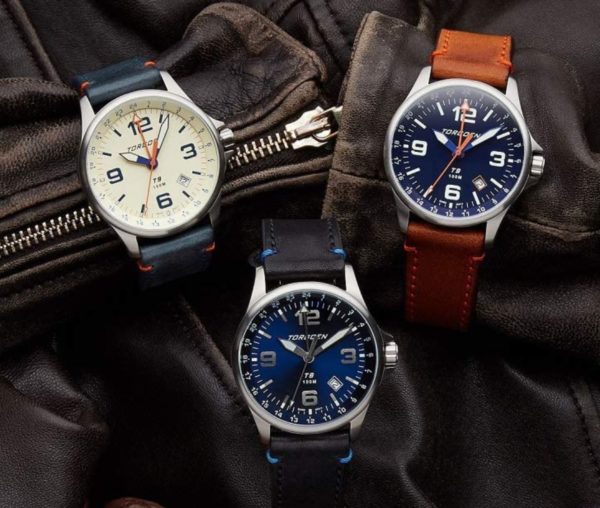 Since a pilot needs to "stay ahead of the plane" for making quick decisions, the watches come with large dials, simple fonts, contrasting markers, and bold hands. The design ensures that a wearer gets all the information without roaming between all the imaginable styling elements before reaching the exact time. 
Overall, Torgoen watches have a distinctive style you instantly recognize from the crowd. The unique appeal of vintage design and extreme handiness makes the wearables a blow of fresh air compared to the vast array of modern watches currently trending.
It is clear that the ageless design stands the test of time. But what about the quality?

Quality of Torgoen Watches
Every Torgoen timepiece is equipped with a Swiss movement, mostly with Ronda quartz. Other calibers present in the watches originate from ETA, ISA Swiss, or Valanvron production lines. These movements are known workhorses with impeccable quality and accuracy that rarely let wearers down.
Due to the employment of the movements, Torgoen often uses the addition of Swiss in its name. However, this doesn't mean the watches are all Swiss-made.
For a wristwatch to carry the Swiss Made stamp, it also has to be assembled in Switzerland, and at least 60% of production costs must be generated there.
A noteworthy thing with Torgoen is that while approximately three-quarters of the watches employ a Swiss caliber and are manufactured internationally, a quarter of the timepieces are actually Swiss-made and come with a genuine Swiss Made label. That is a solid guarantee that Torgoen means real business with its watches.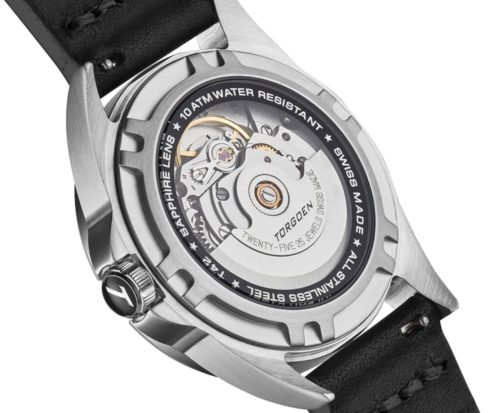 The tickers that simply have a Swiss Movt or Swiss Movement marking are thus manufactured in Asia, just like the vast majority of non-Japanese and non-Swiss brands. But unlike many others, Torgoen has a specialized team of technicians and engineers who control the entire manufacturing process on-site and carry out rigorous quality control tests before releasing the watches on sale.
When it comes to other parts of the watches, Torgoen employs higher-grade 316L stainless steel for cases, premium-class sapphire crystal and somewhat inferior hardened mineral for dial protection, long-lasting luminescence in watch hands and hour markers, and genuine Italian leather for straps.
Apart from the leather that always receives mixed feedback, regardless of the manufacturer, Torgoen watches possess very decent reliability to last for long years to come if properly taken care of.
A sapphire crystal and Swiss movement, in particular, are the signs that Torgoen wants to impress the buyers as much as possible in terms of quality standards.
The owners tend to agree on that when most of them are highly satisfied with the overall build quality. The most repetitive concerns are to do with the bands being too short and wearing out quicker than expected. Also, for some, the luminosity is not as advertised for not lasting a promised 8 hours.
Other than that, the owners are in the full appraisal of Torgoen watches.

Torgoen Watches
The watches are identifiable with the letter "T" and a number following it. At the time of writing, the brand has ten different collections to choose from, from which we will cover the seven biggest series. 

Torgoen T9 – Classic GMT Watches
The T9 series comprises 42mm timepieces with classic aviation looks, bold design, and analog faces. The watches are equipped with a dedicated GMT hand, making them stick out from the crowd with their four-handed movement.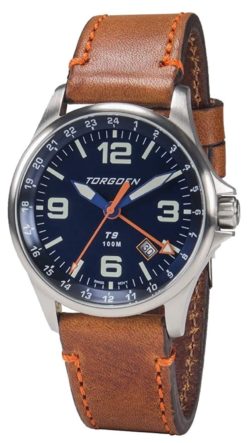 All the T9s come with a hardened mineral crystal, except the T9 Kingfisher Carbon Fiber watch with sapphire glass. The timepieces carry a Ronda GMT caliber and feature a blue, black, or creme dial. Besides the widespread leather bands, you'll come across some stainless steel models as well.
In terms of prices, the T9 watches are the most affordable. And combined with the decent quality levels you get with this series, you'll receive a wonderful value proposition.
One of the most affordable watches from the brand is the Torgoen T9 Bluebird that has a dark blue face and contrasting hour markers and hands. The striking orange-tone second's hand and GMT hand are the icings on the cake, making the watch both eye-catching and very functional.
The price of the watch stays below the $150 line, making it a wonderful value-for-money ticker with a Swiss quartz movement.

Torgoen T10 – Classic 3-Hand Analog Watches
The T10 collection is somewhat pricier than the T9 but only in small margins. The watches have a simpler design with a classic three-hand movement and cleaner dial, suiting perfectly for smart casual wear.
The line has 44mm and 41mm timepieces, ranging from creme-colored to textured black dials. The larger watches employ mostly sapphire crystals and are 100m (330ft) water-resistant, while the smaller ones have a mineral glass protecting the face and come 50m (165ft) water-resistant. All the tickers run on a Ronda quartz caliber and contain luminosity in watch hands.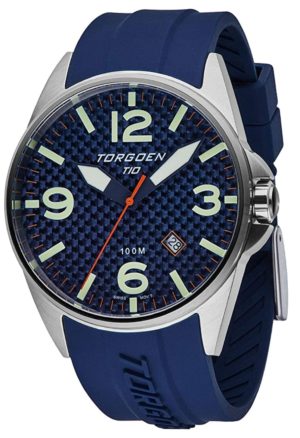 Due to sapphire glass and better water resistance, the 44mm Torgoen T10 timepieces offer a better price-quality ratio than the 41mm versions. They also have more elegant dials with carbon fiber structure and have silicone band options available.
The standout model representing the larger-sized T10s is the Torgoen T10 Carbon Sapphire. The best part of the watch is the textured blue carbon dial harmonizing perfectly with the orange accents.
This Torgoen piece is also 100m (330ft) water-resistant, comes with crown protectors, and features a date window at a convenient location between four and five. In addition, it is paired with a water-repellent silicone band, enabling it to be used for surface water sports.

Torgoen T16 – Chronograph Watches
The T16 series is a line with sporty chronograph watches. There are two types of chronographs – one that measures in 1-second increments and the other with a 1/10-second precision. Price-wise, there's no difference.
The T16 is also the collection that boasts Swiss Made watches along with typical Swiss Movement tickers. But, again, you'll not find a significant differentiation between the two in terms of prices. Therefore, the Swiss Made T16 timepieces are with a better value-for-money proposition.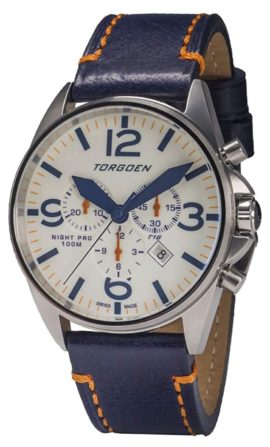 Appearance-wise, the watches are similar to the T10s but have three subdials and extra pushers included. The faces come in more variegated colorings, such as bronze and green, while the cases are available in 41mm and 44mm sizes.
The series received fame for the T16 Cream Version, which Richard Branson wore during an interview with Wall Street Journal. He has been spotted with the Torgoen piece on several other occasions, too.
Another top-rated Swiss-made timepiece from this series is the Torgoen T16 Night Pro. It is a quartz chronograph piece with well-placed stopwatch dials and bold blue hands.
A unique feature you'll get with this 44mm watch is the luminescent dial that glows for up to 8 hours if properly exposed to light during the day. It's a neat function resembling the famous Indiglo backlight present in every Timex watch.

Torgoen T18 – Racing-Inspired Watches
The Torgoen T18 collection is designed in cooperation with Team Pelfrey Star Mazda racers, bringing flight speed to race tracks. The watches are special for featuring both racing and aviation design when altimeter hands and racing car panels exist alongside.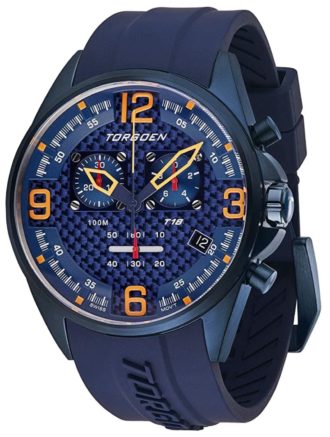 All the timepieces are equipped with Swiss ETA quartz chronograph calibers, hardened mineral crystals, and possess carbon fiber dials with structured textures. Due to being racing-inspired, these Torgoens are the largest from the brand, measuring 45mm in diameter. Also, the stopwatch's second hand has been placed on the primary circle.
The line has several beauties with colorful designs, such as the T18 Blue Carbon Fiber and the orange-black T18 Leather Watch. A unique element you don't often find is the line-shaped seconds counter on the bottom of the dial, giving the Torgoen T18 watches a distinct appeal.
For employing a hardened mineral instead of sapphire and not carrying the Swiss Made label, the Torgoen T18 watches are a bit tad too expensive compared to other timepieces from the brand. But, on the other hand, in terms of appearance, they are one of the best.

Torgoen T25 – GMT Watches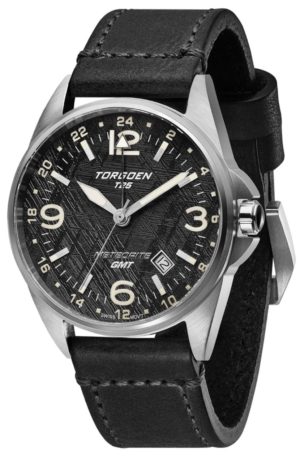 The T25 watches are very similar to the T9 watches (check above). However, the few differentiating characteristics include a variegated case selection between 41mm and 44mm sizes, a possibility for sapphire crystals instead of mineral glasses, and a selection of timepieces with meteorite and bronze dials.
In fact, the meteorite is not merely visually a meteorite but a real one sourced from the Muonionalusta rock that fell in Sweden about a million years ago. The pattern differs from model to model, providing a unique appeal to every single timepiece.
You can check these special watches here.

Torgoen T42 – Automatic Watches
The few Torgoen automatic watches you'll find from the line-up, namely four, are available in the T42 series. Each of them has a different coloring but shares the same design layout.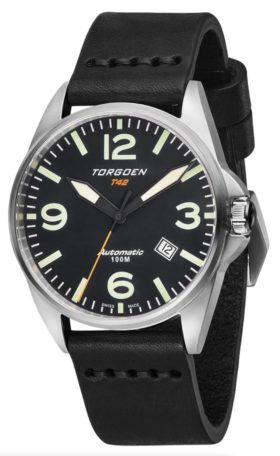 These 41mm timepieces carry the Swiss Made label and are powered by a 25-jewel ETA 2824 self-winding caliber.
The movement is legendary in the industry and has been employed by several powerhouses, including Tissot and Hamilton. Moreover, since the movement beats at a higher frequency than most other automatics (28,800 bph instead of 21,600 bph), you'll get to admire a wonderful sweeping motion of the second hand with eight steps in a second.  
Last but not least, the Torgoen T42 timepieces come 100m (330ft) water-resistant and with scratch-resistant and anti-reflective sapphire crystals, which are the best you can wish for in a modern timepiece.
You can check out Torgoen automatic sweepers here.

Torgoen T43 – Dive-Inspired Watches
The most recent addition to Torgoen's line-up has been the dive-inspired T43 collection.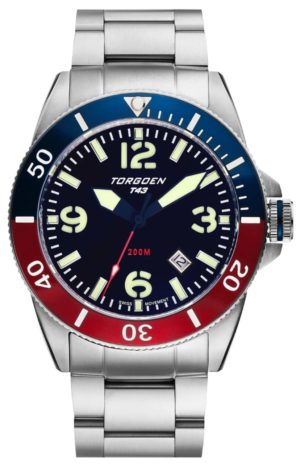 The 44mm watches feature all the characteristics of genuine dive wristwear, starting with a ratcheted unidirectional bezel and a screw-down crown and finishing with luminous hands and 200m (660ft) water resistance.
Unfortunately, these dive-inspired timepieces are not ISO-certified, which means you can use them for serious water activities, including shallow diving, but not for professional mixed gas diving. 
Regardless of the slight limits, the T43 watches are nevertheless worthy purchases due to their very appealing prices around the $200 mark. Furthermore, they employ sapphire crystals as well, making the price even more appealing.
These Torgoens are decent alternatives to the hundreds of dive-inspired watches currently on the market – they look sophisticated, come with competitive prices, and are durable to withstand rigid conditions.
Have a look at the new collection of Torgoen dive watches here.

Warranty Policy
All Torgoen watches come with a limited 3-year warranty when purchased from Torgoen.com, Amazon.com, and Amazon.ca. Compared to many other producers that offer a 2-year guarantee, it's a significant bonus.
The warranty covers any defects to materials and workmanship. However, what it does not cover is normal wear and tear, misuse, and defects that occurred during battery replacement.
For a full overview of the conditions, visit Torgoen's warranty page.

Are Torgoen Watches Good?
Torgoen watches impress with quality materials and calibers that are typically missing at a given price range. The brand has taken a bold approach to provide customers with quality watches for very reasonable rates. And, to be fair, Torgoen outclasses a whole bunch of other watchmakers that promise the same but eventually fall short in reality.
We've seen several producers that equip their wristwatches with prominent movements, couple them with shiny looks, and market them as "affordable luxury" while asking $300 and more for the watch. Torgoen is nothing like that – the brand stays true to its beliefs and is dedicated to doing precisely what it set out to do.
In our sincerest opinion, Torgoen hasn't received the recognition it should have because it's a manufacturer that lives up to the expectations in manufacturing good quality watches and more than often exceeds them. To get a watch with renowned Swiss movement, sapphire crystal, and sophisticated looks without any cheap fashion elements for anywhere between $150 to $300 is a real bargain for the money.

Final Take
We hope this Torgoen watch review has been of help to you in deciding whether to pursue one of the watches from the brand or not.
In our opinion, Torgoen produces good quality watches that live up to their price tags and offer a long-lasting wearing experience, thus being worthwhile investments. Furthermore, in terms of aesthetics, the brand does not show off with an over-the-top design but takes the vintage aviation-inspired line very seriously. 
Sticking to the three core attributes of Torgoen – Quality, Design & Affordability – is the driving force for the brand and the magic key opening several doors for even more success in the near future.

You may also like:
Affiliate Disclosure: As an Amazon Associate I earn from qualifying purchases. Details
Latest posts by Carl Pender
(see all)