Affiliate Disclosure: As an Amazon Associate I earn from qualifying purchases. Details
Two Swiss watch brands that often fall to the same price range when searching for a watch are Tissot and Hamilton. Both belong to Swatch Group, the biggest watch manufacturer in the world. It seems as if everything's set in terms of quality assurances the Swiss-made tag guarantees for making a selection between the two.
However, the decision-making process can become a challenge. How to choose between the two? Is aesthetics the main factor to consider, or should there be anything else?
The following Tissot vs Hamilton comparison aims to simplify the process significantly.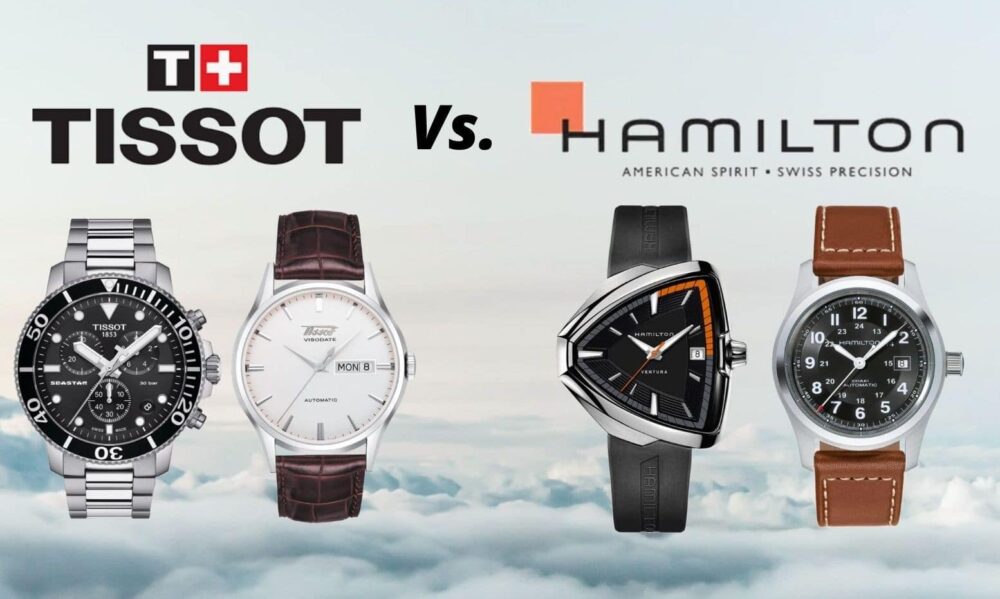 We'll cover everything, from brand heritages and technologies to watch movements and prices so that your pick would be the perfect fit for your needs.

Tissot Heritage
Tissot was established as early as 1853 by a father-son duo Charles-Felicien and Charles-Emile Tissot in the Jura region of Switzerland. At the end of World War I, the brand became a manufacturing company that produced its movements and parts, as opposed to the previous approach of assembling different producers' pieces.
After successful decades in the business, Tissot faced difficult times that arose from the Great Depression. For better coping with the crisis, a significant partnership was formed in 1930 with another Swiss manufacturer, Omega. SSIH (Societe Suisse pour l'Industrie Horlogere) became the cornerstone for the birth of Swatch Group more than half a century later.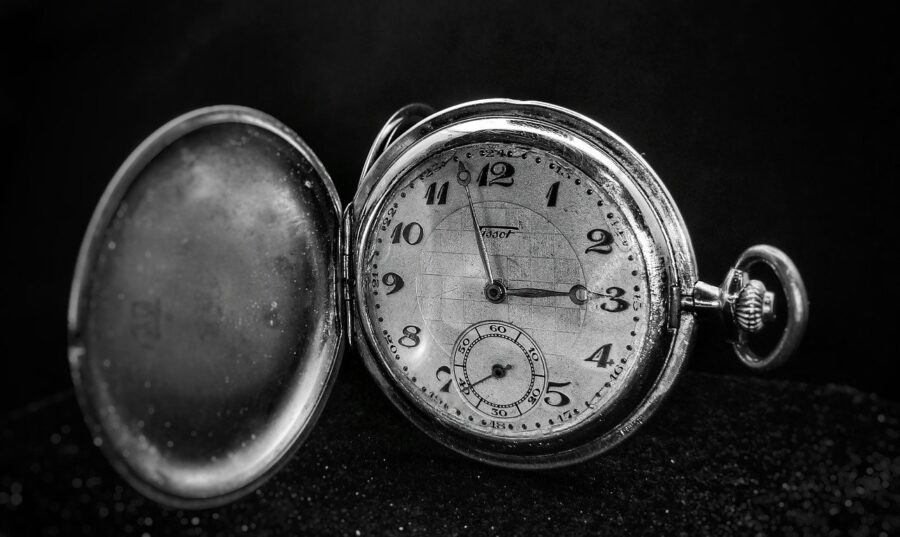 The post-World War II period was monumental for Tissot. It shaped the reputation the brand possesses these days when intelligent marketing and specialization techniques brought worldwide attention.
After the formation of Swatch Group in 1983, Tissot had all the reasons to experiment when the world's first stone watch and the first-ever analog-digital time watch were released in 1985 and 1986, respectively. Another first in the world, tactile wristwatch T-Touch, followed in 1999.
Today, Tissot exports more than 4 million watches in nearly 160 countries, enjoying a renowned status as one of the best providers of affordable Swiss watches.

Hamilton Heritage
The Hamilton Watch Company has also been manufacturing wristwatches for more than a century now. What's interesting about the brand, though, is that initially, they were thoroughly American before multiple mergers with Swiss companies ended in Hamilton's acquisition by Swatch Group in 1984.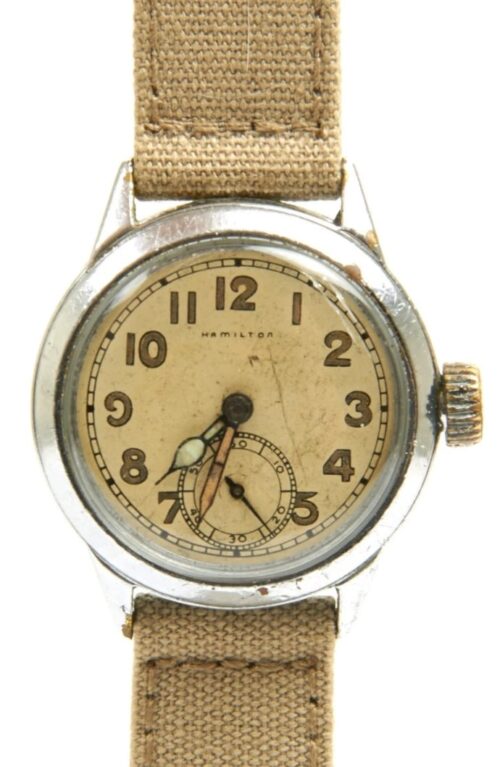 The Hamilton brand started in 1892 and enjoyed great success, becoming the prime supplier to the U.S railroads. Their first watch was introduced in 1917, designed to appeal to men entering World War I.
During World War II, Hamilton concentrated entirely on producing wristwear for the military. More than one million watches were shipped overseas for the troops. The wars played a substantial role in Hamilton's future business directions. Since then, the brand is best known for its military-inspired timepieces.
For a recognized watch company, Hamilton is likewise known for several innovations in the industry. For instance, the world's first electric watch, the Hamilton Electric 500, was introduced in 1957. The technology was also present in Hamilton's iconic Ventura watch, which was a favorite of Elvis Presley.
When talking of celebrities, the brand is known as a "movie watch," since Hamilton watches have featured in over 450 major movies, including the recent hits Interstellar, The Martian and Tenet. 
Another innovation, the first Micro-rotor movement that saw the oscillating weight of an automatic watch moving inside the watch, rather than being outside, was present in a Hamilton watch.
After several non-successful partnerships with Swiss companies before and during the Quartz Crisis, the brand ended its production and was eventually acquired by SSIH, the predecessor of Swatch Group, in 1974. Hamilton blossomed again after that and has been a successful and respected brand ever since.

Technology Comparison
Technology-wise, Tissot seems to eclipse Hamilton with a number of considerable innovations. 
The most noteworthy is the tactile technology that is present in Tissot's T-Touch collection. In 1999, the tactile watch became the first of its kind, comprising a touchscreen crystal where it's possible to switch between various functions.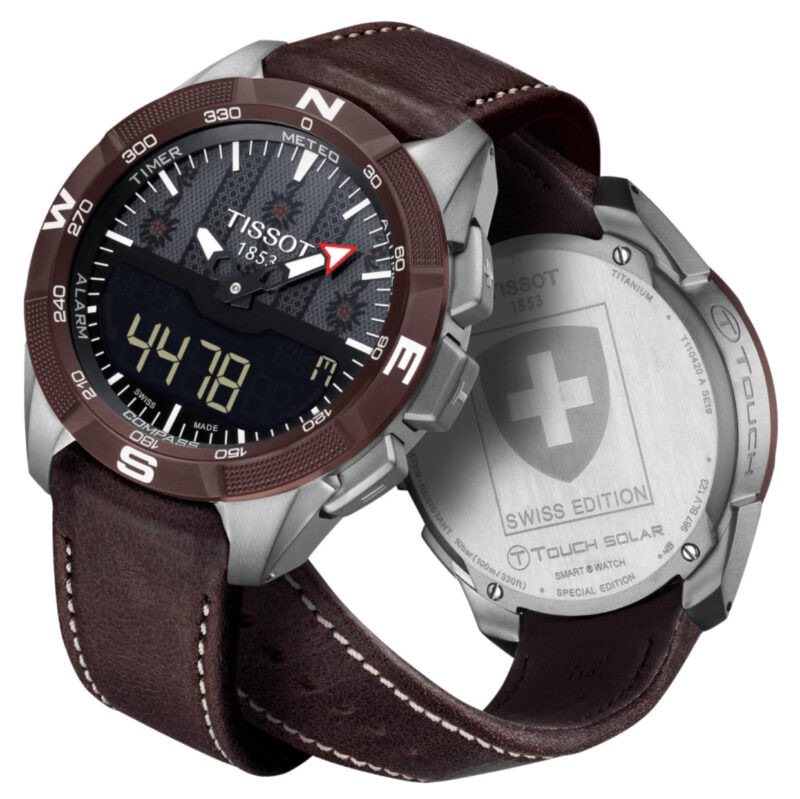 Solar technology is another innovation you won't find from Hamilton models. And to be even preciser, you won't find it from the majority of brands as only a handful of manufacturers employ the technology, the most recognized of them being the Japanese brands of Citizen, Seiko, and Casio.
The innovation is available in Tissot's T-Touch collection, along with the tactile technology.

Watch Calibers & Overall Quality
Both Tissot and Hamilton use ETA-manufactured quartz and mechanical movements. The most illustrious are their automatic movements that are highly appreciated by watch enthusiasts.
As a result, you'll find several Tissot and Hamilton watches among the best automatic pieces.
Hamilton's H-series self-winding mechanisms provide the kind of accuracy you would expect from ETA, staying conveniently in the brackets of +/- 15 seconds a day. An impressive 80-hour power reserve is available in numerous watches, showcasing the expertise of Swiss movements.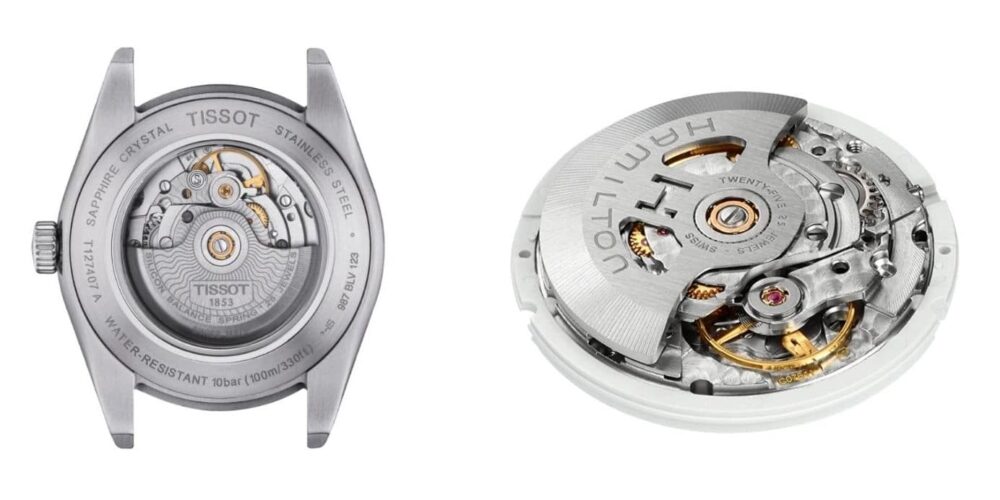 Tissot has its equivalents available in Powermatic 80 and Swissmatic movements that comprise power reserve up to 80 hours, almost twice the market average.
Quality-wise, the two brands are on par. Both have stainless steel as the prime material for watch casings and sapphire crystal for dial coverings. Titanium is widely used in higher-end timepieces, making them lightweight and extremely comfortable to wear. Ceramic, a scratch-resistant material that keeps the surface always fresh, is often used on bezels.
Apart from some differences in watch features and technologies, Tissot and Hamilton are very much alike. However, with the following comparison, we can finally draw some bolder lines between the two.

Types of Watches & Styles
The most significant discrepancy between Tissot and Hamilton lies in the looks. While Tissot has placed greater emphasis on providing classy dress and super sporty racing watches, Hamilton produces par-excellence military-inspired pieces and out-of-the-box looking wristwear.
Starting off with Tissot, their models range from judicious and high-class to flashy and detail-rich. Tissot Le Locle and Tissot Chemin de Tourelles collections, for instance, envisage the classic heritage the brand became to be known in the first place. Roman numerals and neat dials are the keywords describing the style.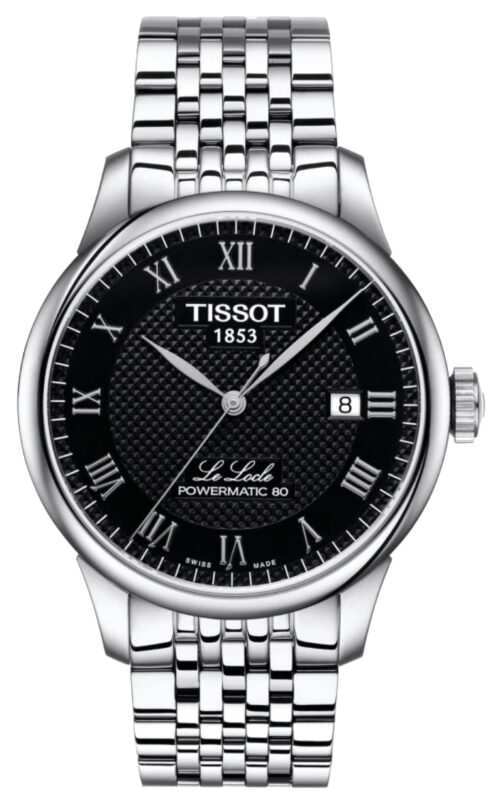 Tissot's sports wristwear reflect their tendency towards motorsports, possessing chronographs, tachymeters, and racing-inspired apparel. In addition, oversized cases and multi-colored dials make sure these watches won't be left without attention.
In addition to these two styles, you'll also find Tissot's most technologically advanced T-Touch collection with previously described tactile and solar features. The brand honors its former successful models and provides numerous modernized 20th-century hits, such as the famous Banana watch, or the Tissot Visodate.
On the contrary, Hamilton has set their attention to manufacturing military-inspired timepieces, offering wristwear for air, land, and sea in their Khaki Aviation, Khaki Field, and Khaki Navy collections. Simple yet highly durable watches have been the favorites of a large segment of buyers.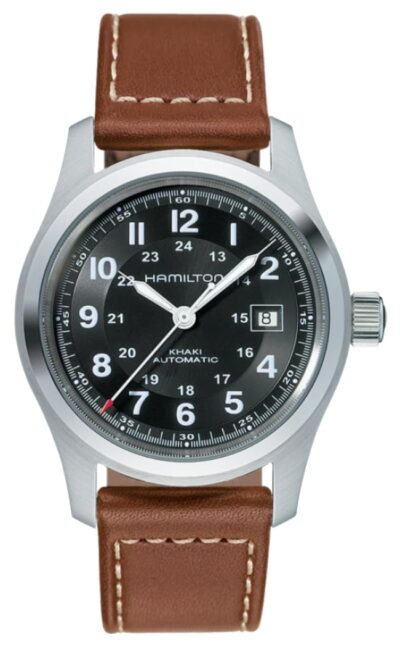 Another contrasting difference in style is Hamilton's courage to experiment with non-traditional shapes of wristwear. The Ventura collection, for instance, has cases shaped in a triangle. The connection with Elvis Presley is still present when some models carry the Elvis 80 name supplement.
Besides military and Ventura collections, Hamilton pays tribute to its heritage in the American Classic line. RailRoad and Spirit of Liberty wristwatches, as well as Intra-Matic pieces, feature design elements from the previous century. The Jazzmaster is Hamilton's equivalent to Tissot's classic dress watches.

Prices
Now that we've covered the most important factors that eventually define the value of watches, it's about time to discuss the prices of Tissot and Hamilton watches.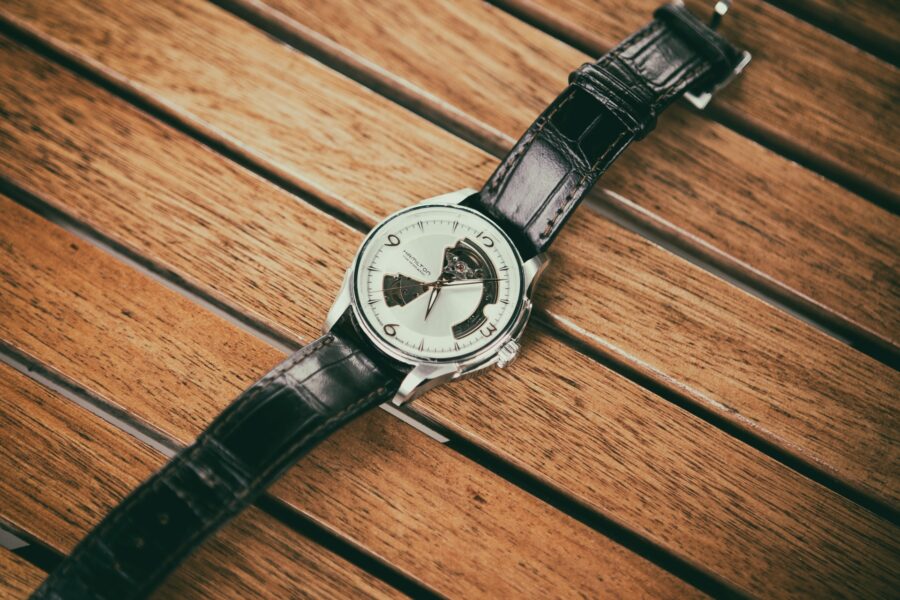 When looking at various models with quartz and automatic movements, it is clear that Tissot offers somewhat more affordable watches than Hamilton does.
Many would expect Tissot to cost more due to its prestigious name and reputation, but apparently, this is not the case – the brand has several watches that cost around $200, whereas Hamilton doesn't sell anything below $300.
Typical Tissot quartz timepieces are available for $200-$400, while automatics start from $500. Hamilton has the same types priced about $100-$200 higher. Obviously, not all watches follow the trend, but the vast majority of them do. 
You can check out our post on the best Swiss watches for $500 and less, where numerous Tissot and Hamilton watches feature.


Reputation
Both Tissot and Hamilton are highly reputable.
The reasons for that are pretty simple as the quality and durability of their watches are high-class. Though not being luxury or even full-fledged premium brands, the standards they've set make them highly authoritative among the watch companies. And, for the majority of us, the more of such affordable Swiss brands, the better.
Reputation is often achieved through sponsorships and partnerships with influential organizations. In this regard, Tissot outperforms its Swiss competitor.
In 2015, Tissot became the first-ever Official Timekeeper of the NBA, obtaining the most significant partnership in the company's illustrious history. Not only basketball, but also all sorts of other sports, such as motorsport, cycling, fencing, and rugby, have Tissot's logo out on display in their events.
Hamilton, however, has placed its emphasis on featuring in Hollywood. Often referred to as a "movie watch," its timepieces have featured in hundreds of major films throughout the past century.
Marlene Dietrich, a famous German pre-war actress, as well as Elvis Presley, Matt Damon, and Matthew McConaughey have worn Hamilton's tickers. The most recent blockbuster, Tenet, for instance, features a custom-made timepiece ordered specially from Hamilton.

Head-to-Head Comparison

So, what to conclude from this Tissot vs Hamilton comparison?
First, both of them have a long and illustrious history, especially Tissot. The quality they put into their products is high-class, their movements are top-notch, and their classy watches surely catch an eye. The brands' reputation is also noteworthy when Tissot excels in sports and Hamilton in movies.
What sets them apart, however, are various innovations, prices, and styles. Tissot provides numerous technological features, such as tactile and solar, giving an edge over Hamilton. The pricing is another advantage in favor of Tissot – a typical Tissot costs less than a typical Hamilton, though the gap is not significant.
Style-wise, Hamilton experiments with unique designs, while Tissot sticks more to the conventional approach. Most likely, it is down to the brands' different backgrounds – Hamilton is not a classic Swiss brand in its nature due to its American roots that date back to the 19th century, whereas Tissot has been following the traditions of Swiss watchmaking from the very beginning.

Why To Choose Tissot Over Hamilton?
Tissot suits better for those who admire the true nature of Swiss watchmaking, wish to have tactile and/or solar technology in their timepiece, or want to avoid paying extra for something they can't justify. The design variation may not be at level with Hamilton, but classic Swiss watch chasers wouldn't mind that.
If you wish to know more about the brand, feel free to visit our comprehensive Tissot brand overview.

Why To Choose Hamilton Over Tissot?
Being a real Hollywood star, Hamilton possesses celebrity status for uncountable movie features. Not only are the timepieces famous but highly durable and of excellent quality. The combination of "American Spirit" and "Swiss Precision" guarantees Swiss-like watches with plenty of American boldness.
We've conducted a thorough analysis of the company, so make sure to visit our post on Hamilton brand review if you're interested in the brand.

Final Take
So, how to choose between Tissot and Hamilton?
The most straightforward option would be to pick based on price. Another option is to consider the value of technologies and the purposefulness each brand offers. Last but not least, make your selection according to the most appealing style.
As the brands are so toe-to-toe regarding quality and durability, it would be impossible to prefer one to another. Thus, rest assured that either of the brands in this Tissot vs Hamilton comparison won't let you down.

You may also like:
Affiliate Disclosure: As an Amazon Associate I earn from qualifying purchases. Details
Latest posts by Carl Pender
(see all)