Affiliate Disclosure: As an Amazon Associate I earn from qualifying purchases. Details
Automatic watches have long been the representation of the modern horological masterclass. With the self-winding mechanism that automatically winds the spring through the wearer's motion, the watch neither requires any batteries nor needs manual winding.
Such an intricate system requires sophistication and quite a lot of resources, thus making automatic watches much pricier than the quartz equivalents.
Nevertheless, numerous brands are marketing such watches for very reasonable prices, causing a positive selection dilemma.
That's why we've listed the best automatic watches under $500 that represent the combination of the highest quality and charming looks.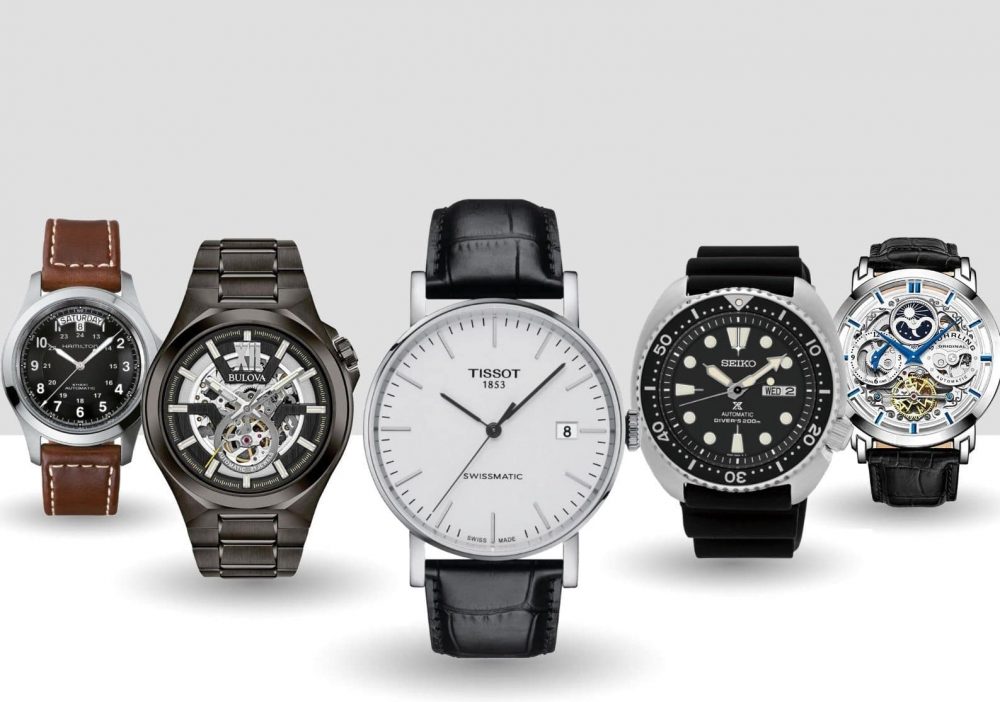 How Did We Choose the Watches?
There are literally thousands of affordable automatic watches from hundreds of manufacturers. However, they are not all good-quality and worth to be checked out. So, how did we determine the best?
First off, we took into account the reputation of watch brands. You just can't go wrong with a manufacturer that has constantly shown excellent quality throughout the decades (or even centuries, in some cases).
Hence, the list consists of watches with impressive value for money, predominantly from respectable Swiss watchmakers and historical Japanese powerhouses. In addition, we've added some fashion-oriented watches that have brushed aside the prejudice associated with these types of wristwear by showing marvelous reliability. 
Secondly, we considered not only the overall quality of a watch (build, bracelet, crystal, etc.) but also the features and durability of an automatic caliber. Therefore, we've listed the caliber number, along with the power reserve, with every watch on our list.
The third factor we considered for combining the watches was the Amazon rating from actual owners. People have different prerequisites for a good timepiece, including the comfort of wearing, certain aesthetic features, and extras it comes with. Therefore, combining our opinion with others helps for the best outcome.
Lastly, we tried to provide you with as variegated a selection as possible in terms of styles to cover the broad array of tastes the wearers have. Therefore, you'll find something from everything, including dive watches, dress watches, and casual everyday watches.
Note: If this is the first time you are thinking of buying an automatic timepiece, we suggest you to first read our beginners guide to automatic watches where all the typical questions regarding these timepieces are answered.

Best Affordable Automatic Watches
Now that everything's clear in terms of choosing the best automatic watches let's head to the overview. 
Also, make sure to check our overview of the best automatics for $200 and less if you think 500 bucks seems a bit too much.
Note: The prices of the watches fluctuate over time depending on seasonal sales, discounts, and off-seasons. Hence, some watches may be priced a little higher than $500 at certain times. However, most of them have the MSRP's below the set line.
| Image | Title | Case Size | Power Reserve | Hack/Hand Wind | Buy |
| --- | --- | --- | --- | --- | --- |
| Top | Tissot Le Locle | 39mm | 80h | yes/yes | |
| Top | Hamilton Khaki King | 40mm | 80h | yes/yes | |
| Top | Seiko 5 Sports SRPD55 | 42mm | 40h | yes/yes | |
| Top | Orient Kamasu | 42mm | 40h | yes/yes | |
| Top | Bulova Wilton 96A206 | 42mm | 60h | yes/yes | |
| Top | SEIKO PRESAGE SARY051 | 41mm | 40h | yes/yes | |
| Top | Orient Mako II | 41mm | 40h | yes/yes | |
| Top | Bulova Maquina 98A179 | 43mm | 40h | no/yes | |
| Top | Tissot Chemin des Tourelles | 42mm | 80h | yes/yes | |
| Top | Hamilton Khaki Field | 40mm | 80h | yes/yes | |
| Top | Seiko SRPE93 | 45mm | 41h | yes/yes | |
| Top | Tissot Everytime | 40mm | 72h | no/yes | |
| Top | Fossil Townsman ME3061 | 45mm | 36h | no/yes | |
| Top | Citizen NY0040-17LE | 42mm | 40h | yes/yes | |
| Top | Seiko Prospex Monster | 42mm | 40h | yes/yes | |
| Top | Orient Bambino Open Heart | 40.5mm | 40h | yes/yes | |
| Top | Hamilton Jazzmaster | 42mm | 40h | yes/yes | |
| Top | Bulova Automatic 98A187 | 39mm | 40h | no/yes | |
| Top | Spinnaker BRADNER | 42mm | 40h | yes/yes | |
| Top | Invicta Grand Diver 13708 | 47mm | 41h | yes/yes | |

Tissot Le Locle Powermatic 80
OUR TOP PICK!
Case Size: 39mm
Crystal: Sapphire
Caliber: ETA Powermatic 80
Power Reserve: 80 hours
Hacking: Yes
Hand Winding: Yes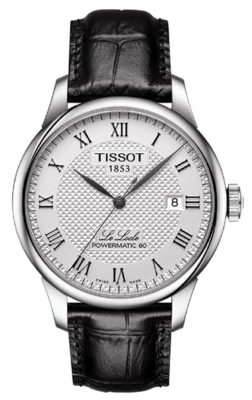 With a history stretching back to nearly 170 years, Tissot is a brand that has been the pace-setter in watchmaking virtuosity throughout its existence. Whether it be the first-ever tactile watch, or a mechanical movement as good as it gets, the brand won't leave anybody cold. And neither does the Tissot Le Locle Powermatic 80.          
If you were to find the most classic watch it could get, this one would surely top the charts. Equipped with a top-tier automatic movement with an astonishing 80-hour power reserve, it makes it one of the most reliable and convenient watches for formal outfits a man can wear at a given price point.
The neatly finished white dial comes with a textured background and Roman numerals while featuring the famous signature marking of Le Locle. In addition, the classic face is covered with scratch-resistant sapphire crystal – the best you can have these days.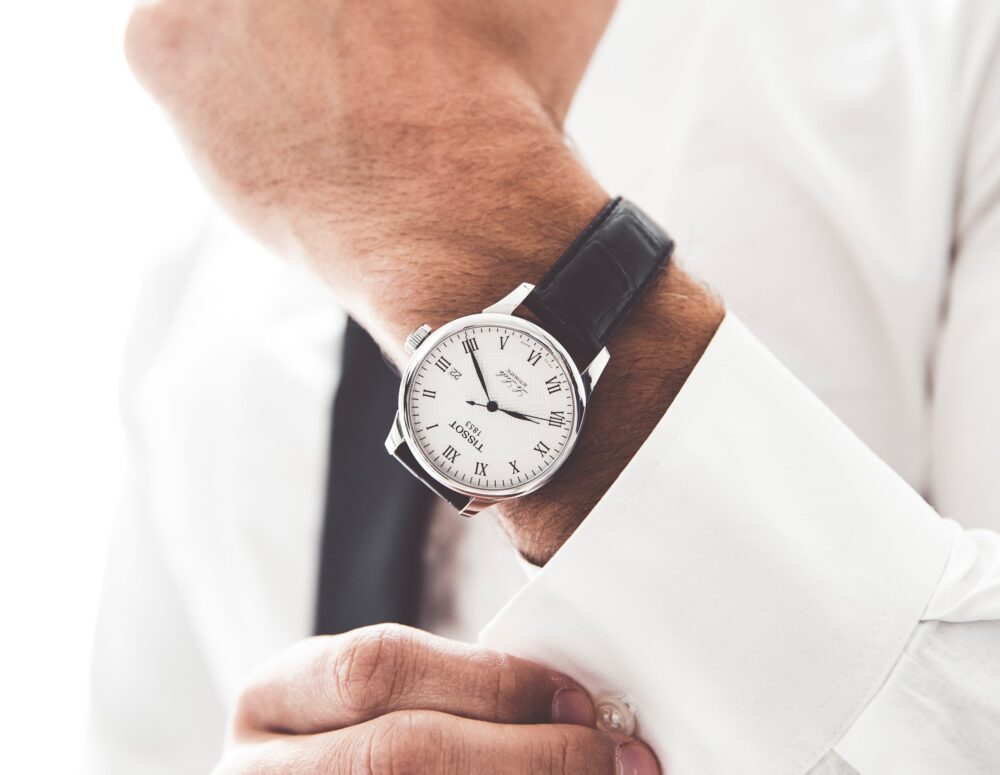 Don't expect this Tissot to take up a tremendous amount of space on your wrist because the case size at 39mm is just as humble as one would expect from an authentic classic dress piece. And although it's an automatic watch, the thickness of bare 10mm is something you won't find from many mechanical timepieces.
The onliest letdown we have with this watch is the leather strap. Namely, it's too short for wrists that measure above 7.3 inches in circumference. It means that when on larger wrists, the case is not in the center but more on the farther side of a wrist.
Why we chose it: The watch looks a million dollars and has twice the power reserve than with standard automatic watches.
---

Hamilton Khaki Field King Automatic
Case Size: 40mm
Crystal: Sapphire
Caliber: ETA Powermatic 80
Power Reserve: 80 hours
Hacking: Yes
Hand Winding: Yes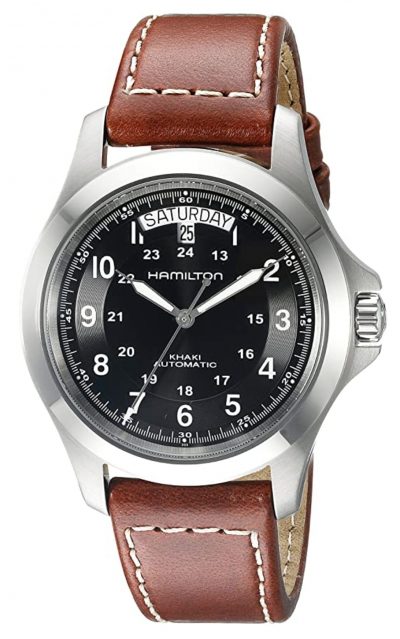 The next watch has entirely different apparel compared to the Tissot covered above. The Hamilton Khaki Field King represents the military heritage Hamilton holds, providing not only the looks of a field watch but also its quality. 
The watch boasts a reliable automatic caliber that is the same as in the Tissot Le Locle. Therefore, you can expect an 80-hour power reserve, which means you can leave it on a table for the whole weekend and still expect it to run on Monday morning.
Note: some sellers have older versions of this Hamilton in their stock. The older models don't have the Powermatic 80 caliber but instead an ETA 2834-2 movement with 42 hours of power reserve and 28,800 frequency. So, confirm the caliber with the dealer before buying it.  
When it comes to appearance, it is a military-inspired watch with a 24-hour time on the inner circle.
One of the unique features missing from many other watches that this timepiece has is the fully spelled day window at 12 o'clock. Along with the date, they make up a distinctive aesthetic addition that sums up the attention to detail put into this Hamilton watch.
Furthermore, the watch has a marvelous see-through caseback with pretty details that invite you to admire the magnificent workings of the Powermatic 80 caliber.
However, make sure you don't go swimming while wearing the Hamilton Khaki Field since it doesn't come with good water resistance. The 50m (165ft) resistance simply isn't sufficient enough for more than daily exposure.
Why we chose it: The watch has a top-notch Swiss automatic caliber and a unique calendar feature.
---

Seiko 5 Sports SRPD55
Case Size: 42mm
Crystal: Hardlex
Caliber: Seiko 4R36
Power Reserve: 40 hours
Hacking: Yes
Hand Winding: Yes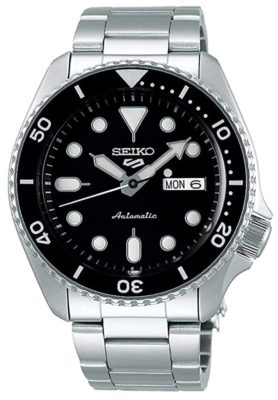 If there's one watchmaker capable of producing first-rate models in every imaginable style and movement type, it's Seiko.
The pioneer of quartz technology, Kinetic movement, Spring Drive, and one of the top providers of solar wristwear, Seiko is the epitome of versatility in the industry.
However, their biggest assets are their automatic watches.
We've chosen the Seiko 5 Sports SRPD55 model from the re-vamped Seiko 5 line. The collection has long been the best source for entry-level automatic watches, and it is to this day. And the SRPD55 is the most versatile model to start your journey with.
The watch sports a hand-winding and hacking 4R36 caliber, which is a welcoming update from the 7S26 movement found on previous Seiko 5 watches that lacked these features. The caliber is highly acknowledged for keeping excellent time and running like a charm.

You also can't look past the 42mm case that has stretched sides that work out as crown protectors. The case is coupled with a three-link bracelet that comes quite long out of the box and most probably requires sizing before you can wear it.
The SRPD55 also features a 120-click one-way rotating black bezel, supporting the dive-inspired appeal. The pull-push crown and the 100m (330ft) water resistance also support the watch's desk diver characteristics.
If you're looking for an alternative to the black dial, check out the SRPD63 with a green dial, the SRPD79 with a blacked-out appearance, and the SRPD87 with an all-blue design. They all come with the same specifications and are equally good to the SRPD55.
Read more: Seiko 5 SRPD hands-on review
Why we chose it: The Seiko SRPD line is the most dependable collection when it comes to affordable dive-inspired automatic watches.
---

Orient Kamasu Red
Case Size: 42mm
Crystal: Sapphire
Caliber: Orient F6922
Power Reserve: 40 hours
Hacking: Yes
Hand Winding: Yes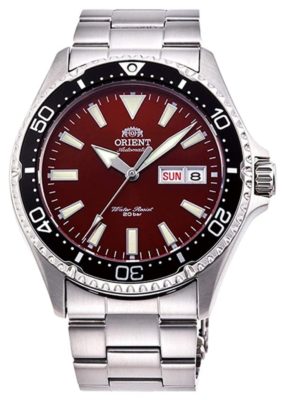 The Japanese brand Orient has some of the most affordable automatic timepieces. However, that doesn't mean they somehow lack in terms of quality compared to others.
Quite the contrary, Orient's mechanical watches are considered ultra-reliable, often elapsing much pricier models from other brands.
A wonderful example of the magnificence is visible from the Orient Kamasu. The watch is even considered by watch aficionados as the top automatic piece you can get for less than $200. And we totally agree on that.
The first thing supporting the claim is the Orient's in-house F6922 automatic caliber that hacks and hand-winds. It is a serious workhorse with absolutely nothing to complain about. In addition, the power reserve stands at 40+ hours, while the accuracy stays between +15/-25 seconds a day.
The Kamasu model takes one notch up with replacing mineral crystal with a sapphire glass, which was missing from previous affordable Orient divers, such as the Ray and Mako models. And considering the price point, it is a great upgrade.
The dial is another part of the watch that has received all but raving feedback.


This particular Kamasu comes with an eye-catching burgundy red dial with stretched hour markers and a day-date window. The luminosity is also something to rave about as it is strong and long-lasting and is comparable to Seiko 5 models, which says about it all.
If there's one tiny thing to pick about, it would be the bracelet. Namely, it has hollow end links, which results in a slight rattling noise that annoys some of the wearers. However, I personally don't find it much of a problem as I wear bracelet watches tightly around my wrist, which eliminates the rattling noise.
If you wish to read thorough analysis, visit our hands-on review on the Orient Kamasu.
We also suggest you check out other Kamasu models, such as the green Kamasu, blue Kamasu, and black-and-gold Kamasu, if the red version doesn't suit your taste.
Why we chose it: The Orient Kamasu possesses qualities that make it the best entry-level automatic watch currently available. Special praise goes to the sapphire crystal and versatile automatic caliber.
---

Bulova Wilton Automatic 96A206
Case Size: 42mm
Crystal: Sapphire
Caliber: Miyota 83S0
Power Reserve: 60 hours
Hacking: Yes
Hand Winding: Yes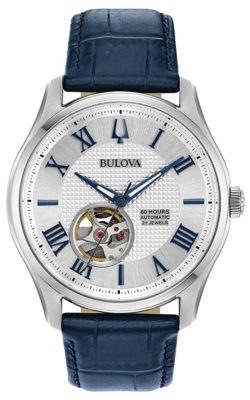 The American watch company Bulova catches the eye with a bold line of wristwear. Their Classic Automatic collection features timepieces with skeleton dials and open-heart designs, attracting people from various walks of life. 
Besides looking magnificent, they are also reliable to stand the test of time. And the Bulova Wilton 96A206 we have up next is the best one you can get from the brand.
The watch is equipped with a Miyota 83S0 caliber. It is a mechanism that outclasses other Bulova calibers by a mile due to the extended power reserve of 60 hours. Also, the caliber adds a hacking feature (halts the second hand) and enables one to wind the watch manually.
Note: There are two types of Miyota 82So calibers – pre-2019 and after-2019 versions. The first one doesn't hack, while the latter does. If this is a feature you appreciate, make sure to contact the seller to confirm its existence.
The face of the watch is pure class. It consists of Arabic numerals, a three-hand movement, and an open-heart cut.
Another noteworthy design feature is the dial finishing when the background of the hour numbers is a sunburst, and the center of the dial is patterned. All this results in an elegant appearance that is hard to turn your eyes away from.
This subtle face is covered with a domed sapphire crystal with an anti-reflective coating. The additions of a domed shape and AR coating enhance visibility drastically from any angle and in every lighting condition.
The Wilton watch measures a comfortable 42mm in case diameter, which is perfect for any wrist. It is made from stainless steel with brushed lugs and a glossy bezel ring. The bezel, however, tends to receive scratches fairly easily due to high polishing. So, make sure to leave it on a table if you take on physical activities.
Despite this minor letdown, an automatic watch with such a classy design and capable movement to cost less than $500 is an outstanding bang for your buck, making it one of the best value-for-money timepieces available.
Why we chose it: The dial design and automatic caliber combined result in a timepiece that can freely cost a four-figure sum.
---

Seiko Presage Automatic Watch
Case Size: 41mm
Crystal: Sapphire
Caliber: Seiko 4R38
Power Reserve: 40 hours
Hacking: Yes
Hand Winding: Yes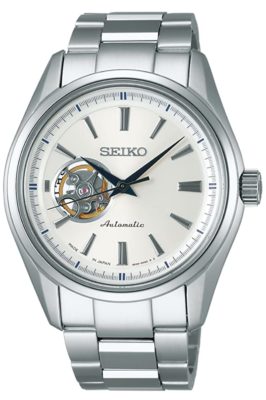 Seiko is represented with more than one watch on this list. While the brand's dive watches tend to take the limelight, there is a significant number of elegant dress watches that offer equally wonderful quality.  One of them is the Seiko Presage SARY055.
The timepiece is equipped with a 4R38 automatic caliber that holds a power reserve for up to 40 hours and comes with hacking and manual winding capabilities. It is a similar mechanism to the 4R36 but without the date complication.
Instead, the watch boasts an open cut at the 9 o'clock position. You'll be able to see the parts of a movement in action from that cut, such as the escapement and the balance wheel. So it is a luxurious addition that first-time automatic watch wearers will find the most exciting part of the watch.
When it comes to the watch crystals and Seiko watches, the most widely employed are Seiko's proprietary Hardlex crystals, especially in affordable timepieces.
However, the Seiko SARY055 sports a sapphire crystal, which is always a good thing to see in dress watches. The crystal is, by far, the best in terms of scratch resistance and is fairly well protected against shatters, too.
The light-toned 41mm watch case is made from stainless steel that features a highly polished top ring and brushed lugs. The images don't do good to this Presage as in real life the timepiece is much shinier and glossary.
If you hoped for nice luminosity, among other great features the watch already has, we must disappoint you. Namely, the SARY055 doesn't have it. But, on the other hand, a classic dress piece as it is, it's not that important, anyway.
Why we chose it: Seiko rarely produces open-heart automatic watches, which makes this particular timepiece unique and worth your attention. Also, it looks stunningly gorgeous and has a top-notch hacking and hand-windable caliber.
---

Orient Mako II Diver Automatic
Case Size: 41mm
Crystal: Mineral
Caliber: Orient F6922
Power Reserve: 40 hours
Hacking: Yes
Hand Winding: Yes
The Orient Mako II is a genuine marine watch with a 200m (660ft) water resistance suitable for all sorts of professional water activities, including recreational diving. The model has been around for quite a while and has become a cult dive watch below the $200 mark.
The heart of this timepiece is Orient's in-house F6922 automatic caliber that enables one to halt the second hand and manually wind it. It comes with an accuracy of -15/+25 seconds a day and runs for up to 40 hours when fully wound.
In terms of appearance, the Mako II comes with a black sunburst dial that gives a nice hue in lighting. The hour and minute hands are sword-shaped, while the second hand features a distinctive red arrowhead.
Like most Orient watches, the Mako II is equipped with great luminosity. The legibility, overall, is fantastic, both in the daylight and nighttime.
One of the elements of Orient watches that many find out of place is the logo. True, it sort of looks like some cheap Chinese brand's logo you typically find from a $50 timepiece. But, unfortunately, it's something you cannot change. So you either get used to it or look elsewhere.
However, one thing's for sure – the Orient Mako II is a highly dependable dive watch with a very appealing price tag. If you like the appearance, the watch will be a bang for the buck. Moreover, since it's sized at 41mm and measures 13mm in height, you can wear it with all sorts of outfits and on various occasions.
Why we chose it: The Orient Mako II is a very affordable all-rounder that will last you a lifetime.
---

Bulova Gunmetal Maquina
Case Size: 43mm
Crystal: Sapphire
Caliber: Miyota 8N26
Power Reserve: 40 hours
Hacking: No
Hand Winding: Yes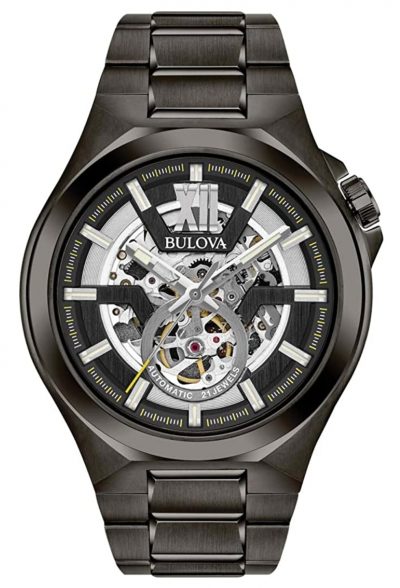 The Bulova Maquina 98A179 boasts an eye-catching gunmetal finish from head to toe. And adding the smooth transition between the case and bracelet, we get a very streamlined and masculine watch. The skeletonized look only but tallies the extravagance that beams from this Bulova.
The only downside to the magnificent apparel is the lack of clarity when separating out the time. There is just so much going on behind the scenes that focusing your attention on it takes at least a second. Contrarily, the watch is not meant to be easy to read but to show time and show off. And this Bulova excels in doing that.
The Maquina runs on a Miyota 8N26 movement with a hand-winding capability. Unfortunately, the caliber doesn't hack, meaning you can't halt the second hand for exact time synchronization. Other than that, the movement is of the 8215 family that has a history of reliability and accuracy.
The overall durability is great. For instance, the face is covered with a scratch-resistant sapphire crystal, and the whole construction comes 100m (330ft) water-resistant.
The Maquina line consists of several eye-catching timepieces you should check out. They're also some of the top Bulova watches you can buy.
For example, there is a similar watch to the 98B179 that has swapped the gunmetal appearance for matte black and comes with a dark leather strap (98A238). Also, you'll find the rose-gold tone Bulova 98A177 with a black rubber band.
Why we chose it: The Maquina watch is among the most spectacular timepieces for the money. And not only does it look good, but it offers heaps of quality with its Miyota caliber and sapphire crystal.
---

Tissot Chemin des Tourelles GMT Watch
Case Size: 42mm
Crystal: Sapphire
Caliber: ETA Powermatic 80
Power Reserve: 80 hours
Hacking: Yes
Hand Winding: Yes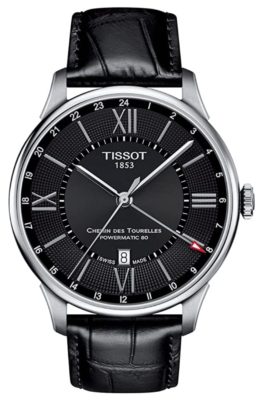 A Swiss GMT watch with an automatic movement below $500 is a bargain. However, the Tissot Chemin des Tourelles that runs on the Powermatic 80 is not just a bargain anymore but an amazing bang for the buck challenging to find elsewhere.
The watch materials are of high quality when the face is covered with an anti-reflective sapphire crystal, and the case is made of 316L stainless steel. The leather strap, too, is well made and offers a convenient wearing experience.
A neat addition to the strap is the butterfly clasp with a push-button closure instead of a simple buckle closure. It ensures a more secure fastening and eliminates the threat of falling off the wrist.
The Chemin des Tourelles watch is an appropriate wearable for both casual everyday dealings and fancier events due to its versatile looks. The dial has Roman numerics instead of numbers/indices on a patterned background, adding elegance and subtlety.

On the other hand, you'll find the 24-hour format on the outer circle that, along with the GMT hand, make this Tissot more than just a good-looking wearable for formal outfits.
The GMT function comes really handy when traveling – when you're abroad, you can set it to show your home time and that way be informed of your local time.
All in all, it is almost impossible to find something to complain about – the functions work smoothly, the watch looks stunning, and the caliber is top-notch.
Maybe the only thing I would point out is the weight that many are after – it weighs about 3 ounces (85g), feeling quite light on a wrist for an automatic watch.
Why we chose it: It is both extremely appealing and highly functional. Also, the Powermatic 80 caliber is just pure class.
---

Hamilton Khaki Field Auto
Case Size: 40mm
Crystal: Sapphire
Caliber: ETA-based H-40
Power Reserve: 80 hours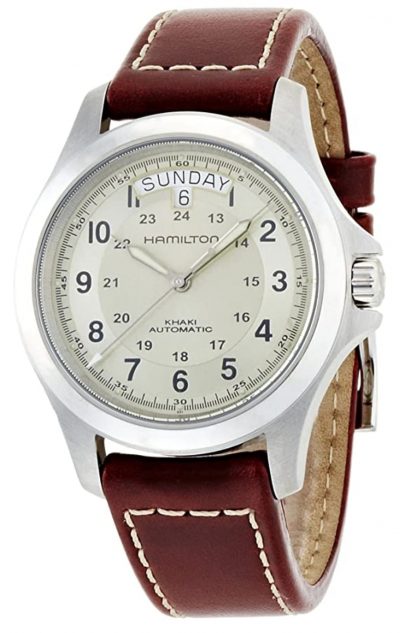 The Hamilton brand has many facets. Not only does it offer top-notch automatic military-inspired watches, but it is very active in Hollywood as well. Featuring in over 500 blockbuster movies, Hamilton is a brand to strive for.
The Khaki Field models have found their way to numerous films, including The Avengers and Buried. Although the next particular model, the Khaki Field H64455523, has not been on the big screen, it still can claim a starring role on your wrist. And all due to the timeless war-era design combined with utmost reliability.
The dial is indeed vintage, with beige tint and numbers reflecting the font from the early decades of the 20th century. The brushed stainless steel case harmonizes with the prevalent light color, whereas the brown leather strap adds the required contrast in making the watch a genuine war classic.
However, the movement powering the three luminous hands and the day-date function is as modern as it can get.
The ETA H-40 caliber is accurate and reliable, offering an excellent power reserve of 80 hours. The most exciting feature with this movement is the day-date function at 12 o'clock position, which surely is to receive positive attention from others.
When talking about the negatives of this watch, it is its somewhat limited legibility due to the cream-toned hands that sink into the creamy dial.
Why we chose it: The astonishing 80 hours of power reserve, combined with the prestige of Hamilton, is unparalleled at this price point.
---

Seiko Prospex Turtle SRPE93
Case Size: 45mm
Crystal: Hardlex
Caliber: Seiko 4R36
Power Reserve: 41 hours
Hacking: Yes
Hand Winding: Yes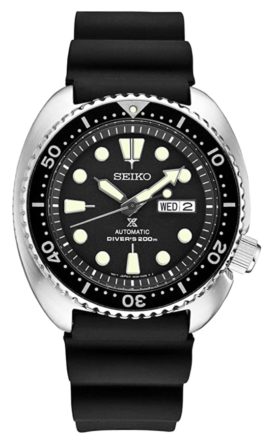 This Seiko Prospex Turtle SRPE93 is one of the best choices for $500 for the reason of being a self-winding ISO-certified professional diver's watch.
The watch is often mixed with the SRP777 that looks almost identical to the SRPE93. However, the SRPE93 is slightly bigger and is entirely made in Japan, making it a better watch in terms of overall quality.
This timepiece stands 200m (660ft) of water pressure, features a coin-edge unidirectional bezel, and has a screw-down crown at 4 o'clock position. The case design resembles the turtle's shell, which eventually has earned the piece the nickname "Turtle watch."
The movement is a standard Seiko's in-house 4R36 with a 41-hour power reserve with hacking and hand-winding options. As it is with the majority of Seiko movements, it's tried and tested with nearly inexistent letdowns.
Another feature that has made Seiko's dive watches so famous, including this particular model, is the very bright and long-lasting lume. In fact, many consider Seiko divers as one of the best luminous watches around. So, you can expect a magnificent lume hard to beat at this price range.
One thing you should pay attention to with this Turtle watch is the size. Namely, the case diameter measures 45mm, making it unsuitable for slender wrists.
Why we chose it: The Seiko SRPE93 is made in Japan, making it a value deal with its price tag below the $500 line.
---

Tissot Everytime Swiss Automatic
Case Size: 40mm
Crystal: Sapphire
Caliber: ETA C15.111 Swissmatic
Power Reserve: 72 hours
Hacking: No
Hand Winding: Yes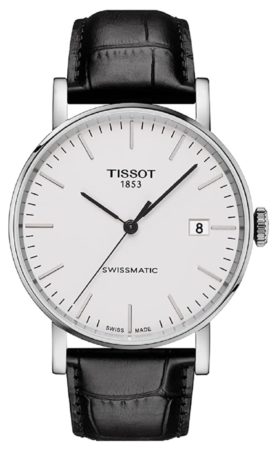 We've already had Tissot watches that feature the powerful Powermatic 80 mechanism. However, with the Tissot Everytime Watch, we add another respected ETA movement – the Swissmatic.
The caliber ensures that the watch holds a power reserve for up to 72 hours, which is almost twice the amount you get from standard automatic watches. The caliber is also manually windable for the maximum employment of the power reserve. Unfortunately, you can't halt the second hand, which is the most significant con with this movement.
The timekeeping mechanism is not the only reason we've included this watch. It's the attention to detail and sophistication you'll find from the dial and the caseback.
Despite its minimalistic appeal, the domed sapphire-covered face is designed in a manner that gives the impression of a much pricier timepiece. For example, the silver hands and indices match perfectly with the light background, while even the Tissot and Swissmatic logos are well-placed and of decent size.
The caseback also comes sapphire-covered, displaying the magnificence of an automatic caliber.
The watch is meant to be worn with smart and smart casual attire. Such outfits require suitable dimensions and easy readability. Both of these prerequisites are in place when the height measures only 12mm and the dark hands are highly legible on the light-toned background.
Why we chose it: The Swissmatic caliber with a 72-hour power reserve is almost twice the amount you get from the majority of similarly priced automatic watches.
---

Fossil Townsman Automatic
Case Size: 45mm
Crystal: Mineral
Caliber: Miyota 82S7
Power Reserve: 42 hours
Hacking: No
Hand Winding: Yes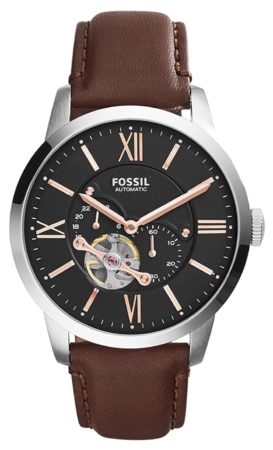 Fossil may not pop into the mind in the first place when talking about automatic self-winding watches due to the brand's tendency towards fashionable quartz chronographs rather than quality automatic pieces. Regardless, this particular model has the makings to prove the doubters wrong. 
This Fossil Townsman runs on a Miyota 82S7 movement that keeps decent time and has a power reserve of up to 42 hours when fully wound. The caliber has sacrificed the hacking feature for the gorgeous open-heart design. However, you still have the possibility to manually wind the watch via the crown.
The dial has a circle cut to showcase the colorful intrinsic mechanism. If you turn the watch around, you'll be able to glance at the inner workings through the caseback as well.
The two unique additions you'll also find from the dial are the 24-hour time and the small seconds counter.
They lay beside the open cut and together form a beautiful three-circle set. The coloring of this timepiece doesn't let down either – the combination of black and copper work out just perfectly, giving this timepiece that lavish look a true fashionista expects from a watch.
Although Fossil isn't on par with other brands on this list in terms of quality consistency, which becomes the most significant disadvantage of this watch as well, it is still hard to turn your attention away from the aesthetics the watch possesses and the price it comes with.
For anyone that is into fashionable looks and wishes to try out an automatic movement, the Fossil Townsman is an appropriate timepiece to start with. However, if you're willing to pay a little extra, go for Orient or Seiko instead.
Why we chose it: It is a budget option with aesthetics resembling a multi-thousand-dollar watch.
---

Citizen Automatic Diver NY0040-17LE
Case Size: 42mm
Crystal: Mineral
Caliber: Miyota 8204
Power Reserve: 40+ hours
Hacking: Yes
Hand Winding: Yes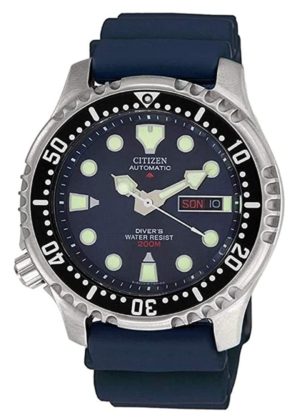 When you think of automatic watches, you typically don't think of Citizen. The brand that is best known for solar-powered timepieces doesn't produce many self-winding models. However, when it does, they are worth every penny.
The Citizen NY0040-17LE is one of the automatic dive watches from the brand that watch enthusiasts highly appreciate. The watch is often considered an excellent alternative to the Seiko SKX watches, which basically says about it all of the quality levels.
Unfortunately, both the NY0040 and Seiko SKX series are discontinued. Therefore, it would be a nice opportunity to get a hold of this soon-to-be rare Citizen automatic watch.
The watch can be found with two calibers – the pre-2020 models run on Miyota 8203 movement, while the newer ones are equipped with Miyota 8204 caliber. The difference between the two is not significant, with the only discrepancy being the possibility to halt the second's hand with the 8204 calibers. The 8203 version, on the other hand, can't be hacked.
The strength of the luminosity on this Citizen is not at the same level as Seiko, as the hour markers tend to fade much quicker than the hands. But it's a comparison to the best in the market, too. So, overall, the luminosity is still of good quality. What makes it different from others, though, is its greenish tone compared to the dominating blue of other luminosities.
All in all, the Citizen NY0040-17LE is a high-quality automatic watch that adds singularity to any watch collection. Moreover, the price stays at around a couple of hundred bucks, making this Citizen some of the best price-quality ratio automatic timepieces available.
If you're interested in more Citizen automatic divers, feel free to check a couple of alternatives to the NY0040, such as the Pepsi bezel NY0086-16LE and the green bezel and black dial Citizen NYoo84-89E.
Why we chose it: The Citizen NY0040-17LE is as durable as a watch can go. In addition, owning a Citizen watch with an automatic caliber is already a uniqueness in itself.
---

Seiko Prospex Monster SRPD25
Case Size: 42mm
Crystal: Hardlex
Caliber: Seiko 4R36
Power Reserve: 40 hours
Hacking: Yes
Hand Winding: Yes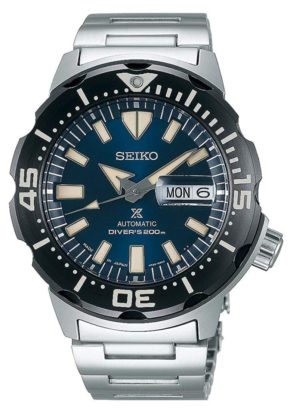 The Seiko Prospex Monster has earned a reputation as a cult dive watch over the past decades. The Monster line has gone through several redesigns and, with this particular model, is less "monstrous" due to a sleeker bezel and more classic dive watch aesthetics.
The Monster SRPD25 is equipped with a 4R36 automatic caliber that comes with a standard 6-ticks a second sweeping movement. It is deemed to hold decent accuracy while providing a power reserve of up to 40 hours, leaving enough time to rest your wrist. It also hacks and hand-winds.
ISO dive certification goes hand-in-hand with Seiko. Hence, it's no wonder this watch comes certified to 20 atmospheres. All the necessary features required for deepwater diving are also present, such as the bezel, screw-down crown, and screwable caseback.

However, one particular feature has received special praise from the wearers: luminescence. The multi-layered LumiBrite paint on large hour markers is very bright and lasts a long time, making it one of the top luminous watches to have.
Why we chose it: This celebrity watch not only boasts a quality automatic movement but is also equipped with long-lasting and brightly glowing luminosity.
---

Orient Bambino Open-Heart
Case Size: 40.5mm
Crystal: Mineral
Caliber: Orient F6T22
Power Reserve: 40 hours
Hacking: Yes
Hand Winding: Yes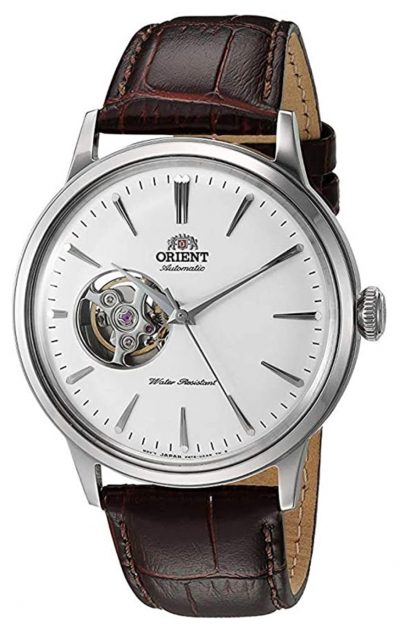 An open-heart design is a fancy feature in mechanical timepieces that always catches the eye. That's why we've included yet another skeleton watch (though a modest one this time) on this list. 
An archetypal dress watch as the Bambino Open-Heart is, there are not many exclusivities on the dial, except for the open circle, of course. The basics you'll find from all of the dress pieces include the three hands, hour markers, and the logo.
Quality-wise, the watch is made of durable stainless steel, the dial is covered with domed mineral crystal, and the strap is of comfortable leather.
The domed shape of the crystal is favorable because it enhances visibility from various angles you look at it. However, since it's a mineral without any AR coating, be prepared to get reflections when checking the time.
The timekeeping runs on Orient's in-house F6T22 caliber specifically designed for open-heart watches. It's a 22-jewel mechanism that can be hacked and manually wound.
Unlike another highly popular Orient dress watch, the simpler Bambino, this version does not divide opinions in terms of looks – as everyone can see, the Bambino Open-Heart is a true marvel with subtle finishing and expensive looks to it.
The Open-Heart watch is available in a rose-gold case as well. Also, you'll find an all-blue version of it.
Why we chose it: The watch's elegance is comparable to much pricier timepieces, making the Orient Bambino Open-Heart a bang for the buck.
---

Hamilton Jazzmaster Gold Automatic
Case Size: 42mm
Crystal: Sapphire
Caliber: ETA-based H-40
Power Reserve: 40 hours
Hacking: Yes
Hand Winding: Yes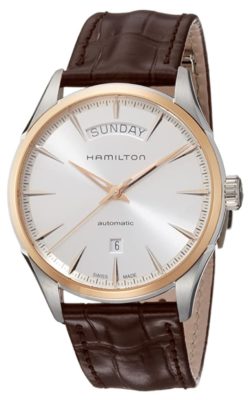 When the other two entries from Hamilton have been classic field watches, this Jazzmaster Gold Automatic, however, possesses universal characteristics for various occasions.
The watch has a decent case size, 42mm, which is perfect for men with average wrists (around 7.3in circumference). Another dimensional measure, the height, supports this Hamilton's versatility, staying at a convenient 11mm. It means you can slip it under a cuff and reveal it with ease.
The watch runs on a Swiss H-40 movement that powers the three-hand movement, a fully spelled day window at the top of the dial, and a date function at the bottom. In addition, the 80-hour power reserve caliber enables the second hand to be halted, as well as to manually wind the watch.
Aesthetically, the watch is elegant enough to wear with formal attire but goes perfectly well with casual outfits. It has a golden bezel on top of a silver case and long hour indexes and hands that are pretty easy to catch from any angle.
The biggest disadvantage the watch has is the tiny date window. It takes a good second or two to capture it. Another characteristic that hinders the legibility is that the whole window drowns into the same-toned background. It would've helped if the window came with dark-toned frames and the numbers were much bolder.
When the date window is not at the top of your prerequisites for a classic analog watch, the Hamilton Jazzmaster will offer you plenty of quality for the money.
Why we chose it: The Jazzmaster line is one of the most famous from this brand due to proven quality standards, so getting one for less than $500 is a bargain by all means.
---

Bulova Automatic Aerojet 98A187
Case Size: 39mm
Crystal: Mineral
Caliber: Miyota 82S0
Power Reserve: 42 hours
Hacking: No
Hand Winding: Yes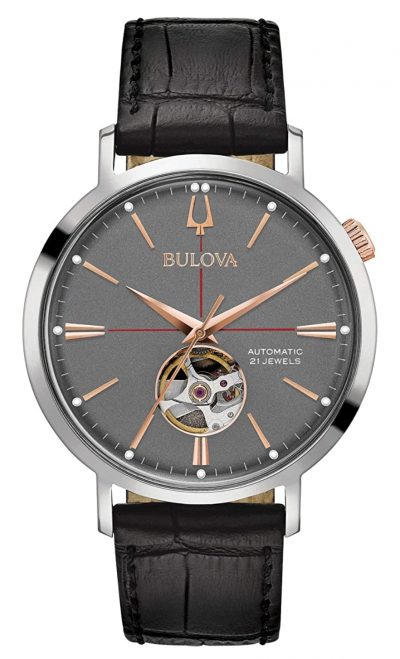 The Bulova Automatic 98A187 is not as lavish as other Bulovas on this list, despite featuring a fancy open-heart design. Instead, it follows a classic style with a little bit of flair.
The brand has not spared colors for small details in this watch when the matte gray dial is coupled with three red lines and rose gold hands and hour indices. In addition, the automatic mechanical movement visible from the cut adds golden and purple bits to the whole palette of colors. And yet it's still modest in terms of Bulova's style.
This timepiece features a reliable 21-jewel Miyota 82S0 hand-winding automatic movement that provides accurate timekeeping and a 42-hour energy reserve. Unfortunately, no hacking comes with the caliber.
The feature that makes this Bulova more resistant to scratches and shatters is the boxed mineral crystal. Since it is lower than the bezel surrounding it, it soothes the impacts much better than the leveled design.
This particular feature compensates a bit for the fact that the Aerojet doesn't come with a much better sapphire crystal.
If you care about the packaging a watch comes in, don't expect much from the one Bulova Aerojet is packed in – the box is rather low-quality and won't last more than a return trip.
Why we chose it: The watch is just too unique appearance-wise to leave it out.
---

Spinnaker Bradner Automatic
Case Size: 42mm
Crystal: Sapphire
Caliber: Seiko NH35
Power Reserve: 40 hours
Hacking: Yes
Hand Winding: Yes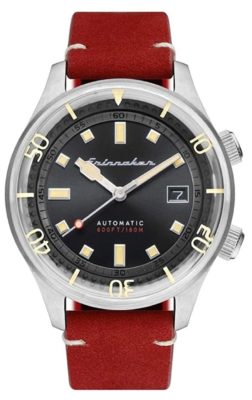 Spinnaker is a Hong Kong-based microbrand that specializes in nautical-style watches. What's special about Spinnaker is that it equips the watches with high-quality parts and markets them for only a couple of hundred dollars.
Spinnaker watches are, therefore, value kings worth giving a chance.
The Spinnaker Bradner we've chosen to feature on this list is a 600ft (180m) water-resistant desk diver with all the usual components of a diver. It includes a screw-down crown, a strong and long-lasting luminosity, and a screw-down caseback.
These are all standard features you typically expect from a $200-$300 watch.
However, what many similarly priced dive watches don't have is a scratch-resistant and domed sapphire crystal. Moreover, the glass is covered with several layers of anti-reflective coating, eliminating unwanted reflections.

Further, you'll find the bezel not on the case but underneath the dial. The inner bezel moves in both directions and can be operated via an extra crown. In addition, the bezel markings are interestingly painted onto the crystal.
When it comes to timekeeping, it is handled by the Seiko NH35 movement with hacking and hand-winding capabilities. You'll find the same caliber from various other microbrands, as well as from the Invicta Pro Diver 8926OB.    
All in all, the Spinnaker Bradner is a wonderful option for dive watch enthusiasts.
Why we chose it: The Spinnaker Bradner offers so much more for the price its sold.
---

Invicta Grand Diver 13708
Case Size: 47mm
Crystal: Mineral
Caliber: Seiko NH38A
Power Reserve: 41 hours
Hacking: Yes
Hand Winding: Yes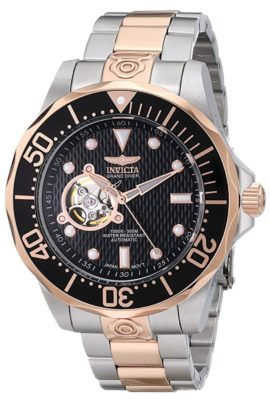 Finishing off the list of the top automatics under $500 is a timepiece from an often underrated brand. Although Invicta watches may not possess the quality on par with Seiko or Tissot, they compensate the backlog with luxurious looks at unbelievably affordable prices. They also sport Seiko calibers that are known workhorses. 
The Grand Diver 13708 belongs to the flagship collection of Pro Diver watches and can freely feature in any "best-of" list under the $200 category. However, we've decided to add it regardless of the price due to the price-to-looks ratio that often eclipses much more appreciated timepieces.
When adding an extensive rose-gold tone to a watch, the designer either fails miserably or hits the jackpot. With this Invicta, the designer has certainly hit the jackpot. The tone is not too strong, combining perfectly with the silver tint.
The patterned black dial, which also harmonizes with the overall appeal, features a three-hand design with luminosity and a prominent open-heart cut.
The overall appearance of this Grand Diver can easily fool people into thinking that it's a premium-class watch, not a timepiece that barely exceeds the hundred-dollar line.
The Invicta Grand Diver 13708 sports a Seiko NH38A caliber that is similar to the NH35 – it hacks and hand-winds, but doesn't feature a day-date complication.
Probably the most outstanding feature at this price point, however, is the water resistance to 300m (1,000ft) that ensures a harmless dip into the ocean.
However, one of the downsides of this watch is its size when, besides the 47mm case diameter, it measures a whopping 17mm in height. Further, due to these dimensions, the weight reaches 13 ounces (380g). Therefore, the Grand Diver is a massive watch both size and weight-wise.
Why we chose it: The Grand Diver watch combines utmost functionality with fashionable, expensive-looking aesthetics.
---

FAQ about Automatic Watches
Automatic self-winding watches are much more complicated than simple quartz watches. They require attention and constant wearing but are definitely worth the effort.
Since the market for affordable self-winding timepieces is growing every year, many new watch wearers find themselves facing problems that are typically inexistent in quartz pieces.
Therefore, we'll answer some of the most frequently asked questions regarding automatic watches.
Do You Have to Wear Automatic Watches Every Day?
Since the power reserve in automatic pieces is typically 40 hours or so when fully wound, it means you should wear it almost daily to keep it running. Of course, nothing bad happens if the mainspring runs out of energy, but reigniting it could become annoying.
How Do You Start an Automatic Watch?
If your automatic watch stops, give it a shake so that the balance wheel could start spinning. However, if you have a timepiece with a manual winding option, you can turn the crown until you feel resistance. Typically, it takes 10-20 turns.
How Often Should an Automatic Watch Be Serviced?
A typical automatic watch requires servicing every 3-5 years but depends on different manufacturers' suggestions. When the timepiece stays in the drawer for most of its life, it is suggested to ignite it once a month to maintain the longevity of lubrication between the parts. A general rule is that the more you use it, the more often it requires servicing.
Can Automatic Watches Last Forever?
Yes, they can! Automatic watches are not throwaway pieces like the majority of cheap quartz watches are. Since they're mechanical and don't require electronics that tend to stop functioning at one point, the parts are easily replaceable. And with consistent servicing, you can expect them to last forever.

Final Words
So, what are the best automatic watches under $500?
To sum it up, they are watches that possess reputable movements, have sophisticated looks, and are made from durable materials.
Whether it be from a world-famous Tissot or Seiko brand, or a fashion-oriented Invicta, the watches you'll find from this list will disappoint you neither quality nor appearance-wise.

You may also like:
Affiliate Disclosure: As an Amazon Associate I earn from qualifying purchases. Details
Latest posts by Carl Pender
(see all)