Affiliate Disclosure: As an Amazon Associate I earn from qualifying purchases. Details
Automatic watches have long been the representation of the modern horological masterclass. With the self-winding mechanism that automatically winds the spring through the wearer's motion, the watch neither requires any batteries nor needs manual winding.
Such an intricate system requires sophistication and quite a lot of resources, thus making self-winding pieces much pricier than the quartz equivalents.
Nevertheless, numerous brands are marketing such watches for very reasonable prices, causing a positive selection dilemma.
That's why we've listed the best automatic watches under $500 that represent the combination of the highest quality and charming looks.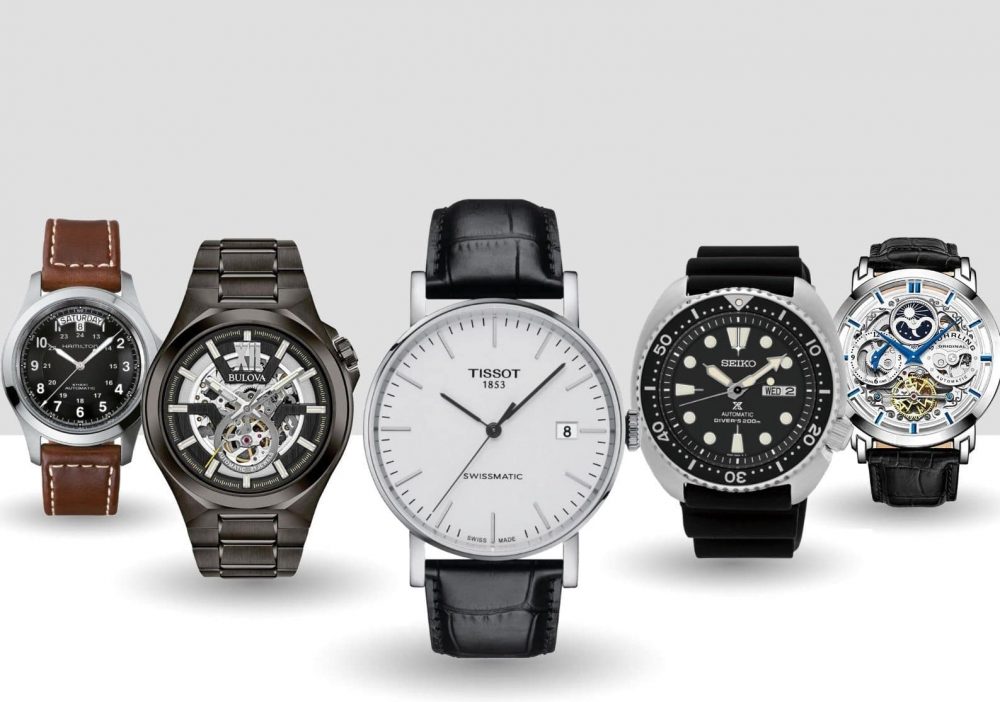 The list consists of watches with impressive value for money from respectable Swiss watchmakers and historical Japanese powerhouses, but also some fashion-oriented brands that, besides the reliability, boast extraordinarily flashy styles.
All the watches come with an Amazon rating of at least 4.4 out of 5.0 from actual owners. So rest assured, these automatic watches ARE the best you can get for less than $500.

Best Automatic Watches Under $500
Without further delay, here are the top self-winding watches that won't break the bank.

Tissot Le Locle Powermatic 80
Case size: 39mm
Model: T0064071603300
With a history stretching back to nearly 170 years, Tissot is a brand that has been the pace-setter in watchmaking virtuosity throughout its existence. Whether it be the first-ever tactile watch, or a mechanical movement as good as it gets, the brand won't leave anybody cold. And neither does the Tissot Le Locle Powermatic 80.
If you were to find the most classic watch it could get, this one would surely top the charts. Equipped with a top-tier automatic movement with an astonishing 80-hour power reserve, it makes it one of the most reliable and convenient dress watches a man can wear at a given price point.
The neatly finished white dial comes with a textured background and Arabic numerals while featuring the famous signature marking of Le Locle. The classic face is covered with scratch-resistant and anti-reflective sapphire crystal – the best you can have these days.
Don't expect this Tissot to take up a tremendous amount of space on your wrist because the case size at 39mm is just as humble as one would expect from an authentic classic dress piece. And although it's an automatic watch, the thickness of bare 10mm is something you won't find from many mechanical timepieces.
---

Hamilton Khaki Field King Automatic
Case size: 40mm
Model: H64455533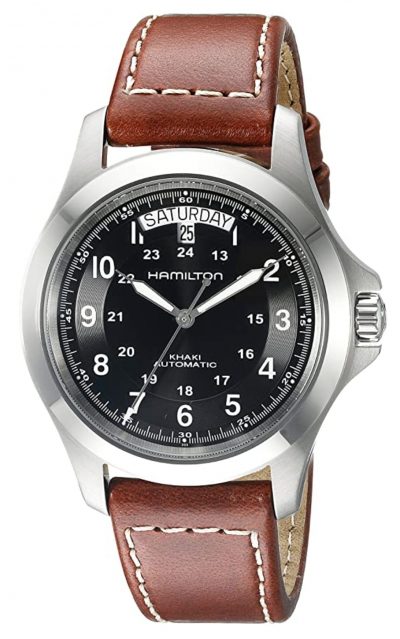 The next timepiece among the best automatic watches under $500 has entirely different apparel. The Hamilton Khaki Field King represents the military heritage Hamilton holds, providing not only the looks of a field watch but also its quality.
This Hamilton watch boasts a reliable automatic caliber – ETA 2834-2. The movement is very accurate due to the 25 jewel bearings that reduce the friction between the parts.
Since the watch is military-inspired, it comes with a 24-hour time on the inner circle, and with moderate size (40mm case) to stay convenient on the wrist on any occasion.
One of the unique features missing from many other watches is the fully spelt day window at 12 o'clock. Along with the date, they make up a distinctive aesthetic addition that sums up the attention to detail put into this Hamilton watch.
---

Seiko 5 Sports Automatic
Case size: 42mm
Model: SNZF17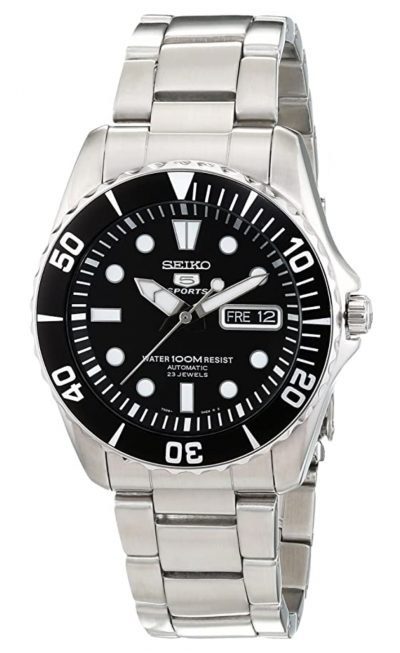 If there's one watchmaker capable of producing first-rate models in every imaginable style and movement type, it's Seiko. The pioneer of quartz technology, Kinetic movement, Spring Drive, and one of the top providers of solar wristwear, Seiko is the epitome of versatility in the industry. However, their biggest asset is their in-house automatic movement.
The Seiko 5 Sports SNZF17 runs on a 23-jewel movement with a standard 40-hour power reserve. As with all the Seiko calibers, the accuracy is up to the standard and rarely disappoints.
On the outside, the watch reflects the appeal of a diver's watch with a unidirectional bezel and luminous hands and indices. The water resistance is guaranteed to 100m (330ft), which is decent enough for surface water activities, but not for scuba diving.
All in all, the design fits both young and old, whether you're an attorney or a gym instructor.
---

Orient Bambino Version IV
Case size: 42mm
Model: FAC08004D0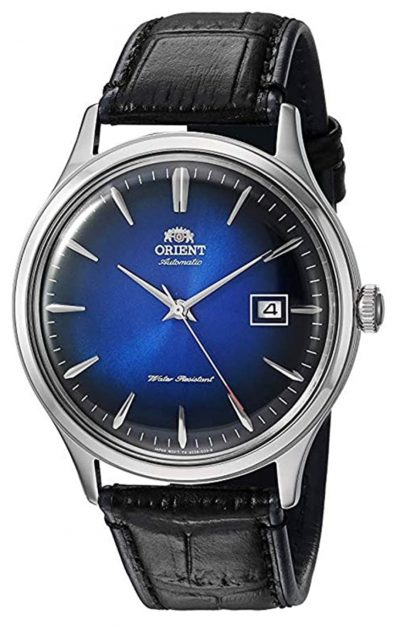 The Japanese brand Orient has the most affordable timepieces among the best automatic watches under $500. However, that doesn't mean they somehow lack in terms of quality. Quite the contrary, Orient's mechanical watches are considered as very reliable, often elapsing much pricier models from other brands.
The Orient Bambino IV is the fourth iteration of the timeless classic collection. The most notable feature of this watch is the domed mineral crystal that adds not only a unique look but enhances the resistance to shatters as well.
The dark blue shaded dial comes as minimalistic as it can get, featuring only the three hands and a small date window. The case size is also modest with a diameter of 42mm – neither overly large nor awkwardly small.
The Bambinos are thus ideal for smart and smart casual wear, providing a decent impression and functionality.
---

Bulova Automatic 96A135
Case size: 42mm
Model: 96A135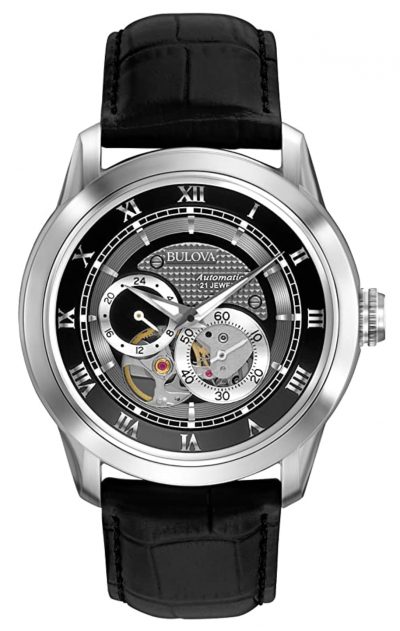 The American watch company Bulova catches the eye with a bold line of wristwear. Their Classic Automatic collection features timepieces with skeleton dials and open-heart designs, attracting people from various walks of life.
The Bulova Automatic 96A135 is a self-winding mechanical timepiece with a 21-jewel movement visible through double on-dial windows and exhibition caseback. Due to the close relationship with Citizen, the movement is of Japanese Miyota origin – tried, tested, and reliable.
The black and gray skeleton dial has Arabic numerals and a window for a dual time. The face is covered with curved mineral crystal, while the 42mm case is made of stainless steel. Aesthetically, the chrome finish works well with a black leather strap, suiting for both smart and casual wear.
An automatic watch with such a modern design to cost less than $500 is an outstanding bang for the buck, making it one of the best value-for-money Bulova watches available.
---

Seiko Presage Automatic Watch
Case size: 41mm
Model: SARY055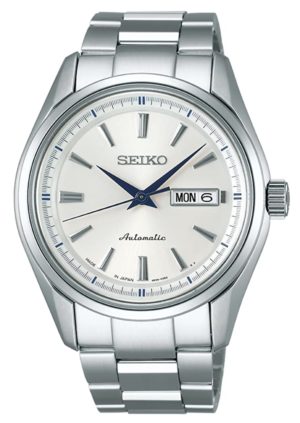 Seiko is represented with more than one watch on this list of the best automatic watches under $500. The classic model of Seiko Presage SARY055 runs on a premium 4R36 automatic caliber with hacking and manual winding capability, while holding a power reserve for up to 40 hours.
The light-toned watch is made of brushed stainless steel with a 41mm case diameter. It's of a decent size, so it fits the bill for the majority of wrist sizes and shapes.
Since Seiko widely employs its proprietary Hardlex crystal in sub-$500 timepieces, not many expect one to carry a top-notch sapphire. The Seiko SARY055 does. The crystal is, by far, the best in terms of scratch resistance and is fairly protected against shatters.
The sapphire crystal covers a beige dial, which features a standard three-hand design, along with a day-date window at three o'clock. The timepiece is suitable for swimming and showering as well due to the 100m (330ft) water resistance.
---

Orient Mako II Diver Automatic
Case size: 41mm
Model: FAA02001B9
Yet another affordable automatic watch from Orient comes with a black dial and stainless steel band this time. The Orient Mako II is a genuine marine watch with a 200m (660ft) water resistance suitable for all sorts of professional water activities.
The heart of this timepiece is Orient's in-house automatic caliber F6922 with hacking and hand-winding capabilities. It is guaranteed an accuracy between -15/+25 seconds a day but rarely reaches these margins.
Despite the timepiece being more of a tool watch, it nevertheless goes well with other occasions too. The case is of average 41mm size, while the thickness at 13mm makes it universal wear in slipping neatly under the sleeve if needed.
And since the Mako II is a diver's watch, it most certainly features a one-way rotating bezel, screw-down crown, and luminous hands.
---

Bulova Gunmetal Maquina
Case size: 43mm
Model: 98A179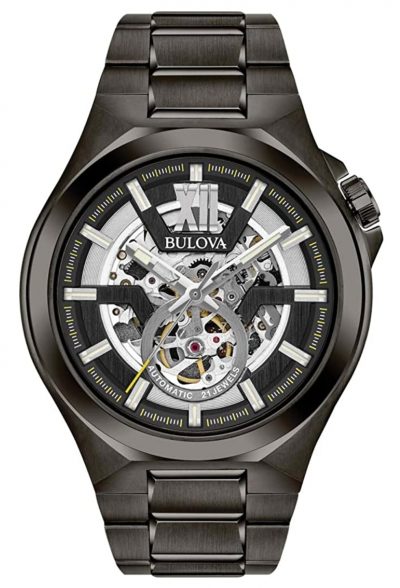 As we already noted earlier, Bulova parades with ultra-fashionable watches that won't leave anybody cold. The next entry from Bulova among the best automatic watches has a knockout design with extensive skeleton apparel.
The Bulova Maquina 98A179 surprises with an eye-catching gunmetal finish from head to toes. And adding the smooth transition between the case and band, we end up with a very masculine and sporty watch. The before mentioned skeletonized looks only but tallies the extravagance that beams from this Bulova.
The quality of the watch won't disappoint either. It runs on a Japanese automatic movement with storage up to 40 hours, is covered with sapphire glass, and is resistant to water up to 100m (330ft).
When you combine the attractive design with reliability, it is clear that for the sub-$500 pricing, you get much more you would've expected.
---

Tissot Seastar 1000 Automatic Watch
Case size: 43mm
Model: T1204071104100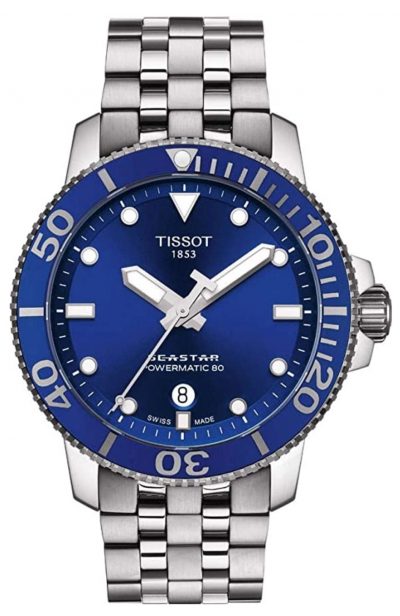 A Swiss diver's watch with an automatic movement below $500 is a bargain. The Tissot Seastar 1000 that runs on the Powermatic 80, however, is not just a bargain anymore but an amazing bang for the buck challenging to find elsewhere.
Packaged in a 43mm stainless steel case ticks the self-winding mechanism that can hold a charge for up to 80 hours. The 23 jewel bearings inside ensure a smooth transition between the parts, guaranteeing accurate timekeeping.
The materials are of high quality when the face is covered with sapphire crystal, and the bezel is made of scratch-resistant ceramic. The stainless steel band, too, is well made and won't rattle when moving your wrist.
The number "1000" in the name of this collection is not just for sounding cool. It stands for 1,000ft (300m) of water resistance the watch can stand. Therefore, wear it and submerge it because no water will cause any trouble.
---

Hamilton Khaki Field Auto
Case size: 40mm
Model: H64455523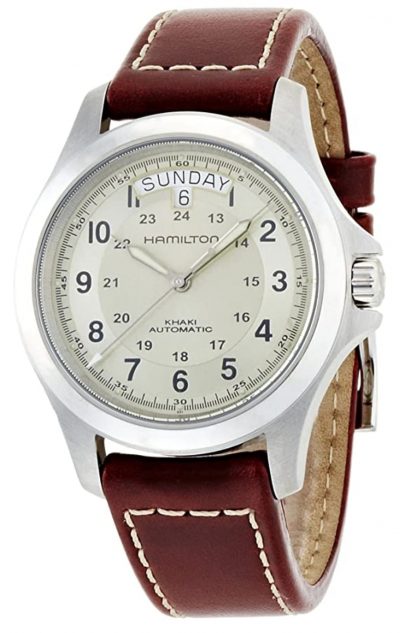 The Hamilton brand has many facets. Not only does it offer top-notch automatic military-inspired watches, but it is very active in Hollywood as well. Featuring in over 500 blockbuster movies, Hamilton is a brand to strive for.
The Khaki Field models have found their way to numerous films, including The Avengers and Buried. Although the next entry, the Khaki Field H64455523, has not been on the big screen, it still can claim a starring role on your wrist. And all due to the timeless war-era design that is combined with utmost reliability.
The dial is indeed vintage with beige tint and numbers reflecting the font from the early decades of the 20th century. The brushed stainless steel case harmonizes with the prevalent light color, whereas the brown leather strap adds the required contrast in making the watch a genuine war classic.
However, the movement powering the three luminous hands is as modern as it can get.
The ETA H-40 caliber is accurate and reliable, offering an excellent power reserve of up to 80 hours. The most exciting feature with this movement is the day-date function at 12 o'clock position which surely is to receive positive remarks from others.
---

Seiko Prospex Turtle SRPE93
Case size: 45mm
Model: SRPE93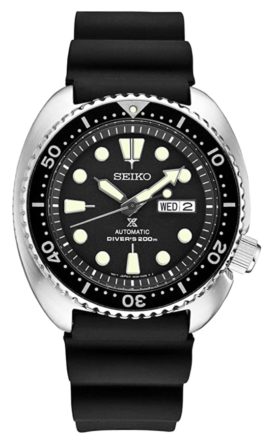 This Seiko Prospex Turtle SRPE93 is one of the top automatic pieces for less than $500 for the reason of being a self-winding ISO-certified professional diver's watch with a very attractive price.
This timepiece stands 200m (660ft) of water pressure, features a coin-edge unidirectional bezel, and has a screw-down crown at 4 o'clock position. The case design resembles the turtle's shell, which eventually has earned the piece the nickname "Turtle watch."
You should pay attention to your wrist's specificity as the case size of this Seiko timepiece is well above the average, at 45mm. However, the relatively small black dial compensates for it a bit.
The movement is a standard Seiko's in-house 4R36 with a 40-hour power reserve with hacking and hand-winding options. As it is with the majority of the movements, it's tried and tested with inexistent problems.
Another feature that has made Seiko's dive watches so famous, including this particular model, is the very bright and long-lasting lume. In fact, many consider Seiko divers as one of the best luminous watches around. So, you can expect a magnificent lume hard to beat at this price range.
---

Tissot Everytime Swiss Automatic
Case size: 40mm
Model: T1094071603100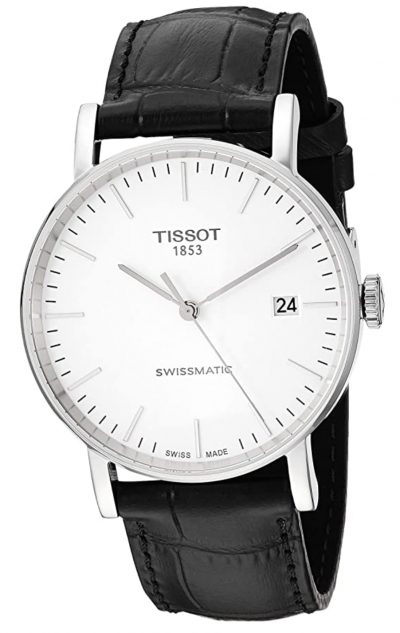 Tissot mostly employs ETA-manufactured movements. We've already had Tissot watches that feature the famous Powermatic 80 mechanism, but with the next classic beauty, we add another respected ETA movement – the Swissmatic.
The Tissot Everytime Swiss Automatic is a casual dress watch with an analog display that runs on the Swissmatic movement, able to store a reserve for up to 72 hours. It's not as magnificent as Powermatic 80 but still elapses most competitors at this price range.
The timekeeping mechanism is not the only reason we've included this watch. It's the attention to detail and sophistication you'll find from the dial.
Despite its minimalistic appeal, the domed sapphire-covered face is designed in a manner that gives the impression of a much pricier timepiece. Silver hands and indices match perfectly with the light background, while even the Tissot and Swissmatic logos are well-placed and of decent size.
---

Fossil Townsman Automatic
Case size: 45mm
Model: ME3061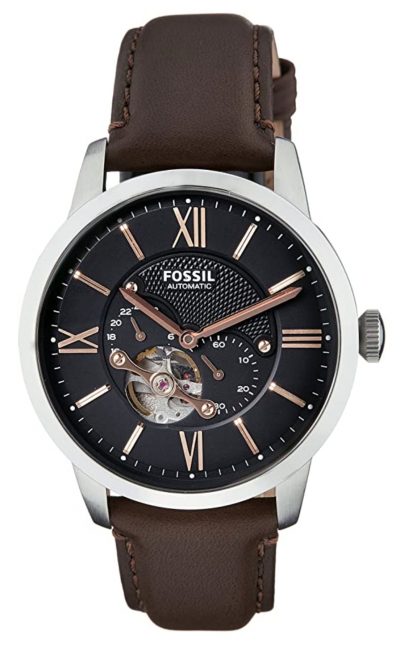 Fossil may not pop into the mind in the first place when talking about automatic self-winding watches due to the brand's tendency towards fashionable quartz chronographs rather than quality automatic pieces. Regardless of that, this particular model has the makings to prove the doubters wrong.
This Fossil Townsman runs on a Japanese automatic movement with 21 jewel bearings, keeps decent time, and has a power reserve of up to 36 hours. It may not be on par with the timekeeping modules of heavyweights, such as Tissot, Seiko, or Orient, but is more than enough when you consider the extravagant looks.
The dial has a circle cut to showcase the colorful intrinsic mechanism. If you turn the watch around, you'll be able to glance at the inner workings through the caseback as well.
The overall design doesn't let down either – the combination of black and bronze work out just perfectly, giving this timepiece that lavish look a true fashionista expects from the brand.
---

Glycine Combat Sub GL0089
Case size: 42mm
Model: GL0089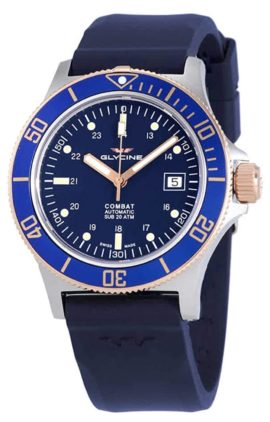 Glycine is one of those Swiss watch brands that offer affordable timepieces to various tastes. With this particular piece, it pleases the group of dive watch admirers.
The Glycine Combat Sub has dominant blue looks when the bezel, dial, and band come in similar tints. Meant for the use in the water, but obviously not limited to, it comes 200m (660ft) water-resistant, and with a durable and well-fitting rubber band.
Increasing the tactical appeal are the 24-hour time on the inner circle and luminosity in the hands and markers.
However, what makes this Glycine especially stand out is the ETA-based GL224 Swiss movement. Due to the higher frequency the caliber vibrates, it takes 8 steps in a second. Therefore, compared to the majority of watches, the Glycine offers a much smoother motion of the second's hand.
---

Seiko Prospex Monster SRPD25
Case size: 42mm
Model: SRPD25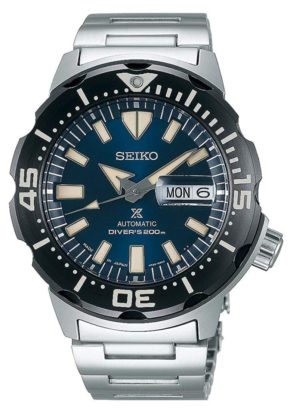 The Seiko Prospex Monster has earned a reputation as a cult dive watch over the past decades. The Monster line has gone through several redesigns and, with this particular model, is less "monstrous" due to a sleeker bezel and more classic dive watch aesthetics.
The Monster SRPD25 is equipped with a 4R36 automatic caliber that comes with a standard 6-ticks a second sweeping movement. It is deemed to hold decent accuracy while providing a power reserve of up to 40 hours that leaves enough time to rest your wrist.
ISO dive certification goes hand-in-hand with Seiko. Hence, it's no wonder this watch comes certified to 20 ATM. All the necessary features required for deepwater diving are also present, such as the bezel, screw-down crown, and screwable caseback.
However, one particular feature has received special praise from the wearers, namely luminescence. The multi-layered LumiBrite paint on large hour markers is very bright and lasts a long time, making it one of the top luminous watches to have.
---

Orient Bambino Open-Heart
Case size: 40.5mm
Model: RA-AG0002S10A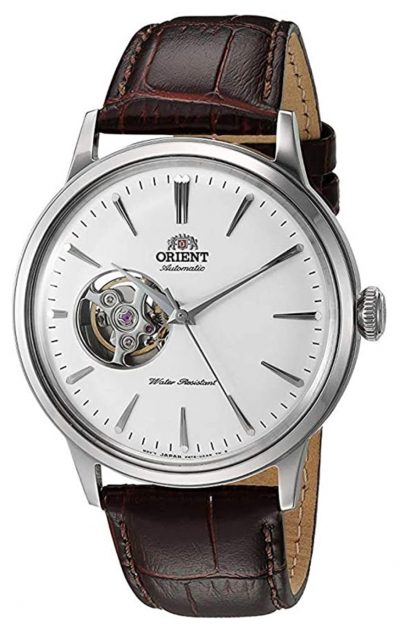 An open-heart design is a fancy feature in mechanical timepieces that always catches the eye. That's why we've included yet another skeleton watch (though a modest one this time) among the best automatic wristwatches.
An archetypal dress watch as the Bambino Open-Heart is, there are not many exclusivities on the dial, except for the open circle, of course. The basics you'll find from all of the dress pieces include the three hands, hour markers, and the logo.
Quality-wise, the watch is made of durable stainless steel, the dial is covered with domed mineral crystal, and the strap is of comfortable leather.
The timekeeping runs on Orient's in-house F6T22 caliber specifically designed for open heart watches. It's a 22-jewel mechanism that can be hacked and manually wound.
---

Hamilton Khaki Field Analog
Case size: 38mm
Model: HML-H70455133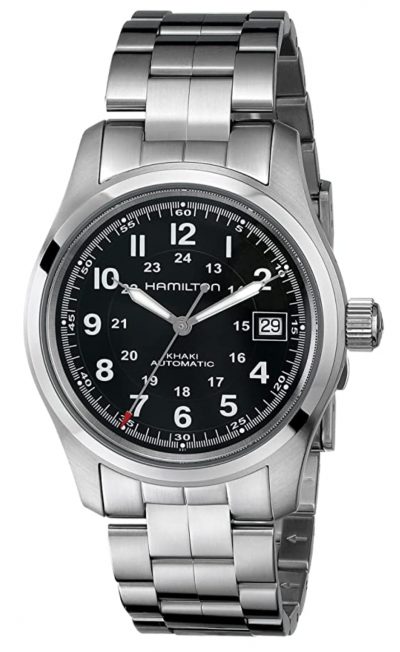 When the other two entries from Hamilton have been classic field watches, this Khaki Field Analog, however, serves universal suitability.
The full stainless steel watch has a rather small case size, at 38mm, which is good news to seasoned watch wearers who haven't gone along with the recent trend of bigger sizes. Another dimensional measure, the thickness, supports this Hamilton's versatility, staying under a mere 10mm.
The watch runs on a Swiss automatic movement and is water-resistant to 100m (330ft). And since it's a military-inspired piece, the features of a 24-hour time and luminosity are also present.
Whether it's a business meeting or an evening dip into the sea, this Hamilton will serve you on several fronts.
---

Bulova Automatic 98A187
Case size: 39mm
Model: 98A187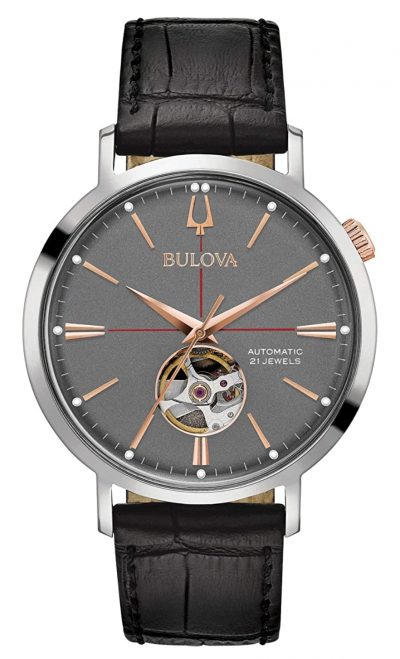 The Bulova Automatic 98A187 is not as lavish as other Bulovas on this list but still comes with a fancy open-heart design.
The brand has not spared colors for small details in this watch when the matte gray dial is coupled with three red lines and rose gold hands and hour indices. The automatic mechanical movement visible from the cut adds golden and purple bits to the whole palette of colors. And yet it's still modest in terms of Bulova's style.
This timepiece has a high level of reliability due to the 21-jewel automatic movement that provides accurate timekeeping, and the boxed mineral glass, which soothes direct hits. The croco-embossed leather strap is also of high quality – it neither wears out nor stays stiff.
---

Stuhrling Original Automatic Watch
Case size: 46mm
Model: 371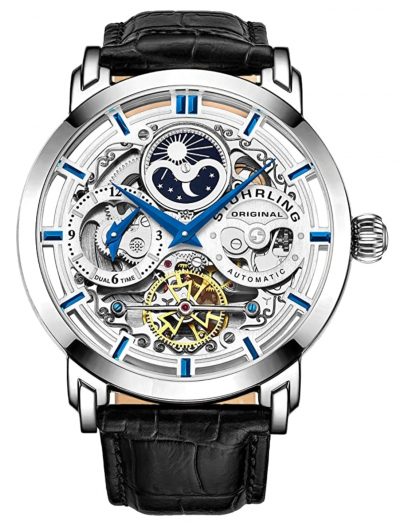 The Stuhrling brand has received mixed feedback from buyers, but what's clear is that this Stuhrling Automatic 371 is by far the most extravagant watch among the best automatic watches under $500. It truly takes guts to wear it.
When a typical wristwatch serves the purpose of time tracking, then this one addresses a fashion intent. With so many gears and wheels visible on the dial, you almost forget that it also features the hands. The design is just so striking!
When casting aside the looks, the movement powering this Stuhrling is the brand's in-house development constructed in China. It keeps decent accuracy and has a power reserve of 60 hours.
The watch is not for the faint-hearted. But if you dare to wear it, you are guaranteed increased attention from your friends and coworkers.
---

Invicta Grand Diver GT Watch
Case size: 47mm
Model: 3049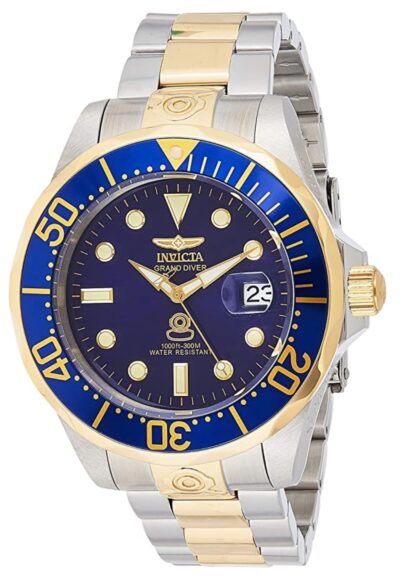 Finishing off the list is another often underrated brand. Although Invicta watches may not possess the quality on par with Seiko or Tissot, they compensate the backlog with luxurious looks at unbelievably affordable prices.
The Grand Diver GT that belongs to the flagship collection of Pro Diver watches can freely feature in any "best-of" list under the $200 or $100 category, but regardless of the price, we've decided to add it due to the price-to-looks ratio that often eclipses much more appreciated timepieces.
When adding an extensive golden tone to a watch, the designer either fails miserably or hits the jackpot. With this Invicta, the designer has certainly hit the jackpot. The tone is not too strong, combining perfectly with the silver tint. The blue dial, which also harmonizes with the overall appeal, features a three-hand design with luminosity.
Probably the most outstanding feature at this price point, however, is the water resistance to 300m (1,000ft) that ensures a harmless dip into the ocean. That's also the reason we've included this piece on our list of the top dive watches.
All in all, a sub-$100 dive watch with luxurious looks and automatic movement is the best value-for-money deal if you wish to experiment with unconventional brands.
---

FAQ about Automatic Watches
Automatic self-winding watches are much more complicated than simple quartz watches. They require attention and constant wear but are definitely worth the effort.
Since the market for affordable self-winding timepieces is growing every year, many new watch wearers find themselves facing problems that are typically inexistent in quartz pieces. Therefore, we'll answer some of the most frequently asked questions regarding automatic watches.

Q: Why Are Automatic Watches Expensive?
A: The reason for the higher cost of automatic watches lies in the craftsmanship and engineering it takes to complete the movement consisting of more than 100 parts. The prices of automatic calibers can differ significantly when a simple, mass-produced mechanism can cost $30 and entirely handmade movement in thousands.

Q: Do You Have to Wear Automatic Watches Every Day?
A: Since the power reserve in automatic pieces is typically 40 hours or so when fully wound, it means you should wear it almost daily to keep it running. Of course, nothing bad happens if the mainspring runs out of energy, but reigniting it could become annoying.

Q: How Do You Start an Automatic Watch?
A: If your automatic watch stops, give it a shake so that the balance wheel could start spinning. But if you have a timepiece with a manual winding option, you can turn the crown until you feel resistance. Typically, it takes 10-20 turns.

Q: How Often Should an Automatic Watch Be Serviced?
A: A typical automatic watch requires servicing every 3-5 years, but depends on different manufacturers' suggestions. When the timepiece stays in the drawer for most of its life, it is suggested to ignite it once a month to maintain the longevity of lubrication between the parts. A general rule is that the more you use it, the more often it requires servicing.

Q: Can Automatic Watches Last Forever?
A: Yes, they can! Automatic watches are not throwaway pieces like the majority of cheap quartz watches are. Since they're mechanical and don't require electronics that tend to stop functioning at one point, the parts are easily replaceable. And with consistent servicing, you can expect them to last forever.

Conclusion: Best Automatic Watches Under $500
So, what are the best automatic watches under $500?
To sum it up into one concise sentence: they are watches that possess reputable movements, have sophisticated looks, and consist of durable materials.
Whether it be from a world-famous Tissot or Seiko brand, or a fashion-oriented Bulova, the watches you'll find from this list will disappoint you neither quality nor appearance-wise.

You may also like:
Affiliate Disclosure: As an Amazon Associate I earn from qualifying purchases. Details