Affiliate Disclosure: As an Amazon Associate I earn from qualifying purchases. Details
The Shinola brand emerged with much fanfare at the beginning of the 2010s. An American watch company manufacturing timepieces in a city economically most despondent, and with it offering hundreds of jobs, is indeed remarkable and worth the heightened attention.
Further, besides the spot-on socioeconomic production site in Detroit, the watches look so different from the mainstream timepieces, offering a breeze of fresh air with their designs and backgrounds.
Even former US Presidents Bill Clinton and Barack Obama have bought Shinola watches.
However, all that glitters is not gold when many have raised concerns over Shinola's long-term prospects of becoming a household name in the industry.
This Shinola watch review discusses the pain points the company has but also sheds light on its watches, quality levels, and designs to find out whether the timepieces are worth the bucks spent.
By reaching the end of this post, you'll be better positioned to make up your mind over the brand and its eye-catching watches.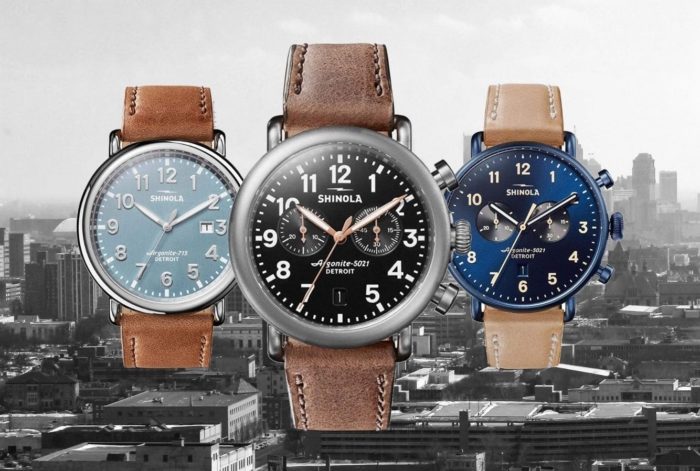 How Did It Start for Shinola?
Shinola's story began in 2011 when Tom Kartsotis, the founder of Fossil watches, established a lifestyle brand in the heart of Michigan offering watches, bicycles, and leather goods.
His aim was to produce high-quality American watches to rival the Swiss heavyweights at lower prices.
Shinola is not actually anything new when it used to be a famous shoe polish brand back in the 19th and 20th centuries. Mr. Kartsotis decided to acquire the renowned brand name after one of his associates jokingly used the war-era expression "you don't know shit from Shinola" at one of their meetings.
This innocent joke has now resulted in a brand known in every corner of the States.
Much of the fame can be credited to Shinola's various slogans stating the watches are made by Americans in Detroit.
However, the actual meaning behind it is not as straightforward as it might seem in the first place.

Are Shinola Watches Made in Detroit?
The fact is that Shinola watches are assembled in Detroit, not manufactured. These two terms are not interchangeable and have totally different meanings.
What Shinola does is that it sources watch parts from China, Thailand, and Switzerland and assembles the timepieces in its factory in Detroit.
The employees assembling the watches are local Detroit people with mostly previous automobile careers.
Due to the business approach where all the parts are imported, not locally manufactured, the slogan "Where American is Made" that the brand so widely marketed became under scrutiny by trade authorities.
Eventually, in 2016, Shinola was forced to change it to "Built in Detroit using Swiss and Imported Parts."
But why Detroit, and not, say, New York or Dallas?
In a city on the verge of bankruptcy and with locals eagerly willing to turn a new page in their lives, there wasn't any better place.
The final push for opting for Detroit came from the findings of a focus group that Bedrock Manufacturing, the parent company of Shinola, issued.
It came to light that an average American was willing to pay more for a Detroit-made product than for a Chinese or US-made product simply because it came from the said city.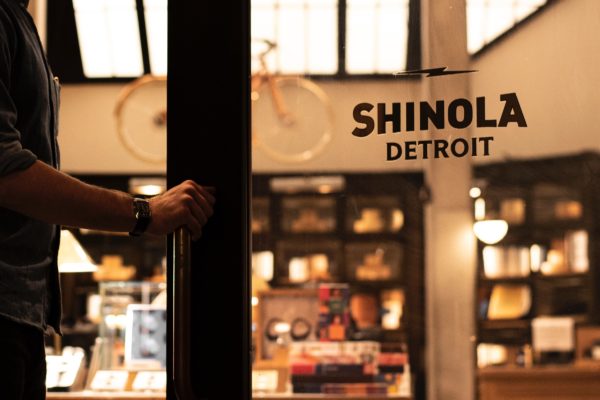 However, regardless of the origins of the watch, one thing is for sure – customers expect good quality, no matter if it is from Detroit, Los Angeles, or Shanghai.
Hence, the following chapters concentrate on the quality standards Shinola offers, starting with watch movements.

Watch Calibers
Shinola's line-up consists of predominantly quartz-driven watches that are equipped with calibers called Argonite (referring to the Argonaut building Shinola is located in Detroit).
This unfamiliar name for the watch community hides renowned Swiss Ronda calibers that Shinola assembles in Detroit. Due to the modifications Shinola makes, you'll find the inscription "Swiss Parts, USA Made" stamped on the movements.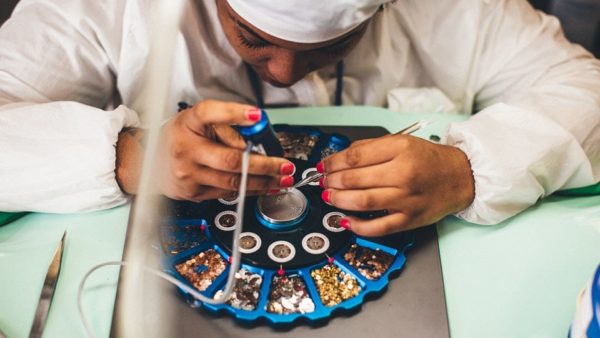 Before the start of assembling the Argonite quartz calibers, Shinola ordered a team of Ronda specialists to assist with the tools and equipment. Now with experience under their helm, Shinola builds more than 15 different calibers.
After widespread criticism from the public for concentrating solely on quartz timepieces, Shinola finally came out with its first automatic watch in 2017. Since then, the brand has employed Swiss-origin movements from Ronda and Sellita.
The current self-winding watches run on Sellita SW200-1 calibers that hold 40 hours of power reserve and have a higher frequency of 28,800vph (8 ticks in a second). The movement is in high regard for being reliable, robust, and precise.
A real milestone for Shinola has been the introduction of the brand's first automatic chronograph watch in 2021. The Shinola Canfield Speedway model sold out at a record pace and was available for around $3,000.  

Watch Materials
When it comes to the watch materials Shinola uses in its wristwatches, there's nothing to complain about.
The highest praise goes to the sapphire crystal you'll find from most timepieces. It is a synthetic glass that is almost impossible to scratch, with only diamond being more resistant. 
A large proportion of Shinola watches come with double-domed sapphire, meaning the crystal is domed both inside and outside. The purpose of giving the crystal a domed shape lies in improved legibility when the watch hands become clearly visible from any angle you look at them.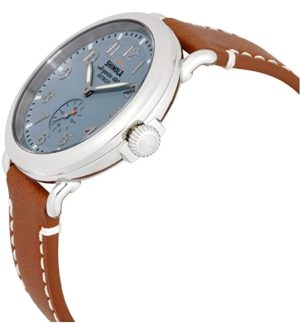 You'll also come across affordable Shinola watches that are equipped with K1 crystals.
They are mineral crystals that have received heat treatment for enhancing their scratch resistance. Although K1 is less prestigious than sapphire, it offers better protection against shatters, suiting heavy-duty activities.
Just like Fossil is famous for its leather bands, so is Shinola. No wonder if you consider the shared ownership these two have.
The base material of cowhide is sourced from Chicago and Milwaukee. Through labor-intensive manufacturing that is executed downtown Detroit, the result is a long-lasting and beautiful leather strap that has received all but positive feedback from the wearers.
Besides high-quality leather, Shinola offers timepieces with stainless steel, rubber, and nylon bands.
All in all, Shinola watches run on reliable quartz and automatic movements, are equipped with high-quality sapphire and hardened mineral crystals and have durable straps.
But what about the design? Does Shinola provide enough choice for every taste?

Watch Designs
Shinola watches are quite easy to recognize from the crowd. Mostly, they follow a classic design echoing military and railroad watches of the earlier era.
Hence, you'll find the vast majority of watches with analog faces and Arabic numbers. The dial colors range from widespread black and blue to unique green and yellow, providing wearers a decent selection to choose from.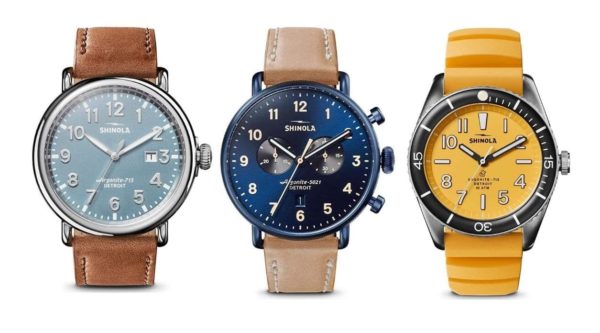 Besides analog watches, Shinola has quite a nice selection of large-sized chronograph timepieces that combine vintage and contemporary styles. These are statement watches with larger than 45mm cases and standout subdials.
Finally, you'll come across dive watch designs with luminous hour markers and countdown one-way rotating bezels. The diver watches are mainly coupled with stainless steel bands, which give them classic all-metal apparel.
When it comes to the finishing of Shinola watches, it is clear they are not any mass-produced timepieces out of the long production lines working 24/7.
The designers have paid attention to every little detail, as have the craftsmen working on the end-finishing. The watches look gorgeous and far from being cheaply made.

Prices
Probably the most significant concern regarding Shinola watches is to do with pricing.
Bearing in mind the fact that an average American is willing to pay extra for a product made in Detroit gave Shinola confidence in becoming more than yet another cheaply made fashion brand.
However, with quartz watches starting from around $500 and automatics from an astonishing $1,200, the price level seems too high to reason the value you get from it, even if the watches employ quality movements and materials.
For the same money, you can get a highly appreciated top-notch Swiss-made watch with a stellar reputation.
The high prices of Shinola watches have thus led some of the community to an understanding that Shinola is nothing more than just a marketing ploy. By cleverly applying Detroit and the city's economic condition to its marketing, Shinola unreasonably raises the valuation while reaping high profits.
On the other hand, one can argue that assembling watches in the USA is costly, especially given the fact that large-scale manufacturing hasn't been happening in the States since Hamilton went into the hands of the Swiss.
Be that as it may, Shinola watches look unique, come with quality materials, are assembled in the USA, and have a socioeconomic aura surrounding them. All these contribute to the prices we have today.

Warranty Policy
While the prices of Shinola watches cause mixed opinions, the same cannot be said about the brand's warranty policy.
Namely, Shinola offers a limited lifetime warranty on its metal quartz and automatic watches. Its TR90 resin and ocean plastic timepieces don't belong under the warranty and come with a 3-year limited guarantee.
The lifetime warranty ensures that workmanship defects that have occurred during normal wear will be repaired, or the watch will be replaced free of charge. The components under warranty don't include batteries, straps, bracelets, and buckles.

Are Shinola Watches Good & Worth Your Money?
So, what to think of Shinola watches?
They are definitely good-looking timepieces with a recognizable style combining vintage and contemporary design. Further, Shinola watches are equipped with Swiss-origin calibers known for their precision and reliability. Also, the parts, such as the case, crystal, and straps, are of acknowledged quality.
Therefore, one can call Shinola watches accurate, durable, and beautiful pieces of wearable.
However, when comparing an average Shinola watch with, say, an average Tissot that has a grand reputation in the industry, one can't help but wonder why on Earth do Shinola watches cost so much.
Whether it has to do with the higher production costs in Detroit or the "American-made" marketing involving Detroit in it that allows the brand to add extra value on top of the usual markup – we don't have a conclusive answer.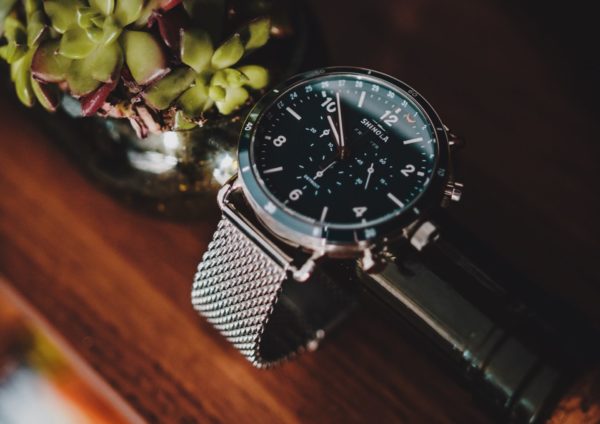 Regardless of the valuation issues, Shinola watches are still good timepieces to have. If you admire the looks and appreciate the Detroit factor, and you're not against paying extra, go ahead because the watches are of great quality. Naturally, the brand stands comparison with other acknowledged watch manufacturers.
But are Shinola watches worth every penny you spend? Probably not. You just don't get anything extraordinary that could reason the price other than the American assembly and helping out a city in the economic downturn.

Shinola Watches
Following, we'll cover the most popular Shinola collections ranging from vintage analog to ISO-certified automatic dive watches.

Shinola Runwell
The Runwell line is the very first collection Shinola introduced to the public. The timepieces are spot-on daily wearables for work and weekends, featuring a combination of vintage and contemporary styles.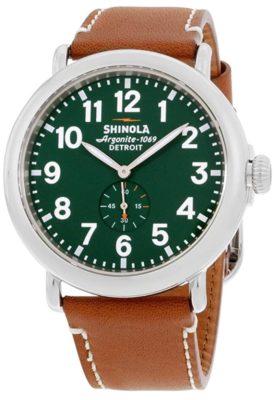 There are two sizes of quartz watches you can choose from, 41mm and 47mm. The automatic options come in 39.5mm and 45mm cases.
The collection offers something for everyone when a plethora of dial colors and strap options are available.
In terms of prices, the Runwell line has quartzes starting from $500 and automatic timepieces from $1,000.
Check available models on Amazon!

Shinola Canfield
When the Runwell collection consists of everyday watches, the Canfield emphasizes elegant, dressy style for fancier events. The watches go perfectly well with business casual suits but are more than acceptable for casual attire as well.  
The dials feature eye-catching shades and smaller hour numbers, along with a three-hand movement and a date window.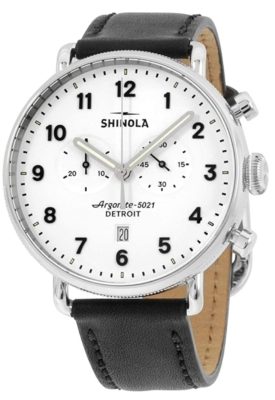 The Shinola Canfield also has a sportier sub-line, called Canfield Sports.
These timepieces reflect the essence of the line, namely elegance, while topping it up with functionality by adding a stopwatch feature.
Check available models on Amazon!

Shinola Monster Automatic Watches
The Monster collection is the priciest you'll find from Shinola. Watches starting from $1,200 are built for extreme water sports, including diving to depths of 300m (1,000ft).
These dive watches are what dive watches should look and act like. Cased in 43mm high-grade stainless steel and equipped with multi-layered Super-LumiNova luminescence, the Monster pieces are durable and highly practical.
The mechanism powering each and every Shinola Monster watch is the Sellita SW200-1 with 26 jewels and a 38-hour power reserve.
Check current line-up here!

Shinola Duck Series
The Duck watches are dive-inspired wearables that Shinola markets as surf-rated. They are water-resistant to 200m (660ft) and come with a diver's bezel and mainly with rubber bands.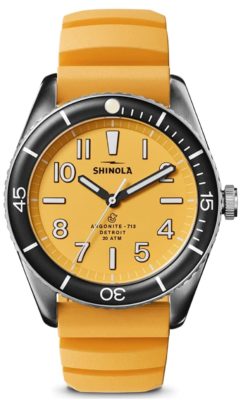 The watches are quite fairly priced in Shinola's terms when the cheapest start from $600 and the priciest cost $800.
Quality-wise, the crystals are flat-shaped sapphires with high scratch resistance, the decently sized 42mm cases come in stainless steel, and the Argonite 713 quartz calibers are both accurate and reliable.
Check current line-up here!

Shinola Detrola Watches
This line is best suited for women as the timepieces come in 38-43mm sizes and with an appearance appropriate for the gentler sex.
The cases are mainly made of resin, but you'll also find the so-called Sea Creature watches that feature ocean-bound plastic cases. This interesting material bases on granules and yarn, made from 100% plastic waste collected from the ocean.
The Detrola watches are priced at around $400, making them the most affordable timepieces from Shinola. The downside with this collection, however, is that the watches don't come with a lifetime warranty as all the other ones do.
Check current line-up here!

Shinola Guardian
The Guardian line received its name from the famous building in Detroit, celebrating industrial excellence and continuous innovation.
What makes them special among other Shinola watches are their rounded square cases, reflecting pure vintage and time travel back to the mid-20th century.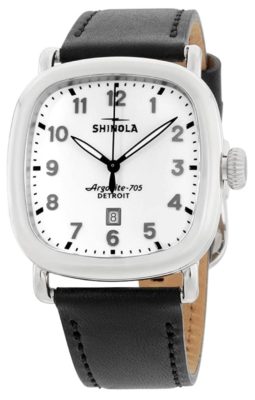 The 41.5mm quartz-powered Guardian watches come in either green, grey, or black and feature high-quality leather bands. The appearance suggests their use for office work and night outs, but they are more than capable for wear and tear situations as well.
Check current line-up here!

Where To Buy Shinola Watches?
The best and most straightforward option to buy Shinola watches is from their homepage. The watches are categorized by collections and come with detailed information. 
If you want slightly cheaper prices, then Amazon is another place where you have a selection of Shinola watches available. The number of models is not as grand as on Shinola's homepage, but the prices are more favorable. 
Also, you can check out Jomashop and eBay which sell older models you'll not find abundantly anymore.

Final Take
Shinola is probably the most interesting watch brand that has emerged in the past decade. It makes classy watches with quality materials and movements in a place that has suffered so much lately.
Although the watches carry quite hefty price tags and are obviously overpriced, they are nevertheless of wonderful quality and will last a long time. The unprecedented lifetime warranty on most watches is herein a clear sign and an assurance that Shinola watches are no throwaway pieces. They are built to last.
We hope this Shinola watch review has helped you closer to understanding whether the brand is a good fit for you or not. Either way, the selection of timepieces is enough variegated, and new models keep pouring in, providing something for everyone. If not right now, then perhaps in the near future.

You may also like:
Affiliate Disclosure: As an Amazon Associate I earn from qualifying purchases. Details
Latest posts by Carl Pender
(see all)