Affiliate Disclosure: As an Amazon Associate I earn from qualifying purchases. Details
The recent trend in the last decade or so has seen several fashion clothes brands turn their attention to accessories. The likes of Hugo Boss, Guess, Emporio Armani, and Michael Kors have come out with very fashionable watches that appeal precisely because of their sense of style and world-famous label. The Diesel brand is no exception in this regard when a top-notch jeans producer has also turned into a watch distributor.
However, Diesel stands out from other fashion watch brands for its unique and instantly recognizable wristwear. Diesel does not follow the trend but creates one when eye-catching Diesel big face watches have taken over the wrists of millennials and are worn by the masses.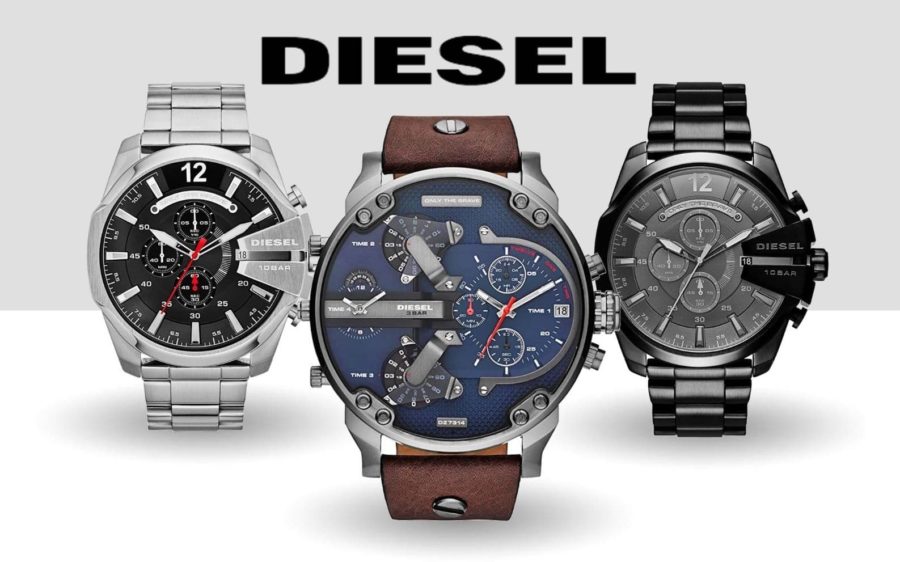 This post is precisely about these oversized Diesel watches. We'll bring you the top ten models that not only look gorgeous but will offer decent quality to last for years to come.

Top 10 Diesel Big Face Watches
The following list combines various oversized Diesel timepieces, ranging from 46mm to an astonishing 58mm in case diameter. A word of caution – Diesel watches are only for the brave. Have you got the courage to pamper your wrist with one of the following tickers? Find out!
Also, be sure to check out the additional information about Diesel watches at the end of this article to find out if the brand is the right one for you.

Diesel Mr. Daddy 2.0 Oversized Watch
Model: DZ7314
Case size: 57mm
Water resistance: 30m (100ft)
Our first big face Diesel watch is the most popular and sought-after from this fashion brand. The Diesel Mr. Daddy 2.0 stretches to an astonishing 57mm in case diameter and comes with a wide 28mm leather band to complement the oversized nature of this timepiece. It is also one of the largest big face watches around.
The dial is, by far, the best part of the Mr. Daddy watch. Equipped with four different time counters that are interconnected through designed metal gateways, the timepiece is a spot-on companion for fashionable men that love to travel. The four timezones seem a bit overkill for most wearers, but it's the layout and style that matters the most. After all, it's a through and through fashion watch.
Regardless of the emphasis, the Diesel timepiece offers surprisingly good build quality and functionality. For example, the band is made of reliable leather with decent softness, and the case is of durable stainless steel. A chronograph function, which you'll find from the primary dial, measures in 1-second intervals for up to 30 minutes. The watch is also equipped with a date window.
However, the biggest concern with this oversized Diesel watch is its water resistance. Since it is only rated at 3ATM, make sure not to shower or swim with it. Otherwise, the condensation might enter the case and ruin the ticker for good.

Diesel Mr. Daddy 2.0 Gold-Tone Watch
Model: DZ7333
Case size: 57mm
Water resistance: 30m (100ft)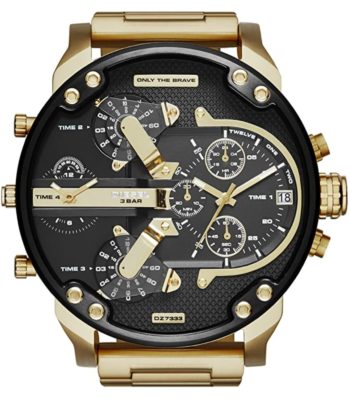 Although it may seem there can't be anything more to add to the Diesel Mr. Daddy in terms of flashiness, one particular element always works – a gold-tone plating.
The gold-tone Diesel comprises of the same materials and features exactly the same functions as our previous entry – four timezones, a stopwatch, and a date window. However, the coloring is totally different.
As such, you'll find striking gold-tone watch lugs, pushers, and a 28mm stainless steel bracelet, along with a black textured background that harmonizes perfectly with the overall golden appearance. The tint of the gold is well-balanced, being neither too bright nor too dull.
All in all, the watch that costs only a couple of hundred bucks looks much more expensive than the price tag would suggest. Besides, it provides decent quality levels and accurate time with its durable stainless steel case and bracelet and a Japanese quartz movement.

Diesel Mega Chief Chronograph Watch
Model: DZ4308
Case size: 49mm
Water resistance: 100m (330ft)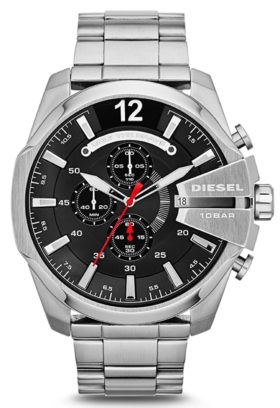 The following Diesel big face watch is not as large as the Mr. Daddy 2.0, staying conveniently under 50mm. It is also styled more casually but still represents the unique design elements of the brand.
The Diesel Mega Chief Chronograph is an all-metal timepiece with distinctive plates at the three o'clock position, which is an intertwined styling prevalent in the majority of Diesel watches. Hidden between the plates is a small date window.
The dial comes in black tint with silver-tone hour markers and watch hands, making the reading of the time convenient. The seconds' hands of both, the primary counter and the stopwatch function, have been painted red, providing an edgy touch to the classic black dial.
The chronograph feature of this Diesel piece sticks out with its accuracy that enables it to measure in 1/10-second precision. Another noteworthy characteristic is the 100m (330ft) water resistance, which is sufficient enough for swimming, showering, and snorkeling.

Diesel Men's Overflow Big Face Watch
Model: DZ4481
Case size: 49mm
Water resistance: 100m (330ft)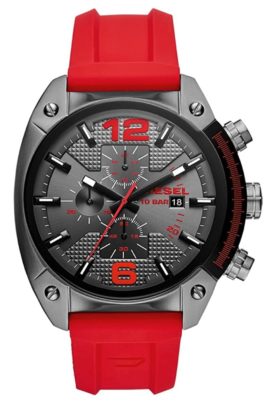 The Diesel Overflow Big Face Watch is one unique piece of accessory in terms of appearance. You'll not find many watches that come in such an interesting and bold color palette as this one.
This 49mm stainless steel Diesel ticker is covered with a gunmetal color, providing a very masculine appeal. The four screws in each corner of the watch and a partly textured rough background add even more robustness.
However, a balancing addition to the masculine side is the overwhelming red color of the silicone band and the red accents on the dial. The designers have really hit the jackpot with the combination of gunmetal and red as this Diesel watch is one of the most striking models from the brand's line-up.
The quartz-driven watch is also of great build quality when a 100m (330ft) water resistance guarantees its suitability for swimming and showering, and the mineral crystal ensures protection from unwanted shatters.

Diesel Mega Chief Silver Watch
Model: DZ4328
Case size: 51mm
Water resistance: 100m (330ft)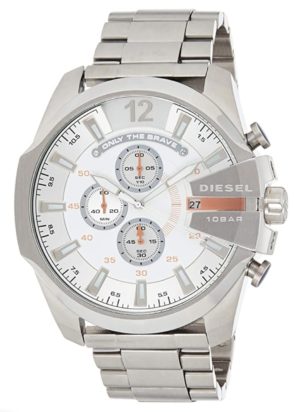 Another decent waterproof Diesel watch is the Mega Chief Silver. Equipped with a 10bar resistance and a suitable stainless steel band, the timepiece can be worn for swimming, showering, snorkeling, and various other intense water-related activities.
This oversized Diesel watch with a diameter of 51mm is actually more than just a casual wearable with high water resistance and large size. Due to its silver-tone case and band, as well as a white dial, it can also be worn for more festive events, such as weddings, Christmas parties, birthdays, etc.
Function-wise, you can expect accurate timekeeping, a date function, and stopwatch capabilities measuring in the range of 1/10-second for up to 60 minutes. The orange pops throughout the dial make sure you'll not encounter difficulties in reading the date or essential seconds and minutes from the subdials.
The Diesel Mega Chief Silver is also one of the cheapest from the brand, staying just a little over the hundred-dollar mark.

Diesel Mega Chief Black IP Watch
Model: DZ4355
Case size: 51mm
Water resistance: 100m (330ft)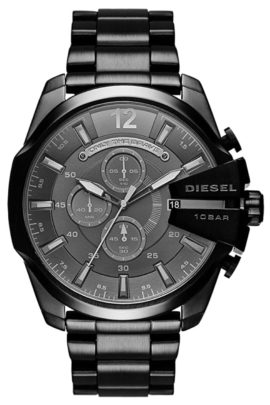 The Diesel Mega Chief Black IP is similar to our previous entry function and construction-wise but comes in an all-black appeal with its ion-plated covering. The dial, including all the subdials, is also dark, complementing the overall manly aesthetics.
The Diesel watch is with a big face (51mm) but comes in a normal thickness (12mm), which means that this Mega Chief won't look too chunky on your wrist. However, make sure the case diameter isn't too large for you as slender wrists are not the best for a 51mm size.
The best way to check the suitability is to follow one of the watch sizing guides.  
All in all, an affordable Diesel watch with a cool appearance, 100m water resistance, and 1/10-second stopwatch is a worthy investment for any man wishing to boost his confidence.

Diesel MS9 Chrono Watch
Model: DZ4470
Case size: 47mm
Water resistance: 50m (165ft)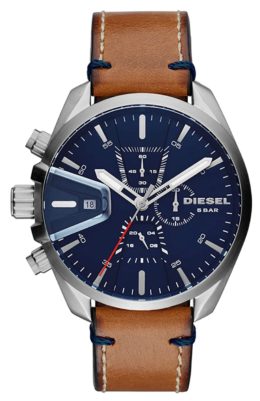 The next Diesel watch is the dressiest among the ultra-fashionable timepieces we've already covered. The Diesel MS9 Chrono comes with a 22mm stitched genuine leather band and a deep blue dial, which is a perfect combination for an office job, as well as for a casual outfit.
The most noteworthy characteristic that separates this ticker from others is its left-handed pushers' location. Such a placement is primarily meant for left-handed people for wearing the watch on their right hand. However, many right-handed wearers find the unusual pushers' location unique on their left hand, despite the slightly complicated handling of the buttons.
In terms of quality, this Diesel watch runs on a reliable quartz chronograph movement, is covered with a mineral crystal, and comes 50m (165ft) water resistant. In combination with the distinctive design, the watch is a value-for-money investment for any man appreciating fashionable dress watches.

Diesel Master Chief Large Watch
Model: DZ1209
Case size: 46mm
Water resistance: 100m (330ft)
The Diesel Master Chief DZ1209 is a highly appreciated model with an unusual face considering the typical line of Diesel watches. The neat dial free of stopwatch dials is a breeze of fresh air for those preferring a simpler analog face.
However, the relatively large-faced Diesel piece (46mm) is still more than just a classic analog watch. With the existence of gold-tone accents on hour markers and crown construction, as well as the presence of a black ionic finishing throughout the timepiece, the Master Chief is one fancy piece of accessory.
The quartz-driven ticker comes with a convenient day-date function between the golden metal elements. You can also go swimming and showering with it as it comes with an appropriate 100m (330ft) water resistance. Last but not least, the price tag just above the $100 mark is a bargain for the money.

Diesel Double Down Oversized Chronograph
Model: DZ4208
Case size: 58mm
Water resistance: 50m (165ft)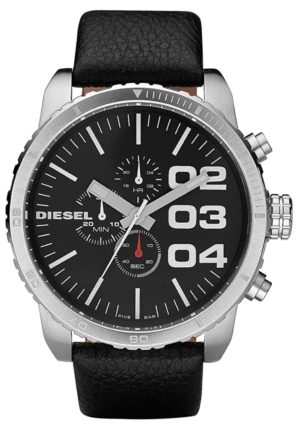 If you feel like a sub-50mm watch might stay too unnoticeable on your wrist, why not go for the 58mm Diesel Double Down Chronograph watch. Regardless of the large dimensions, the Diesel wristwatch is an appropriate wearable for anyone enjoying the heft and visual presence.
The primary feature of the timepiece is a stopwatch function you'll find from the three subdials at six, nine, and twelve o'clock. The watch also has a stationary coin-edge bezel that gives this Diesel a fancier look. For a simplified time reading in dim lighting conditions, the watch hands contain luminosity.
Overall, this oversized Diesel is comfortable to wear, easy to read, and sure to catch attention.

Diesel Mega Chief Gold Watch
Model: DZ4360
Case size: 51mm
Water resistance: 100m (330ft)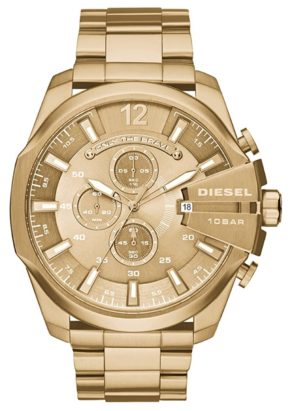 The last Diesel big face timepiece on our list is a flamboyant gold-tone model for very brave wearers. The Diesel Mega Chief has every inch covered with gold plating – the 51mm case, 26mm stainless steel band, and even the pushers.
The quartz chronograph watch has a three-hand movement, which may not be too contrasting and easy to capture due to the same coloring, but compensates it with lume-filled hands and hour markers.
Quality-wise, you can expect the oversized Diesel watch to withstand daily wear and tear – the dial is protected with a mineral crystal, the steel band is durable, and the water resistance is guaranteed to 10ATM.
---

What You Need to Know about Diesel Watches
There's no doubt that Diesel watches look ultra-fashionable and provide a unique opportunity for the wearers to really stand out from the crowd. Although many find the oversized Diesel watches simply too large to fit them on wrists without looking out of proportion, we have to understand the actual purpose of the timepieces – they are fashion watches to provide a bold statement.
Because of the fact that the emphasis are set on the looks more than anything else, it would be foolish to expect Diesel watches to be state-of-the-art horological masterpieces with high-end movements and jaw-dropping innovations.
Therefore, if you buy a Diesel watch, make sure not to get carried away by the famous label – the timepieces that look extravagant are pretty straightforward in terms of build quality.
But are Diesel watches reliable enough to spend your dollars? Definitely. A typical fashion watch, including the Diesel models, will last for about 5-10 years if properly taken care of. Besides, it's precisely the time frame where a new fashion trend hits in, moving the older models out of the picture.

Where Are Diesel Watches Made?
Like with the majority of fashion-oriented timepieces, Diesel watches are made in China. However, a Chinese-made product is no longer what it used to be a decade or so ago when the quality levels differ from manufacturer to manufacturer.
An assuring factor that Diesel watches are assembled in a decent factory is the connection with the most famous fashion watch brand, Fossil. Namely, the American conglomerate is a licensed producer of Diesel timepieces.
Fossil produces wristwatches for other famous fashion brands as well, such as Emporio Armani, Michael Kors, and DKNY.

Warranty Policy
Diesel applies a standard 2-year warranty policy on all the watches. The policy covers manufacturing defects and faulty materials free of charge if the problem has occurred under normal use.
If your Diesel watch needs a repair, the manufacturer requires a warranty card (included in a watch box) and a copy of an original receipt for determining the date of purchase.
The full conditions are available here.
Conclusion
We hope the list of the Diesel big face watches has helped you closer to your next oversized time tracker. Luckily, the selection is pretty vast, with various styles and sizes to suit different preferences. Moreover, since all the watches stay conveniently between $100 and $300, you won't have to pay a fortune to pamper your wrist with a bold ticker that is sure to catch plenty of attention.

You may also like:
Affiliate Disclosure: As an Amazon Associate I earn from qualifying purchases. Details
Latest posts by Carl Pender
(see all)