Affiliate Disclosure: As an Amazon Associate I earn from qualifying purchases. Details
When browsing through the descriptions of watches, you often face jargon that is difficult to understand. Lugs, crystals, pushers, bezels… These are not the terms that are unequivocal and clear as day to everyone.
Although a watch measures no more than a couple of inches on your wrist, it consists of tens of parts that all have a very significant role to play both in terms of practicality and aesthetics.
Therefore, it does absolutely no harm to be familiar with all the different parts of a watch because suspecting and knowing are far from being the same.

The Different Parts of a Watch You Should Know About
Our guide covers more than 20 watch parts that a watch-loving person should know.
We start with the basics and move on to the not-so-widespread yet important extras to get you fully covered with the anatomy of a wristwatch.
Without much delay, here are the most important parts of a timepiece.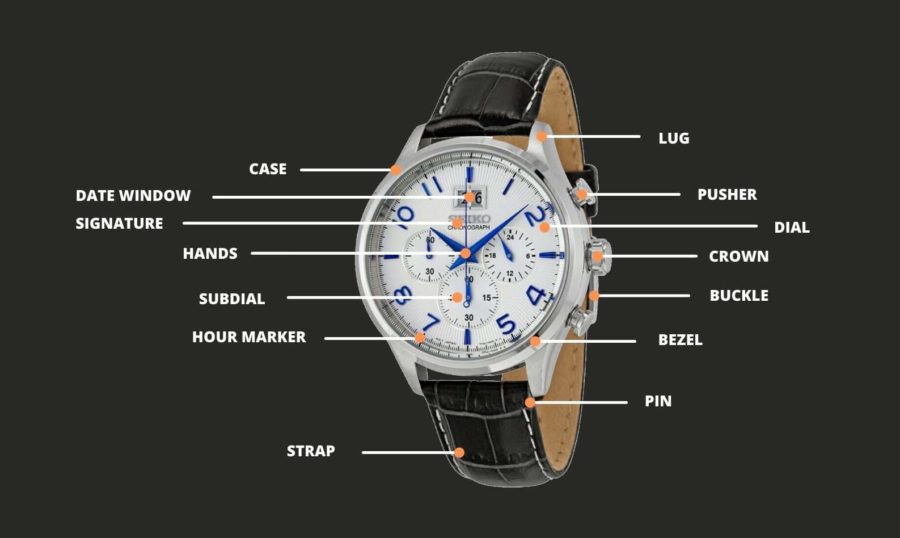 1. Case
A case is the very base of a watch that determines the shape and overall dimensional perception. It houses the majority of watch parts and needs to be durable to withstand wear and tear.
These days, the most prevalent material used for watch cases is stainless steel, but you'll also come across titanium, resin, and plastic.
The size of a case plays a significant role in suiting the wrist. Therefore, pay attention to the dimensions and follow a simple rule – smaller cases for slender wrists and larger ones for bigger hands.
When it comes to various shapes, the most popular is a round case, followed by rectangular, square, tank, and tonneau cases.

2. Lugs
Watch lugs are the so-called horns that connect the straps to the case. Situated at the top and bottom, the lugs usually come either flat or curved.
The difference between the flat and curved-shaped lugs lies in their way of grasping the wrist. While the flat ones are simply the extensions of a case, the curved lugs also grab the wrist to their arms, making them somewhat comfier to wear.

Another widespread term you'll come across with lugs is the lug-to-lug distance. It is a measurement from the top end of a top lug to the bottom of a bottom lug. But why is it important?
A lug-to-lug distance is a secondary dimension after case size watch connoisseurs use to get to know the most appropriate watch size for their wrists. The longer lugs make a timepiece perceptibly bigger, whereas the shorter ones make it smaller.

3. Dial
The very purpose of a dial is to display time, and that's why it is the quintessential watch part.
However, a dial is also the face of a watch that, in large proportions, determines the overall looks of a timepiece. It sits on the case and houses several other elements of a watch we'll cover shortly in this post.
Being the most expressive element, a dial can have all sorts of colors, textures, and designs. For example, a guilloche-style face has a geometric texture, while a sunburst dial emanates ultra-thin lines from the center.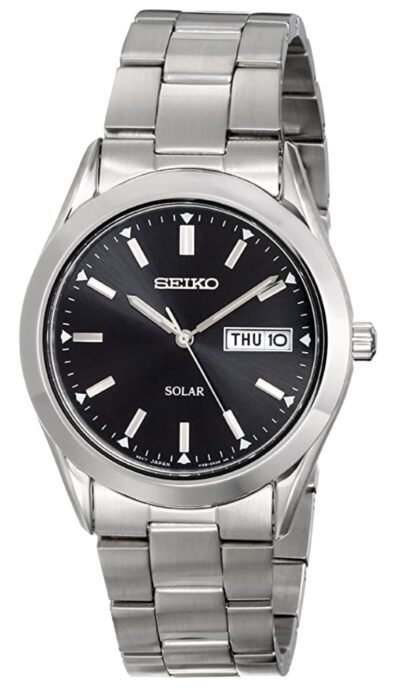 Probably one of the most eye-catching types of dials is a skeleton face. Like the name already hints, it is an entirely or partially see-through dial that lets you peek into the intricate workings of a timing mechanism. Skeleton watches are thus highly sought-after and won't cost an arm and a leg either.

4. Subdials
These watch parts are typically small circles on the face displaying other important information besides time, for example, date, stopwatch results, military time format, and other timezones.
Timepieces with subdials are, in most cases, chronograph watches that come with two or three circles displaying time measurements from one second for up to 24 hours. They can also be subtle dress watches prominently indicating the date and days of the week.

5. Crystal
The next watch part is not a crystal in its straightest meaning but instead a transparent glass that protects the dial. There are three types of watch glass – sapphire, mineral, and acrylic.
Sapphire Crystal
Sapphire crystal is considered the best type of watch glass due to its extreme scratch resistance when only a diamond and some artificial materials can graze it.
On the other hand, sapphire is prone to shatters, which limits its use for heavy-duty wear. Regardless of that, sapphire watches are highly sought-after and are considered an epitome of quality.
Mineral Crystal
Mineral crystal is not as scratch-resistant as sapphire but compensates it with better durability against shatters.
The material can be found in affordable watches and is relatively cheap to be replaced.
Acrylic Glass
When sapphire is a high-end crystal and mineral an affordable option, then the acrylic glass is the cheapest and least coveted. It tends to receive scratches rather easily and fade over time.
On the other hand, the material can easily be polished and is extremely shatterproof.
If you want to know more about this part of a watch, visit our watch crystal guide.

6. Bezel
The primary purpose of a bezel is to attach a crystal to the case by framing and securing it. It is located on the top of a watch and comes mainly of stainless steel, ceramic, or resin.
The plainest of bezels are typically simple rings without any markings and design elements (refer to the heading picture). However, the more informative ones carry significant importance to the watch's overall functionality.
One can distinguish up to ten different bezel styles, from which you'll find the four most widespread below.
Dive Bezel
The bezel is mostly one-way rotating and counts the time spent underwater for up to 60 minutes. The 12-hour marker is typically luminous, and minutes up to 15 or 20 are separately marked so that the diver would know when to start to ascend.
GMT Bezel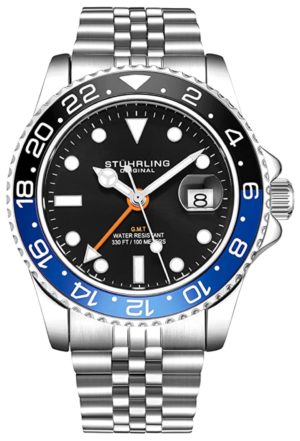 The GMT bezel reads the dual timezone and comes in 24 hour markers where blue is for nighttime hours and red for daylight.
Tachymeter Bezel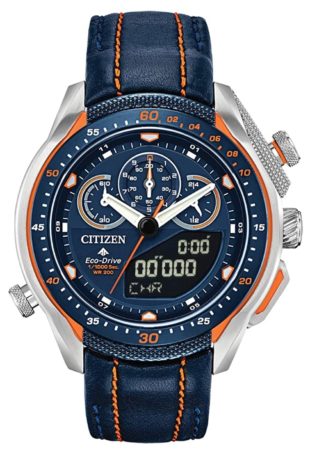 The bezel is fixed and is used to calculate speed and distance. The tachymeter ring works hand in hand with the stopwatch function.
Compass Bezel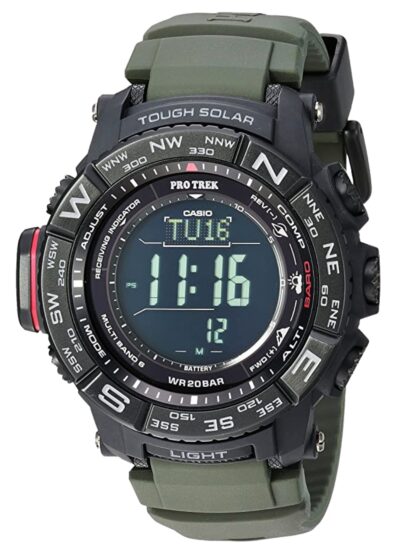 This one is quite self-explanatory. Namely, it is a bezel with a compass ring on it.
Read more about the various types from our watch bezel guide.

7. Crown
A watch crown is a rotating knob typically found on the right side of the case that conducts more than one task.
The simpler quartz watches have a crown to set and correct the time and date. If it's a mechanical watch, the crown can also be used to wind the timepiece. 
However, more complicated timepieces use it for other functions as well, such as setting the World Time feature or navigating between the various functions.
The crowns are typically either pull-out or screw-down, depending on the levels of water resistance the watches come with. For example, professional dive watches have only screw-down crowns, while the rest sport pull-out versions. 

8. Pushers
When the crown is usually placed in the center of the case, the pushers lie on either side of it. Like the name already suggests, they work by pushing them.
Pushers' primary purpose is to start, stop, and reset the stopwatch function you'll find from the subdials.

9. Signature
Every watch has a signature. It is a brand name that is usually coupled with extra information, whether it be the watch collection name, water resistance rating, or anything else worthy of mentioning.

10. Hour markers
These parts of a watch indicate hours by means of indices, Arabic numbers, or Roman numerals.
The most widespread version is the combination of indices and Arabic numbers where the four hours of 3, 6, 9, and 12 are presented in numerals and the rest in indices. However, it can also be vice versa if you look at the heading image.
When talking about different types of watches, then, in broad terms, dress watches have either Arabic or Roman numbers, while dive pieces feature mainly luminous indices.

11. Hands
Watch hands are the parts that indicate the time. The majority of timepieces have three of them – for hours, minutes, and seconds. They come in numerous designs and colors, from Breguet and Dauphine-style to sword and spade-shaped.
The watch's seconds hand sweeps around the dial and is the most perceptible hand you'll see.
Quartz-driven watches have a step-a-second movement, while mechanical timepieces make 6-8 steps in a second. Due to the sweeping motion of the second hand, which is considered a sign of prestige, such watches are more appreciated than the classic once-a-second pieces.
Read more: Why are watch hands always set to 10:10?

12. Band/Strap/Bracelet
A band or strap is a watch part that straps a timepiece onto the wrist. The most prevalent materials for bands are stainless steel, leather, rubber, and nylon.
A band is also called a bracelet, but this refers to only metal versions.
All the various band types have their pros and cons and suit different occasions.
For example, stainless steel and rubber straps are perfect for swimming and showering, while watches with leather bands are spot-on for casual everyday wear and dressier occasions.
Note that not all the watches sport the same-sized bands, which makes their width a significant measurement to consider when replacing or switching the straps.

13. Buckle/Clasp
A buckle/clasp is an integral component of a band when it secures the watch firmly on a wrist. Although the array of different types of watch clasps is quite wide, there are two most prevalent types – tang buckles and deployant clasps.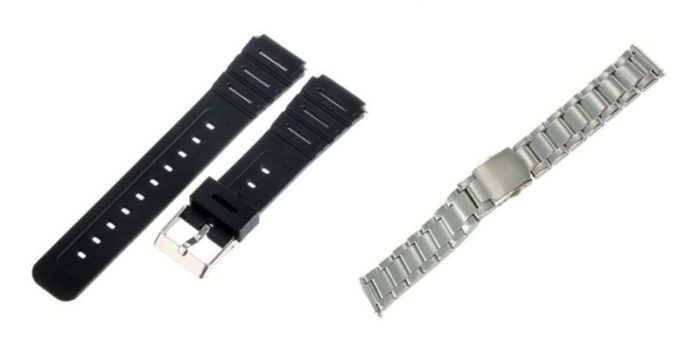 A tang buckle is the classic fastening option that is similar to those of belts, whereas a deployant clasp is an expanding metal mechanism designed with a more fitted look.
Although the tang buckle version is more widespread, the metal clasp is often considered more convenient because of its faster and more secure releasing and closing possibilities.

14. Link
The following part of a watch applies to metal bracelets and is a piece of a band. A metal band consists of tens of links in several rows that can be removed to adjust better to a wrist.
If you want to know how it's done, check out how to remove watch links.

15. Pin
A pin is an ultra-thin piece of metal that fastens the band to watch lugs. The lugs have small holes on the inner sides where the pin falls. Typically, the pin is located inside the band and is not visible on a watch.

Back of the Watch & Extra Parts
The previous parts of a watch are the standard components you find from most of the contemporary timepieces. However, there are some additional parts you may stumble upon when searching for your next watch or simply turning the timepiece around.

Helium Release Valve
This very specific part belongs to professional dive watches that are constructed to be submerged into great depths.
When a diver resurfaces, the watch gathers gases that get trapped in it. Hence, the purpose of a helium valve that releases these gases.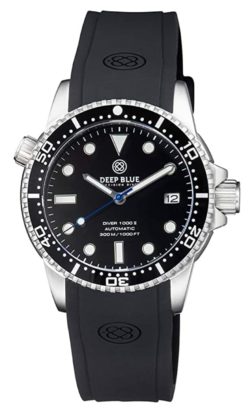 Construction and location-wise, a helium valve is an extra push or screw button on the opposite of a crown.

Luminosity
Luminosity is an integral ingredient of dive watches but is also available in other types of wristwear, such as pilot, racing, and military watches.
Luminosity is achieved through a phosphorescent paint that reacts to the light and emits a lasting glow for several hours. Its most prevalent locations are on the hour markers, hands, and bezels.
Some luminous watches employ tritium tubes, which have a very different working principle to those of phosphorescent paints. The outcome is also different when tritium watches glow endlessly for several decades without any need for light or battery power.

Perpetual Calendar
A perpetual calendar is displayed on three subdials that show the date, day of the week, and month.
However, what makes it different from simple date or day-date features is that it considers the number of days in a month and leap years, eliminating the need for constant adjustments.

Moon Phase
This unique part of a timepiece is often paired with a calendar feature. And like the name already hints, it shows the various phases of the moon.
Visually, a moon phase complication comes typically in attractive yellow and blue colors and is located at the bottom of the dial.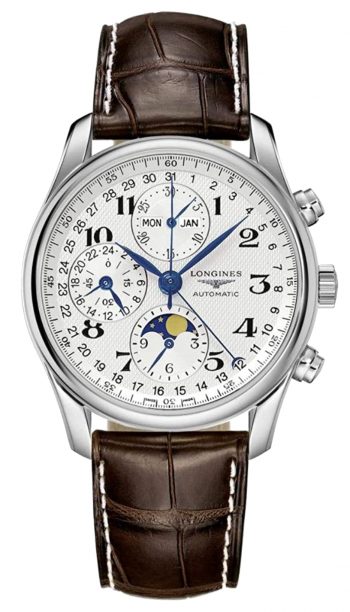 In the old days, such timepieces cost a fortune. However, these days, there are a plethora of moon phase watches that are available for very favorable prices.

Power Reserve Indicator
The purpose of a power reserve indicator is to notify the wearer of the insufficient energy levels of a watch.
Mechanical and solar timepieces usually have it on a separate subdial, showing the remaining energy charge graphically.
The indicator can also be simply a small light that starts to blink when the charge is low.

Exhibition Caseback
Now that the front of a watch is covered let's move on to watch parts that look back at you from the back.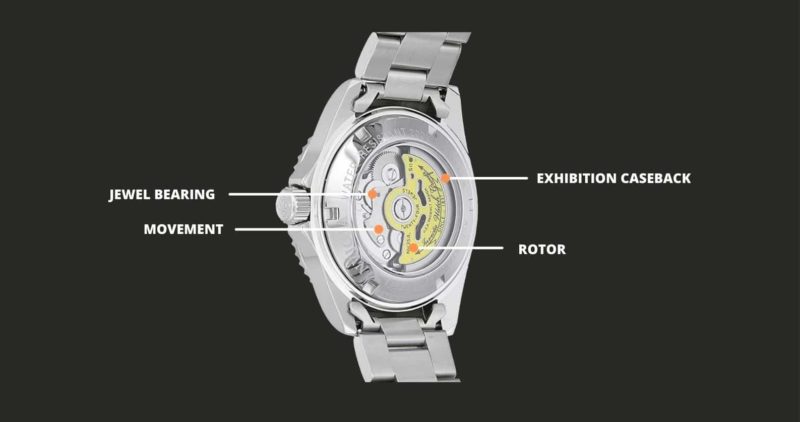 The first and only thing you typically see is the caseback that provides easy and problem-free access to the inside of a watch. However, the vast majority of automatic timepieces have replaced steel with a transparent material, mainly mineral and sapphire crystals.
As such, watches with see-through casebacks are marvels to look at due to the possibility of a glimpse into the sophisticated world of automatic movements.

Movement
If a watch employs a transparent caseback, the first thing you'll notice is complex metal construction that consists of wheels and gears. This part is called a movement, or a caliber, and it is the heart and soul of a timepiece that does all the timekeeping.
An average automatic caliber consists of more than a hundred parts and uses the wearer's natural motions for receiving the power.
But watches run on other movements as well besides automatic, such as quartz, solar quartz, and Kinetic mechanisms. However, in most cases, they are hidden behind a metal caseback and can be seen only when opening it. 
If you wish to know more about various calibers, feel free to visit our dedicated post on different watch movements.

Rotor
A rotor is a part of a movement that is clearly visible if an automatic watch has a transparent caseback.
It is in half a circle shape that spins when in motion. The very purpose of a rotor is to provide energy for the movement to run.
While most rotors are with a metal tone and without any visual enhancements, there are some watch brands that have designed them to be more than just a mechanical part of a timepiece.

Jewels
Automatic movements consist of jewels, also known as jewel bearings, that help to minimize friction between the various parts of a caliber.
They are mainly tiny pieces of synthetic ruby or sapphire set into holes. The more the watch has complications (date, chronograph, etc), the higher is eventually the number of jewels.

Final Words
Understanding the basic parts of a watch makes the selection process much easier. Not only do you know what each part is called, but you can evaluate the quality and suitability precisely according to your needs.
And, of course, leaving a sophisticated impression when talking about your watch is always an attribute to be proud of.

You may also like:
Affiliate Disclosure: As an Amazon Associate I earn from qualifying purchases. Details
Latest posts by Carl Pender
(see all)