Affiliate Disclosure: As an Amazon Associate I earn from qualifying purchases. Details
The popularity of dive watches has rapidly grown over decades and has reached the point where every reputable watch manufacturer has at least a couple of them in their line-up. Among the various dial colors ranging from classic black and blue to unique green and white exists an even more exclusive tone of a dive watch – orange.
The Swiss brand Doxa made an orange dive watch famous in 1967 with its Doxa SUB 300T. It was the first of its kind, and several manufacturers have followed suit ever since. Still, the tone is not as widespread as black or blue, which means you'll not find orange dive watches in abundance.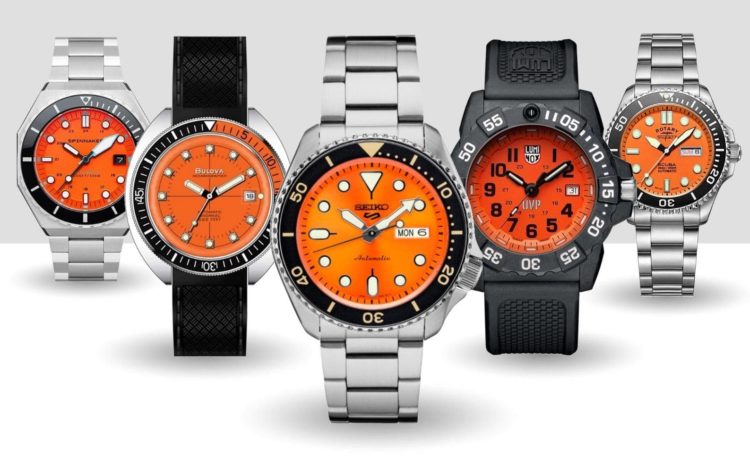 That's why we decided to gather them into this post and present you with the selection of affordable yet highly functional orange divers.

Why an Orange Dive Watch?
But first, why should you go for an orange diver over the other magnificently styled dive wristwear?
When Doxa first came out with this unique style, it was claimed to possess the best legibility underwater. The truth, however, is that the color of a dial doesn't make much difference when, regardless of the color, the water absorbs the light spectrum one at a time.
Therefore, cast aside this widespread misconception as you won't get better visibility with an orange dial.
But what you will be getting with an orange dial diver is an eye-catching style and guaranteed attention from people around you. Also, orange is a contrasting tone that radiates warmth and energy and stimulates emotions.
Frank Sinatra once said: "Orange is the happiest of colors." Therefore, why not bring happiness and contentment with a simple wearable that is also highly applicable and functional in your day-to-day activities.

Orange Divers
The following list I compiled consists of dive watches for professional use, as well as dive-inspired wristwear for casual wear. The array of manufacturers represented here is quite significant, so there is plenty to choose from.

Seiko 5 Sports SRPC55K1
Case Size: 45mm
Movement: Automatic 4R36
Water Resistance: 100m (330ft)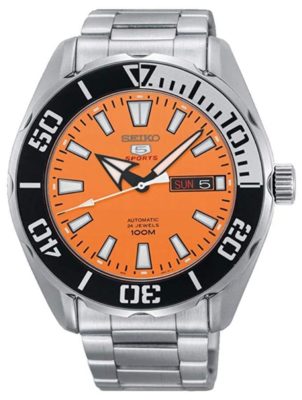 The Seiko 5 Sports SRPC55K1 is a dive watch that comes with decent water resistance but is not meant for professional submersion. Regardless, you can use it for lighter water activities, such as swimming, snorkeling, and shallow diving.
The watch is slightly larger than many other Seiko divers, stretching to 45mm. Though, it won't feel like one when on a wrist. For an automatic watch, the height is also of a decent size at 13mm.
The caliber powering this Seiko is a widespread 4R36 movement with hacking and hand-winding options. Although the caliber is not anything spectacular, it is nevertheless reliable and accurate and will serve you for decades.
When turning the attention to appearance, the first thing you'll notice is definitely the orange dial.
The tone isn't too strong or too mild, staying right in the middle in terms of contrast. What really brings out the magnificent tone of the dial is the black bezel. Along with black elements on the face, they make up a prominent appearance that is hard to turn your head away from.
When talking of negatives, many complain about the somewhat poor legibility of the day-date window when the letters and numbers sink into the black background. Other than that, this Seiko 5 is one of the best affordable options for an orange diver.

Seiko 5 Sports SRPD59K1
Case Size: 43mm
Movement: Automatic 4R36
Water Resistance: 100m (330ft)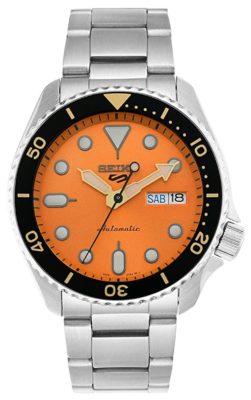 Like the previous model we covered, the Seiko SRPD59K1 is also a diver with a workhorse 4R36 caliber.
The watch is often compared to the famous SKX dive series (our next entry) due to the shared styling and appearance. However, it's more of an everyday watch rather than a tool watch compared to the SKX line.
The SRPD59K1 measures 42.5mm in diameter, but again, feels a bit smaller on a wrist due to the modest 46mm lug-to-lug distance. The weight isn't anything too grand either for a full metal watch at around 6 ounces (170g).
When it comes to aesthetics, the Seiko SRPD59K1 is a classic metal diver, except for the eye-catching orange face, of course. A wonderful addition to the appearance is also the yellow accent found on the watch hands and bezel, completing the outstanding appeal of this Seiko.
Quality-wise, the timepiece is as sturdy as you would expect from the Seiko 5 collection. It features a 100m (330ft) water resistance, comes with Seiko's proprietary Hardlex crystal, and sports sufficient luminosity for nighttime time readings.

Seiko SKX011J1
Case Size: 43mm
Movement: Automatic 7S26
Water Resistance: 200m (660ft)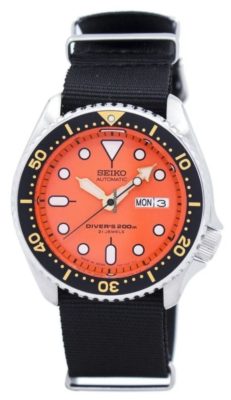 The next watch belongs to the legendary SKX line from the Japanese powerhouse. The Seiko SKX011J1 is a professional-grade orange dive watch with impeccable quality levels.
The watch is guaranteed with a 200m (660ft) water resistance and is tested for ISO 6425 standards. It means the Seiko SKX011J1 can be submerged to depths up to 200m. Although only a minority of buyers actually use professional dive watches for their intended purpose, it's the guarantee of ultimate water resistance you get from a watch with this certification.
Now, since this Seiko is a diver, you can also expect all the typical features of such wristwear. For example, the crown is not a push/pull version but screwable instead. Also, the timepiece sports a one-way rotating bezel for determining various time measurements. The edge of the bezel reminds the edges of a coin, which helps to better grasp and turn it.
In addition, you'll find the watch hands and hour markers luminous. In fact, Seiko offers some of the best luminosity in its wristwatches – the glow is bright and lasts for up to 7-8 hours.
The heart of the Seiko SKX011J1 belongs to the 7S26 caliber. It doesn't hack, nor can you hand-wind it. The missing of these features is a concern for some wearers as they can't halt the second's hand or manually wind the watch. On the other hand, most owners find these options superfluous, with no practical use.

Orient Ray Raven II
Case Size: 41.5mm
Movement: Automatic F6922
Water Resistance: 200m (660ft)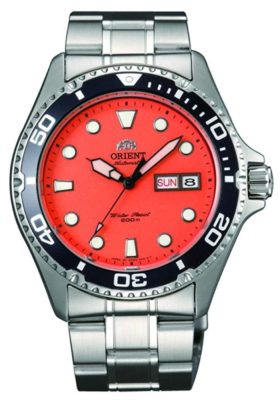 The next watch comes from another famous Japanese manufacturer, Orient. The brand's dive watches often find themselves featured on various top shortlists because of their excellent price-quality ratio. And this shortlist is no exception. 
The Orient Ray Raven II costs below two hundred dollars while offering an in-house automatic caliber and water resistance of 200m (660ft). This watch is not ISO-certified like the Seiko SKX, so diving to 200m underwater is not suggested. However, the resistance level is decent enough for simpler water activities, including swimming and recreational diving.
Appearance-wise, the Ray Raven II is a classic all-metal diver with a unidirectional bezel ring and luminous hour markers and watch hands. The lume is not as good as in Seiko watches but is still decently bright and long-lasting.
Like we already mentioned, this Orient runs on an in-house automatic caliber. The F6922 movement has a standard 40+ hours of power reserve and features the appreciated hacking and hand-winding capabilities. In terms of accuracy, the watch is a classic automatic timepiece with a deviation of +/- 15 seconds per day.
When it comes to extras, it's always nice to find a day-date feature from an automatic watch. Orient has solved it brilliantly on this timepiece when the day and date are separated with bold frames, making the legibility much better.

Luminox Scott Cassell
Case Size: 45mm
Movement: Swiss Quartz
Water Resistance: 200m (660ft)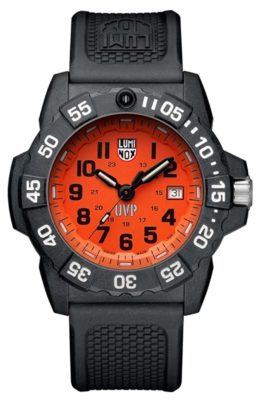 If you want something different than yet another classically designed dive watch with an orange dial, you better take a look at the Luminox Scott Cassell Watch. Its rugged construction, coupled with 200m water resistance, makes it not only a very capable dive piece but an uncompromising survival watch, both on the land and in the water.
The watch's appearance is masculine and quite extraordinary for a heavy-duty timepiece due to the striking orange dial. Fortunately, the tone suits the watch just perfectly.
When talking of appearance, and especially in the dark, this Luminox watch has another striking feature to boast with. Namely, it features an ever-glowing tritium luminosity in the watch hands, hour markers, and on the top of a bezel.
This type of luminosity is not painted and doesn't have layers. Instead, when you look closer, you'll find small gas tubes that contain phosphorus powder and tritium gas. The glow is guaranteed for about 25 years until the chemical reaction between the elements starts to deteriorate.
Besides luminosity, this Luminox watch is known for its carbon compound case that is much lighter than stainless steel – the watch weighs only 2.5 ounces (70g), which is barely noticeable on a wrist. Moreover, the material is less prone to temperature changes than stainless steel and is very sturdy, enabling it to be worn in various climates and conditions.

Bulova Devil Diver Oceanographer
Case Size: 44mm
Movement: Automatic Miyota 821
Water Resistance: 200m (660ft)
Bulova isn't typically the first choice for a dive watch. The reason is quite simple – the American brand doesn't have many of them in the line-up that suit intense watersports. However, there are a couple of exceptions. Besides the famous Sea King model, which unfortunately doesn't have an orange dial, there's the Bulova Devil Diver Oceanographer.
As you might've already guessed, the watch is a reissue to the original Oceanographer of the 1970s, but with modern features and an orange dial, of course. The nickname Devil Diver the watch has, in fact, originates from the "666 feet" imprinted on the dial.
The Bulova Oceanographer is a professional-grade diver with a 200m ISO-certified water resistance rating. The eye-catching watch resembles Seiko Turtle watches (vice versa, if to be honest) with a similar turtle's shell-shaped case. All the other elements, however, are unique to the Oceanographer. The bezel, in particular, is a real beauty with its saw teeth edges and orange accents.
The Bulova Devil Diver is equipped with Miyota 821 automatic caliber that keeps decent time and holds a power reserve for around 42 hours. The movement is widely used by other brands, especially microbrands, and has received all but positive reviews from owners.
High praise also goes to the rubber strap, which is very soft and grasps the wrist comfortably.

Deep Blue Diver 1000 Orange
Case Size: 40mm
Movement: Automatic NH35
Water Resistance: 300m (1,000ft)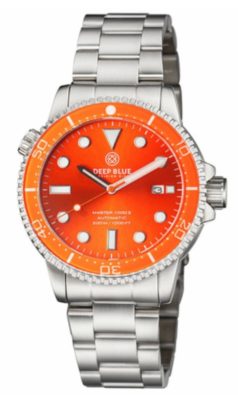 Deep Blue is a specialized brand for dive watches. Hence, it's no surprise to find at least one orange dive watch from their collections. We've chosen this watch because of its high-quality standards and expensive appeal.
What makes this Deep Blue high-quality is the combination of reliable materials and a durable automatic caliber. It is powered by the Seiko NH35 movement, which you'll also find from many affordable divers, such as the Invicta Pro Diver watches. The caliber is tried and tested and is one of the most popular ones around.
Now, let's start with the magnificent features the Deep Blue watch provides.
First of all, you'll get excellent luminosity found not only from the watch hands and hour indices but also from the bezel. In fact, all the markings and numbers on the bezel contain luminosity, which is quite rare among affordable dive watches.
Secondly, the orange face is covered with a sapphire crystal that is almost impossible to scratch. In addition, the crystal has multiple layers of anti-reflective coating for enhanced legibility from any angle.
The bezel material is also notable when instead of a widespread aluminum, this Deep Blue comes with a ceramic bezel. The material is less prone to fading and salty water damage and is almost impossible to scratch. All the Rolexes, for example, have swapped aluminum bezels for ceramic ones.
Last but not least, the watch is 1,000 feet (330m) water-resistant, comes in a rare 40mm case size, and features a helium release valve. All that is available for only a couple of hundred dollars.

Timex Allied Coastline 43mm
Case Size: 43mm
Movement: Quartz
Water Resistance: 100m (330ft)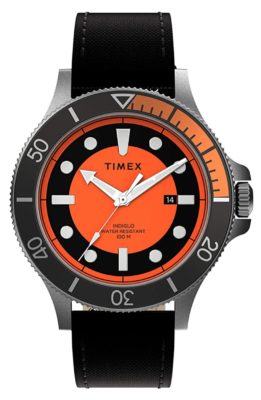 All the orange dive watches covered above have been more or less for serious water sports. Our next entry, however, is a much simpler timepiece that is moderately water-resistant and possesses the looks of a diver. You can go swim and snorkel with it but not dive.
The Timex Allied Coastline also differs from most watches covered here for being a quartz watch. The movement is not prestigious or highly coveted, but it offers much better accuracy and lower upkeep than an automatic watch.
Also, you'll not find the hour markers luminous when only the hands contain electroluminescent paint. Instead, Timex offers its famous Indiglo backlight that lights up the whole dial through a simple push to the crown.
The brand is known to manufacture very reliable watches while selling them for dirt cheap prices. Hence, regardless of the disadvantages compared to real-deal divers, the Timex watch is still a durable timepiece that will last you for a long time. Furthermore, it features a superb orange-black dial design that is hard to come by these days.

Spinnaker Dumas Tangerine
Case Size: 44mm
Movement: Automatic NH35
Water Resistance: 300m (1,000ft)
The Spinnaker watch brand may not be known to all of you as it is a fairly new Hong Kong-based microbrand. Among the various watersports-related watches that Spinnaker manufactures, the Dumas Tangerine stands out with its octagon-shaped case and, surprise-surprise, an orange dial.
The brushed case of this diver measures 44mm and is made from surgical-grade stainless steel. Along with a 22mm three-link metal bracelet, they make up a very classy and expensive-looking all-metal appearance.
This orange diver strikes not only with its unique and expensive aesthetics but also with a couple of high-quality features. For instance, the crystal is made of synthetical sapphire with layers of anti-reflective coating; or a 300m (1,000ft) water resistance rating, enabling its use for swimming, snorkeling, and recreational diving.
Furthermore, the Spinnaker Dumas runs on an appreciated Seiko NH35 automatic movement, which you'll find from several orange divers we cover in this post.
When talking of slight letdowns, the bezel is not as easy to turn due to its placement on an octagon case. Also, the crown is fairly smooth, which reduces the grip. Other than that, the Spinnaker Dumas Tangerine is an absolute stunner for the price it's sold.

Invicta Grand Diver 4186
Case Size: 47mm
Movement: Automatic NH35A
Water Resistance: 300m (1,000ft)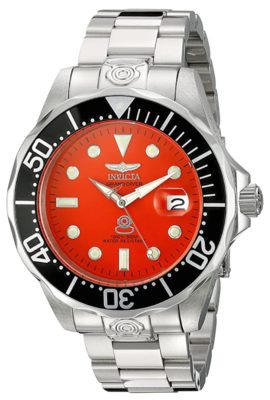 The Invicta Grand Diver 4186 is a beautiful Rolex Submariner knockoff in terms of appearance. Some people are against such practices, but others couldn't be happier to wear a timepiece that closely resembles the icon of watches.
The most eye-catching part of this Invicta is, without a doubt, its orange face. The image doesn't do good to the watch as, in real life, the tone of the orange is not that reddish but much milder.
The watch's size, however, is far from being mild when the case diameter stands at 47mm and the height measures 16mm. Hence, it looks bulky on a wrist and, oftentimes, maybe too bulky. Therefore, make sure your wrist accepts the oversized dimensions before buying the watch.
The oversized watch is equipped with the widespread Seiko non-branded NH35A caliber. As already stated on several occasions in this post, the caliber is a reliable option for affordable automatic watches to keep good accuracy and hold 40+ hours of power reserve.
As usual for the Grand Diver collection, you'll find the water-resistance level at 300m (1,000ft). However, it has not been tested in real-life conditions in the sea. So, typically, a 300m non-certified resistance means you can use the watch for recreational diving to depths up to 30m (100ft).
All in all, the Invicta Grand Diver watch offers plenty of high-quality features for a little more than a hundred bucks. A pity thing is a fact that, due to the watch's dimensions, this Invicta won't accept slender wrists. However, the good news is that there is a very similar but much smaller timepiece available from Rotary.

Rotary Super 7 Scuba
Case Size: 42mm
Movement: Automatic Miyota 8205
Water Resistance: 300m (1,000ft)
The Rotary Super 7 Scuba is a classic orange dive watch with a black unidirectional bezel and an all-metal appearance. The aesthetics of the watch suggest a much more expensive timepiece than it actually is.
This Rotary diver measures a convenient 42mm in diameter, which is perfect for most men. It also has a really handy day-date feature that is always good to see on a diver.
When it comes to the automatic caliber, it's a Miyota 8205 with a hand-winding capability. The onliest concern with this caliber is that you can't halt the second's hand. However, in most cases, you won't be needing the feature anyways.
The Rotary Super 7 strikes with its superb luminosity when, besides the typical watch hands and hour markers, you'll also find the whole bezel luminous. Not many affordable divers have that extra, giving this Rotary a considerable edge over its competitors.
Another considerable advantage is the watch's high water resistance level at 300m (660ft). It means you can go swim, snorkel, and dive with it with no worries.
Unfortunately, the Rotary Super 7 is a rarity in the US market. Therefore, if you want to get hold of this orange diver, you better check the UK market.

Cressi Manta Diver's 100m
Case Size: 45mm
Movement: Quartz
Water Resistance: 100m (330ft)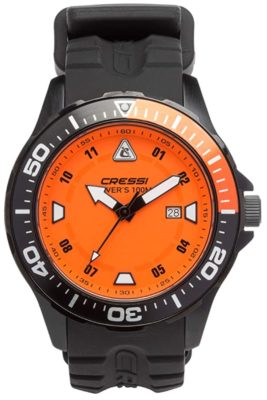 Our last orange dial dive watch comes from a scuba equipment company called Cressi. The Cressi Manta watch differs from others for its unique dial design, where the hour markers have been replaced with small numbers.
At first, it seems as if though you'll not be getting much luminosity due to the design solution. However, what comes as a surprise is that the black numbers actually contain electroluminescent paint. And the glow is surprisingly good and long-lasting, too.
All the other dive-specific features are there as well, including a screw-down crown, a one-way rotating bezel, and a comfortable rubber hand. One of the downsides, however, is that the Cressi Manta is water-resistant to 100m (330ft) only. Therefore, it limits its use for lighter water activities, excluding scuba diving.
Other than that, the watch receives power from a battery-equipped quartz movement that keeps an accurate time and doesn't require constant wearing to keep it running. Automatic watches may not suit everyone, so the Cressi Manta is a decent option for an orange diver.

Final Words
Orange dive watches are unique types of watches that won't leave anybody cold. Unfortunately, the eye-catching tone is not as widespread as many of us would have hoped. Thus, acquiring one should be on everyone's list who appreciates the subtleness of a dive watch.
Picking out the best affordable orange diver is subjective because people have different prerequisites for a watch. However, in terms of quality, there's no competition to Seiko. Whether it's a professional-grade SKX watch or a dive-inspired Seiko 5 collection, the brand has made sure that any timepiece exiting their production line is a masterpiece.
Though, not everyone is a fan of Seiko, or the Japanese manufacture as a whole. For them, we would suggest the Bulova Oceanographer, Spinnaker Dumas, and Rotary Super 7. These watches may not possess the quality levels of Seiko but are still reliable timepieces that stun with expensive-looking aesthetics.

You may also like:
Affiliate Disclosure: As an Amazon Associate I earn from qualifying purchases. Details
Latest posts by Carl Pender
(see all)