Affiliate Disclosure: As an Amazon Associate I earn from qualifying purchases. Details
A dive watch used to be an important part of diver's equipment when it first emerged in the early 20th century. Despite the decline in essentiality, mainly due to the introduction of a dive computer, it has remained an integral part of the process.
Dive watches are the kind of wearables that serve not only a tool watch purpose but also a fashion intent. The variety of colors, bands, and designs make them alluring to a broad segment of watch lovers, from dive professionals to white-collar workers.
Given the selection headache that typically arises when browsing for such wristwear, we've listed the best dive watches under $500 from several renowned brands to suit both professional and casual wear.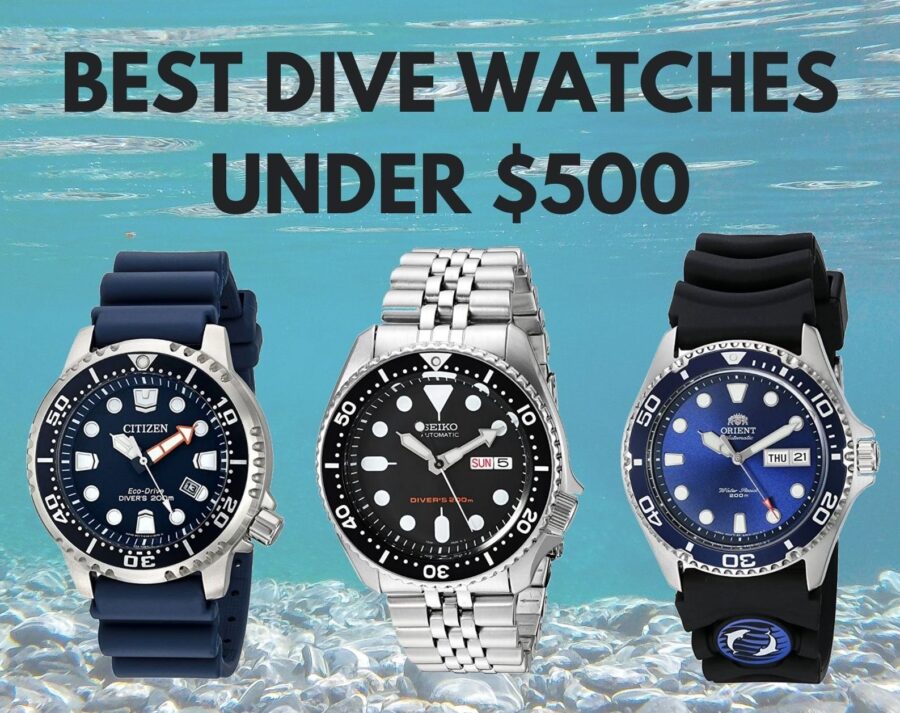 Best Dive Watches Under $500
The list consists of professional diver's watches with ISO 6425 and timepieces that are very reliable and sturdy without the certification. We've also included brands that are often left without the recognition they actually should receive for their design and quality levels.
But without further ado, here are the best dive watches under $500.

Seiko Prospex PADI Solar
Model: SNE435P1
Case size: 43.5mm
Water resistance: 200m (660ft) ISO-certified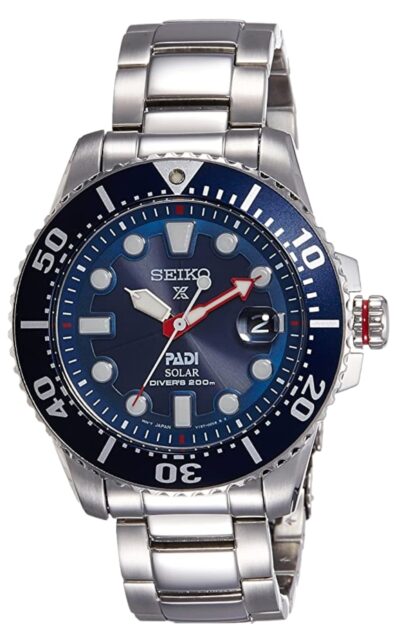 When it comes to highly reliable yet affordable dive watches, there's no better brand than Seiko. For being the lobbyists behind the implementation of the ISO 6425 standard for professional diving, it's no wonder the brand possesses a large number of highly appreciated timepieces.
Because of that, we've decided to add precisely Seiko as the first entry on this list of the best dive watches under $500.
The Seiko Prospex PADI Solar has become one of the new wave iconic wristwear representatives that is to remain for a long time. Also featuring among our list of the top solar wristwatches a man can buy, it is entirely powered by any light, whether it be natural or artificial.
Equipped with a unidirectional elapsed bezel and luminous hands and markers, this stainless steel dive watch works out as a complete professional diver's watch that stands up to 200m (660ft) of water pressure. The screw-down crown and case back are other features of a genuine tool watch of the type, preventing any water damage to the inner parts.
Despite its professional characteristics, the Seiko SNE435P1 is also a perfect time tracker for a typical man that doesn't necessarily exercise water sports, but above all, appreciates the watch's craftsmanship and looks. The comfortably sized 43mm case and eye-catching, distinctive blue dial determine its versatility to various walks of life.
PROS
✅ 20 ATM ISO certified water resistance
✅ Powered by any light
✅ Fantastic luminosity
✅ Versatile aesthetics
CONS
❌ Classic Seiko wearers may find the case too big
---
Citizen Eco-Drive Promaster Diver Watch
Model: BN0151-09L
Case size: 44mm
Water resistance: 200m (660ft) ISO-certified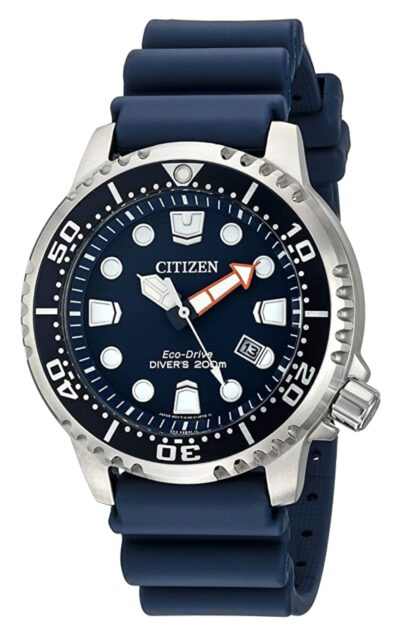 Intensely challenging Seiko in providing durable and affordable dive watches is another Japanese powerhouse, Citizen. The frequent comparisons between Seiko and Citizen are conducted for a good reason – they both offer superb quality for the money paid.
The Citizen Promaster Diver BN0151-09L comes ISO certified to 200m (660ft) and with all the features for a professional dip into the ocean, including a unidirectional bezel and luminosity. And since it's entirely powered by Eco-Drive solar technology, you don't have to worry about the battery running empty when deep in the water. The secondary cell can hold a charge for up to six months when fully charged.
Like the Seiko PADI watch, this Citizen timepiece doesn't sacrifice the looks for functionality. The dominant blue color covering the dial and polyurethane band provides aesthetics different from typical everyday wristwear.
A bit unusual feature is also the screw-down crown's position at 4 o'clock instead of the standard placement at 3 o'clock. This particular difference serves the purpose of better protection as well as handiness.
Citizen watches are thought to be one of the most accurate on the market. So you can expect the quartz that's ticking inside the 44mm stainless steel case to deviate only bare seconds a month.
PROS
✅ Water-resistant to 20 ATM
✅ Powered by any light
✅ Distinctive blue color
✅ Suits various styles
CONS
❌ The date window is hard to read
❌ The band is a bit stiff
---
Victorinox I.N.O.X. Professional Diver
Model: 241784
Case size: 45mm
Water resistance: 200m (660ft) ISO-certified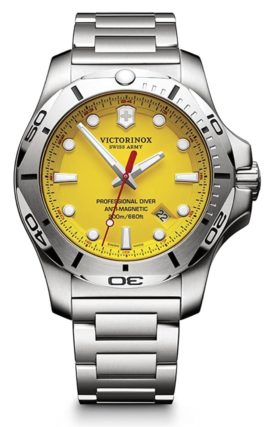 Formerly famous for the Swiss Army knives, the Victorinox brand has successfully entered the watchmaking market, providing ultimate quality for military personnel and civilians alike. And having the Swiss representation among the best dive watches under $500 is just pure luxury.
The Victorinox I.N.O.X. Professional Diver conveniently falls to the brackets of a versatile tool watch that is not only highly durable but also unique in its aesthetics for the striking yellow dial.
The watch that has passed more than 100 rigid endurance tests, including water, temperature, corrosion, and magnetic resistances, comes in a 45mm stainless steel case with a unidirectional rotating bezel. One of the features which make this Victorinox so durable is the scratch-resistant sapphire crystal glass you typically find from high-end timepieces.
ISO compliance for professional scuba diving is guaranteed to depths up to 200m (660ft), while the luminous hands and markers help to read the time in the deep darkness.
A neat little addition that many quartz watches don't possess is the battery's end-of-life indicator that starts to skip seconds when running low on energy, thus providing not only accurate timekeeping but also the convenience of knowing when to change the battery.
All in all, genuine Swiss quality and features for such a low price are the key factors why this Victorinox watch is so coveted.
PROS
✅ Compliant to ISO standard
✅ Accurate Swiss quartz movement
✅ Durable sapphire crystal
✅ Battery's end-of-life indicator
CONS
❌ The weight at 8.11 ounces (230g) may be too much for some
---
Orient Mako II Auto Diver's
Model: FAA02002D9
Case size: 41mm
Water resistance: 200m (660ft)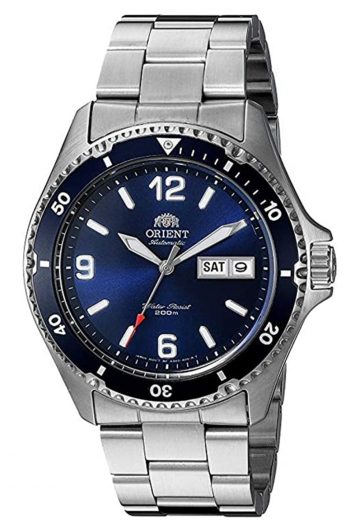 Not many automatic timepieces cost as little as Orient watches do. Mainly owing to the close relationship with Seiko, the price is not the onliest similar characteristic when the looks and quality levels are also comparable.
The Orient Mako II stands at 41mm in case diameter, which surely fits the bill for a wide array of wearers. Although it may not be an ideal professional diver's watch for missing the ISO standard, it nevertheless delivers an admirable quality and protection from water pressure.
The timepiece beams a classic touch with a polished steel band and deep blue dial. However, the classic aesthetics is not the onliest feature beaming. It is the luminous dial that takes all the attention and is probably the most significant selling point for this Orient Mako watch.
On top of the quality and dive watch-like looks is the automatic movement, which is another strong statement from the brand due to the caliber's reliability and precision.
Although this Orient is not ISO-certified, it nevertheless provides water resistance up to 20 ATM, meaning you can freely use it for serious water activities, including recreational diving. The typical features, such as screw-down crown and band's push-button safety, are also available.
PROS
✅ Quality automatic movement
✅ Suitable case size for the majority of wrists
✅ Classic deep blue dial
✅ Great lume
CONS
❌ Misses ISO 6425 certification
❌ Somewhat dull aesthetics
---
Tissot Seastar 1000 Dive Watch
Model: T1204171104100
Case size: 45.5mm
Water resistance: 300m (1,000ft)
The next entry on our list of the best dive watches under $500 represents the famous Swiss watchmaking. Tissot, one of the oldest Swiss watch manufacturers dating back to 1853, has top-notch dive-inspired wristwatches in their selection.
The Tissot Seastar 1000 excels in both quality and appearance. The contrasting sapphire-covered blue dial with three stopwatch windows is a real eye-catcher, suiting not only for water activities but also for numerous other occasions. The above-average 45.5mm stainless steel case with a three-pusher design only but complements this Tissot's flexibility.
The inside of the watch comprises a reliable Swiss quartz movement that supplies the owners with a precise time. You can rely on the accurate time in deep waters as well, thanks to the 300m (1,000ft) water resistance it comes with.
This timepiece should not be overlooked if you're after an affordable and striking dive watch from world-famous Swiss manufacture because the Tissot brand sure knows how to combine quality with an appealing design.
PROS
✅ Accurate Swiss quartz movement
✅ 300m (1,000ft) water-resistant
✅ Scratch-resistant sapphire crystal
✅ Fashionable blue dial
CONS
❌ The case size is above the average and may not suit smaller wrists
❌ Not appropriate for professional diving
---
Casio G-Shock GG-1000 Mudmaster
Model: GG1000-1A5
Case size: 48mm
Water resistance: 200m (660ft)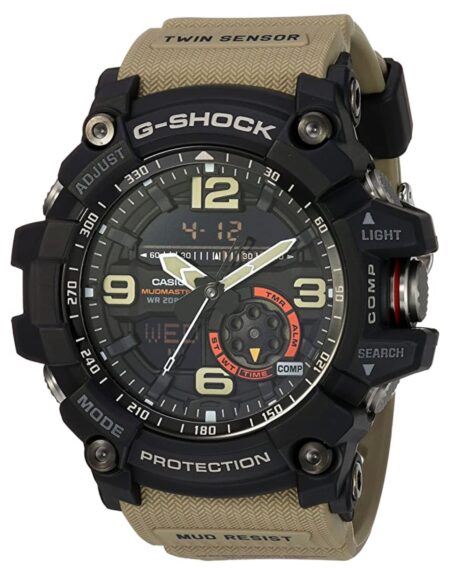 The G-Shocks are the Chuck Norrises in the watch industry. You will not find any more rugged and resilient timepiece than a G-Shock. Its resilience to numerous shocks, including water pressure endurance, makes it well-fitted water sports watch.
The G-Shock GG-1000 Mudmaster is powered by a Japanese quartz movement that rarely disappoints. There's no cause for disappointment in terms of functions either because the uniqueness of features is overwhelming.
Take, for example, the Multiband 6 technology that receives nightly time adjustments to keep the watch accurate to atomic precision wherever you're located. Or the digital compass and thermometer feature that aid in strenuous outdoor hikes. And when we add the fact that the Mudmaster is 20 ATM water-resistant with a LED backlight, we end up with a perfect allrounder on the land and in the sea.
Appearance-wise, the G-Shock Mudmaster is an authentic masculine timepiece with rugged construction composed of resin case and scratch-resistant mineral crystal.
The case diameter at 48mm is large and won't suit slender wrists. However, those worried about the presumably heavy load on the hand should not be concerned, because the watch weighs only 3.2 ounces (90g).
PROS
✅ Highly water-resistant
✅ Atomic time wherever you're located
✅ Outstanding features for outdoor activities
✅ Rugged looks for masculine men
CONS
❌ The case size at 56mm won't suit many wrists
❌ Won't go well with modest styles
---
Citizen Promaster Diver
Model: BJ8050-08E
Case size: 48mm
Water resistance: 300m (1,000ft) ISO-certified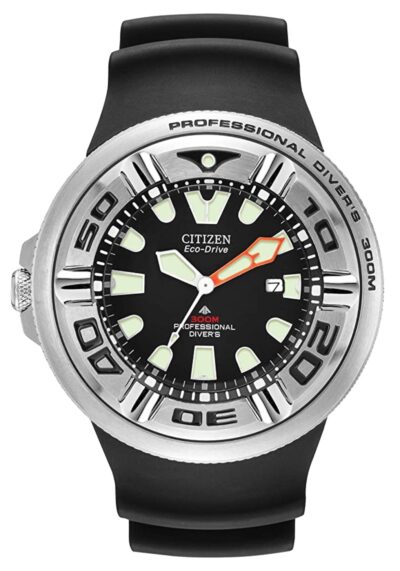 The combination of solar power and ISO 6425 establishes the basis for a convenient tool piece in this Citizen Promaster Diver BJ8050-08E. And considering this top dive watch costs under $500, even better it gets.
This Promaster piece is informally called "Ecozilla" for its oversized 48mm case and a very bulky build, making it a sought-after big face watch for large wrists.
What makes it visually enormous is the thick one-way rotating bezel that leaves less space for the dial. But no need to worry – the hands and markers are large and filled with top-quality bluish luminosity. So, capturing the time is as easy as 1-2-3.
The watch is guaranteed to 30 ATM of water resistance and it employs a screw-down crown and caseback for enhanced water immersion protection.
What's even better is that you can totally forget the battery replacement because the solar Eco-Drive technology ensures the charge from any kind of light while storing the excess in the capacitor that holds a charge up to six months.
PROS
✅ 30 ATM ISO-certified
✅ Excellent luminosity
✅ Never needs a battery replacement
✅ Appearance of a proper tool watch
CONS
❌ The date window is too small
---
Seiko Automatic Diver's SKX009K1
Model: SKX009K1
Case size: 42mm
Water resistance: 200m (660ft) ISO-certified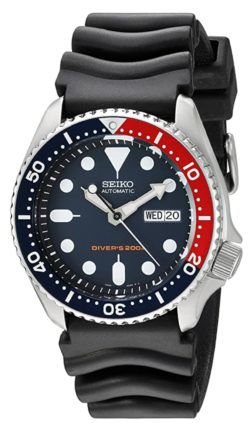 The Seiko SKX009K1 is a modern dive watch icon with a reputation hard to beat in the price range. The attention to detail is world-class, as is the design for professional diving experience.
The 42mm polished stainless steel case features a blue-and-red coin-edge Pepsi bezel, which makes it stand out from the crowd and catch positive attention. There's just something special about the design that lures so many into buying Pepsi-style timepieces.
When it comes to the face, it is free of unnecessary elements. However, the watch still looks quite busy due to the large hour markers. The contrasting color palette between the face and bezel only but aids with this matter.
One of the highlights of this Seiko Pepsi diver's watch is the automatic self-winding movement. The reliability and accuracy is exceptional when an average deviation of +/-10 seconds a day falls neatly into the brand's typical precision brackets. And don't forget another highlight you get with Seiko watches – the unrivaled luminosity.
Being among the best Seiko timepieces, this professional automatic diver's watch at this price point offers a wonderful value-for-money proposition for anybody interested in a watch from a highly recognized brand.
PROS
✅ Reliable automatic movement
✅ Stylish Pepsi bezel
✅ Unrivaled luminosity
✅ ISO-certified to 20 ATM
CONS
❌ The band is a bit stiff
---
Hamilton Khaki Navy Scuba Auto
Model: H82345141
Case size: 40mm
Water resistance: 100m (330ft)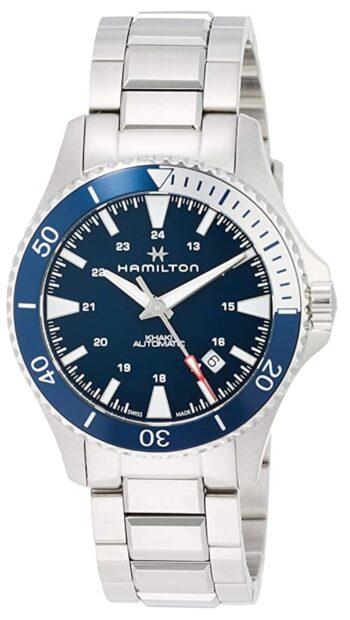 The Hamilton brand is widely regarded as the "movie brand" because of the hundreds of appearances in blockbuster films. Although Hamilton is not that famous for the diving wearables, they still have some appealing water-resistant pieces that suit serious water sports. One of them is the Khaki Navy Scuba Automatic watch.
The charming blue-and-white dial is the first thing that you'll notice in this timepiece. A well-balanced coloring that fits nicely with the stainless steel band makes it suitable not only for water sports enthusiasts but a broad segment of men that wish to express themselves.
The core of this 40mm dive watch is the H-10 automatic movement with a power reserve of 80 hours – twice the capacity of a typical self-winding movement. And not only is the movement high-class but the sapphire glass as well. The crystal is the best a watch can have for the dial covering.
The water resistance up to 100m (330ft) may not be on par with the rest of the models on this list of the best dive watches but is decent enough for shallow diving, snorkeling, and swimming.
When many watches ooze luxury but don't physically feel like one, this Hamilton Navy Scuba has them both. Wearing it is comparable to the feel of a Rolex or Breitling sitting on your wrist. W
PROS
✅ Astonishing 80-hour power reserve
✅ Luxurious design and feel
✅ Goes well with various styles
✅ Great value-for-money
CONS
❌ The case size of 40mm doesn't follow the recent fashion trend for larger cases
---
Bulova Marine Star Watch
Model: 98B301
Case size: 45mm
Water resistance: 200m (660ft)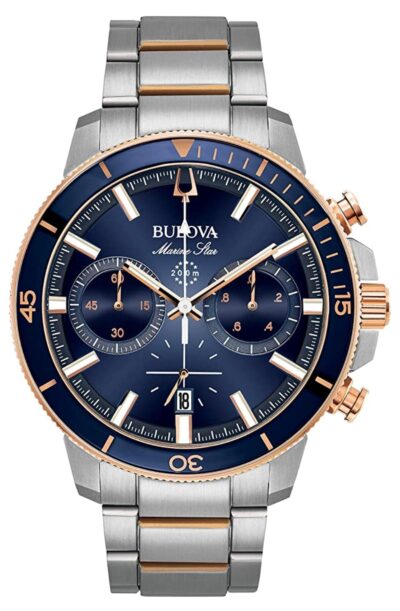 Bulova is an American watch manufacturer that was acquired by Citizen in 2008. Known for featuring in the first-ever TV commercial in 1941 and visiting the Moon in 1971, the Bulova watches have many legacies to offer.
One model that truly sticks out is the Bulova Marine Star 98B301. The rose-gold accent on the case and band is as timeless as the brand itself. Closely following the trend for larger case diameters, it comes at the size of 45mm. Some may find it too big to handle, but it's just perfect for most wearers.
The blue dial features a six-hand movement, where the three are occupied by the chronograph function operated by the two pushers at two and four o'clock. What is different from the many timepieces available is the date window at six o'clock, though some people complain about the small size of it, which makes it hard to capture.
Another differentiating feature is the domed mineral crystal, which provides better protection against shatters and cracks than a flat one. Last but not least, the water resistance is up to 200m (660ft), deservedly earning the name Marine Star.
PROS
✅ Accurate quartz movement
✅ Water-resistant up to 200m (660ft)
✅ 1/5 increment stopwatch feature
✅ Looks more luxurious than costs
CONS
❌ The date window is small
❌ Won't suit smaller wrists
---
Luminox Sea Turtle
Model: XS.0333
Case size: 44mm
Water resistance: 100m (330ft)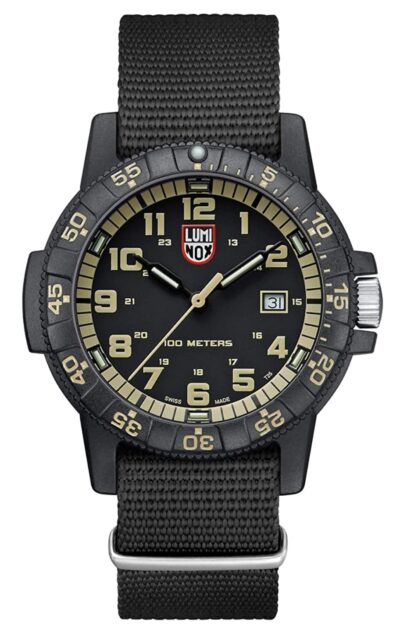 Another affordable Swiss-made brand offering ultimate durability is Luminox. Their timepieces are meant for military activities that often take them to deep waters. Thus, it's no wonder the watches come water-resistant.
The Luminox Sea Turtle can stand water pressure up to 100m (330ft) while maintaining perfect functioning. The Swiss Ronda quartz movement is accurate and reliable with a battery that lasts for four years. Compared to the market average of two years, the endurance of the cell is top-notch.
The most striking characteristic of this Luminox piece is the light weight at about 2 ounces (50g) for the relatively large 44mm case size. That is explained by the carbon compound material, called Carbonox. In essence, the watches with this technology have a very rigid and hard finish, taking the overall durability to a whole new level.
The looks of the watch are also rigid with a dark case and dial, although the gold accent on the outer dial and numbers softens it. For being a genuine military watch with a diving capability, you'll also find the 24-hour time, luminous hands, and unidirectional bezel present in the timepiece. Wear it carefree when going for amateur diving, snorkeling, or for a long swim session.
PROS
✅ Militaristic appearance
✅ Lightweight
✅ Long battery life
✅ Accurate Ronda quartz movement
CONS
❌ Not suitable for serious diving
---
Seiko Prospex Turtle Diver Watch
Model: SRPD21K1
Case size: 45mm
Water resistance: 200m (660ft) ISO-certified
Another "turtle" among the best dive watches under $500 is this time from Seiko. The Prospex Turtle SRPD21 is a long-revered cushion-case dive piece that reminds the shell of a turtle.
The awkwardly-shaped 45mm steel case hides a quality 24-jewel automatic movement with an accuracy outperforming the average for an automatic timepiece. The build-up of the watch is constructed in a manner to stand water pressure up to 200m (660ft) and is stamped with ISO certification for definitive approval.
The gradient blue dial has a texture that resembles ocean waves and features luminous hands and indices. And as you can already expect, the lume is top class.
In terms of crystal, the dial is covered with Seiko's proprietary Hardlex mineral that is considered more durable than regular mineral glass.
If you're not afraid of the slightly oval case different from typical dive watches, you are granted to receive glimpses and compliments from your friends and co-workers.
PROS
✅ Reliable 24-jewel automatic movement
✅ ISO-certified to 200m (660ft)
✅ Unique oval-shaped case
✅ Perfect case size
CONS
❌ Nothing particular to complain about
---
Orient Ray II Auto Diver's
Model: FAA02007B9
Case size: 41.5mm
Water resistance: 200m (660ft)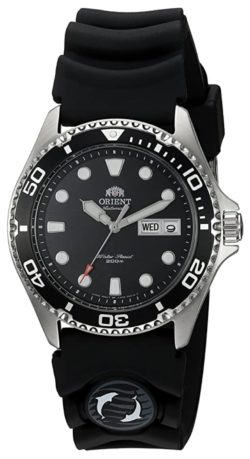 Orient's skill for manufacturing appreciated water-resistant watches is a known trait in the industry. That's why we've included yet another Orient timepiece among the best dive wristwear.
The Orient Ray II Auto runs on Japanese automatic movement with a manual winding option and is resistant to water up to 20 ATM. Although professional diving is not suggested, it still makes it a decent amateur diver's piece and serious water sports watch with proven durability.
The stainless steel case at the size of 41mm may be somewhat smaller compared to others on this list, but suits brilliantly for old-school wearers who have not gone along with the oversized watch fashion.
The dial is a simple analog with three-hand movement and a day-date window at the 3 o'clock position. You can also expect a great lume from the hands and indices, as well as a screw-down crown and a smoothly fitting silicone band.
PROS
✅ Good price-value ratio
✅ Goes well with various styles
✅ Great lume
✅ Hand-winding option and hackable
CONS
❌ The silicone strap is a bit stiff

---
Stuhrling Depthmaster Swiss Automatic
Model: 883
Case size: 42mm
Water resistance: 200m (660ft)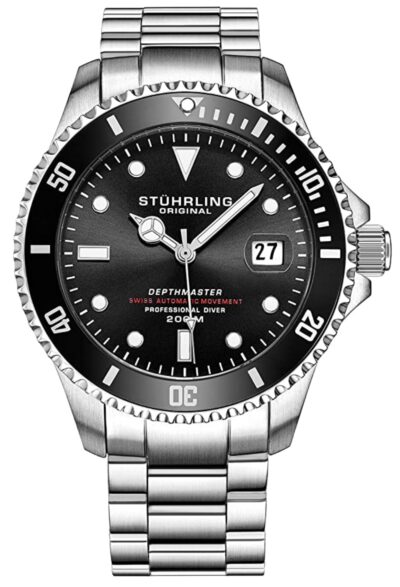 Some hardcore dive enthusiasts may find this entry as a surprise, or even out of place, but in reality, the quality that comes with the Stuhrling Depthmaster 883 has been harshly overlooked.
Stuhrling Original is an American brand that catches an eye with bold and courageous styles and often offers homage watches that resemble much pricier models from luxury brands.
The Depthmaster, with a similar design to a Rolex Submariner, runs on an 18-jewel Swiss automatic movement with a 36-hour power reserve. It comes 20 ATM water-resistant, thus guaranteeing the legibility for serious water activities.
The classy black dial features a three-hand movement with the Mercedes logo on the hour hand. The hands are, as you've already expected, luminous for greater visibility in dim conditions. Other features prevalent in a typical dive watch include the coin-edge unidirectional bezel and a screw-down crown, but also an exhibition case back for showcasing the pristine inner-workings.
Despite missing the long decades of experience and expertise that other brands possess, Stuhrling watches can not be underestimated because of their short history. Moreover, all the watches come with a 2-year warranty, meaning that they're not just throwaway timepieces.
PROS
✅ Swiss automatic movement
✅ 20 ATM water-resistant
✅ Durable 316L stainless steel
✅ Exhibition case back
CONS
❌ Krysterna crystal is not as established as mineral crystal
❌ Not ISO-certified
---
Invicta Pro Diver 8926OB Watch
Model: 8926OB
Case size: 40mm
Water resistance: 200m (660ft)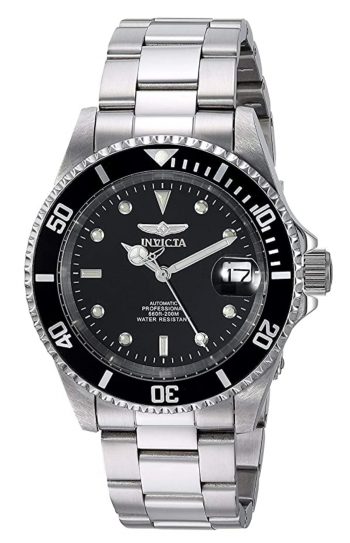 Another frequently overlooked brand is Invicta that offers charming timepieces for unbelievably low prices. The models often come with either Swiss or Japanese movements and possess a luxurious design.
One of the best examples of the quality that Invicta provides is vividly showcased in the Invicta Pro Diver 8926OB. The watch is made of stainless steel, while the classic 40mm dial is covered with a durable mineral crystal that is resistant to shatters.
Inside the case ticks a 21-jewel Japanese automatic movement that rarely gives away in precision. You can freely dive into the water because the Pro Diver can resist water up to 200m (660ft).
The convenient coin-edge bezel rotates in one direction, while the luminous hands and markers glow in the dark, providing the features that a real dive watch would require.
All the Invicta watches come with a 3-year warranty. However, it covers only the dial, hands, and movement. Visit our post on the Invicta brand to learn more about these watches.
PROS
✅ Reliable automatic movement
✅ Famous Pepsi design
✅ Great build quality
✅ Awesome value-for-money
CONS
❌ Too small for large wrists
❌ Not ISO-certified
❌ Warranty doesn't cover everything
---
What to Consider Before Buying a Dive Watch?
Diving watches are not limited to divers or serious water sports enthusiasts only. Due to the timeless and versatile design, they suit various walks of life in every age group.
Whether you prefer accurate quartz or enjoy the craftsmanship of a complex automatic movement, you can be sure to find the most suitable timepiece according to your taste.
However, if you plan to use your timepiece in underwater activities, you should make sure it is capable of standing the conditions. Luckily, many brands have their top dive watches available below the $500 price mark, so even the most sophisticated timepieces are more than affordable for professional diving.

Professional Diving Watches
Using the watch for professional diving that, at the same time, costs less than $500 should definitely come with the ISO 6425 standard to at least 100m (330ft). In fact, anything below that won't receive the standard anyway.
Look out for the specific classification on the dial with the marking "Diver's XXX m." That means it's suitable for scuba diving and stands the pressure.
A professional dive piece also has a unidirectional bezel, luminous hands and markers, and screw-down crown and caseback. They are all essential for the safety of you and your timepiece.
It has to be mentioned that not all the watch manufacturers implement the ISO standard, but have opted to work out their own procedures for determining the requirements for dive wristwear, which they later conform with the ISO equivalent. The prime examples include the brands from the Swiss and German industries.

Shallow Diving Watches & Surface Sports
If you never plan to use your dive watch for serious diving to great depths, you have a much broader selection of great dive watches available for under $500.
Typical recreational diving is limited to a maximum of 40m (130ft), which, for the most part, doesn't require a certified watch. Therefore, a timepiece with water resistance of at least 200m (660ft) would do the job just perfectly.
A minimum of 100m (330ft) water resistance is more than acceptable for serious surface sports, such as swimming, snorkeling, sailing, rowing, etc.
All in all, no matter the purpose of your watch, whether it be for hardcore scuba diving or simple swimming, this list of the best dive watches under $500 has all the coverage for various intentions in the water.

Conclusion
Choosing the right dive watch is not easy to complete due to the vast selection of attractive and stylish pieces available. The Japanese brands of Seiko and Citizen provide the highest number of ISO-certified timepieces for desirable prices, whereas the Swiss companies of Victorinox and Tissot come with highly appreciated Swiss movements that are difficult to say no to. And flavoring the whole pot are the ultra-fashionable and luxurious-like Invicta and Stuhrling watches that suit serious water sports first and foremost rather than professional diving.
No matter your objective, the best dive watches under $500 you found from this post provide the highest quality for the money paid.

You may also like:
Affiliate Disclosure: As an Amazon Associate I earn from qualifying purchases. Details