Affiliate Disclosure: As an Amazon Associate I earn from qualifying purchases. Details
Invicta is a former Swiss brand dating back to 1837. Now an American company with international manufacturing, the watchmaker has become the epitome of extravagant yet cheap timepieces that won't leave anybody cold. 
Invicta produces watches for various occasions and tastes, ranging from classic dive wristwear to over-the-top gold-toned timepieces, taking the number of different models into hundreds.
Our aim here is to introduce you to the best Invicta watches a man can currently buy without being overwhelmed with the cumbersome research into the uncountable timepieces the brand has in store.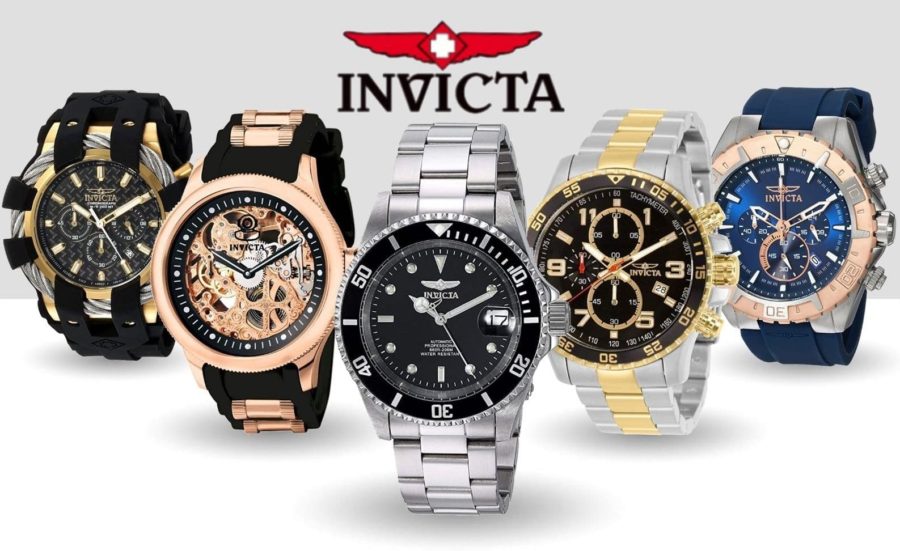 Best Invicta Watches in 2021
Our list consists of the top 15 Invicta watches with different powering methods, design elements, and water resistances.
All the timepieces stay between $60 and $160 and have received high ratings from verified buyers. It means that these tickers won't fail you even after years of frequent use. 
Therefore, stay tuned to find yourself an Invicta watch that is sure to catch your attention. 

Invicta Pro Diver 8926OB
Case Size: 40mm
Movement: Automatic
Water Resistance: 200m (660ft)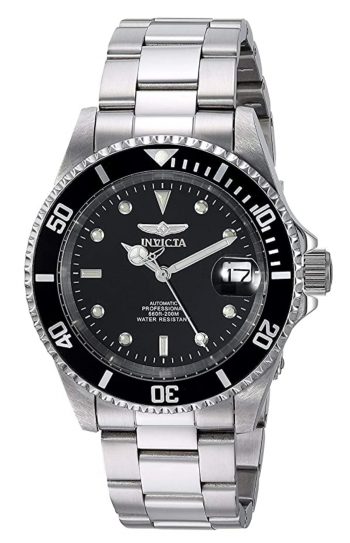 It's inevitable to start the list of the best men's Invicta watches without covering the Pro Diver 8926OB first. Being the bestseller model for years due to its reliability, as well as for a visual resemblance to the famous Rolex Submariner itself, it's no wonder this Pro Diver is so renowned. 
The watch comes in a 40mm stainless steel case and runs on Seiko's non-branded NH35A automatic caliber. The inclusion of this advanced type of movement compared to a simpler quartz mechanism makes it one of the best entry-level automatic watches. The caliber holds a decent accuracy and provides six ticks in a second. 
The Pro Diver's face is covered with a mineral crystal and is surrounded by a coin-edge unidirectional bezel. All the other essential features of a proper dive watch are also represented, such as a screw-down crown, luminous hands and hour markers, and a magnifying date window. 
You can also expect the timepiece to withstand decent water pressure due to a 200m (660ft) water resistance. Although it's not ISO-certified for professional use, it's nevertheless a proper dive watch for the money.  

Invicta Pro Diver 8927OB
Case Size: 40mm
Movement: Automatic
Water Resistance: 200m (660ft)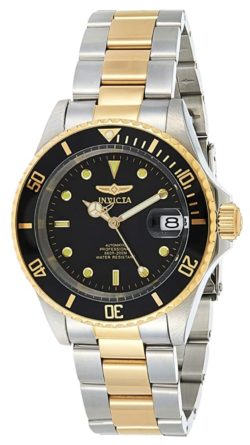 A similar model to the previous entry is the Invicta Pro Diver 8927OB, which is an excellent alternative to those appreciating a little more flair on a wrist. 
It is equipped with the same 24-jewel automatic caliber and comes 200m (660ft) water-resistant, but it differentiates for having a gold-toned crown, bezel, and center bracelet links. The tint of the gold is perfectly balanced, being neither too contrasting nor too blunt.
Another visual addition you'll get with this watch is a see-through case back. An open view to the workings of the intricate mechanism is relatively widespread among mechanical timepieces, but with this Pro Diver watch, you'll get to admire the unique yellow spinning rotor instead of a typical silver-toned one. 

Invicta Aviator Watch 22523
Case Size: 49mm
Movement: Quartz
Water Resistance: 100m (330ft)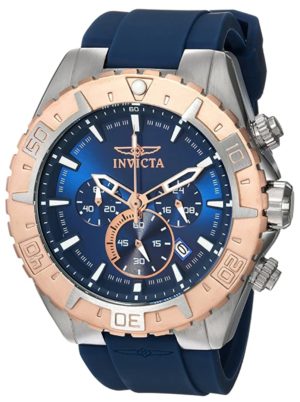 The next piece among the best Invicta watches suits the most for those appreciating oversized watches. 
The Invicta Aviator 22523 measures 49mm in diameter, thus fitting wrists above the average size. On the other hand, the width stands at 15mm, which ensures that, despite the watch's relatively large dimensions, it won't look too chunky. 
The best feature of the Invicta Aviator is the 1/5-second stopwatch feature. The VK63A caliber that powers this ticker comes with a showy stopwatch's sweeping second's hand that makes five steps in a second. Unlike typical wristwear, the primary seconds counter lies on the bottom sub-dial, while the chronograph's hand sits on the main dial.
Appearance-wise, you can expect a wonderful color palette when a rose-gold unidirectional bezel harmonizes perfectly with a deep blue dial and blue silicone band.
You can also wear the Invicta for surface water sports without worrying about destroying the beauty as it comes 100m (330ft) water-resistant.

Invicta Specialty Chronograph 6620
Case Size: 45mm
Movement: Quartz
Water Resistance: 100m (330ft)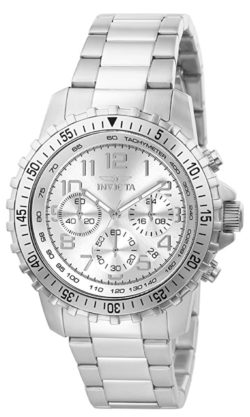 The Invicta Specialty Chronograph 6620 catches an eye with a striking all-silver appeal. Also fitted with a stopwatch feature, it is a spot-on piece for various occasions, whether it be a racing event or a Saturday night out. 
Due to its favorable case size at 45mm and the existence of a bezel that even more reduces the perceptible size, it goes well with the majority of wrists. Therefore, the Specialty Chronograph makes it an excellent everyday watch to be worn everywhere. 
In terms of functionality, the bezel is one-way rotating and comes with a fixed inner tachymeter ring for various time measurements. The three sub-dials count the stopwatch's seconds and minutes and display 24-hour time. 
An interesting substance that Invicta employs in a lot of its watches is a Flame Fusion crystal. In essence, it's a typical mineral with a thin added layer of sapphire glass. Thus, don't expect anything fancy other than the name with this Specialty watch. 

Invicta Pro Diver Swiss Quartz 33474
Case Size: 45mm
Movement: Swiss quartz
Water Resistance: 100m (330ft)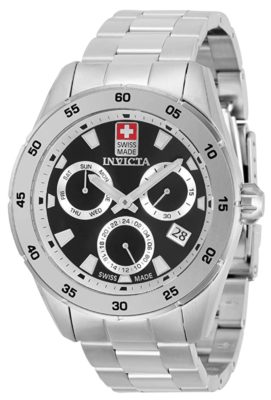 When a Flame Fusion crystal doesn't represent anything spectacular in reality, then the Swiss-made line of Invicta pieces sure do. Although the number of such timepieces is relatively small, the brand has made sure a part of the rich heritage would still be present. 
The Invicta Pro Diver 33474 runs on a Swiss Ronda caliber that is both accurate and reliable. The dive-inspired ticker also has a unidirectional bezel and luminous hands and indices. However, you'll not find a screw-down crown but instead a push/pull version. Therefore, the use of this Pro Diver is limited to swimming only in terms of water sports. 
Unlike most Invicta watches, this Pro Diver has a sleek design with no overwhelming styling elements – it has quite a straightforward dial, a clear bezel top, and a polished stainless steel bracelet. Hence, the watch is a spot-on wearable for those Invicta admirers who prefer to wear more contemporary than flashy timepieces.
Feature-wise, you will be getting a three-subdial set comprising the seconds counter, 24-hour time format, and the day of the week counter. What is also not missing is the date window.  

Invicta Bolt Chronograph Watch 24217
Case Size: 50mm
Movement: Quartz
Water Resistance: 200m (660ft)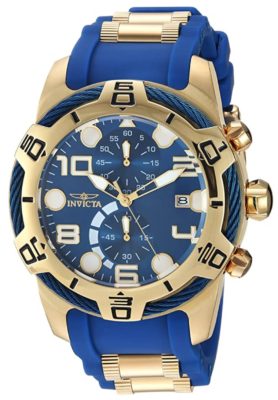 If you're into oversized watches both diameter and width-wise, the next Invicta model could be the perfect fit for you. The Bolt Chronograph 24217 measures 50mm in diameter and 19mm in width, making it a very masculine and noticeable wearable.
Not only are the dimensions considerable, but also is the style. The element that instantly sticks out is the wire motive replacing the bezel. There are also the gold-toned watch lugs and pushers that add to the overall flashy appeal, along with a thick blue silicone band that stretches over the lugs. 
This bold Invicta watch is equipped with a Japanese quartz movement keeping accurate time and providing the possibility to time various events. A noteworthy extra is the high water resistance level of 20 atmospheres, enabling the watch to be used for serious water sports, including shallow diving. 

Invicta S1 Rally Leather Watch 19289
Case Size: 48mm
Movement: Quartz
Water Resistance: 100m (330ft)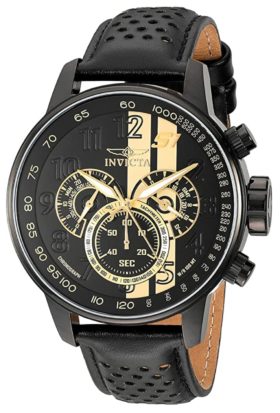 The Invicta S1 Rally Leather Watch distinguishes it from typical Invicta pieces for having a leather strap and design elements from racing sports. 
Like it is with genuine racing watches, you'll find a complete stopwatch function and a tachymeter sitting on the sub-dials. The feature functions through the two pushers at two and four o'clock positions. The sub-dial on the right belongs to a 12/24-hour time. 
The two vertically running stripes with a golden accent, combined with a black background, is so pleasing to look at, which is one of the prime reasons we decided to add this timepiece among the top Invicta watches. It's also a sturdy piece for employing a mineral crystal and stainless steel case. 
When looking at this Invicta watch and considering the fact it costs less than $100, it is clear we have a great value-for-money ticker for grabs.

Invicta S1 Rally Watch 23078
Case Size: 49mm
Movement: Quartz
Water Resistance: 100m (330ft)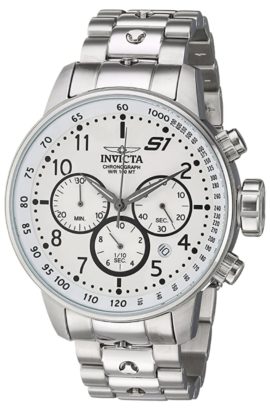 If you prefer silver-toned racing timepieces, the Invicta S1 Rally 23078 could be a viable alternative to our previous entry. Similar to the 19289 model, this timepiece has three distinctive sub-dials. However, the Invicta 23078 adds a 1/10-second option visible at the bottom window. 
This oversized 49mm timepiece can complement various outfits and suits for numerous occasions due to its favorable appeal. It is neither overly flashy nor too laidback, so feel free to wear it anywhere you like. 

Invicta I By Invicta 90242-003  
Case Size: 44mm
Movement: Quartz
Water Resistance: 50m (165ft)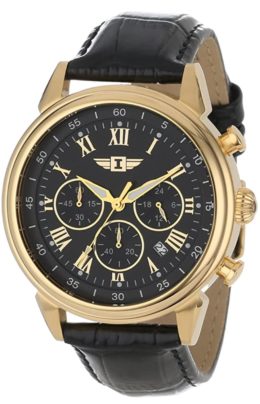 Amongst the vast selection of dive and sports-oriented watches is a dressier option available – the Invicta 90242-003 Watch. Although it's not a classic dress watch with an analog face, it nevertheless beams enough elegance to be worn with smarter outfits. 
First of all, the model comes with a black leather band with a buckle clasp. As we know, leather is the most appropriate band type for smart shirts and suits. Secondly, the numbers are displayed in Roman numerics, which are posher than Arabic ones. And finally, the gold-toned case and watch hands harmonize perfectly with the overall black coloring of the timepiece, providing an elegant, dressy appeal. 
There's no need to worry about the quality either, as the Invicta watch gets protection from a sturdy stainless steel case and scratch-resistant mineral crystal. 
Like we've already stressed with several of Invicta timepieces, this one, too, is a marvelous value-for-money piece for the sub-$100 price tag.

Invicta Specialty Gold-Tone Watch 14876 
Case Size: 45mm
Movement: Quartz
Water Resistance: 50m (165ft)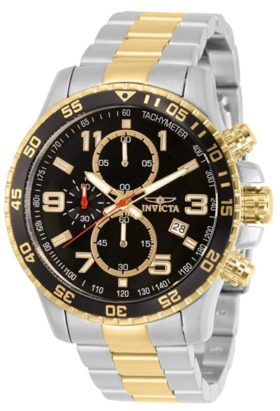 As you may have already noticed, Invicta tends to cover its watches with luxurious-like gold tones. The next model among the top Invicta pieces for men, the Specialty Gold-Tone Watch 14876, is no exception in this regard. The golden tone has been tastefully placed on the center bracelet links, crown, and bezel so that it wouldn't look too much.
A typical feature of Invicta watches, a chronograph function with a tachymeter ring, is also present. The stopwatch measures from 1/10-second up to 60 minutes. 
However, make sure not to wear this ticker while showering or swimming as it is only 50m (165ft) water-resistant. Despite the shortage, the Invicta Specialty watch is nevertheless a worthy companion for both casual and festive styles.

Invicta Russian Diver Mechanical 1090
Case Size: 51mm
Movement: Mechanical
Water Resistance: 50m (165ft)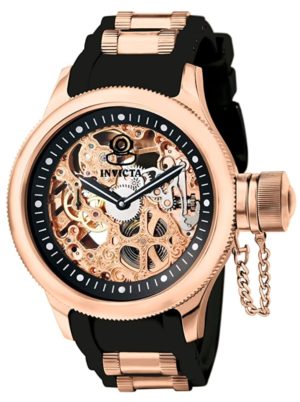 The following timepiece belongs among the best Invicta watches for several unique features. 
First of all, the Russian Diver 1090 is a hand-wound mechanical watch, meaning it requires manual winding every couple of days to function. Although it may seem a cumbersome process these days, it is actually highly appreciated among watch aficionados – mechanical watches represent the art of watchmaking. 
Another unique characteristic making the Russian Diver special is the skeletonized dial. Witnessing the uncountable wheels and gears doing the magic of timekeeping is a mesmerizing sight that will, undoubtedly, receive heaps of positive feedback from friends and co-workers. 
And finally, the overly large crown with a chain is something you'll not find from many timepieces. If you also add the rose-gold accent present in every part of the watch, it is clear the Russian Diver has been built to impress. 
One of the negative sides of this Invicta, though, is that despite its name, you actually can't use it for water sports – the resistance is guaranteed to 50m (165ft) only. Therefore, wear it with care and show it off with pride, but not in the water.

Invicta Specialty Skeleton Watch 23533
Case Size: 42mm
Movement: Mechanical
Water Resistance: 30m (100ft)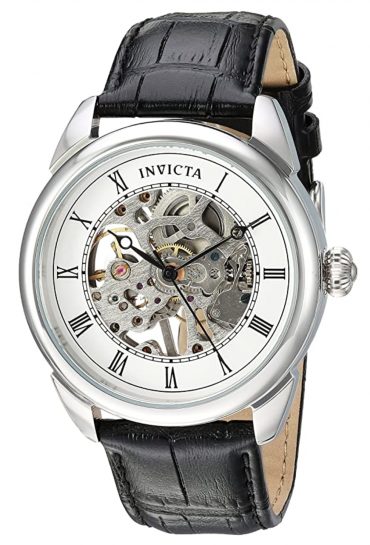 The next Invicta watch, the Specialty Skeleton 23533, represents the small number of dress timepieces the brand has available. 
The watch that also features on our list of the best skeleton timepieces comes with a see-through dial and Roman numerals and is powered by a hand-wound Chinese mechanical caliber.
Unlike the majority of Invicta watches, this particular piece is of much smaller size. Standing at 42mm in case diameter, it will go with most wrist sizes and shapes. 
Quality-wise, the skeleton piece comes in a stainless steel case, employs a mineral crystal with a thin layer of sapphire on it, and is water-resistant enough to withstand daily water exposure. 
With a price tag of just above 50 dollars, the Invicta 23533 is one of the cheapest skeleton watches on the market. 

Invicta Grand Diver Open Heart 13708
Case Size: 47mm
Movement: Automatic
Water Resistance: 300m (1,000ft)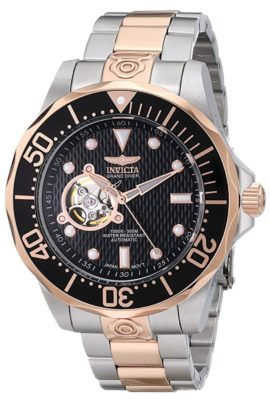 The Invicta Grand Diver 13708 is a large-sized dive-inspired watch with a prestigious Japanese automatic movement. You can get a glimpse of the mechanism through an open-heart design on the dial and a see-through case back.
However, the open cut is not the onliest style-adding element this Invicta comes with. A textured black dial along with rose-gold toned luminous hour markers and hands make the Grand Diver so luxurious that it can fool many into thinking it's a multi-thousand dollar time tracker. 
The watch is also noteworthy for its 300m (1,000ft) water resistance. However, it doesn't mean the watch can be submerged to these depths as it's only tested in static water, not in actual underwater conditions. Nevertheless, the Grand Diver is resistant enough to withstand water pressure for 2 hours in 30m (100ft).

Invicta Speedway Black Watch 20305
Case Size: 50mm
Movement: Quartz
Water Resistance: 100m (330ft)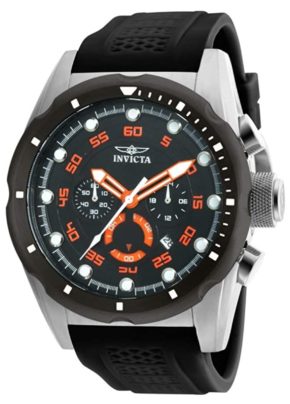 If you're after a racing-inspired watch that is not equipped with a top-notch chronograph function and reflects the modest side of the type rather than flamboyant, the Invicta Speedway Black 20305 could be the perfect fit.
Despite its huge 50mm case diameter, the watch has a laidback nature with its small minute markers and stopwatch dials. The date window is also barely noticeable between the four and five-hour markers.
An interesting thing with the Invicta Speedway watch is that it is a hybrid of a racing and dive watch – not only does it feature a chronograph but also luminous hour markers and hands, just like in genuine dive wristwear.
The peculiar appearance is one of the reasons why this particular model caught our attention. Another fact for reasoning the inclusion of this ticker is that it runs on a reliable and accurate Japanese quartz movement and has a very high rating from verified buyers, ensuring that the Invicta Speedway is a watch worthy of pursuing. 

Invicta I Force Chronograph 19252
Case Size: 51mm
Movement: Quartz
Water Resistance: 100m (330ft)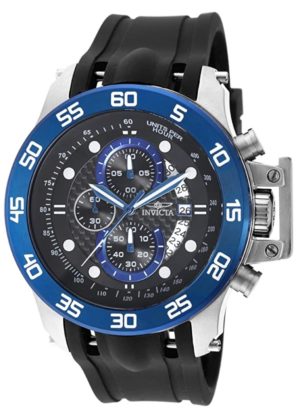 We finish our list of the best Invicta timepieces with a proper water sports watch. The Invicta I Force Chronograph sticks out with a dive-inspired appearance that sees a professional crown protector and distinctive blue bezel combined with a 100m (330ft) water resistance.
You'll also find the band being of durable and water-resistant polyurethane, the crown screwable, and the hands lume-filled. 
Like most Invicta watches, the I Force is equipped with a top-notch chronograph feature that measures from 1/10-second for up to 60 minutes. A unique extra present on the dial is a half-circle date window displaying the current, previous, and forthcoming dates. 
Before you go for this Invicta piece, make sure it goes with your wrist size as it is one of the largest from the manufacturer, standing at 51mm in case diameter.
---

What You Need To Know Before Buying
Invicta watches would be valuable additions to any man's watch collection due to their luxurious-like appearance and favorable price tags. However, you need to be aware of a couple of things before going for an Invicta piece. We've covered them thoroughly in our Invicta watches review, but here's a short recap of the most essential of them.  
1) Invicta is a through and through fashion watch brand – it means it places more emphasis on the style rather than the quality. Therefore, don't expect a horological masterclass or any awe-inspiring innovations that make your jaw drop.  
Regardless of the approach, Invicta watches are still considered to be way ahead of other similarly priced and styled timepieces – they look stunning and last for years to come. 
2) Invicta offers excellent value-for-money watches – when a wristwatch costs a hundred or so dollars and is made up of decent components for the money, there just isn't much space for a debate. In fact, the vast majority of Invicta watches cost well below the $100 mark.
Stainless steel, mineral crystal, eye-catching designs, and Japanese automatic and quartz movements combined with attractive prices are the keywords that define the brand's success.
3) Beware of the warranty conditions – the 2-3 year policy that an Invicta watch typically comes with won't cover everything. For example, any problems that are to do with a crystal, case, crown, battery, or straps do not belong under the warranty. The only components you can get repaired free of charge include a watch caliber, dial, and hands.
In order to avoid watch models with frequent defects, make sure to read reviews from various e-commerce sites. 
4) Don't let yourself be fooled by the discounts – the inflated MSRPs with incredible discounts on Invicta's homepage (not on Amazon) is nothing more than a marketing trick to attract people into buying their watches. 
Whether it's an ethical thing to do or not is up to everyone to decide. Thus, take this approach from the brand with a grain of salt. 

Conclusion
We hope this list of the best Invicta watches has helped you pick out the right timepiece according to your requirements; or at least has guided you in the direction of finding the style or a specific collection that excites you the most.
It's clear that Invicta is not a luxury brand or a well-established manufacturer with an irrefutable reputation. However, it offers a wonderful selection of very affordable timepieces with decent quality levels to last you for long years to come.

You may also like:
Affiliate Disclosure: As an Amazon Associate I earn from qualifying purchases. Details