Affiliate Disclosure: As an Amazon Associate I earn from qualifying purchases. Details
Fashion watches have been the trend of the past couple of decades when several clothing companies decided to take up the challenge of entering this vigorous market. They're not competing with the industry's big guns, such as Seiko, Tissot, and Citizen, in terms of brand recognition and horological achievements. Far from that.
However, what they're good at and really stick out from the crowd is their fashionable appearance.
This post combines precisely these fashion watch brands that sell wristwatches in all the imaginable styles and designs you can come up with, all the way from ultra-minimalist analog timepieces to over-the-top gold and diamond watches.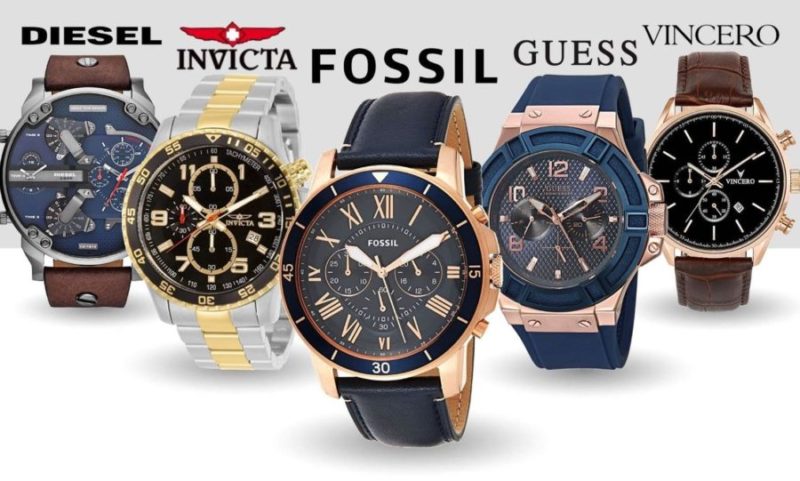 Since the number of worthy brands with eye-catching appeal is vast, you'll find only these companies that, besides their fashionable looks, offer some quality as well.

Are Fashion Watches Worth Buying?
But first, the question that often lingers on the minds – are fashion watches worth the money? Since their primary focus is set on appearance rather than longevity and horological innovations, it's a fair question to ask.
From a seasoned watch wearer's perspective, fashion watches won't correlate with the bucks spent. For the same amount of money, you can get a Seiko or Orient piece that will last you many times longer than a fashion watch would.
On the other hand, a millennial or an average Joe couldn't care less about the sophistication of the watch movement or the glossary history it comes with. What really matters is the appearance and how it suits the personality and outfit of the wearer. If it employs a famous fashion brand name as well, even better. 
Therefore, a fashion watch is worth buying for anyone who finds it satisfying to pamper the wrist.

Top Fashion Watch Brands
Now that the question is settled, let's head to the brands that offer fashionable watches at affordable rates.

Fossil
When it comes to fashion watches, the primary brand name associated with the term is almost unequivocally Fossil. The American conglomerate has been manufacturing appealing timepieces for more than 30 years now and, during that time, has become the largest producer of fashion watches.
In fact, Fossil Group is among the bestselling watch manufacturers by market share in 2020. The group's portfolio includes several notable sub-brands, such as Michele Watch, Skagen Denmark, Relic, and Misfit. It also provides licensed designing, production, and distribution for Emporio Armani, Burberry, Michael Kors, and many more.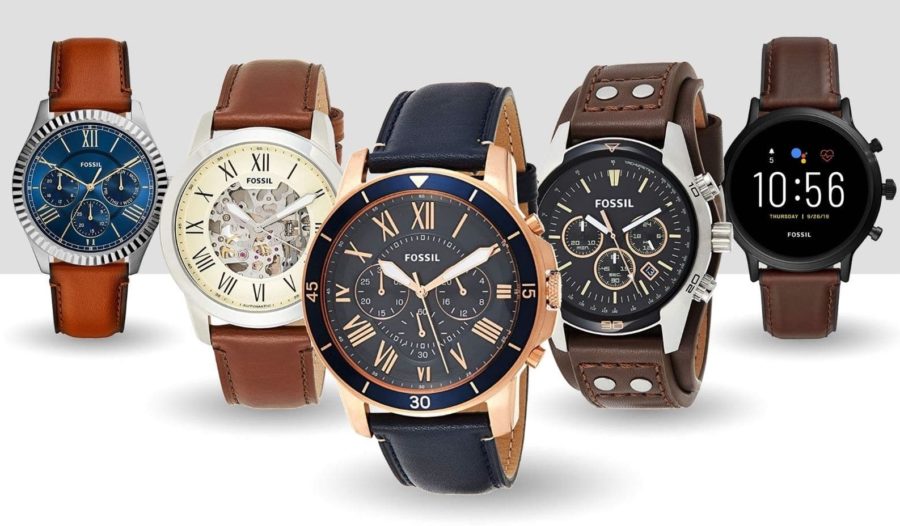 Fossil watches stick out with a very modern design leaning towards a casual everyday style. The vast majority of timepieces are quartz-driven and feature chronograph functions and high-quality leather straps.
Besides simpler quartz watches, Fossil has quite an extensive selection for more sophisticated automatic wristwatches. The brand even has some eye-catching skeletonized dial watches in its line-up.
Probably the best part with Fossil watches is their very affordable prices, considering the quality levels they come with. Therefore, the brand is a decent competitor to more appreciated manufacturers in the industry.
---

Michael Kors
Although Michael Kors is best known for its high-end handbags and clothing, the wristwear selection it offers is surprisingly good.
From the hundreds of various models for both men and women, the underlying characteristics of the watches comprise gold-tone and rose-gold accents in combination with either chronograph dials or neat analog faces.
Besides the flashier end of tickers, Michael Kors has several classics as well, such as the blue-faced brown leather MK Gage watch or the MK Slim Runway timepiece with a black all-metal appearance. 
As with most fashion watch brands, Michael Kors's timepieces run mainly on quartz movements. However, you'll also find some self-winding mechanisms, along with eye-catching exposed dials.
Like its licensed producer Fossil, Michael Kors has a collection of smartwatches powered by Wear OS, providing the opportunities for fashion-following wearers to pamper their wrists with a Michael Kors labeled smartwatch. 
---

Armani
Another expensive high-end fashion brand that has turned into wristwatches is Armani. However, the watches are priced way more modestly than the clothes, ranging from anywhere between $100-$250.
When you're browsing through the timepieces, you'll notice that Armani sells watches under two brand names – Emporio Armani and Armani Exchange (AX). Emporio caters to young adults between 20 and 30, while AX is aimed at teenagers and street fashion admirers. However, in broad terms, they're both the same.
Armani watches are among the manliest in the fashion watches category. They typically come with an all-black and silver-tone appearance that are combined with dark dials. Compared to other similar brands, such as Fossil, Armani timepieces employ stainless steel bands to a great extent, with fewer options available in leather.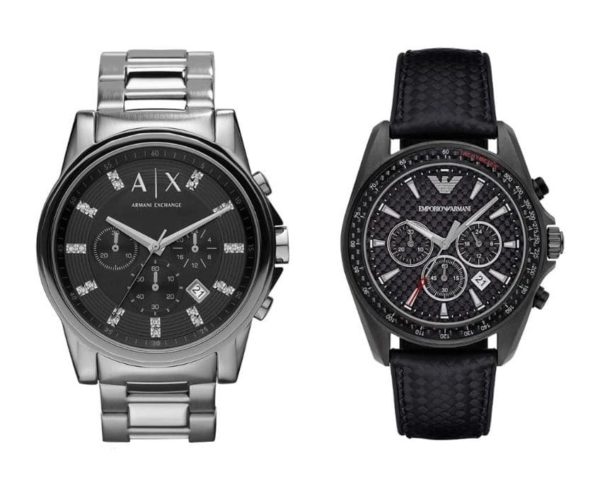 Quality-wise, Armani doesn't differ from other fashion companies when Japanese quartz movement and mineral crystal are the primary components – they're nothing spectacular but decent enough to stand the test of time.
---

Guess
Guess watches are somewhat cheaper than Armani and Michael Kors models but provide equally appealing aesthetics.
As such, you'll find several models closely resembling both of the aforementioned brands' timepieces – at one end of the specter, there are rose-gold toned cases and, on the other masculine silver-toned and dark-faced watches.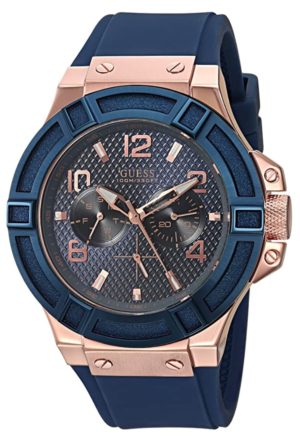 The wristwatches run solely on cheaper-end Japanese quartz movements that, despite their lower quality, are nevertheless accurate to +/-15 seconds per month. In case something happens to your Guess piece, you'll have a 2-year warranty period that'll help you out.
Guess watches are manufactured by Sequel AG, which is owned by Timex Group. Since Timex is well-known for producing quality watches at very attractive rates, you can expect some heightened quality levels through this connection. However, don't set your expectations too high – after all, Guess is still a fashion-oriented brand rather than an acknowledged watch producer.
---

Diesel
Diesel is a fashion watch brand that is nothing like others – it distinguishes itself with oversized and over-the-top timepieces that will never go without attention. The Italian-origin retail clothing company has therefore become the primary source for those wishing to decorate their wrists with large-faced tickers. 
Diesel watches have typical case sizes of around 50mm. Compared to a classic watch with its 40mm diameter, the Diesel piece is a monster. However, the enormous dials have not been left empty when unique designs involve multiple time counters, stopwatch subdials, and large metal elements.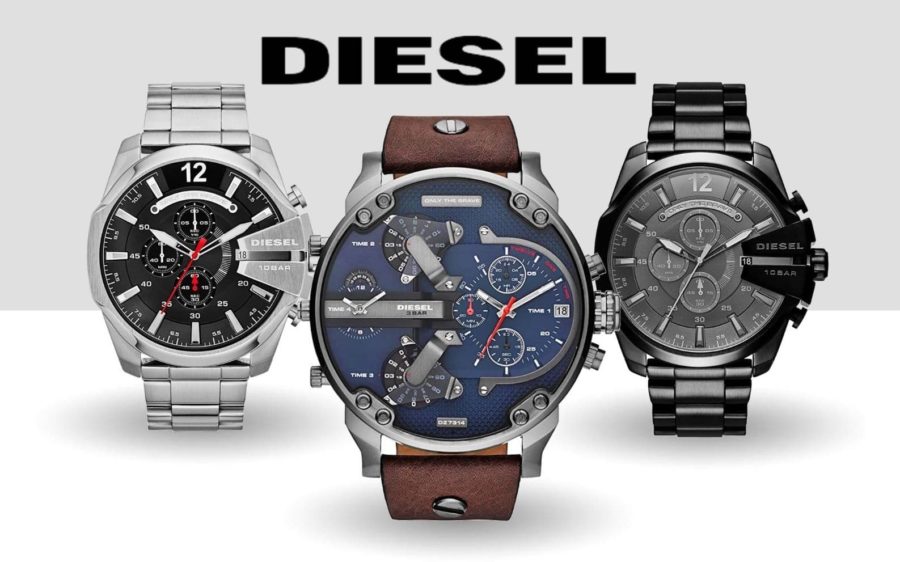 The oversized Diesel watches are priced between 100 to 200 dollars. For the money, you'll receive enough quality to last you for years to come. But, most importantly, the heightened attention from friends and co-workers is why men go for these watches.
Besides unique chronograph wristwatches, Diesel also offers a selection of Wear OS smartwatches that count heart rate, include GPS, and are compatible with Android and iOS. 
---

Tommy Hilfiger
Tommy Hilfiger's watch collection was first launched in 2001 by the world-famous Movado Group, which was licensed to produce and distribute the timepieces. The watches represent "the casual American lifestyle and spirited yet sophisticated design aesthetic."
As such, you'll find various casually styled wristwear suitable for everyday wear, whether it be for an important job interview or a night out to a club.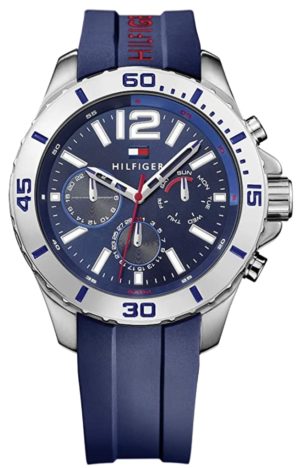 The Hilfiger watches feature a stopwatch function with distinctive subdials and a fixed bezel. They're also suitably sized for the majority of wrists with 42-44mm case diameters.
In terms of quality, Hilfiger employs Japanese quartz movements that keep an accurate time and rarely disappoint. The bands are of genuine leather, stainless steel, or water-resistant silicone, while the glass is made from widespread mineral crystal.
Compared to many other fashion brands, Tommy Hilfiger sells its watches for very affordable prices when most models stay around the $100 mark.
---

Hugo Boss
Another fashion brand that has an agreement with Movado Group for manufacturing wristwear is Hugo Boss. 
The German company has two distinct lines of wristwatches – HUGO by Hugo Boss and BOSS. The primary difference between the two is that the first comes in a sporty and masculine style, whereas the latter has a smart casual appearance to be worn with suits and shirts.
The array of both lines' dial colors and designs is vast, ranging from dark-faced tickers with red accents to minimalist analog watches with sleek dials. All the timepieces come with a quartz movement, mineral crystal, and durable stainless steel case.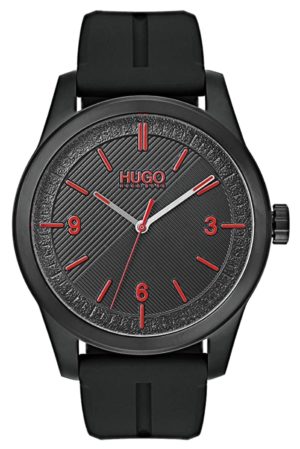 On top of the decent materials, Hugo Boss offers a wonderful selection of watch bands. As such, you'll find variously colored leather straps, stitched leather versions, smooth silicone straps, and stainless steel mesh, ionic plated, and link bracelets.
---

MVMT
MVMT is an American watchmaker that rose to the scene in 2013 with a quest to "disrupt the overpriced and outdated models of the fashion industry." The crowdfunded brand has ever since provided the market with minimalistic yet fashionable timepieces that, most of all, appeal to the millennials.
A great part of the success among the younger audience can be credited to prosperous social media marketing, especially on Instagram, where MVMT has more than a million followers.
When it comes to the watches it produces, they all look stunning for a minimalist design. The faces are sleek and rarely feature any redundant elements, while the watch hands are modestly slim yet noticeable enough to catch the time effortlessly. Among the widespread analog dials, MVMT offers some humble chronograph watches as well.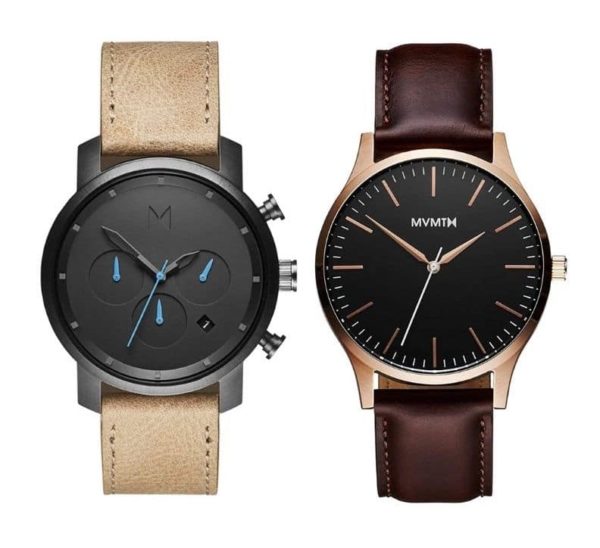 MVMT watches employ Japanese quartz movements, with the Miyota brand being the primary source for timekeeping modules. Aesthetic addition that makes the timepieces more appealing is a domed mineral crystal the brand employs in most of the watches.
---

Vincero
A very similar fashion watch brand to MVMT is Vincero – it was founded about the same time, has a strong social media ground, and offers elegant wristwear for an affordable price.
The three bestseller collections include Chrono S, Bellwether, and Kairos.
The Chrono S watches come with three subdials and a three-pusher design in two case sizes, 40mm and 43mm. The Bellwether line is unique for a mecha-quartz movement where the primary time runs on a quartz crystal and the stopwatch on mechanical movement. And the third collection, Kairos, is a simple line of wristwear with neat dials and a laidback design.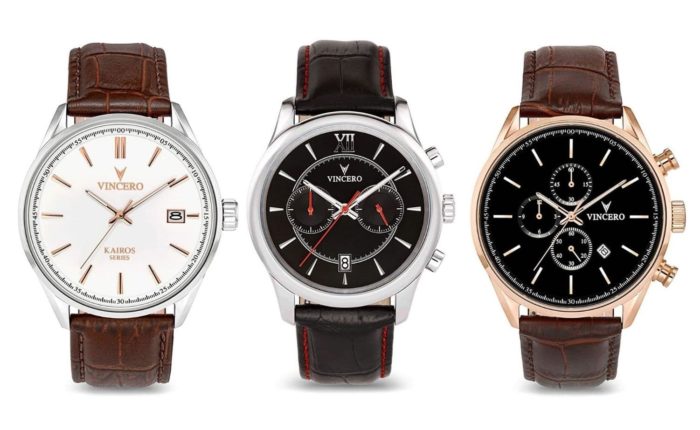 Vincero watches are equipped with Japanese Miyota quartz movements that are widely employed in affordable wristwatches. The case backs are of posh Italian marble, while the mineral crystals have been covered with a thin layer of sapphire for enhanced protection against scratches.
All in all, Vincero watches seem to provide much more than the price tag at around $150 would suggest. However, take the brand's exaggerated marketing stating its watches to be luxurious with a grain of salt.
If you wish to know more about the brand, visit our comprehensive Vincero review. 
---

JBW
Out of all the fashion watches currently available, the JBW brand produces the most eye-catching and stunning timepieces. JBW, which stands for "Just Bling Watch," has dedicated to providing courageous wearers with diamond and Swarovski-covered wristwatches. And yes, they are 100% real gemstones.
Typically, you'll find a JBW watch with 10-20 gemstones. But the pricier the watch goes, the more diamonds there are. Some of the timepieces, such as the JBW Men's Phantom, have as many as 238 miniature gemstones scattered all over the watch.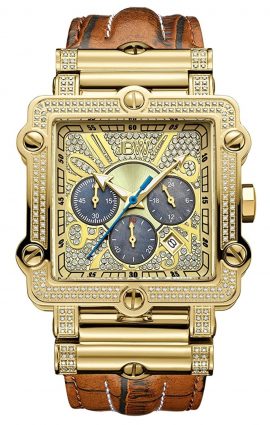 Quality-wise, you can expect reliable construction and substances. For example, the timekeeping mechanisms originate from Japan and Switzerland, and the crystals are made from either mineral or highly appreciated sapphire glass.
However, one of the downsides with JBW watches is that they don't withstand water pressure too well. Although they come 100m (330ft) water-resistant, many wearers have complained that the dial turns foggy after the submersion to water. Thus, make sure not to wear it while swimming or showering.
---

Daniel Wellington
Daniel Wellington is a Swedish brand that was established in 2011. As appropriate for a genuine Scandinavian watchmaker, the timepieces come in minimalistic design without any stopwatch subdials or date windows. They don't even have the second's hands.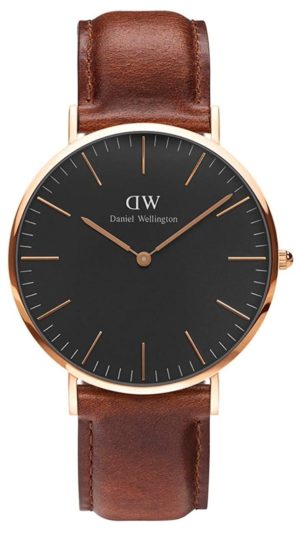 So, what's the driving force behind the success of Daniel Wellington fashion watches?
It's the ultimate simplicity combined with sophistication and straightforward design. The subtle faces lie on ultra-thin stainless steel cases, and the straps are mostly of quality Italian or American leather. Thus, they're spot-on for professionals that wear shirts and suits for their jobs. 
Although some may argue that paying 200 bucks for a simple quartz watch with non-existent design elements is a rip-off, the recent trends in fashion for ultra-minimalistic timepieces suggest otherwise. Therefore, it's no wonder the likes of Daniel Wellington and MVMT have ruled the wrists of so many people for some time now.
---

Invicta
While some may disagree with adding Invicta among the fashion watch brands, mainly due to some wonderful dive wristwear it has, it's impossible not to do that if it offers a plethora of over-the-top gold-tone watches and element-rich dials.
The former Swiss brand Invicta has a vast selection of variously designed timepieces that cost a fraction of the price similarly styled tickers usually do. And although the quality may not be rock-solid, Invicta pieces are nevertheless worthwhile wearables for anyone not afraid to show some flair.
While the most popular collection is the Pro Diver line with some real value-for-money watches, the most fashion-oriented are the large-sized wristwatches with golden and rose-gold tones. The timepieces are filled with subdials and variously colored design elements that won't leave anybody cold.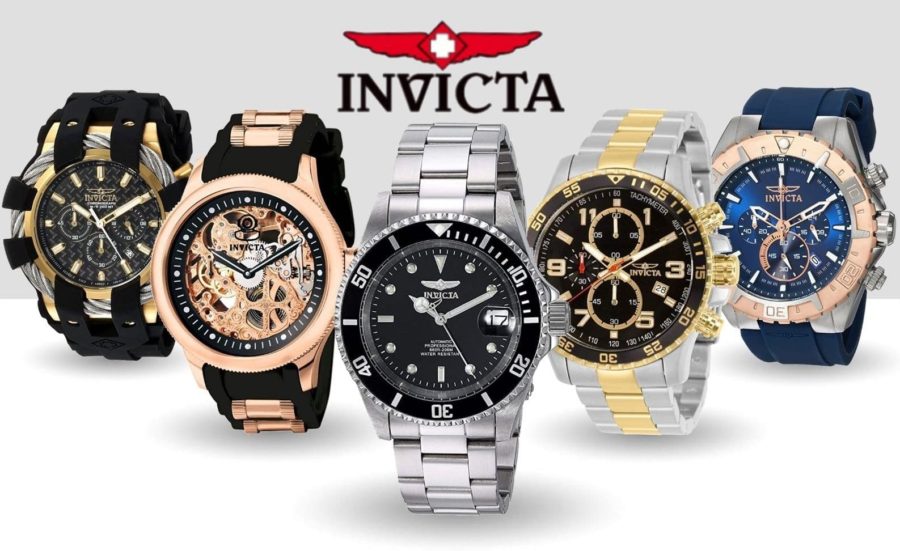 Most of the Invicta watches cost less than $100, which is very low considering the extravagant appearance. Even some of the automatic timepieces cost around a hundred bucks, making them wonderful entry-level mechanical watches for first time wearers. 
---

Conclusion
The prime goal of fashion watches is not to impress with top-level calibers or awe-inspiring horological innovations. It's the visual appearance and style that makes them so sought-after.
If a person wishes to wear a flashy rose-gold watch with multiple subdials or a simple quartz ticker with Michael Kors or Daniel Wellington stamped on them, why not?! In the end, it doesn't matter if it's a Tissot or one of the fashion watch brands we covered in this post, as long as the wearer feels the watch represents him/her the best.

You may also like:
Affiliate Disclosure: As an Amazon Associate I earn from qualifying purchases. Details
Latest posts by Carl Pender
(see all)