Affiliate Disclosure: As an Amazon Associate I earn from qualifying purchases. Details
Chronograph watches are the most popular types of watches that have tempted people with their flexibility and flamboyance for over a century after Breitling took them to the masses at the beginning of the 20th century.
The likes of Rolex Daytona, Omega Speedmaster, and Breitling Navitimer don't require any introduction to anyone who's into timepieces.
However, besides these illustrious and pricey tickers exist tons of affordable chronograph watches that look as stunning as the most expensive ones and offer equally practical features for a fraction of the price.
In order to take much of the hard work off your shoulders, we've put together a comprehensive list of the best chronograph watches under $500.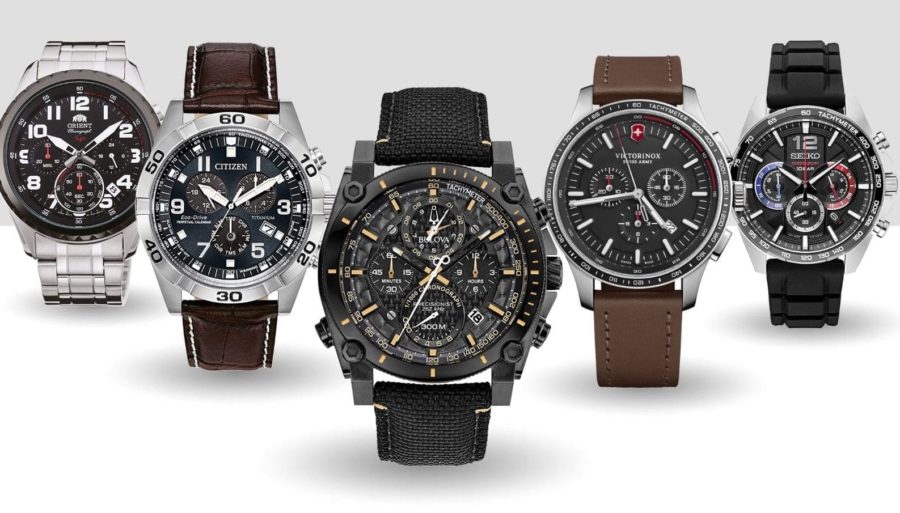 These wristwatches are not only affordable and gorgeous but will offer plenty of reliability to stand the test of time.
But first off, what is a chronograph watch and what can you do with it?

What Is a Chronograph Watch?
A chronograph watch is like any other timepiece. However, it adds a stopwatch function on top of the regular timekeeping. Therefore, a chronograph watch has additional subdials to see the stopwatch results, and two pushers on either side of the crown for starting, stopping, and resetting the stopwatch.
A typical chronograph measures in 1-second increments for up to 30-60 minutes. But some timepieces can slice the seconds into tens and even hundreds of fractions.
With a chronograph watch, you can measure anything that involves the accurate timing of events.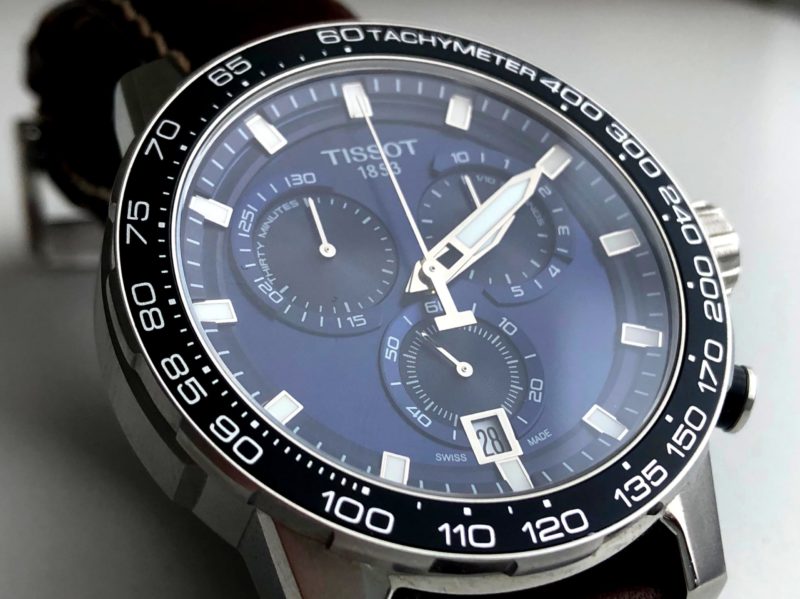 To make it even more interesting, many chronographs are equipped with a tachymeter bezel that helps for advanced calculations, including speed and distance.
Therefore, a chronograph watch is more than just a timepiece with appealing aesthetics – it adds a highly practical feature you can use for timing basically everything.

Best Affordable Chronograph Watches
We decided to bring you a variegated selection of top affordable chronograph pieces that represent various styles and come from numerous world-famous manufacturers.
The watches have also received high praise from thousands of owners, being a testimony of their sturdiness and sophistication.
Without further ado, here are the watches in no particular order.

Bulova Precisionist Champlain 98B318
Case Size: 45.5mm
Crystal: Mineral
Chronograph: 1/1000sec to 12h
Water Resistance: 300m (1,000ft)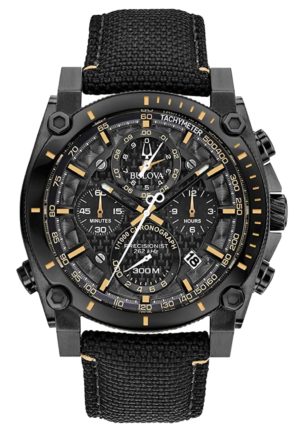 Our list starts with a marvel from the famous watchmaker of Bulova.
The American brand has greatly emphasized producing highly accurate and stunning chronographs filled to the brim with rare additions. The Bulova Precisionist Champlain 98B318 is an exemplary model out of the magnificent Precisionist line Bulova produces.
The primary feature of the watch is the 8-hand quartz chronograph movement, comprising four subdials that measure in the range of 1/1000th of a second for up to 12 hours. Although the 1/1000th second precision is a bit of an overkill for everyday life, it shows the extent Bulova is willing to take its wristwear.
When talking about the scope, we can't look past the accuracy of the Precisionist line. Equipped with eight times higher quartz frequency (262kHz), the Bulova 98B318 can hold an accuracy of +/-10 seconds a year! Compare it to a standard quartz watch with the same result in a month, and you'll realize how accurate this Precisionist watch actually is.
Bulova has moved the boundaries even further by adding the sweeping motion of the second's hand to most of the Precisionist timepieces, including this particular watch. The 16 steps that the hand takes in one second outclasses any mechanical watch out there.
In terms of dimensions, the Bulova 98B318 is a commanding physical presence on the wrist. It measures 45.5mm in diameter and 17.5mm in height. Hence, make sure your wrists accept these dimensions before going for the watch.
Unfortunately, this absolute stunner chronograph has quite a significant flaw – legibility.
Since the minute and hour hands come in the same tone as the background, with only the tips being contrasting, it takes a considerable amount of time to spot them. As a result, this is not an easy-to-read watch but more of a statement watch with mouthwatering features.
Regardless, if you wish to own a complete chronograph watch with unique extras for less than $500 while not being afraid of its very bold aesthetics (and limited legibility), then this carbon fiber Bulova Precisionist should be your go-to watch.

Citizen Brycen Titanium BL5551-06L
Case Size: 43mm
Crystal: Mineral
Chronograph: 1/20sec to 60min
Water Resistance: 100m (330ft)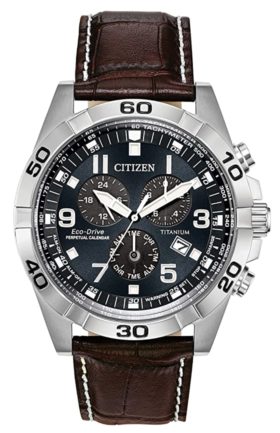 Another affordable chronograph that boasts high-class additions is the Citizen Eco-Drive BL5551-06L. However, these extras are very different from that of Bulova. 
Citizen is best known for its solar-powered quartz movements that don't require cumbersome battery replacements.
The Eco-Drive solar technology you'll find from this Citizen watch holds a charge for up to six months and constantly recharges whenever in a bright environment. On top of that, the wristwatch is accurate, losing/gaining only about 15 seconds per month.
Besides the convenience, the Citizen BL5551-06L also provides a sturdy construction when a proprietary Super Titanium, a surface-hardening technology, protects from scratches and is approximately 40% lighter than stainless steel. In fact, the watch weighs around 60 g (2.1 oz), making it ultra-light on a wrist.

The watch is also noteworthy for its precise 1/20-second chronograph function and a perpetual calendar. The latter, in particular, is a feature not very common in wristwatches below the $500 mark. This particular type of calendar ensures that no modifications are ever required to set the date.
Lastly, if there weren't already enough functions, this Citizen watch surprises with an alarm feature. However, the sound might not be strong enough to wake you up if you consider yourself a heavy sleeper.
The Citizen Brycen BL5551-06L sits comfortably on the wrist not only because it is lightweight but also because of its size. It measures 43mm in diameter, which is a perfect sweet spot between small and large. Moreover, it can be slipped underneath the sleeve due to its 12mm height.

Seiko Flight Chronograph SNA411
Case Size: 42mm
Crystal: Hardlex
Chronograph: 1 sec to 12h
Water Resistance: 200m (660ft)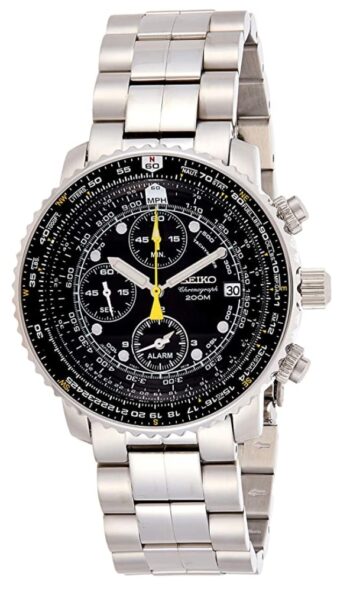 The following timepiece steers away from casual everyday wear, mainly because of its tool-like characteristics suitable for professional pilots.
The Seiko Flight Chronograph is a through and through pilot watch with a very crowded dial. Equipped with a complete gear-edge tachymeter bezel that includes all the necessary units for various calculations, the watch is a spot-on backup for pilots in an emergency.
The Seiko chronograph watch has a convenient stopwatch function with central seconds (stopwatch seconds run on the primary counter). In addition, the yellow color of the hand makes the reading easier to capture, as well as provides a clever visual addition to an overall black-and-silver appeal.
A value-adding extra with this watch is its suitability for professional marine activities due to the 200m (660ft) water resistance it comes with, making it a proper wearable for swimming and snorkeling.
For improved water resistance, the crown and pushers come screwable. It means you have to first unscrew them to use the functions.
The watch is decently sized at 42mm in diameter, wears nicely on a wrist, and has a luxurious-looking domed Hardlex crystal.
The most significant drawback with this Seiko SNA411 is its irregular lug width – it is neither 20mm nor 22mm, but 21mm. It means you won't have a wide selection of straps for this watch if the stock bracelet isn't your cup of tea.
Overall, the Seiko SNA411 is an iconic timepiece and one of the best from the brand.
Feel free to check out our hands-on review on the Seiko SNA411.

Tissot Supersport Chrono Blue
Case Size: 45.5mm
Crystal: Sapphire
Chronograph: 1/10 sec to 30min
Water Resistance: 100m (330ft)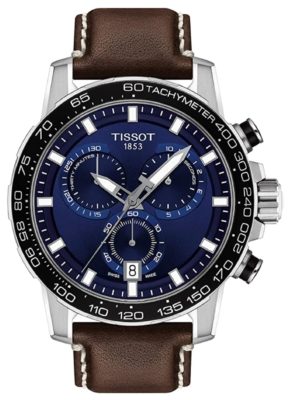 Tissot is a genuine Swiss brand with a long and storied history full of remarkable landmarks that have shaped the industry. Considering Tissot's reputation, it is often surprising to find how affordable the watches are.
The Tissot Supersport Blue is one of the timepieces that could easily cost 500+ dollars but is available for way less.
The price-quality ratio is the very reason why we've included this Tissot among the best affordable chronographs. For the money, you'll not find many other watches that offer so much in terms of quality.
First of all, the Tissot Supersport Chrono runs on a highly accurate Swiss quartz chronograph movement. Within a month, my Tissot gained only three seconds, which is simply astounding.
Secondly, the dial is protected with a premium-quality sapphire crystal that is way more resistant to scratches than widely used mineral glass. And lastly, the watch is water-resistant to 100m (330ft) and comes in a sturdy stainless steel case.


Appearance-wise, there's no letdown either. Several owners, including myself, are especially intrigued by the blue dial that changes tone in different lighting. The dial is also noteworthy for being multi-layered, giving the watch a pleasant and sophisticated appeal.
The leather strap is another noteworthy part of this watch. Although it is pretty stiff in the beginning, it will eventually fit the wrist's contours. Furthermore, it is thick, which means it will last you longer than thinner straps. That's why we consider the watch to be among the best leather timepieces as well.
If you want to read our in-depth review of this timepiece, visit our Tissot Supersport Chrono review.

Casio Edifice Chronograph EF527D-1AV
Case Size: 45.5mm
Crystal: Mineral
Chronograph: 1/20sec to 12h
Water Resistance: 100m (330ft)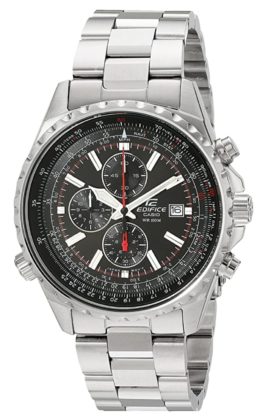 While Casio's most prominent lines include G-Shock and Pro Trek watches, there's also a racing-inspired collection Edifice that hasn't received as much attention as it should have.
The watches freely compete with other similarly equipped chronograph pieces from more appreciated brands, such as the ones from Seiko and Citizen.
For example, the Casio Edifice Chronograph Watch, with its price tag just above the $100 line, is a great value-for-money proposition for anyone into reliable and precise chronograph timepieces.
The watch is equipped with a 1/20-second stopwatch and a rotating inner slide rule bezel, allowing numerous calculations. The rotating bezel has a dedicated crown at the 4 o'clock position. What's nice is that the bezel adjusts smoothly with no complications.
However, for most wearers, it's the dial's appearance that lures them to choose this type of ticker. In this regard, the Casio Edifice doesn't disappoint one bit and is comparable to the Seiko SNA411 we covered earlier.
The well-placed subdials, lume-filled thick hands and hour markers, and a contrasting red second hand harmonize perfectly with the dark dial and information-rich bezel. Unfortunately, the luminosity isn't anything spectacular as it doesn't have much strength. Neither does it last long.
The 45.5mm stainless steel timepiece is also a suitable companion in water due to the 100m (330ft) water resistance it holds. However, contrarily to the Seiko SNA411, the crown and pushers can't be screwed in, which means the watch is for swimming at the most.
But of course, the Edifice chronograph is more than suitable for several other occasions, too, because of its versatile appearance and feature-rich nature. And considering its price point, the watch is a value deal.

Orient Solar NEO 70s Panda
Case Size: 42mm
Crystal: Mineral
Chronograph: 1/5sec to 60min
Water Resistance: 100m (330ft)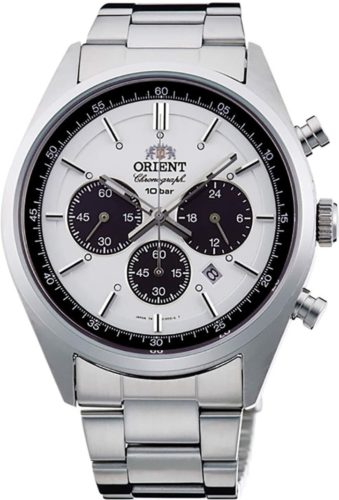 When it comes to chronograph watches, not many associate Orient with this type of wristwear. Quite frankly, it is understandable because, after all, the Japanese manufacturer is a prominent producer of automatic mechanical timepieces and calibers and not quartz-driven chronographs.
However, there are a couple of gems hidden beneath the heaps of automatic watches, with one of them being the Orient Solar NEO Panda. It is truly a rare piece as only a handful of Orient watches feature solar power. Moreover, it sports an iconic Panda design where the dark subdials lay in front of the white background.
The watch has a 1/5-second increment stopwatch that measures up to 60 minutes. In addition, you'll find a dual time on the right-hand-sided subdial.
The pushers for the chronograph are easy to operate and come with smooth yet firm clicks.
Quality-wise, the Orient watch is as sturdy as you would expect from this Japanese brand – the case is made of durable stainless steel, the face is covered with mineral glass, and the construction is protected from humidity and water with a 100m (330ft) water resistance.

When talking of negatives, many have brought out the somewhat poor quality of the metal bracelet. It is flimsy and feels a bit cheap. However, to be frank, the vast majority of affordable stainless steel watches come with stock bracelets that disappoint wearers.
Fortunately, the 22mm lug width of the Orient watch offers a wide variety of choices for other types of straps. For instance, what looks absolutely stunning is a black leather strap that harmonizes brilliantly with the black subdials.

Bulova Lunar Pilot "Moonwatch" 96B251
Case Size: 45mm
Crystal: Sapphire
Chronograph: 1/20sec to 60min
Water Resistance: 50m (165ft)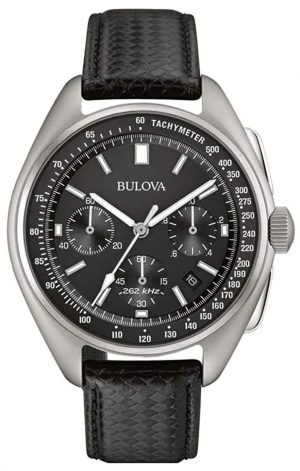 The Bulova Lunar Pilot, also known as the "Moonwatch," is one of the most famous chronographs.
The timepiece became famous after David Scott, an American astronaut, wore it during the Apollo 15 mission in 1971, becoming the second wristwatch after the Omega Speedmaster to "set foot on the Moon."
The nowadays version is, of course, upgraded to modern standards, with some added features not to be found from other brands' watches.
The black Lunar Pilot watch runs on the same Ultra-High Frequency 262kHz quartz movement as the Precisionist line. It means super-accurate timekeeping of about +/-10 seconds a year and a sweeping motion of the second hand (on a subdial).
The chronograph feature is also of high class when it measures in 1/20-second intervals for up to 60 minutes. You'll find the stopwatch subdials at three and nine o'clock and the sweeping chronograph's hand on the main counter.

What's noteworthy is the unique pushers' design – instead of the classic raised buttons, the Moonwatch has wide streamlined pushers that stretch almost to the watch lugs.
In terms of materials, the Lunar Pilot features a premium-level sapphire crystal with an anti-reflective coating, which is a blessing on a sub-$500 timepiece. Bulova also provides two interchangeable straps with the purchase – textured black leather and black nylon with nubuck leather.
Note: Make sure not to submerge the watch in the water as the resistance is limited to 50m (165ft) only. So only splashes of water and rain are allowed.

Citizen Brycen CA0648-09L
Case Size: 44mm
Crystal: Mineral
Chronograph: 1/5sec to 60min
Water Resistance: 100m (330ft)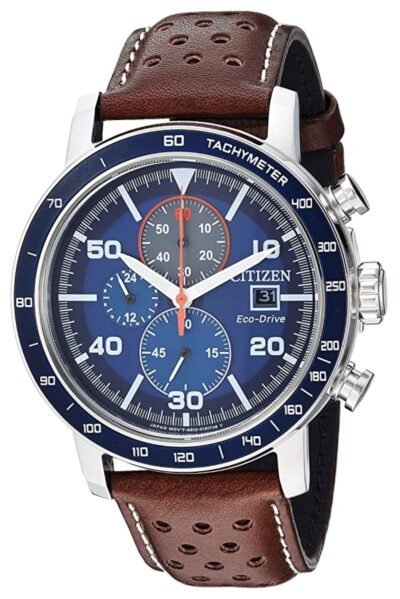 The Citizen Brycen CA0648-09L is a casual everyday watch that goes with various attires and events. A classic blue face, brown leather band, and universal case size of 44mm are the factors that have made this Citizen piece so popular. 
The solar-powered ticker is equipped with a 1/5-second chronograph function on two small windows at nine and twelve o'clock. The stopwatch's seconds sweep on the primary dial, whereas the watch's seconds tick on the bottom subdial.
The Citizen can be worn in the water as well because of the 100m (330ft) water resistance it comes with. However, replace the leather band with a more suitable one as the material is not the best for humid conditions.
Also, take note that the strap tends to be more on the shorter side, which means men with a wrist circumference exceeding 8 inches won't have enough holes in the strap to fit the watch around the wrist. Fortunately, there's a wide variety of longer straps to consider.
In case something happens to the watch, you're guaranteed a 5-year limited international warranty, which is relatively rare for an affordable timepiece. Therefore, you can rest assured that the engineers of Citizen have made sure the watch will last you a long time.

Tissot Seastar 1000 Quartz Chronograph
Case Size: 45.5mm
Crystal: Sapphire
Chronograph: 1/10sec to 30min
Water Resistance: 300m (1,000ft)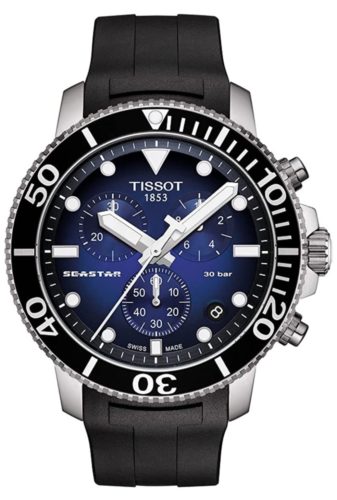 The Tissot Seastar 1000 is a 300m water-resistant dive watch that is coupled with a stopwatch. Since most divers are analog watches with no additional features, the Seastar 1000 is a versatile dive watch for various occasions.
The stopwatch measures in 1/10-second increments and has a central seconds hand. To operate the chronograph, you first have to unscrew the pushers. After you've finished using the feature, it is vital to screw the pushers back in. Otherwise, the water may intrude and ruin the watch for good.
When it comes to dive capability, the 300m of resistance doesn't mean you can actually dive to the stated depth.
What it means with this Tissot is that you can swim and snorkel with it, as well as use it for shallow diving. Therefore, the watch is more of a desk-diver rather than a professional-grade tool watch, despite its high water resistance rating.
Read more about the resistance ratings from our post on the water resistance in watches.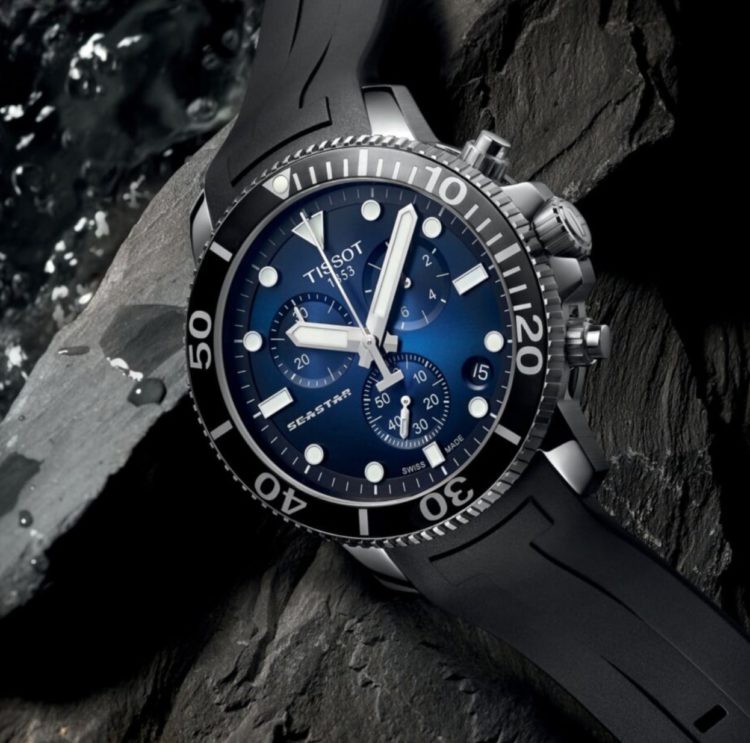 In terms of durability, the Tissot Seastar 1000 is a classic example of the high quality of Swiss production. It runs on an accurate Swiss quartz caliber, is covered with scratch-resistant and anti-reflective sapphire, and features a long-lasting rubber strap.
You'll also get some nice luminosity from the watch hands and hour markers. It has an attractive bluish tone instead of a widespread green, as well as a strong and long-lasting glow.
What you should look out for is the size of the watch. The case stretches to almost 46mm, which is a couple of millimeters wider from classically sized timepieces.
I have a 7.3in wrist circumference, and the 45.5mm is just exactly the size I expect from an oversized watch – the lugs don't stretch over the wrists, occupying approximately 90% of my wrist's cross-section.

Seiko Sports SSB347
Case Size: 44mm
Crystal: Hardlex
Chronograph: 1/5sec to 60min
Water Resistance: 100m (330ft)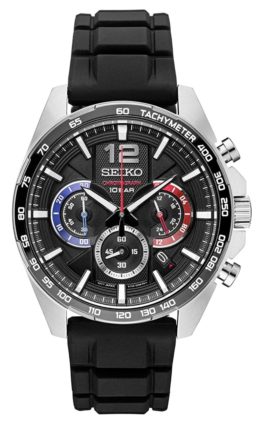 We have another Seiko chronograph on this list. This time it is a through and through sports piece, both function and aesthetic-wise.
The quartz-driven Seiko Sports Chronograph SSB347 comes with eye-catching subdials that are half circle-shaped. What makes them even more interesting is that both the minute counter and dual time consist of two hands that each count one-half of the whole.
At first, it might seem a bit complicated and hard to follow, but after some time, you won't make much difference between reading this and a classic subdial.
The chronograph is paired with a fixed tachymeter bezel, which means the stopwatch has central seconds, whereas the watch's seconds are displayed on the bottom subdial.
The good thing is that all the hands stick out from the background and can be instantly recognized.
The watch has a very sporty appeal with a black bezel and a ruggedly designed silicone strap. The color palette that includes red and blue on a dark background, combined with a silver-toned stainless steel case, is very masculine and best suited for outdoor activities and casual outfits.
In terms of quality, it is a classic Seiko sports watch. It means the watch is accurate, reliable, and water-resistant. In addition, the hands contain a decent amount of luminous paint, offering a nice glow in the dark.

Fossil Coachman CH2891
Case Size: 44mm
Crystal: Hardened mineral
Chronograph: 1 sec to 30min
Water Resistance: 100m (330ft)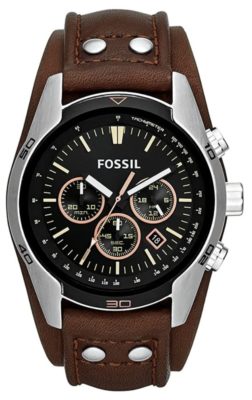 The Fossil Coachman has been around for years and is still one of the top Fossil watches to date for its excellent casual design that appeals to a lot of men.
The watch has a black dial with well-placed subdials and a subtle design, combined with a brown leather strap. What makes the strap especially eye-catching is the extra layer that is wide and runs underneath the case. It makes the watch more commanding but also more convenient on the wrist.
The Coachman's size at 44mm is also something that favors broader suitability – it is neither too large nor too small but right in the sweet spot.

In terms of chronograph functionality, this Fossil measures in 1-second increments for up to 30 minutes. The count-up is displayed on two subdials that are maybe a bit small for a convenient capture but are fortunately contrasting enough to read the results.
Along with the stopwatch, you'll also get tachymeter markings on the dial's outer ring. However, to make use of it, you can't rely on the stopwatch itself, but you have to use the central seconds instead. It means you have to wait until the second hand reaches 12 and then memorize where it stops to make the calculations.
The Fossil Coachman also has luminous hands and is water-resistant to 100m (330ft). However, don't expect much from the lume as it is no dive watch.
A great thing with almost every Fossil watch is the possibility to engrave it in one of the official stores. Therefore, Fossil watches make it as perfect gifts with personalized messages to your loved ones.
Besides that, you can also choose between a vast selection of bands, giving you even more opportunities to personalize the appearance of the watch.

Luminox Navy SEAL Black Watch
Case Size: 45mm
Crystal: Hardened mineral
Chronograph: 1 sec to 12h
Water Resistance: 200m (660ft)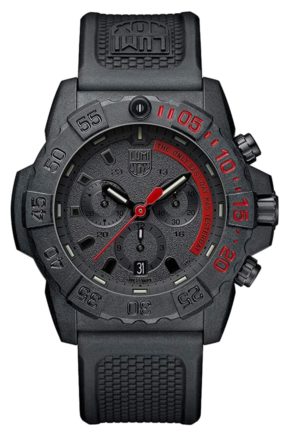 The Luminox brand hasn't been around as long as several other manufacturers but has already earned itself a stellar reputation for producing highly durable tactical watches.
The timepieces have also been accepted by the US Navy, NYPD, and US Air Force, constituting the quality the brand puts up.
The Swiss-made Luminox Navy SEAL Black Watch is made from an ultra-lightweight carbon compound resistant to thermal changes and various chemicals. The full-purpose tactical watch is also equipped with light technology that constantly glows for up to 25 years without the need for any light source.
The glow is not as bright as in typical lume-filled timepieces, but the continuity and convenience of it outclass the majority of them.

When it comes to the chronograph function, you'll find two windows and the red second hand dedicated to this feature. The stopwatch measures in 1-second increments and is easy to operate through the pushers on the right side of the case.
The only problem is that the subdials are blacked out, hindering the legibility. Yes, it looks cool and very masculine, but there should've been some sort of contrasting element to make the reading a bit more convenient.
When it comes to water resistance, the Luminox watch is an appropriate timepiece for any serious water activity, including swimming and recreational diving. The strap that is made of genuine rubber is also noteworthy for its durability and the way it comfortably grabs the wrist.
If the blacked-out Luminox is not what you're looking for, have a look at the more contrasting Luminox 3581 that comes with white markings. Also, the Luminox 3597 is an excellent alternative with its eye-catching green dial.

Timex Expedition Field Chronograph
Case Size: 43mm
Crystal: Mineral
Chronograph: 1/20sec to 30min
Water Resistance: 100m (330ft)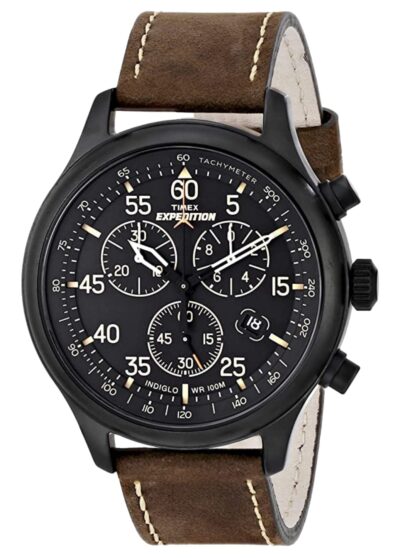 The Timex Expedition Field Chronograph is the cheapest on this list of the best chronographs, staying well below the $100 mark. However, the lower price tag doesn't mean it lags in quality or appearance.
For example, you'll find a 1/20-second stopwatch feature, along with a tachymeter circle on the outer ring of the dial. The pushers are easy to operate when the upper starts and stops the stopwatch, and the lower splits and resets it.
A very handy characteristic of any Timex watch is the Indiglo backlight with its famous greenish-blue glow. By simply pushing the crown, the whole dial lights up for a couple of seconds. Therefore, you can even use the chronograph in the dark, which, in most cases, is impossible with other timepieces.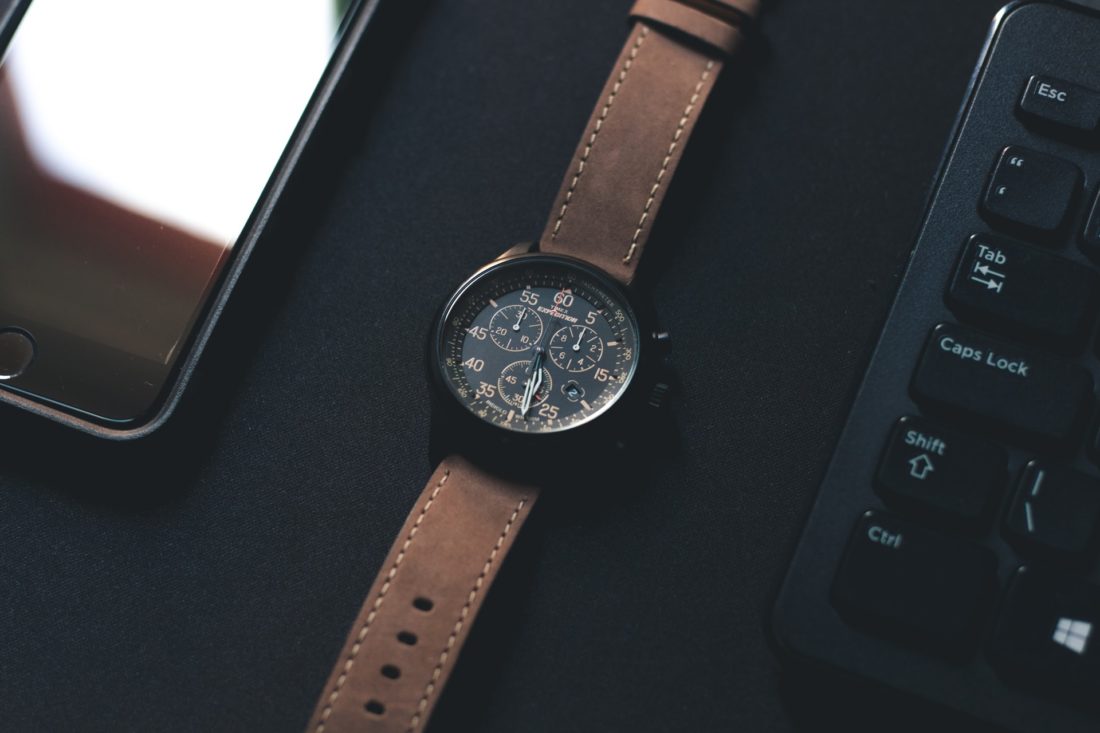 Timex is also known for its widespread employment of brass cases that add industrial appeal. This particular model is no exception in this regard when the metal has been coupled with a raw-finished brown leather band to provide a rustic appearance.
However, the original strap is for casual wear only – it doesn't withstand water or much of the extremes outside. Therefore, consider replacing it with a rubber or NATO strap that is meant for more severe conditions.
It's pretty usual to find cheaper-end Timex watches featuring lower-quality acrylic crystal. However, the good news is that this Expedition is equipped with a much more scratch-resistant mineral glass, which adds durability and longevity to the watch.
Overall, the Timex Expedition is an affordable alternative to the Bulova, Seiko, and Citizen chronographs we've covered so far. It may not have the quality standards of these three, but the watch is still a decent wrist companion to stand the test of time.

Citizen Corso AT0200-05E
Case Size: 39mm
Crystal: Mineral
Chronograph: 1 sec to 60min
Water Resistance: 100m (330ft)
We continue with another outdoor chronograph watch, the Citizen Corso AT0200-05E. It's a timepiece with militaristic aesthetics that sees an army green canvas strap combine with an easily readable dark face. The hour numbers are large and the hands distinctive, especially the red second hand that won't go missing.
The stopwatch feature has also been made relatively effortless to read – you'll not find fancy design elements or colorful subdials but a straightforward black-and-white layout with a 1-second precision chronograph.
The function, as well as the whole watch, gets powered by solar energy. So there's no need to worry about running out of the battery or replacing it every other year.
Besides the convenient solar power and easy-to-read dial, the Citizen Corso is also equipped with luminous hands for enhanced time updates in the dark and a 100m (330ft) water resistance for various conditions outdoors.
The good news for men with slender wrists is that the watch measures a decent 39mm in diameter. Therefore, the Corso watch is a discreet timepiece that doesn't occupy too much real estate on your wrist.
The only letdown of this watch is the date window. The problem is not the size of it, but the fact the numbers are not displayed in bold. Thus, be prepared to take an extra second or two to capture the date.
All in all, the Citizen Corso is more than just a chronograph watch – it has been constructed to withstand harsh conditions and last you for long years to come. What's even better is that it won't cost you an arm and a leg either.

Diesel Mega Chief DZ4283
Case Size: 54mm
Crystal: Mineral
Chronograph: 1/10sec to 60min
Water Resistance: 100m (330ft)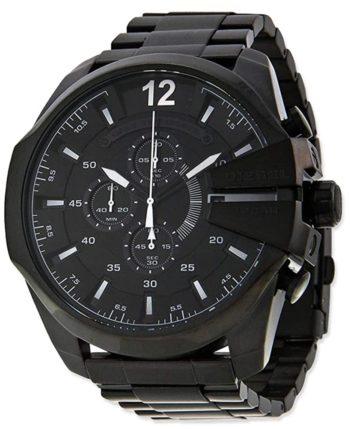 We finish our list of the best chronographs under $500 with a very bold ticker that won't leave anybody cold. It's the Diesel Mega Chief Chronograph.
If you wondered where the Mega comes from, it's because of the watch's enormous size – it stretches 54mm in case diameter. In fact, Diesel has come up with even larger wristwatches with nearly 60mm diameters.
In terms of functionality, this large Diesel watch comes with a 1/10-second stopwatch on three subdials and a date window hidden between the metallic wings on the right side of the watch. The timekeeping and the features are powered by a reliable Japanese quartz mechanism.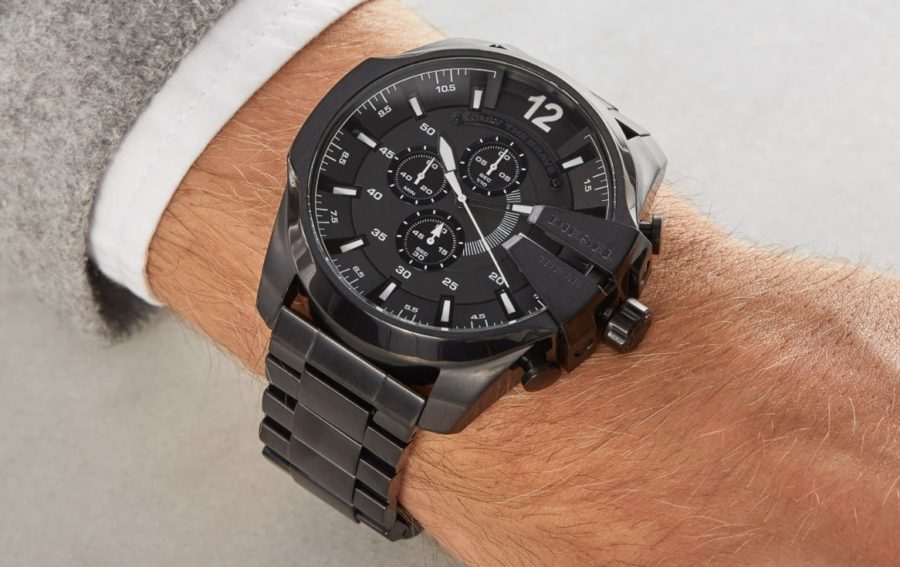 Aesthetically, the Mega Chief is a very masculine timepiece. A black ion-plated stainless steel combined with a wide 26mm metal band makes it stand out from the crowd and catch attention.
However, it is advisable first to check whether your wrist is suitable enough for this manly watch as it won't look too good on slender wrists. Feel free to check our watch size chart to find the perfect case size for your wrist.
---

Types of Chronograph Watches
Although for most wearers, a chronograph function in a watch is a visual feature rather than a practical one, there are still some aspects that everyone should take into account before going for an affordable chronograph watch. 

Automatic vs Quartz Chronograph
Our list is made up of quartz chronographs only. And that is for a good reason, too – they're much cheaper than automatic counterparts with a plethora of options available for $500 and less. Automatic chronograph watches, on the other hand, have a starting price of around $1,000.
Since an automatic timepiece is already a complex mechanism consisting of more than a hundred miniature parts, it gets even more complicated and expensive if an extra timing mechanism is added.
Therefore, if you're after an affordable chronograph, there's no alternative to a quartz-driven option.

Placement of the Seconds Hands
Many people have bought a chronograph watch without knowing where the primary second's hand is placed. So, big is their surprise to find out that it is situated on one of the subdials instead of sweeping on the main counter.
Chronographs divide into two versions:
1) the central second hand is on the primary dial, while the stopwatch's seconds run on the subdial
2) the central second hand lies on one of the subdials, while the chronograph's seconds run on the primary dial
A simple way to visually tell the difference between the two is to check whether the chronograph comes with a tachymeter bezel. If it does, the stopwatch seconds typically run on the primary counter. If it doesn't, you'll have the chronograph sweeping entirely on the subdials.
Therefore, make sure which version suits you the most. Otherwise, you may not be as satisfied as you thought you would.

Scope of Measurement
A simple chronograph watch measures in 1-second intervals up to 30 or 60 minutes. For most wearers, it is more than enough. However, some may require a preciser stopwatch or one that counts up to 12 hours.
Several manufacturers offer chronographs that measure in fraction seconds, typically in 1/5, 1/10, and 1/20- second increments. Such watches cost a bit more than the simpler ones but are nevertheless available for less than $500.
Thus, consider the scope of the chronographs before making a purchase.

Final Words
A chronograph watch may not serve the purpose it used to several decades back, but it is still a functional and, most of all, a visual masterpiece to have.
We hope this list of the best chronograph watches under $500 has helped you closer to your next ticker with a stopwatch feature. Whether it be a highly accurate Bulova Precisionist, a sporty Casio Edifice, or a fashion-oriented Diesel watch, you can be sure to receive decent quality and sophisticated looks likewise.
But make sure of the specifications of the function before purchasing since not all the chronograph watches are the same.

You may also like:
Affiliate Disclosure: As an Amazon Associate I earn from qualifying purchases. Details
Latest posts by Carl Pender
(see all)