Affiliate Disclosure: As an Amazon Associate I earn from qualifying purchases. Details
Watches with leather straps have always attracted interest from men wishing to showcase their sense of style. Probably the best characteristic you can have with this type of strap is the possibility to combine it with other clothing accessories, such as shoes, belts, and shirts.
Also, the universality makes a leather watch a perfect companion for everyday wear, as well as for more festive events.
However, the aesthetics of leather timepieces is one thing. Another essential factor equally crucial to the appearance is also the quality and sturdiness of the leather. Not all are the same as they differ quite extensively.
In order for you not to end up with a low-quality model, we've brought you the best leather watches a man can buy that also cost no more than $300.
In addition, you'll find a comprehensive guide to buying durable leather straps at the end of this post.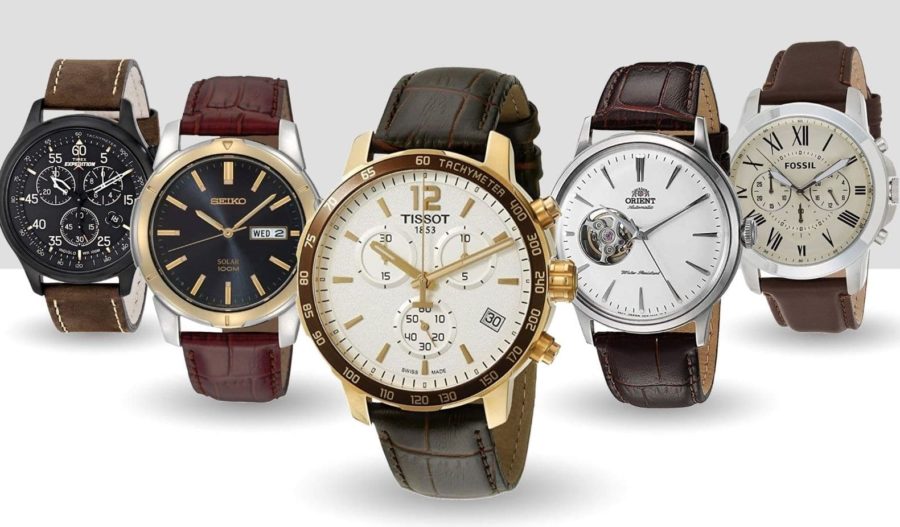 10 Best Leather Watches That Will Last
Since the array of leather watches is tremendous, we've decided to bring you as versatile a selection as possible. That's why our list is made up of watches from different brands, with different powering methods, and with distinct styles.
An assuring factor that they will last much longer than a typical leather timepiece is the positive feedback from verified owners – all the watches come with an Amazon rating of at least 4.4 out of 5.
Without further ado, here are the top watches with leather bands.
Fossil Grant Chronograph Watch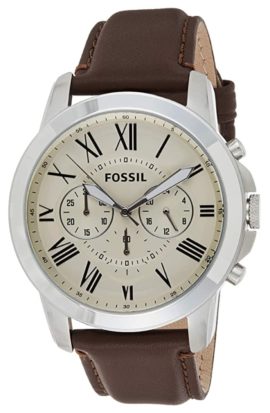 Case Size: 44mm
Strap Width: 22mm
Movement: Quartz chronograph
Crystal: Mineral
Fossil is unique in the watchmaking business for making their own leather bands rather than outsourcing them.
In fact, leather production, which also involves handbags, wallets, and belts, is one of the quality trademarks of this fashion accessories conglomerate. Therefore, it's no wonder we start the list with one of the Fossil timepieces.
The Fossil Grant Chronograph is a bestseller from Fossil. It is loved by thousands because of its fashionable appeal and decent durability. So, what specifically makes it sought-after?
First of all, it's the combination of elegant Roman numerals and sporty chronograph function. The well-placed subdials inside the classy numbers' ring provide the opportunity to wear the watch for a plethora of occasions without any concerns about its unsuitability.
Secondly, the leather strap is made of calfskin leather, providing softness and longevity likewise. Also, the 44mm stainless steel case with crown protectors and nicely shaped lugs make the Grant Chronograph watch not only a sturdy piece but also very eye-catching due to its sleek, streamlined design.
And what makes it even better is that the watch comes with a very affordable price tag, just around a hundred bucks.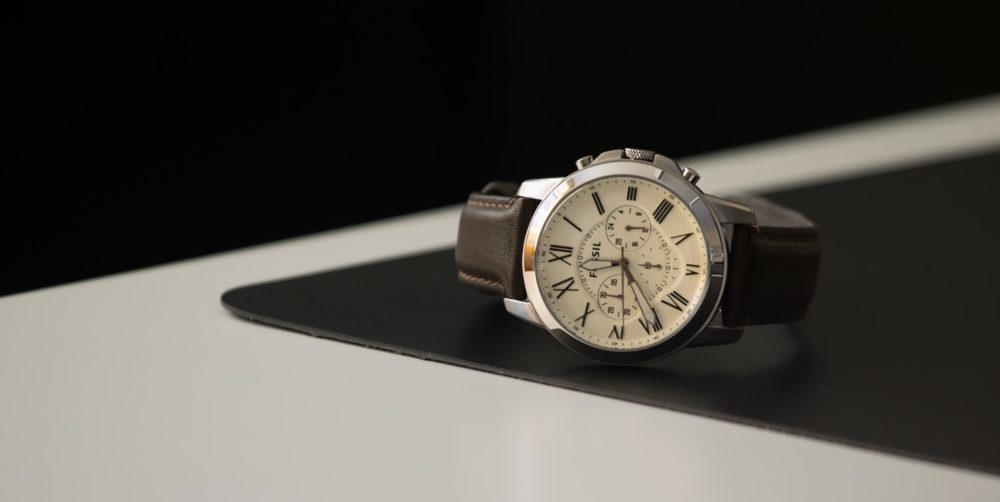 The only downside of this Fossil Grant watch is that it's not highly legible due to the light-toned watch hands on a light background. So, reading the time in dim lighting conditions isn't the easiest task.
All in all, considering the beautiful leather, appealing looks, and quartz chronograph movement the Fossil Grant comes with, it's a genuine bargain for the money and one of the top Fossil watches you can get.
Oh, and you can even engrave the watch free of charge in one of the Fossil stores. Therefore, pick an engraving idea and gift the watch to one of your loved ones. It will be a fantastic and memorable gift!
Timex Expedition Field Watch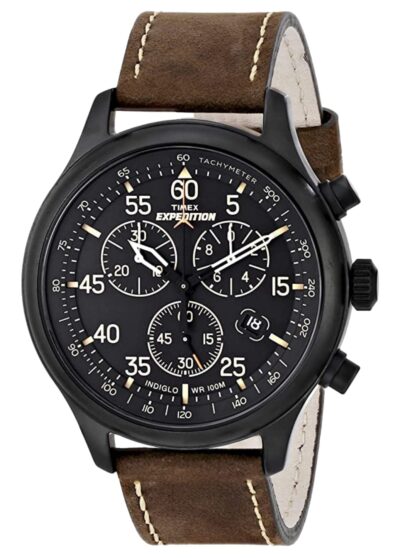 Case Size: 43mm
Strap Width: 20mm
Movement: Quartz chronograph
Crystal: Mineral
The following leather watch comes from an American brand that produces the best cheap leather watches on the market. The majority of Timex watches sell for less than a hundred dollars while offering the reliability that many other timepieces costing several hundred don't.
The Timex Expedition Field Watch comes in a matte brass case and is of decent size at 43mm in case diameter. The leather strap has a rough texture and is somewhat thin but is long-lasting and, above all, provides a convenient wearing experience due to its softness.
The only drawback with the leather strap is that it doesn't come with a quick-release function. It means you're going to need a spring bar tool to replace the strap.
However, the best features of this timepiece lie elsewhere.
First of all, you'll find a 1/20-second stopwatch function on two upper subdials and the chronograph's seconds counter on the primary time ring. The bottom subdial belongs to the central seconds' hand.
Then there are minute and hour hands that are filled with luminosity. However, don't expect much from the lume since it's still a sub-$100 timepiece.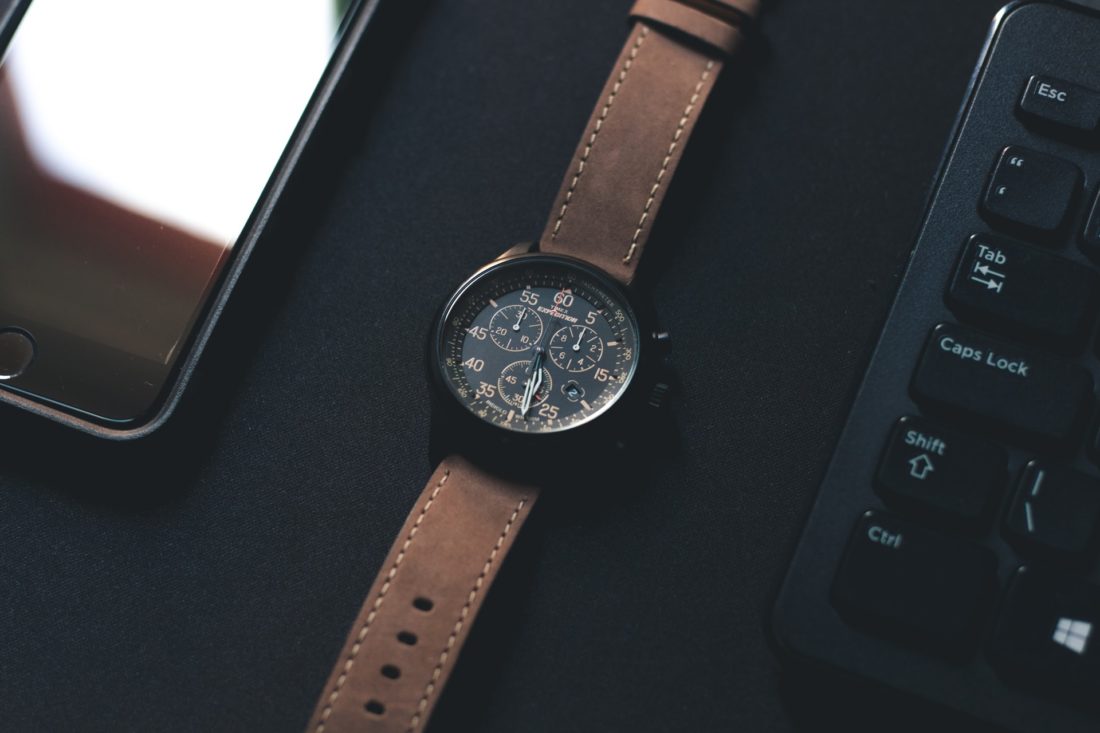 The primary reason why Timex doesn't invest much into photoluminescence is the fact that it employs Indiglo backlight that offers better lighting in the dark. It is Timex's proprietary greenish lighting technology that activates with a simple push to the watch crown and lasts a couple of seconds.
Although the Timex Expedition Field Watch is rated 100m (330ft) water-resistant, it is firmly advisable to swap the leather strap to nylon, rubber, or stainless steel if you intend to wear it in the water.
All in all, a Timex piece is one of the best bets if you're after a top watch costing less than $100.
Bulova Precisionist 96B158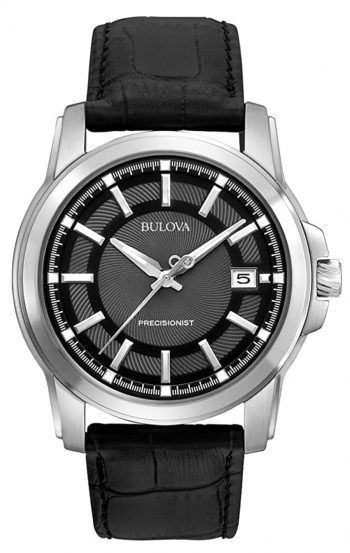 Case Size: 42mm
Strap Width: 22mm
Movement: UHF quartz
Crystal: Mineral
Another legendary American watch brand Bulova is our next representative on this list.
One of the standout models from the company, the Bulova Precisionist 96B158, not only distinguishes by its quality leather strap but is also super accurate and very pleasing for an eye to glance.
The ultra-high frequency quartz movement ticking inside this watch can hold an accuracy of +/- 10 seconds a year, resulting in one of the precisest watches currently available. A neat extra and compelling sales argument is also the smooth motion of the second's hand when an astonishing 16 ticks are accommodated into one second.
The overall aesthetics of the Precisionist watch is also noteworthy. The charcoal grey dial is textured and lies on multiple layers, surrounded by lume-filled hour markers and a silver stainless steel case. However, don't expect much from the luminosity as the watch is still a dress watch, not a diver.
When it comes to the strap, it comes with a black embossed styling that may be a bit stiff initially but will adjust to the wrist quickly, providing not only visual pleasance but also convenience.
All in all, the Precisionist 96B158 is one of the best Bulova watches on the market due to its price-quality ratio. And if you add the luxurious sweeping second's hand, it's not rare for others to mistake it for a multi-thousand-dollar luxury piece.
Tissot Supersport Chrono Brown Leather Watch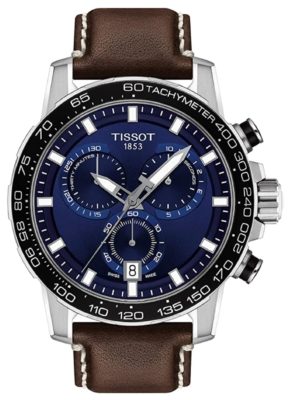 Case Size: 45.5mm
Strap Width: 22mm
Movement: Quartz chronograph
Crystal: Sapphire
Tissot is a respected Swiss watch manufacturer with an impeccable reputation. However, the notation Swiss made on the dial doesn't necessarily mean that some wristwear can't be affordable. Quite the contrary, Tissot is among the best providers of affordable Swiss watches.
One of the Swiss-made leather watches that is accessible to many is the Tissot Supersport Chrono watch. For the price, you'll get features that are typically missing from similarly priced timepieces. 
Read more: Hands-on Tissot Supersport review


The watch runs on an accurate and reliable Swiss quartz movement and is equipped with a stopwatch function, along with a tachymeter bezel. A genuine pro of this timepiece is a sapphire crystal that covers the subtle face. It is the best glass you could wish for in a wristwatch. It is the best type of crystal you could wish for in a wristwatch because of its ultra resistance against scratches.
Besides the acknowledged Swiss quartz and sapphire glass, the Tissot piece comes with a classy stitched brown leather strap that can be combined with the same-colored belt and shoes for various occasions.
The leather is thick and very durable but also quite stiff at first. However, after wearing it for a couple of weeks, it becomes softer and grasps the contours of a wrist much better.
One of the pros of this Tissot is also its superb luminosity for a non-diver piece. It has a bluish glow that is strong and lasts several hours.
Appearance-wise, the Tissot is an eye-catching piece of wearable. Besides being very noticeable in terms of size (it measures 45.5mm in case diameter), it has a deep blue dial and a black bezel that combine excellently with the brown strap and brushed stainless steel case.
Movado Gold Museum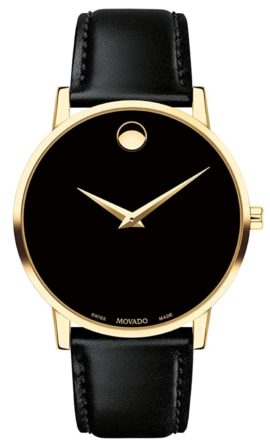 Case Size: 40mm
Strap Width: 21mm
Movement: Quartz
Crystal: Sapphire
We continue with another famous brand from Swiss production. 
The Movado Museum Watch is as minimalist as a wristwatch can go, comprising only the golden dot at twelve o'clock and a pair of golden hands. Its singular appearance has made it hugely popular, even earning itself a permanent place in several exhibitions worldwide.
But what else has the Museum watch to offer besides the unique looks?
First of all, it is powered by a renowned Swiss Ronda quartz caliber that keeps fantastic accuracy and is guaranteed to last. Secondly, the timepiece is covered with a sapphire crystal that is almost impossible to scratch.
Also, the Museum Watch is one of the best slim watches you can buy for less than $500. It measures 8mm in height, which is a perfect thickness to be worn underneath the sleeves.
When it comes to the strap, the watch offers a black-toned genuine leather with smooth finishing and black stitching. The strap isn't too thick nor too thin but a perfect midway in terms of convenience. Like many leather straps, the one on the Museum watch is also stiff. However, it becomes softer over time.
The finishing of the case has been solved with a golden PVD coating. Visually, it is marvelous. However, the thing with gold-finished cases is that they lose the luxurious appeal when they receive scratches. The scratches are also more visible than on a regular silver-toned stainless steel case.
Therefore, consider the silver Movado Museum watch if you're not a fan of gold-toned watches or you want to maintain the new look of a watch longer.
All in all, the Museum Watch is a decently sized (40mm) timepiece with a very famous background and unique aesthetics that will definitely turn some heads.
Vincero Kairos Top-Grain Leather Watch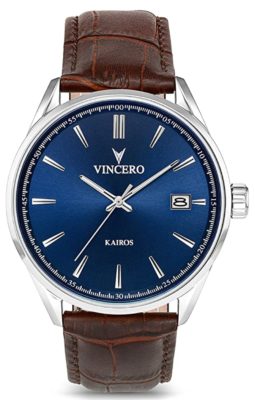 Case Size: 42mm
Strap Width: 22mm
Movement: Quartz
Crystal: Sapphire-coated mineral
The Vincero brand causes mixed emotions from both watch aficionados and typical wearers of fashion timepieces. Whatever the standpoint, one thing is clear – the top-grain Italian leather used in Vincero watches is top class, making their tickers sought-after for anyone wishing to acquire a top-notch leather watch.
The Vincero Kairos timepiece is no exception. It has a calfskin leather strap that withstands the test of time. In addition, the straps are easily interchangeable due to their quick-release function.
However, the strap is not the onliest feature making the Kairos watch so popular. As such, you'll find a high-grade 316L surgical stainless steel case, a sapphire-coated mineral crystal, and a marble caseback.

The sapphire-coated mineral is slightly more resistant to scratches than regular mineral glass but is still not as durable as sapphire. Hence, consider it a midway between the two crystals.
To be fair, for the price point the watch is sold, there couldn't be anything more you could ask. There have been some complaints about the quality consistency when some models unexpectedly stop working, but overall, the feedback is still positive.
Therefore, if you're not afraid to try out new watch brands and you value an elegant, dressy appearance, along with a classy brown leather strap, the Vincero Kairos could be a valuable addition to your outfit.
Stuhrling Automatic Skeleton Watch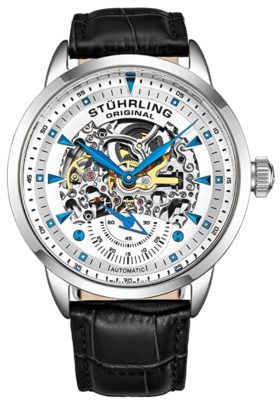 Case Size: 44mm
Strap Width: 22mm
Movement: Automatic
Crystal: Mineral
Stuhrling Original is another relatively fresh brand in the industry, but unlike Vincero, it focuses on automatic wristwear with very bold designs. Its leather is also noteworthy when alligator and crocodile-embossed bands are absolute stunners.
The Stuhrling Automatic Skeleton Watch is a spot-on example of the style the brand pursues. There just isn't anyone who would not be amazed by the appearance the timepiece comes with.
The first thing that instantly catches the eye is the skeletonized dial, which exposes the intricate workings of a complex automatic mechanical caliber. The swirling and turning of wheels and gears is something that could nail you down and mesmerize you for far too long than it would with any other typical timepiece.

A flair-adding element is also the lightning blue color of the watch hands and indices – something you won't find too often.
However, the overall legibility is hindered by the extremely busy dial with the parts of the movement and the uncountable indices interfering with the quick glance. Therefore, evaluate the importance of the ease of time capture against the artistic appearance before buying it.
When it comes to the leather of this Stuhrling watch, it is alligator-embossed. It's actually a genuine calfskin leather but has been processed to give the impression of natural reptile skin. The result is an expensive-looking strap that harmonizes brilliantly with the dial design.
What's even better is that this visual masterpiece costs only around $150, making it one of the most affordable skeleton watches around.
Seiko Solar SNE102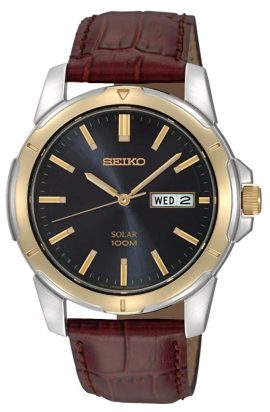 Case Size: 39mm
Strap Width: 20mm
Movement: Solar quartz
Crystal: Hardlex
The Seiko Solar Leather SNE102 we have up next represents the classic line of wristwear from this acknowledged Japanese powerhouse. The brown calfskin leather strap the watch has is crocodile-embossed, giving the ticker a genuine leather watch appeal.
Due to employing a solar panel beneath the dial and a secondary cell that accumulates the received power over and over, the Seiko SNE102 never requires a battery replacement and can hold a charge for up to six months without any light applied.
Also, since this solar-powered watch receives accuracy from quartz crystal, it keeps excellent precision, losing or gaining only about 15 seconds per month.
You can read more about the technology from our solar watch guide.
Like most affordable Seiko watches, the SNE102 is equipped with Hardlex crystal – Seiko's proprietary glass that is an enhanced version of mineral glass. As a result, it is more scratch-resistant and less prone to impact damage than a standard mineral. 
When it comes to size, this Seiko watch is somewhat smaller than other leather watches on this list, measuring 39mm in case diameter. Therefore, men with slimmer hands will definitely find this ticker better suited to their wrists.
Citizen Eco-Drive Brown Leather Watch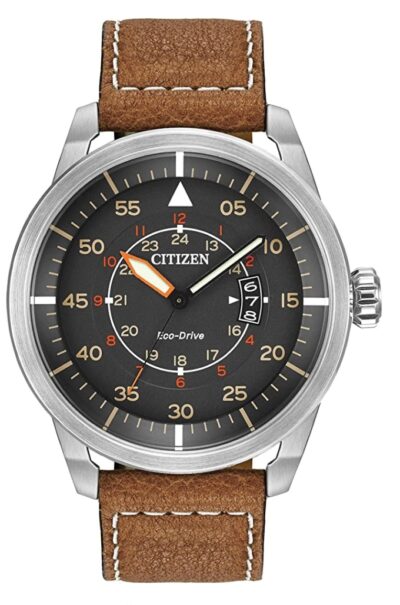 Case Size: 45mm
Strap Width: 22mm
Movement: Solar quartz
Crystal: Mineral
The Citizen Eco-Drive AW1361-10H belongs to this list for numerous reasons. Not only is the rough leather with white stitches appealing, but also is the unique dial styling. And if you add the fact the watch is powered solely by light, this sub-$200 timepiece gets even better.
This Eco-Drive piece comes with a charcoal multi-layer dial with a military time and date window at a convenient three o'clock position. The hands are filled with luminosity, providing the ease of time capture in dim lighting conditions.
Though the second hand tends to fade into the dark dial due to its same-toned color, however, the drawback is slightly eliminated with the contrasting tip of the hand. Still, it would've been much better if the second hand had been colored more contrastingly.

The brown leather strap, which is raw-finished calfskin, is much thicker than many others on this list. During the first weeks, it may be a bit stiff but will quickly take the shape of the wrist. However, being thicker typically has a considerable advantage over the slimmer ones – it will not wear out that quickly.
Last but not least, the Citizen AW1361-10H is water-resistant to 100m (330ft), enabling it to wear for swimming and snorkeling. But go for an extra pair of straps that withstand water better than leather does if these activities are part of your life.
The watch has a nice alternative by means of a black-faced and red-accented Citizen AW1361-1E. The leather strap is made of the same material and comes with a similar thickness but is black instead of brown.
Orient Bambino Open Heart Watch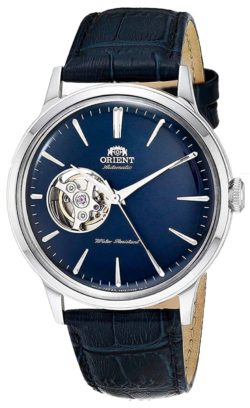 Case Size: 40.5mm
Strap Width: 20mm
Movement: Automatic
Crystal: Mineral
We finish the list of the best leather watches with a true classic from the Orient brand.
The Bambino Open Heart is a flashier version of the original Bambino for the open cut at nine o'clock. It is to showcase the magnificent work of the in-house F6T22 mechanical caliber – a specifically developed movement for open-heart watches.
The caliber is top-notch in its immediate price category for featuring highly-coveted hacking and hand-winding features. It means that you can stop the second hand for time synchronization and manually wind the watch for the maximum exploitation of a 40h power reserve.
The watch comes either blue, black, or white-faced with a brown, black, or blue leather band. Since the 20mm bands are interchangeable, you can go for the one that suits you the most. Unfortunately, the straps aren't with a quick-release pin, requiring a spring bar tool to replace the straps.
A finesse-adding feature is the domed mineral crystal, providing a more luxurious glance on the watch. Also, the Bambino is conveniently sized for a dress piece, measuring 40.5mm in case diameter – neither too large nor too small for the majority of wrists.
The price tag just below the $200 mark is a real value-for-money for a quality automatic watch with a partly skeletonized dial.
---

Buying Guide To Leather Watches
As we already stated earlier, leather watches are not all the same. They differ from one another in terms of colors, quality, finishing, and source. That's why it is essential to know the different types of leather and the pros and cons in order to end up with a long-lasting leather watch.
The following buying guide covers all the critical information you should know.

Quality Levels of Leather
In broad terms, there are three types of leather present in watches – full-grain, top-grain, and genuine leather.
The strongest and most durable of them is full-grain leather that has been sourced from animals just below their hair. However, the number of timepieces with full-grain leather is very limited. Also, the straps cost several times more than regular leather straps.
The second strongest is top-grain leather. With this type of leather, the top is sanded and polished to take away spots, scars, bites, etc. As such, this leather is the most appropriate for the watch industry due to its smooth and even finishing possibilities. It doesn't cost as much as full-grain leather but is still considered premium-class. 
Finally, there is genuine leather. It consists of several layers glued together and painted over to give a better outcome. Albeit its inferior longevity compared to the two covered above, this type is widely used and will do the job likewise.

Types of Leather
The most prevalent and affordable leather watches are made of cowhide and calfskin. Typically, calfskin leather tends to be a bit stronger than cowhide, but the difference is minimal and does not possess significant discrepancies in overall quality.
Other sources of leather include alligators and crocodiles. However, producing genuine reptile leather is not ethical as these animals are not widely used for other purposes, such as for food products. On the other hand, the leather sourced from cows is a natural leftover and does not require specifically killing animals. 

Alligator & Croco-Embossed Leather
You'll come across these terms when searching for your next leather timepiece. It should be noted that they are not real alligator or crocodile leathers but typical cowhide or calfskin that are processed to give an impression of the reptiles' natural skin pattern.

Pros of Leather Watches
Leather watches come with significant pros in comparison to other types of watch bands. The most important of them are listed below:
leather is more comfortable on the wrist
the material offers possibilities for various colors and textures
it is hypoallergenic
leather is perfect for matching with other accessories

Cons of Leather Watches
Despite the overwhelming advantages you get from a leather band, there are still some disadvantages you should take into account before going for a leather watch:
leather watches are not meant for regular water exposure
leather wears out more quicker than other types of bands

So, Which Leather Is The Best?
All in all, the best leather watches are made of full-grain/top-grain calfskin or cowhide and have a decent thickness (avoid too slim bands).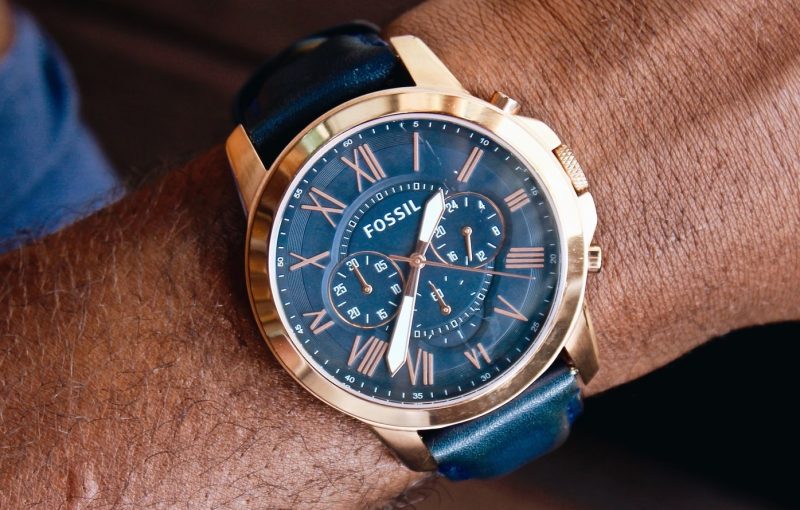 Unfortunately, not many watch brands state exactly the type of leather they use, which leaves too much ground for blind assumptions. However, usually, it means the straps are made of genuine leather.

Conclusion
A leather watch is almost a must in a gentleman's wardrobe due to its wide suitability for various outfits and different occasions. Since not all leather timepieces are the same, it is essential to go for the right one that would not wear out in a matter of months. 
The best leather watches we've brought you are guaranteed to last you for years. Whether you prefer a fashion-oriented Fossil or an over-the-top skeletonized Stuhrling piece, you can be sure that not only will you receive compliments for the beautiful dials but also for the classy-looking and quality leather strap.

You may also like:
Affiliate Disclosure: As an Amazon Associate I earn from qualifying purchases. Details
Latest posts by Carl Pender
(see all)