Affiliate Disclosure: As an Amazon Associate I earn from qualifying purchases. Details
Automatic watches are the representation of watchmaking virtuosity because of the delicate and complex mechanism that requires greater skills and know-how to construct. Therefore, it's no wonder automatic watches cost way more than their quartz counterparts.
However, not all automatics come at premium rates.
For example, there are loads of fantastic pieces available for around $500 from renowned brands. What's even better, some watchmakers offer them for $200 and less, providing a wonderful opportunity for first-timers to get acquainted with the prestigious movement without spending huge sums of money.
This post is precisely about the ones that cost pennies compared to premium class timepieces. Below, the list of the best automatic watches under $200 combines the wristwatches that not only come with a very favorable price tag but also offer enough quality to stand the test of time.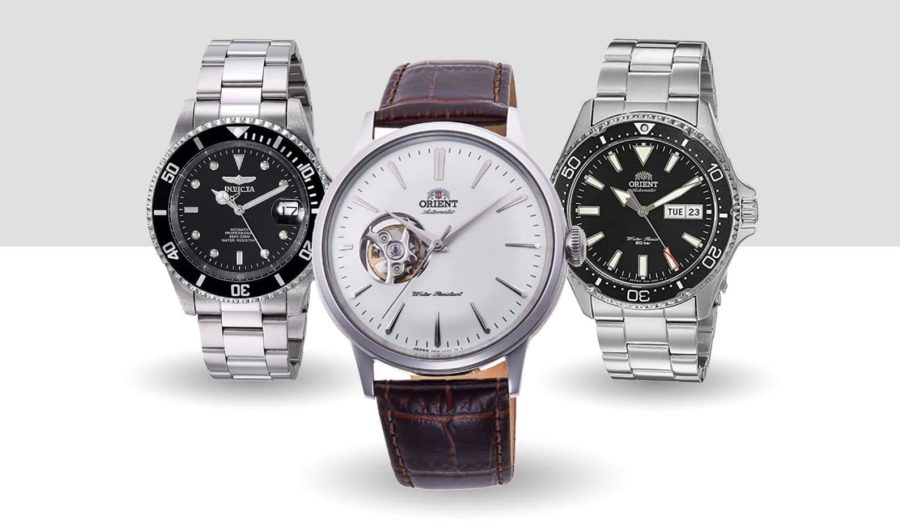 How Did We Select the Watches?
Although the array of affordable automatic watches is quite wide, not every timepiece with a self-winding mechanism is worth the hassle. Therefore, we took into account the following factors to sort out the best:
1) Durability of caliber – an automatic watch is basically worthless if it sports a sub-par caliber that is inaccurate and unreliable. Therefore, the watches you find from this list are all equipped with tried and tested movements.
2) Reliable construction – besides the reliable caliber, we also considered the overall durability of the watch, all the way from the crystal to the band/bracelet.
3) Price-quality ratio – for two hundred bucks, you can get a decent watch. However, what we want you to have is not only a decent watch but a superb one – the one that comes with the best price-quality ratio. Hence, the watches are equipped with the best materials and calibers you can get for the money.
4) Owners' feedback – lastly, on top of our experience with the watches, we considered the feedback from other people who own these watches. The broader the opinions, the more accurate is eventually the assessment.
Also, make sure to read our guide to automatic watches if this is your first time buying a self-winding timepiece. We've answered and explained several topics that typically arise regarding the watches.

Best Automatic Watches Under $200
Without much ado, here are the watches.
Orient Kamasu Automatic Dive Watch
OUR TOP PICK!
Case Size: 42mm
Crystal: Sapphire
Caliber: F6922
Hand-winding: Yes
Hacking: Yes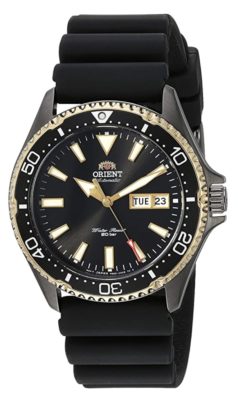 If you want a highly reliable yet affordable automatic watch, Orient should be one of the first brands to turn to. The Japanese manufacturer has been producing mechanical calibers for over 70 years now, achieving a steadfast reputation.
One of the standout models from Orient is the Kamasu Automatic Dive Watch. It represents sophistication, versatility, and visual perfection that are usually present in a thousand-dollar watch, not a sub-$200 piece.
The Kamasu line is fairly new and is considered a significant upgrade to the appreciated Mako and Ray watches. For instance, what you find from the Kamasu models but don't find from Mako and Ray is sapphire crystal. In a timepiece that costs a couple of hundred bucks, it's something you don't often find.
However, what most Orient watches share, including this Kamasu, is the in-house F6922 automatic caliber.
The highly acknowledged self-winding mechanism can be hand-wound and hacked (non-existent in most of the affordable automatic watches), adding pleasing features for a convenient user experience. You can also expect the caliber to hold decent accuracy at about -15/+25 seconds a day (in reality, only about 10 seconds here and there) and a charge for up to 40 hours.
In terms of construction and appearance, this Orient Kamasu is quite a flashy 200m water-resistant dive watch with its black dial and gold-tone accents on the bezel and face. However, the design is not overdone – the watch still looks very professional.
The luminosity is also something worth the praise – it glows brightly and lasts for up to eight hours. Since the hour markers are quite large, it ensures there's plenty of real estate to accommodate the luminous paint.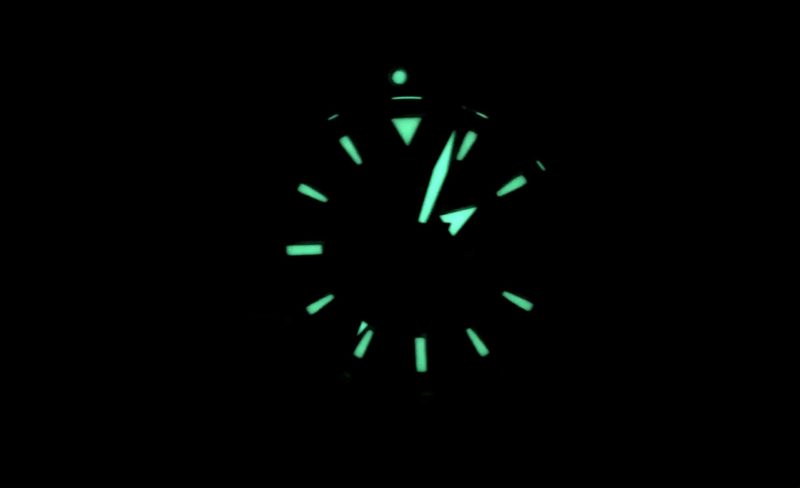 All in all, the Orient Kamasu is the best automatic watch at this price range – it has a rock-solid caliber, looks much pricier than it is, and comes with qualities rare for such an affordable price.
However, there's one tiny thing to nitpick about – it's the crown. Compared to the size of the case, the crown is miniature. As a result, it looks out of place and doesn't help for convenient handling either.
If you can look past this slight letdown and are willing to pay just a little north of the $200 mark, we suggest you check out other Kamasu watches that are not as flashy as this one.
For example, the blue Kamasu is the most classic model, while the burgundy red Kamasu and emerald green Kamasu offer unique dial colors.

Orient Kanno Diving Watch
Case Size: 44mm
Crystal: Mineral
Caliber: F6922
Hand-winding: Yes
Hacking: Yes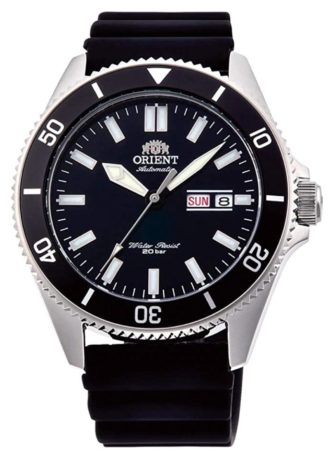 The next automatic watch that costs less than $200 is another one from Orient. The Kanno Diving Watch is similar to the Kamasu piece for running on the F6922 mechanical caliber with hand-winding and hacking and being a genuine desk diver but is somewhat different in terms of appearance.
First off, the Kanno watch is equipped with mineral glass. It's a type of watch crystal that is not as scratch-resistant as sapphire but works out fine in a sub-$200 heavy-duty timepiece, such as this one.
Another difference is the 120-click bezel on a large 44mm case. The watch is therefore suitable for larger wrists rather than slender. Also, this particular Kanno is paired with an interchangeable silicone band instead of stainless steel.
Therefore, the overall durability is comparable to our top pick, the Orient Kamasu (par the crystal) – the caliber is tried and tested, the case withstands rough conditions, and the band is reliable.
In terms of comfort of wearing, the Kanno won't let you down either. The rubber band sits well on a wrist, and the case grabs the arm with its slightly curved lugs. Turning the crown is also comfortable due to its pleasant size.
All things considered, the Orient Kanno is suitable for various occasions due to its versatile aesthetics. You can wear it for serious water sports, but also for casual events and even for an office job.
However, consider replacing the band with a leather or stainless steel one before heading to the office, as rubber is not the best fit for it.

Orient Bambino Open Heart
Case Size: 41mm
Crystal: Mineral
Caliber: F6T22
Hand-winding: Yes
Hacking: Yes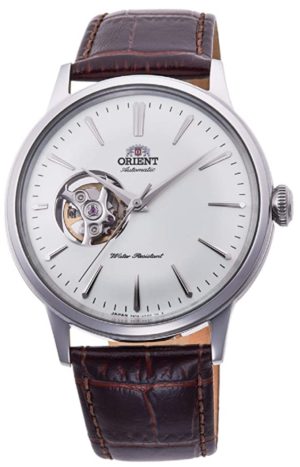 If a top-quality brand has the majority of automatic watches available for $200 and less, we can't get past yet another model from the watchmaker. However, it's not a dive watch this time but an elegant dress watch.
Meet the Orient Bambino Open Heart.
The watch comes with a sleek dial design comprising silver-tone hands and markers and an eye-catching open-heart cut displaying the marvelous work of a sophisticated automatic caliber. In addition, the golden balance wheel visible from the cutout adds visual flair, resulting in a much pricier watch aesthetically than the price tag would suggest.
The F6T22 automatic caliber is specifically developed for open-heart watches and is basically the same as the previously covered F6922 movement – it has a 40-hour power reserve, makes six ticks in a second, and keeps a -15/+25sec accuracy per day.
A noteworthy addition this Bambino piece is equipped with is the domed mineral crystal, which adds extravagance and is less prone to impact damage due to its shape. And, of course, let's not forget the well-presented see-through caseback showcasing the caliber from behind.
In terms of practicality, the watch is missing a valuable feature that many highly appreciate – the date window. However, since open-heart watches usually don't come with this feature, it's not a disadvantage of this particular watch but the type of watch as a whole.
Therefore, if you appreciate the date window, go for the classic Orient Bambino that has it instead of the open-heart cut.

Seiko 5 Automatic SNK809
Case Size: 37mm
Crystal: Hardlex
Caliber: Seiko 7S26
Hand-winding: No
Hacking: No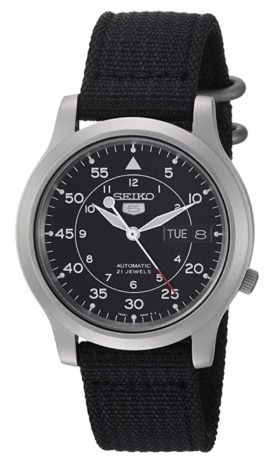 Although Seiko has caught worldwide attention mainly for the introduction of the quartz movement and the plentiful selection of solar-powered timepieces, its most famous watches are still the ones running on a self-winding mechanical caliber.
Like Orient, Seiko is also regarded as one of the first brands to turn to if an entry-level automatic piece is considered. And the Seiko 5 collection has the best (and only) choice for sub-$200 automatic watches.
One of the top models, and also one of the most legendary ones out of this line, is the Seiko 5 SNK809 – a simple yet very durable watch with a price tag of around a hundred bucks.
The Seiko SNK809 is equipped with a 7S26 self-winding caliber with 21 jewel bearings, a 40-hour power reserve, and a standard 21,600 bph frequency (6 ticks in a second). Unfortunately, unlike Orient watches, the SNK809 can not be hand-wound or hacked, which is the most significant disadvantage you have with this watch.
The movement is nevertheless known for its sturdiness and precision. It works like a charm and rarely lets down.
In visual terms, the Seiko SNK809 is much smaller than many other watches on the market, measuring only 37mm in case diameter. Furthermore, the layout of the miniature hour and minute numbers and short hands make the perceptible size even smaller. Therefore, this discreet timepiece is best suited for slender wrists.
One thing you should also bear in mind is that the SNK809 is water-resistant to only 30m (100ft). It means the watch withstands splashes of water and rain but is not suitable for swimming.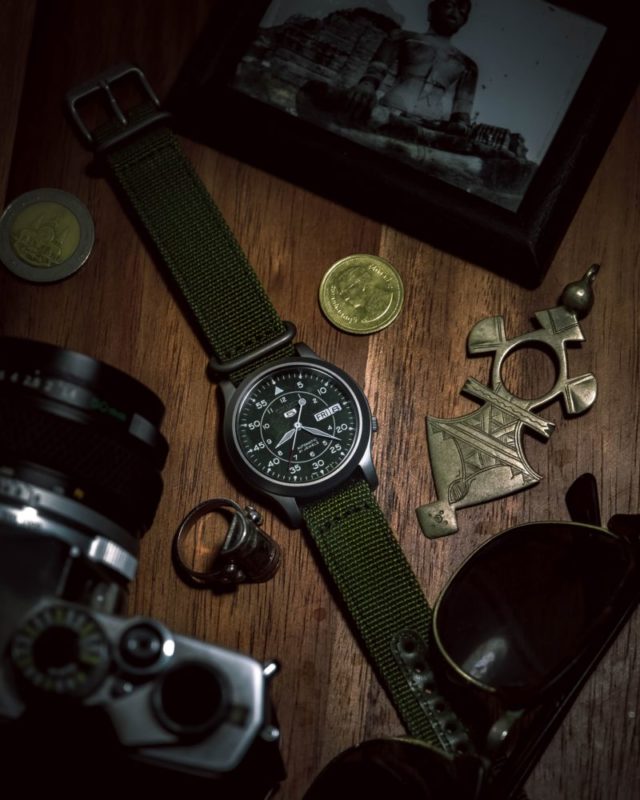 The Seiko SNK809 is a black dial watch. If that's not quite your cup of tea, check out the SNK805 that comes in a green tone and the SNK807 with blue coloring. Spec-wise, they are all the same, with the only difference being the color.

Seiko 5 SNK795
Case Size: 37mm
Crystal: Hardlex
Caliber: Seiko 7S26
Hand-winding: No
Hacking: No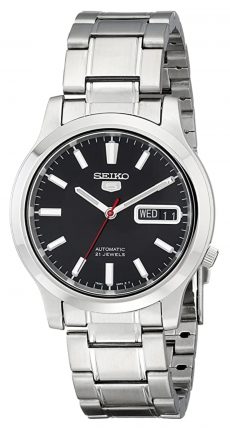 If the outdoorsy appeal of the previous Seiko is not your cup of tea, then the Seiko 5 SNK795 offers more universal aesthetics.
The 37mm watch features a stainless steel case and bracelet harmonizing well with the black analog dial. The face is straightforward, comprising a three-hand movement and a day-date window at three o'clock. For a convenient capture of seconds, you'll find the dedicated hand painted in contrasting red color.
The timepiece runs on a 7S26 caliber, just like the majority of older Seiko 5 watches. The movement doesn't hack or hand-wind but will do the job of precise timekeeping without any concerns.
The same caliber, in fact, has been in use in the most famous modern Seiko line, the SKX series. So, that says everything about the reliability of the 7S26.
Quality-wise, the Seiko features a proprietary Hardlex, which is an enhanced version of widely used mineral glass. As a result, it doesn't scratch as easily as mineral glass, nor does it break as easily. However, compared to sapphire, Seiko's Hardlex is still an underdog in terms of durability.
Similar to the SNK809, this Seiko watch is water-resistant to only 30m. It doesn't allow you to swim with it, not to mention snorkeling or diving. Therefore, the watch should be kept in dry conditions as much as possible.
All in all, for around a hundred bucks, the Seiko SNK795 automatic watch still offers plenty of quality and visual presence for a variety of attires and occasions. It makes it a spot-on entry-level automatic watch for first-time wearers.
And since it doesn't cost much, it won't be much of a disappointment if self-winding timepieces aren't one's taste.

Seiko 5 Sports SRPE53
Case Size: 40mm
Crystal: Hardlex
Caliber: Seiko 4R36
Hand-winding: Yes
Hacking: Yes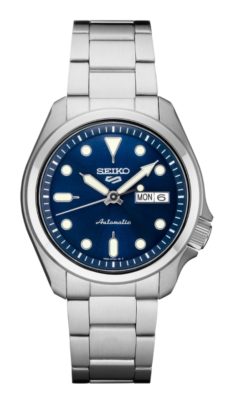 The Seiko 5 Sports SRPE53 is a new-generation Seiko 5 that has undergone some notable upgrades.
The watch lends the dial design from the appreciated SKX watch. Also, it has swapped the non-winding and non-hacking 7S26 movement to a hand-winding and hacking 4R36 caliber. As a result, the features of this movement make the Seiko SRPE53 comparable to similarly priced Orient watches that also hack and hand-wind.
Although the dial design hints at a dive watch, the SRPE53 is still a casual everyday watch that can be worn with a t-shirt as much as with a suit. That is one of the best things about this watch – it looks perfect with every attire.
However, if it bothers you that you won't be getting a genuine dive watch appearance, you better check out the Seiko SRPD line. The watches are a little pricier but come with the same caliber and a similar dial design.
When returning to the SRPE53, the watch is equipped with LumiBrite luminosity in the round hour markers and the watch hands. Like with many Seiko watches, the lume is bright and lasts long. On a casual everyday watch, it's a pleasant addition.
A nice extra is also the see-through caseback that lets you marvel at the complex workings of an automatic caliber. Although you won't see it too often (only when taking the watch off or putting it on), it is an addition that many find almost compulsory in an automatic timepiece.
However, the SRPE53 isn't flawless. Namely, it comes with a metal bracelet that tends to squeak when not tightly worn. Another thing with the bracelet is the push-button deployant clasp that looks way too big and clumsy, despite the fact it is of decent quality.
All things considered, the Seiko SRPE53 is still one of the best bargains for the money, both quality and appearance-wise.

Invicta Pro Diver 8926OB
Case Size: 40mm
Crystal: Mineral
Caliber: Seiko NH35A
Hand-winding: Yes
Hacking: Yes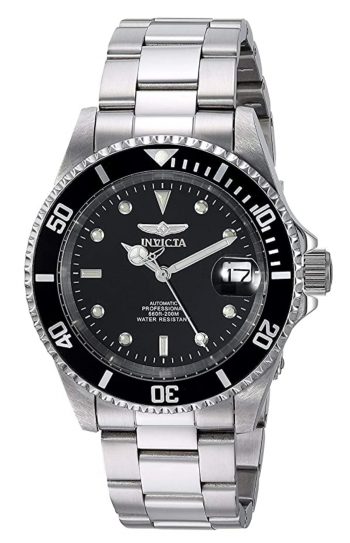 While Orient and Seiko dominate the field of value-for-money automatic watches, they're not the onliest options available. Besides the two, one of the most sought-after brands has been Invicta – a former Swiss manufacturer that now produces extremely good-looking dive watches for very attractive prices. 
The Invicta Pro Diver 8926OB has steadily become the first-choice automatic sweeper for those discovering the magnificent world of mechanical pieces (as it was with me years ago). The reasons for that are not difficult to find.
First off, the watch looks very similar to the famous Rolex Submariner while it costs pennies compared to it. Of course, the quality is far from being on par but isn't bad at all (read more from our review on the Invicta 8926OB).
For example, the caliber is Seiko's non-branded NH35A with 24 jewel bearings and 40 hours of power reserve. Also, the water resistance, though not ISO compliant, stands at an impressive 200m (660ft).
One of the most outstanding characteristics I've experienced with this Pro Diver is the accuracy of the NH35A caliber.
In most cases, it gains for about 30-40 seconds a month, which is simply astonishing. Of course, the calibers are not all the same when one deviates 2-3 minutes and the other under a minute (like it was with me). But it still shows what the caliber is capable of, especially for the money paid.


The Invicta Pro Diver, with a price tag around the $100 line, has several other features to be amazed about. For example, it features a see-through caseback with either a yellow or silver rotor. Also, it is equipped with a super handy magnified date window.
Though there's one thing you should look out for – the bracelet. Since it has hollow end links, it squeaks if not tightened enough. Also, the scratches are fairly easy to come.
Overall, the Invicta Pro Diver 8926OB is still a real catch for the money, especially considering the close resemblance to the Rolex Submariner.

Timex Marlin Automatic 40mm
Case Size: 40mm
Crystal: Acrylic
Caliber: Miyota 8215
Hand-winding: Yes
Hacking: No
If you think about the famous American watchmaker of Timex, you think of the amazing quartz watches it provides. The Ironman, the Weekender, the Expedition – all of them are acknowledged timepieces in their immediate categories.
However, the brand is not shy of affordable automatic watches either. They may not be as reliable as Orient and Seiko equivalents but offer decent quality and classy looks.
One of the best Timex automatics for under $200 is the Marlin Automatic 40mm. Equipped with a tried and tested Miyota 8215 caliber, you can expect some 40+ hours of power storage, a nice sweeping seconds hand, and a hand-winding possibility. Unfortunately, though, the caliber doesn't hack.
The Timex piece is a straightforward analog dress watch with a dark-toned dial and thin hands. The contrast between the hands and background is notable and significantly enhances legibility.
The 40mm stainless steel case is a great bonus for those who typically are not the fans of brass cases that Timex tends to use. The case also comes in polished finishing and has a transparent caseback.
Quite a unique part of the watch is the mesh bracelet that comes with a push and slide clasp. It means you can fasten the bracelet at any point you find suitable due to the hundreds of small gaps between the miniature links. You don't often find that type of clasp.
Now, the crystal is probably the element that is a deal-breaker for many. It is acrylic, which is the least coveted dial cover in contemporary timepieces. It scratches easily (though it's easy to polish) and doesn't look as good as mineral glass or sapphire. But, on the other hand, it gives the watch a vintage appeal many are after.
So, if you can look past the acrylic and appreciate other features the Timex Marlin comes with, you'll get a watch that strikes with its simplicity, comes with a decent automatic caliber and is available for a favorable price. It is also a viable alternative to the Japanese brands in the same price range.

Fossil Townsman Automatic
Case Size: 44mm
Crystal: Mineral
Caliber: Miyota 82S7
Hand-winding: Yes
Hacking: No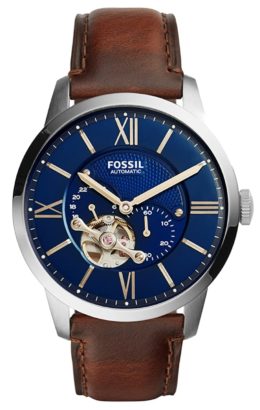 Fossil is also an affordable option if you wish to diversify your automatic watch collection. Regardless of the company's reputation for being a through and through fashion brand rather than a historic watchmaker, you can expect some solid self-winding pieces with very eye-catching designs. 
The Fossil Townsman Automatic is a combination of elegance and flamboyance, binding together the prestige of the movement and the nature of the brand.
The automatic caliber of this watch is partly visible from the cutout on the dial, enabling the wearer to glance at the magnificent work of the mechanism.The Miyota 82S7 caliber ticking inside the case is reliable and precise, although it doesn't hack (but can be manually wound).
One of the features many appreciate in automatic watches is the sweeping second hand. Unfortunately, the design of this Fossil has sacrificed this luxurious extra when you only find a small circle dedicated for the second hand. The other circle you find from the blue dial shows you the 24-hour time format.
The Townsman watch is relatively large at 44mm but not thick, measuring 14mm in depth. This particular feature, along with a brown leather strap and overall elegant appeal, makes it a suitable wearable for smart and smart casual occasions.

Stuhrling Original Skeleton Watch
Case Size: 42mm
Crystal: Krysterna
Caliber: Chinese automatic
Hand-winding: Yes
Hacking: No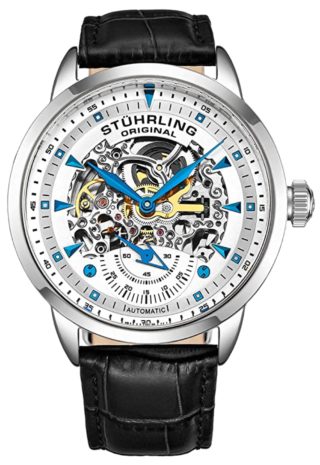 The last one on our list of the top automatic pieces under $200 comes from a brand that sure knows how to impress its buyers. Established nearly 30 years ago, Stuhrling Original has become one of the most famous producers of automatic skeleton watches.
Moreover, most of the timepieces come with price tags that are sometimes hard to believe, considering the luxurious design they come with. Though, they aren't as bulletproof as Seiko or Orient watches.
The Stuhrling Original Skeleton is one of such wristwatches that looks way pricier than it really is. The best bit of the watch is the almost entirely naked dial, displaying the wheel and gear work that it takes to keep this automatic watch running.
The mechanism inside is of Chinese origin, which is not the most appreciated around. However, it has shown quite a decent reliability and accuracy for a Chinese movement. You can also hand-wind the caliber for an improved power reserve.
Another visual treat you'll get with this Stuhrling is the lightning blue hands and shark's teeth indices, combining smoothly with the golden tint of the intrinsics. Also, the seconds counter at the bottom of the dial, although relatively small and crowded for an eye to capture with ease, is unique for its design and movement.
All in all, for around $150, you couldn't wish for a flashier dress watch than this Stuhrling. If you're tired of dull analog faces or simply wish to diversify your watch collection, this automatic skeleton watch will definitely turn some heads.
However, be prepared to accept that it's no Seiko in terms of quality. First and foremost, it's the appearance that makes it stand out.
---

What to Consider When Buying Affordable Automatic Watches?
Now that you're aware of the top brands and models for affordable automatic watches, the job of picking out the most suitable one should be a whole lot easier.
However, there is still some important information for you to consider.
Avoid Unfamiliar Brands
First of all, it is vital to avoid brands with posh names and a non-existent reputation in the industry.
Why?
Because the chances of receiving an automatic watch that stops working after a week on the wrist are simply too high.
A self-winding mechanism consists of more than a hundred miniature parts that require skills and sophistication to construct. Not every manufacturer can build a reliable and long-lasting caliber. That's the reason why top brands employ automatic movements from recognized manufacturers or produce the calibers themselves.
Therefore, go for acknowledged watch brands, such as Seiko, Orient, and Invicta, if a $200 automatic timepiece with decent quality is your goal.
Chinese Automatic Movements
While Seiko and Orient manufacture some of the best automatic movements for the money, other affordable brands have opted to outsource the parts rather than produce them in-house. So alongside the famous Japanese and Swiss movement providers, you'll find automatic watches with Chinese calibers.
Since the movements from that part of the world are not as recognized as others, some brands have decided not to provide any information about their origins. Typically, it means the calibers are from China. Now, is it a bad thing?
A Chinese watch movement is not as bad as it used to be some while ago. The quality levels have steadily risen with every passing year and are not far off from the cheaper-end European or Japanese calibers.
If you find a watch that you really like but you're somewhat concerned about the Chinese movement it carries, read the reviews to find out more about its quality. However, if the timepiece happens to be from a known brand, such as Fossil or Stuhrling, then the chances of receiving a lemon are much smaller.
All in all, the risks are much higher with a Chinese-origin caliber due to their inconsistent reliability, but if it's from a known watch manufacturer, you can be more confident about the quality it comes with.
Hand-Winding & Hacking
An automatic watch is automatic for a good reason – to provide self-winding without the cumbersome manual winding every other day. Nevertheless, many automatic timepieces come with the added function of hand-winding. Why is that so?
Sometimes, the complicated mechanism is not able to fully tighten the mainspring, leaving the watch half-wound/half-empty. With a hand-winding option, it is possible to fully wind the watch.
In addition, if an automatic piece has not been worn for a long time, it is much easier to get it going again through winding, not tilting it on a wrist.
Read more: How Do Automatic Watches Work
Another feature you'll come across with these types of watches is the hacking function. It allows you to stop the second's hand when pulling out the crown so that you can synchronize the time. Although mechanical watches lose or gain several seconds in a day anyway, it is still a neat feature to have.
Accuracy of Automatic Watches
It's no secret that mechanical watches, including those that automatically power themselves, typically lose or gain time as much as the quartz pieces do in a month. So if you want an accurate watch, then automatic watches are not for you.
A typical automatic caliber deviates around +/- 20 seconds a day. It means that on Monday, it can lose 18 seconds, on Tuesday 8 seconds, but on Wednesday, it can gain 3 seconds, etc. The reasons for the deviation depend on several influences, including temperature, gravity, and magnetism.
Therefore, make sure to evaluate the importance of accuracy in your everyday life.
If you want to learn more about it, read our post on the accuracy of automatic watches.

Final Words
Despite the limited selection for affordable automatic watches that can also stand the test of time, some gems are still available for an attractive price.
The likes of Orient and Seiko offer the best automatic watches under $200, but you'll receive plenty of quality from Invicta, Fossil, Timex, and Stuhrling models as well. The automatic calibers may not be top-notch or offer other features besides the timekeeping and date function but are affordable gateways to the prestigious world of self-winding watches.

You may also like:
Affiliate Disclosure: As an Amazon Associate I earn from qualifying purchases. Details
Latest posts by Carl Pender
(see all)