Affiliate Disclosure: As an Amazon Associate I earn from qualifying purchases. Details
The combination of pilot watch and chronograph is essentially a combination of history.
The first pilot watch was created in 1906, but chronographs were first put to real use during the first world war to help pilots stay on track.
Once the second world war came around, the production of dedicated pilot watches was truly engaged, as a precise chronograph would be essential for keeping these war pilots on route for their missions.
Since then, the chronograph has evolved, and with it the quality of the build.
Introducing: The Seiko Flightmaster SNA411.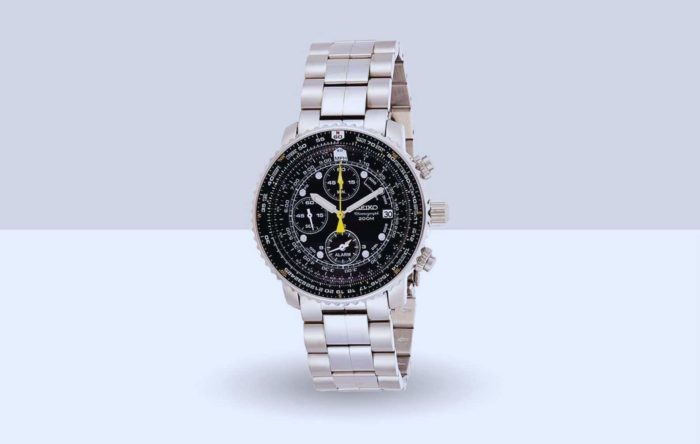 Introduction to the Flightmaster
The Seiko SNA411 model is an affordable quartz chronograph with an abundance of features. If you're looking for a watch that's more than just a watch, this is definitely a good option.
While Seiko has produced a greater amount of pilot watches over the years, this one seems to stick as one of the crowd favorites.
Seiko Men's SNA411 Flight Alarm Chronograph Watch
Round watch with black dial featuring gear-edge bezel, multiple subdials, date window, and fluted crown

42 mm stainless steel case with Hardlex dial window

Japanese quartz movement with display

Stainless steel link bracelet with fold-over push-button clasp and safety closure

Water resistant to 200 m (660 ft): In general, suitable for professional marine activity and serious surface water sports, but not scuba diving
Prices pulled from the Amazon Product Advertising API on:
Product prices and availability are accurate as of the date/time indicated and are subject to change. Any price and availability information displayed on [relevant Amazon Site(s), as applicable] at the time of purchase will apply to the purchase of this product.
The watch was designed and developed primarily for pilots and engineers, and with the built-in chronograph, analog alarm, and a rotary slide rule, you can accomplish a great number of tasks with the watch itself.
Even though these functions have been replaced by the calculator and timer found on our smartphones today, they still have a certain charm. When using it you can't help but feel somewhat taken back.

Looks and Feels
Even though the usability and functionality of the Seiko SNA411 can't be denied, a watch these days still has to look good and feel good.
Does the Flightmaster SNA411 live up to the competition? Read on to find out.

Seiko SNA411 Specifications
Movement: Seiko 7T62

Diameter: 42mm

Lug width: 21mm

Lug to lug: 44mm

Thickness/height: 13mm

Stainless steel

Face
The dial and bezel may look like chaos at first glance. There's a lot going on. But once you take a close look, and especially once you start wearing it, you'll quickly find meaning in the cluttered display.
If you like a cleaner-looking dial, this might not be the watch for you though.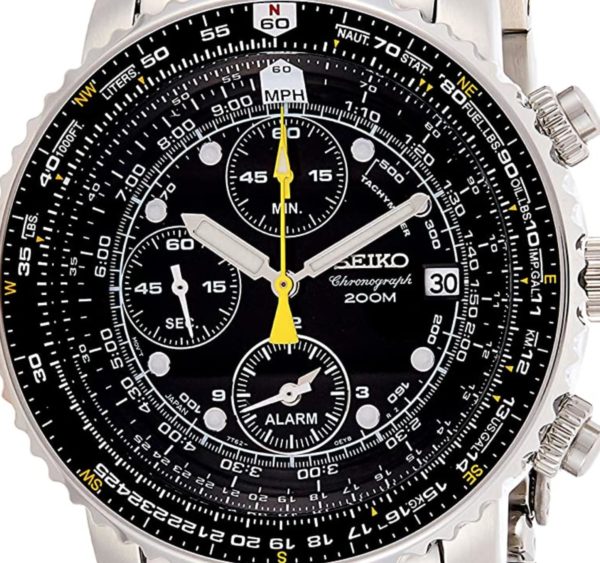 Everything serves a purpose on the watch. The limited space is definitely not wasted on emptiness. Everything has been thought about. It's definitely not random chaos.
The hour, minute, and chronograph hand is applied with Lumibrite to make them visible in the dark (as pilots would have to fly during the night). This also goes for the round markers.
In the inner section, you'll find three sub-dials, positioned at 6, 9, and 12. These are used as an alarm, a seconds timer, and a minute timer. Apart from that, you'll find a date window at 3.
While the dial is actually only 32mm, the diameter is 42mm in total. The rest of the space is taken up by the rotating bezel, which is also used as a slide rule. This is used as a mathematical apparatus. More about this later.
All in all, it's a sporty-looking watch. With raised and recessed details split between a matte, brushed, and polished style, you'll find yourself amazed by the intricacy of this watch more than once.
Case and Strap
The Seiko SNA411 is on the bigger side of things. The face is 42mm, but if you include the crown you'll land on 46mm in total. The height is on the smaller side though, with a total of 13mm. The smaller height is a nice combination with the larger diameter of the watch.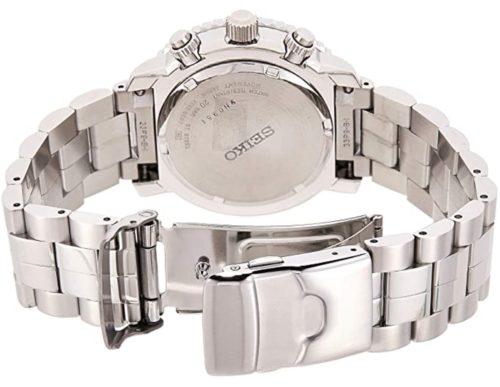 The lug width is 21mm and the lug-to-lug width measures 44mm.
Since the dial goes out to the very edge of the watch, it's perceived to be bigger than it is, and some even feel that it wears like a 40mm.
The case is made out of stainless steel and has the durable feel that you'd expect from the practical kind of watch that it is.
Even though this is a dedicated pilot watch, Seiko has actually implemented 200 meters of water resistance. Another point for durability and functionality. You'd not expect such an implementation, but it's a welcomed modification. It's always good to have some sort of water resistance with your watch, just in case you forget to take it off before going for a bath or a dive.

Build and functionality
Seiko watches are known for their great build quality, and the Seiko SNA411 is of course no exception. This watch is sturdy. As it was built for the use of pilots, who are exposed to an incredible amount of G-Force and pushed around in a jet, it needed to be durable.
Don't worry about breaking it easily. You won't.
The Seiko SNA411 is a quartz watch, which means that it's powered by a battery. The seconds-hand moves in a sweeping motion (continually moving, instead of the "tik-tok" approach). A quartz solution was needed, as these watches are more precise than automatic watches – and precision is incredibly important for pilots.
The Chronograph
As mentioned, the watch has three subdials, two of which are used as the chronograph and one that works as an alarm (or an additional time zone).
The chronograph is a 60-minute timer.
Now, the flight alarm is a 12-hour alarm that goes off with a beep (much like what you'd expect from a digital watch). There's no vibration or snooze function like your smartphone, and the alarm is silenced with a push of a button.
Slide Rule
Before computers were the standard way of performing calculations, a slide rule was the standard equipment for pilots. Nowadays, you can just pull out your phone. But, it's still a very impressive piece of equipment.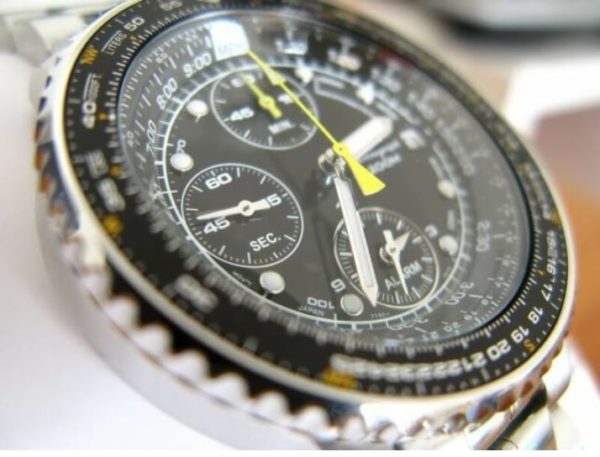 And, you'll look very impressive when using it. Now, the slide rule bezel might be a bit complicated at first, but once you get the hang of it, you'll be able to perform calculations fast.
With the bezel, you can perform all sorts of calculations on the fly:
Multiplication and division

Fuel consumption

Speed (using distance and time)

Weight (from pounds to kilograms)

The square root

Climbing rate and altitude

Convert distances (nautical miles, statues miles, feet, and kilometers)

and even more…


Bottom line: Seiko SNA411
The bottom line is, that this watch is extraordinary – if you like functionality, practicality, and a watch face that's filled to the brim with different elements of usage.
The build quality is, without a doubt, fantastic. This is not something that'll break easily.
And apart from that, it looks great. Again, if you're into this sort of watch.
So, should you buy it?
It's definitely worth having in mind the next time you're going shopping for watches. This would make a great, affordable addition to any collection.


Contributed by Ryan Miller from Watch for Tomorrow.

You may also like:
Affiliate Disclosure: As an Amazon Associate I earn from qualifying purchases. Details
Latest posts by Carl Pender
(see all)