Affiliate Disclosure: As an Amazon Associate I earn from qualifying purchases. Details
Movado is an affordable watch brand that has gone down in history with some iconic watch designs. The Museum Watch is one of such that doesn't need any introduction to anyone who's into well-made timepieces.
Now an American-owned watchmaker, Movado has diversified its range of wristwear that now stretches from classic minimalist dress watches to Wear OS smartwatches.
With this Movado watches review, we shed some light to these wristwatches, but also to the state of the brand, its reputation, history, and reliability levels in order to find out whether the manufactured products are of good quality. Therefore, bear with us to find out if Movado is what you're looking for.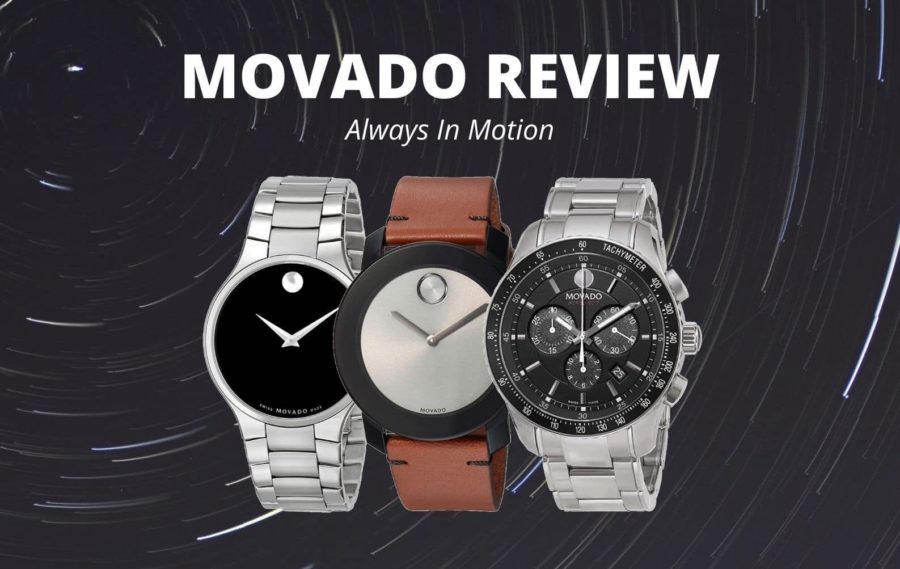 Brief History
Movado's story began in 1881 when a 19-year-old entrepreneur Achilles Ditesheim opened a small workshop in La-Chaux-de-Fonds, Switzerland. In 1905, he decided to change the company's complicated name from LAI Ditescheim & Freres SA to a more easily pronounceable Movado. 
Movado stands for "always in motion" in Esperanto. Clearly, Mr. Ditesheim knew exactly how his company would evolve over time – until today, Movado has "more than 100 patents and 200 international awards for watch design and time technology." The most famous recognition of them is the Movado Museum Watch.

Movado Museum Watch
This special timepiece was first introduced in 1947 and was created by industrial designer Nathan George Horwitt. The watch is unique for featuring only a single dot at a twelve o'clock position, along with two watch hands. There are no other visual elements present, not even the hour markers or a date window.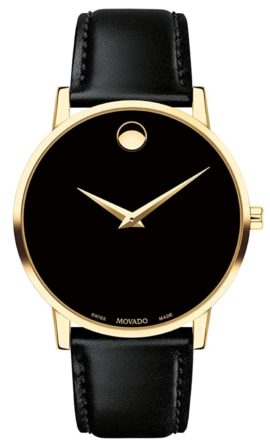 The simple yet stunning design was appreciated so much that the watch was selected in a permanent collection of The Museum of Modern Art, New York, in 1960.
However, the story with the Museum Watch is not as straightforward as one would expect.
In 1948, Movado started to produce unauthorized copies of Horwitt's timepiece, causing concerns over intellectual property theft. It took nearly 30 years when a settlement by means of money was reached. After the death of Horwitt in 1990, Movado began heavy promotion of both the designer and the Museum Watch.

Movado Group
The rebirth of the Museum Watch in various styles happened already under the new formation, Movado Group, which was established in 1983. Over the years, the establishment has built an impressive portfolio of licensed brands, including famous fashion watch companies of Tommy Hilfiger, Lacoste, Hugo Boss, Scuderia Ferrari, and Coach.
Besides the licensed brands, Movado Group made large-scale investments when they acquired Olivia Burton in 2017 and MVMT in 2018. Therefore, the Movado brand is a part of an international conglomerate with a diverse product line.

Where Are Movado Watches Made?
Since Movado belongs to an international group consisting of various fashion brands, the question of places of production of Movado watches emerges.
Despite the fashion-oriented direction of the group, most of the Movado watches carry the Swiss Made tag. It means that the movements are Swiss, at least 60% of manufacturing costs are domestic, and the final inspection has occurred in Switzerland.
However, Movado came out with a Bold collection several years back. These watches employ Swiss movements but are manufactured in China. The reason for introducing such a line was to entice fashion-conscious young people with a world-famous label and lower prices. 
But how to differentiate between a Swiss-made Movado watch and a non-Swiss Bold timepiece?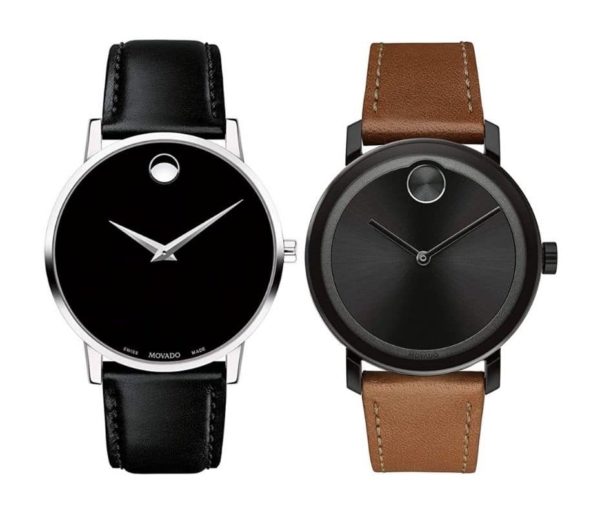 Besides the description provided by various sellers, you can also tell from the dial – a Swiss-made Movado comes at all times with a Swiss Made stamp on the bottom of the face, while a Bold model typically has no marking at all or simply has a Swiss Mvmt or Swiss Quartz marking.

Quality of Watches
Because of the fact that Movado applies two different manufacturing approaches for its classic and Bold line – Swiss and Chinese, accordingly – there is inevitably a difference in terms of quality.
The Swiss production timepieces are typically equipped with Ronda quartz movements that are known workhorses and rarely let you down. At the same time, the dials are covered with a scratch-resistant sapphire crystal, which is the best substance you could wish for in a quality watch. And, most importantly, the watches are assembled and inspected in Switzerland, where the expertise is the best in the world.
On the other hand, the Movado Bold watches that also run on quality Ronda quartz movements get assembled in China – a country that has made some great effort in upping the quality levels but is still far off from the level of Swiss.
In addition, the Bold timepieces don't employ a sapphire crystal but instead a cheaper K1 mineral. In essence, a K1 mineral is a hardened mineral crystal that is less prone to scratches than a common mineral. However, the glass is still not as durable as sapphire, as hitting it on the floor will still cause breakage.
When it comes to Movado automatic watches, they're all Swiss-made and are equipped with Swiss movements, boasting high quality. Though, the prices often exceed the $1,000 mark, which some claim to be too expensive, especially if there are Hamilton and Tissot watches available for way less.

Reputation
The two faces of Movado, where on one end it is still a proper Swiss brand but on the other a commercialized fashion company, has had its toll on the reputation.
When we go back in history to the 1980s and 1990s, Movado was considered an affordable luxury brand with a prestigious name. Over time, the glamour has decreased step by step, with Movado now being more of a fashion-oriented "half-Swiss" watchmaker.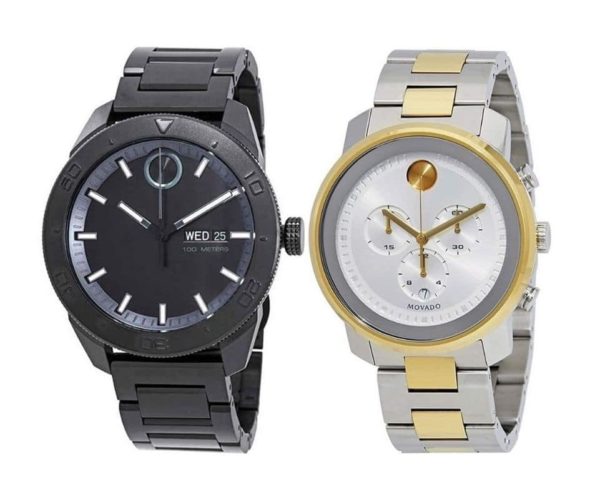 Due to the non-Swiss manufacture of some of the Movado watches, but also the lack of mechanical timepieces, many watch enthusiasts and connoisseurs don't even consider the brand acknowledged anymore. Also, they think that the relatively high prices of both Swiss and foreign-made models do not seem to be in correlation with the quality they offer.
On the contrary, a regular chap or a fashionable lady disinterested in the specific places of production and the changed course of the brand couldn't care less as long as the Movado watch looked stunning and offered the pleasure of wearing. After all, it is a famous label with some very iconic designs.
Therefore, mainly because of the reputable name from the storied past Movado holds, it still has a decent reputation. Its Swiss-made watches are sought-after, and the Bold collection attracts more and more young wearers.

Are Movado Watches Good?  
When objectively assessed, Movado is not as good as its Swiss competitors Tissot and Hamilton, who offer better-equipped watches for the same money. They even have some automatic timepieces that cost the same that a typical Movado quartz piece does. 
However, Movado is way better than any fashion watch brand out there, thus competing in the same category with the likes of Bulova and Victorinox while exceeding Fossil, Skagen, Nordgreen, and Invicta.
Therefore, despite the relatively high prices, Movado watches are beautiful wearables with famous designs and quality Swiss movements for any age group. They're not luxury or high-class, but reliable mid-range timepieces with a famous brand name. 

Movado Watches Review
In broad terms, Movado applies a similar pattern in the majority of its timepieces with a concave dot at the twelve o'clock position. However, the styles of the faces differ quite significantly from each other, ranging from very minimalistic to classic analog dials.
Following, we'll cover the various Movado watches currently available.

Movado Museum Classic
The classic Movado Museum watches are appreciated by watch connoisseurs and fashion-admirers alike.
The 40mm stainless steel Swiss-made tickers come in gold and black, silver and black, gunmetal, blue and silver, and in numerous other tones you can come up with.
You'll find Ronda quartz movements powering the watches and scratch-resistant sapphire crystals covering the minimalist yet subtle dials. The Movado Museum is also among the top affordable sapphire crystal watches due to its favorable price tag.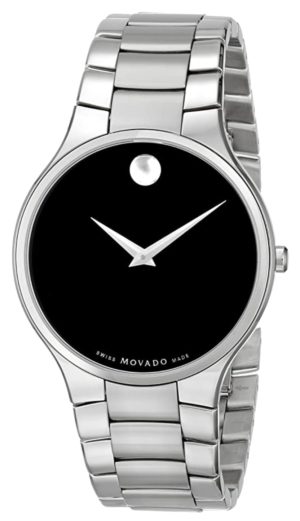 Besides the widely appreciated leather bands of Movado watches, you'll also come across stainless steel, mesh, and silicone straps to cater to various preferences.
The Museum watch is a spot-on timepiece to be worn with smart shirts and suits because of its ultra-thin case profile that can be swiftly hidden and uncovered due to its 6-9mm case thickness.
For a full list of classic Movado Museum pieces, check the brand's homepage or view cheaper Movado watches on Amazon.

Movado Bold
The Movado Bold watches stand out with their youthful designs and somewhat lower prices. A noteworthy discrepancy from the classic version is the smaller perceptible dial size at the expense of a wider bezel – the majority of Bold pieces stand at 42mm. Also, they're much thicker and modernly designed.
Besides the minimalist style, the Bold line comprises chronograph faces and standard analog dials, with even some sports pieces among the line-up.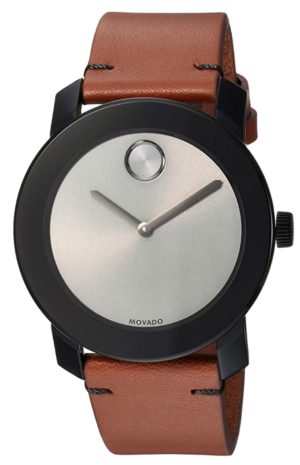 In terms of quality, the tickers are powered by Ronda quartz movements that keep an accurate time and require battery replacements every 2-3 years. The crystals are of previously discussed K1 mineral, which is less prone to scratches than standard mineral glass, while the cases come in quality stainless steel.

Movado Series 800
These Movado watches are visually nowhere near the typical models from the brand. Designed to be serious sports wearables, the Series 800 wristwatches come in high-quality and durable perforated stainless steel and feature a 200m (660ft) water resistance for intense water activities.
The dials come with luminescent hour markers and watch hands for enhanced visibility in dim lighting conditions. For protecting the watch from water intrusion, the crowns and casebacks are screwable. You'll also find the bezels one-way rotating, just like in genuine dive watches.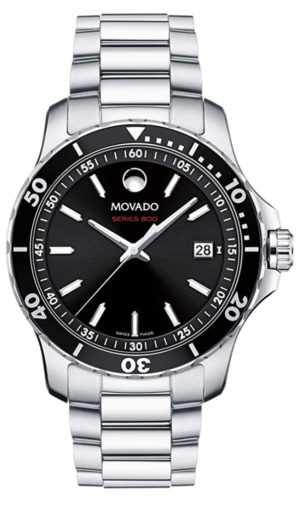 However, these 40mm sapphire crystal watches are not as cheap as other quartz tickers from the manufacturer, costing approximately $700-$1,000. Regardless of the higher prices, the Series 800 watches are highly acknowledged due to their quality components, accurate calibers, and sophisticated finishing.
Check out these sports watches on Amazon or from Movado's homepage here.

Movado Automatic Watches
Since Movado emphasizes producing more affordable Swiss quartz watches, there aren't many automatic options available. The ones present in the line-up, though, are with reliable construction and run on sophisticated Swiss automatic calibers.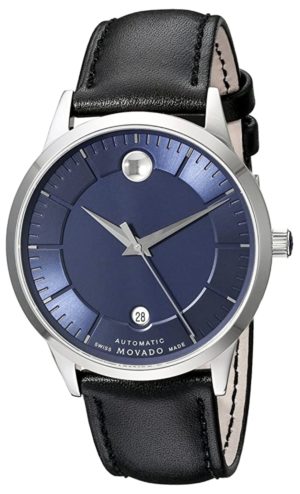 The watches that typically cost more than $1,000 come with various dial types. As such, you'll find a classic Museum design but also analog dials in different colors and textures.
For a full list of automatic timepieces, go here.

Movado Smartwatches
The Movado Connect 2.0 smartwatches are the recent additions to the Swiss brand's variegated line-up. Equipped with Wear OS by Google, they work on both iOS and Android platforms.
Like most smartwatches these days, you'll find all the necessary features and applications for a simplified life. If you're a sports enthusiast, make use of the GPS and various fitness apps that count steps, measure heart rate, and help in different workouts. The Connect watches also display phone calls, e-mails, music, and social media messages.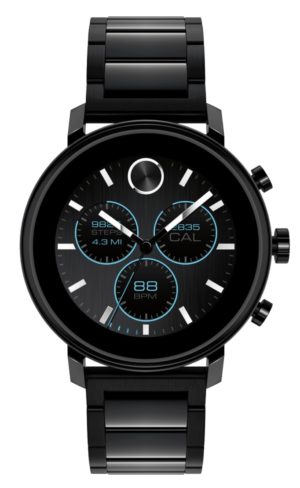 The timepieces come in 40mm and 42mm sizes and are of ion-plated stainless steel. The selection of more than a hundred different faces helps to make your smartwatch stand out from the crowd. In addition, Movado offers decent options for watch straps, including fabric, silicone, leather, and stainless steel.
Check out the full list of Movado Connect watches here.

Warranty Policy
Like most reputable watch brands, Movado offers a 2-year limited warranty from the date of purchase. It covers any defects in material and workmanship that prevent the watch from functioning properly under normal use. If found to be with a defect, the watch will be repaired or replaced free of charge.
However, the following watch parts are not covered by the warranty: straps, crystals, PVD finishing, batteries, normal wear and tear, and misuse.
Thus, Movado offers a standard warranty with no particular complaints.

Final Take
So, how to conclude this Movado watches review? Overall, the watches offer plenty of quality, especially Swiss-made timepieces. However, there are some concerns regarding the Bold collection due to their non-Swiss manufacturing and relatively high prices.
But why is that a concern if the watches seem to be reliable? Well, typically, it isn't, but if a genuine Swiss brand turns to international manufacturing rather than sticking with domestic production, it raises some questions over the direction it's heading.
Regardless, the brand is still reputable in broad terms, with some real eye-catchers for watch aficionados and average Joes alike.

You may also like:
Affiliate Disclosure: As an Amazon Associate I earn from qualifying purchases. Details
Latest posts by Carl Pender
(see all)