Affiliate Disclosure: As an Amazon Associate I earn from qualifying purchases. Details
Swiss watches are the cream of the crop when it comes to quality timepieces. Their reputation relies on centuries of know-how and craftsmanship that is so vividly reflected in the watches they produce.
This, in turn, raises the prices, which eventually makes the accessibility of Swiss timepieces much more limited.
Fortunately, there are numerous manufacturers that have plenty of watches available for $500 and even less.
In this post, I will introduce you to the best of them.
So, stay tuned to find the best Swiss watches under $500.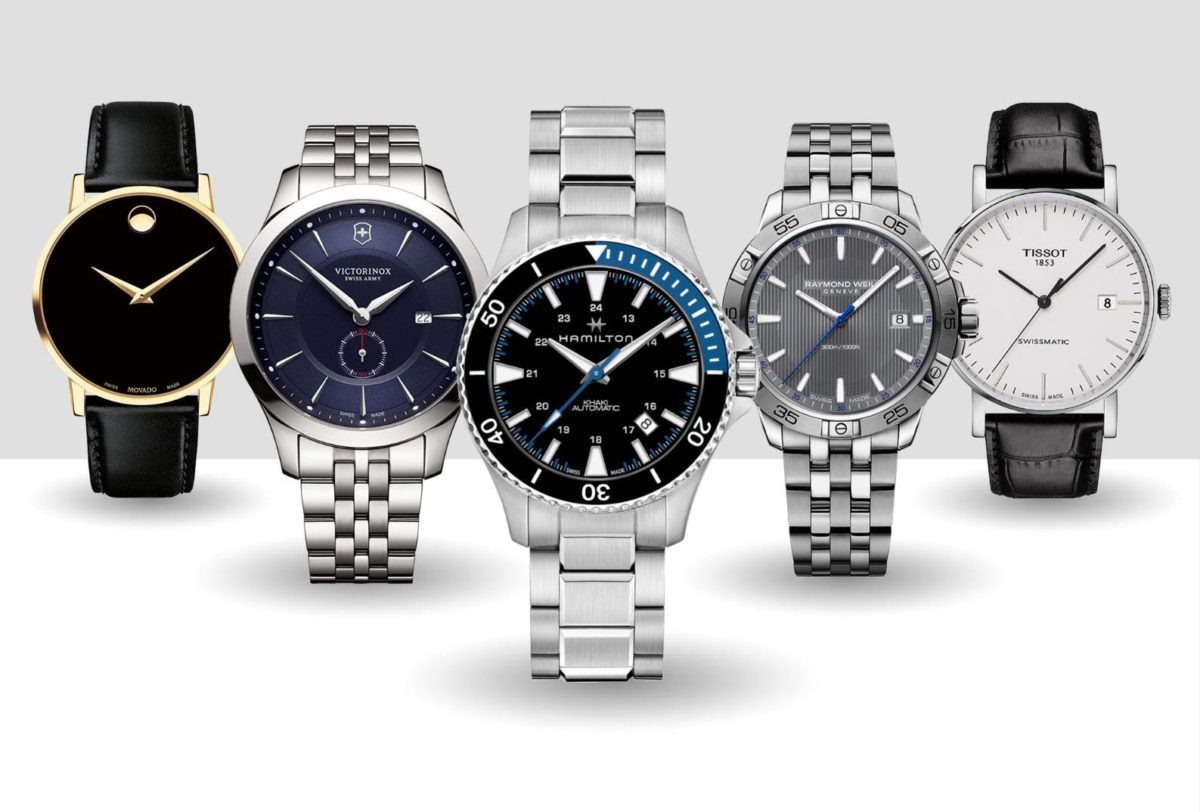 What Can You Get For $500?
Before heading to the shortlist, I'm pretty sure you first want to know what $500 can actually get you.
After all, Swiss watches are expensive, and if the price seems too good to be true, you can't be fully sure of what you're actually going to get.
The truth is that Swiss brand watches usually start from a couple of hundred dollars, with plenty of options in the $300 and $500 range. They are genuine Swiss watches from Swiss manufacturers.
Most of these timepieces run on quartz movements and feature scratch-resistant sapphire crystals. The movements are accurate and durable, while the crystals are the best you can have in wristwatches.
Since Swiss automatic watches are more expensive than Japanese, mainly due to the higher labor cost and prestige, you won't find many options below the $500 line.
However, some brands under the Swatch Group (which owns the ETA movement company), such as Tissot and Hamilton, have some automatic watches priced below $500. You'll find some of them featuring on this list, too.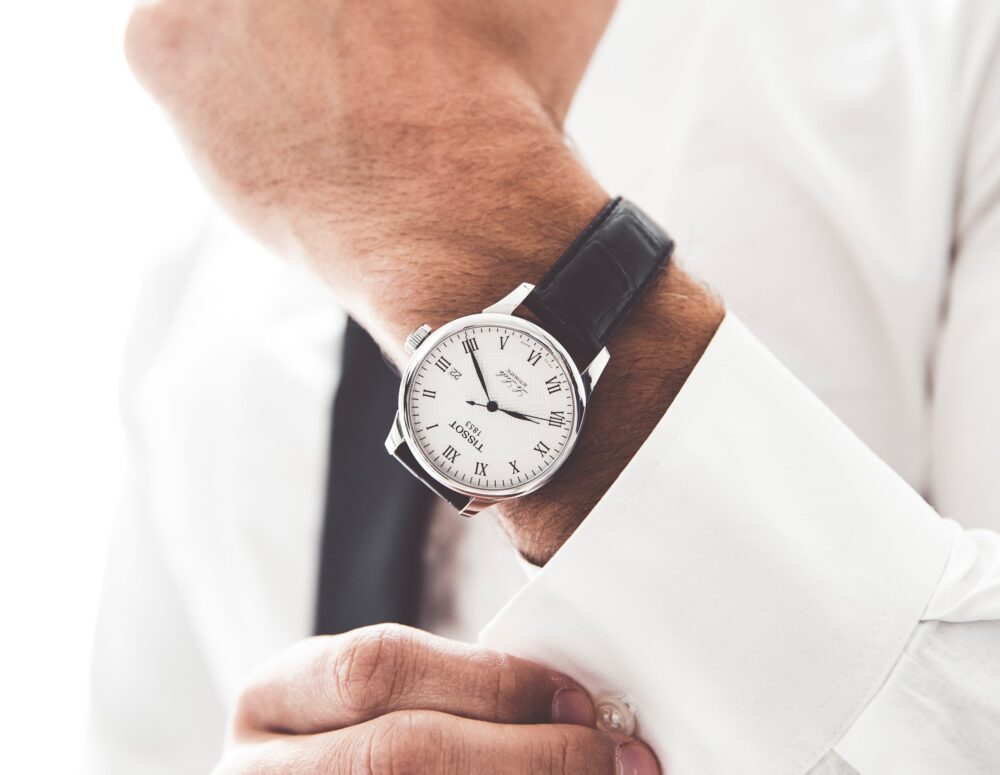 In terms of styles, there's almost every type available, starting with classic dress watches and finishing with dive and chronograph watches.
Therefore, you can say that $500 will get you a genuine Swiss watch with durable construction and eye-catching aesthetics.

Swiss Watches vs. Swiss-Made Watches
For clarification, a watch is Swiss-made if "its movement is Swiss and assembled in the Swiss region, its final inspection occurred in Switzerland, and at least 60% of manufacturing costs are domestic."
This particular law means that a watch doesn't have to be from a Swiss manufacturer to carry the Swiss-made label.
Therefore, you will find plenty of timepieces with the Swiss-made label that are sold by non-Swiss brands. The likes of Invicta, Torgoen, Bulova, and Fossil sell or have previously sold watches with this recognized label.
Although it doesn't diminish their quality in any way, the watches aren't genuine Swiss watches.
Therefore, if your goal is to get yourself a true Swiss watch, make sure to check whether the brand is Swiss or not. Also, you can refer to our list of the best affordable Swiss brands.
Note: Some watches can have Swiss or Swiss mvmt stamped on them. It means they are not Swiss-made but simply employ Swiss movements.

Top Swiss Watches for $500 and Less
Now that everything's clear regarding Swiss watches and what you're going to get for $500, it's about time to check them out. Our list consists of genuine Swiss watches from reputable Swiss manufacturers.

Tissot Swissmatic Automatic Watch
Case Size: 40mm
Movement: Swissmatic
Crystal: Sapphire
Water Resistance: 30m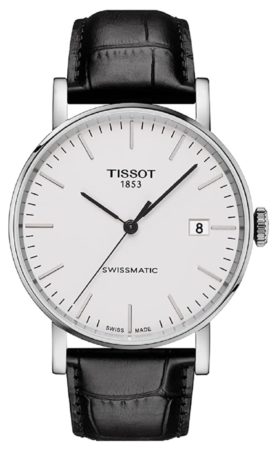 Tissot is one of the most prestigious brands providing affordable Swiss watches. Moreover, it is one of the few manufacturers with options for an automatic watch for $500 and less.
One of such watches is the Tissot Swissmatic.
The watch is equipped with an innovative Swissmatic caliber that boasts a whopping 72 hours of power reserve.
It means you can leave the watch be for up to three days without worrying it runs empty. It's an unparalleled advantage compared to typical automatic calibers that give you around 40 hours.
Furthermore, the accuracy is stated to be around +/- 10 seconds a day, which is also something you don't often find at this price range.
Besides the caliber, the watch also strikes with a refined Bauhaus-style look.
It has a classic analog face with silver-tone hour markers and thin hands on a white dial. Although the hands are slim, they are easy to capture on a light-toned background. Unlike several other watches, the date window in this Tissot is pleasantly big, enabling you to catch the date with ease.
In terms of wearability, the 40mm Tissot Swissmatic is a pleasure to wear. It measures a humble 11.5mm in height (not much at all for an automatic watch) and comes with comfortable leather straps. The watch won't feel heavy either, as it weighs only 2.36 oz (67g).
All in all, the Tissot Swissmatic is a spotless timepiece that goes well with smart outfits, as well as casual clothes. However, make sure to take it off the wrist before going to swim or shower as it has a non-water-resistant leather strap and is rated with only 30m (100ft) resistance.
Why we chose it: The watch has an unparalleled Swissmatic automatic caliber for the price point.
---

Tissot Supersport Chrono Blue
Case Size: 45.5mm
Movement: Quartz chronograph
Crystal: Sapphire
Water Resistance: 100m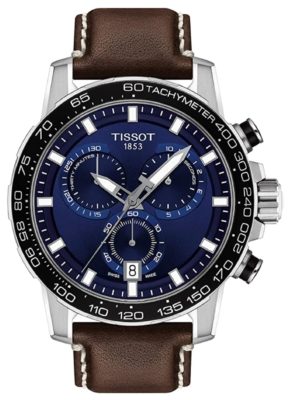 The Tissot Supersport Chrono is a fairly new line of watches from the brand that offers masculine, oversized chronograph watches with contemporary aesthetics.
One of the most eye-catching models from this line is the blue version, which has a mesmerizing multi-layered sunray dial. Coupled with a 1/10-second chronograph, the watch makes a superb practical everyday watch for various outfits and occasions.
The watch has a fine-finished 45.5mm stainless steel case with alternating brushed and polished surfaces. The black bezel that sits around the dial is also made of stainless steel, giving the watch its masculine appeal. A nice touch that perfects the excellent blue-and-black combination is the black coloring on the pushers.
When it comes to quality, the Tissot Supersport Chrono watch is a classic example of the brand – it is durable, accurate, and rarely lets down.
For example, the crystal that covers the mesmerizing dial is made of synthetic sapphire, the quartz movement is accurate to a couple of seconds per month, and the luminosity is more than you can expect from a Swiss chronograph.
The only letdown I've encountered so far is the leather strap. Although it is strong and durable, it is also relatively stiff. Therefore, you should give some time for the strap to fit your wrist's contours.
Alternatively, go for a similarly styled Tissot that has swapped the leather strap for a blue textile band and the blue dial for graphite tone.
Other than that, the Tissot Supersport Chrono Blue is an eye-catching timepiece with fantastic quality standards.
If you wish to have a closer look at this watch, see our Tissot Supersport review.

Why we chose it: The watch is the best Swiss chronograph for less than $500.
---

Frederique Constant Slimline
Case Size: 37mm
Movement: Quartz
Crystal: Sapphire
Water Resistance: 30m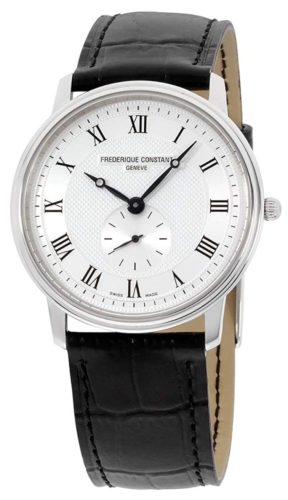 Despite being relatively new in the watchmaking world, Frederique Constant has already achieved a recognition that other manufacturers typically pursue for decades.
The brand is known for its refined and elegant dress watches that all look way more expensive than the prices suggest.
One of the bestsellers from Frederique Constant is the Slimline collection – small-sized minimalistic timepieces with slim cases.
This particular Frederique Constant measures only 5mm in height and 37mm in diameter. Therefore, it's a spot-on timepiece for slender wrists, as well as suits and shirts due to its slim nature. 

However, the best part of this Swiss watch is its dial. It reminds me a little of the Tissot Le Locle watch with its Roman numerals and guilloche dial but has sub-seconds instead of central seconds. The outcome is simply stunning – it looks like a multi-thousand dollar timepiece, not a watch just south of $500.
In terms of quality, this Slimline watch won't disappoint you. It is equipped with an accurate and reliable quartz movement and receives protection from a sapphire crystal. Moreover, the crystal has several layers of anti-reflective coating, which enhances legibility in bright daylight and from several angles.
However, what you should look out for with this Frederique Constant is its leather strap. Like many of its kind, it is stiff initially. Naturally, it will become softer over some time, but it doesn't happen in days but after weeks of frequent wear.
Fortunately, it's the onliest drawback with this watch because everything else is top-notch and comparable to a premium level.
Why we chose it: The watch looks like a million dollars with its refined design.
---

Victorinox Swiss Army Alliance Sub-Seconds
Case Size: 44mm
Movement: Quartz
Crystal: Sapphire
Water Resistance: 100m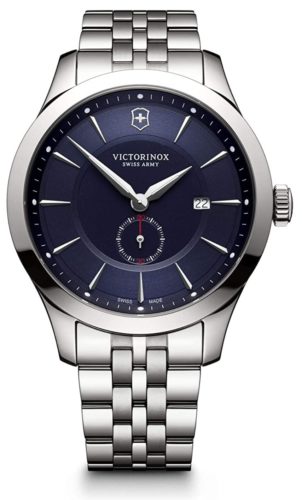 The Swiss Army appendix hints at a military watch meant for tough conditions. Although this Victorinox Alliance would do well on such occasions, too, it is nevertheless designed for more versatile suitability, preferably on dressier occasions.
What is different from the previous two dress watches from Tissot and Frederique Constant is the larger case diameter of 44mm. Also, you'll not find leather straps but a 5-link metal bracelet.
The bracelet, in particular, is outrageously good-looking. It has high-polished center and end links and brushed middle links. The bracelet is also fitted with a butterfly clasp that gives it a beautiful continuous apparel.
The dial of this Victorinox is simplistic yet sophisticated. It has a dark blue tone and silver hands and hour indices. The legibility is excellent not only because of the contrast but also because of the thick hands that leave no ground for wandering.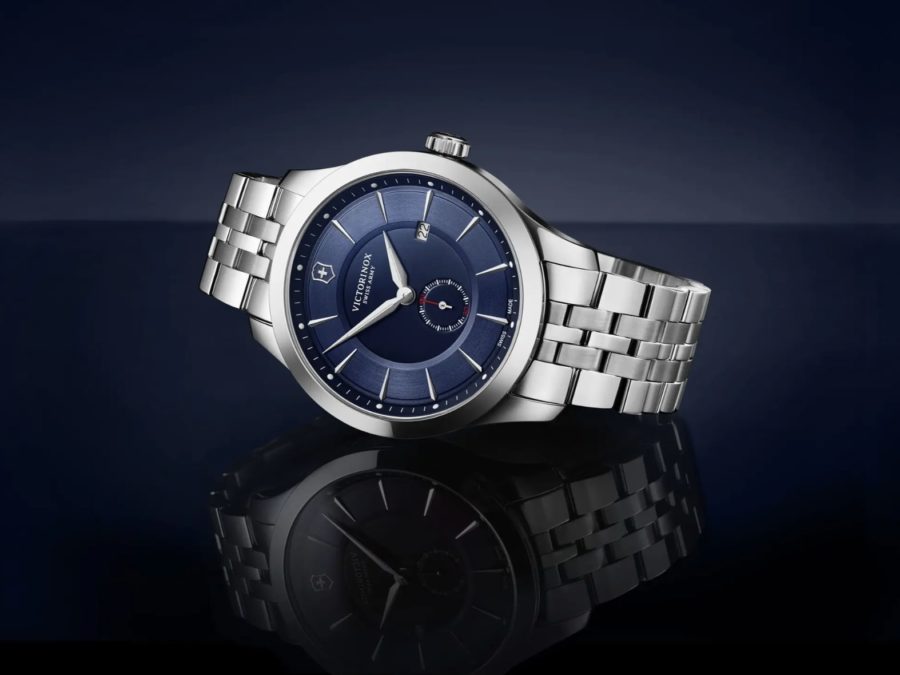 What you should pay attention to, though, is that the seconds don't run centrally but on the subdial. You should be fine if you don't rely too much on seconds. However, if they're important, the subdial can be a bit too small for convenient reading.
What's great about this Victorinox is that it is suitable for swimming due to the 100m (330ft) water resistance and a screw-down crown. Also, you'll find luminosity from the hands and hour markers. However, don't expect anything grand from the lume as it comes in thin strips that don't emit much glow.
If you prefer black dial watches, you should check out the black version of Victorinox Alliance. It looks equally stunning as the blue version but adds a little more classic appeal with its black color.
Why we chose it: The watch has a glorious metal bracelet combined with a simple yet elegant dial design.
---

Victorinox Swiss Army Maverick
Case Size: 43mm
Movement: Quartz
Crystal: Sapphire
Water Resistance: 100m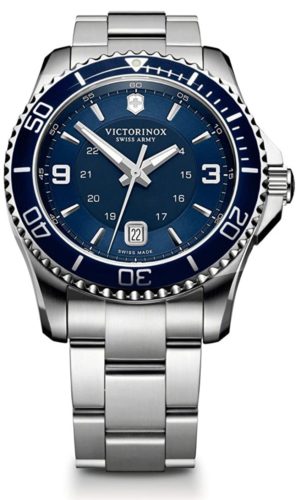 Victorinox may still be better known to the world for the Swiss Army knives it produces, but the emergence of durable military-inspired watches during the past decades has shifted the brand's image to be more of a watch brand rather than a knives producer.
Be that as it may, the watch community knows Victorinox for its versatile timepieces with impeccable build quality.
One of the best examples of a versatile watch from this Swiss brand is the Victorinox Maverick.
The watch can be called a desk diver due to its dive watch appearance that is coupled with a 100m water resistance rating. However, it's not suitable for professional diving or even recreational diving.
Therefore, it's an all-rounder watch that possesses the aesthetic excellence of a diver and that you can take for a swim if you like.
Aesthetically, it is an eye-catcher – a deep blue dial combined with a coin-edge unidirectional bezel and rugged 43mm stainless steel case. The hands are easy to capture and contain luminous paint on top of that. Although the lume isn't comparable to any professional dive watch lumes, it is still decently bright and long-lasting.
If you also hoped to find the hour indices luminous, I have to disappoint you because the 12 o'clock marker is the only one containing luminous paint.
Regardless of these shortcomings, the Victorinox Maverick is still a watch worth every penny. It is gorgeous, keeps accurate time, and has a bulletproof construction. On top of that, it comes with an anti-reflective sapphire, which is always a treat in a sub-$500 Swiss watch.
Why we chose it: The watch is a spot-on universal watch that you can easily dress up and down.
---

Hamilton Khaki King Field Auto
Case Size: 40mm
Movement: H-10 Automatic
Crystal: Sapphire
Water Resistance: 50m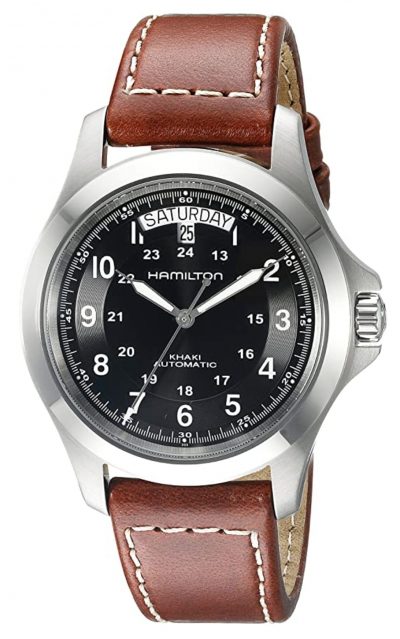 This watch from the former American brand Hamilton is the most affordable automatic watch it offers. Although the price may be affordable, the quality you get out of it is simply fantastic.
The Hamilton Khaki King Field reflects the military heritage the brand carries. It is a classic field watch with a black dial and a smaller-end 40mm case. The dial is easy to read with white hands and Arabic numbers on a black background.
A unique extra you don't often find is the fully-spelled day-date window at the top of the dial.
However, what makes this Hamilton so special, especially considering the price, is the H-10 automatic caliber. It's not like any other affordable caliber – it has a magnificent 80-hour power reserve you typically find from premium-level watches.
Hamilton upgraded the watch a couple of years back by switching from the famous ETA 2834-2 movement to the upgraded H-10 movement.
What changed with the replacement was that the power reserve increased from 40 hours to 80 hours, and the frequency fell from 28,800 to 21,600 (from 8 ticks a second to 6). It means that now this watch will keep on ticking even after staying off-wrist the whole weekend. Not many affordable automatics can do that.
In terms of wearability, this Hamilton couldn't be any better. It has a comfortable leather strap, curved lugs, and a convenient 11mm height. The only thing that you should watch out for is the 48mm lug-to-lug distance, which makes the perceivable size a bit bigger than the 40mm case suggests. I'd say it feels more like a 41-42mm watch.
Also, make sure not to submerge the watch as it's water-resistant to only 50m (165ft). The rating guarantees protection from splashes of water and short immersion but is not suitable for swimming (even if you swap the leather strap for a metal or rubber band).
All things considered, it's one of the best automatic watches for less than $500 and a true all-rounder that will last you for decades if properly cared for.
Why we chose it: It has a premium-level H-10 automatic movement with a whopping 80-hour power reserve.
---

Hamilton Navy Scuba Auto
Case Size: 40mm
Movement: H-10 Automatic
Crystal: Sapphire
Water Resistance: 100m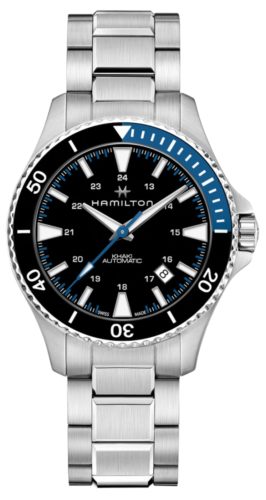 The Hamilton Navy Scuba Auto watch is by far the best Swiss desk diver you can get for around $500. It has everything you can wish from a watch.
Like the Khaki King Field watch, the Navy Scuba is equipped with an H-10 automatic caliber that boasts magnificent 80 hours of power reserve. Furthermore, it is very accurate for an automatic watch when it mostly deviates only up to 10 seconds a day.
Besides the caliber, this Hamilton sticks out with its sophisticated design. It has a black dial that harmonizes perfectly with blue accents. The hour markers are thick, the hands distinguishable, and the bezel comes with a nice coin-edged design.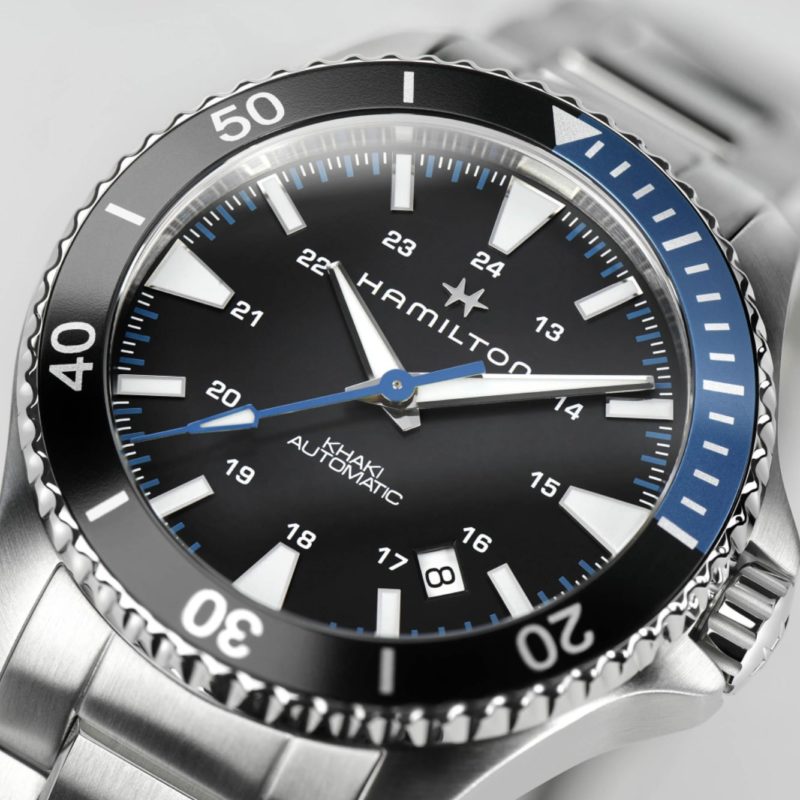 What makes it even more sought-after is that it measures 40mm in diameter, which goes well with most wrist sizes and shapes. A 40mm diver is considered an iconic watch when many world-famous divers have been of the same size.
However, there's a little detail that you should pay attention to – the lug-to-lug distance measures 50mm, making the perceptible size a bit bigger. Fortunately, the lugs come curved, which helps to sooth the length a bit.
A nice addition to the watch is also the protection for the screw-down crown. The protectors ensure the well-being of the essential part of a watch by taking the best part of the hits and knocks. Also, the streamlined design looks good and goes well with the overall design of the watch.
All in all, it's a comfortable watch to wear, with a pleasant heft to it (4.23oz) and a perfect fit for most wrist sizes and shapes. The price of this Hamilton watch can sometimes exceed the $500 line, so keep an eye on it and wait for the right moment if you wish to buy it for less than $500.
Why we chose it: The watch combines a magnificent automatic caliber with sophisticated aesthetics, resulting in an excellent value-for-money proposition.
---

Raymond Weil Tango Diver
Case Size: 41mm
Movement: Quartz
Crystal: Sapphire
Water Resistance: 300m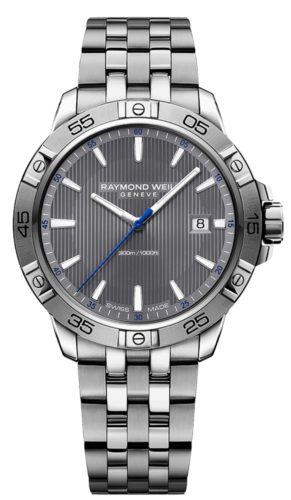 Raymond Weil is also a brand that has achieved a lot in only a couple of decades of existence, just like Frederique Constant. Established in the midst of an industry crisis in 1976, this Swiss manufacturer found inspiration for its watches from the music, which eventually became the company's trademark.
The Raymond Weil Tango Diver represents bold apparel and rhythmic perfection with its unique striped design on a grey dial.
The watch is similar to the Victorinox Maverick we covered earlier – it is not a professional diver, but it has most of the features of a proper dive watch.
For example, you get a screw-down crown, luminosity, and 300m of water resistance, but you won't get a rotating bezel (it's fixed). Also, the water resistance rating doesn't mean you can submerge the watch to 300m. What it actually means is that it's suitable for recreation diving to 30-40m at the most.
You can read more about the water resistance in watches from our guide.
However, since 99% of dive watch wearers won't submerge their timepieces anyway, it's not much of a loss. What matters is that the watch looks good and lasts long. And the Raymond Weil Tango diver does exactly that.
It has elegant apparel, comes with a sapphire crystal, and is powered by an accurate Swiss quartz movement.
Since I'm a big fan of 5-link bracelets, I must say it looks stunning with this watch. Furthermore, it's of good quality, doesn't rattle, and feels nice on a wrist. The clasp is also great – it's a push-button deployant with a beautiful RW branding.
Why we chose it: The watch represents the elegant side of a dive watch and not that much of a tool watch side that is typically more prevalent.
---

Movado Museum Watch
Case Size: 40mm
Movement: Quartz
Crystal: Sapphire
Water Resistance: 30m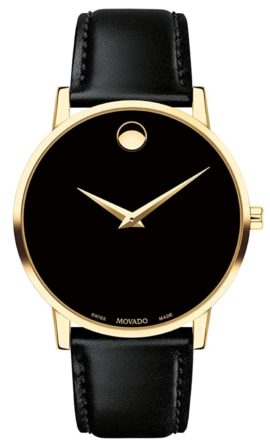 The reason we've decided to add this watch on this list is not only because of the sturdiness it provides but also for the ultra minimalistic appeal that is just so different from others.
The Movado Museum Watch is not like any other watch – it is world-famous for being the permanent collection in the New York Museum of Modern Art. The simple yet artistic nature of it is simply staggering.
A simple dot at 12 o'clock is the characteristic that runs through the entire line of Movado watches. The other component you'll find from the dial is the set of two golden hands, and that's it. Nothing more. Well, except for the tiny writing on the bottom of the dial, ensuring it's a Swiss-made piece from Movado.
The Museum Watch measures 40mm in diameter, which, along with the design, ensures its appropriateness for both men and women. It's also very slim at 5mm in height. Therefore, this ultra-thin watch can easily be worn underneath the sleeve. 

In terms of quality, it's a classic Swiss representation. It has a scratch-resistant sapphire crystal, runs on a Swiss quartz movement, and has a durable leather strap. Though, the leather is pretty stiff at the beginning, which slightly ruins the first impression. Naturally, it will become softer over some time.
If you're not a fan of gold-toned watches, check out the silver Museum Watch. Also, if the leather strap worries you a little bit, opt for a mesh Museum Watch instead. It is available in black and blue dial tones and comes with the same 40mm case size.
Why we chose it: The Museum Watch is an iconic Swiss watch that suits both men and women.
---

Certina DS Blue Ribbon
Case Size: 43mm
Movement: Quartz
Crystal: Sapphire
Water Resistance: 300m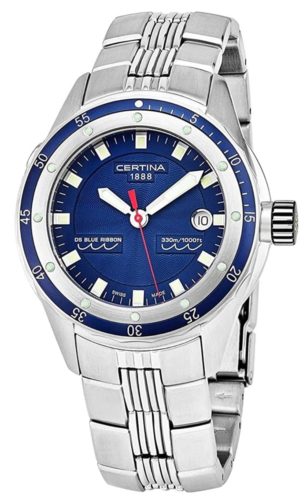 The Certina DS Blue Ribbon is another dive watch on this list. However, it differs from others with its unique combination of a wavy dial and a posh metal bracelet.
The bracelet is pretty singular – it has five thin center links that give this Certina its unique appearance. It also looks expensive, which is always a good thing.
The dial has a wavy texture, accompanied by a three-hand set and a date window. The second hand comes in red, which adds contrast and is easy to follow.
What's also noteworthy about this watch is its oversized crown. The size ensures an easy operation of the crown, especially considering that you have to unscrew it to change the time and date.
The Certina DS Blue Ribbon has a 300m water resistance rating that is suitable for swimming and maybe even for recreational diving (although I wouldn't suggest it) but definitely not for professional submersion. It's not tested in real waters and doesn't have a rotating bezel. Hence, it's a classic desk diver that you can wear for casual occasions.
When it comes to other features, this Certina has a surprisingly good luminosity for the price point. It is on the watch hands, as well as on the hour markers and bezel. Unlike many other divers, the tone of the luminosity is blue instead of green.
All things considered, the Certina DS Blue Ribbon is a real catch for the sub-$200 price. If you like the unique appearance, it will offer you plenty of quality for the money.
Why we chose it: It has an eye-catching bracelet and a sapphire crystal for only a couple of hundred dollars.
---

Final Take
So, what are the best Swiss watches under 500 dollars like?
Despite their price tags, they come with an impeccable build quality comparable to premium-class watches that cost thousands of dollars. The majority of affordable Swiss watches employ higher-grade stainless steel cases, scratch-resistant sapphire crystals, and accurate movements.
Unfortunately, there aren't as many options for automatic watches compared to Japanese manufacturers, which means most of them are quartz-driven. However, quartz watches are far from being bad, especially if they're Swiss quartzes.
In addition, the array of manufacturers that produce affordable Swiss watches is big and is not limited to only these brands represented here. It also means the choice of different styles is decent.
Therefore, $500 will get you a good-quality Swiss watch with a sophisticated design that will decorate your wrist for decades if properly taken care of.

You may also like:
Affiliate Disclosure: As an Amazon Associate I earn from qualifying purchases. Details
Latest posts by Carl Pender
(see all)