Affiliate Disclosure: As an Amazon Associate I earn from qualifying purchases. Details
The Swiss brand Victorinox, primarily known for Swiss Army knives, has quite remarkably entered the watch market. Its timepieces are appreciated and sought-after, mainly owing to a wonderful price-quality ratio that only a few Swiss watch brands offer.
The following Victorinox watch review covers everything you should know about this brand and its watches. By the end of this post, you'll be aware of Victorinox's quality standards, reputation, and standout watch models in order to come to a conclusion whether the watches are for you or not.
Therefore, stay with us and discover what Victorinox has to offer.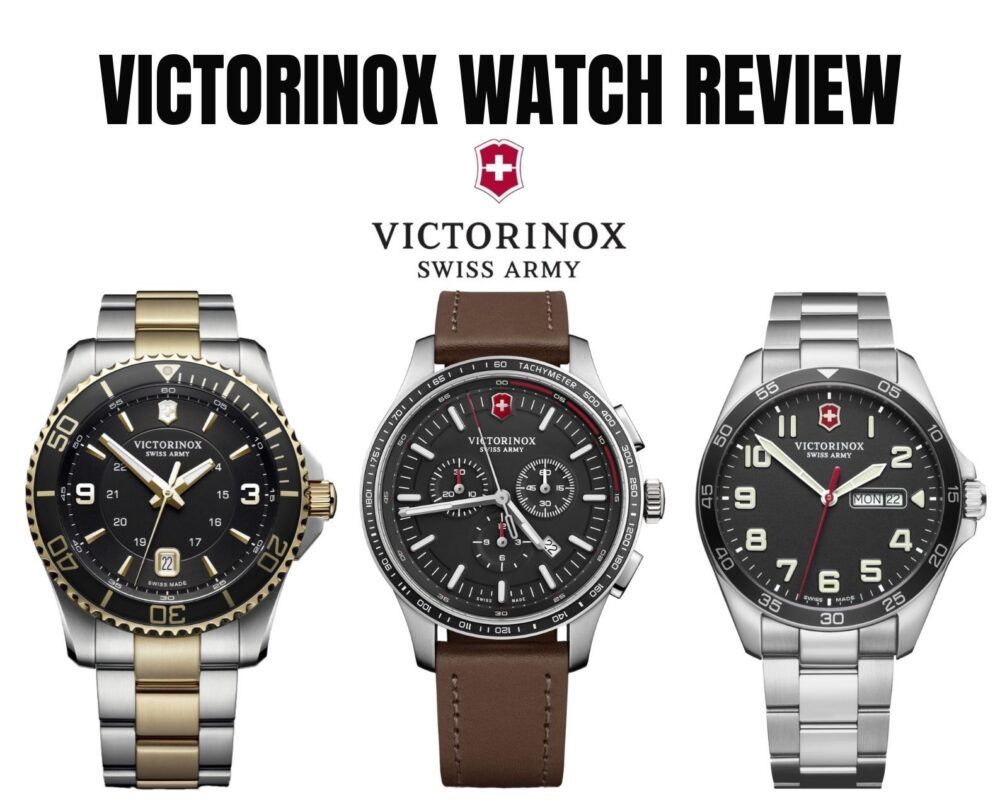 Brief History
Victorinox started in 1884 in the city of Ibach, Switzerland with the idea to manufacture high-quality pocket knives for the Swiss army.
Karl Elsener, the founder of the company, persisted in competing with Solingen, another military knives manufacturer at that time, even though Solingen was able to produce at much lower costs.
Eventually, the Swiss Armed Forces did not adopt Victorinox knives. However, commercial success, which immediately followed, helped the company overcome financial difficulties in the first years.
In 1921, the brand changed its name to Victorinox as we know it today. Victorinox is made up of two words – Victoria and inox. The first stands for the name of Karl Elsener's mother, who had passed away in 1909, while the latter for the French term for "stainless steel."
The 20th century saw Victorinox deliver knives for the Swiss Armed Forces, as well as commercially for the wider public, alongside with the Wenger company. A compromise between the two brands stated that Victorinox would market their knives as the "Original Swiss Army Knives," while Wenger would market theirs as "Genuine Swiss Army Knives."
In 1989, the brand entered the watchmaking industry in selling watches in the USA under the brand name Swiss Army. The emphasis was set to manufacture shock-resistant, reliable, and accurate timepieces for affordable prices.
After acquiring the most significant competitor Wenger in 2005, which had also been producing high-quality knives and wristwear, Victorinox became the leading provider of knives and watches for the Swiss military units, as well as for the people fascinated of the high standards of Swiss manufacturing.
Today, Victorinox is a recognized Swiss watch producer that provides timepieces in military, dress, dive, pilot, and chronograph styles. Also, it is an affordable Swiss watch brand, considering the average valuation of other Swiss watches.

Where Are Victorinox Watches Made?
Victorinox watches are all Swiss-made, meaning the movements have been assembled and inspected in Switzerland, and at least 60% of manufacturing costs are domestic. The brand guarantees that its products meet the highest standards in all areas and quality is never compromised, regardless of the production site.
Watch Competence Center in Delemont, Switzerland, is the hub of Victorinox watch parts assembly.

Quality Standards
Swiss watchmaking traditions are centuries old. Naturally, there's not a single knowledgable person who would doubt the quality of the Swiss production in this field.
Nevertheless, we'll peek into the materials and movements Victorinox Swiss Army watches employ, not necessarily for quality assessment but rather for informational and educational purposes.
Materials
As we already found out earlier, the name of the brand comprises of two words, one of them being inox that stands for stainless steel.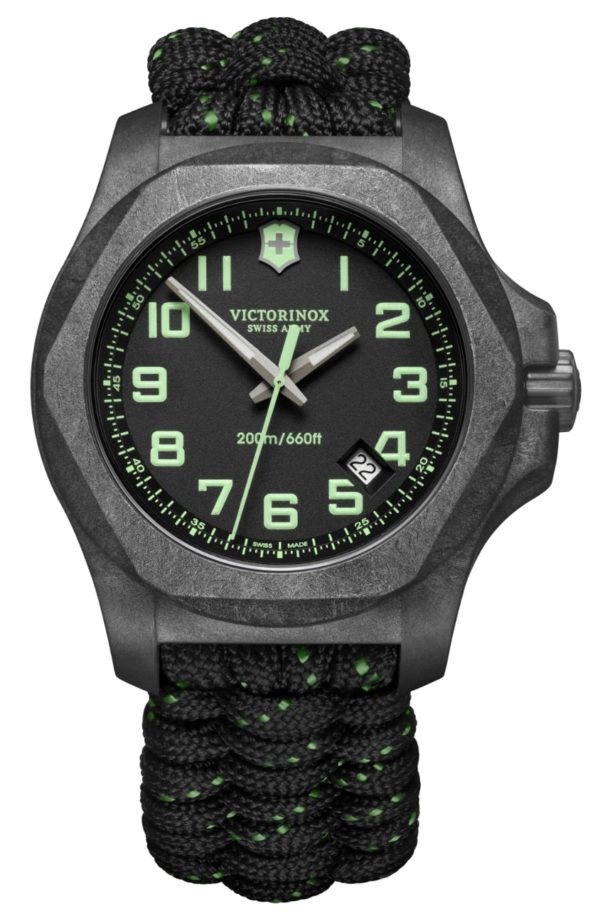 Thus, stainless steel is the most significant and widespread material employed in the industry. This is for a good reason – stainless steel never rusts, while providing heat-resistant and scratch-resistant properties. It requires low maintenance and is easy to form into different shapes.
Victorinox watches often feature PVD-treated (Physical Vapour Deposition) and titanium-finished surfaces that enhance the already resistant steel even more.
Some of the watches are of increased carbon consistency, making them extra-resistant to heat. You'll recognize carbon watches for their matte finish.
Scratch-resistant, and sometimes even triple-coated anti-reflective sapphire crystal, covers the face of a watch. Sapphire is one of the most durable glasses you'll find in the watch industry.
Last but not least, watch bracelets are made of stainless steel, leather, genuine rubber, and textile. Some I.N.O.X. mechanical wristwear comes with highly durable wooden straps crafted onto a leather base.
Watch Movements
One of the determinants for the watches to carry the Swiss Made tag is the Swiss-origin watch movement. Thus, you'll find quartz and mechanical movements produced mostly by ETA – one of the leading movement manufacturers in the world.
Victorinox has been employing quartz mechanisms for the majority of its watch production years. In the last couple of years, however, the brand has placed more emphasis on mechanical movements, in that hoping to cover the demand for automatic wristwear.
Victorinox mechanical watches employ the Kaliber ETA 2824-2 with a higher frequency of 28,800 vph, the Sellita SW200 with a power reserve of 38 hours, and the ETA Valjoux 7750 with 48 hours of energy reserve.
All the automatic wristwear are equipped with a transparent caseback that lets you peek into the mystical world of wheels and gears doing the job.
Endurance Tests
The quality of Victorinox watches stands out particularly from the rigorous tests its I.N.O.X. line watches go through. In celebrating the brand's 130th anniversary, they created 130 tests in order to ensure lasting quality and reliability.
Some of the tests include a 10-meter (30 ft) drop, temperature shock resistance, 8-ton pressure resistance, and vibration resistance. The I.N.O.X. line watches have already earned themselves the title of being one of the strongest in the world.
If you're interested in these tests that Victorinox conducts, you can check them out here.

Victorinox Reputation
Victorinox holds a high reputation in the watch industry. The brand makes durable Swiss-made timepieces with signature military-inspired designs that work well for those who want a quality watch at a good value.
You'll find neither fancy extras nor luxurious materials from these watches – they don't pretend to be something they are not.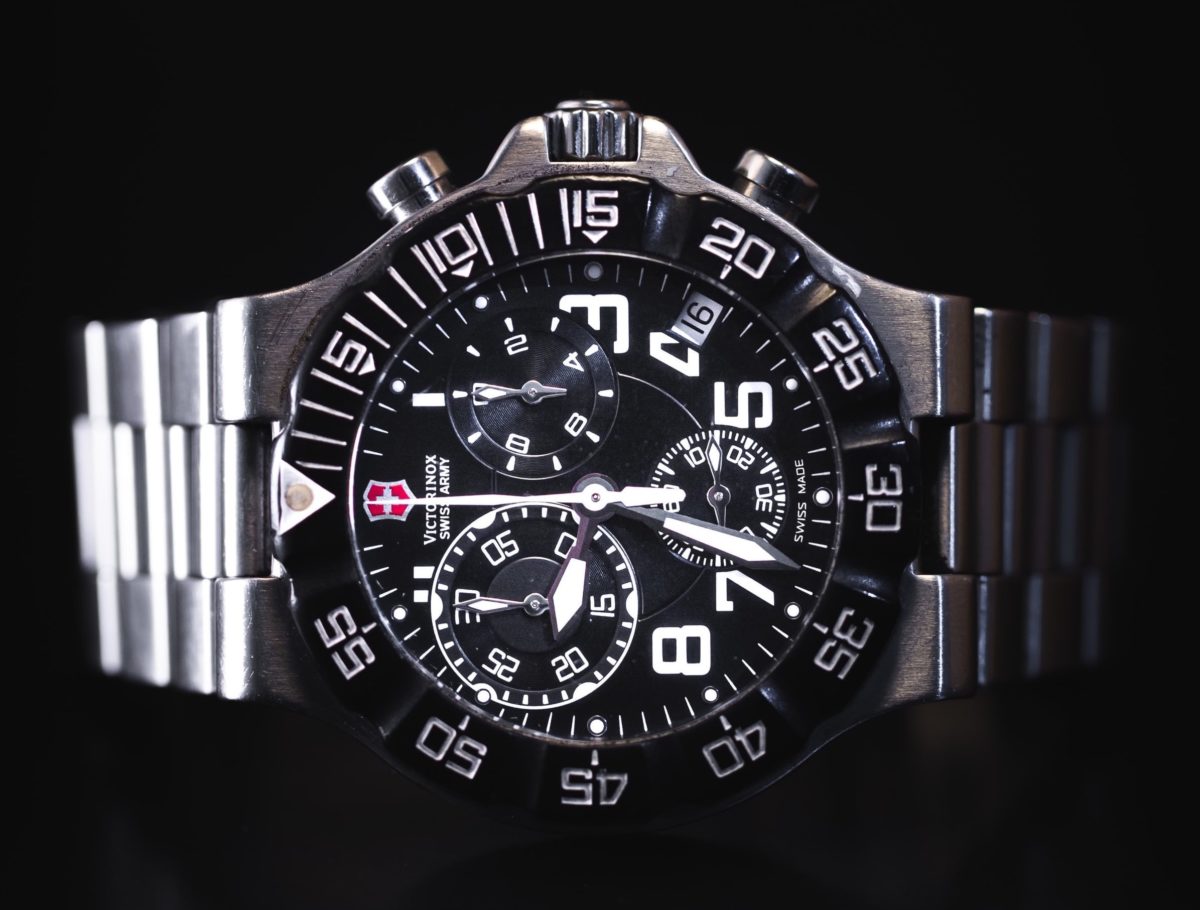 Due to their price points, Victorinox is often considered a decent entry-level Swiss watch alongside Wenger and Tissot. But don't let yourself deceived by the term "entry-level" – it's not in correlation with quality.
Victorinox is among the top providers of affordable watches precisely because of the perfect combination of reliability and accessible prices.
But what does it mean in terms of actual prices?

How Much Does a Victorinox Watch Cost?
Victorinox watches are typically priced between $300-$700. You'll come across older and simpler models at $100-$200, but also some of the expensive ones costing over $2,000. The prices vary from reseller to reseller.
Analog quartz watches are the most affordable, while the new line of Victorinox automatic watches has the highest price tag.

Are Victorinox Watches Good?
For the majority of watch manufacturers, the years they've been in the business usually determine their quality standards. Let's be fair, recognized watch brands have typically been around for more than 100 years. Take, for example, Seiko, Citizen, Tissot, or Hamilton.
As for Victorinox, the 30 years of watch manufacturing might not seem decent enough for them to be regarded as equal to the previously mentioned brands.
However, the production of durable Swiss knives for more than a century now has been a solid ground for providing the same quality levels in its wristwear.
If you consider the watch materials, Swiss calibers, and the close relationship with the Swiss military, you just can't ignore the signs of genuine quality.
Top it up with the 130 resistance tests the I.N.O.X. line goes through, and you'll have the answer: Victorinox is not here to sell lemons but high-quality and sturdy timepieces. The brand is on par with other affordable Swiss brands and does provide superb price-quality ratio watches.
 
Victorinox Watches
Subsequently, we'll cover five lines of wristwear – I.N.O.X, Alliance, Maverick, Airboss, and Fieldforce watches.
Numerous of their models also feature on our list of the best Swiss watches under $500, so feel free to check them out.

Victorinox Swiss Army I.N.O.X. Watches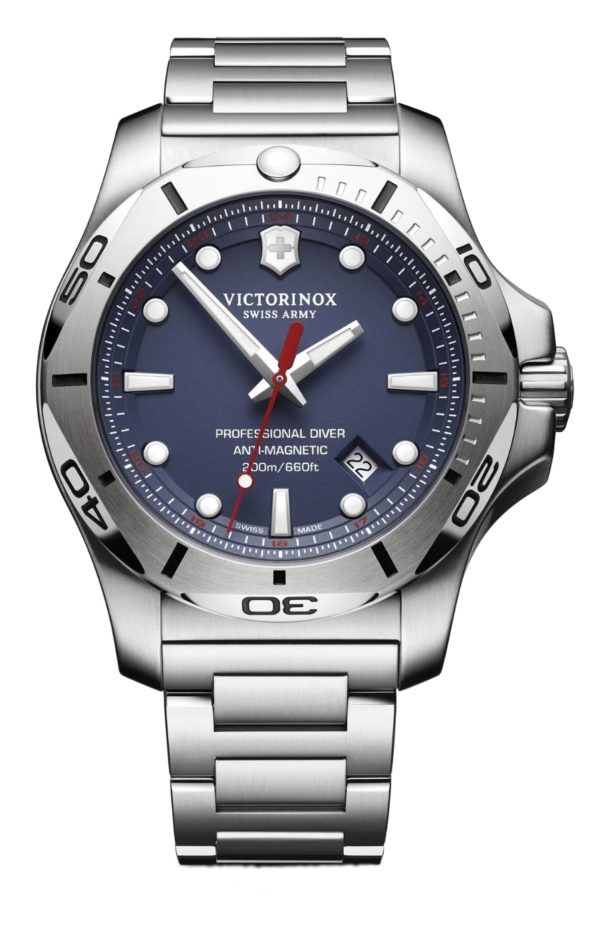 We've already mentioned the I.N.O.X. collection on numerous occasions throughout this post, and for a good reason – the line has become the flagship of the brand in offering the most reliable wristwatches for extreme conditions with both quartz and automatic movements.
I.N.O.X. Professional Diver's watches are ISO-certified to 200m (660ft) and feature Super-LumiNova technology for easy readability in dark conditions. A folding buckle with an extension element ensures the perfect fit over a diving suit.
I.N.O.X. Titanium watches are lightweight and feature a matte finish, while I.N.O.X. Carbon timepieces come with a space-tested carbon case that's highly resistant to scratches. As with all the I.N.O.X. series watches, these two have also succeeded in the 130 resistant tests that are unique to Victorinox.
Victorinox Swiss Army I.N.O.X. watches are priced between $400-$1,000, depending on the models and resellers.

Victorinox Alliance Watches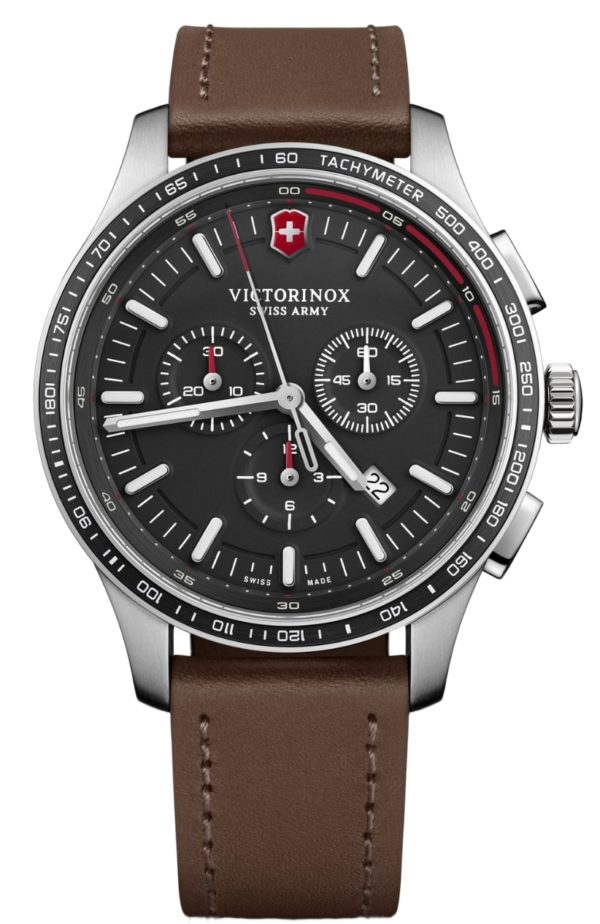 The Alliance collection comprises watches with quartz chronograph movements, automatic movements, and analog quartz calibers suitable for sportier occasions, as well as formal wear. 
Alliance Sport Chronograph wristwear feature stopwatch function and a tachymeter for time, speed, and distance measurements. Straps come in metal, genuine rubber, and leather, in that covering different preferences.
Alliance Mechanical timepieces suit for formal wear, offering luxurious looks for affordable prices. The see-through caseback of an Alliance watch gives a glimpse of the sophisticated mechanism consisting of more than a hundred miniature parts.
Victorinox Alliance watches start from $300 for a quartz movement and end up with mechanical pieces costing $600-$800.

Victorinox Maverick Watches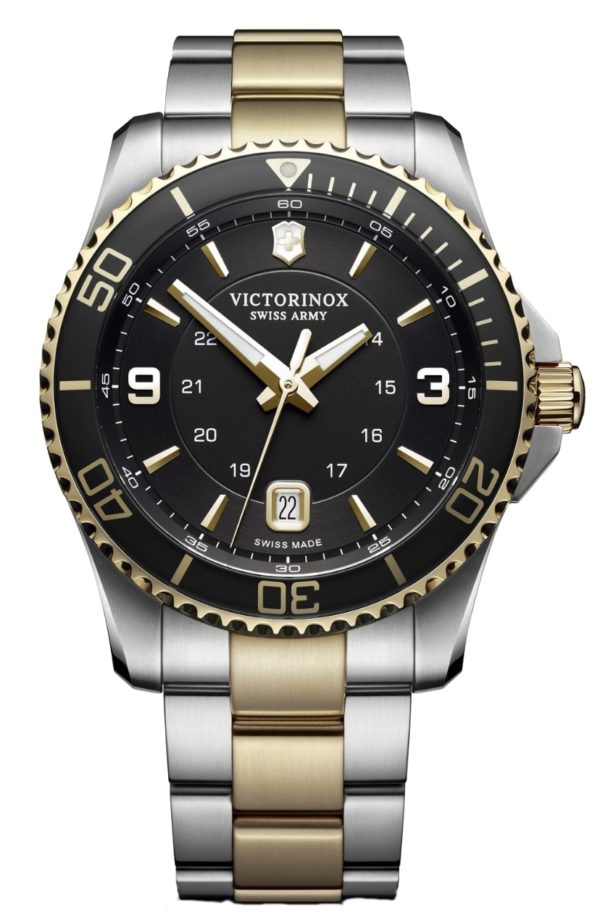 This collection blends a flawless appearance with optimum functionality. Robust stainless steel case, Swiss quartz movement, and sapphire crystal give this sporty line an elegant look suitable not only for an active lifestyle but also for those spending the majority of time indoors. 
The dive-inspired watches feature unidirectional bezels, chronograph subdials, and tachymeters. You'll find straps of metal, leather, and genuine rubber.
Victorinox Maverick watches are priced between $300-$700.

Victorinox Airboss Watches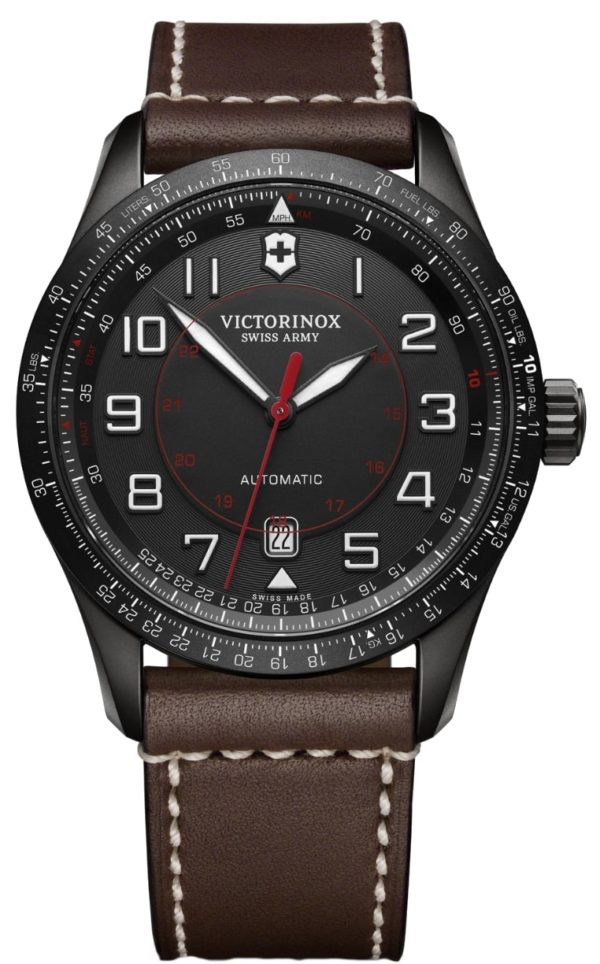 The Airboss collection is the priciest from Victorinox, mainly due to the automatic mechanical movement present in the watches. 
These aviation timepieces are large-faced, as are the majority of pilot watches. The essential features of a slide rule bezel and military time are there to help pilots when in need. An automatic movement is closely visible through an exhibition caseback, while the luminescent indices provide effortless readability in the dark. 
The majority of Airboss watches are available for $900-$1,100, but the most expensive ones with mechanical chronographs cost you around $2,000.

Victorinox Fieldforce Watches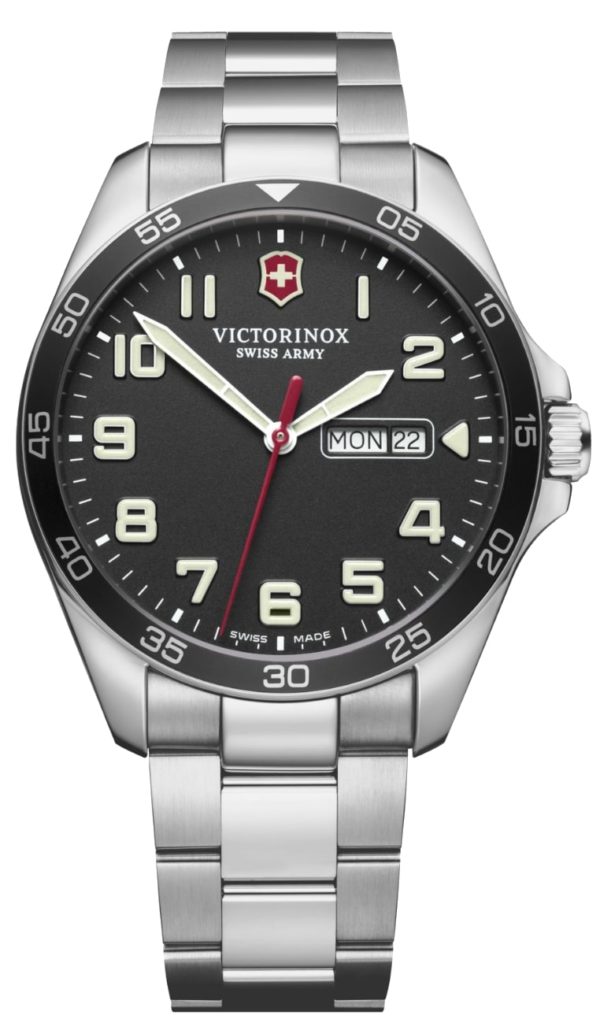 This military-inspired collection is easily recognizable for the red second's hand and the red logo on the dial. The watches are the most affordable out of all the lines from Victorinox. 
Fieldforce time-trackers come with either a bezel or a chronograph and a tachymeter. Super-LumiNova technology and 10 ATM water resistance add to the features a real military watch typically possesses.
Last but not least, the Swiss quartz movement guarantees the convenience and precision one would expect from a Swiss watch.
Fieldforce watches cost between $300-$500.

Warranty Policy
Victorinox Swiss Army watches purchased from authorized resellers before 1st January 2019 are eligible for the manufacturer's three-year limited warranty. But the new policy sees an extended 5-year limited warranty for purchases after 1st January 2019.
The warranty covers manufacturing and material defects that appear in the course of normal use in the five years after the date of purchase. Additionally, it includes a free replacement battery within the first year of purchase in the event of a defective battery. Proof of purchase is required for the watch to be serviced.
The warranty won't cover damage caused by improper handling, misuse, or accident. Neither will it repair any damages caused by an unauthorized repair center.
If the warranty period has expired, Victorinox promises to offer high-quality service at a reasonable price.

Final Take
The Swiss brand Victorinox has not been in the watch industry for too long. Despite the fact, they're manufacturing watches with such a reliable quality that places them alongside companies that have been producing wristwear for more than a century now.
We hope this Victorinox watch review has assured you that a quality Swiss watch doesn't necessarily require spending huge amounts of money, but is also available for much less.

You may also like:
Affiliate Disclosure: As an Amazon Associate I earn from qualifying purchases. Details
Latest posts by Carl Pender
(see all)