Affiliate Disclosure: As an Amazon Associate I earn from qualifying purchases. Details
The pair of Tissot and Seiko has been a dominant force in the watch industry for long decades. They represent two completely different watchmaking cultures, one the Swiss and the other the Japanese industry. Yet, the brands share numerous similarities, with outstanding reliability being the most significant of them. That, in turn, has brought up a debate of which watchmaker is the best out of the duel of Tissot vs Seiko.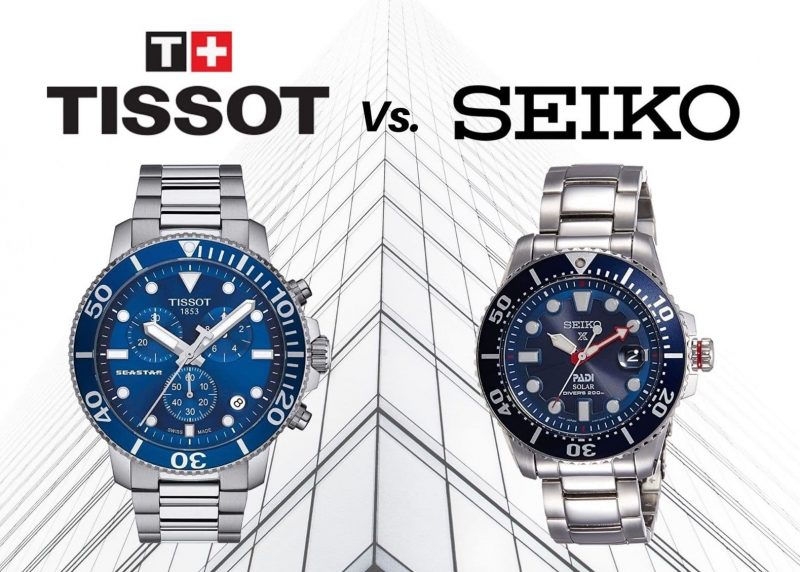 Since identifying similarities won't help us determine either one's suitability for particular preferences, we'll focus on bringing out the differences that separate the two.
Hopefully, the following comparison will help you pick the best brand precisely for your requirements.

Tissot & Seiko Backgrounds
We start the comparison by looking into the backgrounds of both brands. Although it probably won't become a deciding factor, it's still necessary to get an insight into the natures of Tissot and Seiko.

Tissot
The proudly displayed 1853 on every timepiece's dial, which represents the year Tissot was established, means the brand has existed for nearly 170 years. During the lengthy period, this European powerhouse has firmly cemented itself as one of the top providers of affordable Swiss watches.
It was right after World War II when the brand decided to concentrate on producing watches for a much broader public than just the wealthy part of society. Opting against luxury was a bold decision, which instantly paid off. Combining unique specialization techniques and intelligent marketing approaches, Tissot gained worldwide attention and rocketed the brand to the top of the game.
The financial success lasted until the Quartz crisis hit the Swiss industry in the 1970s. By better coping with similar scenarios in the future, Tissot and several other independent Swiss manufacturers formed a group in 1983, which became to be known as Swatch Group – the largest conglomerate in the industry these days.
The merger had a significant impact on Tissot's success because the financial safety back then enabled the brand to improvise, take on innovative manufacturing methods, and utilize their potential.

Seiko
Seiko has had a much smoother journey up to the 21st century than Tissot, full of magnificent innovations and horological landmarks.
The brand was established in 1881 as a repair house in Tokyo. It took them more than ten years to construct their first pocket watch and another twenty for the first wristwatch.
Sensing the future demand for hand-worn timepieces, Kintaro Hattori, the founder of Seiko, started to manufacture watches in much larger quantities than others did at the time. By the mid-1920s, Seiko had become a full-scale mass producer of wristwatches.
The achievement that made the brand world-famous was introducing the first quartz-driven watch in 1969, the Seiko Astron. Much more accurate and incomparably cheaper than mechanical timepieces, quartz's arrival determined the rise of affordable watches for a broader public.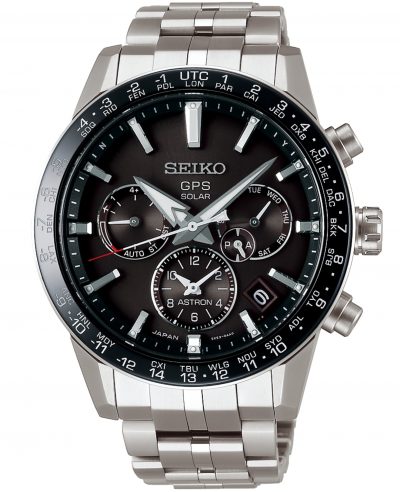 Besides quartz watches, Seiko continued to introduce awe-inspiring innovations, which included a solar-powered watch, the first-ever Kinetic timepiece, Spring Drive technology, and GPS solar watch.
Today, Seiko is one of the first names on people's lips when buying quality and affordable wristwatches.

Watch Styles & Designs
The historical backgrounds these two brands come with have had significant importance in numerous ways, including the way the watches look and how they've been constructed.
For example, when to place a typical Seiko and a typical Tissot next to each other, you can say that the latter has a design that leans more towards elegance, while a Seiko piece has greater emphasis put on functionality.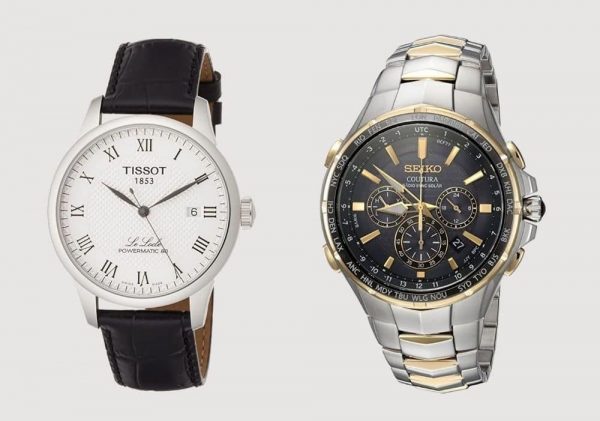 The aesthetic characteristics these two companies represent are actually inherent to the very industries they represent. While the Swiss have always emphasized refinement and sophistication in the production, mainly justified for their grand history and prestige in horology, the Japanese burst into the scene precisely because of their practical innovations and features.
Thus, it's no wonder that Seiko is a leading force in supplying the market with feature-rich tool watches, such as professional dive, pilot, and sports watches, whereas Tissot marvels in providing chic dress pieces for smart and festive occasions.

Quality Comparison
While the looks of a watch are easy to capture and evaluate, then the quality is much harder to determine.
Both Tissot and Seiko are regarded as manufacturers that produce very reliable timepieces that could last well beyond a decade or several. But how do they compare to each other in terms of the quality of their movements and materials?

Watch Movements
Seiko is a brand that boasts the highest number of different watch movements among watchmakers. Two of them can only be found from Seiko's line-up – Kinetic and Spring Drive. The unique mechanisms combine the best merits of quartz and automatic movements with different technologies.
The three movements Seiko and Tissot share are quartz, solar quartz, and automatic (mechanical) movements. The latter is the one they both excel in.
Seiko is often considered the best provider of automatic watches at a given price range, outclassing several higher-priced brands. Tissot's self-winding pieces provide stiff competition, but slightly higher prices.
Despite the advantages in favor of the Japanese producer, the truth is that the reliability levels are on par, and there's no clear winner in terms of quality – both of them produce top-class affordable automatic watches.
However, when comparing the two, what needs to be added is the extra feature that Tissot offers in most of its automatic watches that Seiko doesn't.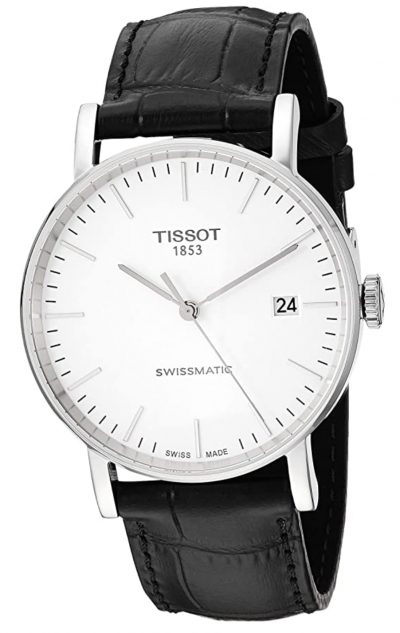 Powermatic 80 and Swissmatic are ETA-produced calibers that offer an extended amount of power reserve – 80h and 72h, respectively – compared to the typical 40+ hours you'll get from a typical Seiko watch. 
It means Tissot models hold twice as much energy storage, which is a huge difference. That also explains the higher prices.
When it comes to quartz watches, the ones offered by Tissot are accurate, very reliable, and known workhorses in the industry. Due to sharing the same parent company of Swatch Group, the calibers you'll find from Tissot watches originate from ETA, a highly-respected Swiss watch movement manufacturer. 
On the contrary, Seiko produces its own quartz movements, as it does with other movements. The quartzes are durable, keep fantastic accuracy, and won't let down.
Price-wise, Tissot quartz watches are more expensive, starting from $200, whereas Seiko has them available from $100.
A field where Seiko outclasses Tissot by a mile is the quality and selection for solar-powered watches.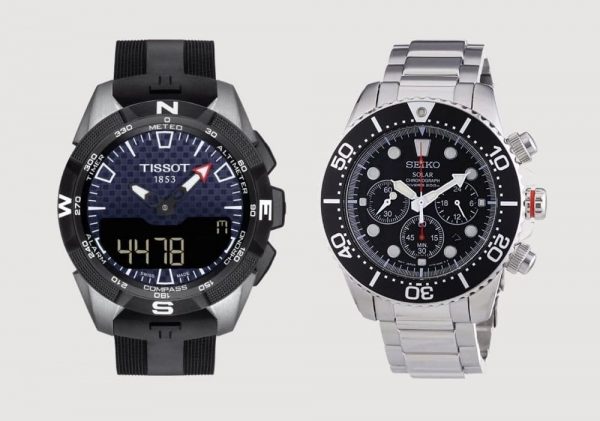 When Tissot has only T-Touch series with a solar quartz movement, Seiko shines with an array of such pieces in numerous styles, from sports to dress. You can take a look at our shortlist of the top solar watches and find Seiko being a dominant force in this category.

Watch Materials
The materials the watch is made of are as important as the movement that powers it. Therefore, a reliable timepiece must be made of quality materials.
The level that Seiko and Tissot offer is on par with the expectations.
The primary material for watch cases, stainless steel, can be found basically from every single model out of both brands' line-ups. The substance doesn't rust, stands extreme temperatures, and is tough to scratch. It's the most widespread metal in the watch industry for case construction.
However, one of the most significant differences between the Tissot vs Seiko comparison appears from the watch crystal the companies employ. While Tissot has every timepiece equipped with sapphire crystal, Seiko has the majority of its wristwatches covered with a proprietary Hardlex glass. What's the difference?
Sapphire is the best crystal that a timepiece can have for dial protection. On Moh's hardness scale, which rates various gemstones, sapphire (corundum) gets a nearly perfect rating of 9 out of 10, only to be outclassed by diamond. The crystal is prevalent in high-class and premium watches, including Rolex, Omega, and Tag Heuer.
Hardlex, on the other hand, receives 7 out 10 – a result which is not far off from that of sapphire, but still somewhat inferior. However, if you compare the longevity and resistance levels between Hardlex and another widely employed crystal of mineral, the clear winner is Seiko's proprietary substance.
Thus, both provide excellent quality in terms of watch materials, but Tissot gets the nudge over Seiko for offering a bit better quality with sapphire crystals.

Prices
But how about price differences?
Since Tissot employs sapphire crystal throughout the whole line-up, and to add the fact that the brand is Swiss (read: higher production costs and more strict outsourcing rules), the watches are more expensive compared to Seiko. However, the difference is not as grand as some would expect.
When a typical Seiko automatic piece with standard features costs around $200-$300, then a similar Tissot has a price tag at around $400-$500. The same difference ratio applies to quartz watches – $150 to $250 for a Seiko and $200 to $4000 for a Tissot. 

Watch Comparison
Now that we've covered the core factors separating Tissot and Seiko, it's about time to place them face-to-face in three major categories – dive, dress, and sports.

Seiko Prospex vs Tissot Seastar
Seiko Prospex Padi Solar SNE435P1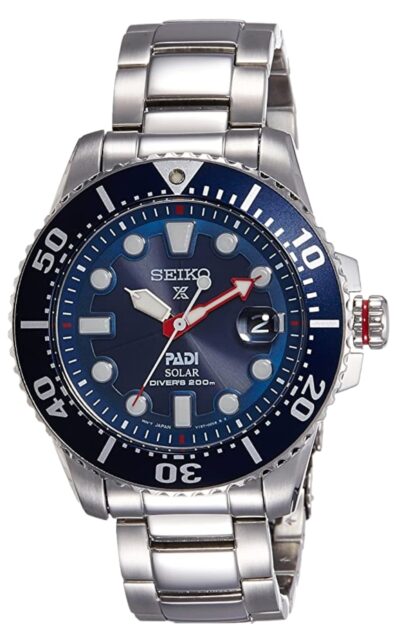 Movement: Solar quartz
Water-resistance: 200m ISO-certified
Crystal: Hardlex
Case size: 43.5mm
Unidirectional bezel: yes
Screw-down crown: yes
Tissot Seastar 1000 Quartz
Movement: Quartz
Water-resistance: 300m
Crystal: Sapphire
Case size: 45.5mm
Unidirectional bezel: yes
Screw-down crown: yes
Both of these watches are intended for serious water sports, including diving. However, the most significant difference comes from the fact that the Seiko PADI SNE435P1 is ISO-certified for professional diving and the Tissot Seastar 1000 is not, despite featuring 300m (1,000ft) water resistance. 
The Seastar does well in shallow diving and snorkeling but is not tested for actual conditions deep below. In fact, non of Tissot watches suit for professional diving, whereas the majority of Seiko's dive-intended timepieces do.
When assuming that a professional diving capability is not the primary factor to consider, then both watches have their pros and cons for casual wear.
For instance, the Prospex piece runs on solar-powered quartz, providing utmost convenience for not having to replace the battery. In contrast, the Seastar has typical quartz that requires changing every 2-3 years.
A pro for the Tissot watch is a sapphire crystal, a premium-class material, whereas the Seiko piece is equipped with a little bit inferior crystal, Hardlex.

Seiko Presage vs Tissot Visodate
Seiko Presage Automatic SRPB46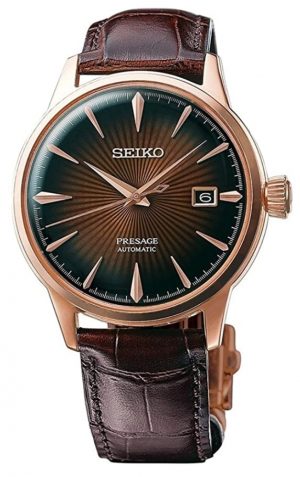 Caliber: 4R35b
Power reserve: 40h
Frequency: 21,600 bph
Crystal: Hardlex
Case size: 40.5mm
Tissot Visodate Automatic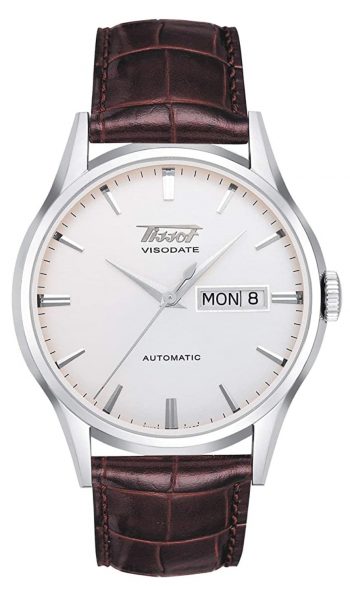 Caliber: ETA 2836-2
Power reserve: 40h
Frequency: 28,800 bph
Crystal: Sapphire
Case size: 40mm
The two representatives from a dress watch category come with an automatic movement and a clean analog face.
The Tissot Visodate has an ETA-produced 2836-2 caliber with 40+ hours of power reserve and beats at a frequency of 28,800 bpm. The Seiko Presage watch comes with an in-house 4R35 movement that also features the same amount of energy reserve when fully wound but vibrates at a slower pace at 21,600 bpm. 
There's no big difference in terms of precision, but the smoother sweeping second hand's motion makes the Visodate watch more pleasing to glare. 
An advantage to the Tissot is also the sapphire-covered face that is more scratch-resistant than the Presage with its Hardlex crystal.
Other than that, both come with a see-through case back, a 40mm case size, and a date window at three o'clock position.

Sports Watches
Tissot PRS 516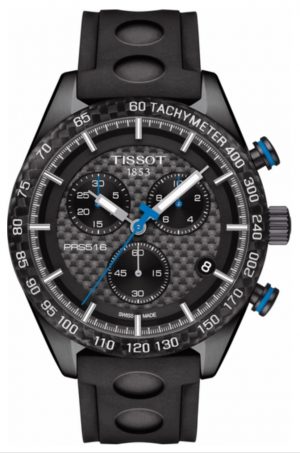 Movement: Quartz chronograph
Water-resistance: 100m (330ft)
Crystal: Sapphire
Case size: 42mm
Chronograph: 1/10sec
Seiko Chronograph SSB359
Movement: Quartz chronograph
Water-resistance: 100m (330ft)
Crystal: Hardlex
Case size: 45mm
Chronograph: 1/5 sec
The last comparison in the Tissot vs Seiko battle includes two quartz-driven chronograph watches.
The Tissot PRS 516 comes with three subdials and a stopwatch's second hand running on the main dial. The same applies to the Seiko SSB359. 
What separates the two in terms of functionality is that the Swiss representative has a 1/10-increment chronograph with a dedicated subdial, whereas the Japanese counterpart reads in 1/5 increments on the main dial, leaving the third window for 24-hour time.
Other important differences come into play with bezels and crystals. While the Tissot features a sapphire crystal and a highly scratch-resistant ceramic bezel, then the Seiko SSB359 is equipped with a Hardlex glass and a simpler aluminum bezel. 
Thus, the PRS 516 is a bit more protected from hits and knocks than the SSB359.

Which Brand to Choose – Tissot or Seiko?
So, what we've determined with this Tissot vs Seiko comparison?
First off, Tissot has a better quality crystal, offers more elegance in its design, provides better specs for automatic calibers, and has a fantastic selection of timepieces for smart attires. On the negative side, the brand's watches come in somewhat limited styles and cost more than Seiko watches. 
Seiko, on the contrary, beats Tissot with a better solar quartz movement, has a superior selection of professional dive wristwear, provides more functions, has a wide selection of styles, and costs less. However, some of the downsides include the use of inferior crystal compared to sapphire and the lack of a luxurious-like reputation.
Thus, Tissot would be perfect for those wishing to decorate their wrists with Swiss elegance, and Seiko would be spot-on for the wearers that value functionality above anything else.
When it comes to reliability, both offer fabulous standards for the money paid. And from the aesthetics point of view, it will be up to everyone to decide.
If you wish to know more about Tissot, see our brand analysis. For Seiko, visit our overview here.

Final Take
The Tissot vs Seiko comparison brought out several differences between the two powerhouses. While Tissot emphasizes sophistication over functionality, then Seiko has them the other way around. Despite the tendencies, you can still find a Tissot piece full of useful features and a Seiko watch with a jaw-dropping design.
The most significant conclusion we received from this face-to-face comparison is that they both provide high-class timepieces for a wide array of watch lovers – choosing one over the other will not come back to haunt you.

You may also like:
Affiliate Disclosure: As an Amazon Associate I earn from qualifying purchases. Details
Latest posts by Carl Pender
(see all)