Affiliate Disclosure: As an Amazon Associate I earn from qualifying purchases. Details
Some watch manufacturers have added a thermometer function to their timepieces, offering a handy temperature gauge without the need to check it from your phone.
However, thermometer watches aren't all the same when they differ in price, the field of use, style, and technology. It also means that different wearers prefer different watches.
With this overview, we've listed and categorized the best watches with thermometers that represent different types and price categories to suit various preferences and fields of use.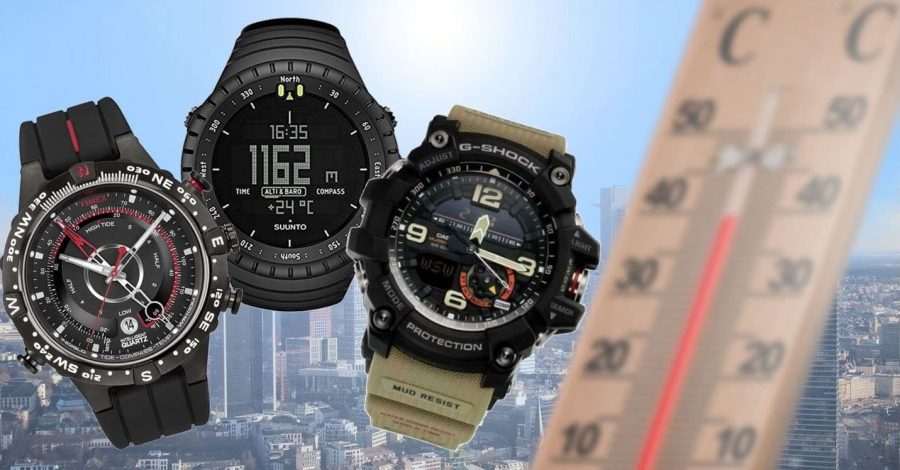 Without further introduction, here are the top watches with thermometers.

Casio G-Shock Mudmaster GG-1000
BEST OVERALL THERMOMETER WATCH
Temperature Range: 14 F to 140 F (-10 C to 60 C)
Water Resistance: 200 m (660 ft)
Movement: Quartz
Other Functions: Compass, World Time, backlight, 1/100sec stopwatch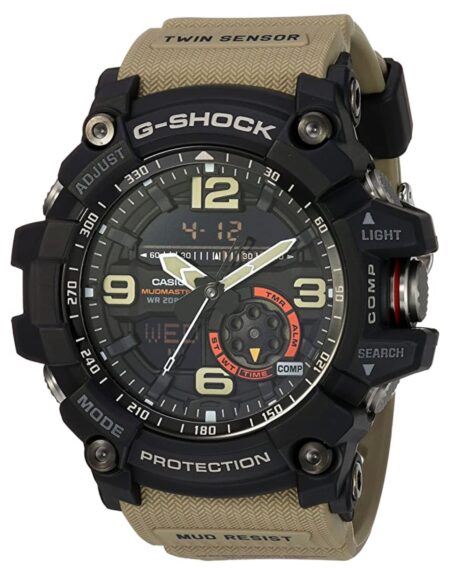 Since the thermometer function's prime objective is to measure the temperature outdoors rather than indoors, the watch employing it needs to withstand the conditions that await outside. And the best ones overall that can do that are the G-Shock watches.
We've chosen the G-Shock Mudmaster GG1000 out of the vast line-up of highly durable G-Shocks because of its features and quality ratio to the price. The watch that costs around three hundred bucks offers numerous appreciated functions while providing ease of use and pleasant aesthetics.
Moreover, the watch is resistant to various shocks, including temperature, gravitation, magnetic fields, and mud.
In terms of thermometer functionality, the Mudmaster measures in 0.2 F units (or 0.1 C) on a scale from 14 F to 140 F (-10 C to 60 C). It means the watch can be worn in the extremes with precise results.
However, for accurate results, take the timepiece off your wrist for 15-20 minutes so that the body temperature wouldn't affect the readings. Another option is to measure the average add-on (requires the previous testing) while wearing the watch on the wrist and then subtract it from the displayed result.
Besides the temperature gauge, the G-Shock has a wonderful digital compass where the second hand acts as an arrow on a full 360-degree ring.
You'll also find LED light, World Time, alarm function, 1/100 stopwatch, and numerous other features that can become essential during your hikes and travels.
When overall the watch is almost spotless, there's one particular element you should pay attention to – the negative digital display (light-toned numbers on a black background). Although it looks cool, it can be quite tricky to read in low-light conditions.

Casio Twin Sensor SGW-100
CHEAPEST THERMOMETER WATCH
Temperature Range: 14 F to 140 F (-10 C to 60 C)
Water Resistance: 200 m (660 ft)
Movement: Quartz
Other Functions: Compass, World Time, backlight, stopwatch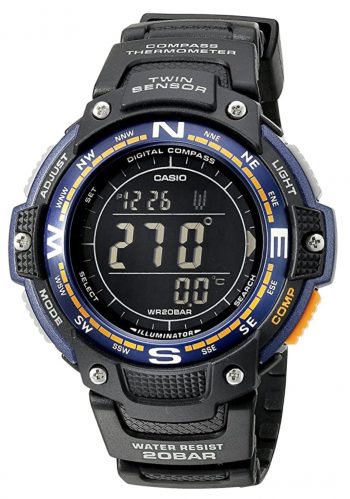 If your budget for thermometer-equipped watches is limited to around $50-$100, the best option is the Casio Twin Sensor SGW-100.
Cheap doesn't always mean low quality. And if there's one manufacturer that is the living proof of that, it's the Japanese giant Casio.
Casio is a brand that, besides the G-Shock and Pro Trek collections, produces dirt-cheap timepieces that may not possess the ultimate resistance levels as the two aforementioned but are nevertheless durable enough to stand demanding conditions and take accurate temperatures.
Like the G-Shock Mudmaster, the Casio SWG-100 comes with a Twin Sensor technology comprising a digital compass and a temperature gauge.
The sensor measures the ambient temperature around the watch and displays it in Celsius in the range of -10 C to +60 C. Similar to the G-Shock, it is best to measure the temperature off-wrist so that the body heat wouldn't affect the reading.
Besides Twin Sensor, this Casio comes with several functions inherent to the brand's outdoor watches, such as the World Time, stopwatch, alarms, and countdown timer. In addition, the timepiece is protected with a 200m (660ft) water resistance, which is stunning for the price.
The watch comes with a negative display that is known for its lower visibility in low-light conditions compared to the standard positive display. However, with this Casio, the legibility is much better due to more contrasting white numbers. Still, it won't be as clear as the positive display.
All in all, the Casio SGW-100 provides a whole set of functions for numerous occasions, despite being times cheaper than many other watches on this list.

Casio Pro Trek PRG-270
BEST TRIPLE SENSOR WATCH
Temperature Range: 14 F to 140 F (-10 C to 60 C)
Water Resistance: 100 m (330 ft)
Movement: Solar quartz
Other Functions: Compass, World Time, barometer, altimeter
The additional dimension you'll get from a Triple Sensor on top of the direction and thermometer is a barometer that measures air pressure. Based on the results, the sensor also calculates the altitude.
Thus, a Triple Sensor watch is a spot-on feature for anyone taking long treks into the mountains/hills. Being able to gauge the heights you've conquered adds a beneficial extra for recording the specifics of your hikes.
There are a lot of Triple Sensor watches. But we chose the Casio Pro Trek PRG-270 due to its marvelous price-quality ratio. The watch sells a little south of $200 while being comparable to much pricier G-Shocks specs-wise.
The temperature is displayed in Celsius and Fahrenheit, stretching from 14 F to 140 F (-10 C to +60 C). The barometric pressure has a scope of 260 to 1,100 hPa, which enables the calculation of heights between 2,300 ft and 32,800 ft (700-10,000 m).

The altimeter and barometer need the previous calibration according to your location and weather conditions. A little annoying is that the system requires it quite frequently. Therefore, be prepared to check and set your current altitude and weather on a regular basis if you want to get precise results.
A characteristic that sets this Pro Trek apart from other watches with thermometers is the solar-powered quartz movement. Due to being energized solely by light, the timepiece never needs a battery replacement and can last for up to 9 months without any light.
Besides the already feature-rich nature of this watch, you can make use of a number of other functions, including full LED backlight, countdown timer, and World Time – all easily accessible via pushers and visible on a digital display.

Casio Pro Trek PRG-600YB
BEST ANALOG DIGITAL THERMOMETER WATCH
Temperature Range: 14 F to 140 F (-10 C to 60 C)
Water Resistance: 100 m (330 ft)
Movement: Solar quartz
Other Functions: Compass, World Time, barometer, altimeter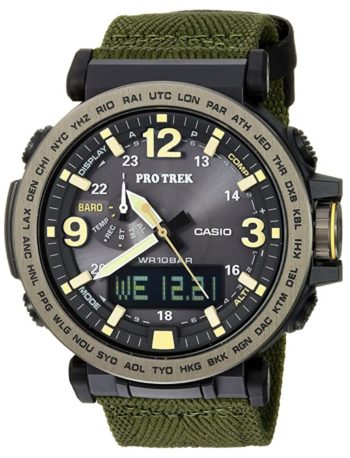 Digital watches may not be everyone's cup of tea. They don't look very casual and won't suit many outfits and occasions.
On the other hand, to house several unique and practical features that can be conveniently switched by a simple push, nothing better than a digital display is available.
Therefore, an analog-digital watch is a great alternative to those opposed to fully digital timepieces. Casio has several of them in its line-up, with the Pro Trek PRG-600 Triple Sensor one of the standout models.
The Pro Trek thermometer watch has similar ranges for the measurements as many others, providing opportunities to gauge the temperature, barometric pressure, altitude, and determine the direction.
The display is located conveniently at the bottom of the dial, leaving the majority of space for an analog face.
Another user-friendly addition is the watch lug structure. While most lugs are fixed, these can be adjusted up and downwards to better adjust to the wrist's contours.
The Pro Trek PRG-600 belongs to the best thermometer watches for another reason, too – it is powered solely by light. The solar panel behind the dial absorbs all kinds of light and converts it into electrical energy that powers all the functions the timepiece comes with.

Timex Intelligent Tide-Temp-Compass
TOP ANALOG WATCH WITH THERMOMETER
Temperature Range: -4 F to 124 F (-20 C to 50 C)
Water Resistance: 100 m (330 ft)
Movement: Quartz
Other Functions: Analog compass, tide tracker, Indiglo backlight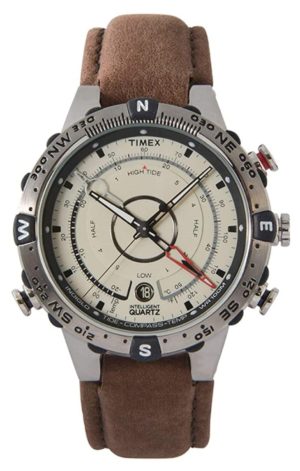 Digital and analog-digital hybrid watches showing the temperature are quite prevalent in the watchmaking world. However, a type that is not so common is an analog thermometer watch.
The American watch manufacturer Timex came out with an exciting model several years back. The watch that is appreciated to this day drifts away from others represented on this list in providing something for water sports, sailing, and outdoor devotees as a whole.
Despite being a fully analog watch, the Timex Intelligent Tide-Temp-Compass has the functions conveniently displayed on specified circles and determined by extra hands.
For example, the temperature is visible on the main ring, the tide tracker feature is located in the center part of the watch, and the compass ring sits on the bezel. The dedicated hands, one of them with a circle tip and the other in bold red, show the results when applied through specified buttons at 2, 4, and 8 o'clock.
Due to the increased number of arms, though, it is often difficult to capture the hands showing the time. Therefore, be prepared to take some time to get used to differentiate them at a glance.
The temperature has both Fahrenheit and Celsius scales able to measure between -4 F and 124 F (-20 C to +50 C) and can be used to gauge the water temperature as well.
The Timex thermometer watch also has decent water resistance up to 100 m (330 ft), a proprietary Indiglo backlight, and a 16mm silicone strap that fits up to an 8-inch wrist circumference.
The timepiece filled to the brim with features costs slightly above the $100 line, making it a fantastic value-for-money investment.

Suunto Core All Black
TOP SPORTS WATCH WITH THERMOMETER
Temperature Range: -4 F to 140 F (-20 C to 60 C)
Water Resistance: 30 m (100 ft)
Movement: Quartz
Other Functions: Compass, altimeter, barometer, weather trend
Another bang for the buck timepiece is Suunto Core All Black watch with altimeter, barometer, thermometer, and compass. It is a top outdoor sports watch that tracks daily activities, as well as sleep quality.
Designed for strenuous outdoor activities on the mind, the Suunto piece is spot-on for backcountry skiers, mountaineers, hikers, hunters, and athletes that could make use of the excellent functions the timepiece comes with.
Unfortunately, it is not equipped with GPS, which could've taken the Suunto Core several notches up.
Besides the ABC and temperature functions, the Suunto Core watch can even predict a coming storm, taking the timepiece to a whole new level. The built-in weather trend indicator displays the barometric history for the last three and six hours, predicting the weather with incredible accuracy.
You can even gauge the depths of the water of up to 30ft (9m), utilize the sunrise and sunset times, and check the exact ascending or descending intervals.
On top of the features, the Suunto Core looks like a classic sports watch with its digital display and sleek design with no rugged-looking protrusions.

G-Shock Rangeman GW-9400
BEST ATOMIC WATCH WITH THERMOMETER
Temperature Range: 14 F to 140 F (-10 C to 60 C)
Water Resistance: 200 m (660 ft)
Movement: Atomic quartz
Other Functions: Atomic time, compass, World Time, barometer, altimeter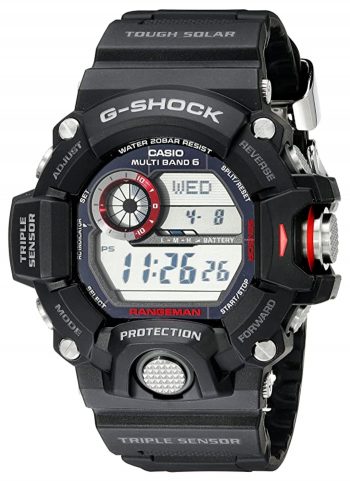 If you value a timepiece's accuracy as much as the thermometer function, then we have a significant upgrade from quartz-driven watches coming up next.
The watches with atomic time employ a receiver that interacts with radio towers, which eventually results in atomic precision.
The G-Shock Rangeman GW9400 carries the Multiband 6 technology, covering all the world's major regions and adjusting to atomic time several times a day. This way, the watch stays on time throughout its lifetime.
It's also equipped with a Triple Sensor for altitude, barometric, temperature, and direction indications. Similar to other Casio models, the thermometer ranges from 14 F to 140 F (-10 C to 60 C), offering the wearers a broad amplitude to measure.
It would be best for you to consider using the so-called "average add-on" method of measuring the air temperature because when doing it off-wrist, you would have to wait for up to an hour for the watch to wear off the warmth of the wrist.
On top of the ABC and several other valuable functions, the Rangeman is also powered by light, resulting in one of the most carefree types of watches ever made. This solar atomic thermometer watch needs neither battery replacement nor time adjustment.
If you're not a fan of the watch's color combination, it comes in a green version as well. However, specs-wise, it is the same as the black Rangeman.

Skmei Outdoor Watch
CHEPEAST WATCH WITH THERMOMETER
Temperature Range: 14 F to 140 F (-10 C to 60 C)
Water Resistance: 50 m (165 ft)
Movement: Quartz
Other Functions: Compass, barometer, altimeter, pedometer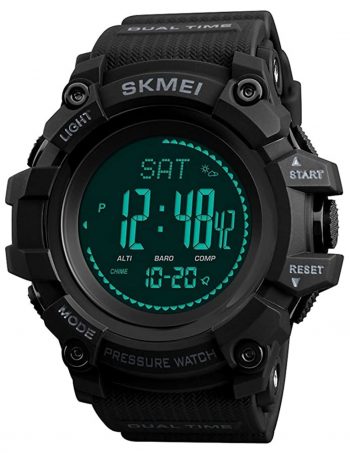 The set of the four features of altimeter, barometer, thermometer, and compass typically raises the price above the three-digit number. However, you'll also find cheaper alternatives that cost in the region of $50.
Not all of them have been produced with quality in mind, which means browsing for cheap ABC timepieces should be conducted cautiously. One of the few pieces that provide a decent quality at the price point is the Skmei Sports wristwatch.
The entirely digital watch shows temperatures between 14 F and 140 F with an option to switch between Fahrenheit and Celsius. You'll also have the possibility to track the altitudes you've taken and read the barometric pressure. The digital compass is available as well.
A neat extra that comes with this Skmei watch is a pedometer. It counts steps and measures distances, speed, and burnt calories, making it perfect for running and hiking.
However, it must be noted that the Skmei watch is no G-Shock – it is not that resistant to various shocks, nor does it come with high water resistance (50m instead of 200m). The functions, on the other hand, are all working properly. Therefore, don't expect too much from this watch, and take is a typical sub-$50 timepiece.
---

Guide to Thermometer Watches
Now that we've presented you with eight of the best thermometer watches in their immediate categories, we should look at some decision-critical factors that you should consider before pulling out your credit card.

Digital Thermometer Watch vs Others
The array of thermometer watches consists mostly of digital or hybrid displays, with a number of analog options being very limited. Since the functions are way easier to construct and present digitally, it's no wonder that entirely analog models are not that prevalent.
Those who are not the biggest fans of digital screens should go for hybrid analog-digital watches. They possess similar functionalities and quality levels as the fully digital ones do. The only difference that separates them comes from the size of the digital display.
With the analog-digital option, the wearer can enjoy the clean and traditional face of an analog watch and, when in need, can make use of the valuable functions visible on a digital window.

Body Temperature Affects the Results
The watch consists of thermally conductive parts that absorb the wrist temperature, which means that all the timepieces with a thermometer are affected by the body heat.
In order to receive accurate results, you should take the watch off for about 15-20 minutes (up to an hour in some cases) and then read the temperature.
There's also another option to receive a precise result, although it might not be as accurate as with the first option – when wearing the watch, compare the results you receive from the timepiece to actual temperatures in multiple conditions and occasions. Then you can determine the average excess that develops through your body heat.
So when you're out in the wild next time, simply subtract the average add-on that typically accumulates.

Twin Sensor vs Triple Sensor
Casio has two technologies you should differentiate. When a Twin Sensor consists of a thermometer and compass, a Triple Sensor has an additional altimeter/barometer metric.
Suppose you are not sure that you will use the altitude and barometric results during your outdoor activities (i.e., you live in flat areas), opt for a Twin Sensor watch. The timepiece will be simpler and will not cost as much either.
On the other hand, missing out from the altimeter/barometer gauges on terrains that ascend and descend significantly would be a shame. Hence, for more detailed information about your hikes or training, consider going for the watch that comes with these valuable metrics.

Celsius & Fahrenheit
Lastly, depending on the country you're from, double-check if either or both of the temperature versions are provided.
Although the vast majority of thermometer watches come with both scales, some models have only one of them (mostly Celsius).

Conclusion on Watches with Thermometer
As you can see, there's not a set standard for thermometer watches – they have various display options, feature different functions for all sorts of measurements, are powered differently, and, obviously, come in numerous designs.
We hope that covering the different types of the best thermometer watches has been of help to you in finding the perfect fit for your needs and wallet.

You may also like:
Affiliate Disclosure: As an Amazon Associate I earn from qualifying purchases. Details
Latest posts by Carl Pender
(see all)