Affiliate Disclosure: As an Amazon Associate I earn from qualifying purchases. Details
Since watches are pieces of accessories that stay on a wrist for most of the day, they need to be resilient to everyday wear and tear. In this sense, cases, movements, and straps are essential watch parts to consider before making the purchase. However, people often tend to forget another important component – a glass.
Out of all the types of watch crystals, a sapphire is the sturdiest of them all. Not only is it a strong substance, but it is also extremely scratch-resistant compared to other types of glasses. The substance is highly recognized in the industry and is synonymous with quality.
A typical watch with a sapphire glass costs $500 and upwards. However, there are some wonderful models with a way cheaper price tag. As such, we've decided to bring you the best affordable sapphire crystal watches currently available on the market.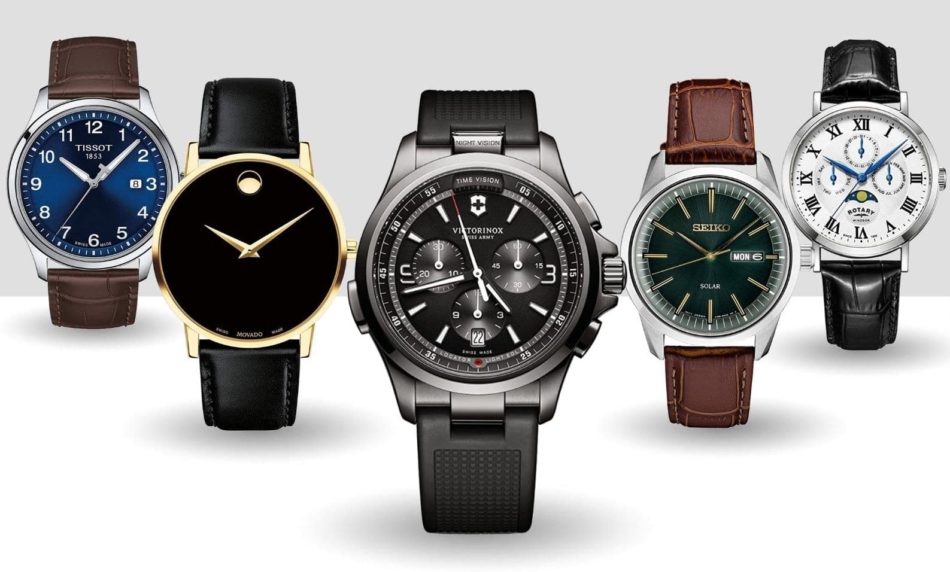 But first, what is a sapphire crystal, after all?

What Is a Sapphire Crystal on a Watch?
A sapphire you'll find from wristwatches is not the same as it is in the jewelry. It is an industrially produced synthetical crystal made up of crystalline aluminum oxides at high temperatures.
The industrial substance has the same hardness as a natural gemstone but comes without coloring agents.
On the Mohs scale, which measures gemstones' hardness, sapphire has a rating of 9 out of 10, with only diamond being stronger. Thus, only diamonds and a few artificial materials can scratch a sapphire crystal.
We will delve into the core of this glass later on in our post, so make sure to check the second part of this article if you're interested. But now, let's head to the overview of the best sapphire crystal watches for the money.

Best Sapphire Crystal Watches
We decided to bring you the timepieces from as many brands as possible for the sake of widening the options for various tastes and preferences.
Also, all the sapphire crystal watches cost $300 or less and come with genuine sapphire glass (not sapphire-covered mineral or any other ambiguous material) and high Amazon ratings from verified buyers. 
Without further ado, here they are.

Citizen Eco-Drive Titanium Sapphire Watch
Case Size: 43mm
Movement: Solar quartz
AR coating: Yes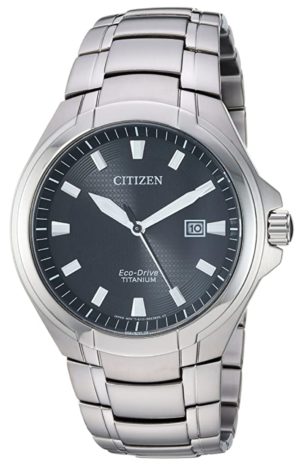 The Citizen brand has always been a frontrunner when it comes to equipping watches with remarkable technologies at affordable rates. 
The solar-powered Eco-Drive technology is the most famous of them, which you'll find from this Citizen BM7431-51E as well. However, with this watch, the ultimately convenient solar power is coupled with Super Titanium that, along with sapphire crystal, make this timepiece one hell of a sturdy piece.
Furthermore, it is available for around 300 bucks. 
The 43mm casual Citizen energizes itself from all sorts of light and never requires a battery replacement. Once fully charged, it can run up to six months without any light source applied to it.
The watch is covered with Super Titanium – a material that's five times harder than stainless steel, extremely scratch-resistant, and lightweight.
The durability of this timepiece takes one step further with the inclusion of an anti-reflective sapphire crystal. Particular praise from several owners goes precisely to the high-quality crystal. 
Last but not least, this luminous 100m (330ft) water-resistant Citizen Sapphire watch comes with an astounding 5-year limited international warranty with an option for an extra year when registering the timepiece on Citizen's homepage. 

Seiko Solar SNE529
Case Size: 40mm
Movement: Solar quartz
AR coating: Yes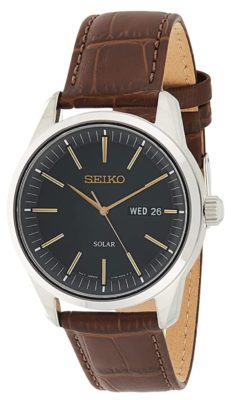 Seiko is an equal competitor to Citizen for a similar market segment when several comparisons between them find it difficult to give an edge to one or the other. One field where they often find themselves being compared to is solar watches.
The Seiko Solar SNE529 is a classic dress watch with a 10-month power reserve once fully charged. For the price it's sold, the Seiko offers impeccable quality and sturdiness besides the convenience of solar power. 
The sapphire covering the face is flat, which may not look as good as it would in a dome shape, but will protect the dial equally well. A nice extra is an anti-reflective coating that lets you keep track of the time even in bright sunlight.  
More-than-expected water-resistance of 100m (330ft) for a dress piece is another great bonus. It means the timepiece stands more than typical everyday water contact, including swimming and snorkeling. However, consider replacing the calfskin leather strap with a metal one when intending to use the watch for intense water activities.

Tissot Gent XL Blue Sapphire Crystal Watch
Case Size: 42mm
Movement: Quartz
AR coating: Yes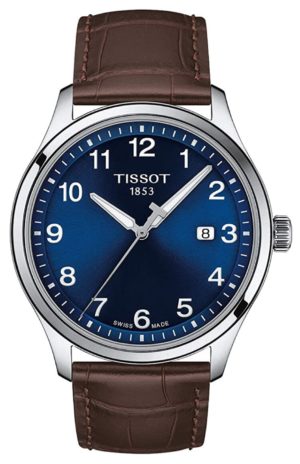 The Swiss brand of Tissot is an excellent addition to this article because every single timepiece it manufactures comes with a sapphire glass.
While most of the watches cost 500+ dollars, there are some that stay around a couple of hundred bucks. The Tissot Gent XL is one of them.    
This blue sapphire crystal watch runs on an accurate Swiss quartz movement and represents the wide selection of dress pieces the brand has available. Similar to the Seiko we covered, this one, too, has a water resistance rating of 100m (330ft), which is quite rare among these types of wristwear. 
The sapphire has an excellent anti-reflective coating, making the reading of the time easy from any angle. The contrast between the deep blue dial and white numerics also helps for a quick time capture.
A perfect dress piece as this Tissot Gent XL is, you'll find it convenient to slip it underneath the sleeve because of the slim case width at 9mm. The case diameter is also of decent size, enabling it to be worn on variously sized and shaped wrists. 

Victorinox Swiss Army Night Vision
Case Size: 42mm
Movement: Quartz
AR coating: Yes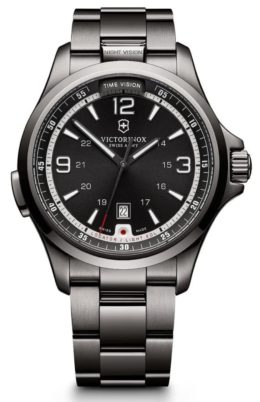 We continue with another Swiss-made piece, but this time with a survival watch. 
Victorinox is a recognized producer of Swiss military watches that withstand harsh conditions. For a timepiece to bear the extremes, it requires a durable construction. The Victorinox Swiss Army Night Vision watch has been built precisely for these conditions.
First of all, the sapphire crystal has a triple-coated anti-reflection for uninterrupted time checking in any lighting condition. Secondly, it features a classy-looking metal bracelet and a scratch-resistant stainless steel case. And thirdly, the Victorinox is equipped with a neat LED function that provides various lighting options, including a dial illumination, SOS signal, and locator mode. 
Considering these excellent characteristics this Victorinox employs, it is one of the best value-for-money Swiss-made timepieces around. 

Orient Sun and Moon Version 5 Watch
Case Size: 41.5mm
Movement: Automatic
AR coating: No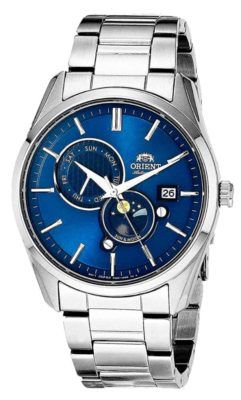 Orient's prestige for manufacturing highly reliable in-house automatic calibers makes their watches sought-after. And if you add the existence of sapphire crystal on top of it, they are hard to say no to.
Besides featuring a highly acknowledged F6B24 self-winding movement, the Orient Sun and Moon Version 5 is also a real eye-catcher.
The blue-faced sweeper comes with two distinctive subdials – one is for the day function, while the other depicts the alternations of days and nights. Also known as a Sun and Moon indicator, the function is a simpler version of a moon phase indicator, a prestigious extra in luxury timepieces.
The sapphire crystal is slightly domed, giving it a bit more luxuriousness but also a better resistance from shatters compared to a flat one.
Overall, the Orient watch can take hits and knocks very well, looks sumptuous with its eye-catching blue face, and goes with various attires. 

Casio Edifice Sapphire
Case Size: 45.5mm
Movement: Quartz
AR coating: No
The most casual sapphire crystal watch in this post is the Casio Edifice Sapphire. The Edifice line is dedicated to speed lovers as the majority of the models employ a chronograph function and sporty looks. 
The 45mm timepiece has a dark masculine appeal with a brushed stainless steel case and bracelet.
The sapphire-covered dial is occupied by three subdials that belong to a 30-minute stopwatch and the watch's main second's hand. As such, you'll not find the primary second's hand from the main ring. 
The Casio stands water pressure very well – going for a swim or taking a shower will not cause any harm due to a 100m (330ft) resistance. It's well protected against everyday wear and tear as well, primarily owing to scratch-resistant sapphire glass and stainless steel construction.

Movado Museum Gold Watch
Case Size: 40mm
Movement: Quartz
AR coating: No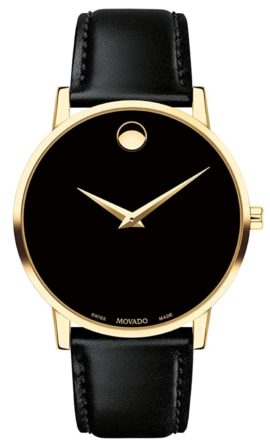 Not many Swiss-made sapphire crystal watches are available for around $300. We've already covered a Tissot and Victorinox watch; now it's time for one of the most extraordinary Swiss timepieces around – the minimalist Movado Classic Museum watch.
Movado watches follow a very strict minimalist design, which eventually made the brand world-famous in the first place.
In this particular model, the onliest design element besides the striking golden tone is a single dot at a twelve o'clock position. The background comes with a contrasting black, enabling a convenient time capture. What's notable, though, is the absence of a second's hand.
Quality-wise, there's nothing to complain about either. The Movado piece runs on an accurate Swiss quartz movement and comes with an ultra-thin stainless steel case and a comfortable leather strap.
The flat sapphire glass covering this spectacular design is scratch-resistant against normal wear and tear and withstands harder knocks as well. 
All in all, if you're after a long-lasting Swiss-made suit watch with a sapphire crystal and admire the famous minimalist design, there's no better option than the Movado watch. 

Bering Solar Watch
Case Size: 40mm
Movement: Solar quartz
AR coating: No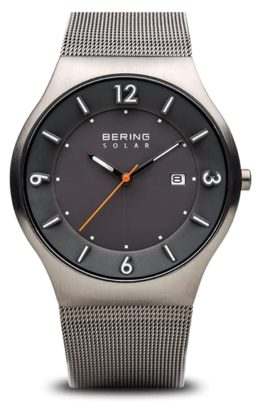 If you're after a minimalistic timepiece that, at the same time, is highly durable and functional, turn your attention to the Bering Solar Watch.
This Danish-designed Bering has a sleek design that embodies some futuristic features, such as the streamlined case with no lugs and the unusual dial layout. The outcome is a unique minimalist style so prevalent to Bering. 
Though, what makes it even more appealing is that it will look as good as new even after years of wear and tear. Besides the scratch-resistant flat sapphire that is known for its longevity, the watch is also equipped with a sought-after Milanese mesh band containing medical grade stainless steel.
On top of the appearance and quality, the watch runs on a solar-powered quartz movement.
With this type of caliber, the timepiece is free of cumbersome battery replacements and requires only light to power the watch. When this Bering piece is fully charged, it can run more than half a year without any additional light.

Torgoen T10 Sapphire Watch
Case Size: 44mm
Movement: Quartz
AR coating: No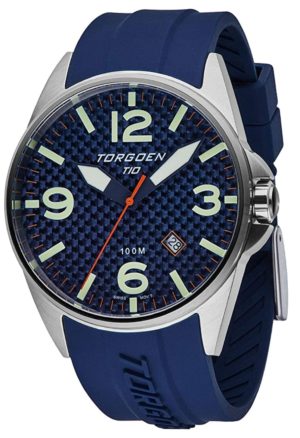 Torgoen is quite a fresh brand with only a little over ten years of watchmaking expertise. However, the years in business don't have much significance if the watches impress both in terms of appearance and longevity.
The Torgoen T10 out of the impressive pilot watch line-up is one of the bestsellers from the brand. 
First off, the watch strikes with its overwhelming blue tone you'll find from the dial and rubber bands. The dominating blue combines with beige hour markers and a splash of orange, resulting in an outstanding color scheme you don't often see. 
Secondly, the components this Torgoen watch consists of are industry standards. For example, the timekeeping runs on accurate Swiss quartz, the crystal is of sapphire, and water resistance is guaranteed to 100m.
Last but not least, the Torgoen T10 has brilliant legibility in the dark. Due to the oversized hands and bold hour indices and numbers, the watch has more luminescence than typical luminous timepieces do.

Alpina Startimer Pilot Chronograph
Case Size: 44mm
Movement: Quartz
AR coating: Yes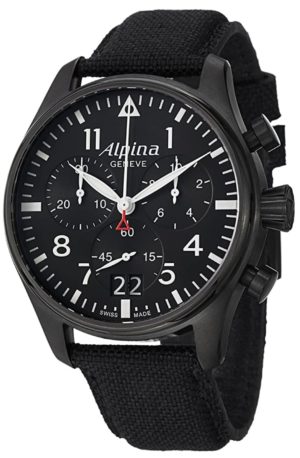 The next watch is from an affordable Swiss brand of Alpina and is for men with an active lifestyle. 
The Alpina Startimer Pilot Chronograph is equipped with a sweep second's hand stopwatch function, which measures from 1/10-second up to 30 minutes. The subdials are well-placed at three, six, and nine o'clock and even leave enough space for a larger than usual date window at the bottom. 
The accuracy of the watch is guaranteed with an Alpina caliber al-372 – a Swiss quartz movement with an impeccable reputation. 
The sporty Alpina is covered with a classy black matte finish, is water-resistant to 100m (330ft), and can take a beating very well due to durable sapphire glass.

Rotary Windsor Moonphase Watch
Case Size: 40mm
Movement: Quartz
AR coating: No
The next timepiece is a spot-on sapphire crystal watch for complementing smart attires on dressier occasions. The Rotary Windsor Moonphase is, like the name already suggests, a watch that depicts the phases of the Moon. It's not an AM/PM or Sun and Moon version but a real deal moon phase watch.
Besides the indicator, the Rotary piece comes with three windows for a day, date, and weekday that are surrounded by classic Roman numerals.
A flair-adding design element complementing the overall affluent appeal is the lightning blue coloring of the hands. 
What's most important considering the topic of this post, the flawless face of this Rotary is protected with a highly appreciated sapphire crystal that takes extremes to get it scratched. 
All things considered, the Rotary Windsor is a bargain for the money. Having both a moon phase feature and sapphire glass on a sub-$300 wristwatch is hard to find. 

Lucien Piccard Babylon Open-Heart
Case Size: 45mm
Movement: Automatic
AR coating: No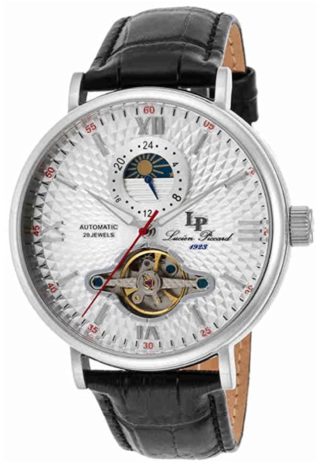 The last sapphire crystal watch we cover in this post is a self-winding automatic timepiece with an open-heart design. 
The Lucien Piccard Babylon strikes with a sumptuous guilloche dial full of luxurious-like features. One of the subtle features is the skeletonized cut at six o'clock that showcases the swirling of an automatic movement's balance wheel. This gold-toned part of the caliber is a mesmerizing sight to see and leaves no one cold. 
Another design element adding to the overall flashy appeal of this watch is the Sun and Moon indicator at twelve o'clock. When it's noon, the Sun is at the center stage, whereas at midnight, the Moon takes the spot.
Although the Lucien Piccard brand doesn't stand shoulder to shoulder with others represented on this list, it's nevertheless a decent option if you're after something different.
Besides, it costs less than its Swiss or Japanese counterparts, making it a low-risk investment.
---

Buying Guide: Sapphire Crystal Watches
The selection for sapphire crystal watches is enormous. However, not all the glasses are the same when several differentiating factors should be considered before purchasing.
The following buying guide brings you the most essential of them.   

Sapphire vs Sapphire-Coated Mineral
When shopping for wristwear, you'll most probably come across the term sapphire-coated mineral. It's not the same as a genuine sapphire crystal but instead a midway between the real one and mineral crystal. 
With a layer of synthetic sapphire added on top of the mineral glass, the scratch resistance improves to some extent but is still far from the properties provided by a sapphire crystal.
On the other hand, compared to the classic mineral glass, the resistance is much better.
If you want the ultimate protection against scratches and wear and tear, go for a genuine sapphire crystal. Typically, it costs more than the hybrid version but is worth every penny.    

Flat vs Domed Crystal
While the most prevalent type of watch glass is flat, there's also a domed version. By giving the crystal a curved shape, the watches receive an elegant visual addition, as well as slightly better protection from shatters. 
Another purpose to dome a crystal is to do with the magnification of the dial. As such, dive wristwear often features the curved version since a flat one is almost unreadable at an angle underwater.
A notable con for domed glass is that it reflects more than a flat one and requires anti-reflective coatings to be readable in every lighting condition. 
However, the overall differences for mainstream wearers are still minor, with minimal effect on the wearing experience.      

AR Coating
The last factor differentiating one sapphire crystal watch from another is AR (anti-reflective) coating.
AR coating is a thin film applied to the crystal to reduce reflections and improve the contrast of the dial. A crystal with this addition costs more and is more prevalent in pricier timepieces. 
The absence of an anti-glare coating doesn't mean a sapphire crystal watch is low-quality since the physical attributes stay the same. However, if you think the reflections may start to annoy you, it's better if you chose AR coated model. 

Conclusion
We hope this post about the best affordable sapphire crystal watches has brought you closer to owning the supreme quality that this watch glass offers.
Fortunately, several watch manufacturers provide models that won't cost an arm and a leg and are available for a couple of hundred dollars. The likes of Tissot, Citizen, and Victorinox are perfect examples of that.
But be sure to check the detailed description of the crystal from other watchmakers' models as not all of them are pure synthetic sapphire crystals.

You may also like:
Affiliate Disclosure: As an Amazon Associate I earn from qualifying purchases. Details