Affiliate Disclosure: As an Amazon Associate I earn from qualifying purchases. Details
Out of all the types of watch crystals, sapphire is the sturdiest of them all.
Not only is it a strong substance, but it is also extremely scratch-resistant compared to other types of glasses. As a result, the crystal is highly recognized in the industry and is synonymous with quality.
A typical watch with a sapphire glass covering its dial costs $500 and upwards. However, there are some wonderful models with a way cheaper price tag.
As such, we've decided to bring you the best affordable sapphire crystal watches currently available on the market.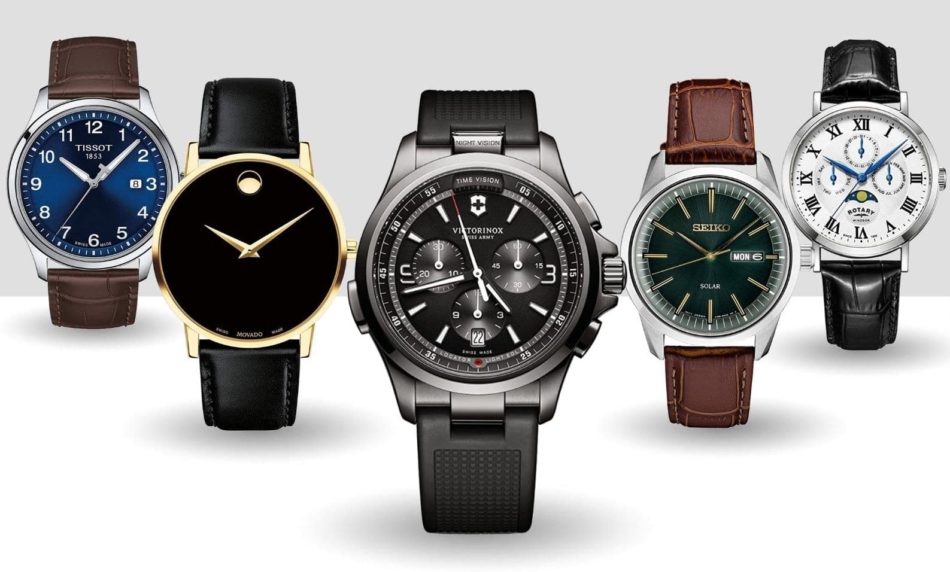 But first, what is a sapphire crystal, after all?

What Is a Sapphire Crystal on a Watch?
A sapphire you'll find from wristwatches is not the same as in the jewelry. Instead, it is an industrially produced synthetical crystal made up of crystalline aluminum oxides at high temperatures.
The industrial substance has the same hardness as a natural gemstone but comes without the coloring agents.
Sapphire has a rating of 9 out of 10 on the Mohs hardness scale, with only diamond being stronger. Thus, only diamonds and a few artificial materials can scratch a sapphire crystal.
We will delve into the core of this crystal later on in our post, so make sure to check the second part of this article, where we discuss sapphire in more detail.

Sapphire Crystal Watches
We decided to bring you the timepieces from as many brands as possible for the sake of widening the options for various tastes and preferences.
Also, all the watches cost below $500 and come with genuine sapphire (not sapphire-covered mineral or any other ambiguous glass). In addition, they've received high Amazon ratings from verified buyers.
Without further ado, here they are.

Orient Kamasu Automatic
Case Size: 41.8mm
Movement: Automatic F6922
AR coating: No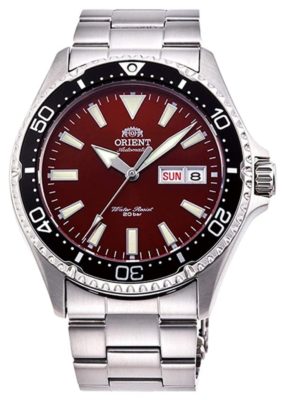 Our top pick for an affordable sapphire crystal watch is the Orient Kamasu. The watch has absolutely everything you could wish for a couple of hundred dollars.
Kamasu line was introduced in 2019, and it is a significant upgrade to the already iconic Mako and Ray models. The biggest contributor is the sapphire crystal, which replaces the mineral glass. But not only. The aesthetics have also taken one notch up for being much bolder and classier.
This particular Kamasu comes with a burgundy red dial that gives a pleasant hue when the light is cast onto it. The eye-catching dial is surrounded with a suiting black 120-click bezel, while the 41.8mm case comes with brushed lug tops and polished sides.


The only drawback is the small crown that doesn't seem to fit aesthetically. Also, it is somewhat difficult to handle due to its size.
The hands and markers are bold and stretched and contain several layers of luminosity. The lume is bright and comparable to much pricier professional dive watches.
However, what makes the Orient Kamasu especially stand out is its in-house F6922 automatic caliber. It is a workhorse that rarely lets down. Moreover, the caliber features hacking and hand-winding functions that enable one to halt the second hand and manually wind the watch.
All in all, the Orient Kamasu is one of the best, if not the best, $200 watches I've laid my hands on. And the addition of sapphire crystal is a huge bonus considering it is an affordable automatic diver.
Feel free to read my thorough Orient Kamasu review.

Citizen Eco-Drive Titanium
Case Size: 43mm
Movement: Solar quartz
AR coating: Yes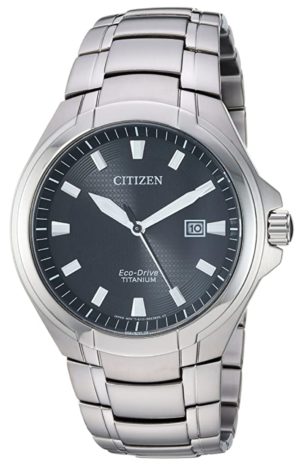 The Citizen brand has always been a frontrunner when it comes to equipping watches with remarkable technologies at affordable rates. 
The solar-powered Eco-Drive technology is the most famous of them, which you'll find from this Citizen BM7431-51E as well. However, with this watch, the ultimately convenient solar power is coupled with Super Titanium that, along with sapphire crystal, make this timepiece one hell of a sturdy piece.
And let's not forget the sapphire crystal that is almost impossible to scratch. Moreover, the crystal is additionally covered with an anti-reflective coating that drastically enhances the legibility in the daylight.
What all this means is that the Citizen watch is a very sturdy piece that withstands severe conditions and doesn't require battery replacements or any winding.
In terms of comfort of wearing, the timepiece won't disappoint you either. Since it is made from titanium, it weighs only 3.6 oz (100 g). If you also remove a couple of bracelet links, the weight drops even more.
I'm not a fan of heavy watches, so wearing a metal timepiece that is physically almost unnoticeable on the wrist is quite a unique experience. In addition, the case measures a humble 10mm in height, meaning the watch slips conveniently under the sleeve when required.
Last but not least, this luminous 100m (330ft) water-resistant Citizen sapphire watch comes with an astounding 5-year limited international warranty with an option for an extra year when registering the timepiece on Citizen's homepage.

Tissot Supersport Chrono
Case Size: 45.5mm
Movement: Swiss quartz
AR coating: No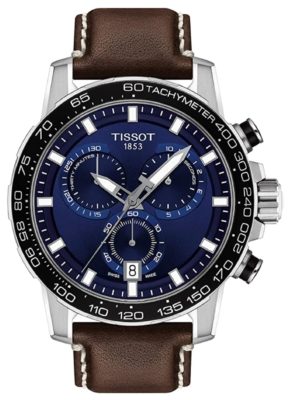 The Swiss brand of Tissot is an excellent addition to this article because every single timepiece it manufactures comes with a sapphire glass.
While most of the watches cost 500+ dollars, there are some that stay around a couple of hundred bucks. The Tissot Supersport Chrono is one of them.
This blue sapphire watch is equipped with an accurate Swiss quartz movement and represents the wide selection of chronograph watches the brand has available. The stopwatch measures in 1/10-second increments for up to 30 minutes and is coupled with a fixed tachymeter bezel.
It was quite surprising to find the luminosity so good, especially considering the Supersport Chrono is not a diver. The lume has a bluish tint that glows brightly and lasts for several hours.
When it comes to appearance, the watch is simply stunning.


The sunray dial has a nice hue in the light, alternating between dark and light-toned blue. The bezel surrounding the dial is black, harmonizing perfectly with the overwhelming blue tint of the watch. And the sapphire on top of the face is pure luxury, both quality and appearance-wise.
What I found to be uncomfortable initially was the leather strap. In terms of appearance, it looks beautiful and expensive. However, the strap was relatively stiff in the first weeks and didn't grab the wrist as it should have by leaving a gap between the strap and the wrist.
Fortunately, the leather becomes softer the more you wear it, which eventually eliminates the problem in the long run.
Read our hands-on review on the Tissot Supersport for thorough analysis.

Victorinox I.N.O.X. Swiss Army Watch
Case Size: 43mm
Movement: Swiss quartz
AR coating: Yes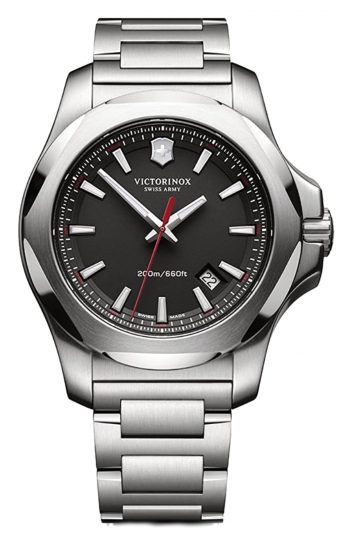 Victorinox is a recognized producer of Swiss military watches that withstand harsh conditions. For a timepiece to bear the extremes, it requires a durable construction. That is why all the I.N.O.X. line watches, including the one covered here, go through 130 endurance tests before going on sale.
Therefore, the ground for an ultra-durable Victorinox watch seems to be solid. And when looking at the materials the ticker consists of, it's no wonder.
First off, the I.N.O.X. watch comes in a higher-grade 316L stainless steel case with solid crown guards and long watch lugs. The case measures 43mm in diameter, which doesn't seem too big, but add the lugs, and the overall length stretches to 53mm (lug-to-lug).
Another high-quality component is the sapphire crystal that withstands impacts and is highly scratch-resistant. Furthermore, the crystal comes with an anti-reflective coating that removes unwanted reflections and lets you capture the time from any angle and lighting condition.
The stainless steel bracelet is also of wonderful quality. It doesn't rattle and is fairly thick. However, the clasp takes time to get used to. It reminds a little of a jewelry clasp with a hook but is, of course, much bigger and more secure.
You'll also get a wonderful 200m (660ft) of water resistance, enabling the watch to be worn for intense water activities.
Since the watch is quite large and entirely made from stainless steel, the weight tends to be on the heavy side. It weighs more than 6 ounces (170 grams), which is a significant presence on your wrist. Whether it is a good or bad thing depends on personal preferences.
All in all, the watch is the most durable sapphire crystal watch on this list. Furthermore, it looks nice and complements various outfits. However, if you prefer leather straps and intend to use the timepiece for more casual occasions, you can check out the black leather I.N.O.X. watch.

Seiko Solar SNE529
Case Size: 40mm
Movement: Solar quartz
AR coating: Yes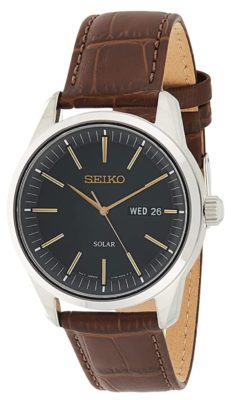 The Seiko Solar SNE529 is a classic-looking watch that, despite its nature, has a lot to offer. For the price it's sold, this Seiko offers impeccable build quality and is also one of the cheapest sapphire watches around.
A huge bonus you get with this Seiko is that the sapphire has an inner anti-reflective coating.
While having both sides coated helps for better protection against reflections, the coating on the outside is still prone to scratches. Therefore, a sapphire crystal with only the inner layer is a better option as the crystal maintains its purity.
Another great bonus is the more than expected water-resistance of 100m (330ft) for a casual dress piece. It means the timepiece stands more than typical everyday water contact, including swimming and snorkeling. However, consider replacing the calfskin leather strap with a metal one when intending to use the watch in the water.
In terms of comfort, the Seiko SNE529 is an exemplary watch. It measures 40mm in case diameter, has adequate legibility, sports a comfortable leather strap, and never requires battery replacements. Furthermore, it keeps accurate time.
All in all, there's not much to complain about this watch. It looks good, wears nice, and comes with great specs. The only teeny tiny con is the inexistent luminosity. However, the lume is not that prevalent in dress watches anyway.

Movado Museum Gold Watch
Case Size: 40mm
Movement: Swiss quartz
AR coating: No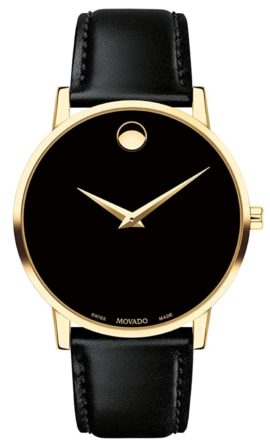 Not many Swiss-made sapphire crystal watches are available for around $300. We've already covered a Tissot and Victorinox watch; now it's time for one of the most extraordinary Swiss timepieces around – the minimalist Movado Classic Museum watch.
Movado watches follow a very strict minimalist design, which eventually made the brand world-famous in the first place.
In this model, the onliest design element besides the striking golden tone is a single dot at a twelve o'clock position. The background comes with a contrasting black, enabling a convenient time capture. What's notable, though, is the absence of a second hand.
Quality-wise, there's nothing much to complain about either.

The Movado piece runs on an accurate Swiss quartz movement and comes with an ultra-thin stainless steel case. The spectacular face design is protected with scratch-resistant sapphire, but the crystal doesn't feature AR coating. Unfortunately, it means you'll have a fair amount of reflections.
However, since the watch hands stand out pretty well from the dark background, the reflections won't affect the legibility as much as they would with other timepieces.
All in all, if you're after a long-lasting Swiss-made watch with a sapphire crystal and admire the famous minimalist design, there's no better option than the Movado watch. It goes splendidly with a suit and tie, as well as with jeans and a t-shirt.

Alpina Seastrong GMT Diver
Case Size: 44mm
Movement: Swiss quartz
AR coating: Yes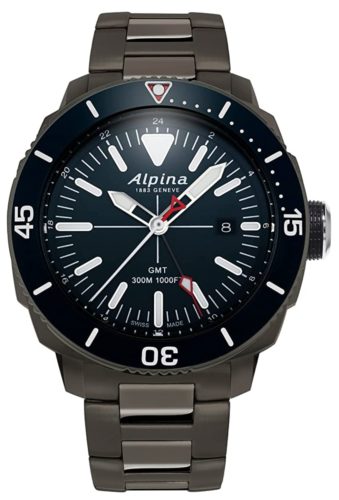 The next watch is from an affordable Swiss brand Alpina and is for men with an active lifestyle, whether it be swimming or traveling.
The Alpina Seastrong is equipped with two functionalities – one for diving and the other for traveling.
The watch is secured with a 300m (1,000ft) water resistance and a screw-in crown. Also, you'll get a unidirectional bezel with a luminous pip on the top. Therefore, the Seatrong watch can be used for recreational diving with no problems.
Also, this Alpina comes with an extra hand for an additional time zone. It is the one with the red tip. The hand makes the full circle in 24 hours and can be accessed via the oversized crown.
Visually, the Alpina Seastrong is quite a commanding timepiece with its 44mm case diameter and a gunmetal-tone stainless steel bracelet. The dial is easy to read both in daylight and at night. The lume is applied and can be found from the watch hands and indexes.
In terms of crystal, the sapphire comes in a curved shape and sports an anti-reflective coating.
When overall, this Alpina quartz watch is almost spotless, there's one thing that bothers me – the date window is barely visible, not to mention reading the date itself. Though, it is a minor disadvantage. At least it's there. If it were missing, now that would have been a serious problem.

Spinnaker Cahill 40mm
Case Size: 40mm
Movement: Automatic Miyota 8215
AR coating: Yes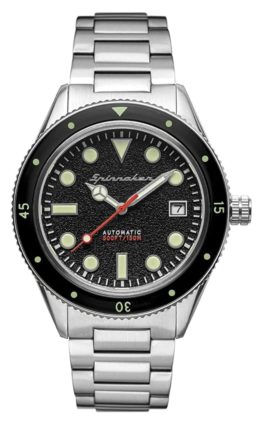 The Spinnaker Cahill is a "dress diver." It means the Spinnaker has the functionality of a dive watch but is best suited for dressier occasions.
What limits its use for professional diving is the 150m (500ft) water resistance. In itself, the rating isn't low. However, the watch hasn't been tested in real-life conditions in the sea/ocean but in still water for a couple of minutes.
Since most of us won't use dive watches for their actual purpose anyway, the water-resistance shouldn't be much of a problem. Instead, it's the aesthetics that make it appealing. And the Spinnaker has a lot to offer.
First off, the most prominent part of the watch that instantly catches the attention is the sandpaper-like dial. It provides a unique rugged impression that very few divers have. Also, the hour markers are oversized and the watch hands relatively thick, just like they should be on a diver.
The sapphire in front of the dial comes with an AR coating and is slightly domed, giving it a little bit more sturdiness compared to a flat version, and also helps with legibility at an angle.

The Spinnaker is powered by an automatic Miyota 8215 caliber that comes with a manual winding option. Unfortunately, the movement can't be hacked (halt the second hand for time synchronization). Nevertheless, the Miyota 8215 is considered a workhorse caliber with nice accuracy and decent power reserve (40h).
All things considered, the 40mm dive watch from Spinnaker is a one-of-a-kind sapphire crystal timepiece that is available for a favorable price.

Bering Solar Watch
Case Size: 40mm
Movement: Solar quartz
AR coating: No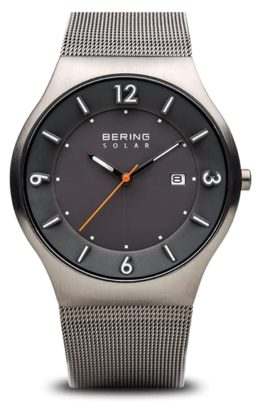 If you're after a minimalistic timepiece that, at the same time, is highly durable and functional, turn your attention to the Bering Solar Watch.
This Danish-designed Bering has a sleek design that embodies some futuristic features, such as the streamlined case and the unusual dial layout. The outcome is a unique minimalist style so prevalent to Bering.
Though, what makes it even more appealing is that it will look as good as new even after years of wear and tear. Besides the scratch-resistant flat sapphire that is known for its longevity, the watch is also equipped with a sought-after Milanese mesh band containing medical-grade stainless steel.
On top of the appearance and quality, the watch runs on a solar-powered quartz movement.

With this type of caliber, the timepiece is free of cumbersome battery replacements and requires only light to power the watch. When this Bering piece is fully charged, it can run more than half a year without additional light.
On the negative side, the minute hand is too thin to catch it at a glance, which eventually hinders the time capture. Also, the length of minute and hour hands is very similar. So differentiating them takes an extra second or two.
Other than that, the Bering Solar watch is decent wearable for anyone into futuristic timepieces.

Torgoen T10 Watch
Case Size: 44mm
Movement: Swiss quartz
AR coating: No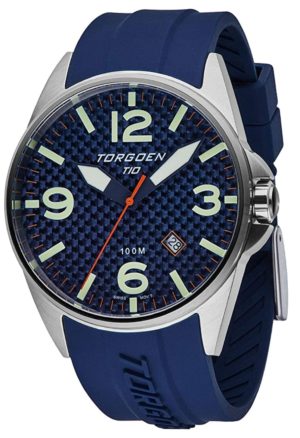 Torgoen is quite a fresh brand with only a little over ten years of watchmaking expertise. However, the years in business don't have much significance if the watches impress both in terms of appearance and longevity.
The Torgoen T10, out of the impressive pilot watch line-up, is one of the bestsellers from the brand. It is also one of the watches with a sapphire crystal (many similarly priced Torgoen watches employ mineral glass).
First off, the watch strikes with its overwhelming blue tone you'll find from the dial and rubber bands. The dominating blue combines with beige hour markers and a splash of orange, resulting in an outstanding color scheme you don't often see.

The rubber strap looks and feels like premium-class. Moreover, it sits on the wrist just perfectly. A neat extra that makes the strap even more appealing is the embossed Torgoen on the bottom half.
Since the T10 sports a 100m water resistance, you can take it for a swim and snorkel without worrying about ruining your watch. However, stick to these activities as anything more severe won't do good to it.
However, what the Torgoen T10 disappoints with is the luminosity. For a pilot watch that features oversized numbers and hands, I would've hoped for better brightness and longevity.
Regardless, the T10 watch is one sturdy piece to own. Furthermore, since not many out there wear Torgoen watches, it would also be an exclusivity that draws attention.

Rotary Windsor Moonphase Watch
Case Size: 40mm
Movement: Japanese quartz
AR coating: No
The next timepiece is a spot-on sapphire watch for complementing smart attire on dressier occasions.
The Rotary Windsor Moonphase is, like the name already suggests, a watch that depicts the phases of the Moon. It's not an AM/PM or Sun and Moon version but a real deal moon phase watch.
Besides this indicator, the Rotary piece comes with three windows for a day, date, and weekday that are surrounded by Roman numerals.
A flair-adding design element complementing the overall affluent appeal is the lightning blue coloring of the hands.
What's most important considering the topic of this post, the flawless face of this Rotary is protected with a highly appreciated sapphire crystal that takes extremes to get it scratched. The only thing missing is the anti-reflective coating that would've been the icing on the cake.
All things considered, the Rotary Windsor is a bargain for the money. Having both a moon phase feature and sapphire glass on a sub-$300 wristwatch is hard to find.

Casio Edifice Sapphire
Case Size: 45.5mm
Movement: Japanese quartz
AR coating: No
The most casual sapphire crystal watch on this list is the Casio Edifice Sapphire. It is also the cheapest watch you can get with the appreciated watch glass, staying just south of the three-digit price.
The 45mm timepiece has a dark masculine appeal with a brushed stainless steel case and bracelet. The dial is occupied by three subdials that belong to a 30-minute stopwatch and the watch's central seconds. It means you won't find the primary seconds from the main counter.
This Edifice also sticks out with its good water resistance level. It is rated at 100m (330ft), ensuring its use for swimming, snorkeling, and showering.
The watch is well protected against everyday wear and tear as well, primarily owing to scratch-resistant sapphire crystal and stainless steel construction.
The only problem with this Casio is its size. Since it measures above 45mm, it won't go aesthetically well with many wrists. I have 7.3-inch wrists, which is the average wrist circumference men have. And this Edifice is just at the limit that I wouldn't go any bigger. Hence, if your wrist measures above 7.3 in, you should be fine.
---

Buying Guide to Sapphire Crystal Watches
The selection for sapphire crystal watches is enormous. However, not all the crystals are the same when several differentiating factors should be considered before purchasing.
The following buying guide brings you the most essential of them.

Sapphire Crystal vs Sapphire-Coated Mineral
When shopping for wristwear, you'll most probably come across the term sapphire-coated mineral. It's not the same as a genuine sapphire crystal but instead a midway between the two types of crystals.
With a layer of synthetic sapphire added on top of the mineral glass, the scratch resistance improves to some extent but is still far from the properties provided by a sapphire crystal.
On the other hand, compared to the classic mineral glass, the resistance is much better.
If you want the ultimate protection against scratches and wear and tear, go for a genuine sapphire crystal. Typically, it costs more than the hybrid version but is worth every penny.

Flat vs Domed Crystal
While the most prevalent type of watch glass is flat, there's also a domed version. By giving the crystal a curved shape (convex), the watches receive an elegant visual addition, as well as slightly better protection from shatters.
Another purpose to dome a crystal is to do with the magnification of the dial. As such, dive wristwear often features the curved version since a flat one is almost unreadable at an angle underwater.
A notable con for domed glass is that it reflects more than a flat one and requires anti-reflective coatings to be readable in every lighting condition.
However, the overall differences for mainstream wearers are still minor, with minimal effect on the wearing experience.

AR Coating
The last factor differentiating one sapphire watch from another is AR (anti-reflective) coating.
AR coating is a thin film applied to the crystal to reduce reflections and improve the contrast of the dial. A crystal with this addition costs more and is more prevalent in pricier timepieces.
The absence of an anti-glare coating doesn't mean a watch is low-quality since the physical attributes stay the same. However, if you think the reflections may start to annoy you, it's better if you choose an AR-coated model.

Conclusion
We hope this post about the top affordable sapphire crystal watches has brought you closer to owning the supreme quality this crystal type offers.
Fortunately, several watch manufacturers provide models that won't cost an arm and a leg and are available for a couple hundred dollars. The likes of Tissot, Citizen, and Victorinox are perfect examples of that.
What you should also consider before deciding on buying a sapphire watch are the characteristics the crystal comes with – is it coated with an anti-reflective glare, is the crystal flat or domed, and is it a genuine sapphire, not some hyped mineral version.

You may also like:
Affiliate Disclosure: As an Amazon Associate I earn from qualifying purchases. Details
Latest posts by Carl Pender
(see all)