Affiliate Disclosure: As an Amazon Associate I earn from qualifying purchases. Details
Albeit the recent trend for large-sized wearables in the industry, mainly driven by the younger end of the audience, the elegance and sophistication beaming from ultra-thin watches are hard to turn down.
True, they may not catch as much attention as an oversized Invicta or Diesel piece would, but when spotted, everyone understands the real merits they come with.
Slim watches have a versatile nature for complementing various outfits and occasions. You can wear them for an office as much as for night outs and casual outings. They stay discreet yet provide a stylish addition. And, most importantly, you wouldn't have to pay an arm and a leg to acquire one.
The following shortlist of the best ultra-thin watches for men combines such timepieces at their best – they are affordable, come at favorable dimensions, and provide straightforward yet sophisticated aesthetics.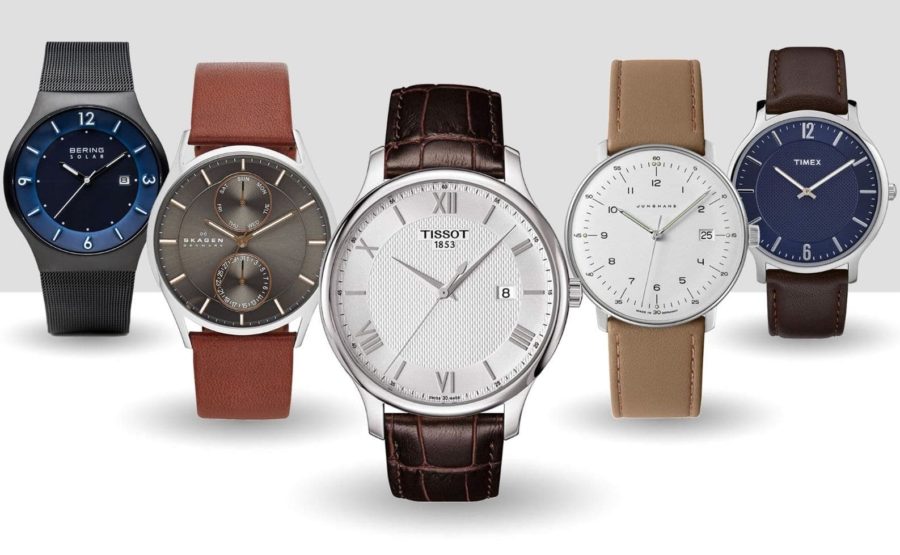 Therefore, whether you're a long-time admirer or just a guy with slender wrists, make sure not to miss out on the watches we've brought you.

Men's Ultra-Thin Watches To Consider
The number of awesome and quality thin men's watches is vast, with numerous models from a plethora of recognized manufacturers. Therefore, we've decided to bring you as variegated a selection as possible.
We determined the top slim watches by taking into account the following prerequisites:
case thickness measures below 9mm
case diameter doesn't exceed 44mm (for proportioned looks)
the watch is sophisticated and versatile in its nature
the watch is made of quality materials
it comes from a proven manufacturer
Amazon rating is at least 4 out of 5
price doesn't exceed $600
Without further delay, here are the watches.

Tissot Tradition Dress Watch
Case Size: 42mm
Case Thickness: 7.4mm
Crystal: Sapphire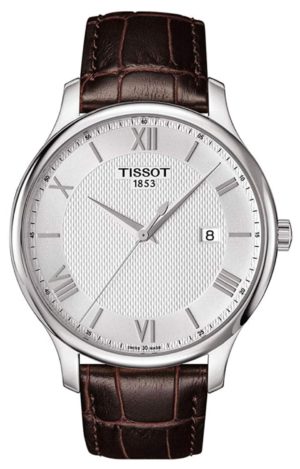 Without much doubt, the Swiss brand of Tissot should be one of the first watchmakers to turn to if an elegant, sophisticated, and thin timepiece is under consideration. While most Tissot dress watches measure around 10-15mm in height, there is one model with an ultra-thin 7.4mm profile – the Tissot Tradition Dress Watch.
The Tissot reflects the classic style the brand is so famous for. Equipped with a three-hand movement and a date window, it makes it a spot-on dress wearable. But, in spite of its classic design, you'll find some neat design elements that add extravagance, such as the textured dial and raised Roman numerals.
On top of the magnificent aesthetics, the Tissot Tradition is also very durable. It runs on a Swiss quartz movement and features a scratch-resistant sapphire crystal. On top of the quality of the crystal, the sapphire is also domed, which drastically enhances legibility from angles.
You should bear in mind, though, that Tissot leather straps tend to be pretty stiff. Although there's no proven correlation between the stiffness and the durability of leather, I can say from my own experience with Tissot that the straps are long-lasting. Also, the discomfort coming from the stiffness of the strap fades over time and becomes barely noticeable in a matter of weeks.
All in all, for around $300, this Tissot is definitely one of the best bangs for the buck – a Swiss-made watch with sapphire glass and luxurious appeal is a rarity at this price range.

Bering Solar Quartz Watch
Case Size: 40mm
Case Thickness: 9mm
Crystal: Sapphire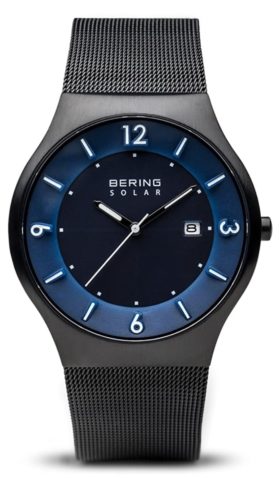 The Bering Solar Quartz comes in a world-famous Scandinavian design that is spiced with futuristic motives.
However, the watch is far from minimalistic regarding the quartz movement it employs. Namely, this Bering runs on highly convenient and eco-friendly solar power. It means the watch charges itself from light, never needs a battery replacement, and runs up to 12 months without any light source applied to it.
In terms of overall appearance, this timepiece is streamlined with no corners, reflecting its futuristic stance. The dial has a blue number ring and a dark blue center ring with a luminous handset in front of it. The hands, though, won't hold the lume for too long, and neither is it strong enough.
Another problem with the watch hands is that the second hand is more prominent than the minute hand. Therefore, it is quite common to read the time wrong when not paying enough attention.
When it comes to quality, the Bering Solar is equipped with an appreciated sapphire glass that is almost impossible to scratch. In addition, the 9mm-thick case is of higher grade 316L stainless steel, as is the mesh strap that perfectly fits the wrist's contours.
If you are not a fan of blue watches, Bering has a couple of alternatives for you. For example, there's the grey Bering Slim watch that is equally durable to the one covered here. Also, you'll find a black Bering Solar. Both of them are ultra-thin watches with minimalistic designs.

Raymond Weil Toccata Black Slim Watch
Case Size: 38mm
Case Thickness: 7mm
Crystal: Sapphire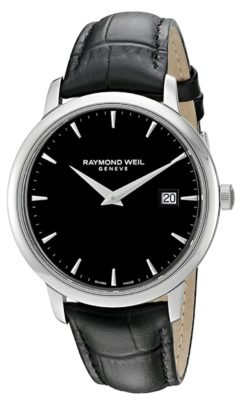 Raymond Weil is an affordable Swiss manufacturer with some of the classiest dress pieces on the market. Their design revolves around music and is inspired by world-renowned composers. With the Raymond Weil Toccata, the brand "celebrates the artistic and musical spirit behind their DNA."
One of the components of the brand's DNA is also the slimline design of their quartz timepieces when this particular model comes with a case thickness of only 7mm. However, the slightly domed sapphire glass on top of it adds a couple of millimeters to its overall dimensions.
Besides the ultra-thin case, this 38mm Swiss-made watch also strikes with a clean black dial and a suited black leather strap. The hour markers and watch hands come in silver, ensuring a comfortable time reading. A noteworthy absentee from the dial is the second hand, but this works out fine as it leaves more open space for admiring the purity and simplicity.
To be fair, there's absolutely nothing to complain about this Raymond Weil watch. Everything is in place and looks fine.
Even the date window which often tends to be on the smaller end of the size spectrum with many timepieces is well-sized on this watch. The quality is also magnificent, as you would expect from the Swiss.

Seiko Essentials SUR307
Case Size: 40mm
Case Thickness: 8.3mm
Crystal: Sapphire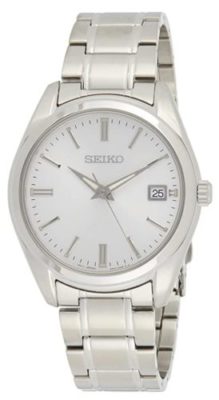 The next timepiece, the Seiko Essentials SUR307, is also of a straightforward nature, just like the Raymond Weil piece we covered previously. However, this watch comes in light tones and is more casual. Also, it is an all-metal timepiece, which is not that common when it comes to slim watches.
The timepiece is a blow of fresh air for not being an archetypal model from the Japanese powerhouse. Its minimalistic appearance and light tones really make it stand out from the standard Seiko watches. Another differentiating character is the slim case, which stands at 8.3mm in depth – a rarity amongst Seiko's line-up.
The Seiko SUR307 is powered by quartz movement, measures 40mm in case diameter, and is water-resistant to 100m (330ft) – enough for protection against water splashes, rain, and swimming. Also, you'll find a sapphire crystal covering the sunburst dial. So, in terms of quality, Seiko rarely lets you down.
However, if to mention a minor con, it would be the bracelet that is not as solid as with pricier Seiko models.
All things considered, Seiko is always a decent option for a watch, no matter the purpose or style. So naturally, therefore, you can't go wrong with this Seiko SUR307.

Bulova 96A133 Ultra-Thin Men's Watch
Case Size: 41mm
Case Thickness: 6.3mm
Crystal: Mineral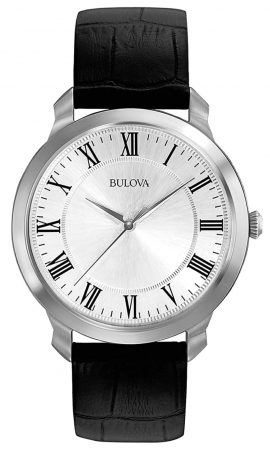 The Bulova 96A133 is one of the slimmest on this list, with a case thickness of only 6.3mm. It's also one of the top Bulova watches you can buy because of its refined aesthetics and wonderful quality for a sub-$200 price tag.
This Bulova is a spot-on watch for suits, whether it be a white tie or business formal attire. With its vintage Roman numerals and a silver sunburst dial, the timepiece is exactly what a formal watch should look like. And topping it with a suiting and comfortable black leather strap, you'll have everything.
Quality-wise, you'll get a decent accuracy from the Miyota quartz movement. You can expect the accuracy to stay conveniently between the +/-15 sec/month brackets.
The watch is also fitted with a flat mineral crystal, which is not as durable as sapphire in protecting against scratches but will do the job.
The same can be said about the high-gloss bezel ring. It looks good and solid. However, it tends to receive scratches far too easily. It also shows them off way better than with other finishing techniques.
Other than that, Bulova has a superb ultra-thin watch available for less than $200 that can easily fool people into thinking it costs above the four-digit mark.

Citizen Axiom AU1065-07E
Case Size: 40mm
Case Thickness: 8mm
Crystal: Mineral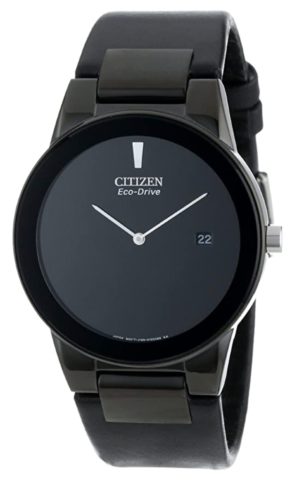 Citizen's line-up is mostly made up of professional dive watches, aviator pieces, and casual chronograph watches. Therefore, it's quite peculiar yet refreshing to find a very minimalistic line of Axiom wristwear from this Japanese powerhouse.
One of the standout models is the Citizen Axiom AU1065-07E, an all-black solar-powered watch with silver-toned elements on the dial. The only function besides the timekeeping is the date window you'll find from the 3 o'clock position.
Since there are no hour numbers/markers or indices whatsoever, it takes some time to catch the exact time. So, make sure this is what you want.
When it comes to the dimensions of this Citizen watch, it favors slender wrists when the case diameter measures 40mm and thickness 8mm. Thus, it is more than suitable to be worn with long sleeves since it slips neatly under the cuff. In addition, the modern minimalist style of the watch is appropriate for casual everyday style as well.
Last but not least, the slim Axiom watch is equipped with a flat mineral crystal and a thick calfskin leather band, ensuring protection against various shatters and a convenient wearing experience.

Junghans Dress Watch
Case Size: 38mm
Case Thickness: 8mm
Crystal: Sapphire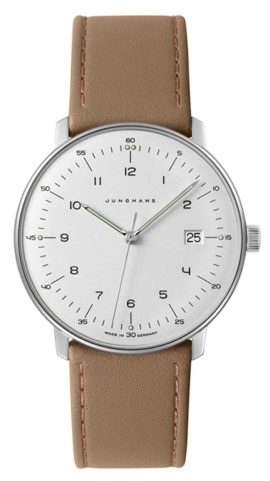 Junghans is a German-made watch producer with a plethora of Bauhaus-style wristwear in its line-up. With the mentioned style, you can expect the vast majority of timepieces to be ultra-thin as well.
The Junghans Max Bill, which we chose to feature on this list, is an easy-to-read minimalist watch with a very slim 8mm case. Moreover, the diameter of the watch is also of small size, measuring 38mm. Therefore, this timepiece should be a spot-on wearable for men with a 5.5-6.5in (14-16.5cm) wrist circumference.
The Junghans Max Bill does not only excel in terms of appearance but also quality-wise. As such, you'll find an ETA-based Junghans quartz caliber powering the ticker, a highly acknowledged sapphire crystal covering the dial, and lume-filled watch hands providing visibility in dim lighting conditions.
If there's one letdown, then it is the leather strap. What is supposed to be genuine leather feels like a hybrid of plastic and leather. Fortunately, the array of 20mm leather straps is huge, and you can easily swap it for a much better one.
This Junghans watch may be one of the priciest on this list of the top slim timepieces, but it is a well-made German quality product with a timeless design and universal nature, ensuring every penny spent on the watch is justified.

Movado Museum Classic Watch
Case Size: 40mm
Case Thickness: 8mm
Crystal: Sapphire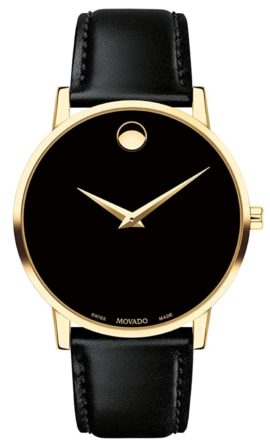 A timeless and historic style gleams from the following timepiece as well.
The Movado Museum Classic is the epitome of minimalist style in wristwear when the onliest design elements are the concave dot at twelve o'clock and a set of watch hands. The design is highly appreciated, earning the Museum Watch a place in several exhibitions around the world.
The Swiss-made Movado watch has favorable dimensions for most wrist sizes and shapes with its 40mm case diameter and 8mm height. Furthermore, the timepiece is universal in terms of gender appropriateness, being suitable for both men and women.
For about 300 bucks, the Movado Museum Watch offers plenty of quality, as you would expect from a Swiss-made piece. For example, the movement is accurate and reliable Swiss quartz, and the glass is made of scratch-resistant sapphire crystal. In addition, the affordable price at which the watch is sold makes it one of the best sapphire pieces for the money.
However, the watch isn't flawless. For example, the leather strap is very stiff, and it takes a while to get used to it. Also, like with the Citizen Axiom we covered earlier, the missing hour indices complicate a quick time capture.
Regardless of these cons, the Movado Museum Watch is a legendary timepiece and should be in every watch aficionado's collection. However, if you should prefer silver stainless steel watches over gold-toned ones, check out the Movado Museum Silver watch.

Frederique Constant Slimline Quartz
Case Size: 37mm
Case Thickness: 5mm
Crystal: Sapphire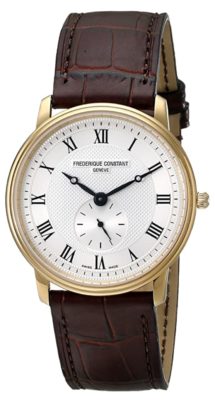 A genuine Swiss brand Frederique Constant is very similar to Raymond Weil, which we covered earlier in this post. Both of them offer classic Swiss refinement and thin quartz watches for smart outfits. However, Frederique Constant sticks out with a wide selection of smaller-end timepieces.
The Frederique Constant Slimline Quartz is thus perfectly suited for slender wrists not only in terms of thickness, which stands at an incredible 5mm but also in terms of diameter, measuring a convenient 37mm. 
Visually, the watch is very elegant, featuring textured background, Roman numerals, and a separate subdial for the seconds. The brown leather strap is a pleasant contrast to an overall white and gold-toned impression, providing both aesthetic beauty and a nice feel on a wrist.
Last but not least, the durability is on par with other high-quality Swiss watches for employing scratch-resistant sapphire glass and accurate Swiss quartz caliber.

Hamilton Jazzmaster Thinline Watch
Case Size: 40mm
Case Thickness: 7.4mm
Crystal: Sapphire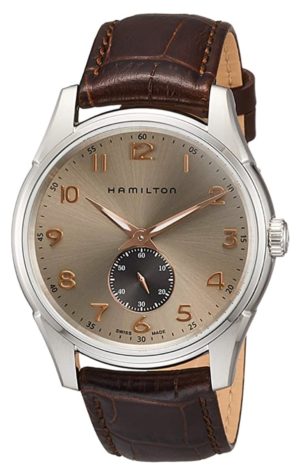 The Hamilton Jazzmaster Thinline has some very interesting design features looking back at you from the dial.
The slim 7.4mm timepiece has a beige sunburst face with copper-tone hour numbers and sword-shaped hands, accompanied by a silver case and brown stitched leather band. The color palette makes it a unique timepiece that is sure to catch attention.
The Swiss-made Hamilton also has a chic seconds counter at the bottom of the dial, complementing the special appeal of this watch.
In terms of quality, a Hamilton watch never lets you down.
First off, it's the Swiss quartz movement known for accuracy and reliability. Secondly, a sapphire crystal covering the elegant dial makes sure that it won't get any unwanted scratches.
And lastly, water resistance for up to 50m (165) guarantees the functioning of the ticker when submerging it into the water. However, consider replacing the leather band with a metal or silicone one as it won't go too well with humidity.

Timex Metropolitan Skyline 40mm
Case Size: 40mm
Case Thickness: 6.5mm
Crystal: Mineral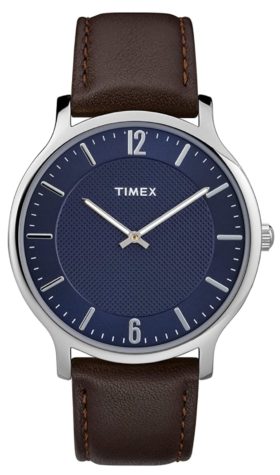 The American brand Timex is known for very affordable timepieces that stand the test of time. It doesn't go without saying that a Timex watch "takes a licking and keeps on ticking." Besides the famous Ironman and Weekender watches that are best suited for sports and casual wear, respectively, exist ultra-thin Timex watches.
They are relatively straightforward in appearance yet very practical when it comes to wearing them on slender wrists or with a suit and tie.
The Timex Metropolitan Skyline is a 40mm watch with a slim 6.5mm brass case. The ultra-thin timepiece features a textured blue dial and contrasting silver hands and indices. The two hands counting minutes and hours are filled with luminosity, providing convenience in dim conditions.
As you may have already noticed, the watch doesn't come with a second hand. Many of the wearers find it a nice thing, actually. The reason for that is prosaic – Timex watches simply have a very loud ticking noise that can be quite annoying. Therefore, a significant con has been eliminated in the most straightforward way possible.
The elegantly designed Timex watch is paired with a classy dark brown genuine leather band that perfectly matches the same colored belt and shoes. In case you wish to swap the band, you can easily do it as they are interchangeable, and the selection of various straps is vast.
Despite the watch's simpler build compared to other slim timepieces on this shortlist, it is still one of the best value propositions for less than a hundred dollars. 

Orient Capital Quartz "Version 2"
Case Size: 40.5mm
Case Thickness: 8mm
Crystal: domed mineral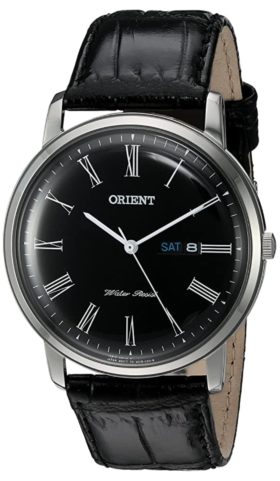 Since Orient's emphasis lies greatly on automatic mechanical wristwatches that tend to be rather thick, it can be quite unusual to find an ultra-thin Orient watch with a quartz movement.
To be true, Orient's quartz tickers have been left without the recognition they actually should be getting because the movements are very reliable and accurate and outclass several other competitors in a much pricier range.
One of the most underrated watches from the brand is the Orient Capital Quartz "Version 2". Visually, it doesn't differ much from the highly sought-after Bambino models, but when it comes to case height, this particular watch measures only 8mm, making it way more comfortable to wear than thick automatic versions.
The slim case is coupled with an elegant face comprising vintage-like Roman numerals, slim watch hands, and a date window. The dial is covered with a domed mineral crystal, providing visual enhancement compared to a flat one and also better protection against shatters.
The only downside of this Orient is the mediocre leather strap – it is too shiny and feels cheap. Fortunately, the strap is a watch part that is the most easily replaceable. And it won't cost too much either to buy one.
Therefore, Orient Capital is a viable option to try out if the overall style of the brand flatters you. What's certain, though, is that the watch will last you for years to come.  

Skagen Holst
Case Size: 40mm
Case Thickness: 9mm
Crystal: mineral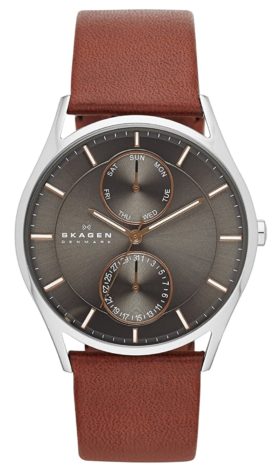 The Skagen Holst SKW6086 is a versatile slim timepiece that goes well with both smart and smart casual wear.
The best part of the watch is definitely the shiny charcoal sunburst dial with two windows dedicated to weekdays and dates.
This practical addition is coupled with luminous hands and indices for convenient time capture, resulting in a complete everyday watch with a dash of flair. However, don't expect much from the luminosity as it is no Seiko.
The 40mm stainless steel Skagen comes with a single-prong leather strap with buckle closure. The strap harmonizes well with the overall dial design. And although it's not super quality in feeling more of plastic rather than genuine leather while on a wrist, it will last longer than many other straps at this price range.
Overall, this ultra-thin Skagen Holst is a solid addition to any watch collection that's missing a Scandinavian-style wristwatch with an eye-catching design.

Fossil Minimalist Watch
Case Size: 44mm
Case Thickness: 8mm
Crystal: mineral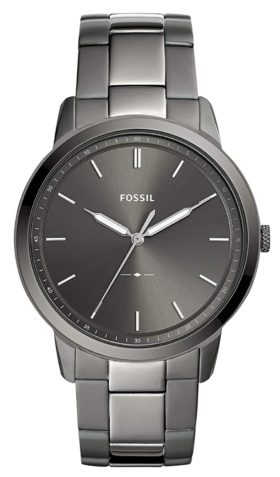 The next watch we've included on this list is an all-metal fashion-oriented timepiece from Fossil. The brand is not widely known for producing ultra-thin watches due to its set emphasis on large-sized casual chronograph pieces. Therefore, the Fossil Minimalist Slim Casual Watch is a blow of fresh air.
The grey-toned quartz watch is what the collection states it to be – that is, minimalist. The three-hand movement and slim indices are the only visible elements, along with the Fossil marking. But, on the other hand, the sunburst background adds vivacity and personality, making it more than just a simple minimalist watch.
Quality-wise, it's a standard Fossil watch featuring a stainless steel case, mineral crystal, and 50m (165ft) water resistance. It's nothing spectacular but will do the job just fine for the price paid.
This watch has several alternatives that you can check out, including all-black metal and leather versions, a blue watch with a blue leather strap, and a creme-toned model.
A nice extra you get with basically every Fossil piece is the possibility for a free-of-charge engraving in one of the official stores. This particular opportunity is the very reason why so many have gone for a Fossil watch as a gift for a loved one. Hence, pick an engraving idea and make this Fossil a memorable gift.

Stuhrling Original Calfskin Leather Watch
Case Size: 40mm
Case Thickness: 7mm
Crystal: Krysterna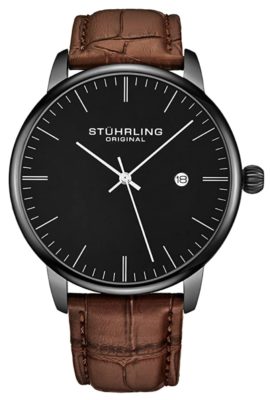 We finish the list of slim watches with the Stuhrling Calfskin Leather Watch. Although it is the cheapest here, it provides decent quality levels for long-lasting wear.
The watch is powered by a Japanese quartz movement, comes in a 40mm stainless steel case, and has a 50m (165ft) water resistance. Though, visually, the best part of this Stuhrling is the stitched calfskin leather strap that harmonizes perfectly with the black dial and is of decent quality.
You'll also find this Stuhrling highly legible due to the contrast between the hands and the background. However, it comes with a peculiar disadvantage. Namely, all three hands are of similar length, width, and color, which makes getting the time at a glance nearly impossible.
Leaving this con aside, the slim profile of the watch with a 7mm thickness, along with a minimalist dial, makes it a suitable wearable for an office job where a smart shirt or a suit is required.

Final Take
We hope the list of the best ultra-thin watches has helped you closer to your next slim timepiece.
As you've witnessed from the watches we covered, slim timepieces tend to come with a minimalist style rather than a flashy and extravagant design. Also, they are powered by quartz movement rather than automatic due to the extended space a mechanical caliber typically requires.
Nevertheless, the selection and style between various manufacturers are wide enough to serve every taste for a slimline watch.

You may also like:
Affiliate Disclosure: As an Amazon Associate I earn from qualifying purchases. Details
Latest posts by Carl Pender
(see all)