Affiliate Disclosure: As an Amazon Associate I earn from qualifying purchases. Details
The JBW watch brand is a newcomer to the landscape of horology. That's why it's quite understandable the majority of you haven't even heard of such a manufacturer. However, it takes only a teeniest of glimpses on one of its timepieces to arouse curiosity in JBW.
So, what is this brand that covers its watches with diamonds and Swarovski crystals? Are they legit timepieces to wear? And should you buy one without fearing it'll break down after a couple of months of wearing?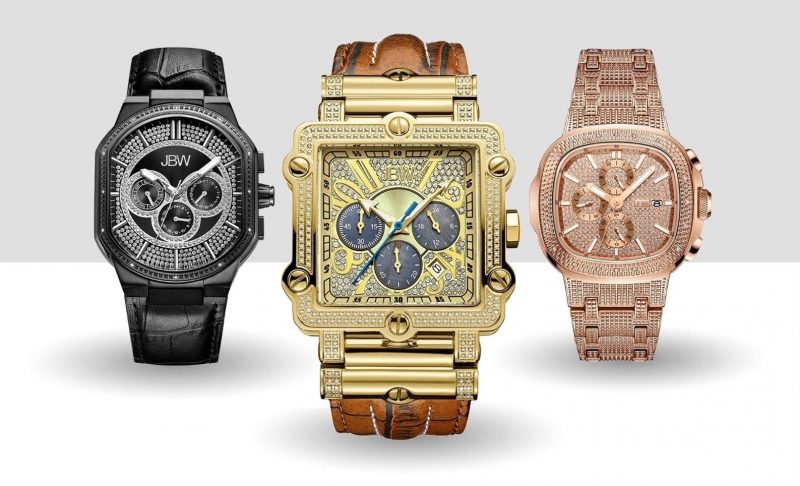 The following JBW watches review answers these and many more questions you'll need answers to before making up your mind. Thus, bear with us in uncovering this mysterious fashion watch manufacturer.

Background of JBW
The first mystery we need to disclose is to do with the abbreviation of JBW. It is a short version for "Just Bling Watch" – a brand name that says it all. However, the background story up until the introduction of JBW watches in 2008 is much more modest.
It all started in 1950 in India when the Meghani family started to distribute Swiss watches to the untouched Indian market. In the 1960s, they moved to Dubai and ended up opening several retail shops across the city.
Another turn for the family was in 1990 when Akber Meghani, the second generation of the family trade, moved to Dallas, Texas, to open a wholesale watch shop.
Following the saying "like father, like son," or in this case "like father, like daughter" as well, the children of Akber joined the family business by introducing the JBW Diamond watches in 2008 when several rappers and musicians had been looking for flashy diamond-covered timepieces in their wholesale shop.
Today, the JBW brand is active in more than 40 countries and has introduced over 250 unique-looking watches.

Characteristics of JBW Watches
JBW watches are indeed unique-looking and very flashy, if not say overly flashy. While the significant portion of wearers would cast such timepieces aside without little hesitation, there is still a segment of buyers that appreciate a specific luxurious-like appeal you'll typically find from the wrists of celebrities, such as Floyd Mayweather and 50 Cent.
But what are the primary characteristics of JBW, then? 
1. They're covered with expensive-looking diamonds, Swarovski crystals, and gold-plated finishing.
2. JBW timepieces are very large in size, often measuring more than 50mm in case diameter.
3. They run solely on a quartz movement.
4. JBW watches cost a fraction of the price of similarly styled luxury pieces.



Inevitably, one starts to wonder whether stuffing a timepiece with real diamonds is even possible at a given price range the brand sells its wristwear. So, what's the truth?

Are The Diamonds Real?
The truth is that each and every diamond in a JBW watch is 100% real. They are naturally sourced from the earth in India and come in a tiny 1mm size. Such small diamonds are also called melee diamonds that weigh around 0.005-0.01 carats (ct.).
Since the gemstones are miniature in size and cost about a couple of bucks apiece, the end-price of a timepiece stays in an affordable range. 
A word of caution: if you look at any of the watches from the brand, then not all the shining and glittering dots are diamonds. A typical timepiece has around 10-80 diamonds, mainly on the case, while the rest are just visual elements. Therefore, pay attention to the watch description to find out the exact number of gemstones.
Now that the most intriguing question is settled, let's move on to another essential issue that people are always eager to find out – the places of production.

Where Are JBW Watches Made?
The JBW brand doesn't distinguish from other fashion-oriented watchmakers in terms of production – the watches employ Swiss and Japanese quartz movements but are assembled in China. 
The negativity that still surrounds the Made in China label in the present day tends to scare people off. To some extent, it's understandable due to heaps of low-quality products that have filled the market in the past decades.
However, the levels of quality differ from one assembly plant to another when one is capable of producing well-made products and the other not so much. 
When it comes to JBW, the tendency leans towards the well-made end of the scale, with very few exceptions. What's essential, though, is that the primary part of a wristwatch – the movement – is of decent quality. 

Quality Standards
When talking about the overall quality of JBW, there's nothing noteworthy to complain about. The calibers, watch materials, and diamonds aren't anything spectacular but won't disappoint you either.
As already mentioned, JBW uses Japanese and Swiss quartz movements for powering the timepieces. Unlike many other similar fashion-oriented brands, JBW has detailed information on their homepage about the calibers that each watch employs.
The most prevalent are Miyota and non-branded Seiko quartzes that keep the accuracy of +/- 15-20 seconds a month and employ batteries with an expected lifetime of about three years. Swiss Ronda and ISA calibers are somewhat more prestigious in offering a bit better reliability.
In terms of watch materials, stainless steel and mineral crystal are the most widely used substances. You'll also find a premium-class sapphire crystal in timepieces costing a couple of hundred bucks, which is a nice bonus at a given price range.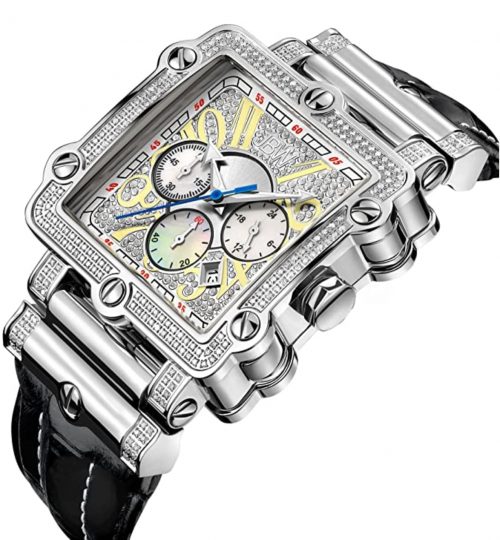 The leather JBW employs for straps is genuine and good-looking. However, some have complained about the skin irritation caused by the buckle closures. Thus, people with sensitive skin should go for one of the stainless steel band watches.
Also, be sure to take the watch off your wrist when planning to go showering or swimming, as none of the timepieces are meant for constant water exposure, regardless of the water-resistant ratings they have.
However, if you end up with a faulty JBW watch with manufacturing defects, the brand offers a standard 2-year international warranty. Just make sure to have a serial number and guarantee card inside the watch box.
In addition, JBW offers Platinum Warranty for an extra fee depending on the price of a watch. Usually, it ranges between 30 to 80 dollars.
The warranty offers an extended 4-year guarantee, unlimited battery replacements, one-time free strap replacement, and warranty-related shipping costs for US customers. If you want more information about the Platinum Warranty option, feel free to visit their dedicated page.

Some Complaints About JBW Watches
Although the overall quality of JBW is not bad at all, there are still some shortages that many buyers have faced.
The most irritating for many is the misleading water resistance rating.
When a watch has a "10 ATM water-resistant" marking stamped on the caseback, it's quite understandably assumed to stand daily water exposure, including showering and swimming, just like the typical water resistance classification indicates. Unfortunately, none of the JBW watches are meant for anything more than just splashes of water and rain. 
Therefore, make sure not to use your timepiece for such causes because the warranty won't cover the resulting defects.
Some buyers have also received a JBW watch with duplicate subdials instead of different ones.
Also, the cases where a Swiss movement watch is actually a Japanese caliber timepiece are not rare. However, this has nothing to do with JBW but the resellers that are being either unaware of the caliber or just wishing to make the watches a bit more appealing.

So, Are JBW Watches Good?
Despite the minor disadvantages regarding the water resistance and manufacturing defects, JBW watches are of decent quality. They run on decent Japanese and Swiss quartz movements, employ mineral and sapphire crystals, and come with genuine diamonds. 
If you're the type of person not afraid to decorate your wrist with over-the-top shiny and glossary timepieces, the JBW brand is spot on. Besides the luxurious and bold design, they possess enough quality to last you for years to come and cost a fraction of the price of similarly styled multi-thousand dollar tickers from luxury brands.  
Of course, those appreciating the sophistication of the caliber and state-of-the-art technologies would never wear a timepiece that flashy. Then again, not all the tastes are similar. Therefore, wear whatever you fancy as long as you're happy and comfortable doing that.

JBW Watches
To make your choice between the tens of models a bit easier, we've picked five watches that stand out from the rest for their quality. They also come with high customer ratings on Amazon, in that confirming their durability in the eyes of verified owners.

JBW Phantom Luxury Watch
Case size: 46mm
Movement: Japanese quartz
Number of diamonds: 238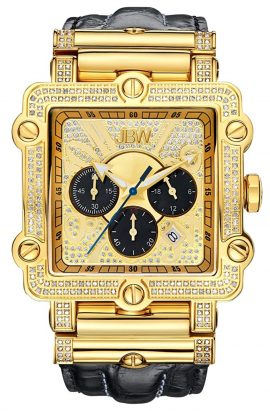 One of the most outstanding JBW watches is the Phantom that is covered with as much as 238 natural round-cut diamonds scattered on the 18k gold-plated case and lugs.
The three subdials you'll find from the face are made from mother-of-pearl and belong to a chronograph feature and 24-hour time. The control buttons that operate the functions may seem missing when looking at the image, but they do exist at the two and four o'clock positions. 
As you would expect, the Phantom watch is large in size, stretching to 46mm in diameter. The alligator-embossed leather strap is also larger than usual, with a width of 30mm.
In terms of quality, the timepiece runs on a reliable Seiko VD53 caliber that is accurate and long-lasting. Another reliable feature you'll find from this Phantom watch is a scratch-resistant sapphire crystal – a premium material in contemporary timepieces.

JBW Orion
Case size: 43mm
Movement: Swiss quartz
Number of diamonds: 12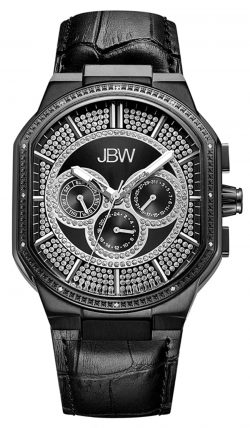 The next timepiece is among the most affordable from the brand, mainly due to the small number of diamonds. Despite this, the JBW Orion with 12 diamonds is nevertheless an elegant piece of jewelry that suits the broader array of tastes. 
The timepiece has a dark appeal due to an ion-plated stainless steel case and crocodile-embossed leather strap. The dial features three windows for the day, date, and GMT and are surrounded by small silver-toned decorations that resemble the diamonds. The real ones, however, are located on the bezel and are easy to notice.
The Orion piece employs a Swiss-origin ISA 9238/1970 caliber that, along with genuine diamonds, is a bargain for a sub-$200 price tag.

JBW Jet Setter GMT
Case size: 46mm
Movement: Swiss quartz
Number of diamonds: 100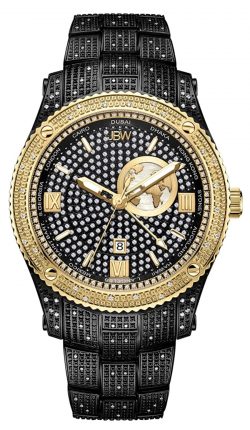 The Jet Setter line has been designed with frequent travelers in mind. The timepieces possess either extra subdials or GMT hand for additional timezones in major cities around the world. 
The JBW Jet Setter has a GMT hand for displaying time in various timezones, covering the prime locations worldwide. It also has a designing element that depicts the world map so that the prime feature of the watch is clear to all.
When it comes to diamonds, there are loads of them – exactly 100, if to be precise. You'll find them on the case and bracelet.
The striking golden and black 46mm Jet Setter piece runs on a quality Swiss Ronda caliber that is a known workhorse that rarely lets you down. And although the face of this watch is not covered with sapphire crystal, you can still expect decent quality and longevity.

JBW Bond Diamond Watch
Case size: 44mm
Movement: Japanese quartz
Number of diamonds: 9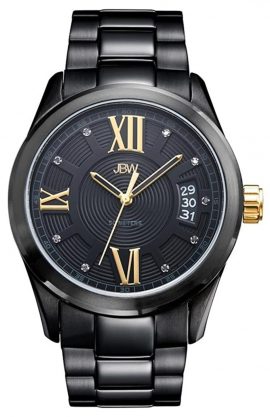 Those who do not wish to decorate their wrists with too extravagant timepieces but would still want to own a diamond-covered piece should consider the JBW Bond Watch.
In contrast to other watches on this list, this one comes with the most neutral aesthetics, as besides the nine diamonds on the outer part of the dial, there's nothing else glossy to it. However, the gemstones are still placed in a manner that reflects luxuriousness, as it is appropriate to a brand like JBW.
The Bond watch has a very appropriate size at 44mm, which goes with most wrist shapes and sizes. It's also relatively thin, measuring 9mm in thickness.
Last but not least, the timepiece is equipped with a Miyota 2415 quartz movement and sturdy mineral crystal that will serve you well during your everyday wear.

JBW Heist Diamond Watch
Case size: 47mm
Movement: Japanese quartz
Number of diamonds: 20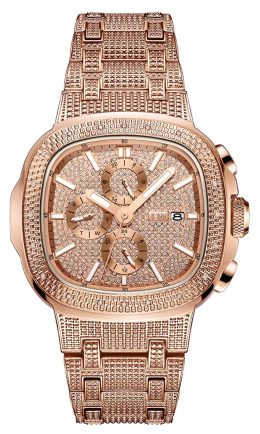 The last JBW watch comes with 20 hand-placed diamonds and an extravagant 18k rose-gold plated stainless steel case and bracelet. Thus, with its bold appearance, the JBW Heist is no ordinary men's watch as only the few brave ones can take on such a ticker. 
Besides the luxurious aesthetics, it comes with a couple of extras you might need, such as the day window, 24-hour time, and dual timezone. All the additional features, as well as the primary timekeeping, runs on a Japanese Miyota JP15 caliber.
Just like with most of the watches, this particular model also has a selection of different colors, including a gold-and-silver and entirely silver timepieces. 

Final Take
So, what we've learned from this JBW watches review?
First of all, the brand uses 100% genuine diamonds in its timepieces – they are naturally sourced and come in a 1mm size.
Secondly, the quality of the watches is much better than expected, especially considering that typically the vast majority of fashion brands place greater emphasis on looks rather than longevity. With JBW, all the tickers run on decent calibers from the Japanese and Swiss production.
And finally, the value and quality you get for your money is justified. Therefore, the JBW brand is a decent option for those wishing to own an affordable diamond watch that lasts for years to come.

You may also like:
Affiliate Disclosure: As an Amazon Associate I earn from qualifying purchases. Details
Latest posts by Carl Pender
(see all)