Affiliate Disclosure: As an Amazon Associate I earn from qualifying purchases. Details
If a man wants to buy a quality timepiece, he most probably starts his journey by browsing through watches that cost several hundred to several thousand dollars. It's a wise thing to do since the probability of finding a reliable timepiece from that price range is high. The watches will quite likely last for decades as well, if not generations. However, quality doesn't always have to mean spending fortunes.
If you're one of those guys who prefers to keep the budget as low as possible while hoping to receive a long-lasting and good-looking wristwatch, we've got some good news for you.
The 20 timepieces we'll cover here are the best men's watches under $100 that possess both reliability at affordable rates and aesthetics that will knock you off.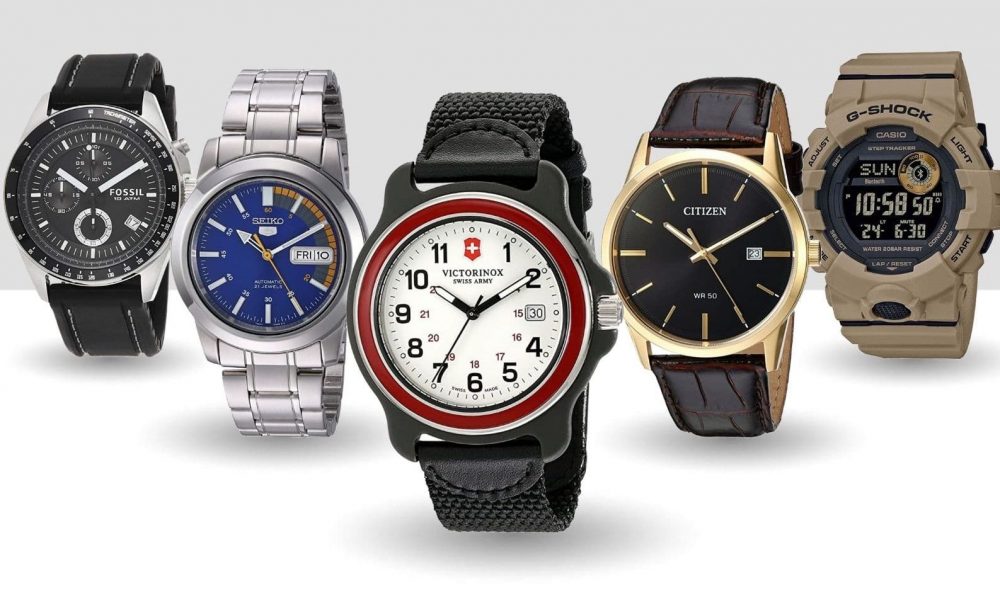 All the watches come with an Amazon rating of at least 4.4 out of 5.0 from verified buyers, so they're no throwaway pieces. The majority of them come from world-famous brands, but you'll also find some that are on their way there.
Without further ado, here are the best men's watches you can buy for less than $100.

Best Men's Watches Under $100

Victorinox Swiss Army XL Watch
Model: 249087
Movement: Quartz
Case size: 43mm
Water resistance: 100m (330ft)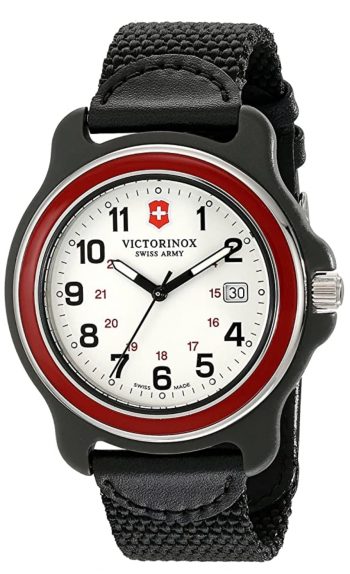 Starting the list of the best men's watches under $100 is a genuine Swiss-made timepiece from Victorinox. Although the brand is more known for its Swiss Army knives, it nevertheless is a well-established Swiss watch producer that often has its wristwear priced at very affordable rates.
The Victorinox Swiss Army XL has one of the best price tags throughout the whole product line. What's even better is that there are no trade-offs in terms of quality when the Swiss Made label guarantees the employment of a Swiss quartz movement with high precision and reliability.
There's also the mineral crystal, a decent material in affordable wristwatches, protecting the dial and a nylon fiber 43mm case that is sturdy enough for day-to-day wear and tear.
Visually, the watch is straightforward with a white dial and easily readable numbers. For enhanced readability in dim conditions, the watch hands come with a decent luminosity that lasts for hours.
Last but not least, since this Victorinox is a spot-on everyday timepiece, you can also expect it to stand water due to the 100m (330ft) resistance it comes with.
---

Seiko 5 Automatic SNK809
Model: SNK809
Movement: Automatic
Case size: 37mm
Water resistance: 30m (100ft)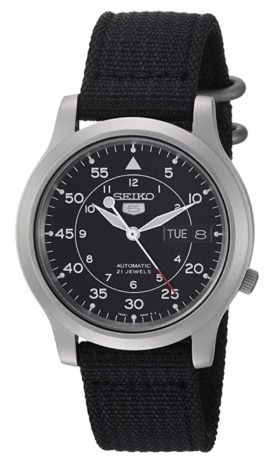 Seiko is often considered as the best brand for collectors who want to engage in entry-level automatic watches. The calibers of Seiko 5 watches may not be top-notches, but are still very reliable and will last long years without any concerns.
The Seiko 5 SNK809 is one of such timepieces that is simple yet very functional. It comes with a 7S26 caliber that has approximately 40 hours of power reserve and vibrates at a rate of 21,600 beats per hour. A second hand's sweeping motion is not as neat as in 28,800 frequency timepieces but will nevertheless provide an expensive appeal.
The watch features a three-hand movement along with a day-date window. The hands contain LumiBrite lume as well, so the watch is readable at night. So, in broad terms, the dark-toned 37mm stainless steel Seiko is decently equipped and has universal aesthetics.
However, one of the watch's downsides is the low water resistance that protects only from the rain and splashes of water. Therefore, make sure to take it off before going swimming or showering. Other than that, the watch reflects the quality that Seiko is so sought-after for.
---

Orient Bambino Version 3 Dress Watch
Model: FAC0000DD0
Movement: Automatic
Case size: 41mm
Water resistance: 30m (100ft)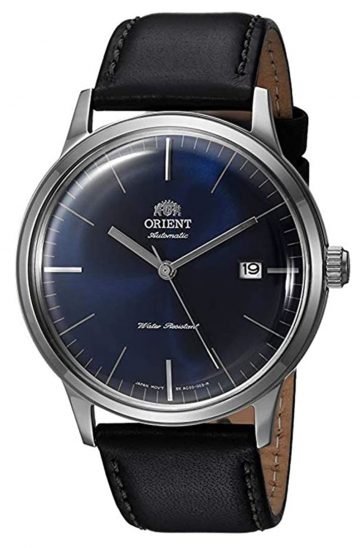 The next entry among the best men's watches for $100 comes with a highly acknowledged reputation. Orient Bambino models, including the Bambino Version 3, have one of the most trustworthy automatic calibers at a given price range. That's also the reason we've included several Orient pieces on our list of the best affordable automatic watches.
The movement of this particular watch is Orient's in-house mechanical caliber with hand-winding and hacking possibilities. It means that besides the automatic winding, you can also manually wind the mainspring, as well as conveniently correct the time.
Aesthetically, the Bambino watch is a consummate dress timepiece with minimalistic styling. The only notable function is the date window at the three o'clock position, but it is normally more than enough for such types of wristwear.
Material-wise, the watch has a domed mineral crystal and a 41mm stainless steel case. The strap is of dark leather, which adds perfectly to the overall dressy appeal of this Bambino watch.
---

Citizen Eco-Drive Analog Watch
Model: BM8242-08A
Movement: Solar quartz
Case size: 38mm
Water resistance: 100m (330ft)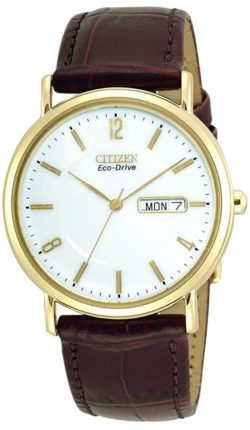 While several of Citizen timepieces belong to the top solar watches on the market, finding one that possesses this high-quality technology for a hundred or so bucks is not easy. The Citizen Eco-Drive BM8242-08E, however, is one of such rarities.
Powered solely by light, the watch never needs a battery and keeps an energy reserve up to six months when fully charged. Since the timekeeping of solar watches bases on a quartz crystal, the accuracy is on par with any typical quartz watch on the market. Therefore, the combination of accuracy and convenience makes such timepieces, including the Citizen BM8242-08E, the handiest there are.
Besides the solar power, the watch catches an eye with distinctive aesthetics that sees a gold-toned stainless steel case match with a neat white dial. The mineral-covered face also has a day-date function and a three-hand movement.
Last but not least, a 100m (330ft) water resistance makes it suitable for showering, swimming, and snorkeling. However, consider swapping the leather strap for a more suitable one if you intend to use it for such occasions.
---

Casio G-Shock XL Series
Model: GA-700UC-5ACR
Movement: Quartz
Case size: 53mm
Water resistance: 200m (660ft)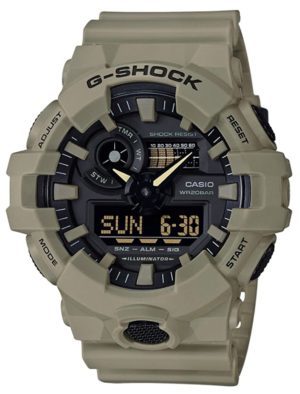 The G-Shocks have long been the toughest watches around. One of the models even holds a Guinness record when not even a 30-ton vehicle driving over it couldn't do any harm. Although the famous model isn't our next entry, it shows how much effort the company puts into achieving its durability standards.
This sports-oriented G-Shock XL Series watch has a knobby exterior that protects the dial and pushers from unexpected hits and shocks. The case and band are made of resin, a material that absorbs impacts better than stainless steel. And adding to the completeness of physical reliability is a 200m (660ft) water resistance preventing damage to inner parts.
This analog-digital G-Shock features a timer, alarm, and LED light with afterglow for everyday occasions. On top of that, it comes with the World Time function in 31 timezones. Therefore, if you're a frequent traveler, switching between the timezones will be a convenient procedure.
---

Timex Expedition Ranger Solar Watch
Model: TW4B14900
Movement: Solar quartz
Case size: 43mm
Water resistance: 50m (165ft)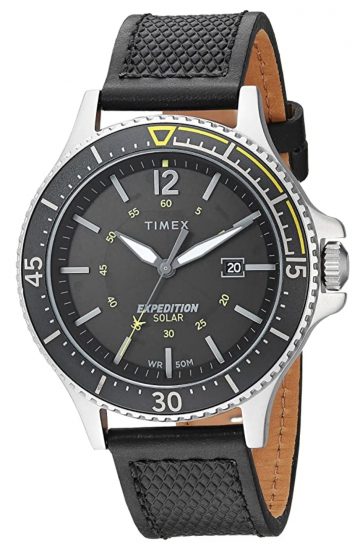 Another solar-powered watch among the best men's watches under $100 is this time from an American brand of Timex. The Expedition Ranger Solar is equipped with a technology that powers the watch solely by light and can keep a charge up to two months when fully charged.
As the name suggests, it suits active wearers spending most of their time outdoors. The watch comes 50m (165ft) water-resistant, which guarantees its aptness for short periods of recreational swimming as well.
Visually, the watch hasn't got an appearance of a genuine outdoors piece but more of a casual everyday watch that goes well even with smart attires. The case is relatively large, standing at 43mm in diameter, and has an appealing yellow accent on a fixed coin-edged bezel. Combined with a rather simple dark grey dial, they form a versatile design for various occasions.
---

Casio Edifice Sapphire
Model: EFR-S567DC-1AVCR
Movement: Quartz
Case size: 45mm
Water resistance: 100m (330ft)
Not many watches feature a highly regarded sapphire crystal while costing around a hundred bucks. Well, this one from Casio does. That crystal is the best you can find in wristwear for being much more scratch-resistant than widely popular mineral glass.
This Casio Edifice Sapphire is also water-resistant up to 100m (330ft), which is another great sign of quality. The brushed 45mm stainless steel case and band the watch is built on complement its suitability for all kinds of water activities. And not only can you use it in the water but also for other events due to its thin dimensions – at 9.5mm, it slips neatly under the sleeve.
The dial is equipped with a stopwatch function you'll find from two subdials, while the third one is reserved for the main seconds counter.
Casio provides some of the best value propositions in the watch world, and this timepiece proves it once more. It is even hard to believe that such a high-quality watch has a price tag around the $100 mark.
This Edifice also features among the best affordable sapphire watches, so feel free to check out if that is of interest to you.
---

Fossil Grant Chronograph Watch
Model: FS5151
Movement: Quartz
Case size: 44mm
Water resistance: 50m (165ft)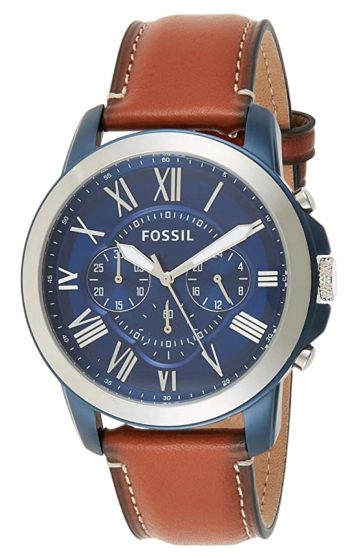 The Fossil brand is the most prevailing fashion watch company in the world. Founded in the 1980s in the US, it has ever since filled the market with eye-catching and affordable timepieces for any taste. With this entry, the Fossil Grant Chronograph, the brand aims to cater to everyday men that every now and then wish to stand out from the crowd.
It is the combination of a blue dial and brown leather strap that makes it so appealing and sought-after. By the way, the leather straps from Fossil are genuine US-made products that outperform most of their competitors.
Inside the 44mm case is hidden a quartz chronograph movement that measures up to 30 minutes. Along with the two stopwatch subdials also sits a 24-hour dial for the international time standard. What makes the watch even more appealing are the large Roman numerals that go well with the watch's overall styling.
However, if you consider yourself a nitpicker, better look away because the "four" in Roman is not what it should look like. Whether it's a mistake from the manufacturer (though hard to believe) or just a styling feature (a strange one, to be honest), it nevertheless won't degrade the overall impression of the watch.
---

Bulova Corporate Dress Watch
Model: 96A28
Movement: Quartz
Case size: 38mm
Water resistance: 30m (100ft)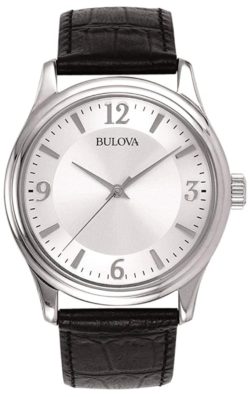 A historic American watch brand Bulova is no typical timepiece provider. The watches it produces are easily recognizable through a unique, flashy style where luxurious-like colors and textured (often even skeletonized) dials provide an impression of much pricier models. The Bulova Corporate Dress 96A28 is an exception but in a good way.
First off, it's the silver dial with an easy-to-read face that makes it so appealing. Then there's the neatly finished case, harmonizing perfectly with the dominant silver tone. And finally, topping the classiness is the 38mm case size that goes with the majority of wrist sizes and shapes.
And if you thought the timepiece only looks good with no particular quality assurances, you're wrong. It comes with a quality Japanese quartz movement and is covered with a quality mineral crystal.
You can wear this Bulova on various occasions due to its versatile nature, both visually and functionally.
---

Seiko 5 Automatic SNK809K
Model: SNK809K
Movement: Automatic
Case size: 37mm
Water resistance: 30m (100ft)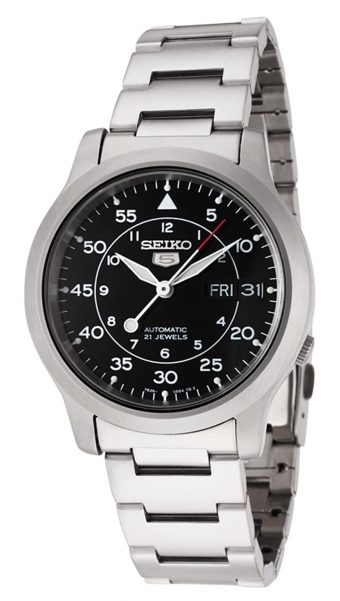 The Seiko SNK809K belongs to the best men's watches under $100 for a good reason – it features a precise Japanese automatic movement and looks way more expensive than the price tag would suggest.
The 7S26 caliber provides both sweeping hand motion and a see-through case back, giving the watch a premium class appeal. Due to the 21 jewel bearings and Seiko's know-how, you can expect the timekeeping to be very accurate for a mechanical movement. You'll not be able to manually wind it nor halt the seconds hand, though, but in a quality caliber such as this one, you hardly ever need the options.
The watch comes in a 37mm stainless steel case, which may be somewhat small for regular wrists but compensates it with a bulky impression of a metal band. In addition, the smaller case size won't affect the time reading since the numbers have a contrasting white color, and the hands provide magnificent luminosity in dim conditions.
---

Invicta Pro Diver 8926OB
Model: 8926OB
Movement: Automatic
Case size: 40mm
Water resistance: 200m (660ft)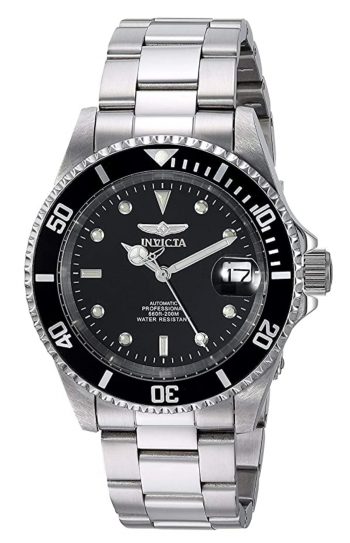 Invicta Pro Diver watches catch an eye with astonishing resemblances to iconic Rolex models but cost a fraction of the prices. It's up to everyone to decide whether it is the right thing to do to copy someone's designs, but in spite of that, we can't complain about being able to buy such visual masterpieces.
The Invicta Pro Diver 8926OB, which has strong resemblances to a Rolex Submariner, is often considered among the best dive watches you can buy for less than a hundred dollars. It comes 200m (660ft) water-resistant (though not ISO-approved), has a screw-down crown and coin-edge unidirectional bezel, and features luminous hands and indices.
One of the nicest features of this Invicta piece is the Seiko's non-branded NH35A automatic caliber, which is hand-windable and hackable and holds a 40-hour power reserve. Not many quality automatic watches are available at two-digit prices, so it's no wonder this wristwatch is so popular among watch buyers.
Another merit this timepiece has is its favorable 40mm case size. Not many dive watches come of that size, so it's no wonder people like it.
---

Citizen BI5002-06E Quartz Watch
Model: BI5002-06E
Movement: Quartz
Case size: 39mm
Water resistance: 50m (165ft)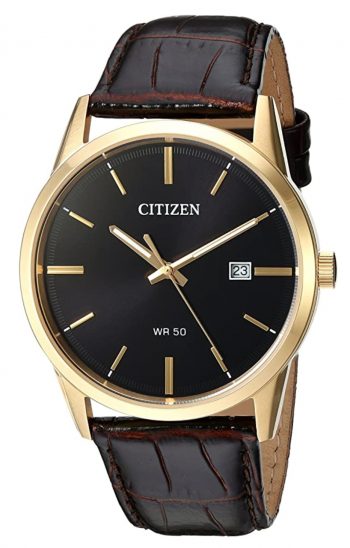 Citizen is best known for its Eco-Drive solar watches. In fact, more than 70% of the watches carry the technology, leaving the rest of the 30% to quartz and automatic pieces. One of the representatives of the minority is the Citizen BI5002-06E, which runs on a Japanese quartz movement and reflects an exemplary image of a genuine dress watch.
The gold-toned stainless steel case has adequate dimensions for a dress piece, stretching to 39mm in diameter and 8.5mm in thickness. The dial, which also features gold-tone on the indices and hands, is minimalistic with only a date function and a couple of branding elements visible.
Complementing the perfect dressy look is a crocodile-embossed dark brown leather strap that is both elegant and durable.
---

Swatch Big Bold Quartz Watch
Model: SO27M101
Movement: Quartz
Case size: 47mm
Water resistance: 30m (100ft)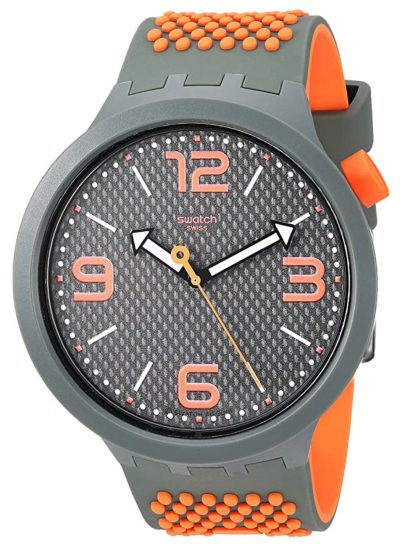 It is often difficult to imagine that Swatch, which sells its watches at astonishingly low rates, is actually a Swiss brand. Swatch is a subsidiary of the Swatch Group, a conglomerate that owns world-famous brands like Omega, Blancpain, and Hamilton. However, unlike the rest in the group, Swatch is dedicated to manufacturing simple and youthful timepieces from cheap materials.
The Swatch Big Bold runs on a quality Swiss quartz movement that is accurate and reliable. But what really drives the price down are plastic and acrylic glass used in the case and dial covering. They're far from the durability levels of stainless steel and mineral crystal, but to be fair, it's not what Swatch is after. The primary focus lies in the looks.
A simple, almost as a childlike dial gives a funky impression, which definitely goes down well in a youthful and devoid of care people. The huge case size at 47mm and a knurly orange silicone strap all but replenish the out-of-the-box appeal of this Swatch piece.
---

Casio Super Illuminator Watch
Model: MTD-1079D-1A3VCF
Movement: Quartz
Case size: 46mm
Water resistance: 100m (330ft)
The Casio Super Illuminator is a watch that stands up to its name. Through two light bulbs at six and twelve o'clock position, the dial lights up evenly, in that providing a convenient time reading whatever the lighting conditions. The illuminator functions through an extra pusher you'll find above the crown.
But this Casio is much more than just the illumination.
First off, the appearance is something you would normally expect from a multi-hundred-dollar watch. The dial is well-finished with nice coloring, featuring bronze hands and a distinctive red seconds hand. The fully functioning bezel fits flawlessly around the dial, and the stainless steel band with its polished links provides a nice combination with the overall dark tint of the face.
Quality-wise, there's nothing to complain about either. The watch runs on a reliable Japanese quartz movement, has a mineral crystal covering the face, and is 100m (330ft) water-resistant.
---

Skagen Sundby Titanium Watch
Model: 233XLTTN
Movement: Quartz
Case size: 37mm
Water resistance: 30m (100ft)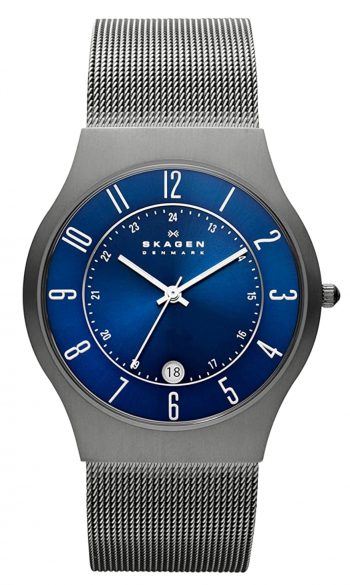 The next entry among the best men's watches under $100 comes totally different from other similarly-priced timepieces. The Skagen Sundby watch strikes with a minimalistic design that is so prevalent to Scandinavian watch manufacturers.
The deep blue dial features Arabic numbers and a concave ring with GMT. You'll also find a minimalistic date window at six o'clock.
But what really sets the tone in this timepiece is the highly appreciated titanium the watch case consists of. The metal's weight and sturdiness are unparalleled compared to stainless steel, making it far more superior to other materials.
In fact, this Skagen piece is one of few titanium watches that cost below a hundred dollar mark, making it a perfect opportunity for buyers to get acquainted with such timepieces.
---

Stuhrling Original Skeleton Watch
Model: 970Z.01
Movement: Automatic
Case size: 44mm
Water resistance: 50m (165ft)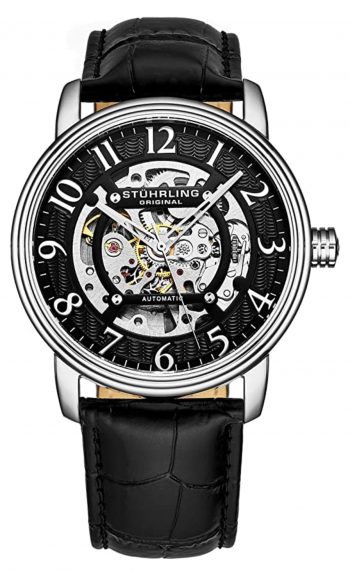 The Stuhrling brand is quite similar to Invicta in offering eye-catching and expensive-looking watches for a very reasonable price. However, the separating factor between the two is the number of skeleton watches Stuhrling provides. One of such, the Stuhrling 970Z.01, can freely be considered the best at a given price range.
The inner workings of an automatic mechanical caliber are visible from both sides, giving insight into the movement's complexity. The caliber originates from China, is decently precise, and has a 36-hour power reserve.
One of the greatest traits of this Stuhrling is the Art Deco look that beams from the background's guilloche design. The numbers have a distinct vintage font that adds elegance and uniqueness, while the wavy texture gives a luxurious visual enhancement.
All in all, this watch may not be top-notch in terms of quality, but will surely receive positive attention from your friends and coworkers.
---

G-Shock GA100 XL
Model: GA100-1A1
Movement: Quartz
Case size: 51mm
Water resistance: 200m (660ft)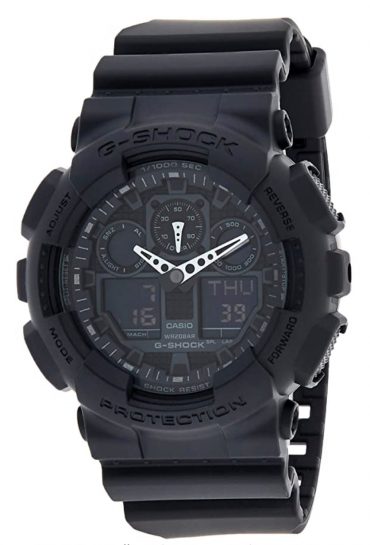 The G-Shock GA100 XL is one of the most feature-rich timepieces you'll find for less than $100. There are so many of them that a wristwatch's actual purpose, to read the time, becomes secondary.
The watch is a spot-on piece for law enforcement, sportspeople, and hikers since it comes with a 1/1000 chronograph, alarm, world time, 12/24-hour time, speed display, and LED light that can all be useful in intense situations. Like it is with all the G-Shocks, this watch also comes 200m (660ft) water-resistant.
Visually, the G-Shock will look bulky on your wrist with a 51mm case diameter and a 17mm thickness. Therefore, make sure your wrist is not too slender before you buy the watch – it just won't look too nice on slim hands.
Also, if you're after a simple time-telling ticker, go for something else because the readability is not as great as you would expect.
---

Seiko Chronograph SNDC33
Model: SNDC33
Movement: Quartz
Case size: 40mm
Water resistance: 100m (330ft)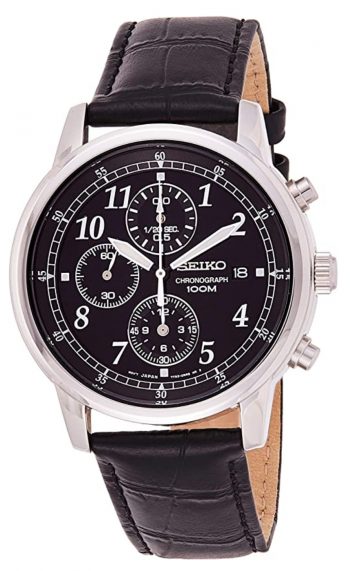 Seiko's quartz watches are not as sought-after as the automatic ones, but it doesn't mean they don't provide enough reliability. Quite the contrary, its quartz pieces belong to the top of the game. A nice example of a quality quartz-driven watch is the Seiko SNDC33 that has received all but positive feedback from wearers.
The prime function of the watch is the stopwatch feature that measures in 1/20-second increments. The chronograph's subdials are coupled with a dual-time window that becomes handy when traveling between different timezone. The features can be accessed through two pushers at two and four o'clock positions.
The dark-colored dial is covered with Seiko's proprietary Hardlex crystal, while the 40mm case comes in durable stainless steel. Last but not least, the calfskin band suits well to the overall brownish appeal of the watch and, most importantly, is comfortable and long-lasting.
---

Fossil Decker Chronograph Watch
Model: CH2573IE
Movement: Quartz
Case size: 44mm
Water resistance: 100m (330ft)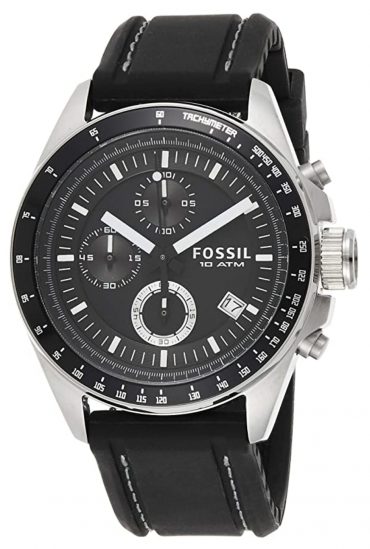 Fossil is represented with several of its watches among the top tickers under $100. This time, it's a chronograph piece that is very similar to an iconic Bulova Moon Watch. Black dial along with a black tachymeter bezel and white numbering make it a genuine pilot's watch for a very affordable price tag.
The Fossil Decker Chronograph has an above-average size at 44mm, which conveniently houses both the bezel and busy dial. The quartz mechanism powers the three-hand movement, as well as the chronograph function that you'll find from the three subdials.
A mineral crystal protects the watch's face, and the strap is of rubber, which, along with a 100m (330ft) water resistance, guarantees its suitability for swimming and showering.
---

Timex Weekender 40mm
Model: TW2R42500
Movement: Quartz
Case size: 40mm
Water resistance: 30m (100ft)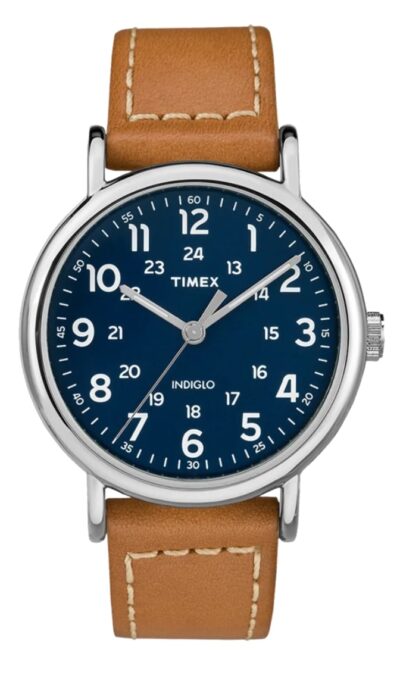 Finishing the list is a simple yet reliable timepiece from Timex. The Weekender 40mm watch is a spot-on piece for casual everyday wear both aesthetically and functionally.
One of the trademarks of Timex, the distinctive greenish-blue Indiglo backlight, is of high quality, enabling the wearer to easily read the time in dim lighting conditions. The dial is also easily readable in daylight due to contrasting white numbering on a dark blue background.
The case is of decent size, comes in a silver-toned brass case, and runs on a quartz movement. The original strap is of brown leather but can be replaced with a more suitable one if the preference is something else.
One of the downsides of the watch, however, is the relatively loud ticking sound that can become annoying. Other than that, for a sub-$50 price, you'll get a decent watch that will last for years to come.
---

Conclusion: Best Men's Watches Under $100
As you can see, the variety of very affordable yet quality wristwatches is much larger than you would've thought. What's essential, though, is to avoid super fancy pieces with a non-existent brand reputation because the probability of their longevity is most probably lower compared to the ones represented on this list of the best men's watches under $100.
Whether it be a Seiko, Timex, Casio, or another affordable brand that is not represented here, you can always rest assured that the money you've paid for it is not that significant to regret later. If you don't like it or it fails you, buy another one. That's the best thing with cheap watches.

You may also like:
Affiliate Disclosure: As an Amazon Associate I earn from qualifying purchases. Details