Affiliate Disclosure: As an Amazon Associate I earn from qualifying purchases. Details
The temptation to buy a cheap watch that actually looks many times pricier is difficult to suppress. Why would you have to pay fortunes if you could have the same-looking piece for a fraction of the price?
The vast majority of you think the same way. And that is also presumably the reason you've stumbled upon the Invicta Pro Diver watches.
The series boasts some of the most attractive diving watches on the market that resemble probably the most iconic timepiece that has ever been made – the Rolex Submariner. However, if you compare the price tags, several concerns arise regarding the Invicta Pro Diver watches – are they good enough, will they last long enough, and are the watches actually worth it?
The following Invicta Pro Diver review sheds some light on the watches to clarify whether they're worth the hassle or not.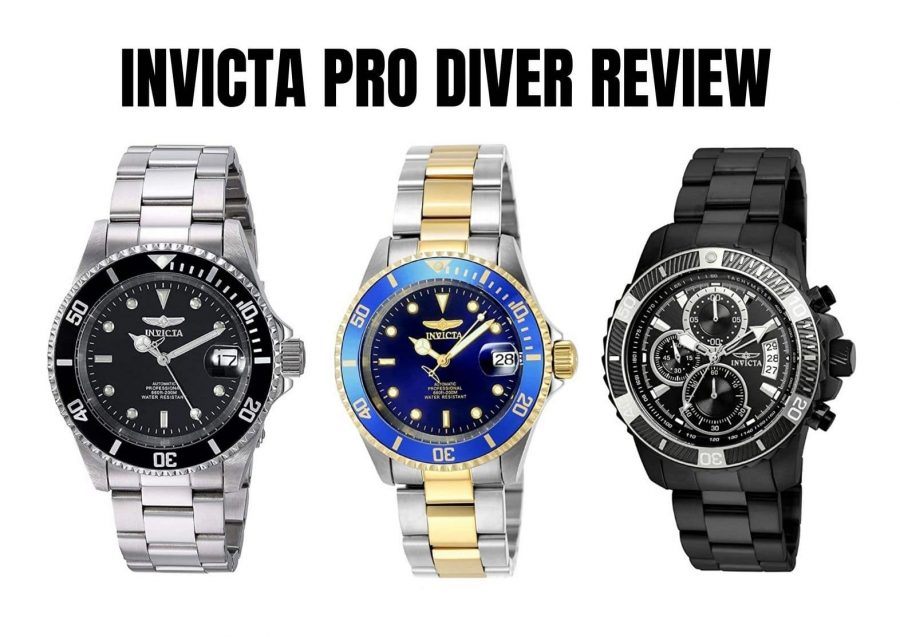 If you want to head straight to the best men's Invicta watches that include several Pro Diver pieces, feel free to do that.


Invicta Brand – Mixed Thoughts
Although Invicta has existed since the 19th century and comes with an illustrious history, the former Swiss brand has a slightly different stature these days. Loved by fashionistas and rejected by watch aficionados, the company pursues techniques that don't share the public's universal acceptance.
The most significant thing that divides opinions is Invicta's approach to manufacturing the watches. While the movements are sourced from various manufacturers, including Miyota, Seiko, Sellita, Ronda, and Seagull, the majority of other watch parts originate from China. It's also the place where the final assembly is conducted.
Although the reason for such an approach is to drive down the final price of the product to become available for the broader public, it nevertheless doesn't go well with those who appreciate the quality over the looks.
On the other hand, people with less interest in the watch's origins couldn't care less as long as the timepiece looks good and keeps decent time.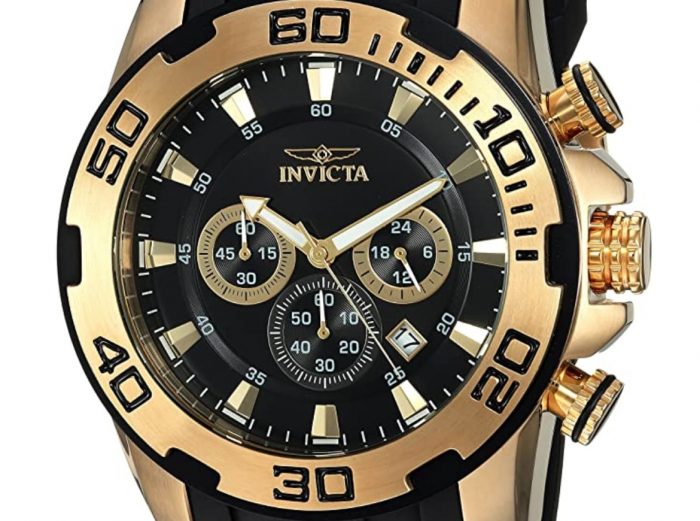 Other factors, such as inflated prices that always come with incredible discounts and unfavorable warranty terms that don't cover a crystal, case, or strap, add to the mixed opinions of the brand.
However, leaving the negatives aside, Invicta has managed to provide stiff competition to the likes of Seiko, Citizen, and Bulova with its gorgeous watches. Not only do they look luxurious, but they cost considerably less as well. In fact, several of Invicta pieces are considered to be among the top automatic watches you can get for less than $200.
The Invicta Pro Diver watches that we'll cover here are owing to the brand's success the most. Rolex homages, famous Pepsi bezels, and gold-toned cases and bracelets are something you can't look past without any emotions. But what are the watches like?

Invicta Pro Diver Review
Invicta Pro Diver watches are, without a doubt, the most sought-after from the brand. When an automatic piece resembling a Rolex has a price tag below $100, it is almost a must to buy it.
Since Invicta comes out with new Pro Diver models almost monthly, you'll not find standardized case sizes and similar features in every model they produce. However, the following specifications apply for the majority of watches.
---
Case material: stainless steel
Case size: 40mm
Thickness: 12.5-14mm
Movement: Japanese automatic or quartz
Bezel: unidirectional
Crystal: mineral crystal
Water-resistance: 100-200m (330-660ft)
Features: Date window or chronograph, luminous hands & indices
---
Besides the relatively rare 40mm case size, the brand has several oversized watches with 44-48mm diameters. It is also noteworthy that some of the models carry the Swiss Made tag, which means the employment of Swiss movements and the final assembly taking place in Switzerland.

Watch Movements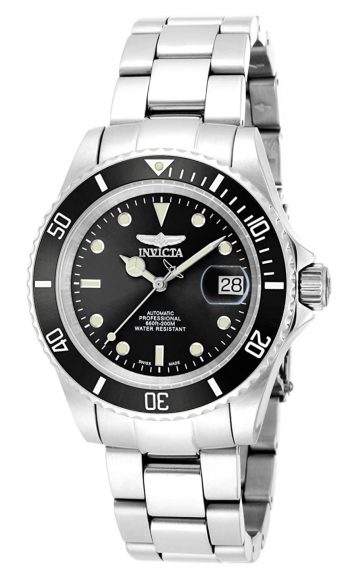 The number of Swiss-made watches in the line-up is not considerable; however, they possess the highest standard out of all of them. The automatic models, such as the Invicta Pro Diver 9937, are equipped with a 26-jewel Sellita SW200 caliber with 38 hours of power reserve. Invicta's quartz pieces made in Switzerland run on movements manufactured by the Ronda company.
As already stated earlier, a typical Invicta Pro Diver watch has a Japanese automatic or quartz mechanism. The reasoning for this is quite simple – they have the best price-quality ratio on the market.
When browsing through reviews on Invicta Pro Diver watches from several blogs and forums on the Internet, it is clear that the Japanese automatic timepieces are acknowledged much more than their quartz equivalents. It has nothing to do with quality discrepancies, but instead the greater value-for-money proposition – the prices differ only 20-50 dollars.
The Seiko's non-branded NH35A mechanical automatic caliber is a mechanism you'll find from most automatic Pro Divers. It holds a power reserve of up to 41 hours and is hackable and hand-windable. It is rated as a reliable entry-level mechanical movement that will do the work just fine.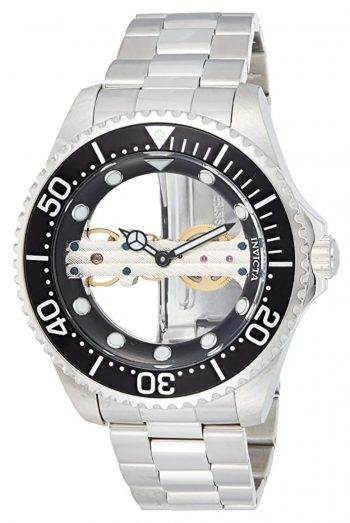 Some of the older models you may happen to find also come with a Miyota 8215 caliber. The same supplier is widely used in Invicta's quartz pieces.
Finally, there's also the Chinese Seagull caliber that you'll find from entirely hand-windable mechanical watches, such as the Invicta 24692.

Watch Cases & Bands
One thing that truly amazes is the quality of materials the brand has equipped its watches. For a sub-$100 piece to feature well-finished stainless steel, and even often the higher-grade 316L steel, is a blessing.
There are numerous similarly priced brands that pay little attention to the overall appeal and coloring of the case and band in the hope to convene the buyers with eye-catching dials instead, but what truly matters for a lot of people is the combination between the well-finished metal and gorgeous dial.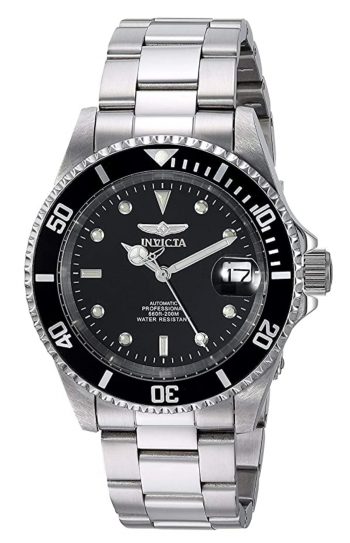 If you look at one of the bestsellers, the Invicta Pro Diver 8926OB, it has three different stylings on the steel – brushed lugs, polished center links with a lighter tone, and polished outer links with a slightly darker tone.
Together with an aluminum coin-edge bezel and Submariner-like face, it instantly gives the impression of a luxury-level watch that, in no way, costs below the 100-dollar line.
Some branding elements have also found their way to the case and crown. While the cross from Invicta's logo sits well to the top of the crown in adding that special spark, then the "Invicta" name stamped on the sides of some models hasn't received a warm reception from the public. Visually, it just doesn't look flattering and is too overwhelming.
Gold-Toned Cases
Another remarkable characteristic of Invicta Pro Diver watches is a large number of gold-toned stainless steel pieces. Some watches come entirely golden with a striking tint, but some have it alternating with other colors, for instance, silver and black.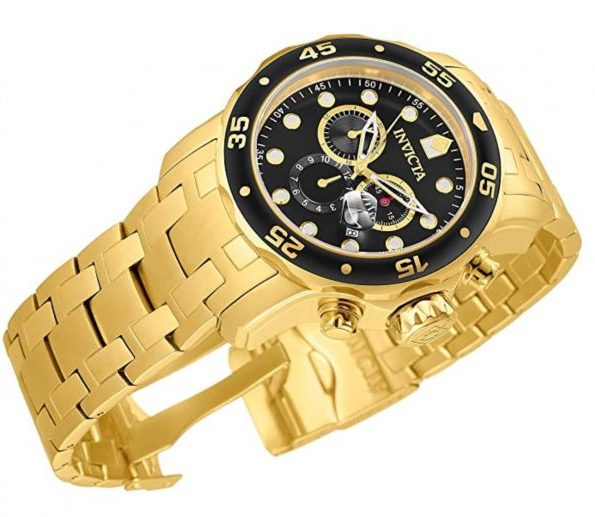 The matter of taste and braveness to wear overly flashy golden watches is, of course, another question. But the fact that Invicta is capable of manufacturing gold-toned pieces that don't look cheap at all is a sign of dedication they put into the aesthetics.
Case Sizes
When it comes to case sizes, then you'll notice that the majority of Invicta Pro Diver pieces have a standard 40mm diameter and 13-14mm thickness. The original Pro Divers are the homages to Rolex Submariners, so that's the very reason why they share the same dimensions. The diameter is perfect in suiting the vast majority of wrist sizes and shapes.
However, since Invicta is still a fashion brand more than anything else, it also has cases that follow the recent trend of larger sizes. Thus, 44mm and even 48mm diving watches won't come as a surprise from a brand like Invicta.

Bezels & Case Backs
The bezels of Invicta Pro Diver watches are mainly of aluminum and turn in one direction, just like in genuine diver's pieces. The greatest feature visually and functionally is the coin-edge design, which is available in most of the timepieces.
Some have complained about the bezel's stiffness when operating with it, but other than that, the quality is decent.
Make sure to check the functionality of the bezel before the purchase since there are some models with fixed bezels.
Some may question the purpose of a non-functioning bezel on a diver's piece, and for a good reason. However, the array of buyers also includes those who will never use such a feature and are fully satisfied with only its visual appearance.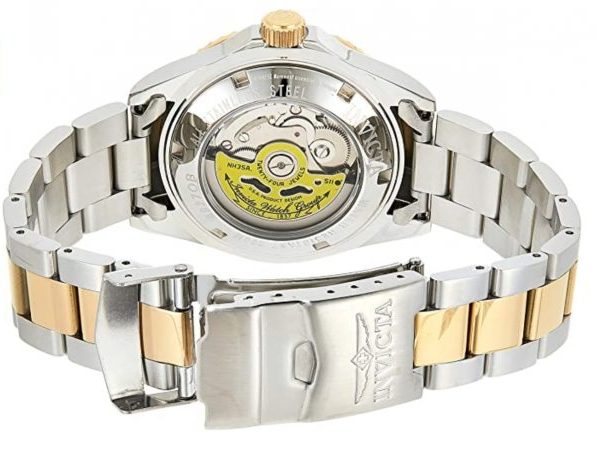 The case backs of automatic pieces is another excellent characteristic that comes with Invicta Pro Diver watches. It's the proprietary yellow balance wheel that takes all the attention. The swirling motion of it, coupled with silver wheels and gears rolling in the background, is a sight to see.

Water-Resistance & Lume
The majority of Pro Divers have a 200m (660ft) water resistance, but you'll also find some pieces with 100m (330ft) and 300m (990ft) markings. The latter is present in the Invicta Grand Diver watches that are supposedly more suited for semi-professional diving.
But to be honest, the indication doesn't guarantee that the watch will stand the specified depths.
The resistance level is achieved by going through laboratory testings in static pressure for a short period of time. However, the actual pressure deep down in the water is far greater than in static water.
Therefore, professional divers typically use ISO-certified watches which are guaranteed to deepwater conditions. The ones without the certification, including all the Pro Diver pieces, are not suitable for that cause but, nevertheless, will do perfectly fine in lighter water activities, such as recreational diving, snorkeling, and swimming.
Another typical feature of diver's watches, the luminosity in the hands and indices, is not as great as in Seiko or Citizen timepieces. The glow is relatively weak and will not last very long.
It's one of the most significant cons of Pro Divers the owners have pointed out.

Watch Dials
Invicta Pro Divers' dials are as eye-catching as the prices are. We've repeatedly talked about the similarities to the Rolex Submariner, and to be true, the faces are so alike that many spot the difference only after catching the brand name from the dial.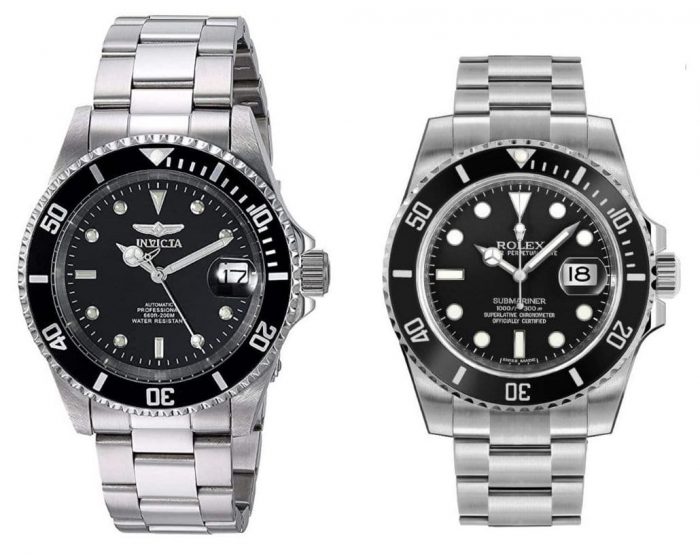 Besides the Submariner dial, another iconic design from Rolex is available in Invicta's line-up – the Pepsi bezel design. Featuring red and blue colors, the bezel is coupled with either red or black dial.
And since we started with resemblances, it also has to be mentioned that Invicta's logo is not very different from Breitling's – both of them have outstretched wings. Other than that, their watches have little in common in terms of aesthetics.

Some of the quartz Pro Diver pieces have chronograph sub-dials with a possibility to measure time intervals in 1/10-second increments up to 60 minutes. They're often paired with 24-hour time.
And, of course, you'll also find the date window sitting typically at 3 o'clock position. Automatic pieces often have it magnified as well for better reading.
In terms of dial tones, the most prevalent colors include black, blue, and silver. However, there are also a couple of white dial divers available, which are quite difficult to find.
The various types of watch dials are protected with mostly mineral crystal, which is not as scratch-resistant as sapphire glass but is still a decent and standard material in affordable timepieces. Several high-end Pro Diver pieces that cost $200 and up come with sapphire crystal as well.
An interesting, and sometimes even confusing case with Invicta is the Flame Fusion crystal it employs.
Behind this fancy name is actually a similar substance to an ordinary mineral crystal, even though the marketers claim the Flame Fusion to be less prone to scratches and impacts. Be that as it may, the quality of the crystals is on par with other similar providers of affordable watches.

Invicta Pro Diver Prices
Invicta Pro Diver watches have more than just an appealing price tag – they are often dirt cheap compared to a similar quality level, regularly featuring among the best watches you can buy for less than $100.
The most sought-after watches with automatic caliber cost somewhere between $50-$100. Swiss automatics, on the other hand, start at $250. The entirely hand-wound Seagull mechanical pieces have a price tag of $150-$200.
Quartz watches are the most affordable when the cheapest ones stay conveniently between $40 and $70; Swiss quartz pieces are also attractively valued – at around $70-$120.
Anything above the $200 line that isn't made in Switzerland should be taken with a cautious mind considering the brand's tendency to add value through fashion enhancements rather than quality.

Are Invicta Pro Diver Watches Worth It?
If you had 80 bucks to spend on a timepiece visually similar to a Rolex and quality-wise equal to the majority of 200-dollar watches, it shouldn't be even under consideration. The Invicta Pro Diver watches are top dive-inspired models on the market, especially considering their stunning designs at such astonishing rates. But what drives us to say that?
Well, first off, there's absolutely nothing to complain about the movements. Although the calibers are somewhat on the cheaper side, they're nevertheless from reputable manufacturers that have proved their value in long years on the market.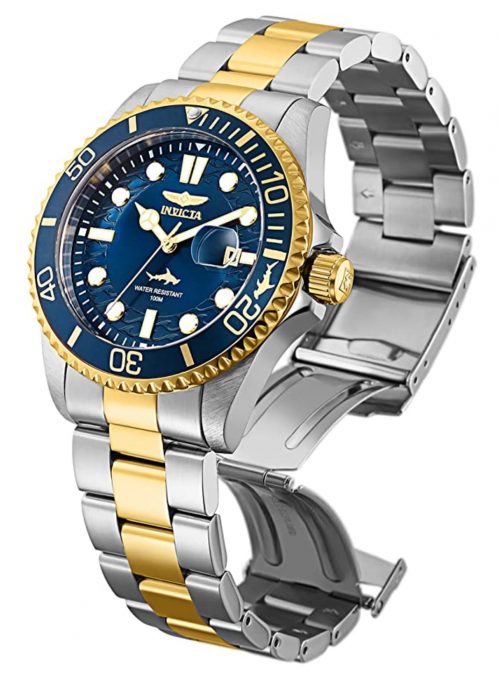 The finishing of the cases and bands are well executed in that providing a far pricier appearance. And if you also add the neatly designed faces in various appealing styles with the features the watches come with, it is clear that for the money paid, there's actually a whole lot more in the timepieces than you would've expected.
Yes, the quality consistency concerns remain, as do the problems with customer service and warranty, but regardless of that, the looks and price outweigh any cons that might arise in dealing with Invicta.
You'll find numerous people who suggest buying a Seiko instead due to its better quality and reliability. In some ways, they're absolutely right. But you don't select watches based solely on reputation and better quality. If you like an Invicta piece, then go for it! After all, 80 dollars is such a small amount you will most likely not regret wasting it.

Top-Rated Invicta Pro Diver Watches
Following, we've compiled some of the top-rated Invicta Pro Diver watches with various styles and movements.

Invicta Pro Diver 8926OB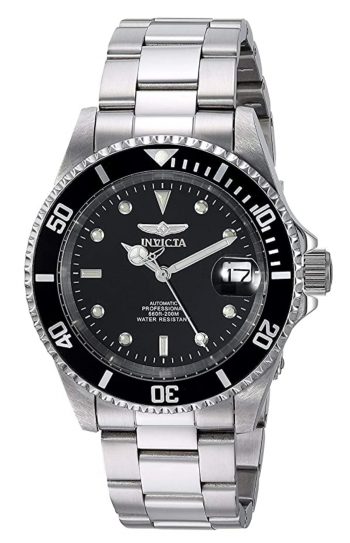 Caliber: Automatic NH35A (41h power reserve)
Case size: 40mm
Crystal: Mineral
Water-resistance: 200m (660ft)
Bezel: Coin-edge unidirectional
Features: date window, luminous hands & indices, see-through case back
Price: Check on Amazon

Invicta Pro Diver 1771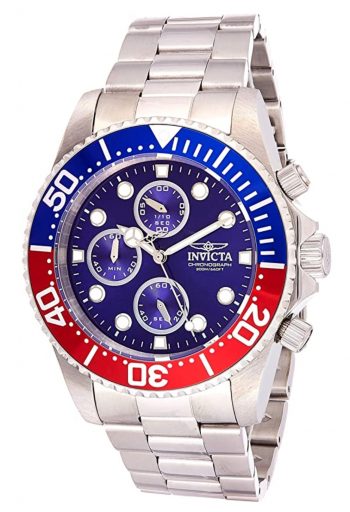 Caliber: Japanese quartz
Case size: 44mm
Crystal: Flame Fusion
Water-resistance: 200m (660ft)
Bezel: Unidirectional Pepsi design
Features: chronograph, luminous hands & indices
Price: Check on Amazon

Invicta Pro Diver 8928OB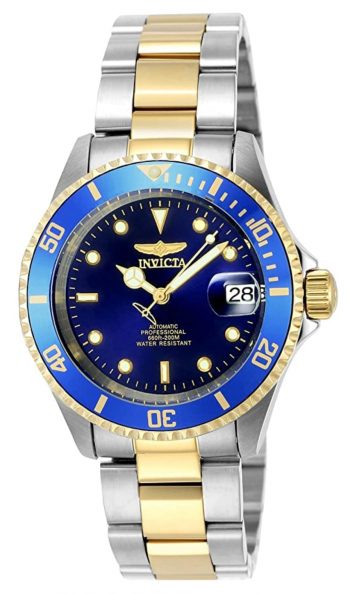 Caliber: Automatic NH35A (41h power reserve)
Case size: 40mm
Crystal: Mineral
Water-resistance: 200m (660ft)
Bezel: Coin-edge unidirectional
Features: date window, luminous hands & indices, see-through case back
Price: Check on Amazon

Invicta Pro Diver Scuba 22417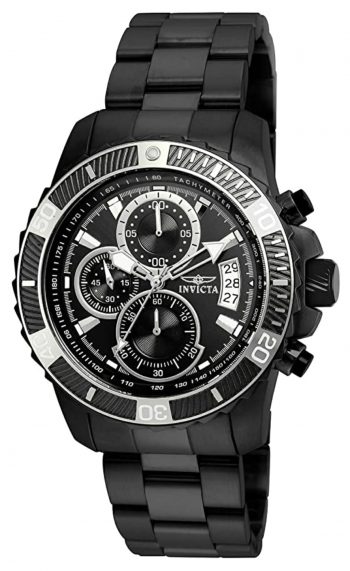 Caliber: Japanese quartz
Case size: 44mm
Crystal: Flame Fusion
Water-resistance: 100m (330ft)
Bezel: Textured unidirectional
Features: chronograph, tachymeter, date window
Price: Check on Amazon

Invicta Master of The Oceans 25825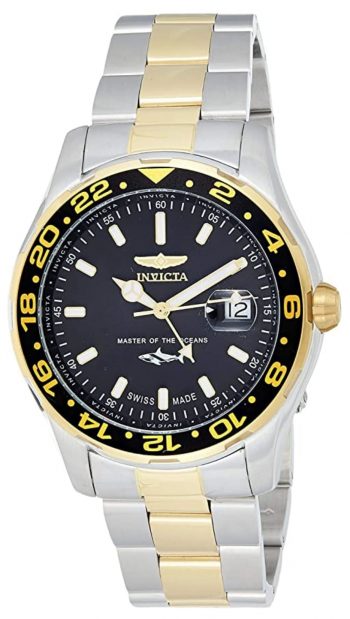 Caliber: Swiss quartz
Case size: 44mm
Crystal: Flame Fusion
Water-resistance: 100m (330ft)
Bezel: Fixed
Features: magnified date window, Swiss made
Price: Check on Amazon

Conclusion: Invicta Pro Diver Review
We hope this Invicta Pro Diver review has answered several of your questions regarding the brand. But what's the most significant takeaway from the review then?
Without much doubt, it's the fact that Invicta Pro Diver watches may be cheap in terms of price, but not in terms of quality, looks, or features. They look like premium-class watches but cost a fraction of it.
Yes, they may not last as long as the expensive ones, but Pro Diver watches serve the purpose of self-impression and value-for-money rather than a horological masterclass that lasts for generations.

You may also like:
Affiliate Disclosure: As an Amazon Associate I earn from qualifying purchases. Details